A.G. Newsletter #33: A Treat from Payard, Dinner at Hearth, Sad Granola & Gelato at Cones


Hello Friends & Eaters,

In case any of you are sticklers for mathematics, you may have noticed that last week I labeled my newsletter "Newsletter #31" even though, the week before, I'd also labeled my newsletter "Newsletter #31." That's because last week's was Newsletter #32, it was just a simple typo. I hope you'll forgive me!

How's everybody been? I promise to keep mum about recipe-testing this newsletter. You're all bored when it comes to that subject, so let's not even address it (even though I cooked 20+ dishes this past week and I'll be cooking 40+ dishes over the next two weeks. Ok, sorry!)

Let's talk about this delicious treat I had at Payard the other day: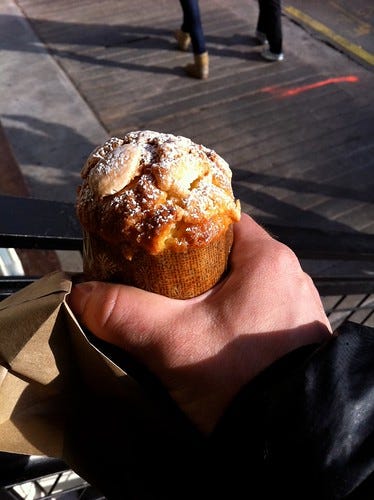 I was walking to SoHo to buy an obscure ingredient that I needed for one of the dishes I'm testing for my... oops!! I made a promise not to talk about that! Sorry!

Anyway, I was hungry and I was meeting my parents later that night to celebrate their 37th anniversary at Hearth, so I needed something to tide me over. I popped into Payard which is on Houston just near 6th Ave. and I spied that treat.

What was it? I don't remember! It's in the front case next to the cookies. It has candied orange inside it and almonds on the surface. It's made with brioche dough and it's crunchy on the outside and is so outrageously delicious I gobbled it up so fast, I was positively caked in powdered sugar by the time I descended the front steps. But it was worth it.

Now then, as for that dinner at Hearth. As mentioned, we were there celebrating my parents' 37th anniversary. Here's a picture my mom posted on Facebook of their wedding (wait 'til you see my dad's tux!):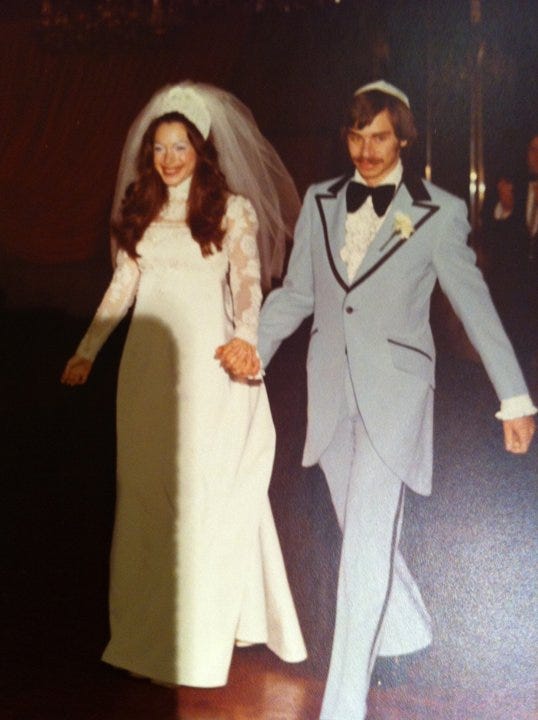 Our dinner at Hearth was lovely, as expected. I started with this salad of escarole and pear with pecorino: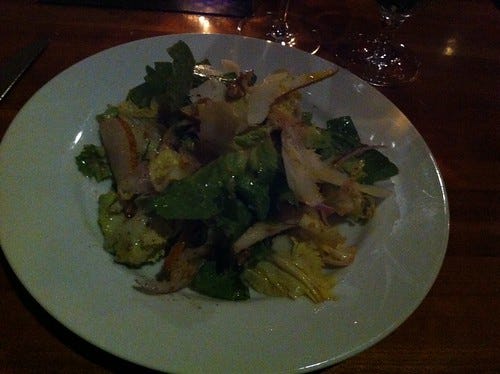 There salad was perfectly dressed and had a great balance of flavors and textures. But after watching Chef Marco Canora talk about his pasta extruder on OzerskyTV (see here), I was most excited to try his maccheroni with pork ragu: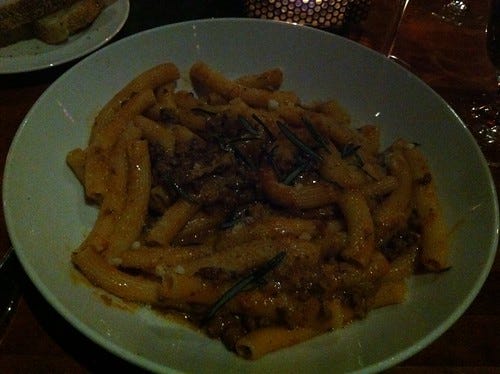 Holy cow! If you love fresh pasta, get thee to Hearth. This dish is nothing short of a knock-out and with freshly extruded noodles and a hearty meaty ragu, how could it not be?

Finally, we had the famous Hearth Cider donuts for dessert: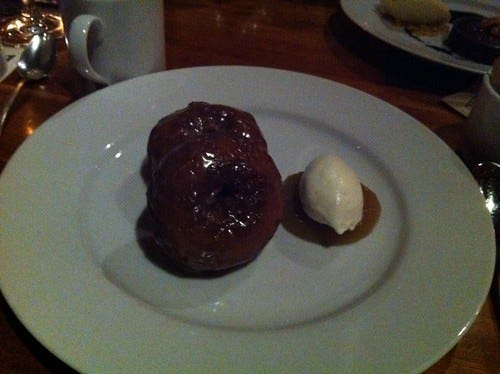 We needed an ambulance to take us home, but it was worth it.

Not to change the mood at all, but isn't this granola sad?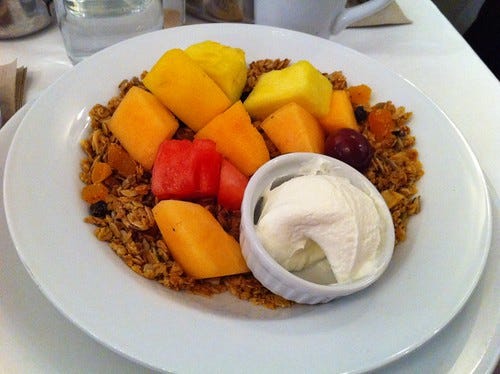 We ate it at Good yesterday morning, a place we really enjoy for brunch. And their Good Brunch--which comes with pancakes, eggs, bacon or sausage--is always a crowd pleaser; but I was trying to be quote/unquote "healthy."

The granola itself was good--made in house--but could they be any more stingy with the yogurt? And then the fruit itself looked like they opened a container you might buy at the airport and dumped it on top. I found it all depressing; though, again, Craig loved his Good Breakfast.

Finally, I just watched "La Dolce Vita" for the first time---well 2nd time, first time I fell asleep---and enjoyed it so much, I was craving pizza afterwards. (There's a scene where a famous movie star steps off an airplane in Rome and her producer rushes to bring her flowers and a pizza.) We went to John's on Bleecker (our favorite) and ate an onion & mushroom pie: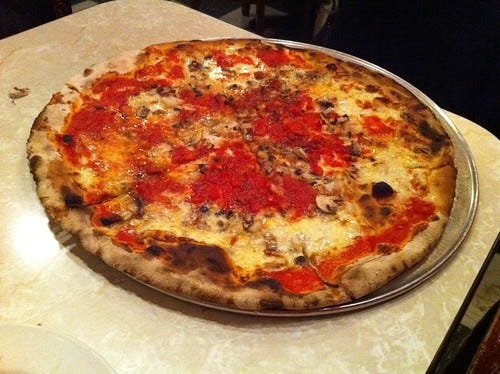 And then we went to Cones for gelato, which is right next door.

I love Cones. I don't know why it doesn't get more love from the foodieverse.... apparently Grom is the more acceptable place to eat gelato. I just had a conversation about this with food writer Charlotte Druckman on Twitter; I told her I found Grom too monochromatic & that Cones was like the "Reading Rainbow" of gelaterias. By that I meant they have a much wider selection with lots more color. Though Craig and I made pretty brown choices: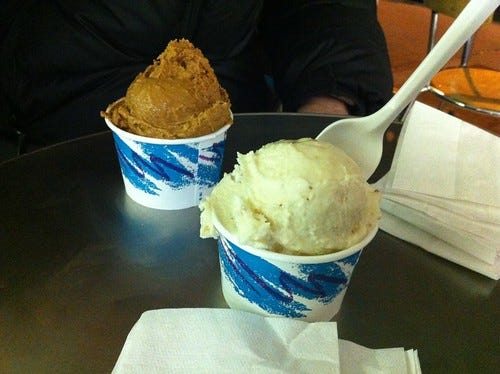 That's mine in the foreground--it's an Almond Cream--Craig's is in the background: Dulce de Leche. They're pricey, almost $5 each, but so, so rich and so, so flavorful (if slightly, ever so slightly, too sweet.)

Well that's all folks for this week. This week I'm planning to really grow my Facebook Fan Page, so if you're not already a fan, click here to "like" it!

Until next week....

Your friend,
Adam (The Amateur Gourmet)


Reading this in a browser? Get next week's in your inbox by signing up here.

Follow Me!
On Twitter
On Facebook

Recent Food Posts

Let's Talk About Lettuce

Kings of Pastry

Pickle Juice & Chili Salt in Your Beer

The Hot Dog At Katz's Keli

Purple Peruvian Potato Hash

A Proper Tea

Pour-Over Coffee

*|LIST:DESCRIPTION|*

Unsubscribe *|EMAIL|* from this list.

Our mailing address is:
*|HTML:LIST_ADDRESS_HTML|*
Copyright (C) *|CURRENT_YEAR|* *|LIST:COMPANY|* All rights reserved.

Forward this email to a friend
Update your profile
*|IF:REWARDS|* *|HTML:REWARDS|* *|END:IF|*