Hey Folks,

Today you get an A.G. grand slam: a fresh, original newsletter AND a new post up on the blog. This one's about "The Most Michael Pollan-ish Plate of Food in New York"....click here to find out what I'm talking about.

(Also, if you missed it on Friday when I ate my first-ever hot cross bun live on air, you can watch the video here.)

On Friday, Craig and I celebrated FIVE YEARS of togetherness. Actually, on Friday he had to work and at night I had to go to a lesbian bachelorette party, so we celebrated on Saturday. And I had the perfect plan.

The Brooklyn Flea!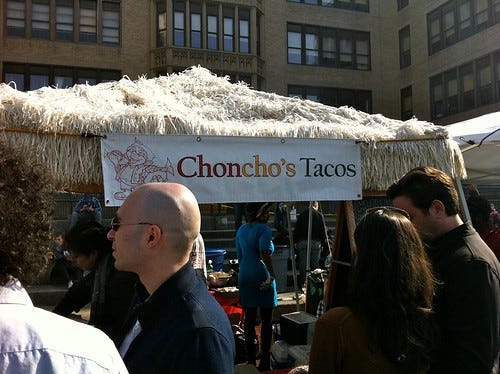 We got there kind of late (we spent the morning eating French Toast and reading the newspaper) and so by the time we arrived, we were kind of hungry. Hence my insistence that we head straight to where all the food is, towards the back. And hence our decision to each get a fish taco at Choncho's tacos: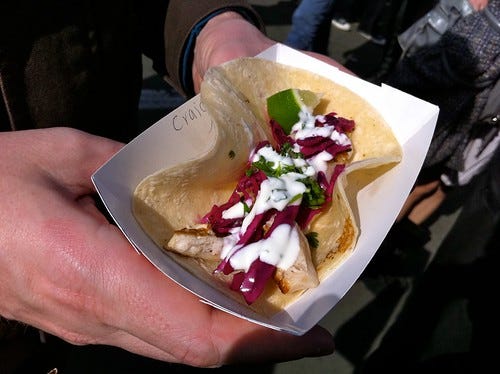 Not much to say about this except: YUM. It hit the spot. We gobbled them up in a matter of seconds.

Then Craig, who isn't the most restrained of folks when it comes to cravings, spied a chococlate doughnut at a bakery a few booths away. I reminded him that our plan was to make our way over to Franny's for our anniversary dinner and that if we ate a doughnut now, we might not be hungry in time; he dimissed this as nonsense and got a doughnut anyway.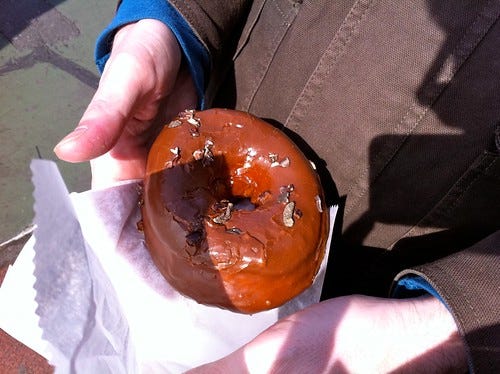 That's a pretty outrageous-looking doughnut, right? Here's Craig devouring it like the wild doughnut-eating animal that he is: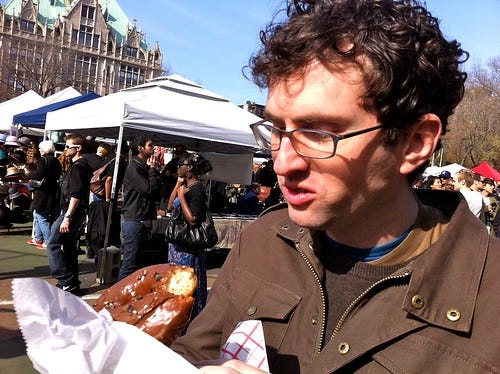 Truth be told, I ate a few bites too. For his sake, of course, not mine.

We made our way around the market, and Craig forbade me from buying this Liberace doll: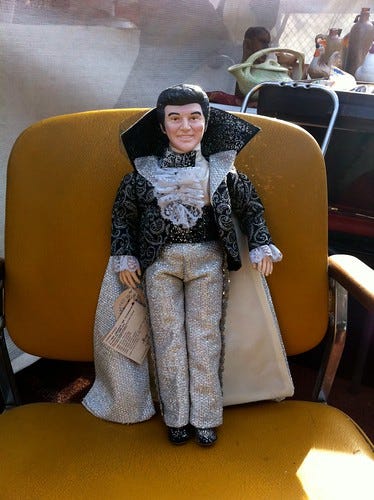 (I wanted to put it on my piano.)

He did buy me this vintage Playbill from one of our favorite musicals: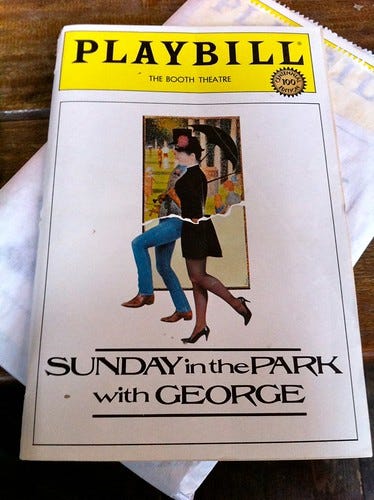 And after saying hi to Liz at Liddabit Sweets, I bought a bag of her Bourbon Bacon caramel popcorn: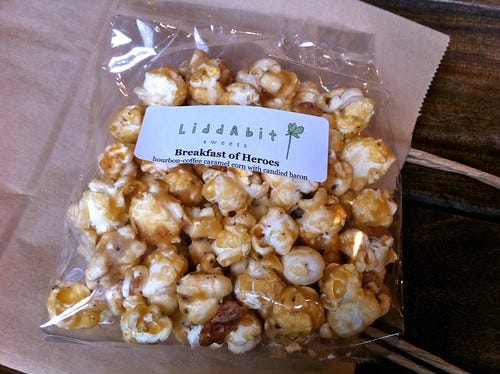 Around 5:30 or so, we left the market and made our way over to Franny's. We got there at 6 and weren't hungry at all (damn you doughnut!) so put our name on the list and got permission to come back later (a good strategy for a Saturday night at Franny's) and went to Flatbush Farm for drinks.

And when I say drinks, I mean DRINKS.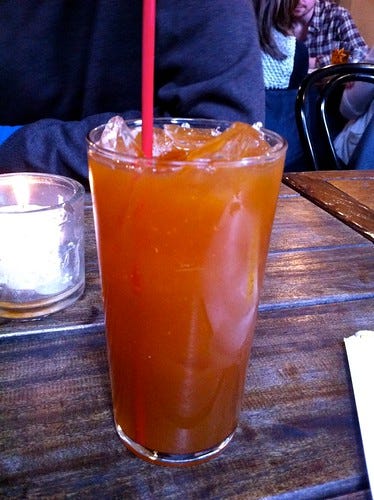 That's my Dark n' Stormy; with ginger beer and dark rum, it was tasty. But Craig's Old Fashioned?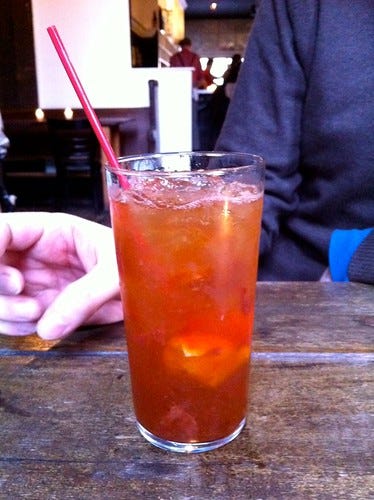 It was basically a giant glass of Bourbon. "I saw him pour it," said Craig, "and he just poured and poured and poured."

Needless to say, by the time we were done, Craig was three sheets to the wind. Four sheets. And he's someone who never admits feeling drunk, but he was definitely feeling this.

But it was time for Franny's!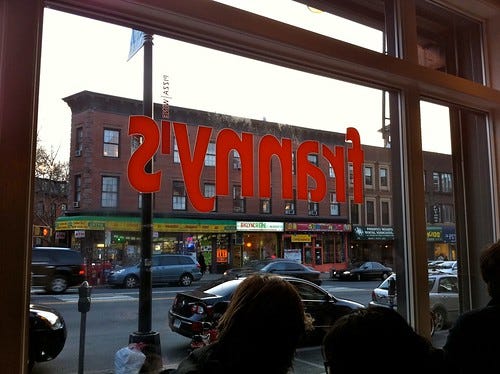 Franny's was and still remains one of my top three favorite restaurants in New York. It's cozy, relaxed and the food is just SO good.

Look at this freekeh salad we started with; freekah is a grain and here they served it with roasted carrots, onions, nuts and cheese: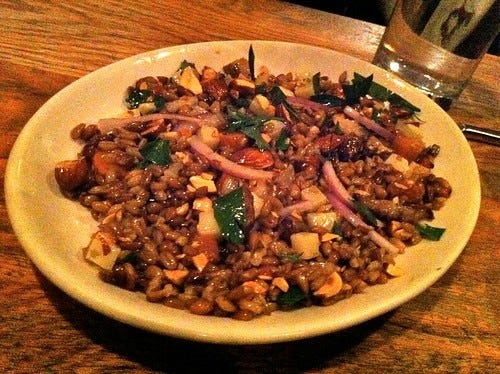 We also had these shrimp cooked with garlic and parsley: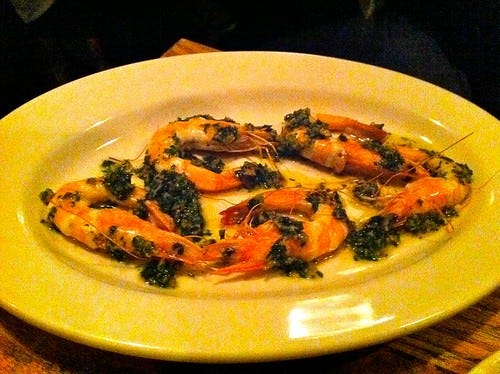 When I asked for some bread sop up the good stuff, not only did they bring us bread, they toasted it for us first in the wood-burning oven. God is in the details, indeed.

For my pizza, I had one of my favorites, the clam pizza: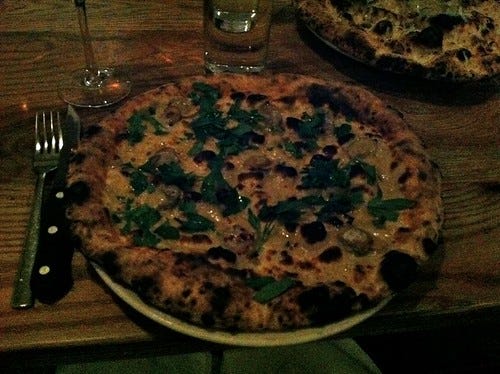 And Craig had a pizza with anchovies and other good stuff: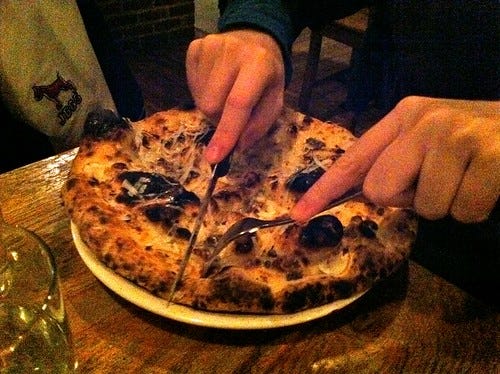 Their pizza is really sublime; I love it as much as I love any other New York pizza.

For dessert, we shared the coconut gelato: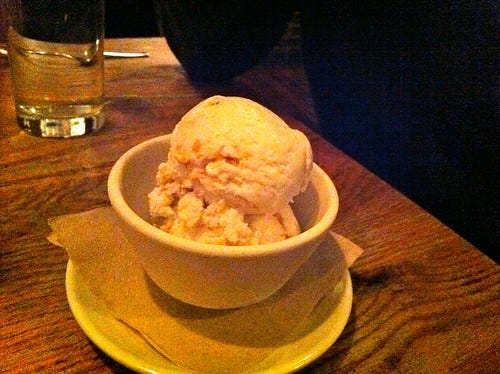 The gelato at Franny's is also otherworldly, it's so good. My favorite of all time is their toasted almond gelato, but this coconut gelato certainly holds its own.

And that's it for this week's newsletter! And did you notice how I didn't mention my impending book deadline once? My editor gave me a few extra days, so I'll be turning it in a week from tomorrow. Then it's back to my old blogging schedule!

Until next time....

Your friend,
Adam (The Amateur Gourmet)


Reading this in a browser? Get next week's in your inbox by signing up here.

Follow Me!
On Twitter
On Facebook

Recent Food Posts

The Warm Chocolate Chip Cookie at Jacques Torres

Tortilleria Nixtamal

Italian Plum Oatmeal

Let's Talk About Lettuce

Kings of Pastry

Pickle Juice & Chili Salt in Your Beer

The Hot Dog At Katz's Keli

Purple Peruvian Potato Hash

A Proper Tea

Pour-Over Coffee

*|LIST:DESCRIPTION|*

Unsubscribe *|EMAIL|* from this list.

Our mailing address is:
*|HTML:LIST_ADDRESS_HTML|*
Copyright (C) *|CURRENT_YEAR|* *|LIST:COMPANY|* All rights reserved.

Forward this email to a friend
Update your profile
*|IF:REWARDS|* *|HTML:REWARDS|* *|END:IF|*