A.G. Newsletter #43: Mercadito, 1 or 8, Egg, and The Roebling Tea Room


Hey Newsletter Fans,

Huge things are happening in Amateur Gourmet world! In fact, there's some gigantic, life-changing news that I plan to announce tomorrow on the blog. Let's say tomorrow at 12 PM EST. (And I'll be Tweeting a bit leading up to it, so follow me on Twitter (@amateurgourmet) and I'll send out some clues to keep you guessing.)

Meanwhile, I hope you've been following my posts about New Orleans. If you haven't, I just did a "New Orleans Wrap-Up" post that contains everything you'd want to know about our trip there and where you should go the next time you visit. It's a really amazing city--food-wise, music-wise, and people-wise. Definitely plan a visit, if you've never been.

Now then. When we got back from New Orleans, we slunk up 7th Avenue here in the West Village and popped into Mercadito because it was nice out and we wanted to eat outside.

We shared this guacamole: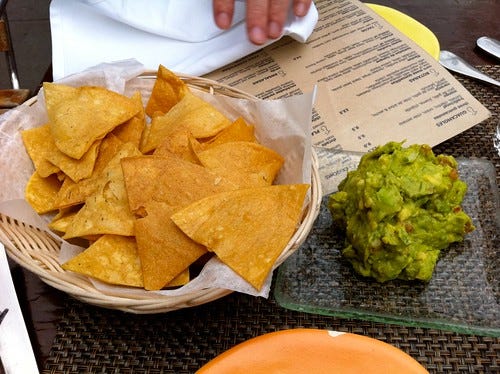 And two different kinds of tacos. Chicken with mole: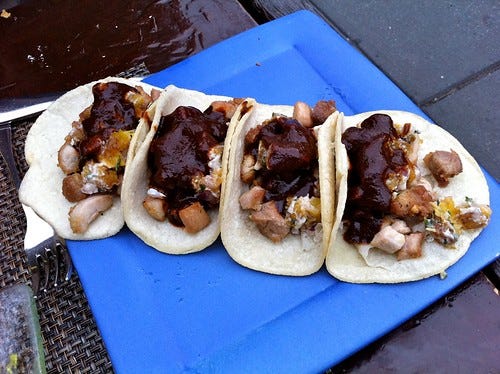 And some kind of fish taco with stuff on it (how's that for a description?):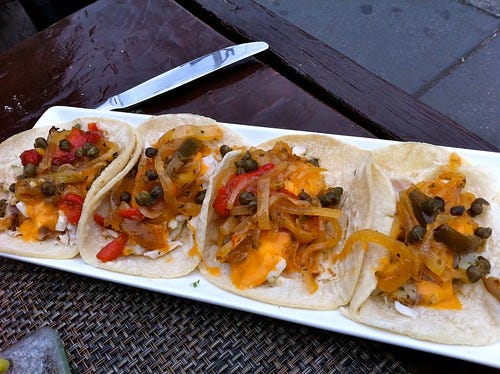 I could look up what these were specifically, but they were all just ok. The point was we sat outside on a nice day and ate tacos and drank margaritas. And that's why people go to Mercadito (and why it's always so crowded).

Now, for some strange reason, I've been on a real Williamsburg kick lately. Maybe I'm turning into a hipster? I'm not sure!

But we were there two Sundays ago and then again this past Sunday (and I was there during the week too!). Two Sundays ago, Craig and I were there and craving sushi and so I Tweeted: "What's a good sushi spot in Williamsburg?"

Numerous people recommended 1 or 8 and so we listened and went there.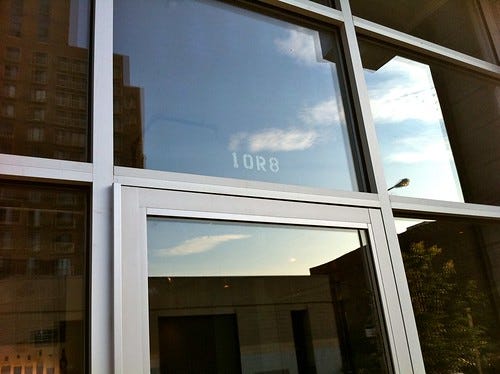 The place, inside, is huge and on the Sunday that we went it was half-empty.

But don't be fooled by that. The food is good!

We shared edamame that was warm and salty and fresh: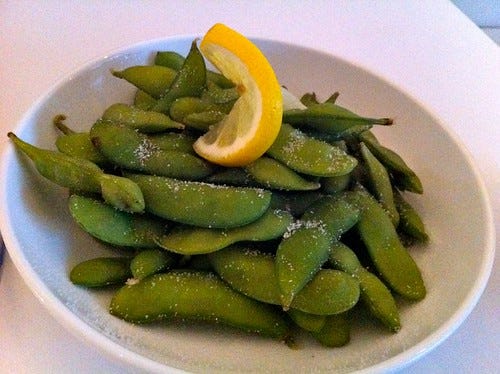 We also shared this place of pickles: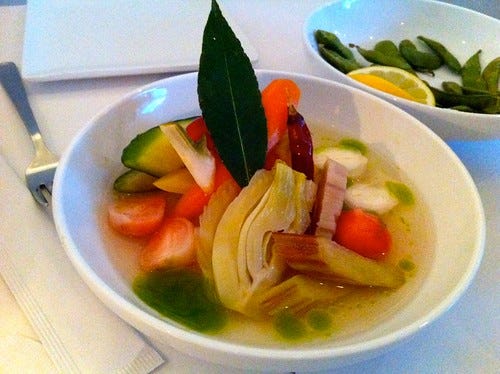 Isn't that lovely? In there you'll find pickled rhubarb, turnips, fennel, carrot, zucchini; all in-season. It's not a vinegary pickle, just for the record; I think it was more of a salty brine. But still good.

For our entrees, Craig and I both got the Sunday special: chirashi.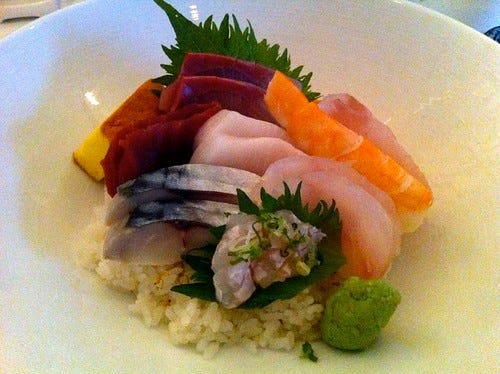 That's a bunch of raw fish on rice. The waitress taught us how to eat it: you dip your fish into the soy sauce then bring it back to the bowl and gather up some rice along with it. The residual soy sauce flavors the rice as you go and makes for a very enjoyable eating experience.

This place was great; if you're in Williamsburg and you're craving sushi, 1 or 8 is the place to go.

Then, during the week, I found myself in Williamsburg for lunch. I decided to check out Egg because I'd heard so much about it.

Let me begin by saying that I love places like Egg. Atlanta, where I used to live, is full of them. Friendly, warm, casual, comfort-foody places with biscuits and salads and ham and the kind of stuff that puts a smile on your face.

When I sat down, I decided I'd go for the Egg salad because I didn't want anything too heavy (and the menu at Egg certainly leans heavy) and even though this salad would come with deviled eggs and crispy country ham, I figured it would be balanced out by a bunch of nourishing, raw vegetables.

Well, take a look: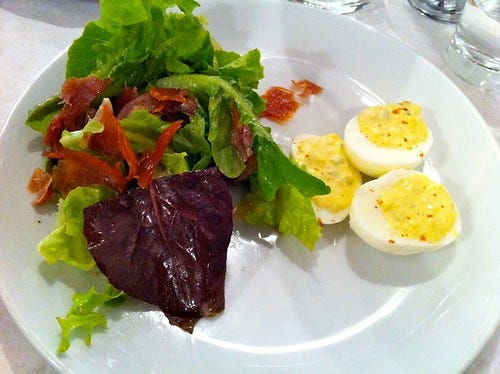 That was $10.

4 pieces of lettuce, 3 deviled eggs and some crispy ham. The deviled eggs were just ok--creamy, but lacking in acid (lemon juice would've made them way better). And the salad...well... no, I can't say that I enjyoed it. It was well-dressed and everything but it was less like a salad and more like a garnish.

I'm glad that I also ordered a biscuit: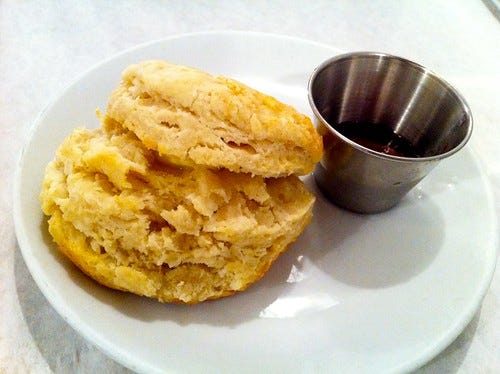 It certainly wasn't the best biscuit I've ever had---that would be the biscuit at The Silver Skillet in Atlanta---but it hit the spot and made the lunch more of a lunch rather than a snack.

Ok, our final Williamsburg meal (and the last meal for this newsletter) was the one we had on Saturday night at the Roebling Tea Room.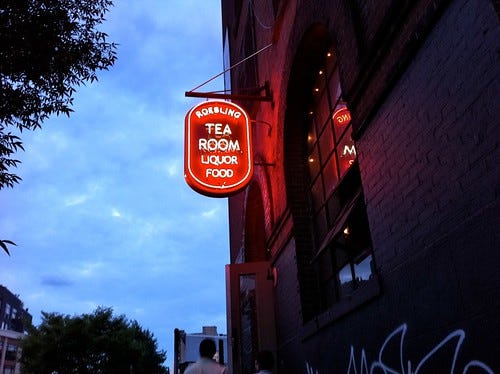 My friend Rachel Wharton recently wrote an article about the Roebling Tea Room in Edible Brooklyn where she said it was one of her favorite restaurants in New York. Apparently all kinds of chefs eat there (including the chefs at Saltie, where I've been eating lots of sandwiches lately).

The place has a cool laid-back feel and quirky, vintage wallpaper: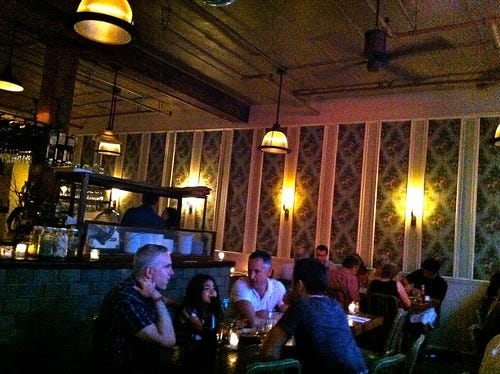 Let me cut to the chase: we really liked the food, but our server was really ambivalent and unhelpful. For example, four of us ordered hamburgers and the menu doesn't say that the hamburgers come with fries. So we ordered a side of fries for an extra $5. When the burgers came, each with a giant side of fries, we were annoyed that he didn't say: "You don't need that extra side of fries, the burgers come with them." (To his credit, when we pointed this out later, he took it off the bill.) (We hadn't eaten that extra side of fries at all.)

So the service with a sneer kind of took away from the experience. But the burger, with meat from The Meat Hook, was definitely an event: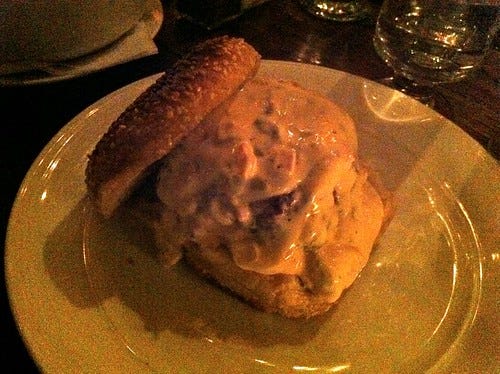 It was positively doused with a special sauce that vaguely resembled Thousand Island dressing. You just lifted the whole, disgustingly wonderful thing up to your mouth and went for it. It's a sin worth suffering for later.

(We also ate a mixed fry appetizer and steak tartare which were both excellent.)

And that's all for this week, folks!

Don't forget: check my blog tomorrow at 12 EST for the very big news.

Until next time....

Your friend,
Adam (The Amateur Gourmet)






Reading this in a browser? Get next week's in your inbox by signing up here.

Follow Me!
On Twitter
On Facebook

Recent Food Posts

Great New Orleans Meals at Mandina's, The Green Goddess, The Camellia Grill & Cochon

A Crawfish Boil (Plus: How To Eat a Crawfish)

The Sazerac

Someone's in the Kitchen With...Matt Armendariz

Hansen's Sno-Bliz & Napoleon House (New Orleans)

Our Louisiana Seafood Adventure

Commander's Palace (New Orleans)

Cafe du Monde (New Orleans)

We Fell In Love With New Orleans

Someone's In The Kitchen With...Doug Quint & Bryan Petroff (from The Big Gay Ice Cream Truck)

Oatmeal with Ginger, Coconut Milk and Lime

Casseroles, Atlanta

*|LIST:DESCRIPTION|*

Unsubscribe *|EMAIL|* from this list.

Our mailing address is:
*|HTML:LIST_ADDRESS_HTML|*
Copyright (C) *|CURRENT_YEAR|* *|LIST:COMPANY|* All rights reserved.

Forward this email to a friend
Update your profile
*|IF:REWARDS|* *|HTML:REWARDS|* *|END:IF|*