A.G. Newsletter #44: Bosie Tea Parlor, Thelewala, Buvette, July 4th & Franny's


Hey Readers,

Well, I promised big news last week and then I delivered. In case you missed it, Craig and I are moving to L.A.! Craig scored an awesome job there, too good to say "no" to, and though he thought the job would start September 1st, he found out after I wrote my post last week that it starts one week from Monday (July 18th) so he has a one-way ticket to California booked for next Friday. I'll be flying there two weeks later to help find an apartment and then, at the end of August, I'll be joining him there permanently. This East Coast Kid is heading west.

Obviously, this is huge life-altering stuff we're dealing with. There's also the matter of movers (know any good movers who go cross-country?), finding cars, and all those other pesky details. There's a lot to think about.

Thank God, then, that I made THE BEST DINNER ROLLS OF YOUR LIFE last week. Well, our lives too. Inspired by the rolls that we ate at Cochon, I can't wait to eat them again. (Follow that link for the recipe.)

Now for the stuff with pictures....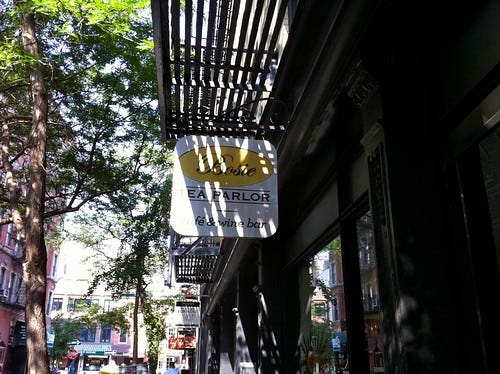 Bosie Tea Parlor opened up right near our apartment a few months ago and as all these food people that I admire and follow on Twitter (Shuna Lydon, Charlotte Druckman) Tweeted about it and talked it up, I kept slapping myself on the wrist for not going.

So last week, we finally went. And though a hot summer day is not really the ideal time to drink hot tea (though some argue that a hot drink on a hot day cools you off; not sure I believe that), for some reason tea sounded good.

As you can see here, I had a white tea and Craig had an apple cobbler tea: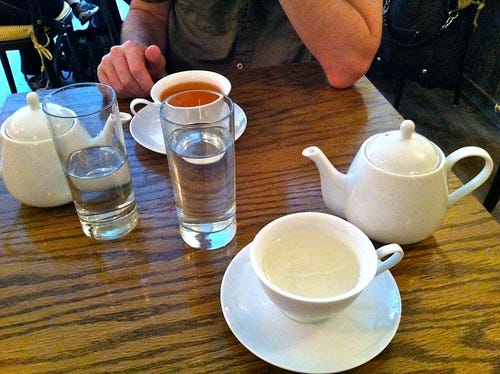 My white tea was very delicate and Craig's apple cobbler tea was more assertive and fragrant. Both were nice and a good match for the pastry I ordered; the Montebello (pastachio dacquoise, pistachio mousseline and fresh raspberry):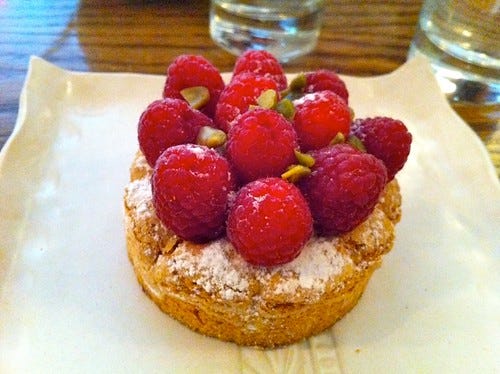 This was a delightful thing to eat at the 4 o'clock hour, when you're a little hungry but dinner's still a long way off. I was happy with my choice, but next time I also want to try a macaron: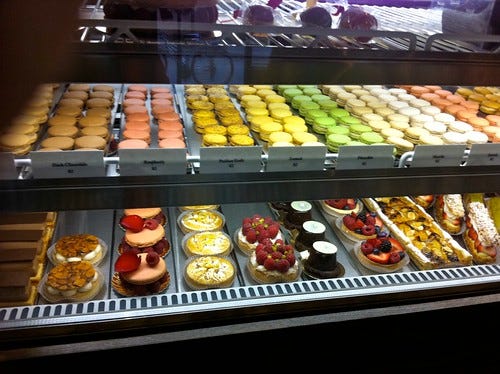 * * * *

Another thing that I slap myself on the wrist about is the fact that I rarely journey across 6th Avenue to the land of restaurants and cheapish ethnic spots right near NYU in the Village proper.

One such place is Thelewala on MacDougal Street just off of West 3rd. I'd read about it when Oliver Strand covered it for The New York Times. When Craig had dinner plans the other night, I decided to go see the new Woody Allen movie at the Angelika and to stop at Thelewala on the way.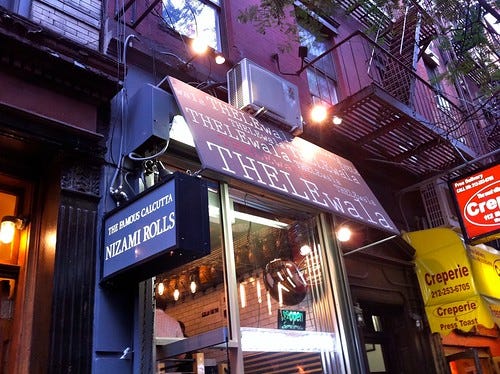 You know you're in a good spot when the people cooking your food take their time not because they're lazy, but because they're so focused on what they're doing. (In this case, making their famous stuffed Nizami rolls.)

That's how it was when I ordered the Thelewala Chicken Roll (with fried eggs, red onions, house blend spices and lime):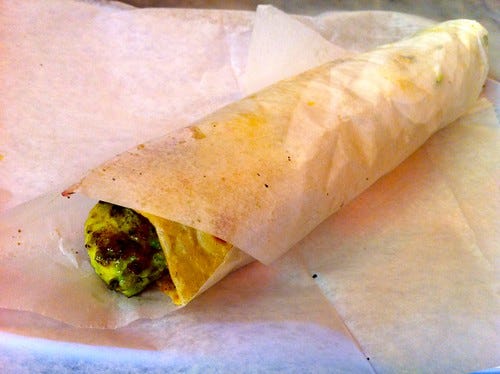 That there was my dinner and it cost only $4.50. It took them about 8 minutes to make it but that time was worth it. The flavors here were vivid and bright (and spicy too); here's how it looks, one bite in: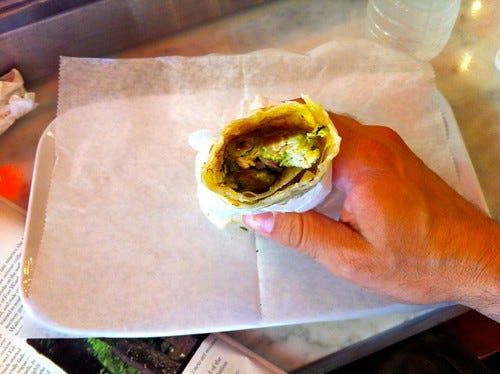 Thelewala is a good place to know about if you're hungry and don't want to spend a lot of dinero. (I considered getting popcorn afterwards, but when I ordered a small Sprite and a small popcorn at the Angelika, the woman rang me up for $10.50 and I canceled my order. That's a snack for the cost of two of my dinners!)

* * * *

Buvette, Jody Williams's new restaurant in the old Pink Teacup space, is the most adorable restaurant I've visited in a long time. Outside is parked a bicycle with a basket filled with wine corks: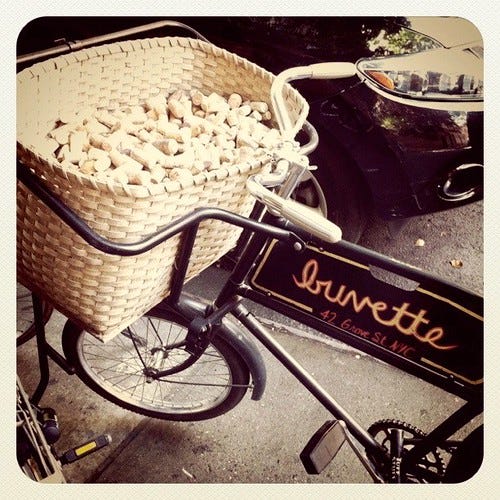 Inside, every detail is there on purpose. Jarfuls of condiments, knicknacks and bottles and baskets galore. This will give you a sense: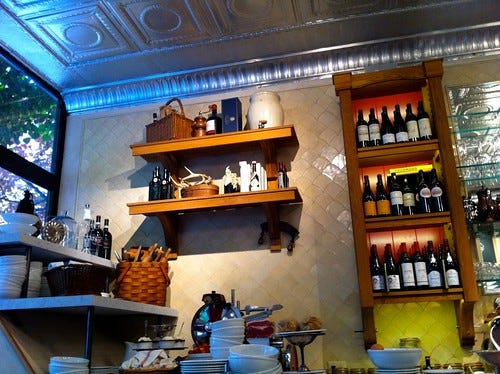 The food itself is adorable too. Well, the way it's served. Craig's croque madame came on an elevated platter: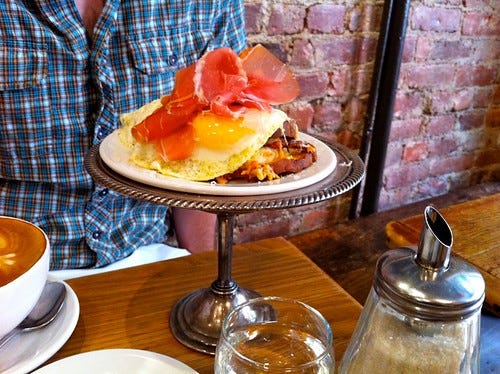 My pan bagnat (aka: tuna sandwich) came wrapped in paper with ping pong ball-sized olives on the side: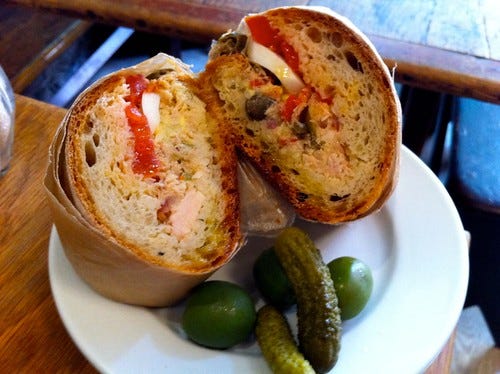 The aspragus didn't come on an elevated platter or wrapped in paper, but it was still lovingly presented, coated as it was in olive oil and topped with chevre and pickled shallots: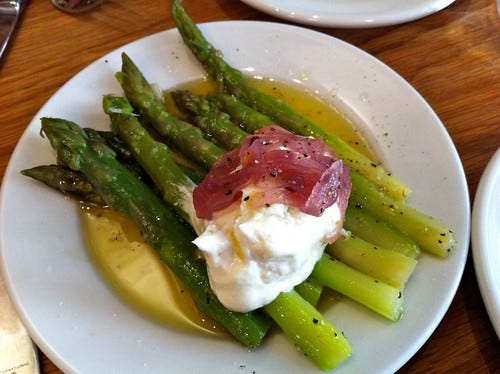 Here's the whole spread as photographed on Instagram: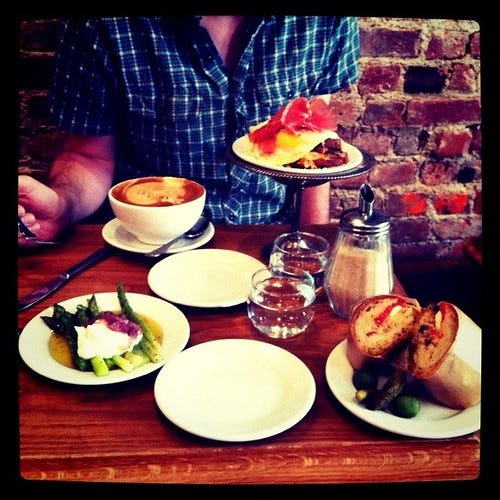 That's one pretty lunch scene--the Mad Hatter's tea party by way of Alice Waters--and, at lunch, the place is quiet and the sunlight streams in through all the windows.

If you're in the West Village any time soon, you must eat at Buvette. You'll want to pinch its cheeks when you're done.

* * * *

Finally, yesterday was a fun-filled July 4th with our friends Patty, Lauren, Mark and Diana (our annual July 4th picnic crew). We picnicked in Prospect Park: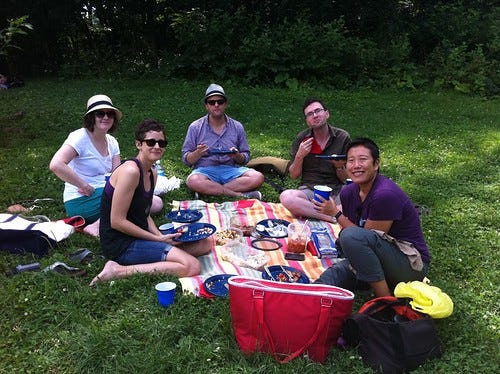 Here's our picnic plate: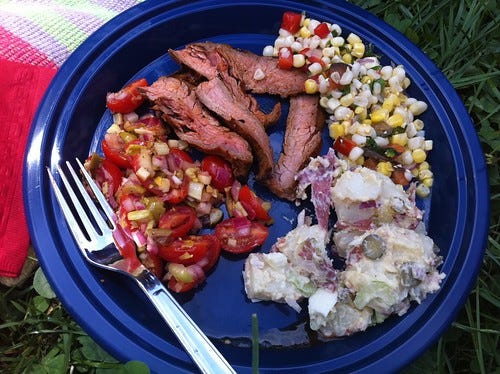 Patty and Lauren made flank steak from Bon Appetit with a "Bloody Mary" salad on the side; Mark and Diana made the potato salad and corn salad. (I brought the plate and utensils; off the hook from cooking because I'd cooked so much for these guys this year, with all my recipe testing.)

All of this was fantastic, but the highlight may have been the cherry hand pies that Patty made for dessert (also from Bon Appetit):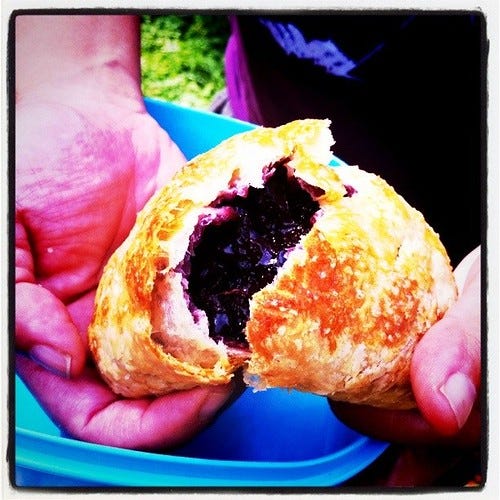 I mean, c'mon. Could there be a more perfect July 4th food?

After a raucous game of badminton: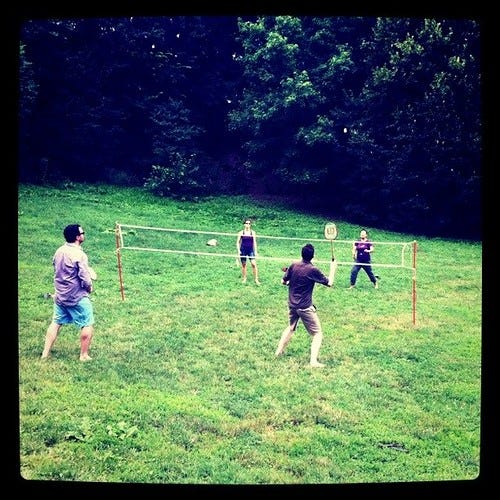 We worked up another appetite. Craig had mentioned that before he leaves for L.A. (10 days away!) he wanted to have one last meal at Franny's. Since we were in Prospect Park, how could we say "no" to that?

Off to Franny's we went: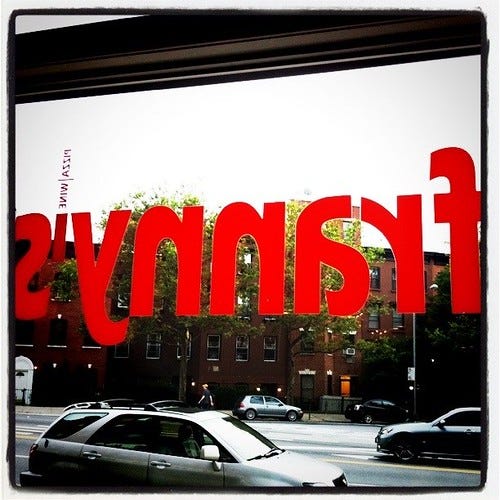 It occurred to me too that this might be MY last meal at Franny's before moving to L.A. (It really is one of my favorite New York City restaurants; Top 3, for sure.)

But let's not dwell on the sad stuff. We shared sugar snap peas cooked with shelling peas and served with prosciutto: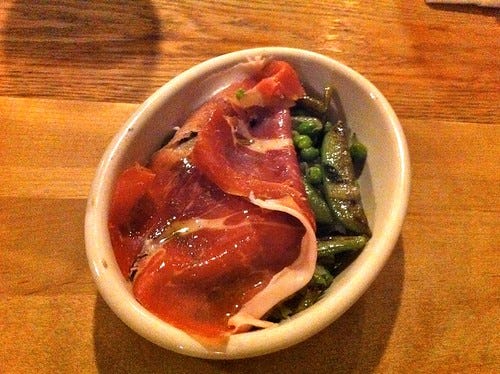 We shared fried green tomatoes that everyone agreed were the best fried green tomatoes we'd ever had: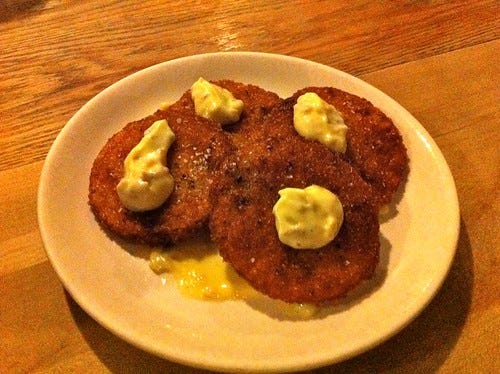 We also shared this burrata with grilled bread: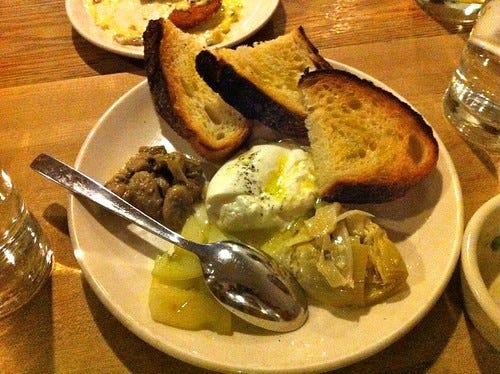 Then came the pizza. We ordered five pies for the six of us which was plenty. Specifically: a pie with ricotta and hot peppers, a pie with sausage, a pie with meatballs, a pie with clams and a pie with anchovies.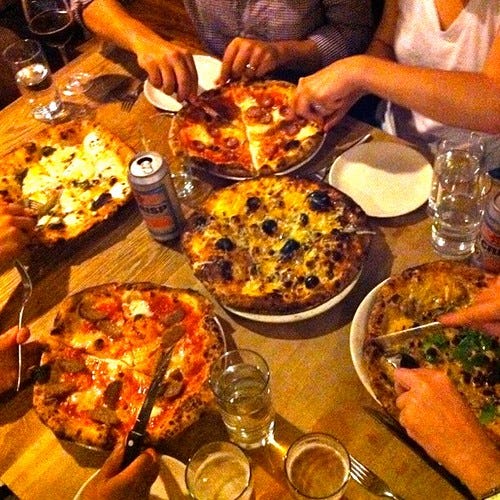 Needless to say, we were stuffed and very happy. But there was still room for dessert; namely, strawberry gelato and a cannolo: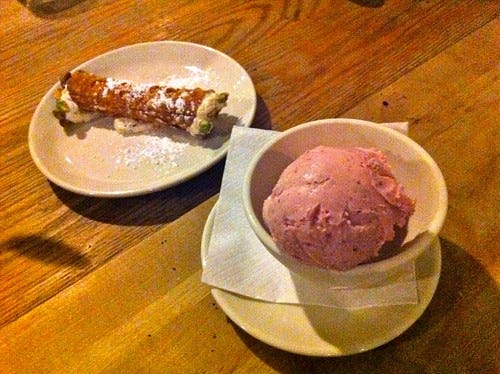 And thus we concluded what may be our last meal at Franny's for a very long time (not forever, of course; I'm sure when we come back to visit, we'll go to Franny's.)

Ok, folks, I've got lots of stuff to do.

Until next time!

Your friend,
Adam (The Amateur Gourmet)
Reading this in a browser? Get next week's in your inbox by signing up here.

Follow Me!
On Twitter
On Facebook

Recent Food Posts

Yucatan-Style Slow-Roasted Pork Tacos

Someone's In The Kitchen With...Ed Levine (Plus: Win Free Tix To The Serious Eats All-Star Sandwich Festival)

New Orleans Wrap-Up

Great New Orleans Meals at Mandina's, The Green Goddess, The Camellia Grill & Cochon

A Crawfish Boil (Plus: How To Eat a Crawfish)

The Sazerac

Someone's in the Kitchen With...Matt Armendariz

Hansen's Sno-Bliz & Napoleon House (New Orleans)

Our Louisiana Seafood Adventure

Commander's Palace (New Orleans)

Cafe du Monde (New Orleans)

We Fell In Love With New Orleans


*|LIST:DESCRIPTION|*

Unsubscribe *|EMAIL|* from this list.

Our mailing address is:
*|HTML:LIST_ADDRESS_HTML|*
Copyright (C) *|CURRENT_YEAR|* *|LIST:COMPANY|* All rights reserved.

Forward this email to a friend
Update your profile
*|IF:REWARDS|* *|HTML:REWARDS|* *|END:IF|*