A.G. Newsletter #47: Forage, Malo and Lunch with Uncle Jerry at Fromin's


Hey Loyal Newsletter Fans,

I owe you a huge apology! Ever since I moved to L.A., I let this newsletter slip. I mean, I had a good excuse: I had to pack up a whole apartment, drug a cat, fly across the country, lease a car, and deal with the fact that Hellman's out west isn't Hellman's (see my post: Food Shopping For The First Time In California.)

Just in case you're new here, a brief synopsis: I used to live in New York. Now I live in L.A.

And its been good so far! I mean; the better weather's a no-brainer. I love sitting with our front door open, the screen door closed, in the afternoons. Lolita even has an admirer....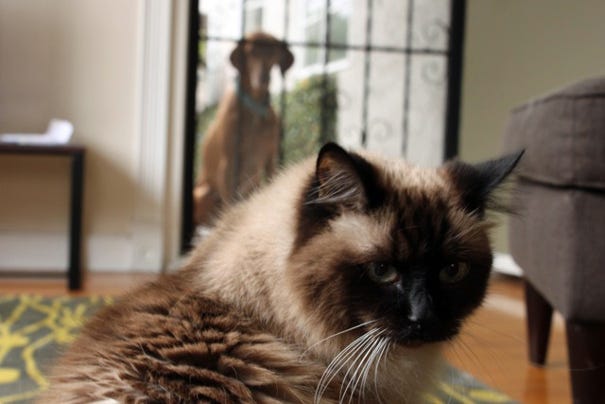 That's Canyon, our upstairs neighbor's dog. He's super friendly and super interested in Lola, but she's not having it. He whimpers, desperate for her affection, and Lolita merely struts past, occassionally sniffing in his direction, utterly uimpressed. It's a sad story indeed.

In my new sunny kitchen, I've been cooking quite a bit. There's Lisa Fain's Seven Chile Chili which I just posted about (click here); I fed it to Craig's family friend Jay who also lives in L.A. Here's a bowl of it, stolen from that same post: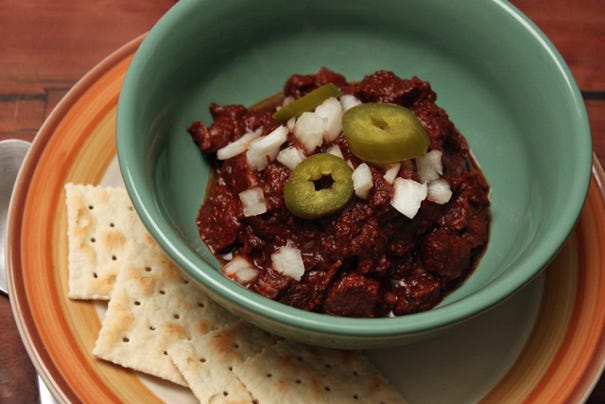 I've also been exploring the city using my stomach as my guide. I already told you about the best ramen of my life at Roboto Jinya and the Godmother sandwich at Bay Cities (a sandwich that might very well kill you if you eat it often enough).

I can't blog every meal, though, so here are a few just for you newsletter readers.

Last week, I discovered Forage in Silverlake: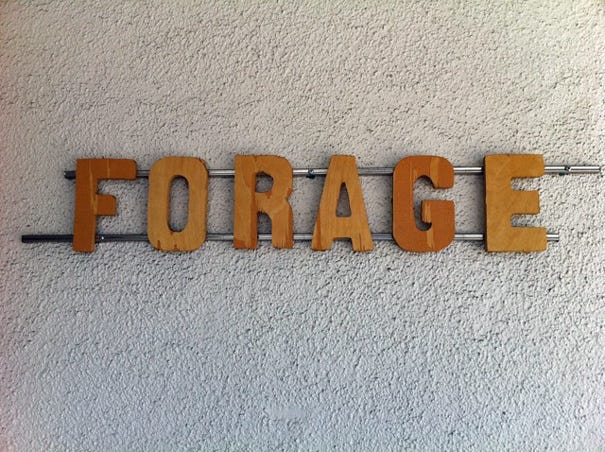 Apparently this place used to accept produce grown by neighbors but then the city was like "um, no, that's dangerous." (Dangerous? Has the city ever heard of Chez Panisse?!)

Like all of my favorite places to eat, Forage is incredibly sunny and warm: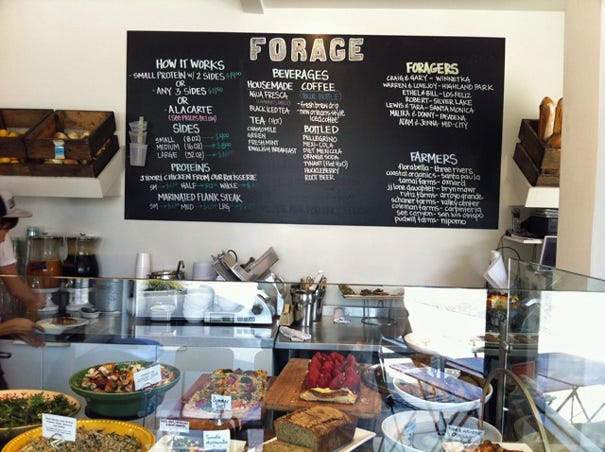 That's the menu and some of the food you can buy. They have a nice deal where you can order a protein and two sides--all of it very fresh and house-made.

I opted for the avocado sandwich because, when in California, you must eat an avocado sandwich at some point. And this one didn't disappoint: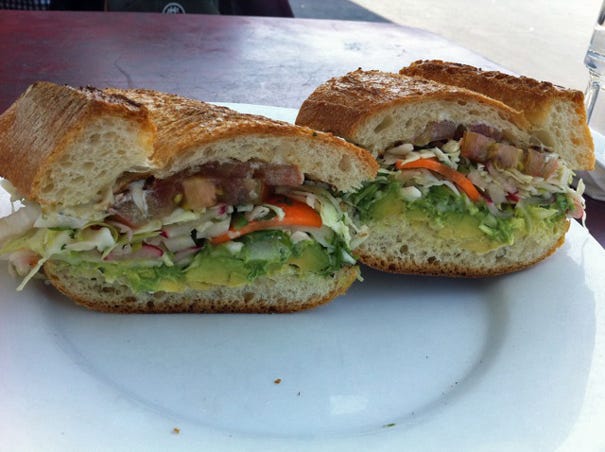 The bread was wonderfully crusty, the avocado wonderfully creamy, the other vegetables--carrots, cabbage, radishes--wonderfully crunchy. The real star, though, was a flavorful aioli that took this sandwich from wholesome to decadent in one fowl swoop. I would definitely eat this sandwich again.

Also in Silverlake is a place called Malo where I met a new friend, Zach, for dinner.

We had the funniest waitress there--a redhead with funky, rainbow glasses--who was desperate and fanatical about selling us a 2nd drink each. It was like a comedy routine: as we sipped our margaritas (mine with cucumber, his with chile)....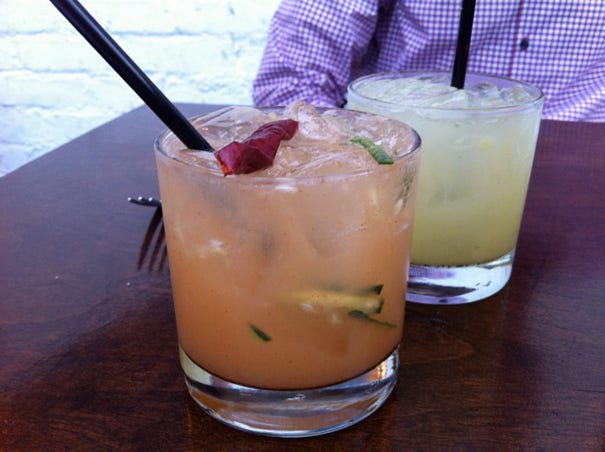 ...she'd come out and say "how are those drinks?" and then "ready for another one?" and then "sure you're not thirsty?" At some point I had to say, "I don't think we're ordering another drink." She took it pretty well.

Here's Zach toasting life in L.A.: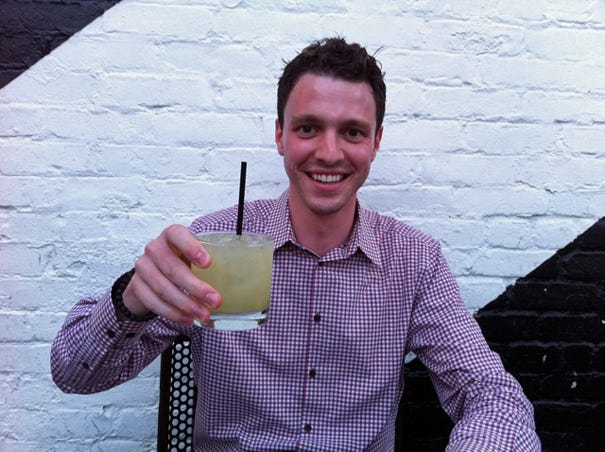 And here are the two kinds of chips they gave us---crunchy ones and soft ones: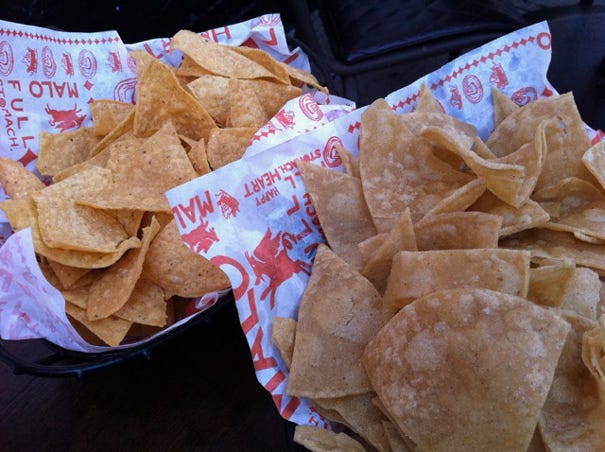 I really loved the soft ones--they had crisp exteriors and soft interiors--and, while they were hot, they were impossible to stop eating. Especially with the burnt habanero creme salsa that you see on the right: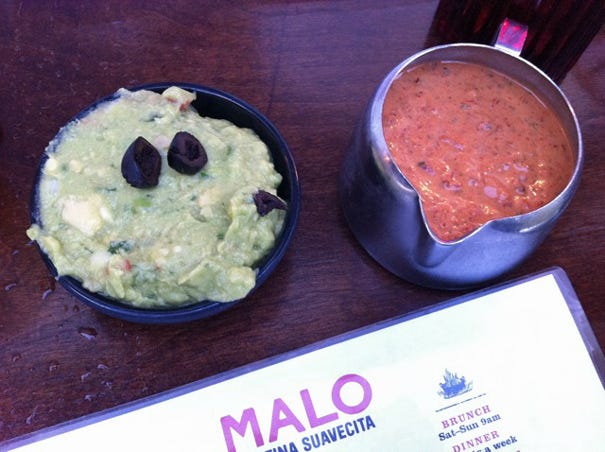 The rest of the food was very good, if not quite extraordinary. I liked my Baja shrimp tacos just fine: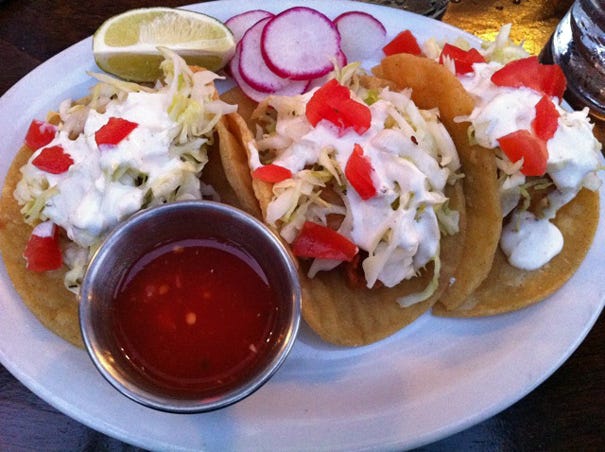 And Zach's beef tacos with pickles (yes, pickles) certainly hit the spot: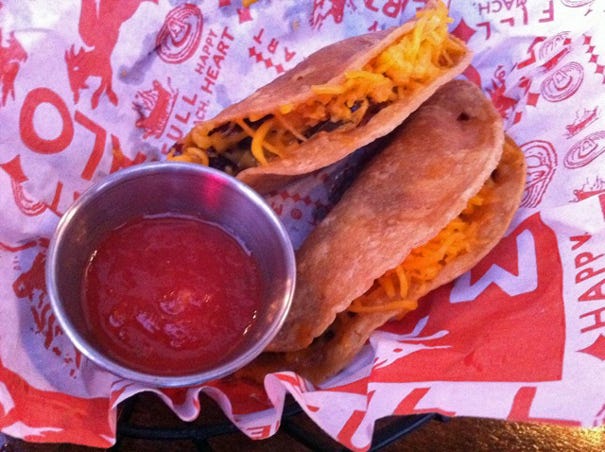 Oh, and I really loved the fried plantains which had a great crust: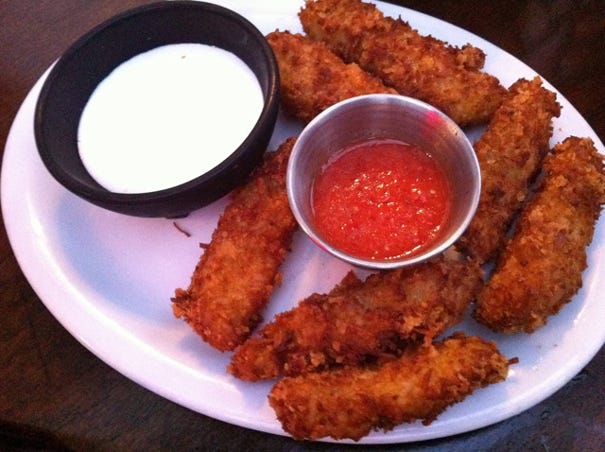 If I go back to Malo, though, it'll be for chips, burnt habanero creme salsa and tequila-based drinks. And next time I'll be sure to order two.

Finally, my 90 year-old Uncle Jerry lives in Santa Monica and to say that he's happy that we've moved to California would be a profound understatement.

He took us out for lunch this Saturday at his favorite local deli, Fromin's: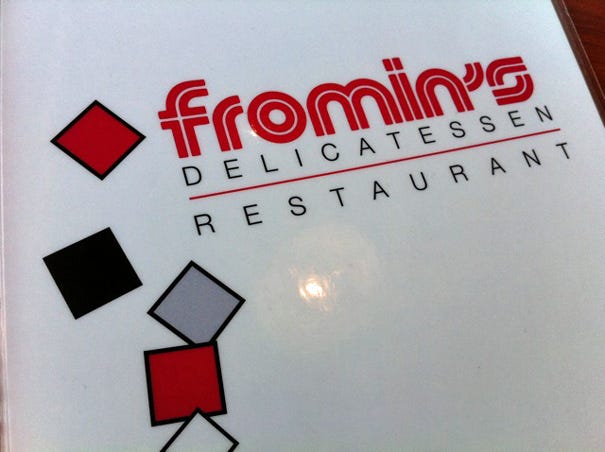 Don't you love that un-self-consciously retro menu?

At a deli, I always order the same drink: Dr. Brown's Black Cherry Soda.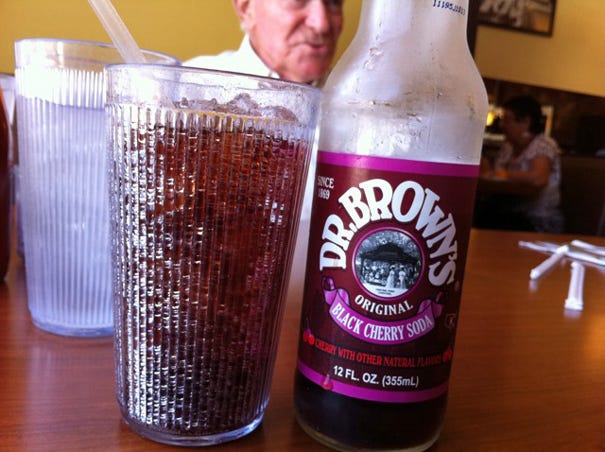 Here's Uncle Jerry with his lunch--an omelet with a potato pancake on the side: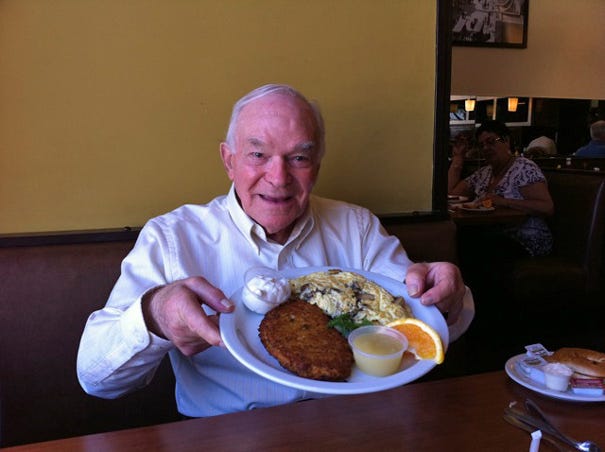 Here's my egg salad sandwich: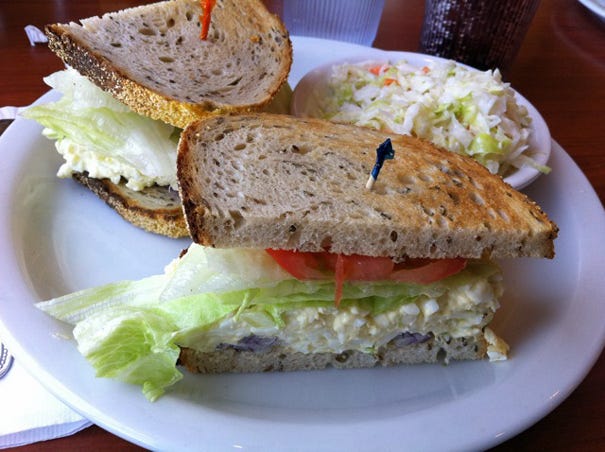 And Craig's Reuben: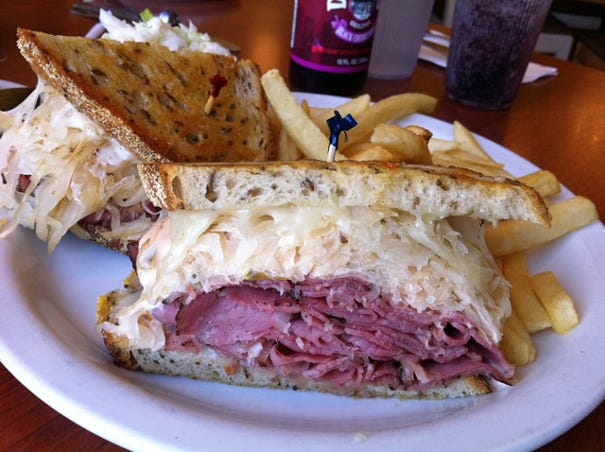 Uncle Jerry told us stories about running the men's clothing store in the 20th Century Plaza hotel, meeting Mohammed Ali, and the birthday party that he threw at this very deli for his mother's (my great-grandmother's) 102nd birthday before she died a year later.

It was a fun lunch and I'm sure you'll be seeing more of Uncle Jerry on the blog as we continue our lives here in L.A.

And speaking of our lives here in L.A., I've got to go home and continue setting up the apartment: we've still got a dresser to build, boxes to put away, and laundry to do (my first time in our new building).

But thanks for your patience as I took the time to get this newsletter back off the ground. Look for it again next week!

Until then....

Your friend,
Adam (The Amateur Gourmet)
Reading this in a browser? Get next week's in your inbox by signing up here.

Follow Me!
On Twitter
On Facebook

Recent Food Posts

Two L.A. Sandwiches & A Burger at Bay Cities, Cafe Tropical & Umami

Food Shopping For The First Time in California

Saved By Ramen at Robota Jinya

Peppadewed Pork Chops with Cauliflower

The Farewell New York Meals

Zankou Chicken



*|LIST:DESCRIPTION|*

Unsubscribe *|EMAIL|* from this list.

Our mailing address is:
*|HTML:LIST_ADDRESS_HTML|*
Copyright (C) *|CURRENT_YEAR|* *|LIST:COMPANY|* All rights reserved.

Forward this email to a friend
Update your profile
*|IF:REWARDS|* *|HTML:REWARDS|* *|END:IF|*