A.G. Newsletter #49: Crisis in Craigland, An Avocado Sandwich, Son of a Gun, and A Yellow Plum

Hey there loyal readers,

For those who didn't read the blog this morning or who don't follow me on Twitter (WHAT? Why not? Click here!) you probably didn't hear about our big trip to the emergency room last week. What happened? Why did we go? More importantly, what did we eat? Read this post--"Hospital Food"--for the full story and all the gory details. (You can see a picture of Craig in his hospital bed.)

Needless to say, that experience shaped the rest of our week. Craig spent it healing and I spent it playing nurse.

This meant that all meals were served at home (sandwiches for lunch, hot things for dinner) and I got more and more comfortable cooking in my new kitchen. One lesson that I learned: food pictures look way better when I take them in daylight than at nighttime. And so, behold this avocado sandwich I improvised with avocados from the Hollywood farmer's market!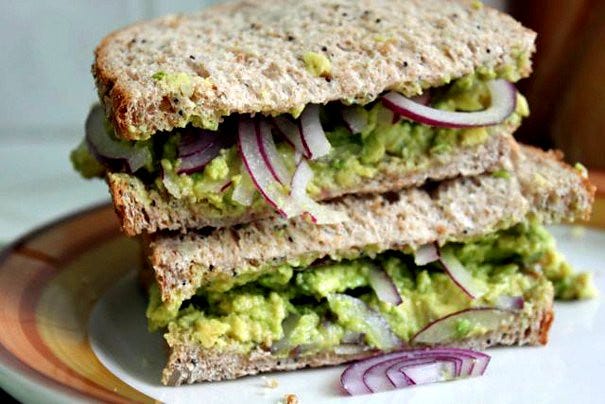 To make, simply cut two ripe Haas avocados in half lengthwise and scoop them into a bowl (removing the pit beforehand):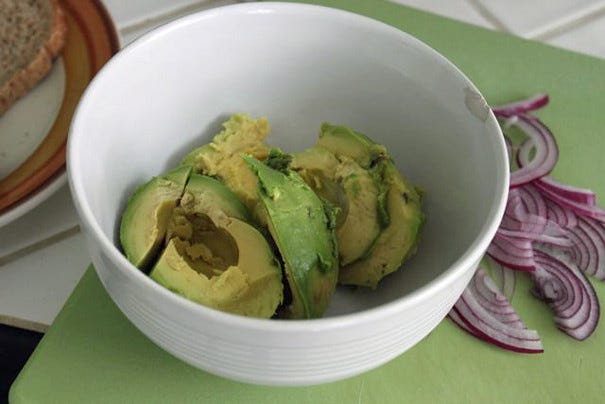 Mash 'em up with a little olive oil, salt, pepper and if you have it, lemon juice (if not, a splash of white wine vinegar will work):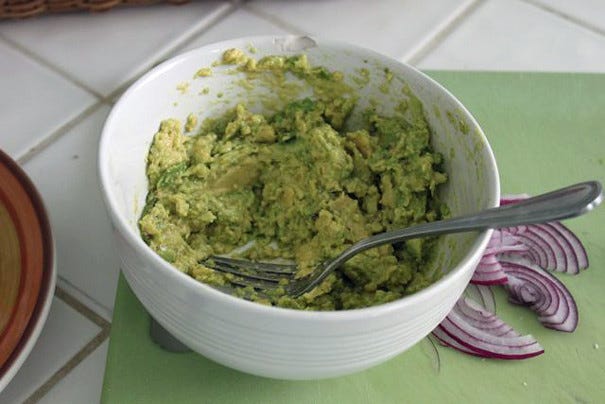 Now, simply spread the avocado mash (it should still be chunky) on to whole wheat bread and top with my secret ingredient--PICKLED JALAPENOS: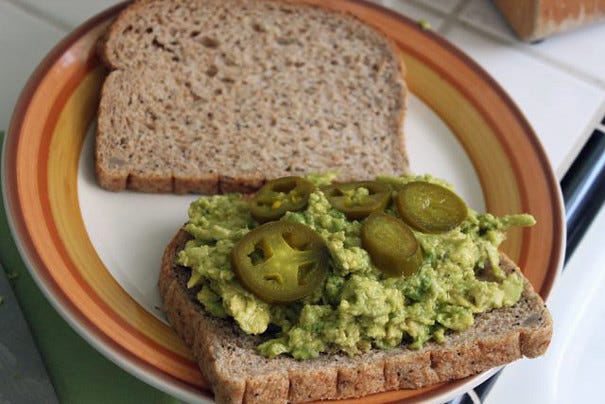 Finish with a few red onions: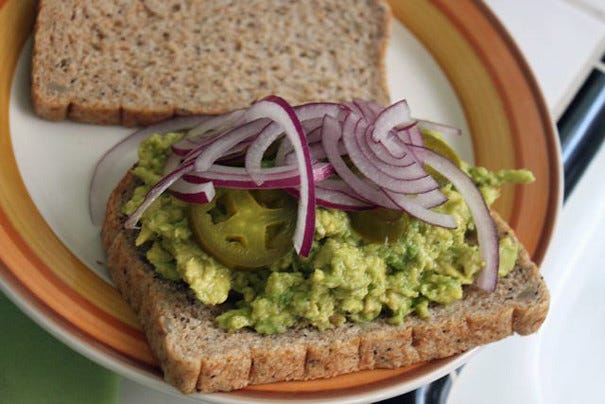 And there you have it! A sandwich fit for a king. But not for our sick patient, who needed something tamer, so he got tuna.

* * * *

One of the more disappointing aspects of Craig's illness was that on Thursday--two days after his crisis--we had tickets to see Jon Brion in concert at Largo.

Jon Brion is famous for producing such artists as Aimee Mann, Fiona Apple and Elliott Smith; but, quite famously, he's put on a show at Largo for years where he plays all different kinds of instruments and takes requests from the audience. I'd been looking forward to seeing him ever since we moved here, but there was no way Craig would make it one day after surgery.

Lucky for me, I recently befriended a food blogger named Andy Wintak who has the blog The Wind Attack. Not only did he accompany me to the concert (which was amazing and thoroughly blew my mind), but he suggested we go to Son of a Gun first.

That was a good idea because Son of a Gun--the latest restaurant from Jon Shook and Vinny Dotolo (creators of Animal)--is one of L.A.'s most celebrated new restaurants.

The good news was there were seats for us right away at the communal table. Now I took some pretty awful pictures of the food with my iPhone (it's pretty dark in there) so I won't show you the cool, surprising appetizer of fish roe with maple cream and pumpernickel crisps; or the salad made with fresh farmer's market ingredients and topped with a Green Goddess-like dressing. But I will show you the fried chicken sandwich which is justifiably famous: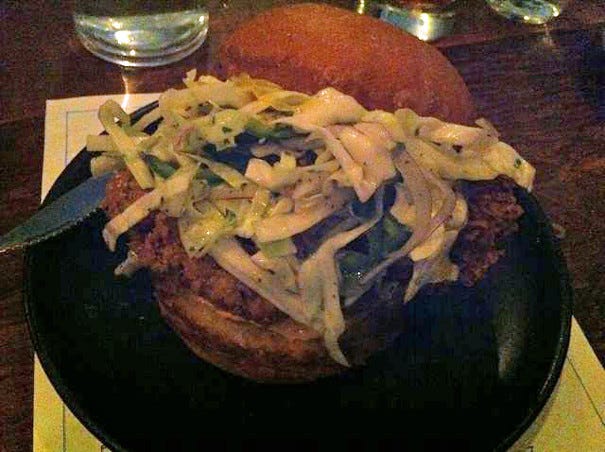 That would be a fried chicken patty on a bun with lots and lots of homemade coleslaw and "rooster" aioli (which I think means there's Sriracha in it). The sandwich, needless to say, was unreal; like a high-end version of a lowbrow fast food fried chicken sandwich.

The other unreal dish that I'll show you a picture of, despite the badness of my photography, was the alligator schnitzel: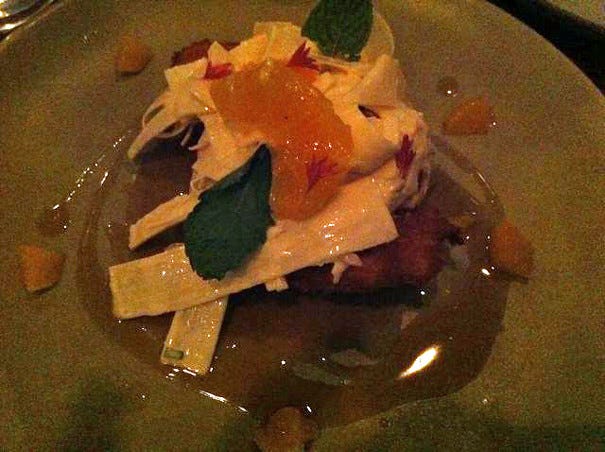 That would be fried alligator topped with a mayo-like sauce then strips of hearts of palm, orange segments, and a sweet-honey like syrup on the plate. It's a wonderful combination of flavors and sensations; as crowd-pleasing a dish as you could possibly render from an alligator.

Needless to say, I'll be back to eat more!

* * * * *

Finally, I returned, yesterday, to the Hollywood farmer's market (this'll be a regular Sunday ritual) where I bought a few yellow plums. They had a name but every time I asked the man selling them what they were, he mumbled. It was one of those scenarios where you lean closer and closer and say, "Sorry?" and each time, the mumble comes out worse. Like a Monty Python sketch. So I don't know what this is, but man, it was delicious: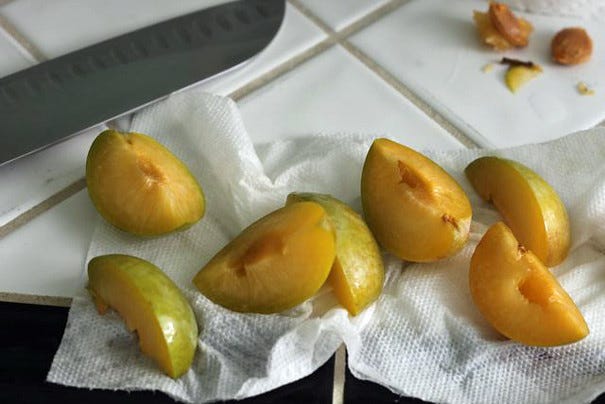 That's all for this week, folks!

If you want to leave "get well" wishes for Craig, feel free to do so on the hospital post. I'm sure he'll be glad to see them.

Until next time....

Your friend,
Adam (The Amateur Gourmet)
Reading this in a browser? Get next week's in your inbox by signing up here.

Follow Me!
On Twitter
On Facebook

Recent Food Posts

Why Cookbooks Are Here To Stay

One Night in Bangkok (Dinner & Dessert in Hollywood's Thai Town)

Spelt & Olive Oil Cake with Bittersweet Chocolate

Mo-Chica & A Sunday Supper at Lucques

A Trip To The Santa Monica Farmer's Market

Setting Up Our New Kitchen

Lisa Fain's Seven Chile Chili

Two L.A. Sandwiches & A Burger at Bay Cities, Cafe Tropical & Umami

Food Shopping For The First Time in California

Saved By Ramen at Robota Jinya

Peppadewed Pork Chops with Cauliflower

The Farewell New York Meals

Zankou Chicken



*|LIST:DESCRIPTION|*

Unsubscribe *|EMAIL|* from this list.

Our mailing address is:
*|HTML:LIST_ADDRESS_HTML|*
Copyright (C) *|CURRENT_YEAR|* *|LIST:COMPANY|* All rights reserved.

Forward this email to a friend
Update your profile
*|IF:REWARDS|* *|HTML:REWARDS|* *|END:IF|*