A.G. Newsletter #53: Our Costumes, A Momofuku Dinner Party, Mozza & Josie Next Door


Hey there newsletter fans,

It's a big day on the blog today!

For starters, I spent all afternoon Sunday crafting THE ULTIMATE LASAGNA. Fresh pasta dough, homemade ragu, bechamel and Parmesan yielded THIS. It was a ton of work but one of those projects that's not only rewarding because it tastes good, but because you become a better cook while you make it.

Secondly, we have a NEW BANNER on the site today. But that's not the only thing that looks different. I started today with a new ad company, SAY Media, which means that there are far fewer ads on the site. No more ad over the banner, no more clutter in the right column. Things are looking good over at Chez A.G.

Finally, last week I gave out a bunch of secrets in my post How To Support Yourself as a Food Blogger. I don't know if my food blogging friends will ever forgive me! But you deserve to know.

* * * * *

Now then, Halloween was yesterday. We went to two parties on Saturday night and Craig was adament that I wear a costume; he wasn't having the "I'll just buy bunny ears and stick them on my head" approach I've been employing for the past several Halloweens. So, after joining a gym last week (see here for updates on that) I chatted with the guy who signed me up about what I should be (I'd just come from a costume shop and left empty-handed). He very matter-of-factly said, "You should be a Christmas elf."

He said it with such surity that I took him at his word. But the store I went to didn't have a Christmas elf outfit; it had Peter Pan. And so that's what I was: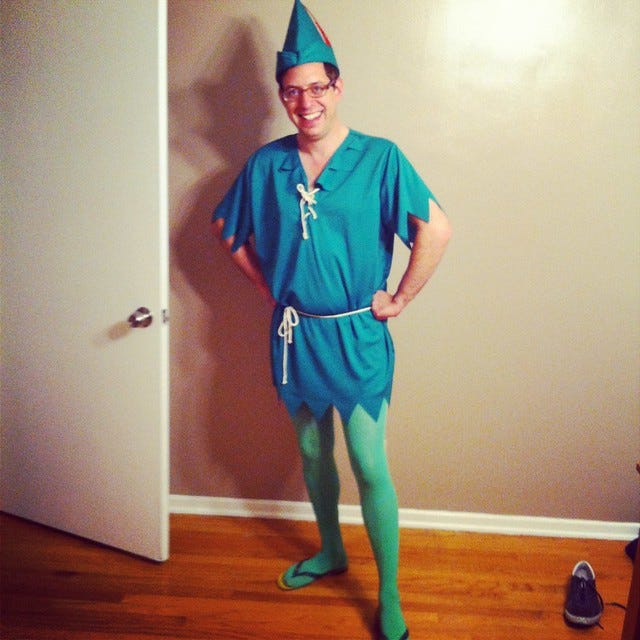 Turns out I had yellow and green flip-flops which sort of made the outfit. Meanwhile, Craig went as a 70's tennis player: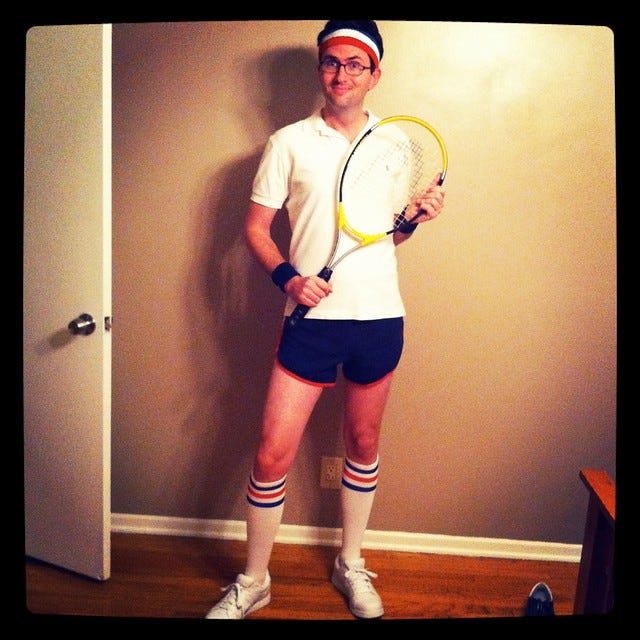 All in all, our costumes were met with enthusiasm ("You really went for it with those tights!" said our friend Maggie) but, as for originality, we were outmatched by a guy dressed as "The 1%" with a shirt that said, "Legalize Foie Gras."

* * * *

A week earlier, we'd attended an amazing dinner party thrown by our friend Laura and two of her friends. They cooked ten dishes--TEN DISHES--from the Momofuku cookbook. Here's Laura and one of her friends in action: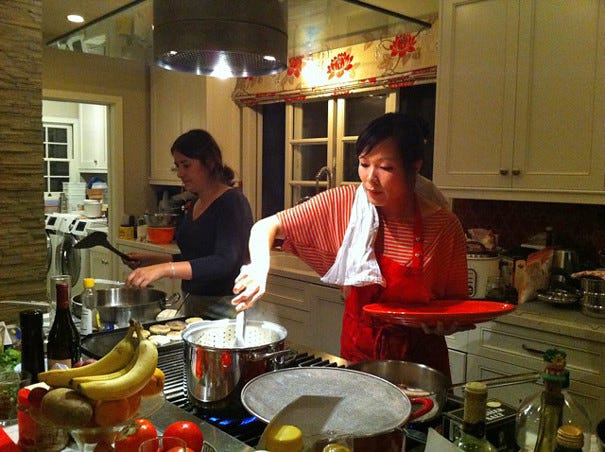 This dinner was really something else; a culinary marathon of sorts. There were the obligatory Momofuku pork buns: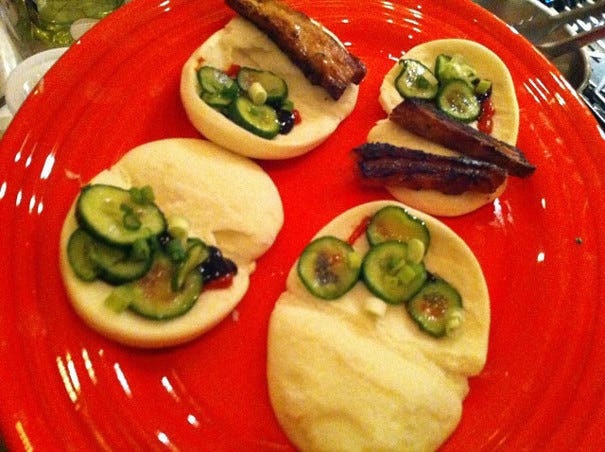 And homemade English muffins with bay butter: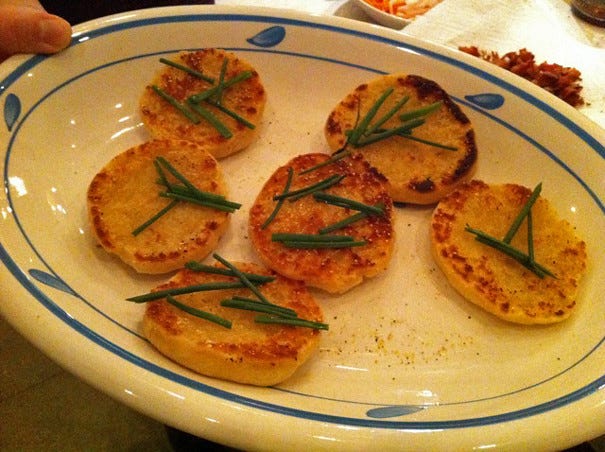 And those were just the pre-dinner nibbles. Here's the whole menu (yes they printed menus too!):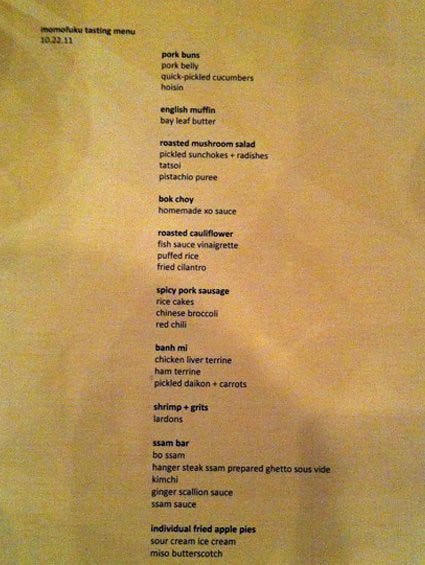 Suffice it to say, this was a LOT of food. I still had room for the fried apple pie at the end, though: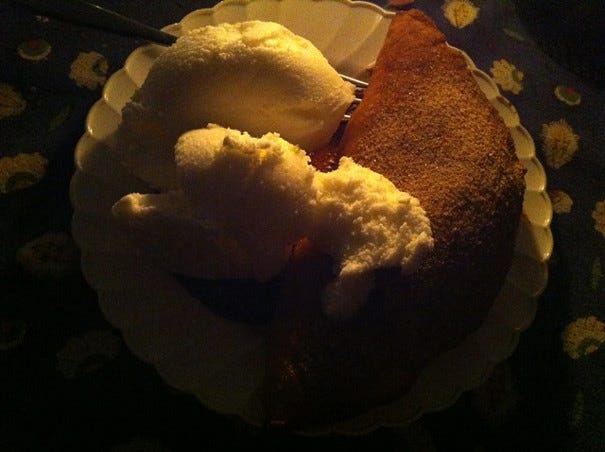 It's probably not a coincidence that I joined a gym several days later.

* * * * *

At long last, we made our way to Mozza last week. I'd been there once before--when I came to L.A. for my cookbook last February--but not with Craig and not under normal circumstances (I just popped in that time to try the pizza before running off to cook).

This time, we took the advice of some very knowledgable L.A. food people who told us not to worry about a reservation, we could just sit at the bar. And, indeed, that's totally true. We waited 10 minutes and were seated at two cozy seats near the bathroom.

Craig and I shared a tricolore salad with an anchovy dressing that was like a Caesar salad if a Caesar had an identity crisis, wrote a powerful memoir and won a Pulitzer prize: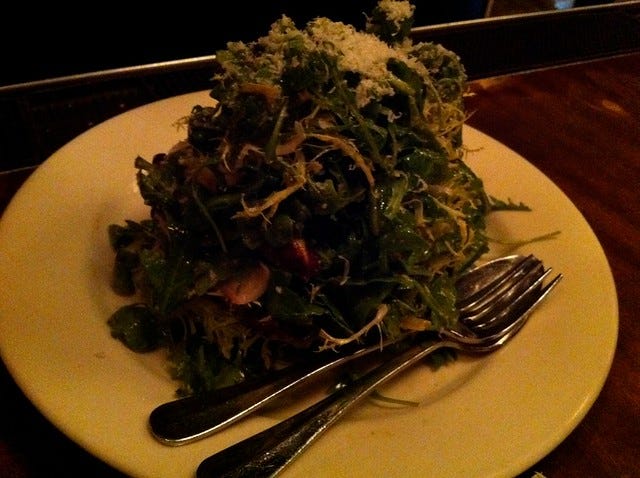 What makes this salad so notably great are the ingredients that go into it. In particular, I'd bet anything that the anchovies that go into the dressing are the salt-packed variety, not the oil-packed you get at the grocery store. We loved it.

And then the pizza was pretty magnificent too. I had the long-cooked broccoli pizza because I'd been curious about long-cooked broccoli since reading about it a Nancy Silverton cookbook. Basically, you braise broccoli for over an hour with lots of garlic and other aromatics until it's a sultry, flavorful mess. Here it is on my pizza: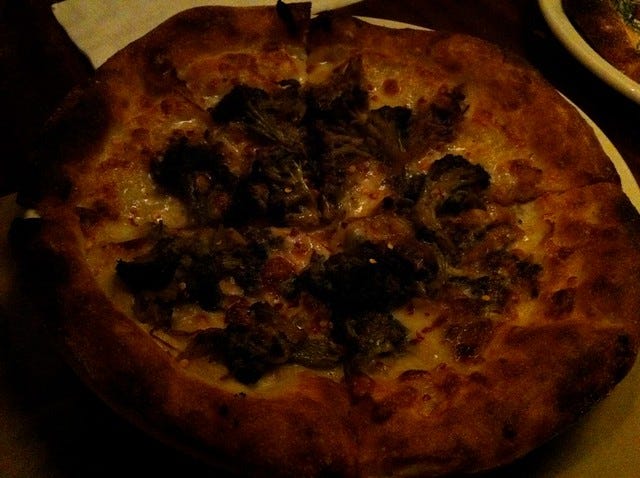 (Hard to see, but it's there.) Craig had a pizza with leeks, goat cheese and pancetta. The barman suggested getting an egg on top, and so Craig did: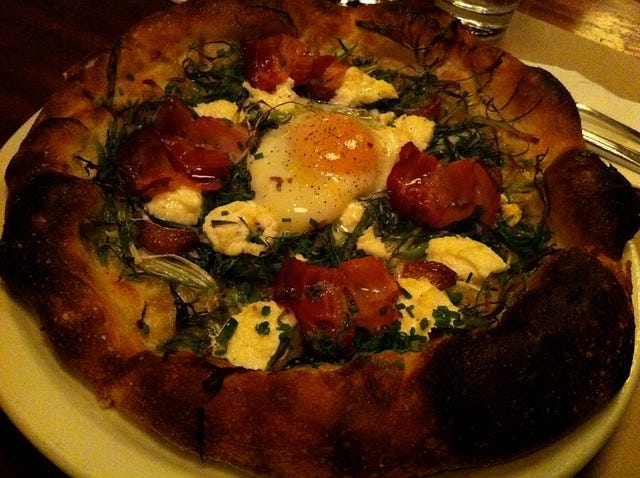 We both enjoyed our pizzas, though both agreed that the leeks were too stringy on Craig's.

But man, that crust! Nancy Silverton really is a genius. Each bite of that crust was something of a revelation; crunchy in places, soft in others, little jewels of salt hidden within. That crust is a wonder.

Of course, we shared the butterscotch budino for dessert: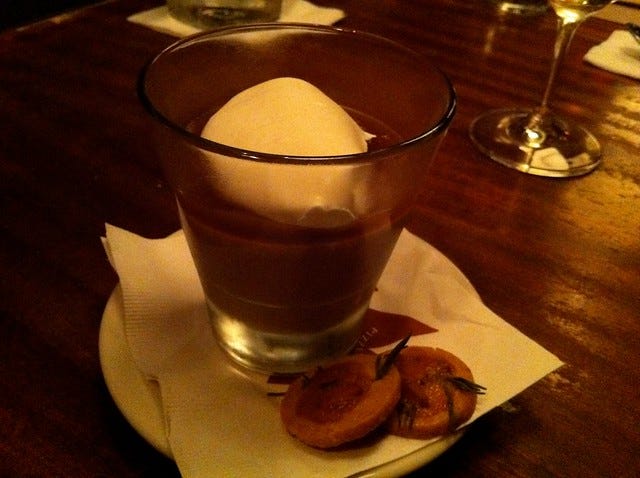 It's probably not a coincidence that I joined a gym several days later.

(Note: I know I said that already, that's why it's a funny joke.)

* * * * *

Finally, I met up last week with Kat Odell, editor of Eater L.A., at a place she suggested: Next Door By Josie.

It's called that because the original Josie is, well, next door: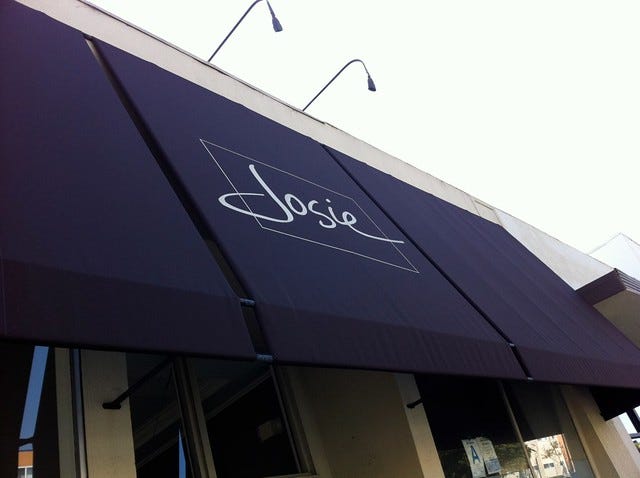 Next Door is the more casual option and they were so new when we went, the host seemed a bit nervous and our waiter was a bit jittery.

But the food was definitely good stuff. We shared homemade BBQ potato chips to start and they had such a unique BBQ flavor about them, I'd love to get the recipe: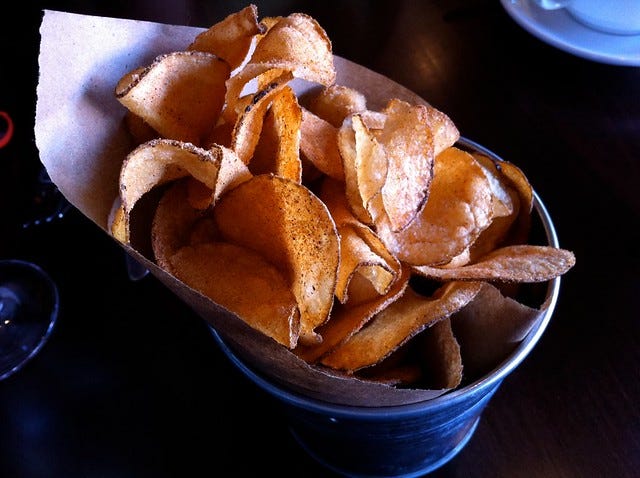 Then we shared a beet salad that the waiter kindly split for us, unsolicited: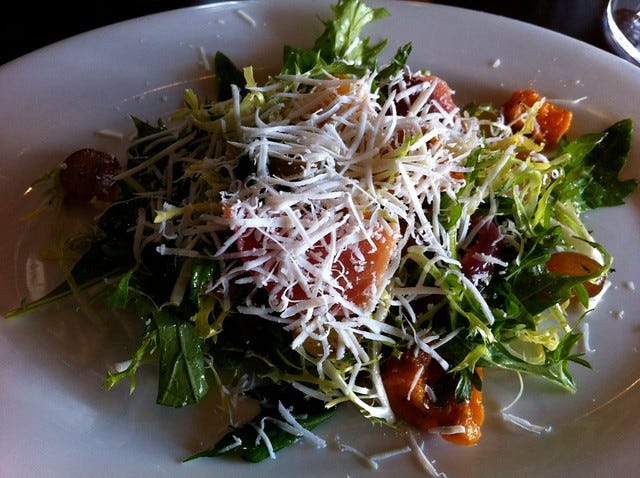 We also shared a duck confit banh mi which Kat will model for you here: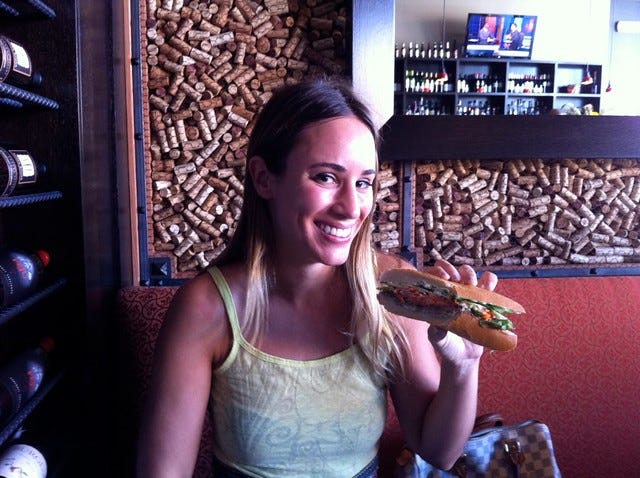 All in all, I liked our meal at Next Door by Josie. It's a bit far from where I live (basically in Santa Monica) but good to know about next time I'm in that hood.

Ok, folks, that's it for this week! Check my blog tomorrow for another epic post, this time a post about the Best Doughnuts in L.A.

Until next time!

Your friend,
Adam (The Amateur Gourmet)

Reading this in a browser? Get next week's in your inbox by signing up here.

Follow Me!
On Twitter
On Facebook

Recent Food Posts

Romaine Salad with Cornbread Croutons & Buttermilk Garlic Dressing

Nepalese Chicken Tarkari

The Food at Disneyland

Jalapeno Cheddar Cornbread

Let's Not Be Paternalistic About Food

The Best Sushi of Our Lives at Sushi Zo

Boat Noodles at Pa-Ord

The Day I Was On The Cooking Channel And Didn't Know It

Last Minute Gougères

How I Fixed The Lighting In My Kitchen

Does Food Writing Matter?


*|LIST:DESCRIPTION|*

Unsubscribe *|EMAIL|* from this list.

Our mailing address is:
*|HTML:LIST_ADDRESS_HTML|*
Copyright (C) *|CURRENT_YEAR|* *|LIST:COMPANY|* All rights reserved.

Forward this email to a friend
Update your profile
*|IF:REWARDS|* *|HTML:REWARDS|* *|END:IF|*