Hey there Pilgrims,

Guess what I did yesterday? I made cookies WITHOUT A RECIPE. Apple Pie Cookies! Here's the post all about it, read it and bask in my cookie glory.

Now then, did you survive Thanksgiving ok? Any family blow-ups? Did Aunt Martha leave the table in tears? Our Thanksgiving was pretty uneventful. We ate out---I know, I know--but it was the best way to spend quality time with my family in the short time that I was home (as opposed to shopping and frantically cooking for 18). Here's the Thanksgiving plate I made for myself at the buffet: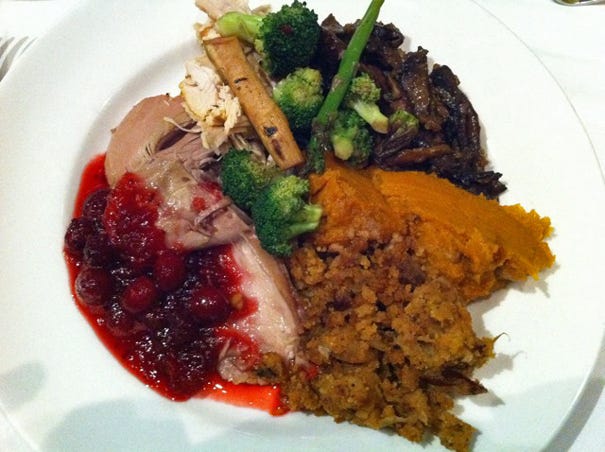 You'll see the basics there--the turkey, the cranberry sauce, the stuffing, the sweet potatoes, the mushrooms. It's when we get to the vegetables that things go awry. The buffet ran out of BRUSSELS SPROUTS and instead put up roasted broccoli (fine!) with roasted asparagus...STALKS. They must've used the heads for a different dish and, having run out of Brussels sprouts, subbed them in as an adequate replacement. But that's not an adequate replacement. Craig, who got the last of the Brussels sprouts, didn't even let me try one, the bastard.

Now when I go visit home--that would be Boca Raton, Florida--at Thanksgiving, there are certain traditions that we keep up. For example, I always have lunch with my mom at Cafe Boulud in West Palm Beach. (That sounds very Gwyneth Paltrow-y, but it just sort of happened that way.) Here we are at our table outside: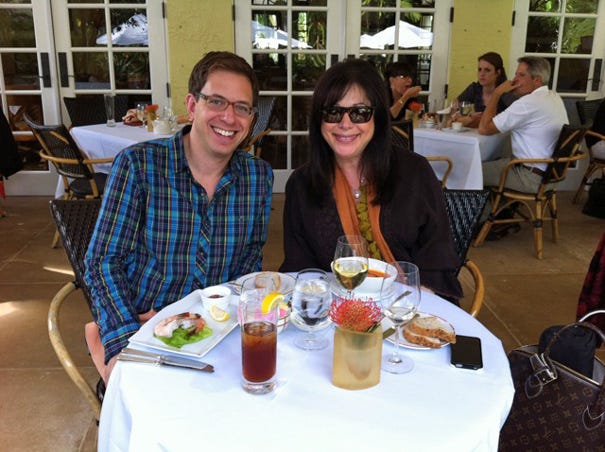 I'm sad to say that I think the food at Cafe Boulud West Palm Beach has been going steadily downhill since I first went there several years ago. It's not that the food is bad--much of it is good--it's just a little sloppier. Like the shrimp cocktail that came with our prix fixe still was a little veiny: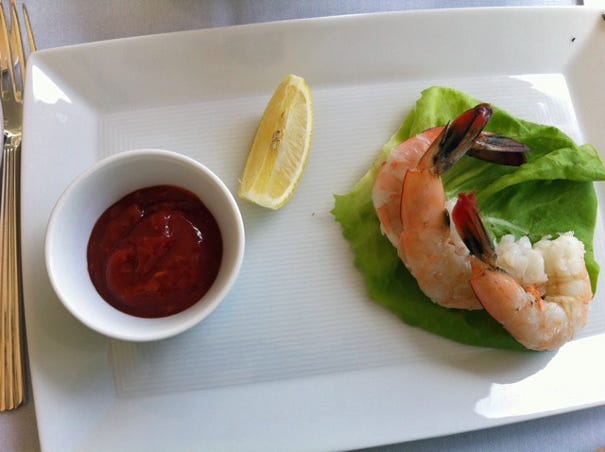 (You can see some of the vein on the plate on the upper right; I removed it with my knife.)

Our entree was homemade pasta with broccoli rabe and, this is impressive, homemade bottarga (which is dried fish roe):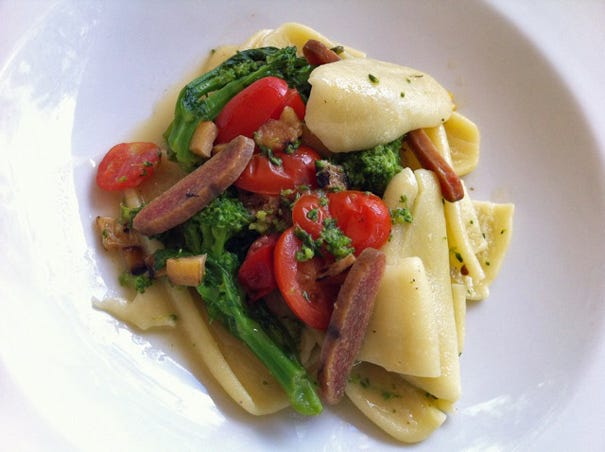 That was a good dish, no complaints here.

The desserts, too, are pretty excellent, though they seem like they're made ahead and kept cold in some freezer and assembled at the last minute. Which is fine. You can't complain about this key lime pie, can you?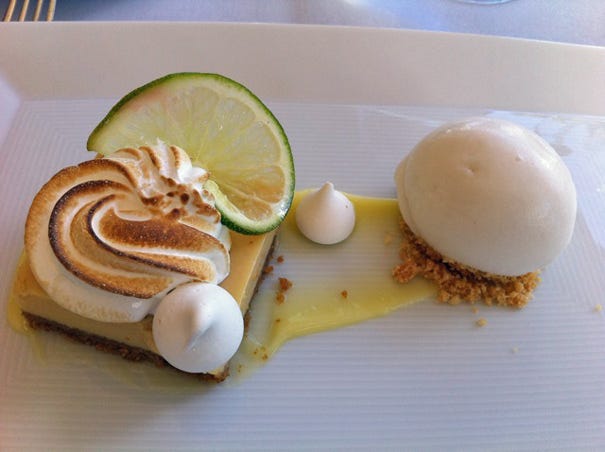 Or this chocolate raspberry sundae?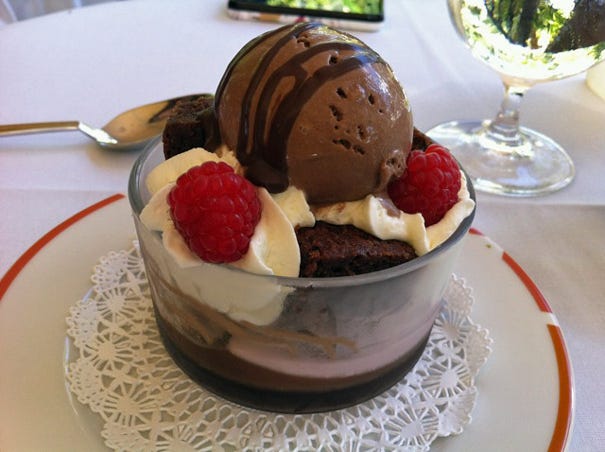 No you can't. So maybe it's not going downhill after all, it's just that they need to clean their shrimp better.

On Friday night, my brother and his wife Tali took Craig and I out on the town in Delray Beach (where they live) for fun activities on Atlantic Avenue. We went to a restaurant called The Office with Tali's sister Maya and her boyfriend Barry.

Here's The Office exterior: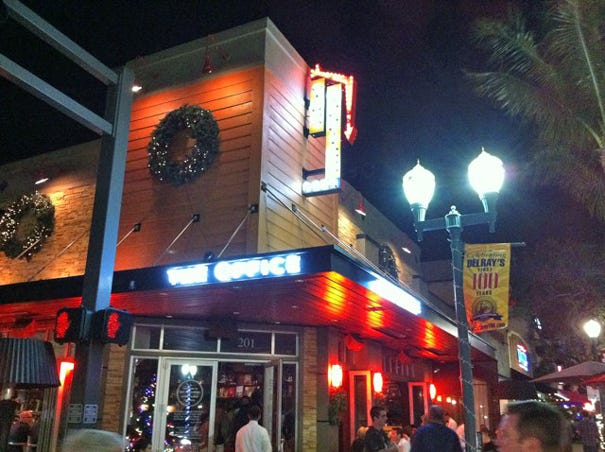 Now for anyone who's been to Mozza in L.A., I think you'll find curious similarities between the Mozza placemat and silverware presentation (in a sealed envelope) and The Office placemat and silverware presentation: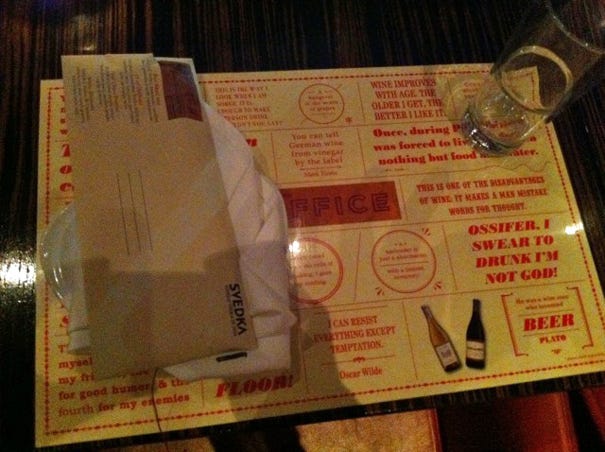 Can you plagiarize a placemat? Maybe this deserves a post.

The food at The Office was really tasty. These truffled deviled eggs were well made: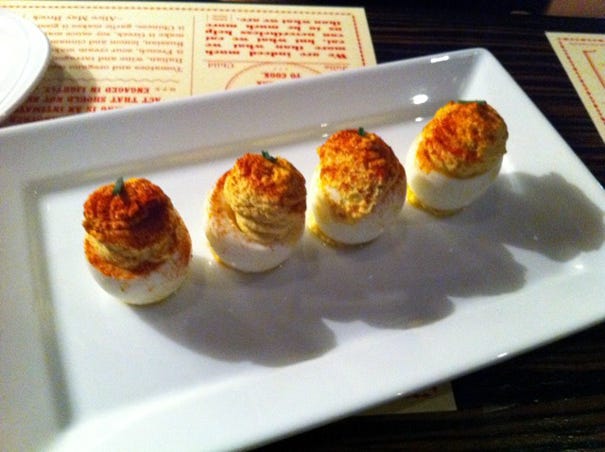 And the cornbread with pimento cheese & maple butter was pretty much to-die-for: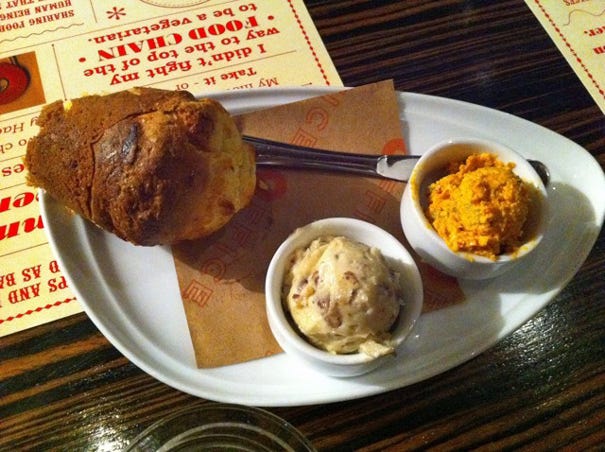 Since I'd already gone off the rails in terms of fat consumption, I had the cheeseburger which was mighty tasty: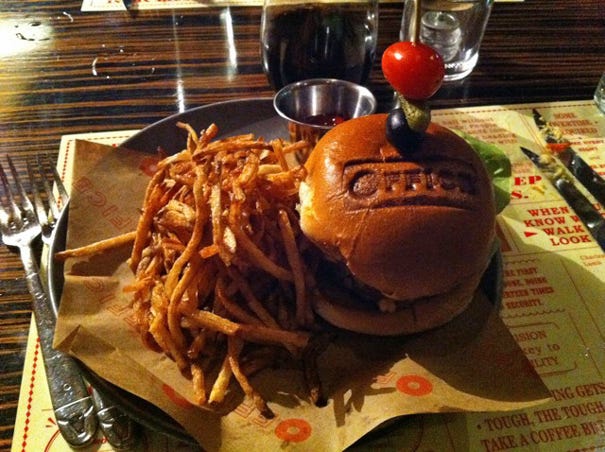 All in all, The Office is a good place, plagiarized placemats notwithstanding.

Afterwards, we walked along Atlantic (which has a hopping nightlife) and got icecream at Kilwin's, which is an old fashioned ice cream parlor: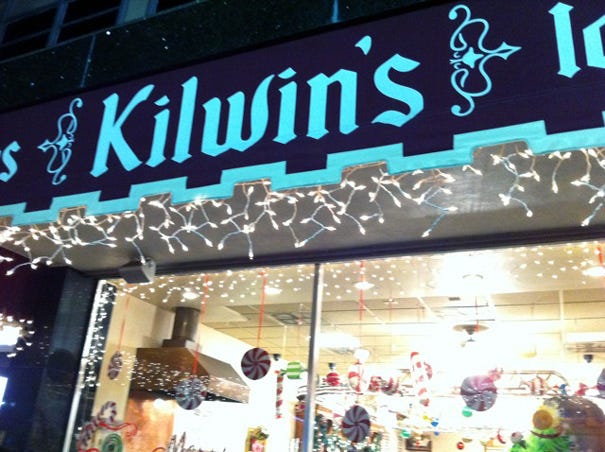 Here are Michael and Tali with their ice cream: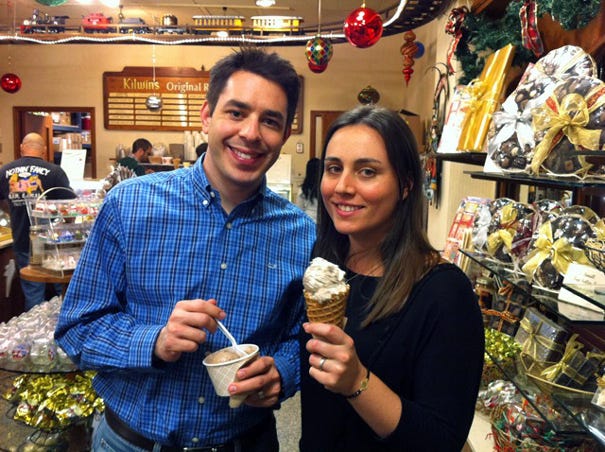 And here's the ice cream that Craig and I got---Craig got prailine pecan and I got something with peanut butter cups in it (Moose Tracks?):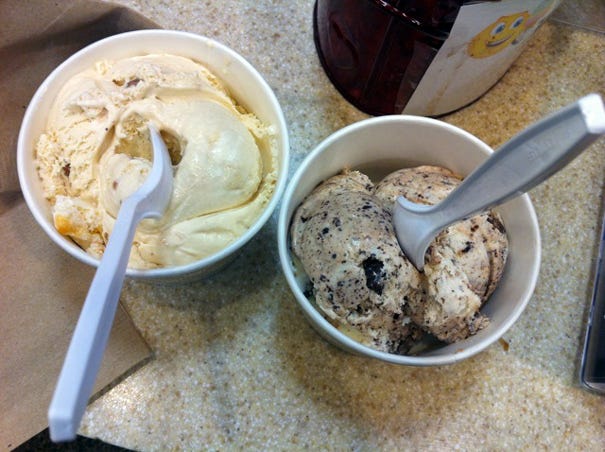 Despite the deviled eggs, the cornbread, the burger and French fries, we devoured these, no problem.

Before I left Florida on Saturday, we looked at a bunch of old pictures with my mom. Here's me eating a bagel as a baby (apparently, I loved food as kid and started crying whenever the eating was done):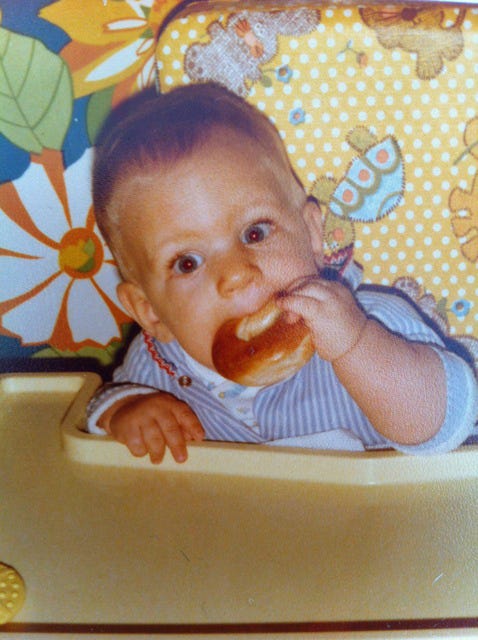 Also, my mom reminded me that when she was in Italy she had this platter made for me: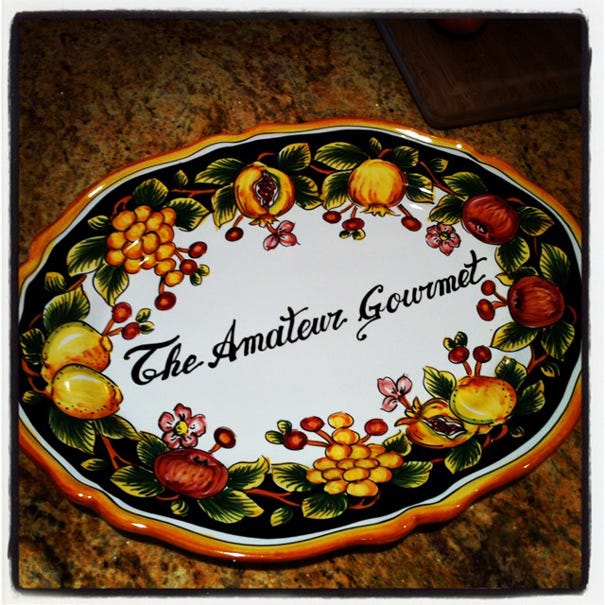 Isn't that sweet? She's going to ship it my way so look for it in future blog posts.

Our flight got in at 10 PM on Saturday night P.S.T., so it felt like 1 AM on east coast time. And by the time we got home it felt like 3 AM but that didn't stop me from making pasta with butter, nutmeg and Parmesan (my favorite comfort food staple):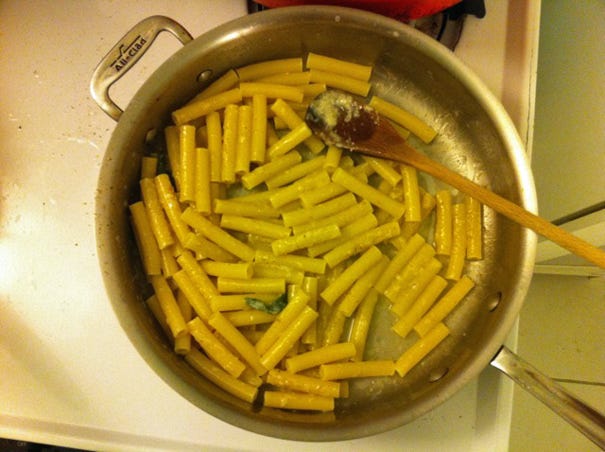 (I added sage, in case you want to know what the green stuff is.)

And so we end another newsletter!

For those who were following my workout journal and wondering "did you workout while you were in Florida?" The answer is YES. More on that on the Not Food blog later today.

Until next time....

Your friend,
Adam (The Amateur Gourmet)
Reading this in a browser? Get next week's in your inbox by signing up here.

Follow Me!
On Twitter
On Facebook

Recent Food Posts

My First Persimmons

That's Not A Lime Tree

The A.G.'s Thanksgiving Guide 2011

Slow-Roasted Herbed Turkey Breast

Persimmon Cranberry Sauce

Maple-Roasted Butternut Squash and Apples

Red and Gold Beet Salad with Mache & Goat Cheese

Feasting Before The Feast (Or: Another Sunday Gravy)

Tacos Delta & Ricky's Fish Tacos

How To Make a Sidecar

Porchetta at Home

Eggs, Biscuits & Bacon




*|LIST:DESCRIPTION|*

Unsubscribe *|EMAIL|* from this list.

Our mailing address is:
*|HTML:LIST_ADDRESS_HTML|*
Copyright (C) *|CURRENT_YEAR|* *|LIST:COMPANY|* All rights reserved.

Forward this email to a friend
Update your profile
*|IF:REWARDS|* *|HTML:REWARDS|* *|END:IF|*