A.G. Newsletter #58: Latte Art, Golden State Coleslaw, LaMill, Square One, Carrot Juice, Doughnuts & Dupar's


Hey Newsletter Fans,

What a week last week was! You'd think things would've calmed down after Thanksgiving but instead things heated up. I cooked THREE--count 'em, THREE--dinner parties for friends last week. At one dinner party I made Jewish food, including the chopped liver that I just blogged about (click here). Check out the post, even if you're liver squeamish.

For our friends Kenny and Brendan, I made two recipes from an Ottolenghi book that I'll blog about later this week; and on Thursday, I cooked rigatoni Bolognese for internet phenom Louis Virtel (of the edgy, hilarious, deeply offensive Verbal Vogueing) who you can see this Thursday night on "Chelsea Lately" on E!: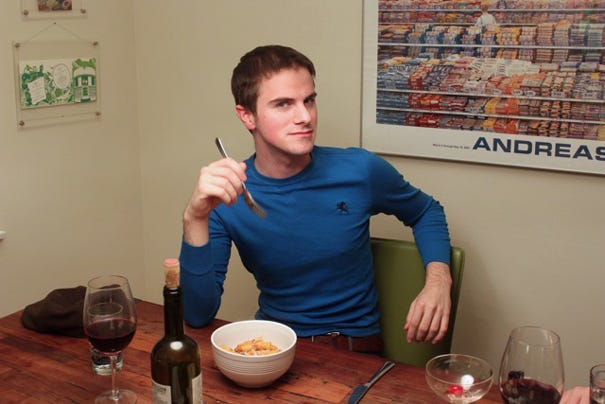 On top of all that cooking, I also continued to eat my way around L.A. And also caffeinate myself around L.A. At Intelligentsia, a barrista there created the most stunning piece of latte art I've yet experienced: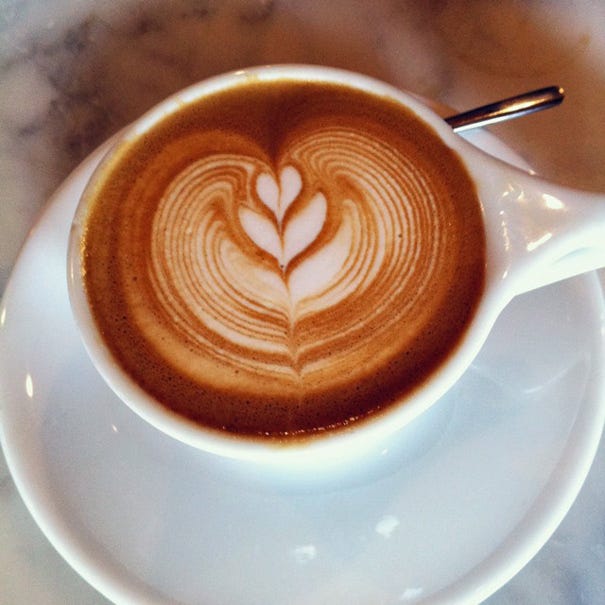 That's even better than the latte art I made myself when I learned to make it on camera.

Off to Golden State I went, still avoiding their hamburger for no good reason (even though it's supposed to be the best in L.A.) and this time enjoying their chicken sandwich with the biggest mound of coleslaw ever piled on to a plate: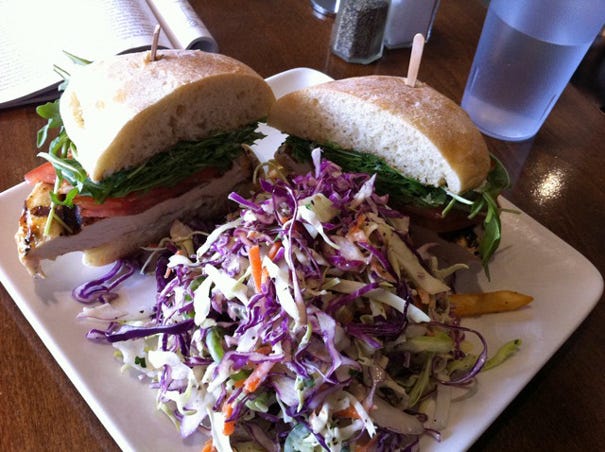 That's a really special coleslaw. As Noah (my friend who works there) explained, they toss it only at the last second so it stays crunchy; and it's peppered (quite literally) with jalapenos which adds danger to the whole experience. It's worth enjoying next time you're there.

I'd been to LaMill in Silverlake once before for coffee with Lizzie my cookbook photographer when we were in L.A. last February. This time, I went back and had lunch there too. It's a strange place, LaMill. For starters: it's a total zoo, almost impossible to find a parking spot out back. Even though the place is set up like a restaurant with chandeliers and waitresses, people treat it like a coffee shop so you'll see folks with laptops and iPads and their work spread out before them like they're home or at their office.

I decided to have their Sofia sandwich with goat cheese and olive tapenade. It was a tasty sandwich (I subbed a salad for their potato chips) but this cost $15 and that was WAY too much money for bread with hardly anything on it: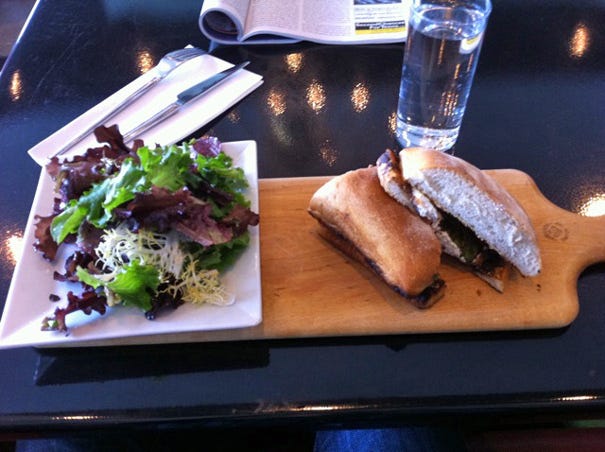 As for the coffee, which is all roasted in-house (as far as I understand), it was very good--here's my cappuccino--though I still prefer Intelligentsia, Commissary, & Paper or Plastick?: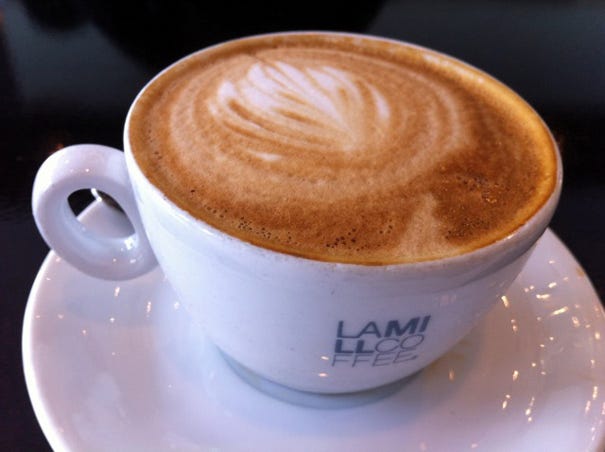 My friend Travis took me to Square One a few months ago for breakfast and it took me that long to go back, for no good reason. Because the place is really good with lots of homemade breakfasty food and a great atmosphere. This time, I had the yogurt with lots of great fruit in it (persimmons, pears, grapes) and house-made granola on the side: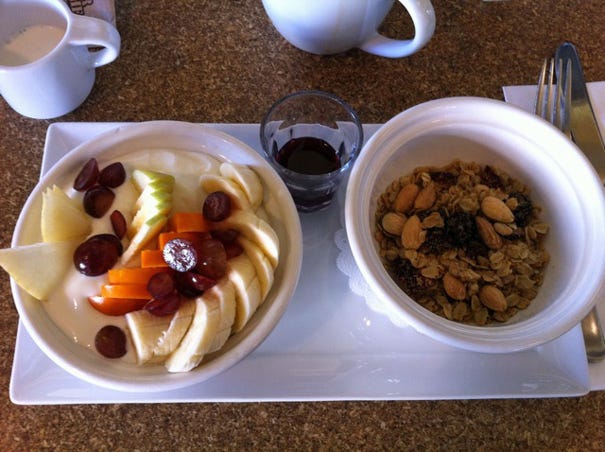 Craig had the Eggs Bendict which he also thoroughly enjoyed: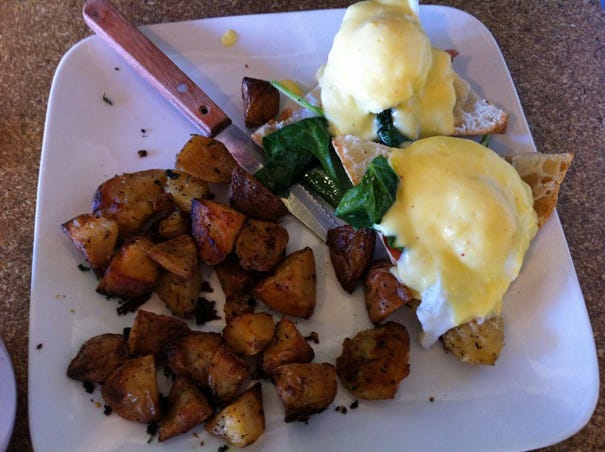 Yesterday, I was feeling a little bit like I was getting a cold (still fighting it now!) so I went to the juice store near my apartment and ordered their carrot ginger juice: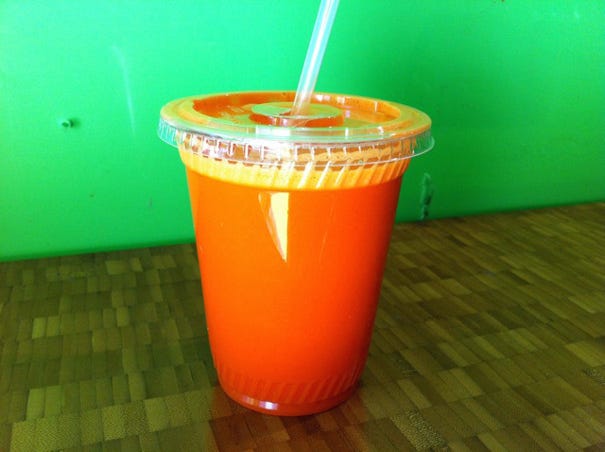 There was so much raw ginger juiced into this drink it felt like I was swallowing nails that'd been set on fire. It was a good kind of burn--I felt like it was melting away my cold. But I could barely get to the bottom, it was so intense.

Finally, yesterday we went to The Grove to see "Hugo" which I wasn't sure that I really wanted to see (the previews are kind of lame) but which I absolutely enjoyed; it's not what you think it is, if you think it's a kid's movie about a robot. It's really a movie by a master filmmaker about the history of film.

While there, we pigged out on doughnuts at Bob's which I visited when I did my post "The Best Doughnuts in L.A." This time I tried their apple fritter (which you can see at 12 o'clock) and I was so blown away by it--crispy on the outside, moist on the inside--it made me rethink my whole ranking.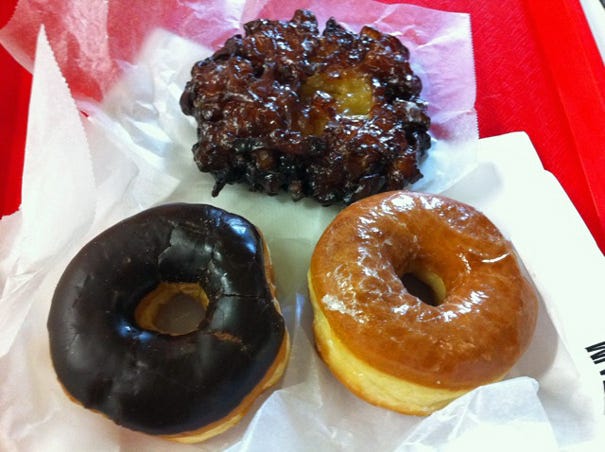 Those other two doughnuts are Craig's which he ate before consuming a whole bag of popcorn at the movies. The man is a monster.

For dinner, I really wanted to check out Nancy Silverton's new burger place, Short Order: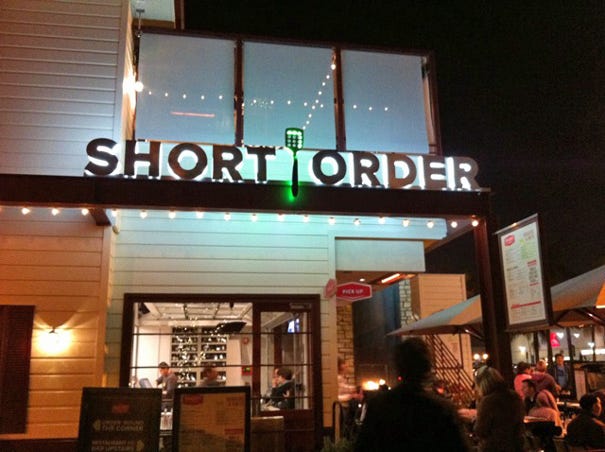 But it was so cold outside and Short Order had no heat lamps or inside seating, so we wimped out and went to Dupar's which is an institution next door.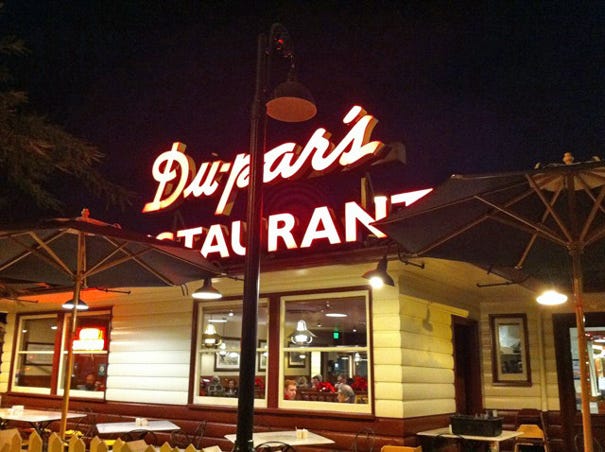 The food was mediocre, to say the least, but at least it was warm. And then Craig, while eating apple pie, decided to recreate a scene from one of our favorite movies which I just posted on the blog. Can you guess it?

That's all for this week, folks!

Until next time....

Your friend,
Adam (The Amateur Gourmet)


Reading this in a browser? Get next week's in your inbox by signing up here.

Follow Me!
On Twitter
On Facebook

Recent Food Posts

Banh Mi at Ink.Sack, Chile Rellenos at Loteria

Sexy Cabbage Sexytime

Way Beyond Bagels

Apple Pie Cookies By The Seat of My Pants

My First Persimmons

That's Not A Lime Tree

The A.G.'s Thanksgiving Guide 2011


*|LIST:DESCRIPTION|*

Unsubscribe *|EMAIL|* from this list.

Our mailing address is:
*|HTML:LIST_ADDRESS_HTML|*
Copyright (C) *|CURRENT_YEAR|* *|LIST:COMPANY|* All rights reserved.

Forward this email to a friend
Update your profile
*|IF:REWARDS|* *|HTML:REWARDS|* *|END:IF|*