A.G. Newsletter #60: Chai Tea at Bourgeois Pig, Tinga, Cooking For Me (Pasta & Oatmeal)


Hey there friends,

Look, I'm not going to lie: I betrayed you this morning. Instead of reserving three interesting restaurant meals from last week for my newsletter, I blogged all about them in my post about The Apple Pan, Gjelina Take Away and The Lazy Ox Canteen.

But here's what you need to understand---when I write about something in the newsletter? It goes out to all of you nice people and then disappears forever! It's archived, in a way, somewhere on MailChimp but it's not searchable or Googleable or archivable on my site. And those three restaurants--The Apple Pan, Gjelina Take Away and The Lazy Ox--are restaurants that people who visit my blog may want to know about when they click the "Los Angeles" section. So you can understand my betrayal. I hope you'll find it in your hearts to forgive me.

Now--something very exciting happened last week and if you didn't check my blog you missed it. I had an article published in Food & Wine Magazine! Click that link and read all about it and then buy yourself a copy so you can see what all the fuss is about.

On Monday, last week, when I last wrote you, I had to scramble to finish copyediting the proofs of my cookbook that were due back the next day. I squirreled myself away at The Bourgeois Pig, a quirky coffee shop right near my apartment that reminds me so much of college (like the kind of coffee shop you'd find a college campus). I ordered their chai tea and some zucchini bread: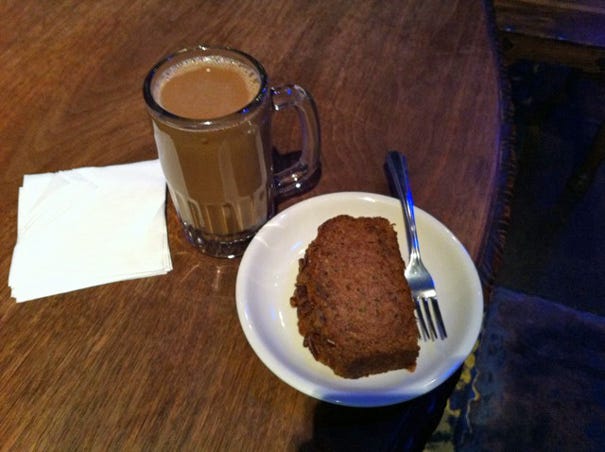 That Chai tea was SOOOO sweet at first I felt like I was sipping hot syrup. But strangely, disturbingly, I grew to enjoy it so much I went back later in the week and ordered it again. Second Evaluation: it is loaded with sugar and way too sweet but its saving grace is lots of spice and lots of vanilla. I kind of love it. (And the zucchini bread wasn't half bad.)

My new friend Kat Odell, of Eater LA, told me that I should check out a place on La Brea called Tinga. And so, last week, I did: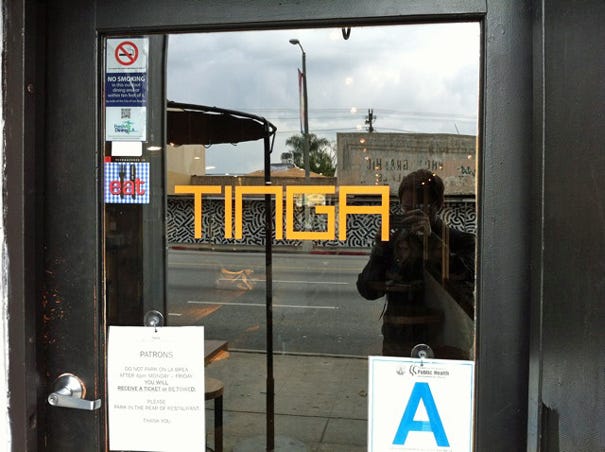 It's in a really cool area with this nifty store next door with glasses and silverware and tablecloths that's connected to a store with vintage shirts that's connected to a store with not-vintage shirts. I plan to go back.

Here's the thing about Tinga: I think one of the people working there that day was having a fight with the owner? That's a total theory---I could be entirely wrong---but I felt some tension in there.

No matter: I wasn't there for drama, I was there for tacos. Here's the menu: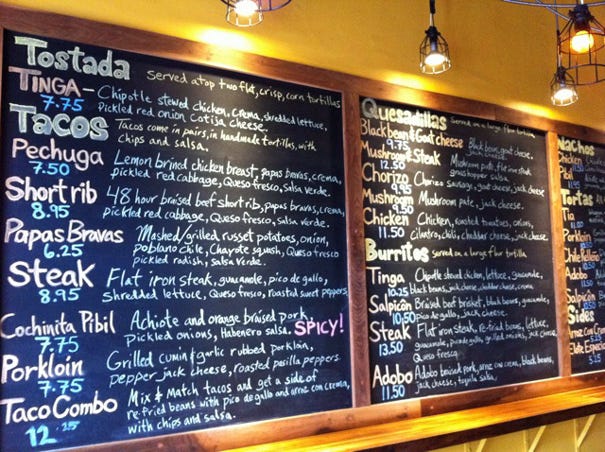 And here's a fuzzy picture of the interior: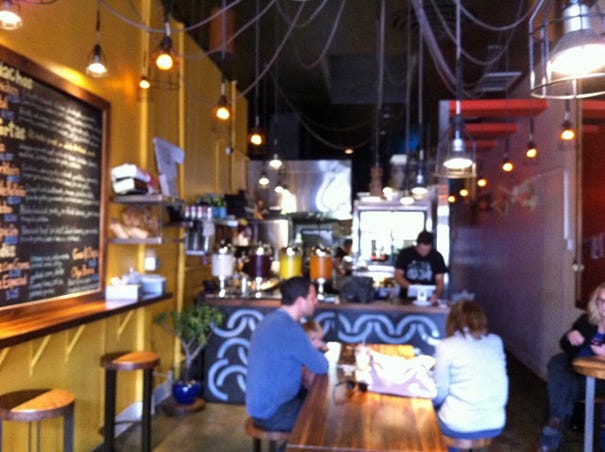 I chose the Pechuga which, if you studied the menu, you'll see is the chicken breast taco. I know that's kind of lame with pork as an option, but I was headed to the gym later (yes, I'm still going!) and wanted to choose something that wasn't too out-there decadent. Here are my tacos upon arrival: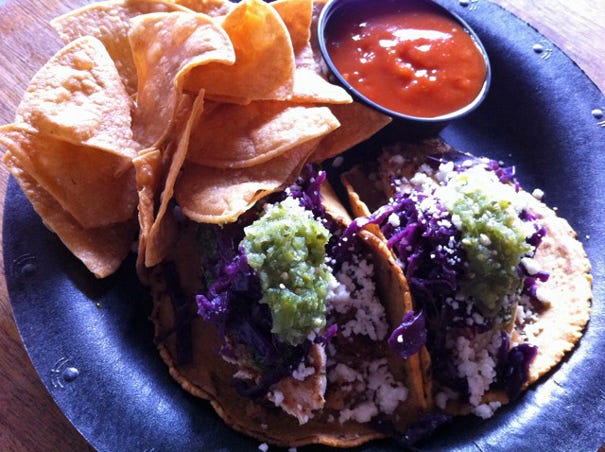 I really liked the presentation---study that closely and you'll see all kinds of colors and textures and flavors (ok, you can't see flavors). The chicken, which was a big thick piece instead of chunks, was a bit cumbersome. And the tacos came with a hard shell, the first one like that I've experienced here in L.A.

But those flavors were terrific---especially the green stuff (ground chiles?) on top. There were mashed potatoes in there too which gave everything extra heft and made it so I wasn't hungry 20 minutes later (which sometimes happens with tacos).

Tinga, I shall return.

Now then, Craig left for Seattle last week and this weekend I did lots of cooking for one. On Saturday night, I made this version of my spaghetti cacio e pepe: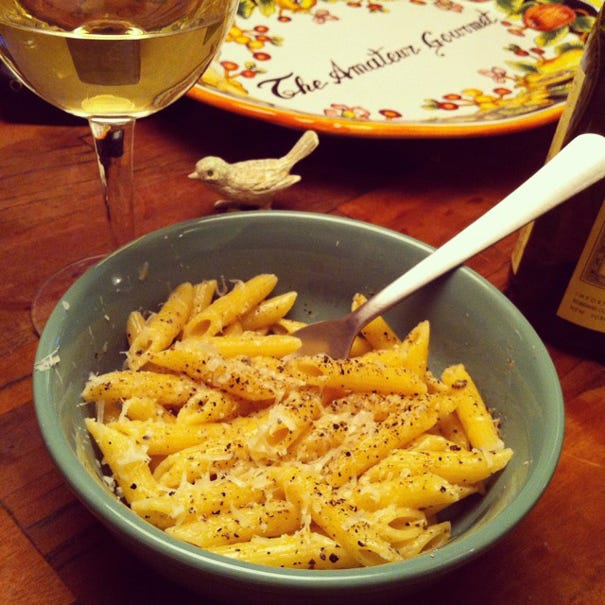 I only had penne on hand, so I used that. And here's the kicker--I turned it into something of a lemon pepper sauce by adding lemon zest when I added the butter and a few squeezes of lemon juice towards the end, before adding the Parmesan. It was a tasty, if nontraditional, pasta dinner for one.

Then the next morning I made my Sunday Morning Oatmeal: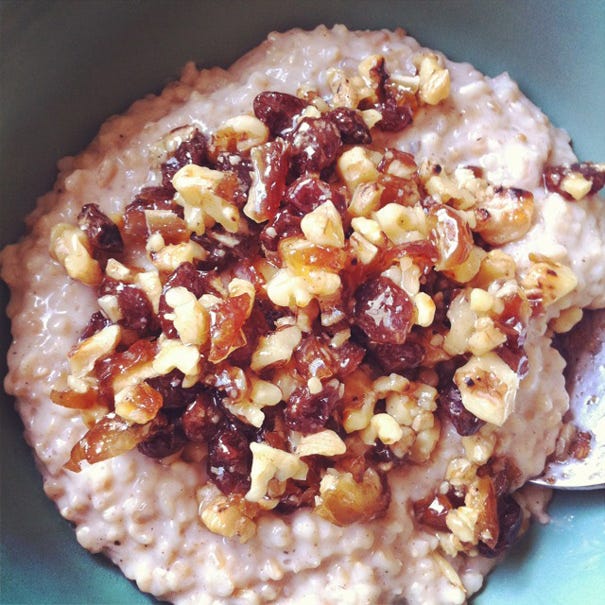 Of all the original dishes I've invented over the years, this may be my favorite. Seriously: if I open a restaurant and we're open for brunch, this'll be my signature breakfast dish. The key is (1) toasting those nuts! and (2) using whatever dried fruit you have on hand. On this particular day I chopped up dates and added raisins; but cherries, apricots, prunes---they'll all work. Just don't be shy with the butter when you finish your oatmeal: this is Sunday Morning Oatmeal after all.

Ok, folks, I've got lots to do before I leave for Seattle on Wednsday!

To all of you celebrating Hanukkah, eat good latkes! For those celebrating Christmas, eat good...ummm...Christmas food! And for everyone else, Happy Holidays.

Your friend,
Adam (The Amateur Gourmet)
Reading this in a browser? Get next week's in your inbox by signing up here.

Follow Me!
On Twitter
On Facebook

Recent Food Posts

How To Make Eggnog For One

Check Me Out in Food & Wine

Mann Ziti

The Mole Negro at Guelaguetza

Oh, Ottolenghi: Fennel and Feta with Pomegranate Seeds and Sumac/ Cous Cous with Apricots and Butternut Squash

Our Brainwashed Bellies

How To Make a Manhattan

Stuffed Cabbage

Guess This Pie Scene From A Movie

Chopped Liver!



*|LIST:DESCRIPTION|*

Unsubscribe *|EMAIL|* from this list.

Our mailing address is:
*|HTML:LIST_ADDRESS_HTML|*
Copyright (C) *|CURRENT_YEAR|* *|LIST:COMPANY|* All rights reserved.

Forward this email to a friend
Update your profile
*|IF:REWARDS|* *|HTML:REWARDS|* *|END:IF|*