A.G. Newsletter #61: Ford's Filling Station, Glo's, Delancey, Bellingham, La Jolla & New Year's at Mozza


Happy New Year, Amateur Gourmet Newsletter Fans,

Boy, it's been a busy two weeks! Over the past 10 days or so I've visited Seattle, Bellingham, Vancouver, and La Jolla. I compiled a list of my 2011 Highlights and attempted a Gourmet Grilled Cheese Night last night. (Click those links to experience those posts in full.)

Before I left, though, I met my friend Michael for dinner in Culver City at Ford's Filling Station. The chef, Ben Ford, is Harrison Ford's son and an accomplished chef in his own right. Michael and I shared a chanterelle mushroom flatbread with fontina, caramelized onions and cavalo nero: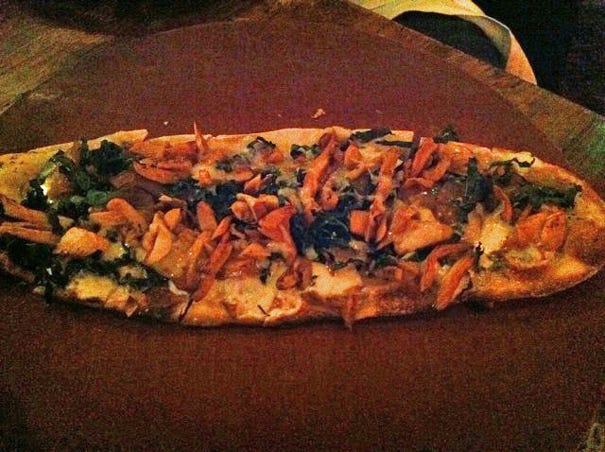 Sort of like a pizza, but breadier. We ordered these fried chickpeas to start with: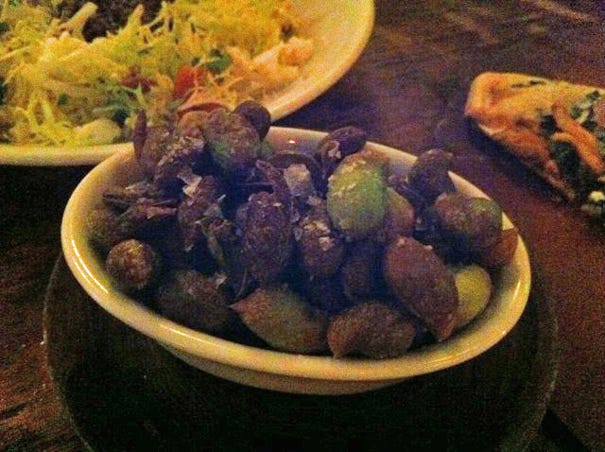 And unfamiliar with chickpeas still in their casings, we each put a whole pod in our mouths and uncomfortably chewed until we realized you're supposed to pop the chickpea out of the pod. Oh well: I'm sure it was good roughage.

My favorite bite of the night were the crispy pig ears with "ooo-eee" sauce: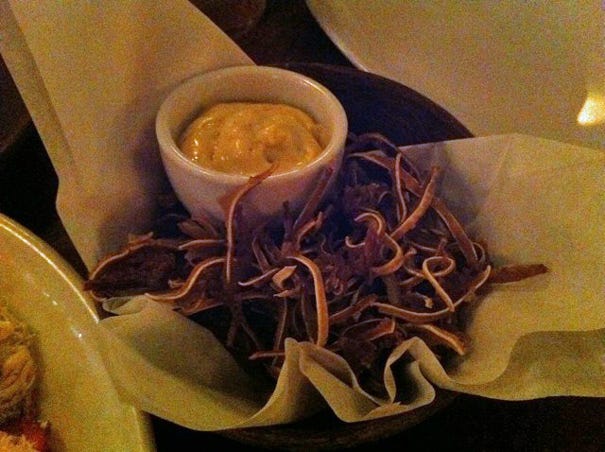 These were like fried tortilla strips only they tasted of bacon; and the sauce was a rich, spicy aioli-type substance that made everything even more decadent. Not to be missed.

Let me whisk you away, now, to Seattle, where Craig and I breakfasted, upon my arrival, at his favorite breakfast spot of all time, Glo's: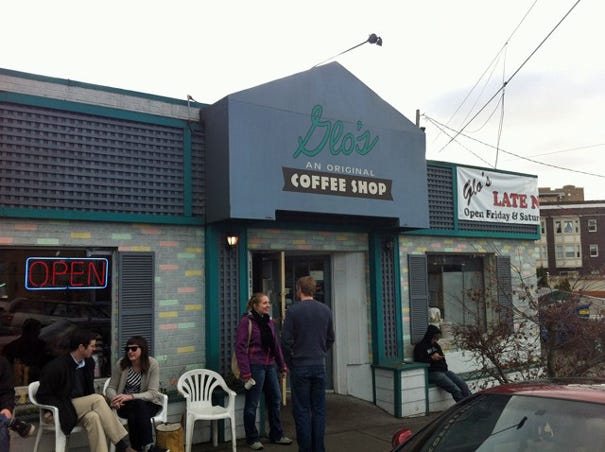 There's always a wait at Glo's and that's because the Eggs Benedict there is legendary. I once made a video for Serious Eats where the good people at Glo's coached me through making it over the phone (I think that video was taken down; if you can find it, let me know!) I also wrote an essay for Serious Eats about Glo's (and Martin Short!) which you can read here.

Here they are, the famous Eggs Benedict: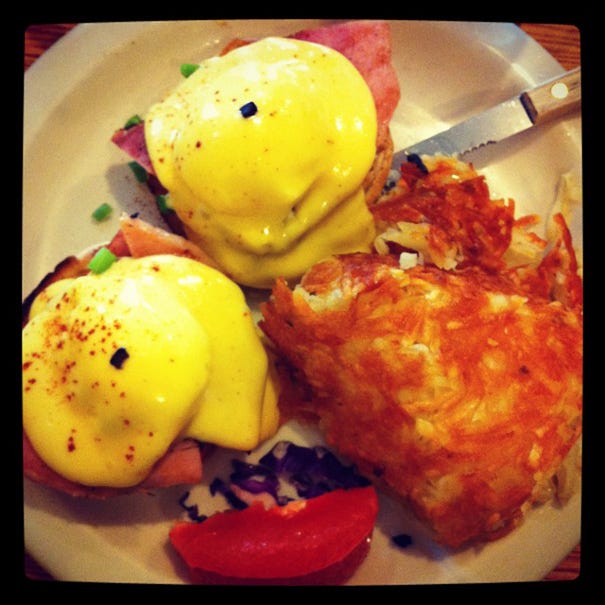 Yes, that is the stuff of legend. If you go to Seattle, you must eat the Eggs Benedict at Glo's.

After that, I met up with my friend Molly (you know her better as Orangette) at Victrola where we talked about food and writing and our careers and our lives and then Molly gave Craig directions to the pizza place we were meeting his extended family for dinner (don't worry, we went to Molly's pizza place, Delancey, the next night!):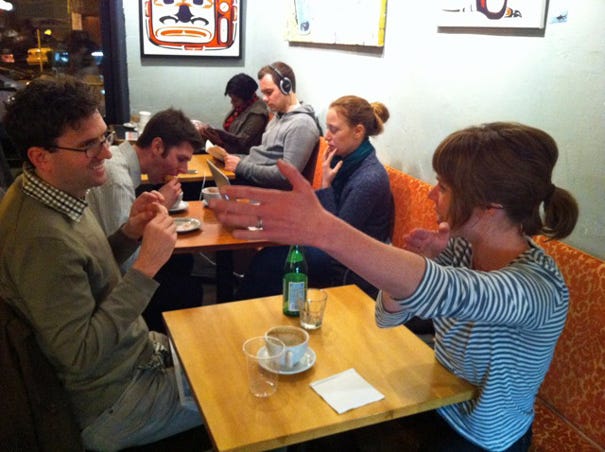 Delancey, which I visited last year for the first time and blogged about, was wonderful as always. It was Craig's first time and he loved it every bit as much as I did. Here's Brandon firing a pizza: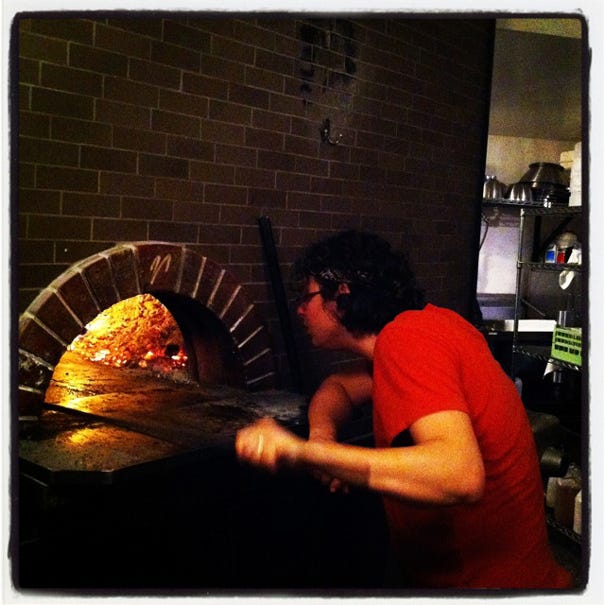 And here's my pizza out of the oven: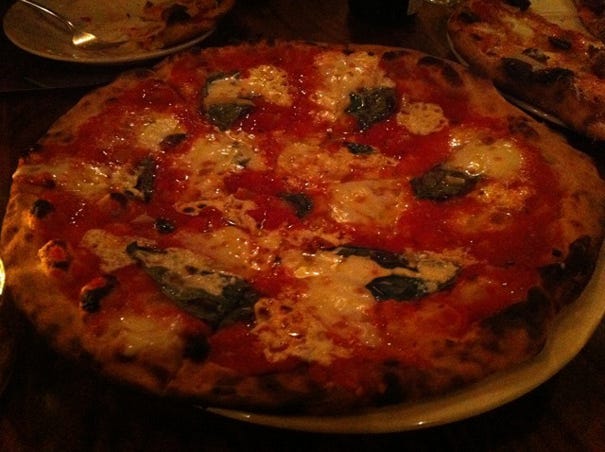 So yes, Delaney is awesome. We ate very well and had fun seeing Brandon.

The next day we drove up to Bellingham, where Craig's family lives, and I was delighted to find that--this being my 6th Christmas with Craig's family--I finally had my name sewn on a stocking: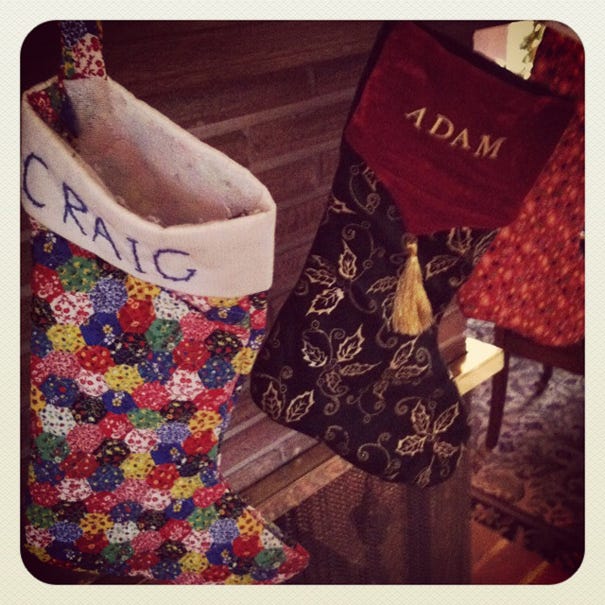 As a Jew, I'm pretty sure I'm supposed to feel guilty about this but I could only feel grateful. It's nice to have your own stocking, I'm not going to lie.

Christmas was a frenzy of activity. Craig's dad cooked like crazy--he made his famous prime rib (see here) which came out even better this year, as if that were possible. He also made two pies--apple (see his recipe/technique here) and pumpkin that were out of this world. I had two slivers as a late night snack with whipped cream that Craig's mom, Julee, whipped for me even though I told her she didn't have to!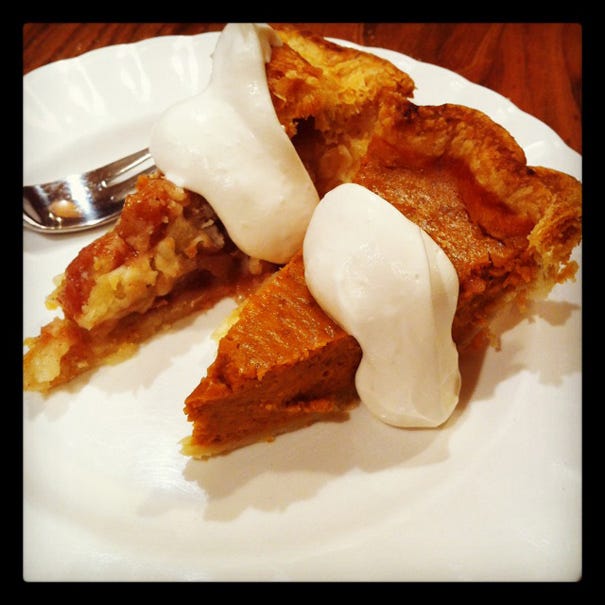 So yes, we ate like kings in Bellingham. We also received many generous gifts, including this monkey slingshot that produces a horrible, unnerving sound: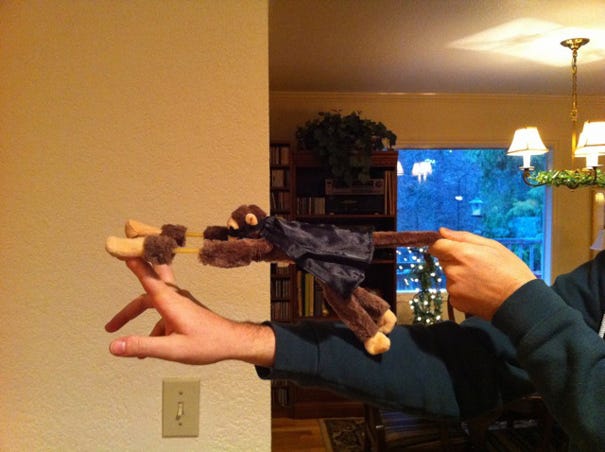 I just tried it out on Lolita, the cat, and she kind of flipped out in a bad way. Sorry, Lolita.

Craig actually got me tickets to see one of my favorite musicals--well, I only know the score, having never seen the show--"Merrily We Roll Along" in New York in February for my birthday. So New Yorkers, take heart... I'll be back for your coldest, most miserable weather!

On Tuesday we drove to Vancouver and I'll tell you all about that in a post tomorrow.

When we got back to L.A., we had a day to decompress from all our travels and then, because of a dumb mistake on my part, we had to drive to La Jolla on Friday to see Jesus.

Let me explain: I bought tickets for Jesus Christ Superstar after reading a good review of it in the L.A. Times. I knew the show was at the La Jolla Playhouse, but I somehow thought that was in Los Angeles... on a street called La Jolla.

But La Jolla is two hours away (almost four with traffic) and on Friday we drove there. Turns out, though, that it was a great day trip. We explored the beach and tide pools for an hour or two. I mean, look how pretty: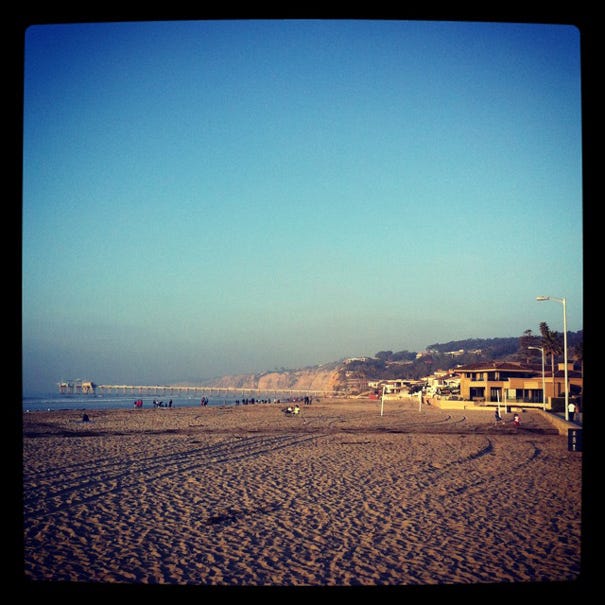 Here's the sun setting: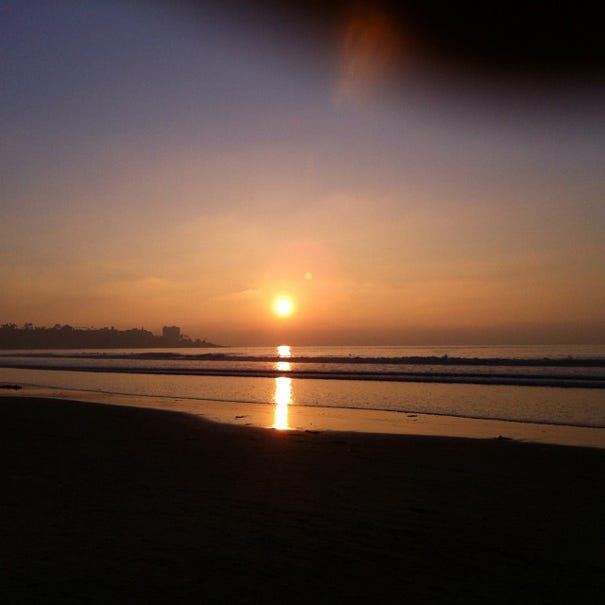 And Craig standing on rocks near a tide pool: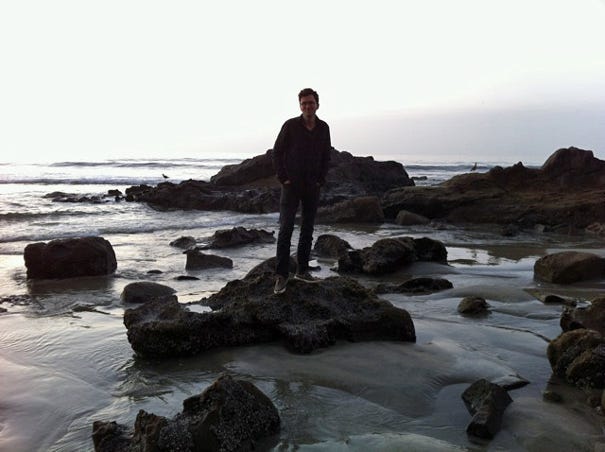 We ate dinner at a place called Whisknladle, recommended to me by my friend Kirk and my friend Luisa: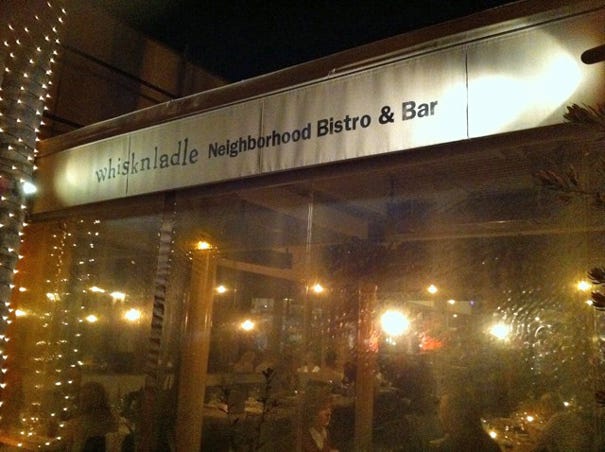 This was definitely the right place to eat: the food was top notch and the environment casual and friendly. (Plus the waiters weren't too bad looking either. Just saying.)

Here's a plate of burrata that we shared with some wonderfully sharp arugula: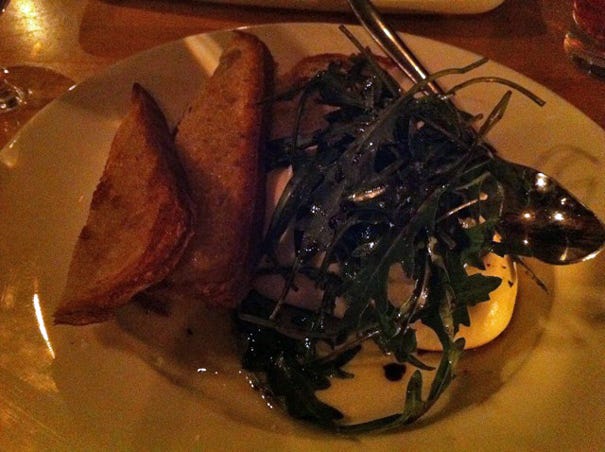 Here's the steelhead trout I had for my entree: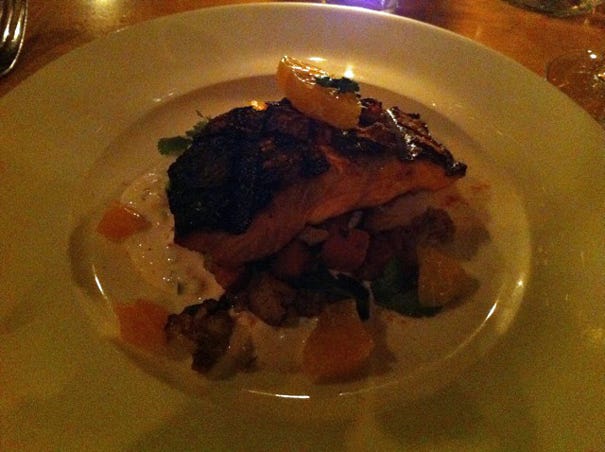 And Craig's boudin blanc: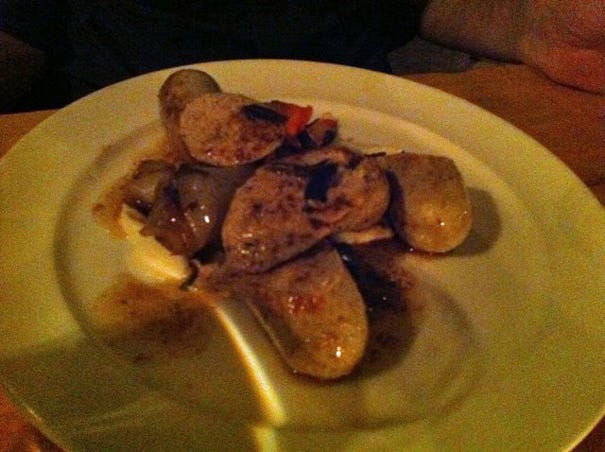 All the food was excellent (even though that boudin blanc picture is pretty nasty) and then we zipped off to the playhouse to see JCS. I have to say this as a huge Broadway fan: I think I like the La Jolla Playhouse even better than a typical Broadway theater. The theater itself is small--every seat is a good one--and the seats are super cozy with tons of leg room. Then, on stage, is a production as polished and impressive as anything you'd see in New York (in fact many shows that play in New York start out here). I loved it and can't wait to go back.

Finally--and yes, I admit, this is the longest newsletter ever--we had New Year's Eve dinner with our friends Mark and Diana (who just moved to L.A.) at Osteria Mozza. Here we are at our table: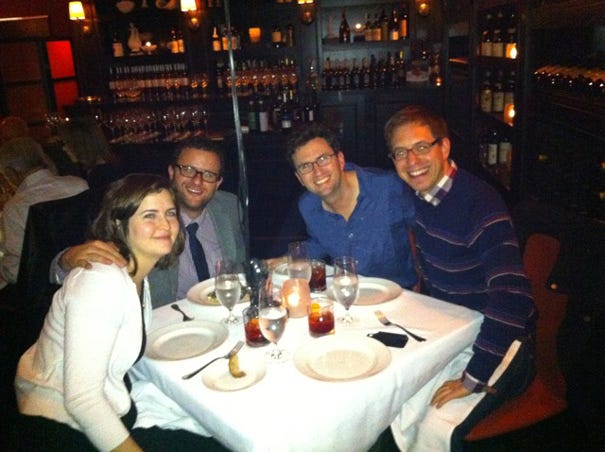 The atmosphere there was festive with big balloons on every table and sparklers and bells to ring at midnight: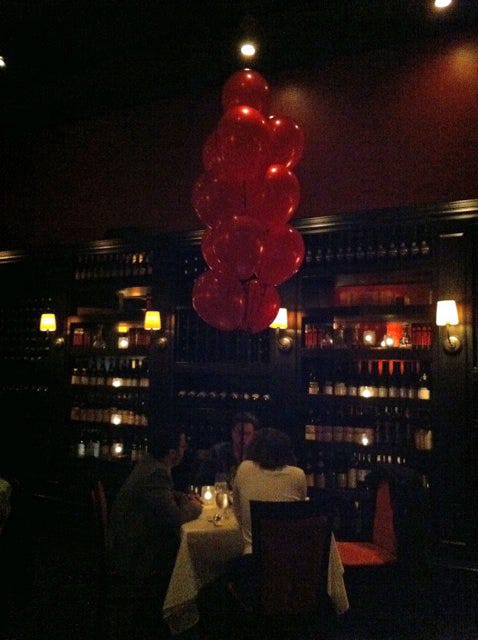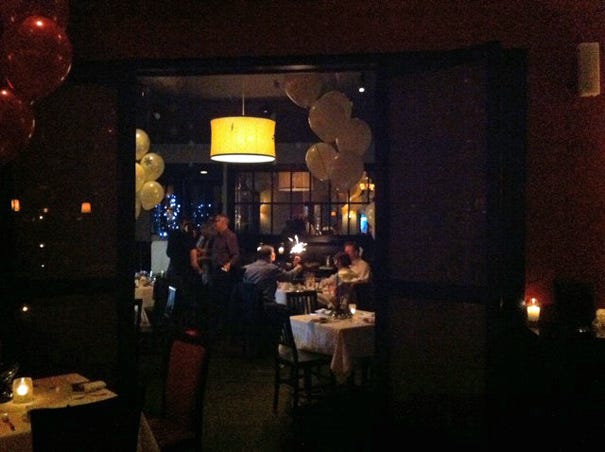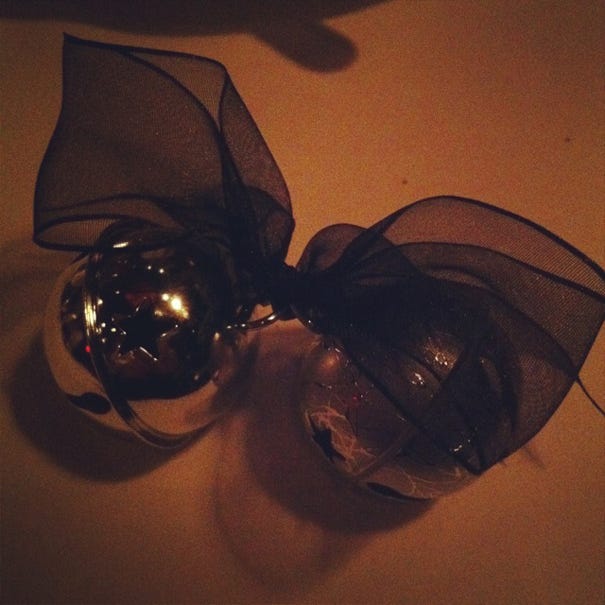 The food was really, truly terrific: like that of a west coast Babbo (which makes sense since Mario Batali's one of the owners.)

Our waiter was super helpful, steering us away from the pasta tasting menu (he said we should experience all the different areas of the menu to best experience the place); we started with mozzarella plates including this incredible crostini with burrata and artichoke: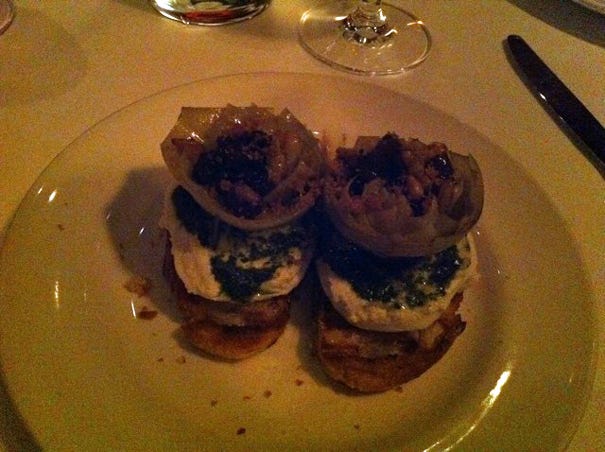 There were many other plates but my pictures are pretty dark and terrible. We all shared this single order of black squid ink pasta with uni (the last of the night; the kitchen ran out):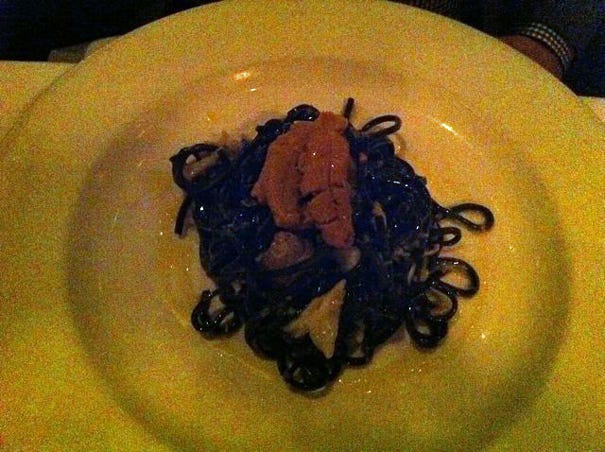 And we did two other pasta courses which the waiter kindly split for us (two orders of each). My favorite was the orecchiette with sausage: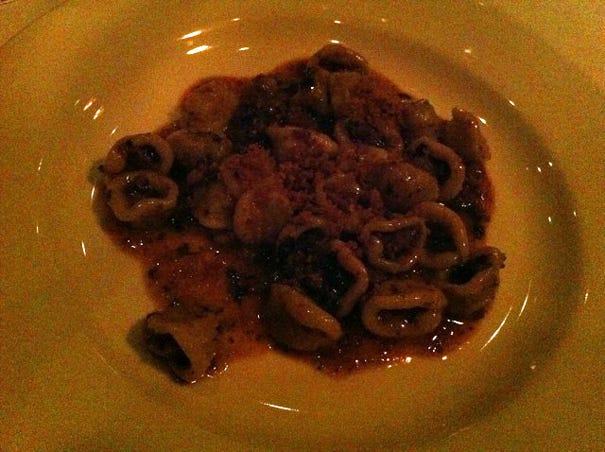 No decent human being should have to see the awful pictures I took of our entrees--the quail and the leg of lamb--or the desserts (which were gorgeous Nancy Silverton creations). Suffice it to say, if you want to have a fancy dinner in L.A. on New Year's Eve, Osteria Mozza is a good place to have it.

That's all for this epic newsletter, folks! I'm getting back into the swing of things here in L.A. Believe it or not, I was actually really good about going to the gym before I left for Seattle (I just didn't update my workout journal because I got tired of doing that); back to the gym I go today to burn off all this food. I think I'll be treadmilling for 4,000 hours.

Until next time....

Your friend,
Adam (The Amateur Gourmet)

P.S. If you're interested in what books I read in 2011, I did this post on my Not Food blog all about them.
Reading this in a browser? Get next week's in your inbox by signing up here.

Follow Me!
On Twitter
On Facebook

Recent Food Posts

Banana Nut Waffles

Spontaneous Holiday Singalong

Raw Kale Salad with Walnuts, Pecorino and Lemon

The Apple Pan, Gjelina Take Away & The Lazy Ox Canteen

How To Make Eggnog For One

Check Me Out in Food & Wine

Mann Ziti

The Mole Negro at Guelaguetza


*|LIST:DESCRIPTION|*

Unsubscribe *|EMAIL|* from this list.

Our mailing address is:
*|HTML:LIST_ADDRESS_HTML|*
Copyright (C) *|CURRENT_YEAR|* *|LIST:COMPANY|* All rights reserved.

Forward this email to a friend
Update your profile
*|IF:REWARDS|* *|HTML:REWARDS|* *|END:IF|*