A.G. Newsletter #63: Franklin & Co., Cook's County, Little Dom's, Runyon Canyon & Golden Globe Dinner


Hey Readers,

Two big things happened on my blog since my last newsletter: I celebrated my blog's 8th anniversary by writing a reflective post (see here) and I wrote a scathing diatribe about frisée (see here). Who knew I could get so worked up about lettuce?

Today's post was a little calmer: I shared a recipe for Ribollita, the Italian cabbage and bean soup. Good for crummy, cold weather, even here in L.A.

Now then:

Right near our new apartment is a new gastropub called Franklin & Company. I was very excited when it opened (it's a spinoff from The Oaks, our local gourmet supermarket where we eat sandwiches at least once a week). We were joined there last Monday by our friends Emily, Mark, and Diana.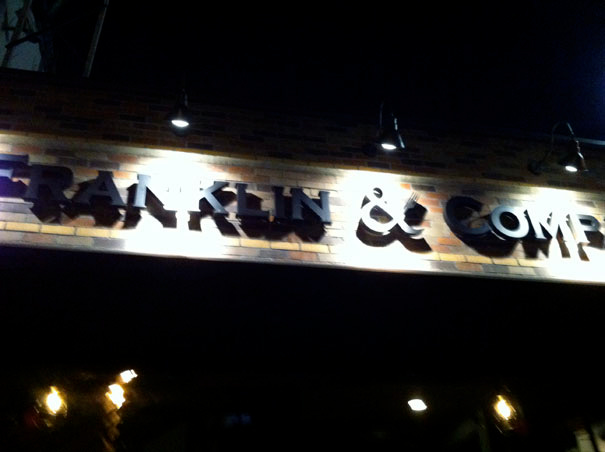 Let me cut to the chase: the food here is just ok. It tries hard--my salmon came with red potatoes that were smashed and then fried: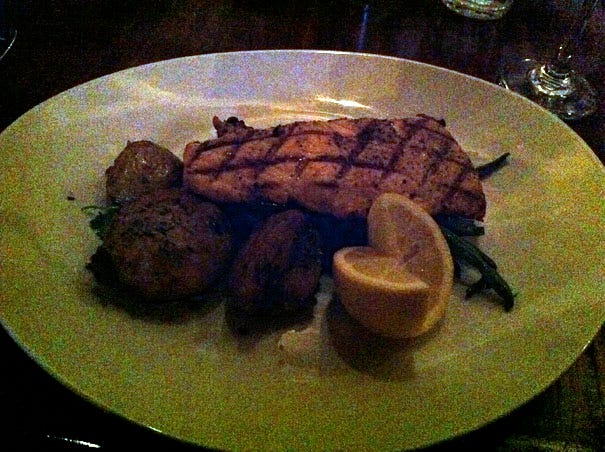 Emily enjoyed her turkey burger: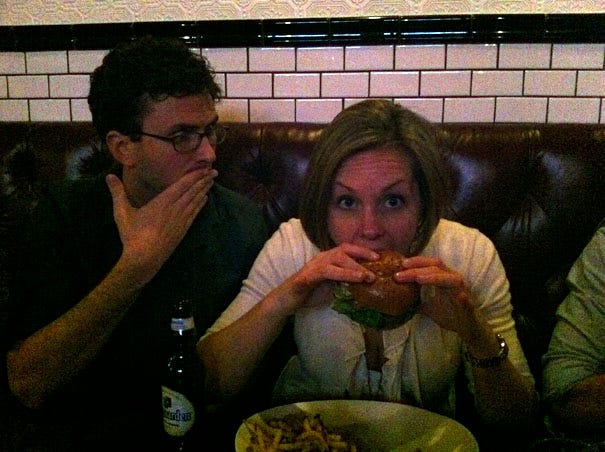 But Mark's ribs were really dry (he only ate half of them) and, all in all, if this place weren't just down the street, it's very unlikely that we'd go back. But it is just down the street! And not only that, the environment is pretty fun and they have beer and wine (yes wine) on tap. So we'll be back and we'll continue to evaluate. To be fair, this place is so new it's not ready to be judged in such a serious forum as my newsletter. I apologize for being so hasty.

Another newish restaurant that I visited last week is called Cook's County. This place fared much better: I ate here during the day and lots of sunlight streamed in through the windows, a feature that is always a happy occurence for food bloggers---makes our pictures much better. Here's the exterior: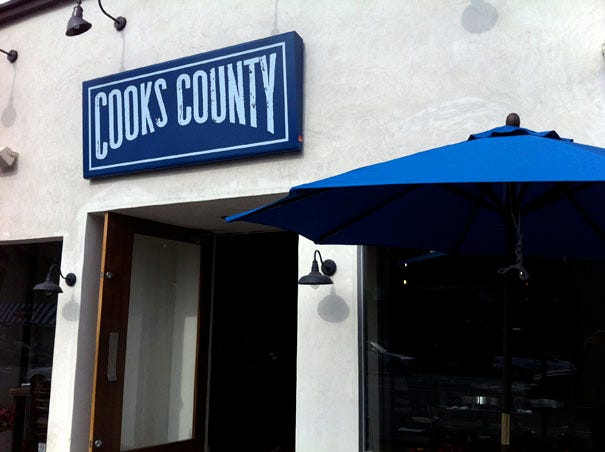 And here's the salad that I ordered, a salad of chicken, cabbage, toasted almonds, dates and that dreaded lettuce, frisee. (In fact it was after eating this salad that I wrote my frisee rant):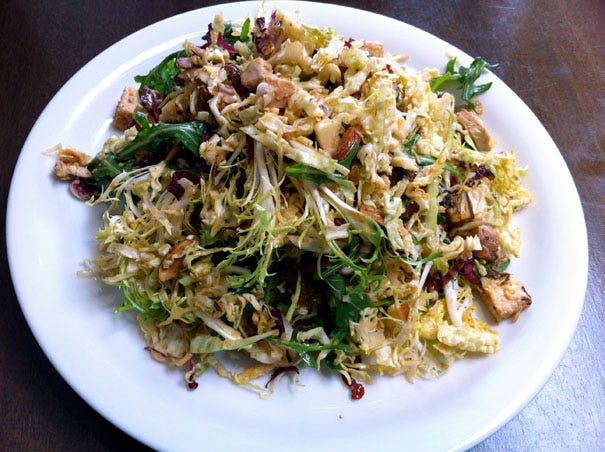 I had mixed feelings about this salad, and not just because of barbed wire greens. As fresh as everything tasted--and the ingredients were notably fresh--it wasn't balanced enough, for me; it leaned too heavily on the savory side with a salty chicken flavor coating every surface. The dates provided the only dose of sweetness and it wasn't enough. My suggestion: work some honey into the dressing! And also a little more acid, whether from lemon juice or vinegar. Thank you, salad, for your time.

On Thursday last week, I joined my friend Diana for lunch at Little Dom's in Los Feliz: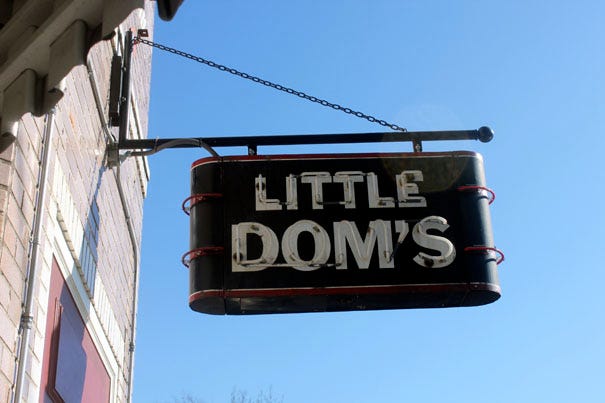 I've talked about Little Dom's here before: it's where Craig took me on my first night in L.A. I also ate here with my parents when they came to visit. Now my friend Ryan is actually working here, so if you go and have Ryan as a waiter tell him "Adam says hi." He'll be like, "How do you know Adam?" and you'll be like, "Well, I don't, but I read his newsletter." Then he'll stare at you awkwardly.

Diana and I decided to share two sandwiches. Here's Diana with a salmon sandwich that came with a lemon aoili and lots of arugula on good bread: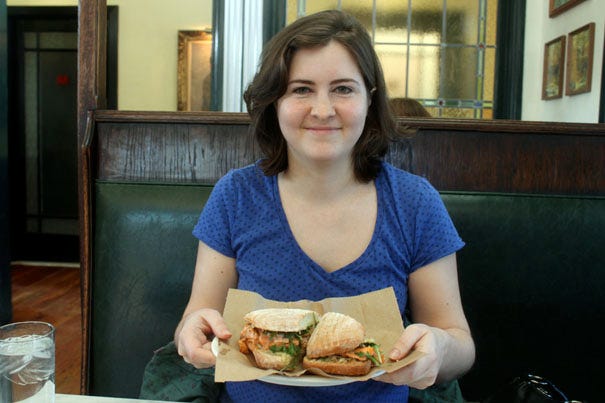 Here's that sandwich up close: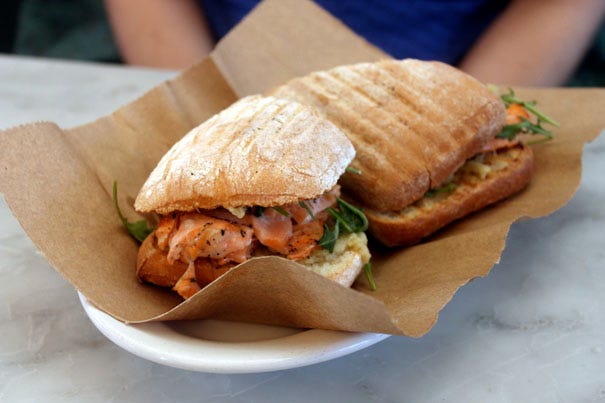 It was very tasty and just naughty enough to make it feel special without making me feel guilty. Our other sandwich did make me feel guilty, though... that would be this meatball hero: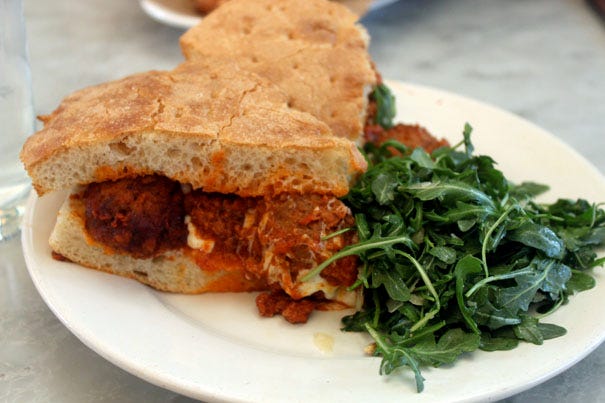 Wowza. My strategy was to eat the salmon sandwich half first so that I'd be too full to eat the whole meatball sandwich.

That plan didn't really work because the meatball sandwich was just too good: on focaccia? With cheese? I mean how could you not eat your whole half. And those meatballs were oh so tender and oh so saucy. Bravo, meatball hero. You deserve your name.

After all that fatiness, it's no wonder I said "yes" when Craig expressed a desire to go hiking in Runyon Canyon this weekend. In my mind, this would be a casual stroll past pretty trees and bodies of water.

Instead, it was a steep climb up a big, dusty mini-mountain. Here's the entrance: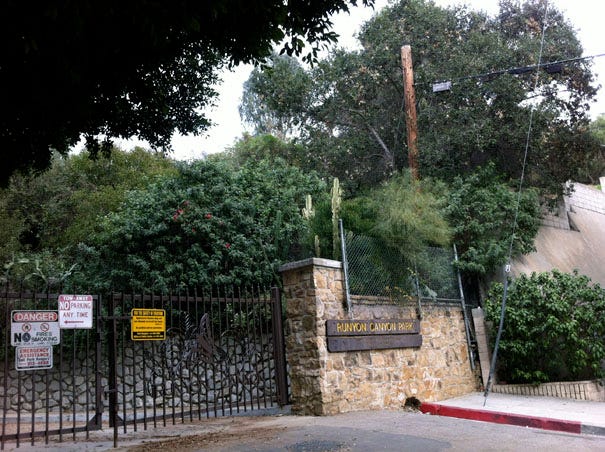 Here's a scary sign: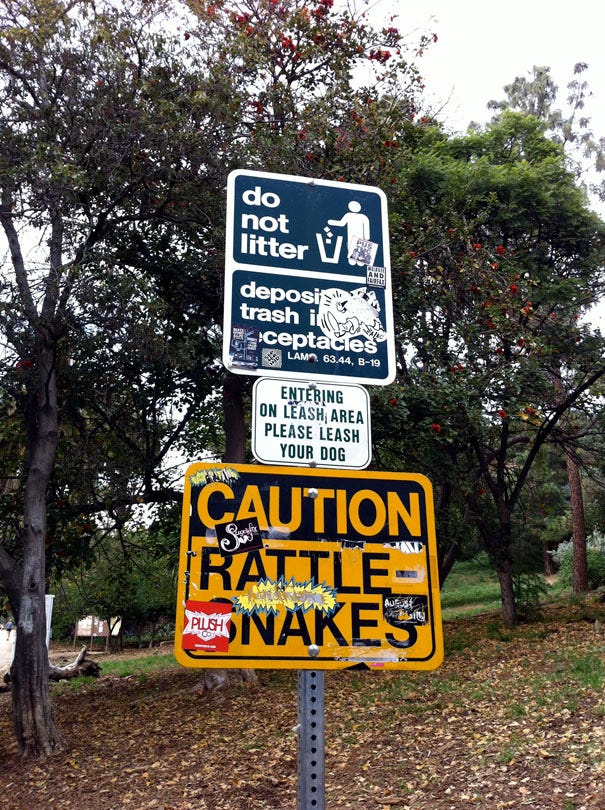 And here's what we saw after schlepping our way upwards: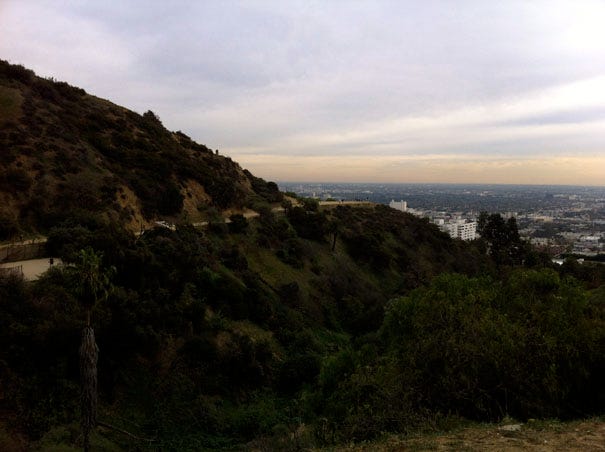 Indeed, it is very pretty: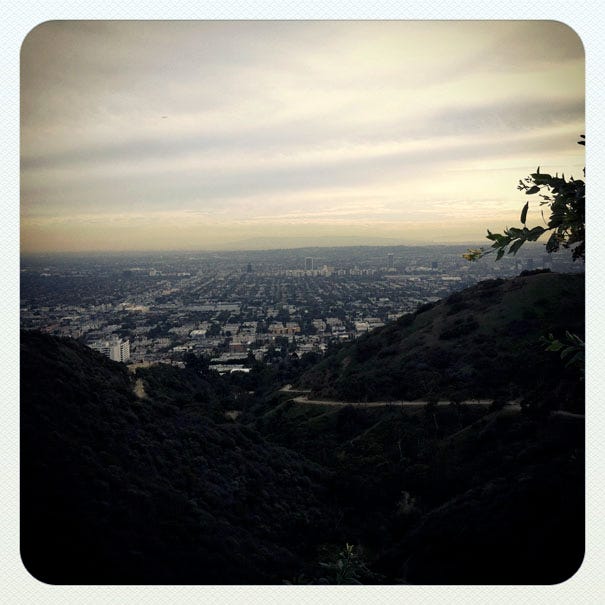 The only part I really didn't like was the trip down; I had to navigate these sandy slopes and rocks and, well, I didn't look so graceful doing it. I kind of looked like Pee-Wee Herman doing his dance in the biker bar. This is the sandy hill I'm talking about: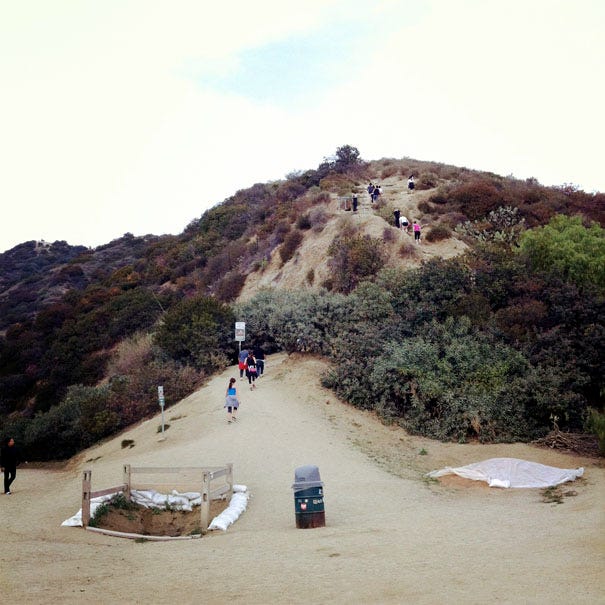 What i liked best about Runyon Canyon is it seemed totally packed with locals. It reminded me of Sundays at Prospect Park in Brooklyn; almost everyone there felt like a local and same here. So we'll be back and I'll be more emotionally prepared for big hills and sandy slopes. And I'll be more graceful going down.

Finally, on Sunday I cooked up a big vegetarian farmer's market dinner for friends who came over to watch the Golden Globes. Here's everyone gathered around, eating: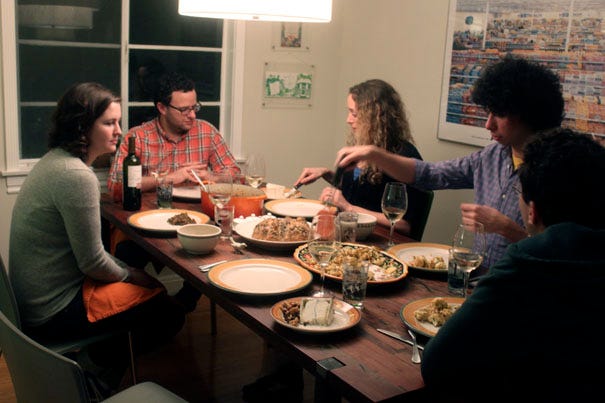 What are they eating? Three things, really. One, roasted farmer's market cauliflower tossed with pickled fresno chiles and parsley and topped with garlic breadcrumbs: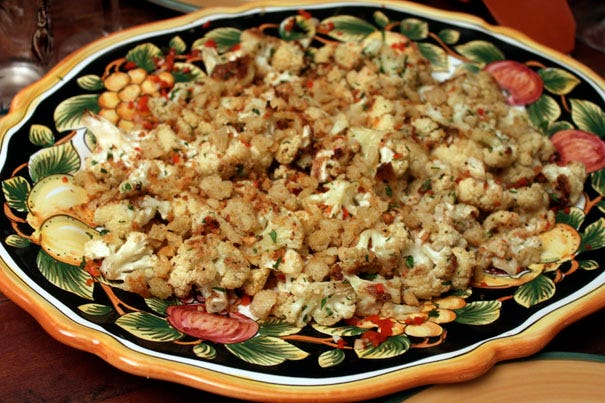 It's a recipe I sort of improvised, but it's pretty basic. Just cut your cauliflower into florets, toss with olive oil, salt, pepper, put it on a cookie sheet and roast in a 425 oven for 20 to 30 minutes, tossing every so often, until golden brown all over and cooked all the way through.

At that point you could just drizzle red wine vinegar over everything and toss with parsley and it'll be great; I used the pickling liquid from a pickled red fresno chile recipe that's in my cookbook. And then I chopped up some of those chiles and tossed them in... it's a bit fancier that way, but by no means necessary.

I also made these lentils, also from my cookbook (sorry! I know that's annoying but it's a really good recipe and I wanted to cook it... you'll get to make it in September when the book comes out, promise):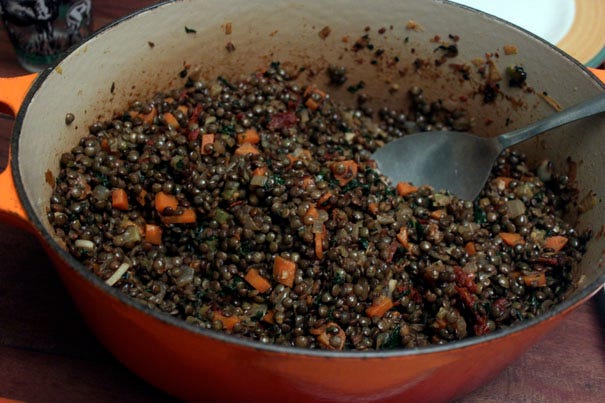 Finally, I made this seeded Irish Soda Bread from my friend Heidi's blog and served it up with three different kinds of cheeses (goat, camembert and blue):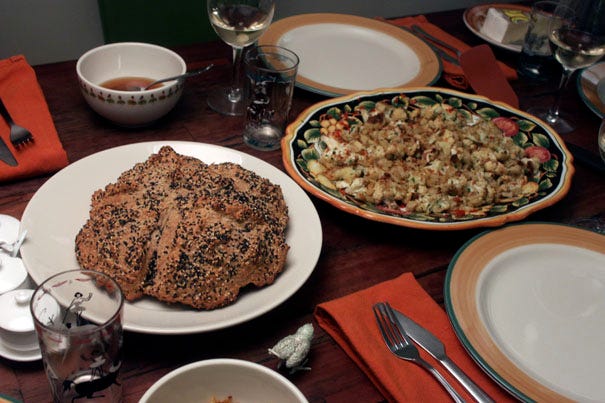 Oh and that's a bowl of honey in the back for drizzling on the bread and cheese.

All in all, it was a well-received dinner... and then the Globes were fun to watch, as usual. Was Meryl Streep drunk? Did Ricky Gervais lose his edge? These are things that we talked about.

Now, I'm sad to say, I have a little bit of a cold but I just nursed it with a big bowl of ramen at Roboto Jinya. Let's hope that did the trick!

Until next time....

Your friend,
Adam (The Amateur Gourmet)

Reading this in a browser? Get next week's in your inbox by signing up here.

Follow Me!
On Twitter
On Facebook

Recent Food Posts

Fried Eggs with Roasted Potatoes, Garlic, Rosemary and Pecorino

I Declare War on Frisee!

Easy Mac and Cheese

Lunch at The Spice Table / Dinner at Animal

Pan-Fried Brussels Sprouts with Bacon, Garlic and Mustard

Sitka & Spruce

Eating Vancouver (In The Rain)

I Am Latte Art

Gourmet Grilled Cheese Night

2011 Highlights

Banana Nut Waffles


*|LIST:DESCRIPTION|*

Unsubscribe *|EMAIL|* from this list.

Our mailing address is:
*|HTML:LIST_ADDRESS_HTML|*
Copyright (C) *|CURRENT_YEAR|* *|LIST:COMPANY|* All rights reserved.

Forward this email to a friend
Update your profile
*|IF:REWARDS|* *|HTML:REWARDS|* *|END:IF|*