A.G. Newsletter #64: Uncle Jerry's 90th, Flat Cookies, Forage, Return To California Donuts & Broccoli Pasta


Hey there A.G. Newsletter friends,

I gave one of you a shoutout today in my post "Battle Cold Cure: Thailand vs. Japan" because, last week, when I said I was going to cure my cold at Roboto Jinya (with ramen) a reader named John told me I should have Thai coconut chicken soup instead. That post reveals the results.

Actually, I'm on something of a reader-advisement kick: I also took my readers' advice and ordered my first DOUBLE DOUBLE ANIMAL STYLE at In-N-Out Burger. Click that link to see what I thought.

On to newsletter things!

My Uncle Jerry, who lives in Santa Monica, turned 90 at the beginning of January; he went to Florida to celebrate with my family and now that he's back I took him out to dinner at a venue he selected: Maggiano's at The Grove. Here he is with his birthday Tiramisu: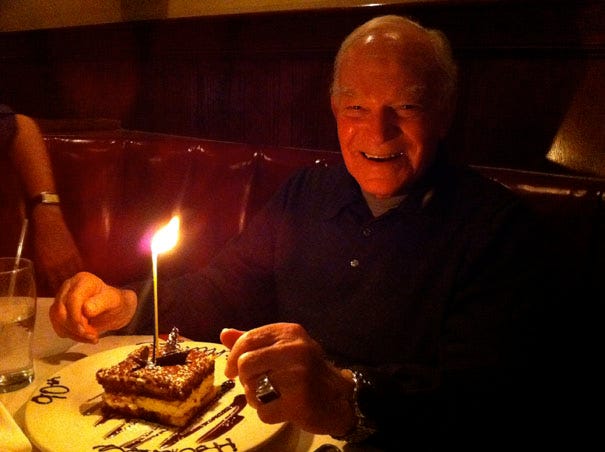 He regaled us with stories of serving in World War II (he was stationed at Pearl Harbor, after the bombing) and, even scarier, stories of cranky old ladies who live in his building and do nasty things like yell at him for unwrapping a candy during a movie screening. Suffice it to say, Uncle Jerry enjoyed himself very much.

Since I had a cold last week, I didn't go to the gym (I couldn't! Don't yell at me) and then decided to eat a pastry every day because, well, since I wasn't exercising, who cared? So I made my favorite chocolate chip cookie recipe for Craig one night (the recipe comes from Martha Stewart) and they came out really flat: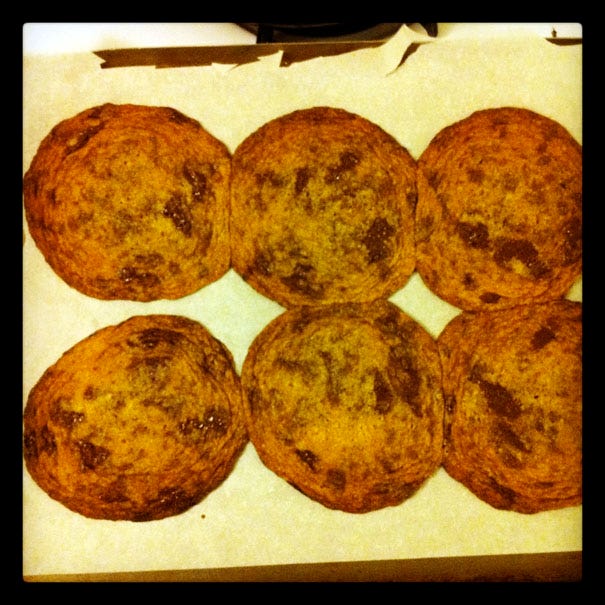 Still, delicious though. I froze half of the unbaked cookies and we'll have them again when I skip the gym sometime in the near future.

Are you sick of me talking about Forage? I just thought I'd illustrate that I also eat healthy when I'm not eating cookies. Here's my lunch from sometime last week: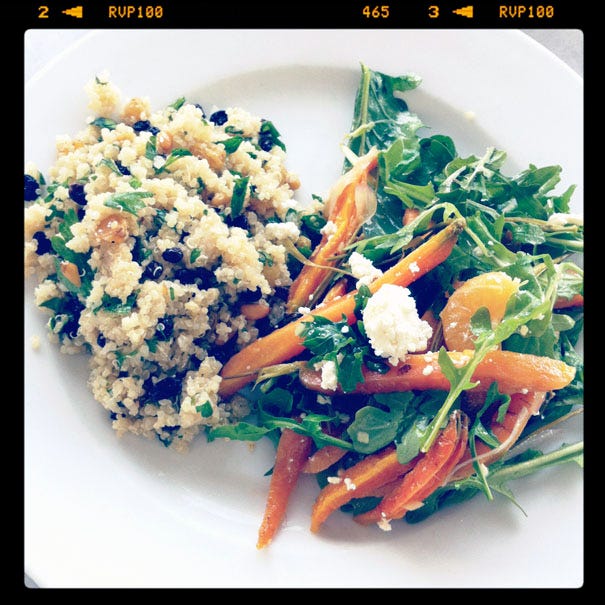 That's a carrot and tangerine salad with quinoa on the side. Oh and if you missed my comic book post last week, "Craig's Quinoa Conversion," you may get a kick out of it.

But, ok, I won't lie: last week was less about quinoa and more about cookies and, well, donuts. Like these donuts from California Donuts (which I visited on my Los Angeles Doughnut Odyssey) and which I revisited on Saturday. These are the donuts I brought home: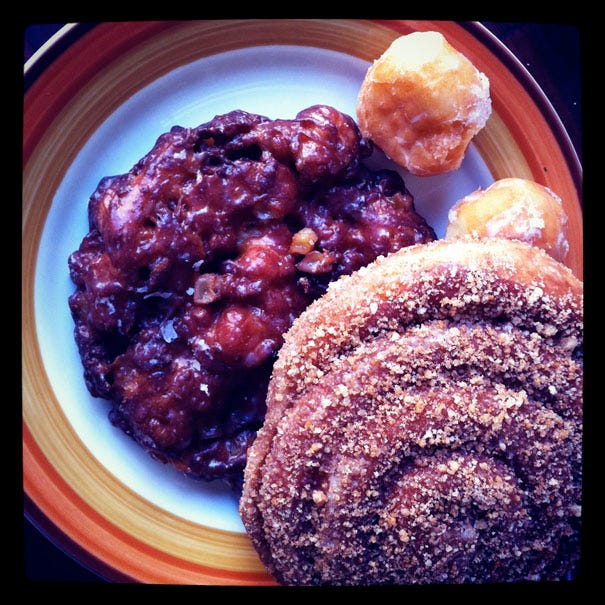 That's an apple fritter, a cinnamon crumb doughnut and two stray doughnut holes that made it in the bag. That apple fritter was something else--crispy, apple-y, and pretty amazing. I'm scared that I live so close to such a good donut emporium.

Finally, I used some farmer's market broccoli to whip up a pretty incredible broccoli pasta early last week. It started with olive oil in a skillet with several cloves of garlic, slivered, and 3 or 4 anchovies. I turned up the heat, added a big sprinkling of red pepper flakes, and then 7 or 8 oil-packed sundried tomatoes which I also cut into slivers. When everything was nice and toasty I added a big pile of broccoli florets--and tossed it all around with salt. I added pasta (I wanted orecchiette, but Craig could only find a fatter version that still worked) to salted, boiling pasta cooking water and when the broccoli had cooked in the oil for a bit and the garlic was getting dangerously brown, I added a can of drained cannelini beans and a ladleful of the pasta water to the broccoli pan.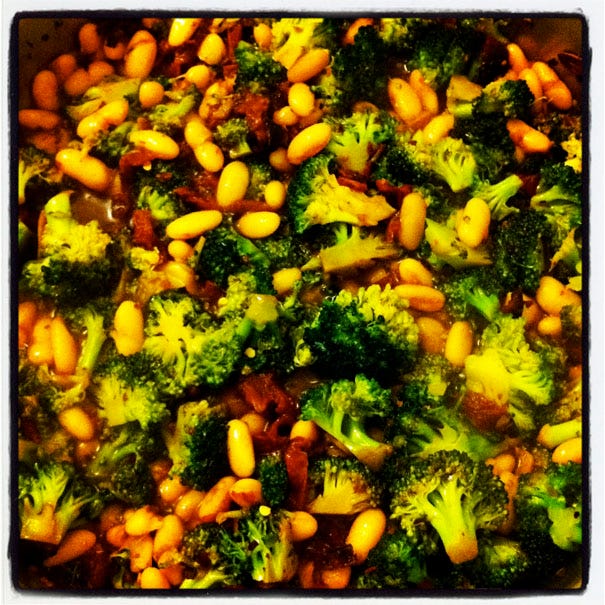 I continued cooking that way until the pasta was done and then I lifted it directly into the broccoli pan, finishing it in there with more pasta cooking liquid until everything was homogenous and beautiful. Off the heat, I added another drizzle of olive oil and a big handful of grated Parmsean. Here's that finished pasta in a bowl with Parmesan grated on top: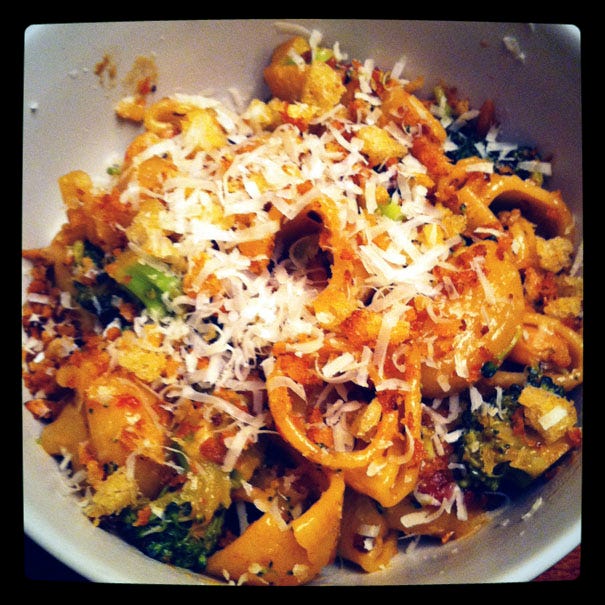 I have to say: it was pretty outrageously delicious. Pasta really is my favorite food.

Ok, folks, that's it for this week. The good news is that I'm all recovered from my cold and (gulp) I'm headed to the gym right now to burn off all those donuts, cookies and pasta. I'll be on a treadmil for the next 48 hours.

Until next time....

Your friend,
Adam (The Amateur Gourmet)






Reading this in a browser? Get next week's in your inbox by signing up here.

Follow Me!
On Twitter
On Facebook

Recent Food Posts

Battle Cold Cure: Thailand vs. Japan

Double Double Animal Style

A Field Trip To Atwater Village: Atwater Village Farm, Proof Bakery & Canele

Craig's Quinoa Conversion

Ribollita (Italian Cabbage and Bean Soup)

Reflections On Eight Years of Food Blogging

Fried Eggs with Roasted Potatoes, Garlic, Rosemary and Pecorino

I Declare War on Frisee!

Easy Mac and Cheese

Lunch at The Spice Table / Dinner at Animal

Pan-Fried Brussels Sprouts with Bacon, Garlic and Mustard




*|LIST:DESCRIPTION|*

Unsubscribe *|EMAIL|* from this list.

Our mailing address is:
*|HTML:LIST_ADDRESS_HTML|*
Copyright (C) *|CURRENT_YEAR|* *|LIST:COMPANY|* All rights reserved.

Forward this email to a friend
Update your profile
*|IF:REWARDS|* *|HTML:REWARDS|* *|END:IF|*