A.G. Newsletter #65: Mother Dough, Salmon Bowl, Pissy at Picca, Return to Guelaguetza & Canelé
A.G. Newsletter #65: Mother Dough, Salmon Bowl, Pissy at Picca, Return to Guelaguetza & Canelé

Hello Good People of The Amateur Gourmet Newsletter,

Will you still like me if I tell you that I drank a green drink and coconut water last week? Click this post, if you dare, and see what L.A.'s doing to me. It's not pretty.

Thankfully, I still have enough New York food sense to seek out good pizza here. We've already established, in previous newsletters, how much I love Pizzeria Mozza. But that place isn't the kind of place you can just pop into on a weekday night (even if you sit at the bar, which is always a good idea--no reservations required); valet parking alone, there, costs $10. (And street parking is nearly impossible.)

I was excited, then, to hear about a place close to where we live called Mother Dough.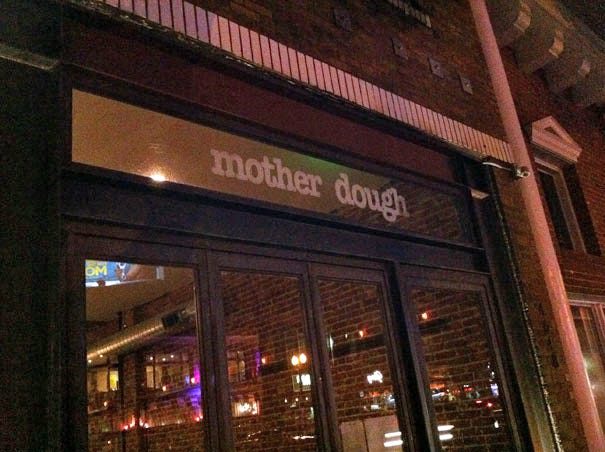 The place has the look and feel of a Franny's, which--long time readers know--is one of my favorite restaurants in New York. So that's a good sign.

In the very back there, not sure you can see it, is a wood burning pizza oven: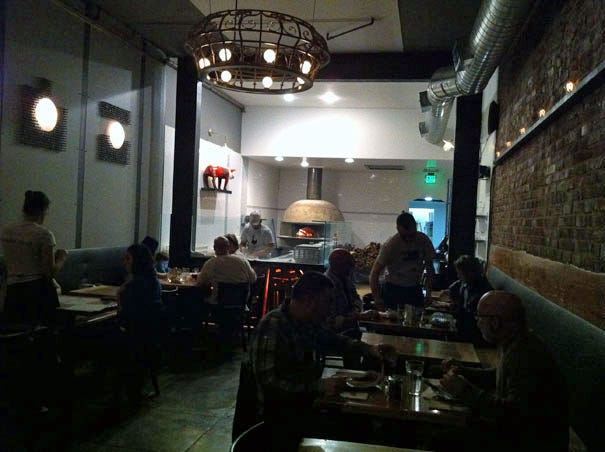 The place was not crowded at all on the night we went (a Tuesday) and our waiter was extra solicitious. He steered us through the menu like a gentleman.

Granted, there wasn't much menu to steer us through: four or five pizzas to choose from, with a larger selection of appetizers. This is by no means a criticism: I'd rather eat at a place that does a few things well than many things poorly.

The salad was very o.k. with green things and a few red things and a lemony dressing: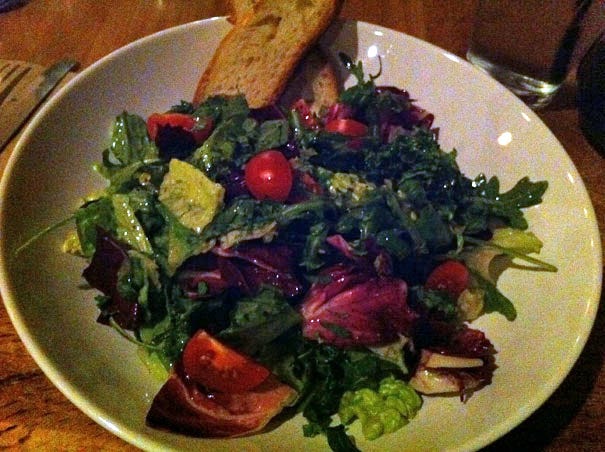 The pizza, though, deserves your attention. Behold this deceptively simple Margherita: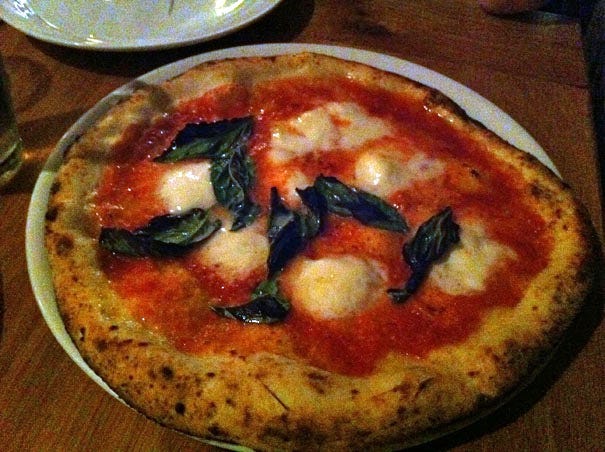 Notice the char on the crust, the little blobs of fresh mozzarella, the cluster of fresh basil leaves. This is a place that knows what it's doing.

And this pizza, with "whiskey fennel sausage" (whatever that means!) was over-the-top without being truly over-the-top: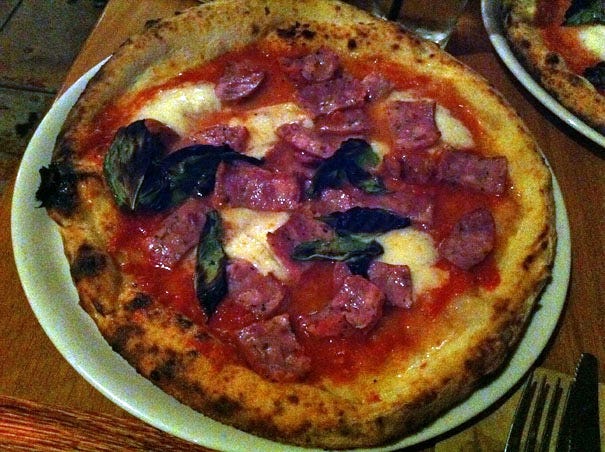 Fellow New York exiles craving good pizza, visit Mozza on nights where you have time and cash to spare; on all other nights, visit Mother Dough. You'll be glad it's there.

Now I know you're tired of me talking about Forage. I do it almost every week. So let's just go over this quickly---for the first time, I ordered their Salmon Bowl: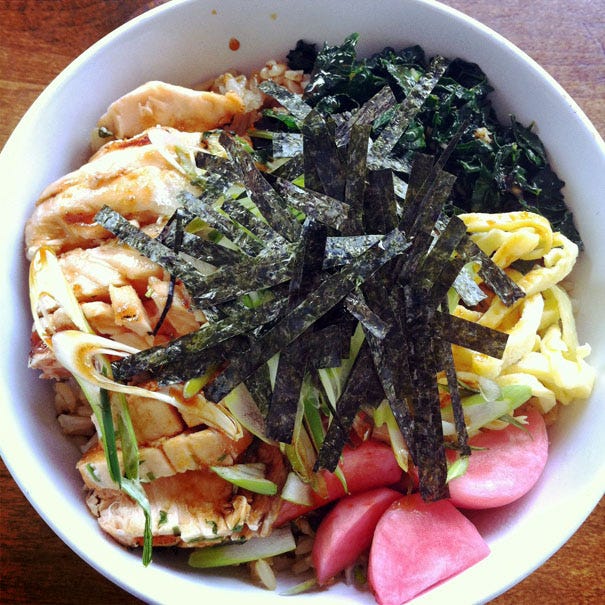 Over rice (that I think was brown rice but, weirdly, it was hard to tell), you'll find fresh salmon with nori, pickled turnips and some kind of egg thing. A little pricey (I think this was $12) but well worth it---and healthy too. The kind of thing a guy who drinks coconut water eats for lunch.

Let's talk about our Saturday night. I told Craig about this place Picca that's getting all this press here in L.A. He kind of shrugged and said, "If you want to go there, we can."

I called (this was 7 PM) and asked if two people had a chance of getting a table. "We're fully booked tonight," said the voice, "but if you came in right now, we could probably seat you in 30 to 40 minutes."

I told Craig. He said, "If you really want to go there."

So we drove there and valeted the car. Here's the exterior: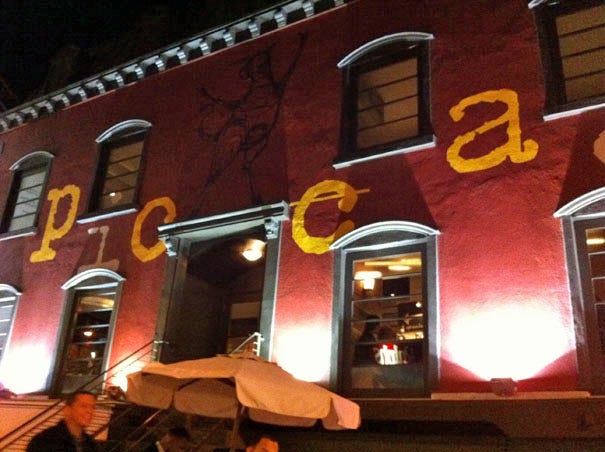 We walked up the stairs and there was the hostess who I had just spoken to on the phone. I mean, I didn't recognize her (obviously) but when I told her that I'd called and she'd said the wait was 30 to 40 minutes she was like, "Oh you."

Then she said, "Well we're fully booked tonight so I'm not sure what to tell you."

I was confused so I said, "Oh... but didn't you say there was a wait list for a table?"

"There is," she said. "Do you want me to put you on it?"

"Is it still a 30 to 40 minute wait?" I asked.

"I really don't know sir," she said. "We just sat our second seating so there's really no way to know."

"But I mean," I continued, "will it be an hour? Two hours?"

"I really don't know sir. I really can't say. We're fully booked."

The way this scene played out, it was like something from Catch-22 or "Alice in Wonderland." I realize she was being sincere when she said she had no idea how long the wait would be, but this was the same woman who'd said "30 to 40 minutes" on the phone 20 minutes earlier. And also: even a vague estimate is better than no estimate.

She did say that we could try to get seats at the bar, where they serve food, but one glance over and it looked like the helicopter sequence from "Miss Saigon."

So we just left and two happy things happened: (1) we didn't get charged the $6 for the valet; (2) I suggested that we go to Guelaguetza where there wouldn't be a wait.

This was the best decision ever. Do you remember Guelaguetza from my blog?

It's a Mexican restaurant in a giant banquet hall in Koreatown; it's where the mayor of Oaxaca goes to eat when he comes to visit.

Craig had never been and the second we walked inside, he fell in love with it. Me too, actually. Because the first time I went was for lunch on a weekday and it was totally empty.

On this Saturday night, it was packed with people. There was live music being performed on stage: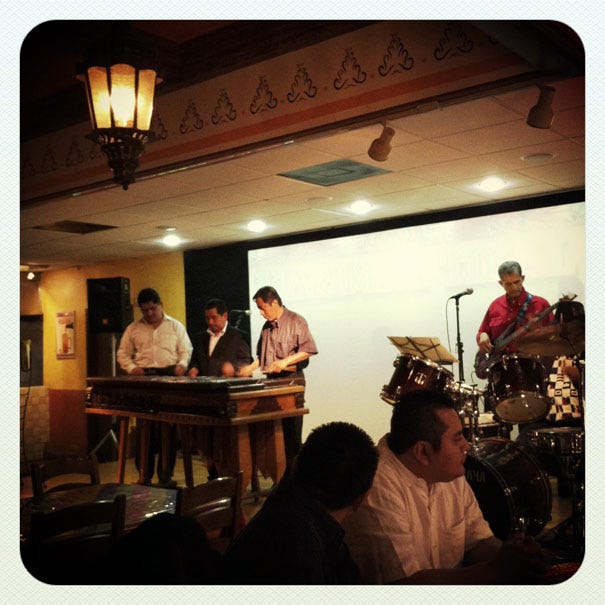 As happens at the best Mexican places (I pointed this out in my recent post about La Casita Mexicana) we were presented with tortilla chips dressed with mole and cojita cheese: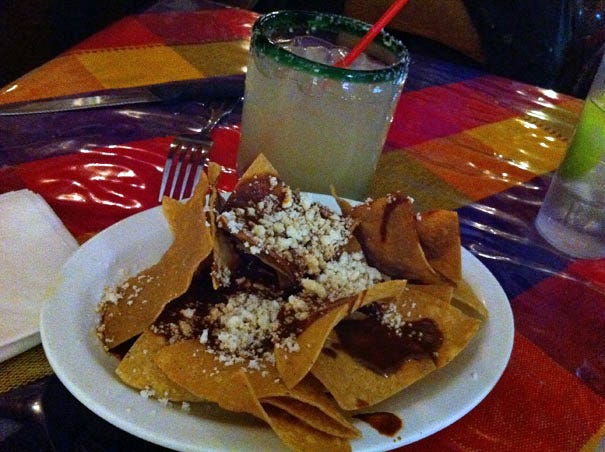 Oh and that's a margarita which was pretty good though I questioned whether it was made with fresh lime juice or a mix. The jury's out.

Here's a picture to show you the crowd---mostly families out for a fun Saturday night: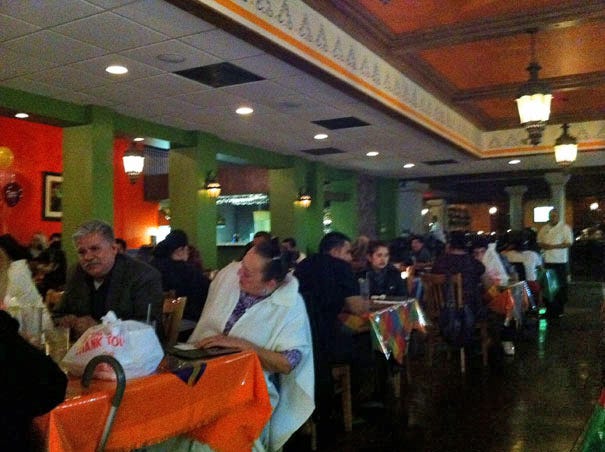 And here's the dish that both Craig and I ordered---a tamale with chicken and the famous mole negro poured on top; black beans and rice on the side: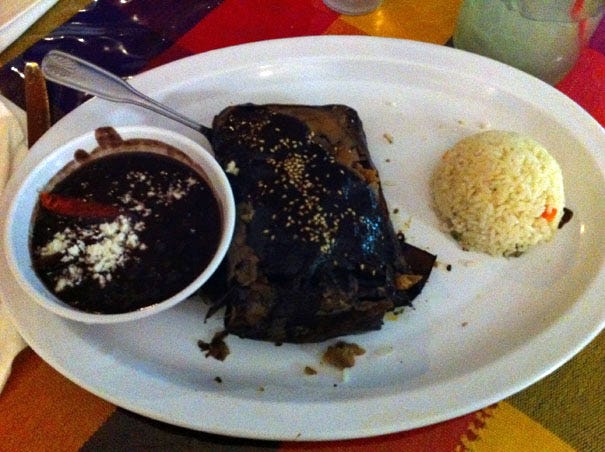 That mole negro really is a religious experience. It's so rich and thick and complex with deep, dark flavors, I'd say it's a bucket list kind of dish. If you come to L.A., you're crazy not to try it.

Finally, I joined my friend John yesterday for brunch at Canele, the Atwater Village restaurant I wrote about in this post.

We went because L.A. Weekly just named its best brunches in Los Angeles and Canele was #1.

Here's the scene inside at 10:30 AM on a Sunday: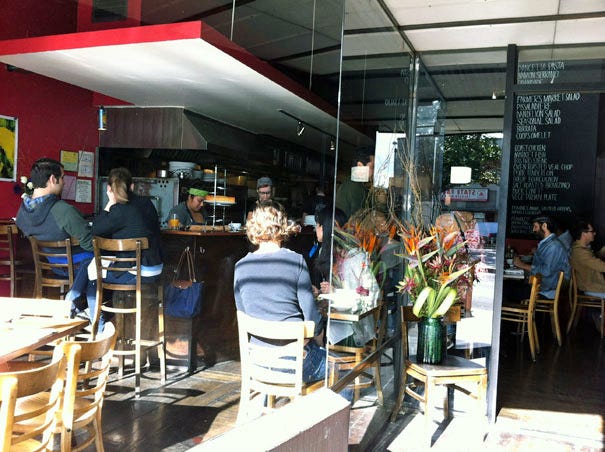 Not too busy, but an hour later it was totally packed. (This proves the theory that, to beat the crowds, go to brunch early. Or just skip brunch and make breakfast at home--that's what I do, most weekends.)

Anyway, John and I both had our eyes on the same dish so we both ordered it: a sandwich of braised leeks, bacon and fried egg: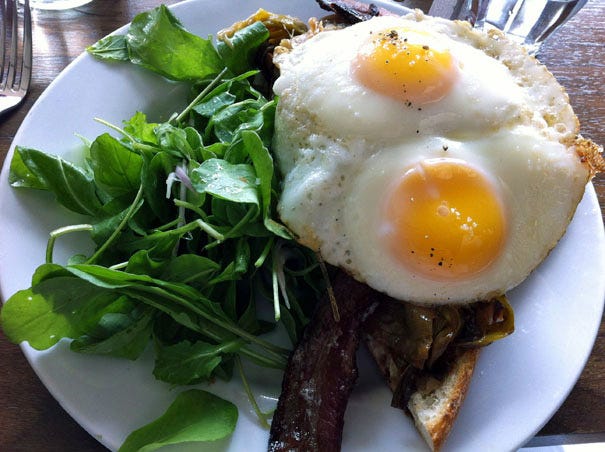 What you don't see in this picture is a layer of spicy chile sauce on the bread---that gave everything a great fruity, toasty flavor. As we ate, we spied French Toast that looked positively epic. There's always tomorrow.

That's all for this week folks!

Until next time....

Your friend,
Adam (The Amateur Gourmet)




Reading this in a browser? Get next week's in your inbox by signing up here.

Follow Me!
On Twitter
On Facebook

Recent Food Posts

Honey Butter Biscuits

Pig: A Restaurant (A Play)

Baco Mercat & La Casita Mexicana

Lamb Shoulder For Those Who Love Lamb But Don't Want To Spend The Money

Battle Cold Cure: Thailand vs. Japan

Double Double Animal Style

A Field Trip To Atwater Village: Atwater Village Farm, Proof Bakery & Canele

Craig's Quinoa Conversion

Ribollita (Italian Cabbage and Bean Soup)

Reflections On Eight Years of Food Blogging

Fried Eggs with Roasted Potatoes, Garlic, Rosemary and Pecorino

I Declare War on Frisee!




*|LIST:DESCRIPTION|*

Unsubscribe *|EMAIL|* from this list.

Our mailing address is:
*|HTML:LIST_ADDRESS_HTML|*
Copyright (C) *|CURRENT_YEAR|* *|LIST:COMPANY|* All rights reserved.

Forward this email to a friend
Update your profile
*|IF:REWARDS|* *|HTML:REWARDS|* *|END:IF|*