A.G. Newsletter #66: Sushi at Roboto Jinya, Pad Thai at Ruen Pair, Doughnuts at LaMill, Susan Feniger's Street
A.G. Newsletter #66: Sushi at Roboto Jinya, Pad Thai at Ruen Pair, Doughnuts at LaMill, Susan Feniger's Street (With Working Links!!)

Dear Newsletter Friends,

OOPS: I just sent this out and the links weren't working! They should work now. My apologies.

First of all, Happy Valentine's Day! Do you have plans for your sweetie? I think you should make them this flourless chocolate cake. You'll thank me later, promise.

Second of all, you are so mad at me! I didn't write a newsletter last week and you felt totally betrayed, abandoned. I get that.

Here's the thing---I got back from Palm Springs (see my post all about it HERE)---and was greeted, at my doorstep, with a big, fat package from my publisher and a ticking clock attached to it (well, at least metaphorically). I had one week to go through this final set of proofs--370+ pages--before FedExing them back to my editor; my last chance, really, to see my book before it goes to print (it'll arrive on shelves in September). Needless to say, the stakes were high--I had to go through everything one last time with a fine tooth comb and of course I found all kinds of things that I wanted to change or little mistakes or pictures I wanted to swap.

But now that's done--the book is in the air, flying back to my publisher--and I can breathe. Well, not really. Now we're working on gathering blurbs and the promotional video (with my awesome friend Isaac) and even talking, at this early point, about where I'll appear to promote the book. So this is all very exciting but time consuming!

Still, one has to eat. Two weeks ago I met the ladies who created that show I blogged about, Pig: A Restaurant, for lunch at Roboto Jinya. You may remember Roboto Jinya best as the place I eat ramen when I'm sick (this time and this time). But Roboto Jinya also has a great sushi lunch for not a lot of money.

Here are those ladies, Lauren on the left (she was the actress in the play) and Leila on the right (she's the writer) along with their ramen: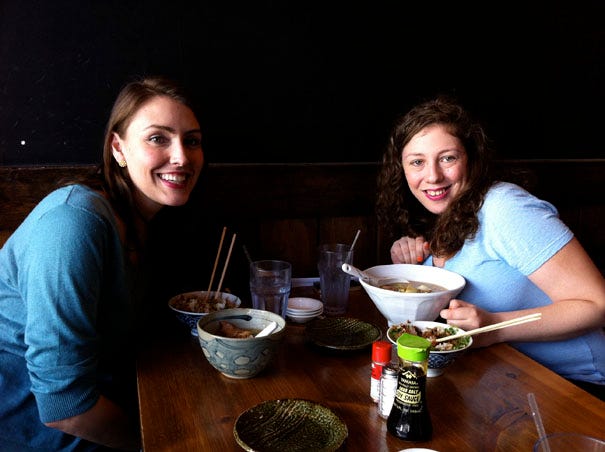 And here's my sushi lunch which was $12ish and came with soup AND salad: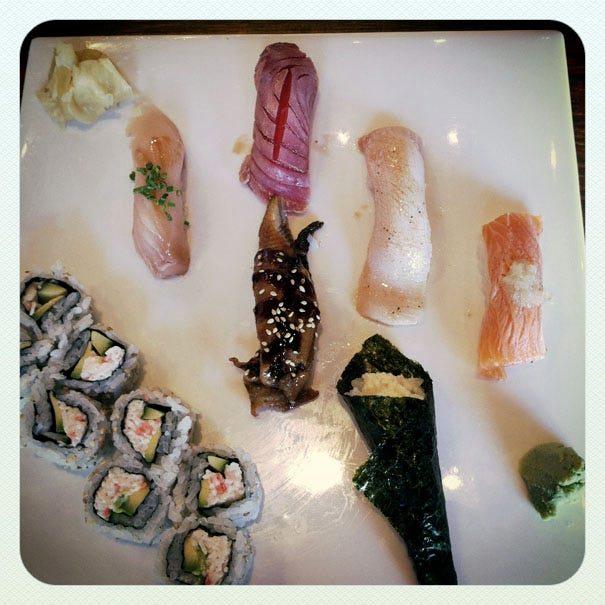 Pretty nice, right? L.A. has good sushi (see also: here.)

L.A. also has incredible Thai food. Because I live so close to Thai Town, I'm starting to integrate it more into my weekly diet. Initially I thought Thai food might be too spicy and stomach-challenging for a weekday lunch (I prefer my more stomach-challenging food at dinner; because that's after I exercise) but then I thought, "Screw that...I have a whole culinary wonderland at my feet, I'm going to embrace it."

So last week I re-visited Ruen Pair (where I went for Tom Kha Gai for my Battle Cold Cure) and ordered the Pad Thai. Admittedly, that's not adventurous, but it is certainly delicious: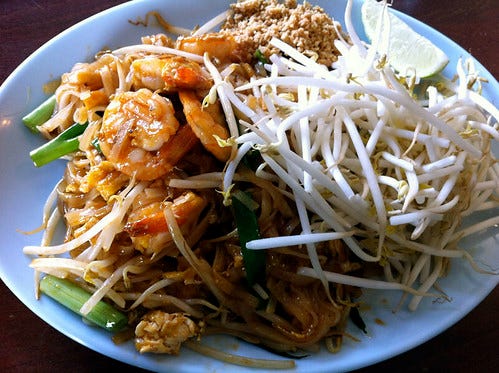 I mean you can tell, just by looking at that picture, that it's not your everyday Pad Thai. It positively glows with authenticity and Thai Town magic. Don't worry, when I go back I'll dip into the spicier end of the menu.

This past weekend, my old friend Lauren was in town (she was my roommate when I first started my blog in 2004; you can see her in my Project Sourdough video). She came over to see our apartment and then I took her for coffee at Lamill in Silverlake. Here she is with her fancy vanilla latte (I had a fancy iced cafe con leche which may be my new favorite coffee drink in L.A.):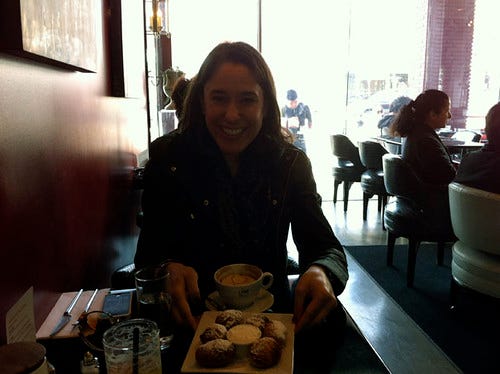 You may notice something else on the table in front of her. That would be a plate of hot brioche doughnuts that were eye-rollingly good: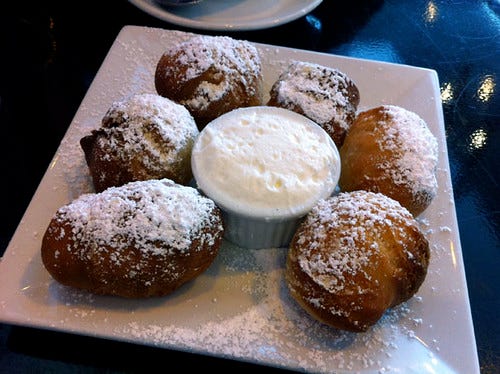 Doughnuts are so much better hot, it's amazing how often we settle for the sad kind sitting in a display case. The genius here is that these are made with a brioche dough---so they're fluffy, slightly eggy and buttery. Then you dip them into a vanilla cream. And yes, you die a little and go to heaven.

Finally, Craig and I visited Susan Feniger's Street last week. It happened kind of funny: Susan was doing a Twitter Q&A (you can follow her here: @SusanFeniger) and I was trying to help her by explaining about @ symbols and what goes out to everyone and what goes out to just an individual follower. This led to me asking if we had a chance at a table for two that night (it was a Thursday, I think) and the answer was "yes."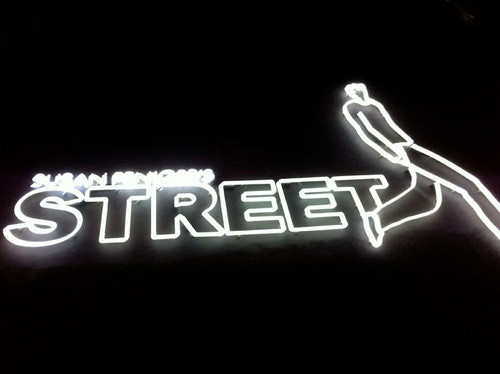 I've been to Street before--maybe I even mentioned it in a long-ago newsletter (and full confession: I cooked with Susan there for my book!)--and it's a wonderful restaurant to have right here in L.A. It celebrates street food from around the world; and Susan is so well-traveled that she's certainly an authority on the subject.

We actually did the Dine LA dinner that came with all kinds of goodies. The meal started with these puffed millet bites that were sort of like Rice Krispie treats studded with spices: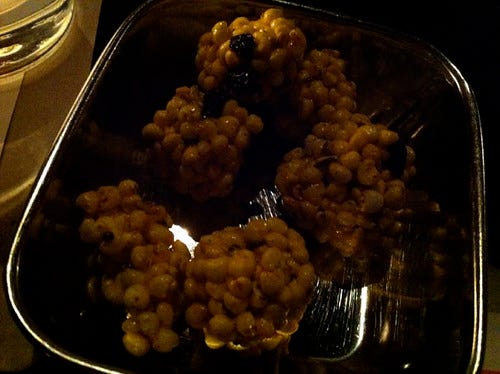 Next up, Angry Eggs so named because of the Malaysian hot chile relish and the green Sriracha: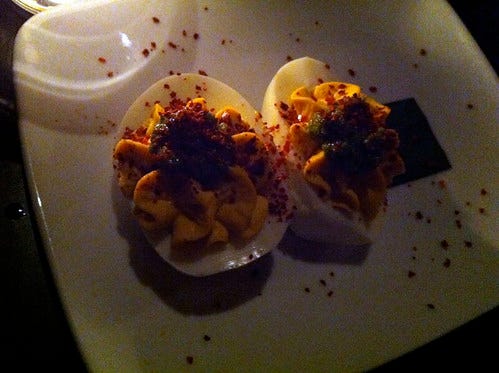 There was Albacore poke--a small salad of diced sashimi tuna, honey crisp apple, spicy sesame dressing and crispy leeks: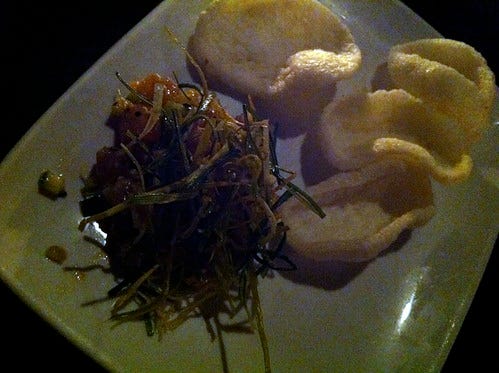 Anatolian Mushroom Ravioli with smoked paprika butter and fried chickpeas: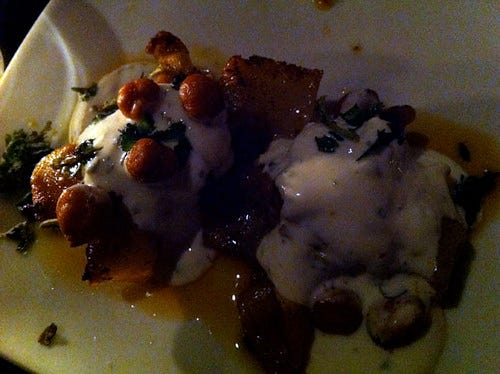 If this looks like a ton of food, don't worry---these were all small plates and we shared. (So it was basically one or two bites each.)

This was some kind of fried bean cake in a pool of spicy mayonaisse--needless to say, wonderful: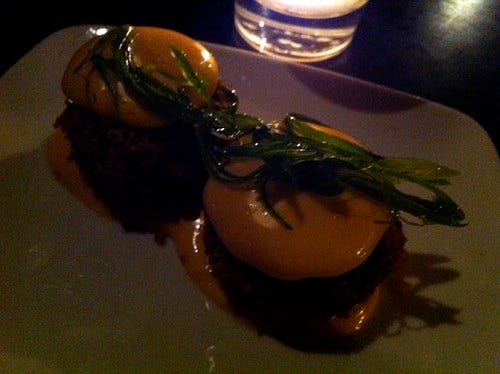 The pictures get too dark at this point to post (we were sitting outside). For our entrees, we shared Singaporean Street noodles and Kafta (lamb meatballs) which were both so flavor-packed and addictive we couldn't believe they were gone, a few bites later.

For dessert there was this sticky rice tamale and a chocolate pound cake that was topped with peanut butter mousse, a banana, whipped cream, caramel sauce, and salted peanuts: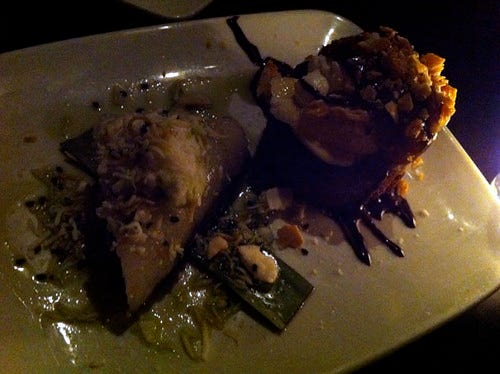 Susan has such an infectious charisma and her food reflects that. Both times I've been to Street, I've seen her visiting table after table, making an effort to make guests feel welcome. If you're a food lover visiting L.A., you'd be a fool not to visit Street. It really is one of a kind.

I do have a Sponsored Post on my blog I should tell you about: it's a post about Smorgie, a website that lets you build lists of restaurants you want to try. Check out the post and you'll see a link to my list of L.A. Restaurants I'm itching to go to next.

That's all for this week folks! We're actually headed to New York tomorrow for my birthday (which is on Saturday). You'll read all about it soon.

Until next time...

Your friend,
Adam (The Amateur Gourmet)
Reading this in a browser? Get next week's in your inbox by signing up here.

Follow Me!
On Twitter
On Facebook

Recent Food Posts

LudoBites 8.0, Lemon Moon

Yellow Cake with Chocolate Frosting

Birthday Lasagna

Three Chicken Dinners: Meyer Lemon Stuffed Chicken Breast, Italian Sweet & Sour Chicken & Chicken with Lentils and Marsala Gravy

The Eggslut

Green Drinks and Coconut Water

Honey Butter Biscuits

Pig: A Restaurant (A Play)

Baco Mercat & La Casita Mexicana

Lamb Shoulder For Those Who Love Lamb But Don't Want To Spend The Money

Battle Cold Cure: Thailand vs. Japan

Double Double Animal Style

A Field Trip To Atwater Village: Atwater Village Farm, Proof Bakery & Canele

Craig's Quinoa Conversion





*|LIST:DESCRIPTION|*

Unsubscribe *|EMAIL|* from this list.

Our mailing address is:
*|HTML:LIST_ADDRESS_HTML|*
Copyright (C) *|CURRENT_YEAR|* *|LIST:COMPANY|* All rights reserved.

Forward this email to a friend
Update your profile
*|IF:REWARDS|* *|HTML:REWARDS|* *|END:IF|*