A.G. Newsletter #67: Harissa Chicken, Lisa's Baby, On The Ice, Brunch at Morgan & Phil's and The Return To L.A. BLT


Dear Newsletter Fans,

Remember how we used to live in New York and then we moved to L.A.? Well, for the first time since we left six months ago, we returned to The Empire State and had a grand old time. We were there for my birthday (I turned the ripe old age of 33) and I celebrated with a glass of champagne--hence my post: Drink Champagne On Your Birthday.

We also had a multi-course tasting menu on our first night there. Click here to find out where.

Before we left, I put the finishing touches on my cookbook proofs; and one of the recipes that I re-tested, to make sure it was working, was a recipe for harissa. Because I had a lot leftover I decided to take a tip from the Ottolenghi cookbook and rub it all over a raw chicken before roasting it in the oven. Here's the harissa (there's a layer of oil on top to keep it fresh):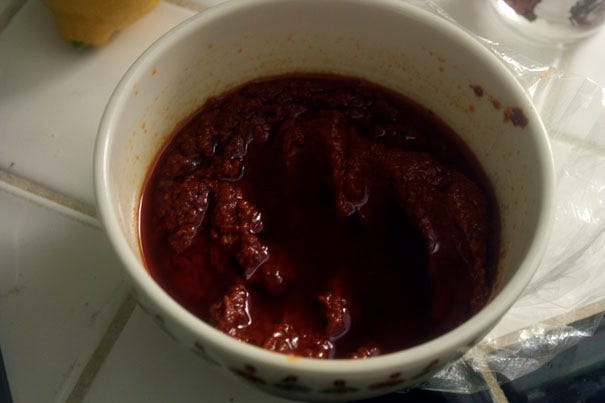 Here's the chicken (spatchcocked) with the harissa rubbed all over it, before going into the oven: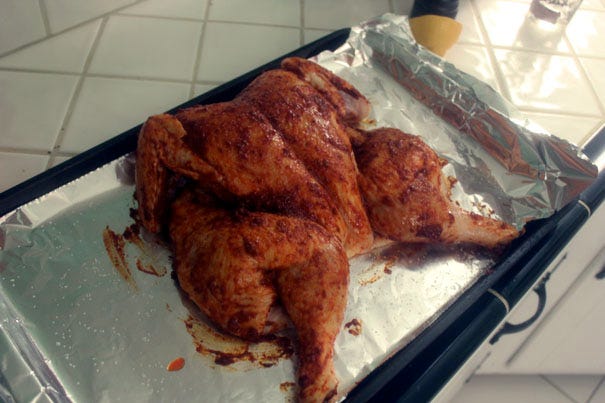 And here it is after roasting at 425 for an hour: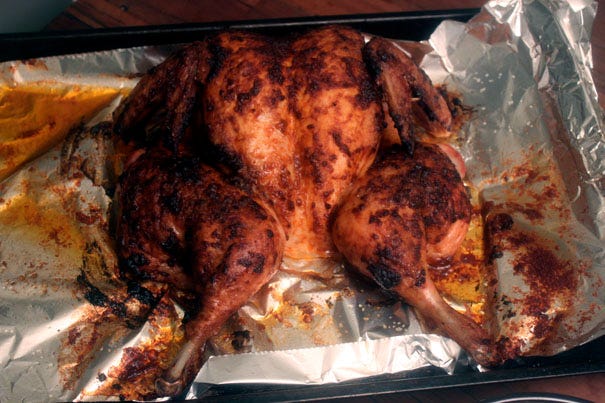 Looks nice, right? I hacked it apart and served it with pita bread, the leftover harissa and hummus that I'd made the night before: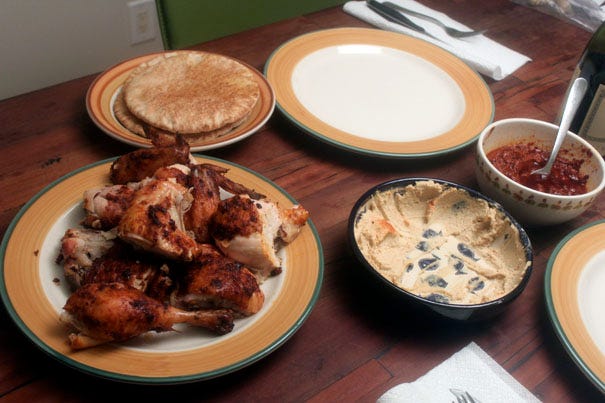 It's a great meal and you don't even have to make your own harissa to make it happen---you could just use store bought stuff (though homemade harissa will be better, for sure).

Now as for our trip to New York, I plan to blog about it in stages. Today was Stage 1 (our first meal there); tomorrow it's Stage 2 (meals at places we'd never been to before); and Thursday it's Stage 3 (return visits to our favorite haunts).

When those things weren't happening, I caught up with old friends. Like my friend Lisa who you may remember from my old silly videos--like the time we made a Pumpkin Cake and sang a song (with our friend Ricky) called Corner of The Pie.

Well Lisa's now a mommy. She and her hubby Eric have a baby named Sam and I met him for the first time on this trip. Look how cute!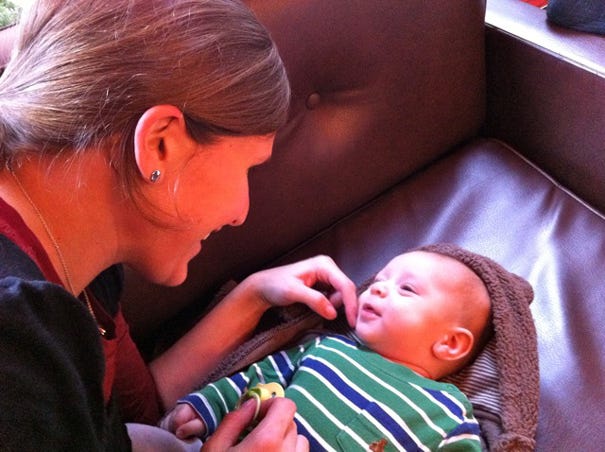 Adorable, right? We shared hot chocolate at Jacques Torres and talked about motherhood and breast feeding and formula and all kinds of motherly things. It was a very delightful reunion.

Two other friends that we caught up with were our friends Andrew and Cara who recently premiered a movie called On The Ice: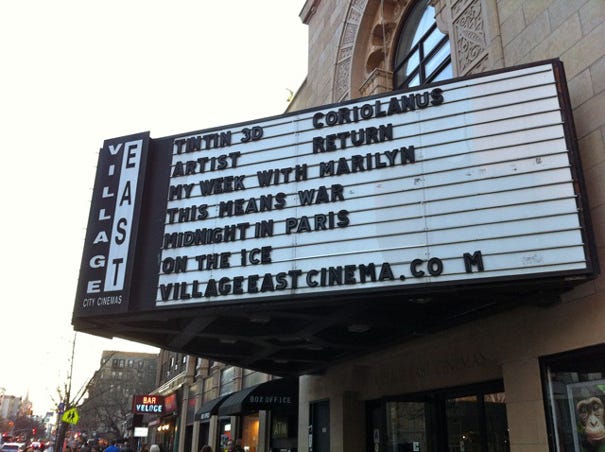 We were there for the premiere New York screening (it also played at two other theaters in New York at the same time) and Andrew (who directed) and Cara (who produced) were in attendance and answered questions afterward.

It's a really powerful movie about two Inuit friends in Barrow, Alaska who get into some big trouble while going on a hunting trip. The story's great but what makes it even better is the setting---there's a scene where the main guy's looking at the sunset and a friend says, "I hope you're not waiting for it to go down...that'll take a while." Because, you see, for several months out of the year, the sun just doesn't set there.

Our friends Morgan and Phil cooked us a farewell brunch before we left on Sunday (a lovely gesture indeed!):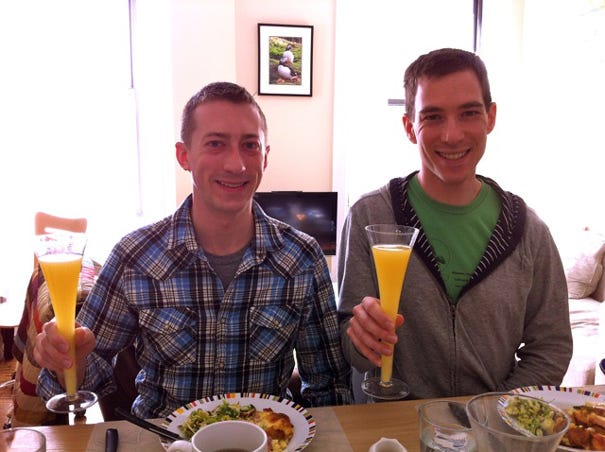 The meal started with toasted brioche topped with orange marmalade and nutella (from a Dorie Greenspan book):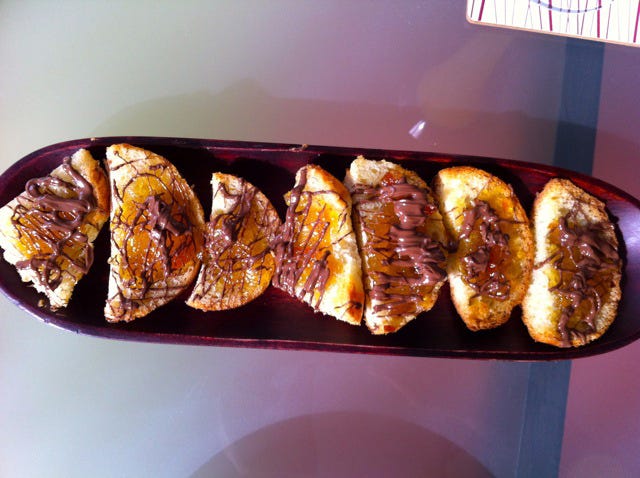 And proceeded on to a breakfast strata from Gael Gand's "Brunch" book, plus a shaved Brussels sprout salad: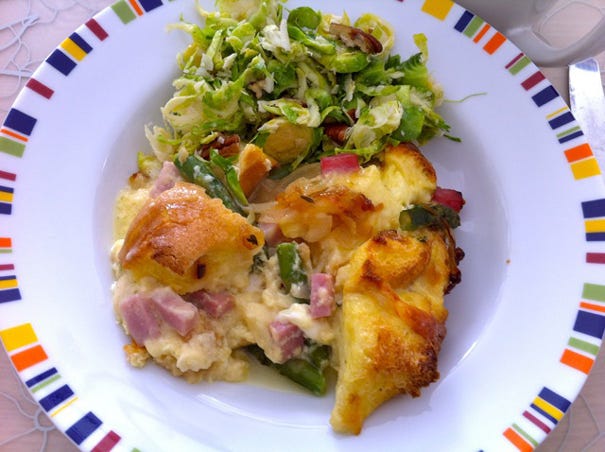 It was a brunch of champions and the perfect thing to send us on our way back to L.A.

For some reason (having to do with winds, I'd imagine) our flight back west was longer than our flight east. So by the time we got back to our neighborhood, it had been over 10 hours (with taxis to the airport, the flight itself, waiting for the bus to Lot C to go get our car) and we were starved beyond reason. Which is why this BLT from The Oaks totally hit the spot: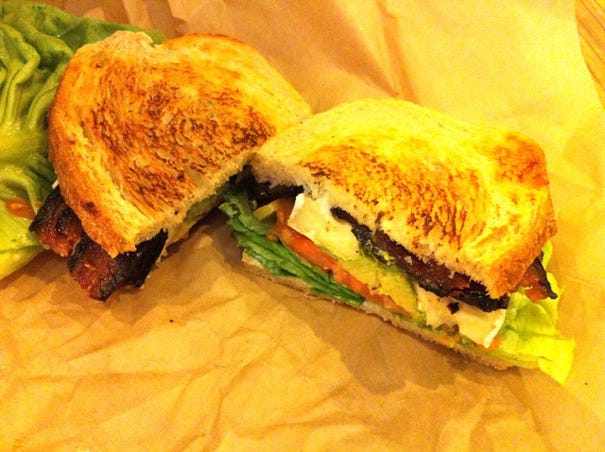 Not only was there the traditional bacon, lettuce and tomato; there was also Camembert and, the true California touch, avocado. Welcome home indeed!

That's all for this week, folks. Be sure to tune into my blog tomorrow and Thursday to read all about the rest of our New York trip.

Until next time...

Your friend,
Adam (The Amateur Gourmet)
Reading this in a browser? Get next week's in your inbox by signing up here.

Follow Me!
On Twitter
On Facebook

Recent Food Posts

Chickpea Curry

How Do You Not Weigh 500 Pounds?

A Weekend in Palm Springs

LudoBites 8.0, Lemon Moon

Yellow Cake with Chocolate Frosting

Birthday Lasagna

Three Chicken Dinners: Meyer Lemon Stuffed Chicken Breast, Italian Sweet & Sour Chicken & Chicken with Lentils and Marsala Gravy

The Eggslut

Green Drinks and Coconut Water

Honey Butter Biscuits

Pig: A Restaurant (A Play)

Baco Mercat & La Casita Mexicana





*|LIST:DESCRIPTION|*

Unsubscribe *|EMAIL|* from this list.

Our mailing address is:
*|HTML:LIST_ADDRESS_HTML|*
Copyright (C) *|CURRENT_YEAR|* *|LIST:COMPANY|* All rights reserved.

Forward this email to a friend
Update your profile
*|IF:REWARDS|* *|HTML:REWARDS|* *|END:IF|*