A.G. Newsletter #70: Chicken Schwarma, Little Dom's, A Breakfast Cereal Cookie, Pad Prik King, A Passionfruit Macaron, Lemon Bar & Habanero Sugar


Hey A.G. Newsletter Readers,

Usually on Mondays I post my most dazzling post with the most dazzling pictures so it starts the week off on the right foot. Today's post, though, isn't so much dazzling as it is practical: How To Turn Leftover Chicken Into A Tasty Soup. It may not cause you to lick the screen, but it may cause you to rethink what you're making for dinner tonight.

Also, before we get on our way, Saveur Magazine is doing its annual food blog awards. Head over there to nominate your favorite food blogs. Notice I'm not telling you to nominate ME. That would be tasteless and incredibly gauche. So I'll simply say, if you don't nominate me I WILL PERSONALLY HUNT YOU DOWN AND DESTROY EVERYTHING YOU KNOW AND LOVE. But, seriously, vote for who you think is best--not because you're feeling pressured.

Did you know that next door to Sushi Ike, is a really good chicken place that sells chicken schwarma? I ate it last week and it only cost $7: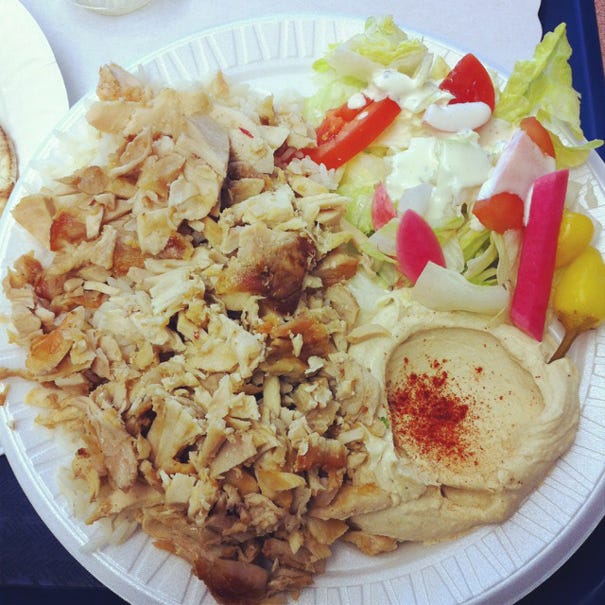 As you can see, that's a big plateful of food for such a small amount of money: the chicken is shredded and sits on rice along with some hummus and salad and pita on the side. I think I'll be going back again and again because that's a very good lunch deal, indeed. (Though the salad dressing tasted like it came from a bottle.)

Now Little Dom's is a place I've written about before--I've gone there for dinner and for lunch and enjoyed it both times. And both times I went to the restaurant proper, but I'd never been to the deli that's attached to it. And the deli that's attached to it is a PERFECT place for lunch: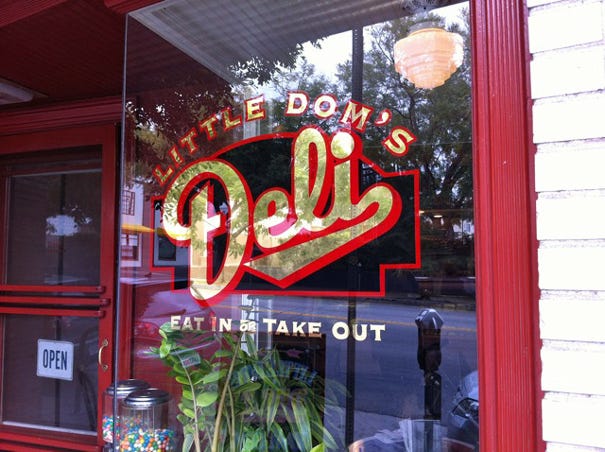 You just walk up to a counter and you can order a panini (pressed to order), pizza or any of the sides in the case. I chose the farro and the roasted cauliflower: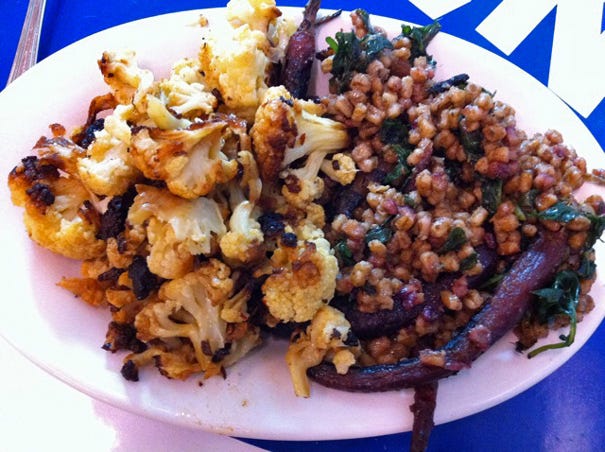 I don't know why, but this was obscenely cheap. Like $5.50 cheap. And it was such a generous plateful of food and so wonderfully prepared. That farro gives the farro at Forage something to worry about (and I say that as someone who goes to Forage twice a week, most weeks). The secret, I learned from my friend Ryan who's a server at Little Dom's, is that they cook the farro in mushroom stock. Whoah! It had a sultriness and richness that will change the way you feel about farro, assuming you don't feel good about farro. And who knows, maybe you do feel good about farro. I really don't know.

When I wrote about the Salted Caramel Latte at Short Cake on my blog last week, I didn't make mention of this amazing cookie that I ate there on my most recent visit. And that was a breakfast cereal cookie that gives Momofuku Milk Bar's cookies a run for their money: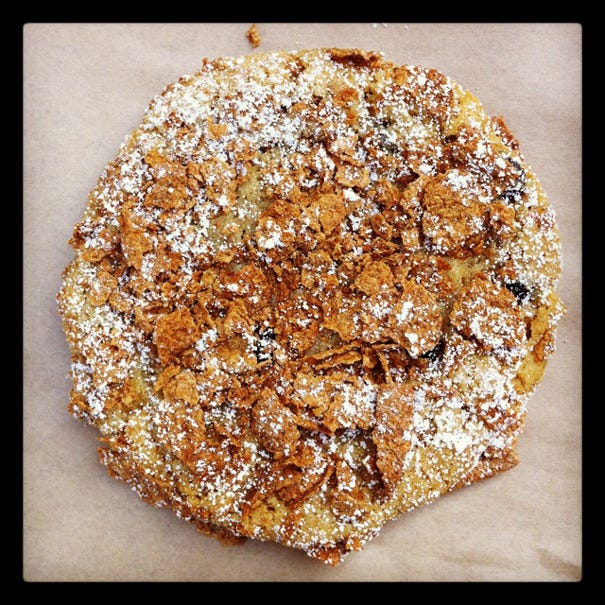 I don't know all the details, but this cookie was definitely buttery, soft and also crunchy in spots (from the cereals that were worked into it). When I asked about the specific cereals, I remember "Grape Nuts" were mentioned. But it's not the kind of cookie you need to worry about making at home; it's the kind of cookie you should make a point to order the next time you're in L.A. and you visit Short Cake. (Goes great with that salted caramel latte.)

I had the most amazing lunch, last week, at Ruen Pair in Thai Town. It was called Pad Prik King and it looked like this: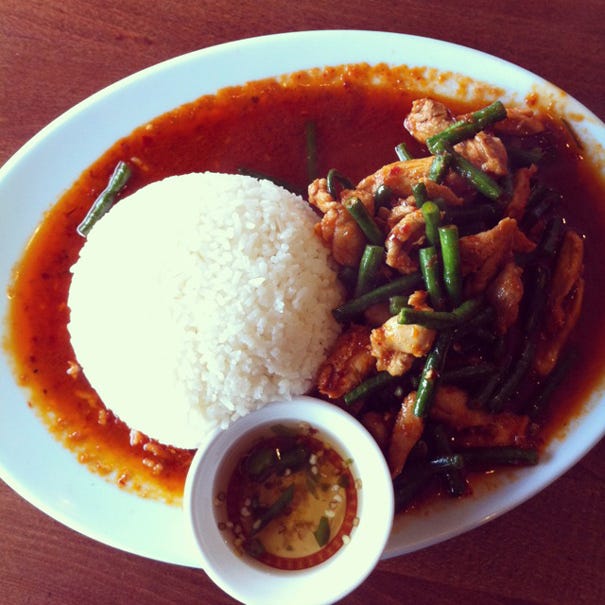 Essentially, that's chicken cooked with green beans in a fiery red sauce that's tempered with kaffir lime leaves. It was just spicy enough (I asked for it mild) but also punchy and vibrant and bright. I liked it so much, in fact, that I convined Craig to go back to Ruen Pair later in the week where we had more traditional Thai food (he: Pad Thai, me: Pad See Ew.):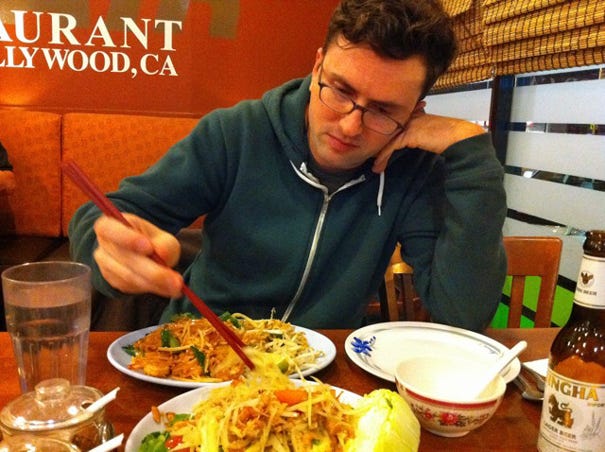 I think Ruen Pair is my favorite place in Thai Town, if only because it walks the finest line between comforting Thai food classics and challenging authentic Thai cuisine. We'll be back again and again.

Looking over my pictures from last week, turns out I ate my fair share of sweets (in addition to that breakfast cereal cookie). But can you blame me when I was so close to Bouchon Bakery while shopping for plates last week at Williams Sonoma? How could I not pop in for a passionfruit macaron?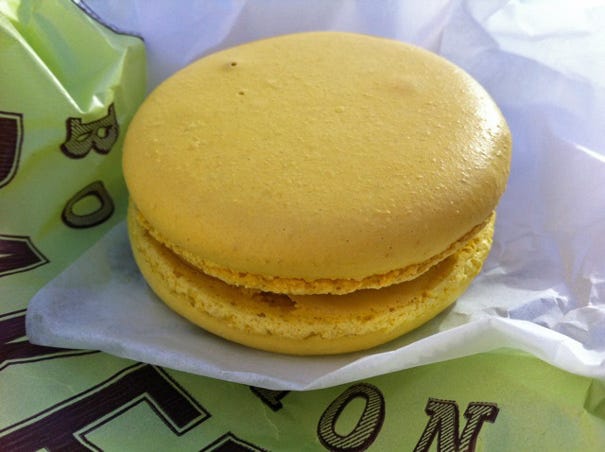 Yes, I could've chosen a smaller one, but then I wouldn't be able to take home half of it for Craig. Only I ate the other half in the car. It's a good thing Craig doesn't read my newsletter.

I also treated myself to this lemon bar at Coffee Commissary on Saturday because I was working real hard on the final, final pass of my cookbook.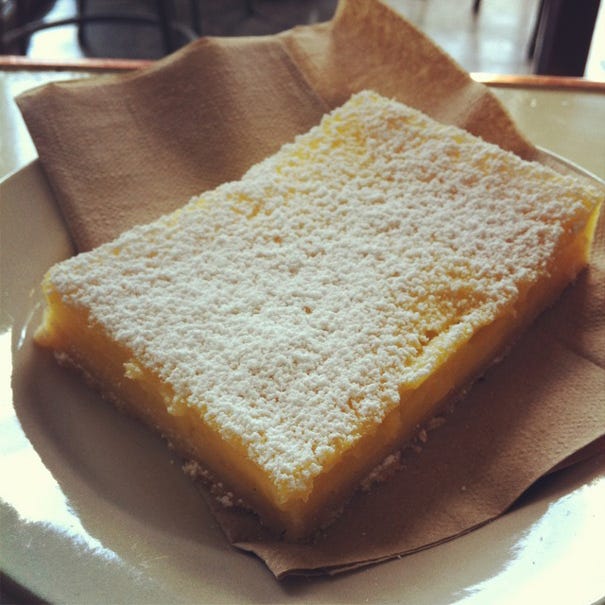 The curd inside was so rich and custardy, I could only finish half of it. But that's not a critique, it's a compliment---that's one decadent lemon bar.

Finally, I paid a visit to The Spice Station on Saturday (first mentioned in this post about Lisa Fain's chili) and chatted with A.G. fan Heather, who's invited me to have an event there (I'm thinking maybe a talk about food blogging?) While there, she had me sample this habanero sugar which was far out: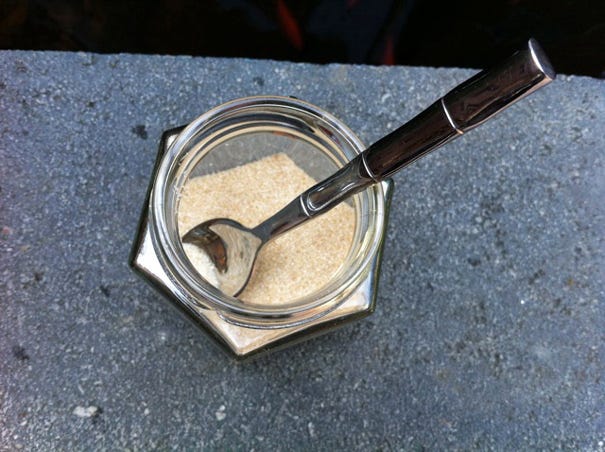 It should be called Hansel & Gretel sugar because it lures you in with its sweetness and then absolutely eviscerates you with its heat. Tricky stuff! (Heather recommends it for sugar cookies; I bet that would be fun.)

I ended up buying coriander, cinnamon sticks, curry leaves, and--the ingredient I'm most excited about--white truffle salt, which I may add to a chanterelle risotto tonight. Fancy schmancy!

Ok, that's all for this week folks. Tune in to the blog tomorrow for a post about the most outrageous night we've experienced at a restaurant in years--maybe ever--when we attempted to get a table at Shanghai No. 1 Seafood Village in the San Gabriel Valley.

Until next time....

Your friend,
Adam (The Amateur Gourmet)




Reading this in a browser? Get next week's in your inbox by signing up here.

Follow Me!
On Twitter
On Facebook

Recent Food Posts

The Salted Caramel Latte

An Imaginative Feast By Food Prodigy Andy Windak (Mac 'n' Cheese Stuffed Ravioli! Coq au Vin Chilaquiles!) & A Roasted Feast By Cookbook Hero Molly Stevens

Lindsey Shere's Legendary Almond Tart

Bouillabaisse: A French Seafood Odyssey at Home

Spago

Waiter, Don't Take My Plate Away

Dan Sung Sa (Korean Bar Food in L.A.'s K-Town)

Glenn Cous Cous with Albert Knobs of Feta (Plus: Other 2011 Oscar Dishes)

Back To Our Favorite N.Y. Haunts (Joe, Joseph Leonard, Bar Centrale, City Bakery, Grand Sichuan & The Burger Joint)

(Relatively) New In New York: Untitled, The John Dory & The Big Gay Ice Cream Shop

The "Welcome To New York" Tasting Menu at The 2nd Avenue Deli

Drink Champagne On Your Birthday

Chickpea Curry

How Do You Not Weigh 500 Pounds?

A Weekend in Palm Springs

LudoBites 8.0, Lemon Moon

Yellow Cake with Chocolate Frosting

Birthday Lasagna



*|LIST:DESCRIPTION|*

Unsubscribe *|EMAIL|* from this list.

Our mailing address is:
*|HTML:LIST_ADDRESS_HTML|*
Copyright (C) *|CURRENT_YEAR|* *|LIST:COMPANY|* All rights reserved.

Forward this email to a friend
Update your profile
*|IF:REWARDS|* *|HTML:REWARDS|* *|END:IF|*