A.G. Newsletter #71: Lunches at Little Dom's & Tavern, Return to Disneyland, Chloe's Crackers, Corned Beef & Cabbage


Hey there Newsletter Gang,

I had quite an adventure last Thursday when I couldn't find a parking spot in Silverlake. That somehow led me to Echo Park where I discovered an amazing store called Cookbook where I bought the ingredients to make this dazzling dish. Click that link to see what it is--it's too many words to type here.

Earlier in the week, I grabbed lunch with Diana at Little Dom's which I've mentioned in this newsletter many times, but because we ate things I've never had there before, I'll show you some pictures. Like this olive oil poached tuna salad: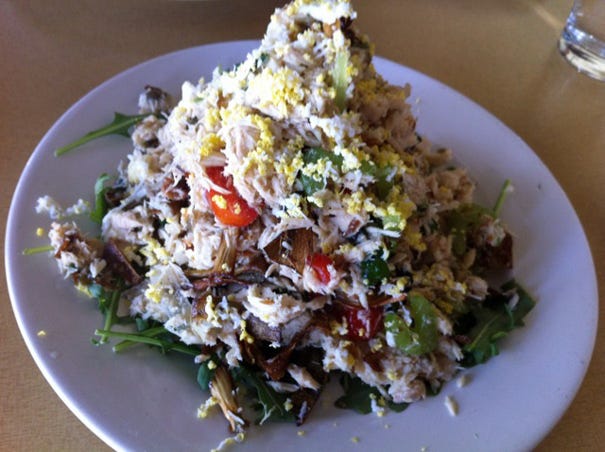 It's positively mountainous, that salad. And most of it's tuna which makes it kind of remarkable and also rather healthy--lots of protein (although it's olive oil poached protein, so maybe not that healthy).

We also had this sandwich of soppresata (at least I think it was soppresata) with pickled peppers: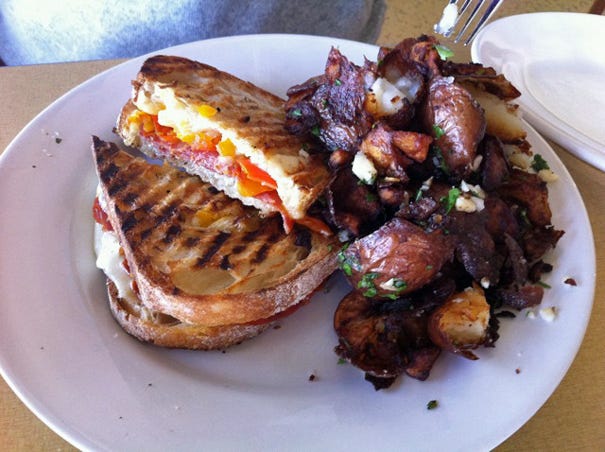 That's a wonderful sandwich, if ever there was one. And those potatoes--fried with garlic in lots of olive oil--were sinfully good. Oh my.

Last year, while writing my cookbook, I made the acquaintance of David Prior, communications director for Chez Panisse. He's an unforgettable fella--tall, with a lion's mane of hair and an Australian accent. He was in town last week for an event, and we made a lunch date at Suzanne Goin's Tavern in Brentwood. Here he is at the table: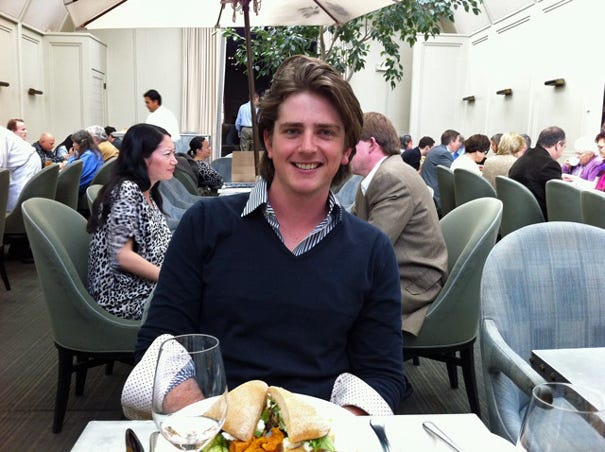 We talked all about food and San Francisco and Chez Panisse and Alice Waters and slaughterhouses, as well as Australia (David's from the town that inspired Porpoise Spit in "Muriel's Wedding") while noshing on this incredibly flavorful farro salad: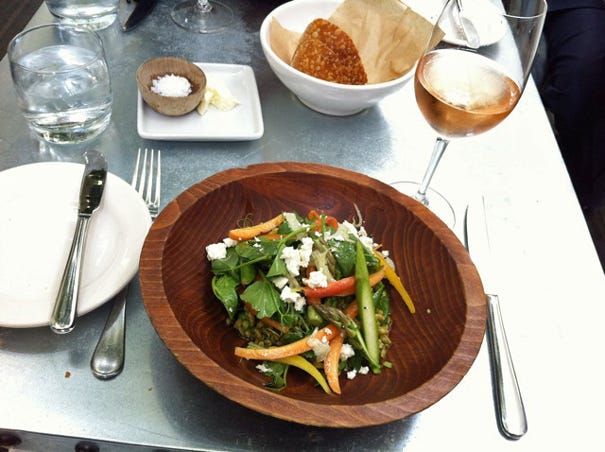 (Yes, we also had wine. That knocked me out for the day.)

I had the tuna Nicoisse sandwich which was very delicious but just too much after all the bread and farro and salad:




We skipped dessert, even though I was secretly craving the famous Tavern Snickers bar. All in all, it was a delightful lunch---I'm glad David and I have stayed in touch.

Now for Christmas, Craig gifted his brother Eric, who has autism, with a trip to Disneyland in March. Before we knew it, March was upon us and Eric was here!

Here are Craig and Eric in front of the Mickey flower bed (where we met our fellow Disneyland companions):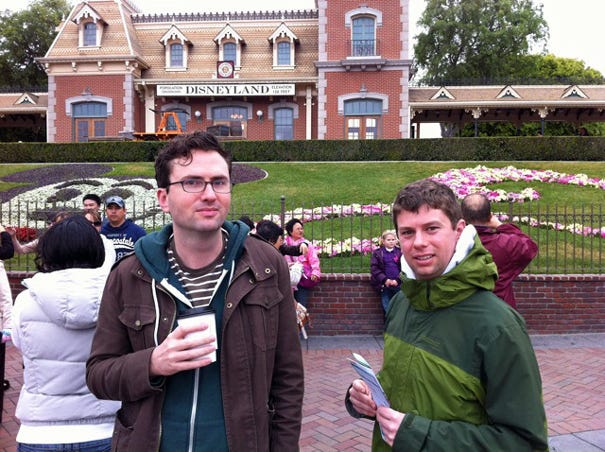 The day went by in a blur---lots of rides to go on---but we returned to the Big Bear Cafe for lunch, where went in this Disneyland post.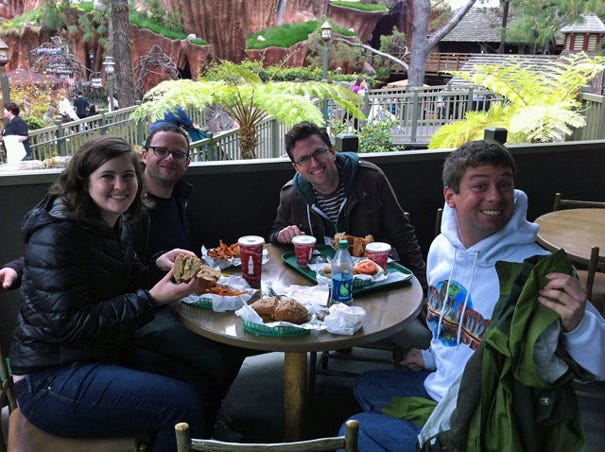 Those fried green tomato sandwiches really are pretty good for a theme park.

For dinner, my friend John (who visits Disneyland often) recommended we try the newly renovated Jolly Holiday Bakery on Main Street: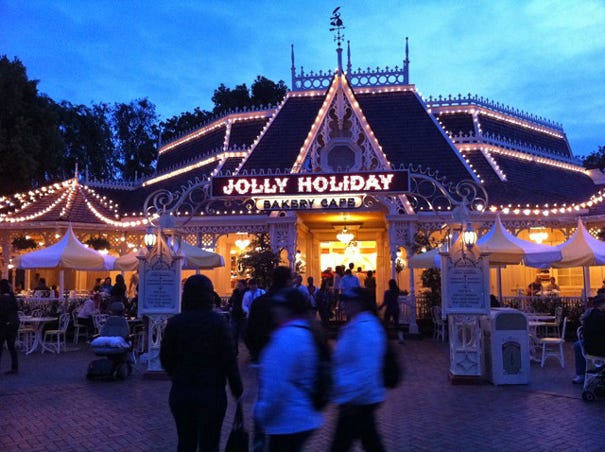 I ordered the grilled cheese and tomato soup, which hit the spot on this chilly night: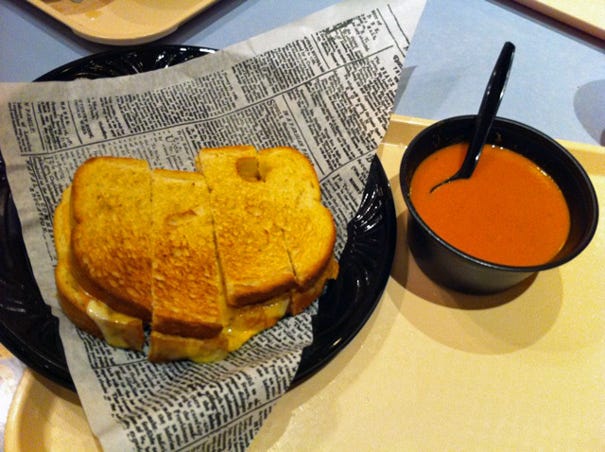 Did you know that one of the stores on Main Street has a Disney cookbook section?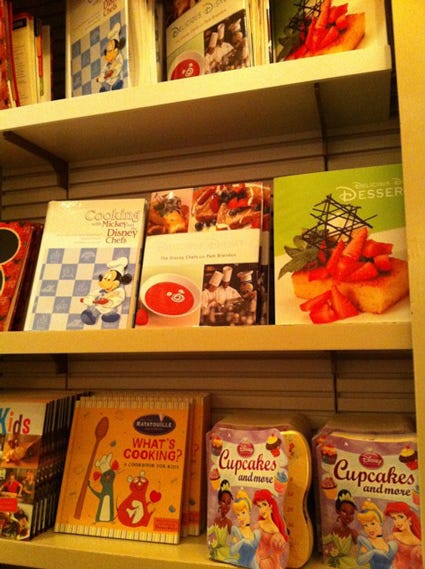 I was tempted to buy the princess cupcake book, but decided against it.

And thus ended our trip to Disneyland; I can confidently say that Eric had the time of his life.

When we got back to our apartment, there was a bag hanging from our door from our neighbor (and frequent cat-sitter) Chloe. She made us crackers!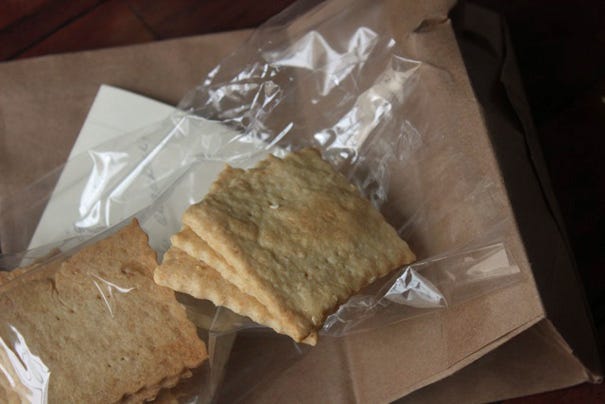 She'd mentioned to me the last time she was over that she's been making her own crackers and so here was my chance to try one. And they were tasty! Buttery (though not sure they were made with butter) and crispy, I snacked on them throughout the weekend. Thanks, Chloe!

Finally, we went on Saturday to visit Craig's Aunt Liz and Uncle Chris for St. Patrick's Day. They cooked up a pretty incredible corned beef and cabbage: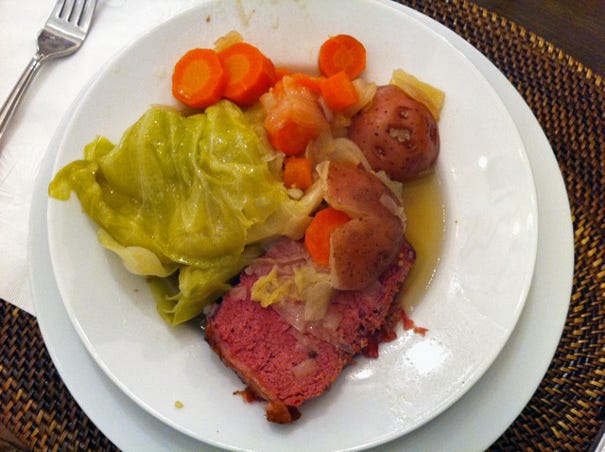 I'd never had corned beef and cabbage, strangely enough (though I've had plenty of corned beef sandwiches). I really liked the combination; almost reminded me of pot au feu.

Here's everyone at the table: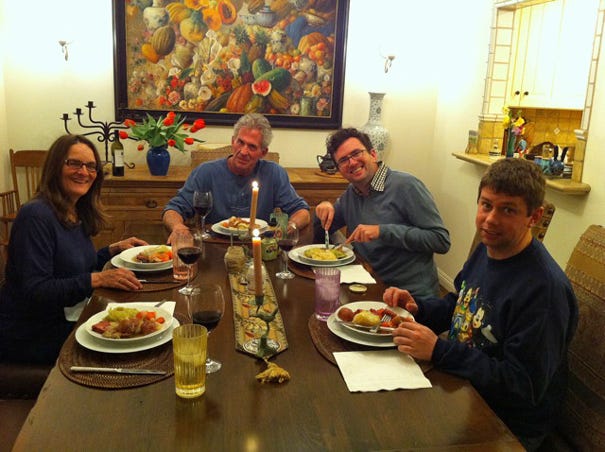 For dessert, I served up a chocolate Guinness cake that I made earlier in the day (from a recipe by Nigella Lawson). I'll blog that for you tomorrow.

Ok, folks, I gotta get going... I'm cooking up dinner for some friends tonight (making THIS) so I better get cracking.

Until next time....

Your friend,
Adam (The Amateur Gourmet)
Reading this in a browser? Get next week's in your inbox by signing up here.

Follow Me!
On Twitter
On Facebook

Recent Food Posts

Bacon For A Crowd

Knowing What To Eat

Losing It At Shanghai No. 1 Seafood Village

How To Turn Leftover Chicken Into A Tasty Soup

The Salted Caramel Latte

An Imaginative Feast By Food Prodigy Andy Windak (Mac 'n' Cheese Stuffed Ravioli! Coq au Vin Chilaquiles!) & A Roasted Feast By Cookbook Hero Molly Stevens

Lindsey Shere's Legendary Almond Tart

Bouillabaisse: A French Seafood Odyssey at Home

Spago

Waiter, Don't Take My Plate Away

Dan Sung Sa (Korean Bar Food in L.A.'s K-Town)

Glenn Cous Cous with Albert Knobs of Feta (Plus: Other 2011 Oscar Dishes)

Back To Our Favorite N.Y. Haunts (Joe, Joseph Leonard, Bar Centrale, City Bakery, Grand Sichuan & The Burger Joint)

(Relatively) New In New York: Untitled, The John Dory & The Big Gay Ice Cream Shop

The "Welcome To New York" Tasting Menu at The 2nd Avenue Deli

Drink Champagne On Your Birthday



*|LIST:DESCRIPTION|*

Unsubscribe *|EMAIL|* from this list.

Our mailing address is:
*|HTML:LIST_ADDRESS_HTML|*
Copyright (C) *|CURRENT_YEAR|* *|LIST:COMPANY|* All rights reserved.

Forward this email to a friend
Update your profile
*|IF:REWARDS|* *|HTML:REWARDS|* *|END:IF|*