A.G. Newsletter #74: Lou Wine Bar, Show At Barre, Thank You Notes, New Glasses, Oven Mitt & Kimchi on Rice


Hey Newsletter Fans,

I'm really excited about the post that I posted this morning. As someone who's craved bagels from the moment I landed in L.A., this recipe came to me like a dream come true. It's from the Momofuku Milk Bar cookbook and it's pretty much my new favorite recipe: Everything Bagel Bombs.

You're welcome.

Now when news came that the Lou Wine Bar was closing, I was sad; not because I'd been there--I hadn't--but because it's so close to where I live and I hadn't been there yet. It's apparently owned by New York Times film critic Manhola Dargis's husband and it has a rather inauspicious location---next to a laundromat in a non-descript shopping center on Vine.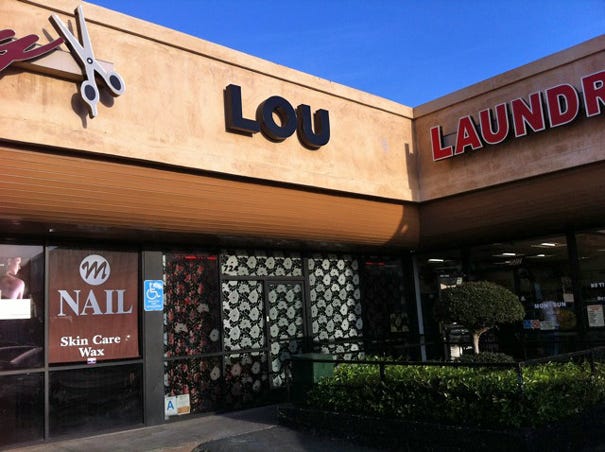 There's a wonderful moment, when you open the door, where you laugh a little to yourself---the transition from relatively run-down shopping center to a classy, hidden-away wine bar is pretty amusing.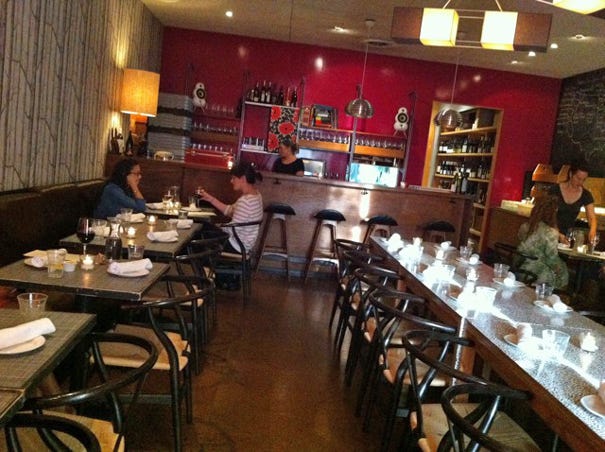 Pretty quickly, our waitress set us straight: "Lou isn't closing," she told us, "it just has a new owner." They have to change the name, though; otherwise, the hope is that it will stay the same.

I really hope it does! What's great about Lou is you can order a really small, really cheap glass of wine--$5 or so--so you can try a whole variety of different bottles.

Diana, who looks very red here from the curtain, and I both started with a white and then moved on to a red: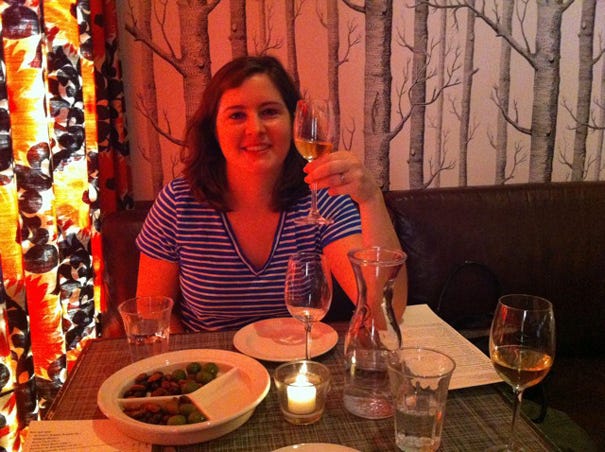 I don't remember the names of the wines, but I do remember that the waitress had strong opinons and helpful advice about each wine that we tried (she even let us try little tastes of wines she wasn't sure we'd like).

We shared a plate of olives and candied almonds (in the picture above) and also a charcuterie platter with meats from Salume in Seattle (Mario Batali's dad's place):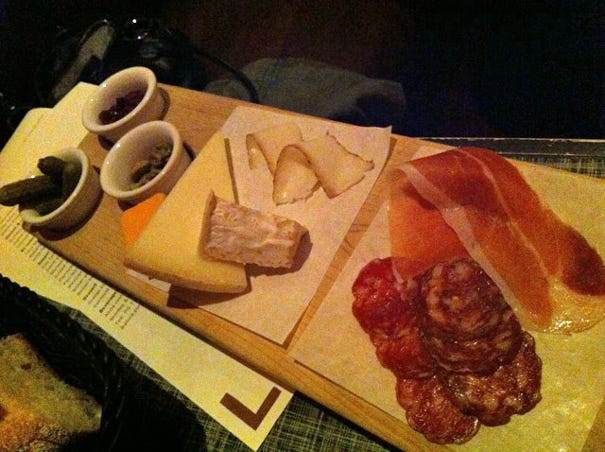 All-in-all, I loved the experience and really hope that under new ownership it doesn't change too much. I want to go back again soon.

On Friday night, our friend Matt invited us to see Show At Barre, an event in Los Feliz that involves a musical tribute to a specific director. They've done shows devoted to Quentin Tarantino and Baz Luhrman; this particular show was devoted to The Cohen Brothers: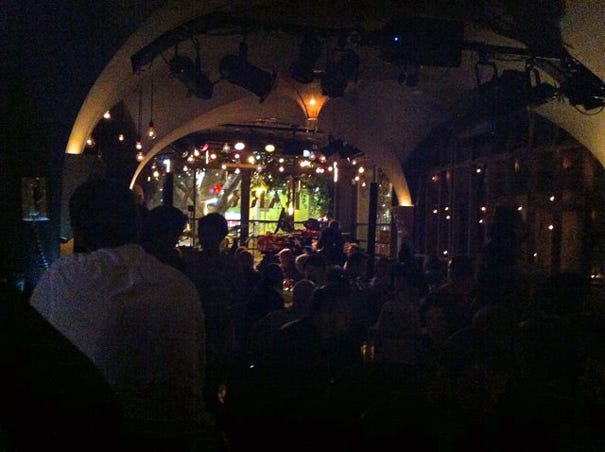 I really didn't know what to expect, coming from New York where downtown musical theater and cabaret were part of my monthly routine, but I was pleasantly surprised: the show was boisterous and well-performed, with lots of attractive people reenacting scenes from "Fargo" and "The Big Lebowski," and singing songs from "Oh, Brother Where Art Thou?" I'm excited to see their upcoming shows devoted to Cameron Crowe and Paul Thomas Anderson.

Last week, I took a trip to Venice Beach (sometimes I do that) and stumbled into a gift shop selling these "Thank You" notes: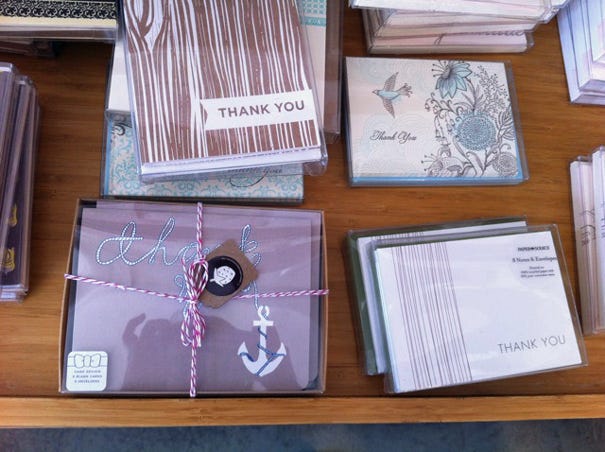 This was right after writing my post, "Let's Bring Back The Thank You Note" so I decided to follow my own advice and buy two packs of 8. Now I just have to write some "thank you" notes and I'll really be a man of my word.

On Saturday, Craig and I went to a place that a friend recommended called The Society of The Spectacle in a neighborhood called Eagle Rock: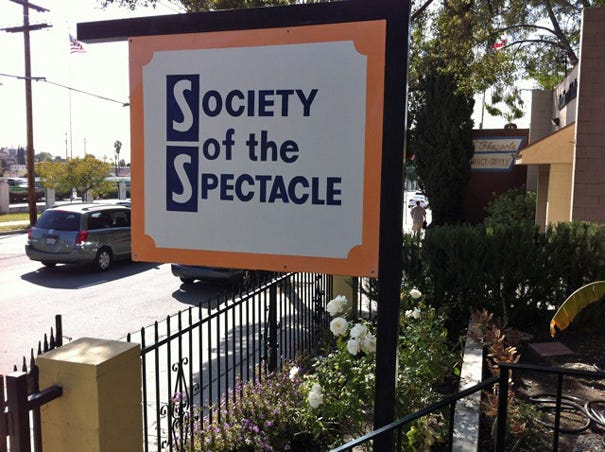 I've had my current glasses for five years or so and I felt it was time for a change; Craig too. So we went there and tried on lots of pairs---the women there were totally delightful and helpful (and amused when I told Craig that the clear plastic frames he was trying on made him look like a Nazi war doctor) and we ended up each choosing a new pair. Here's Craig with his Mad Men-esque new frames: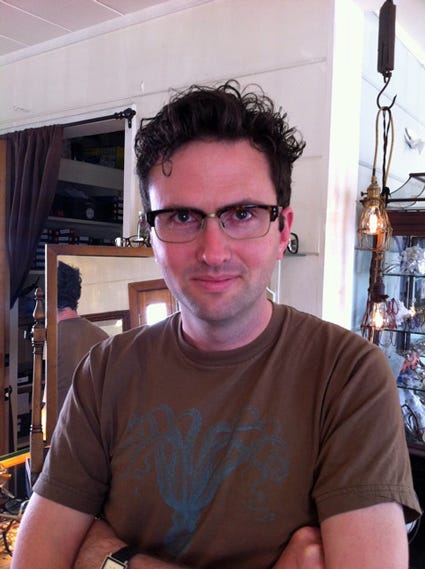 And here I am with my new titanium blue frames: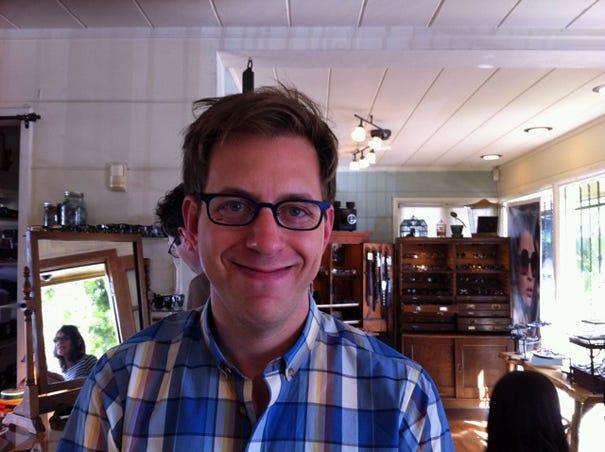 The lenses are being put in as we speak... I can't wait to go pick them up!

After that, we went to Echo Park and Craig bought me this cool oven mitt (it was our 6 year anniversary this weekend so gifts were appropriate):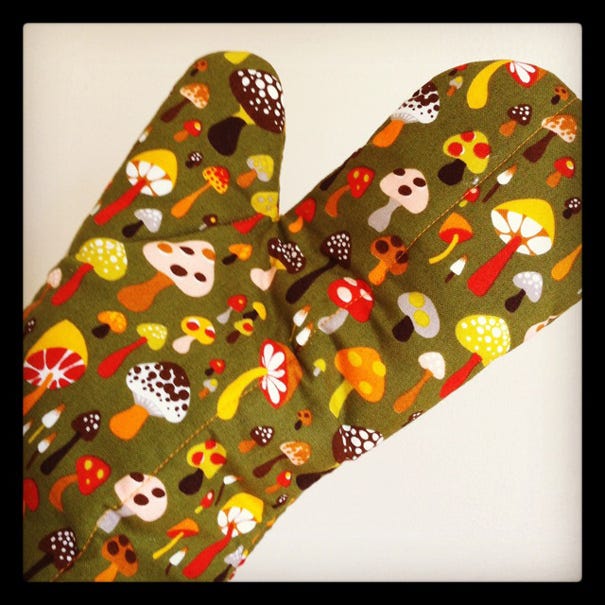 Finally, last night I didn't feel like cooking an elaborate dinner. So I decided to do the following: I got out my rice cooker and cooked some rice. Then I got kimchi that I bought at the farmer's market and chopped it up. Then I fried an egg. I put the rice in a bowl, some kimchi on the side and the fried egg (with a soft yolk) on the other side and drizzled everything with soy sauce. And behold, dinner: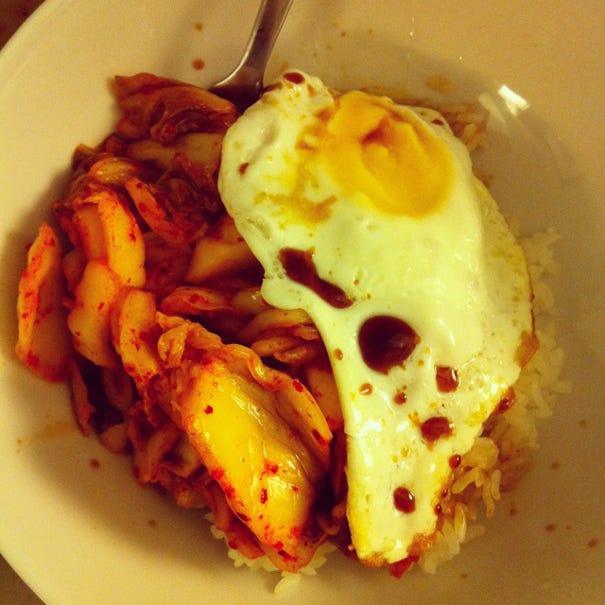 It may not look like much, but it was a surprisingly tasty and refreshing dinner. And great to eat in front of the TV while catching up on "Mad Men" (we just finished Season 3, plunging into Season 4 in hopes of catching up in time to join Season 5.)

That's all for this week folks!

Look for posts this week about our anniversary dinner at ink (one of the best meals I've had in L.A.) and a smothered pork shoulder I made for Craig's family.

Until next time....

Your friend,
Adam (The Amateur Gourmet)
Reading this in a browser? Get next week's in your inbox by signing up here.

Follow Me!
On Twitter
On Facebook

Recent Food Posts

Everything Bagel Bombs

Chanterelle Risotto with White Truffle Salt

Let's Bring Back The "Thank You" Note

How To Prep A Dinner Party A Day Ahead

Musso & Frank

Things To Stir Into Your Oatmeal

Are Food Blogs Over?

Lemon Butter Chicken with White Beans

A Thin Mint Milkshake Recipe




*|LIST:DESCRIPTION|*

Unsubscribe *|EMAIL|* from this list.

Our mailing address is:
*|HTML:LIST_ADDRESS_HTML|*
Copyright (C) *|CURRENT_YEAR|* *|LIST:COMPANY|* All rights reserved.

Forward this email to a friend
Update your profile
*|IF:REWARDS|* *|HTML:REWARDS|* *|END:IF|*