A.G. Newsletter #75: Ai Japanese Cuisine, Bagna Cauda Pasta, Leftover Beans & Rice, Orange Olive Oil Cake


Hey Newsletter Gang,

I cooked so much last week!

Two dinner parties, several meals home...I was a regular cooking machine. One of the best things that I made was an Eggplant Parmesan so good I titled my post about it The Ultimate Eggplant Parmesan. See if you agree.

On Monday, last week, Craig and I went to pick up our new glasses at The Society of The Spectacle (I posted pictures of them in the last newsletter) and while there the nice woman who runs the place suggested a sushi place in South Pasadena, not too far from where we were, called Ai Japanese Cuisine: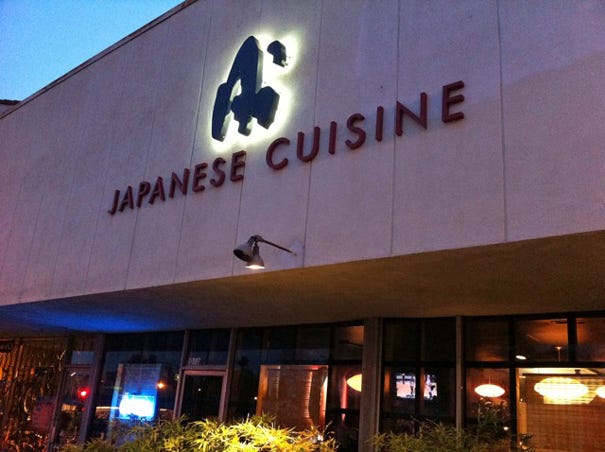 One thing I love about L.A. is how huge it all is---that outside the confines that we know well there are all these other destinations with notable places to eat. Ai is one such place; take a look at the interior: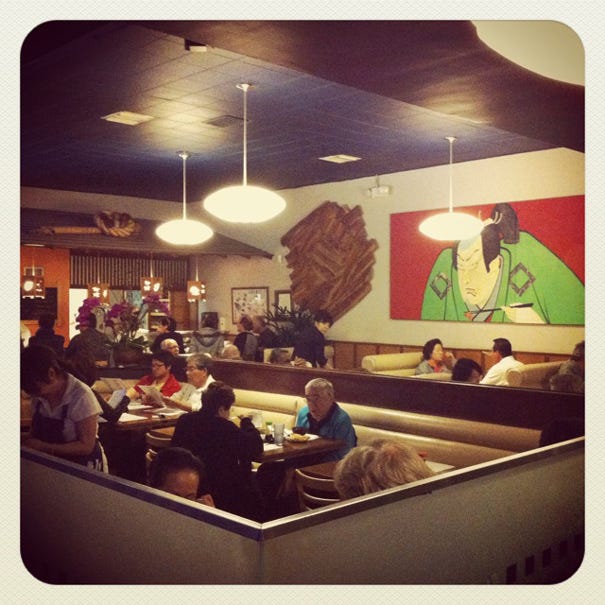 What's crazy about this place is how good the food is in relation to how cheap it is. I think my sushi plate cost $12 or so and it was a really impressive plate of food: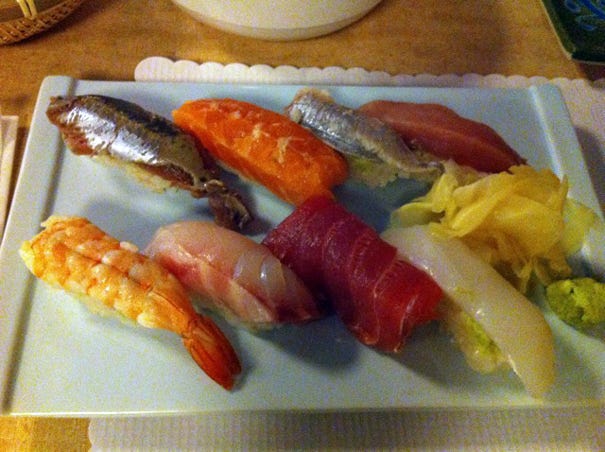 Though this was rough-around-the-edges sushi; some sloppy cuts here, a bit hard to eat in spots (like the raw calamari) but very fresh-tasting. I got a kick out of it.

Here's Craig eating his Chirashi while wearing his new glasses: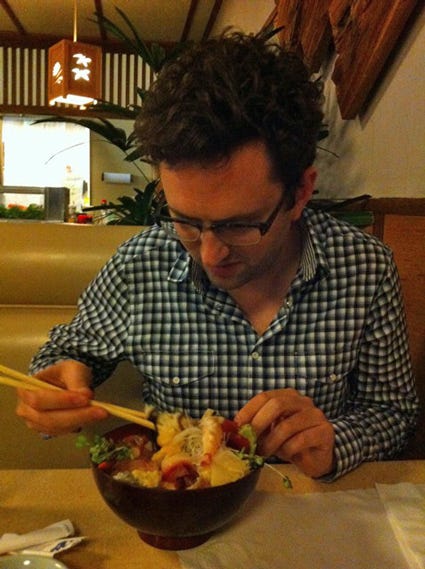 It was a tasty meal.

On Wednesday night, I believe, Craig had a dinner date and I looked forward to a quiet evening at home with me, myself and I.

That's usually when I whip out a pot of boiling water and the saute pan to make pasta for myself. As many of you know, pasta is my favorite food. It's also my favorite food to eat alone.

As I'm wont to do on nights like this, I chopped up a bunch of garlic and anchovies and added them to a pan of olive oil; brought up the heat and as they started sizzling, I added red pepper flakes. Meanwhile, I dropped whatever pasta I had around (in this case rigatoni) into the pot of heavily salted water. When the garlic turned golden, I added a ladleful of the pasta cooking water to the skillet. It bubbled up energetically and then, as I lowered the heat, died down; I let that simmer while the pasta cooked.

Here's where things took an interesting turn: I decided the sauce wasn't saucy enough and added a tablespoon or two of butter. This changed everything. What was originally a garlicky, anchovy-infused olive oil based sauce was suddenly creamy, satiny, buttery; and it clung beautifully to the pasta when I lifted it into the pan with a spider.

I finished everything with lots of grated Parmesan (and some chopped parsley) and MAN was this good: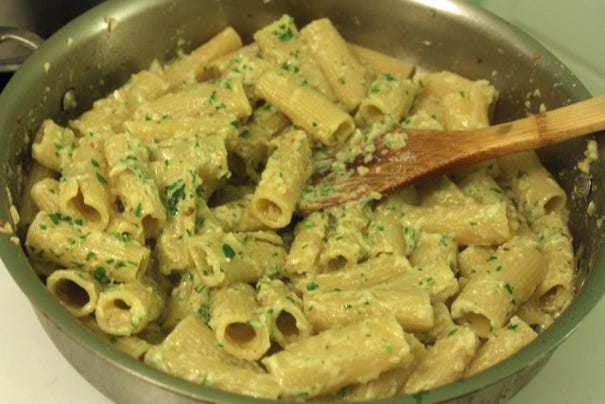 I'm calling it Bagna Cauda Pasta because there's a recipe in my cookbook for Bagna Cauda (an Italian dip from the Piedmont region) that features many of these ingredients: olive oil, garlic, anchovies and butter. You might also call it Caesar Salad Pasta, but Caesar salad doesn't have butter, so I don't know why you'd do that.

Remember when I made that dish with Rancho Gordo Beans and Lamb Sausage? We had so much left over, that night, that I froze the rest of it. And on Friday night, I decided to defrost it and serve it up with leftover rice from dinner the night before. I just stirred the rice right into the beans and squeezed a lemon on it before serving it up with some chopped parsley: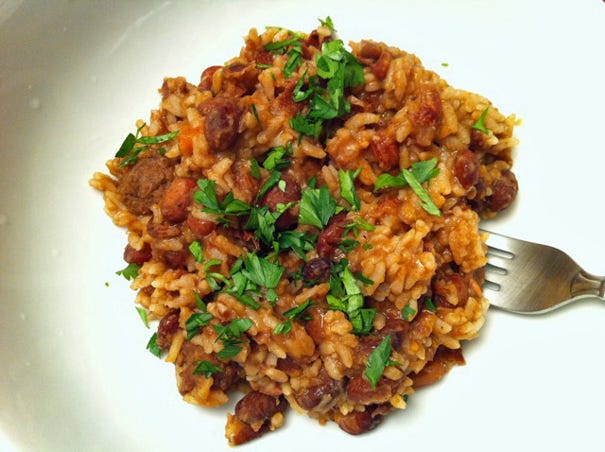 This was so good, maybe even better than when I first cooked it! Almost like a jambalaya with just beans, rice and sausage. Whenever something like this tastes as good as it does, I'm mad at myself for not freezing food more often. Freezing is one of the most underappreciated kitchen techniques, as espoused in this old post: Revelations of the Kitchen Freezer.

Finally, at a dinner party on Thursday night, I served up this Orange Olive Oil cake from Smitten Kitchen: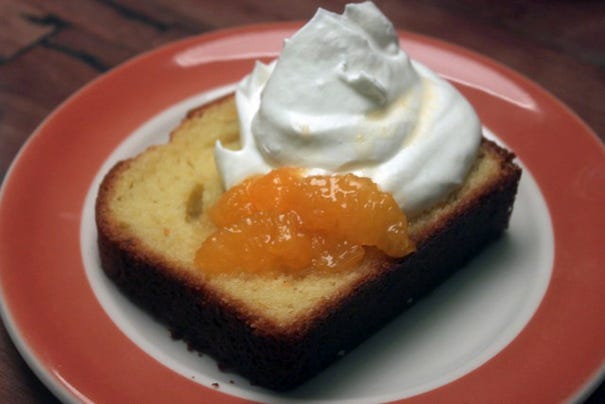 The original recipe is for a blood orange cake, but I had tangelos that I bought from the Silverlake Farmer's Market, so I decided to use those instead. I used the zest in the cake itself (conserving the fruit for the topping, even though Deb has you use the fruit in both the cake AND the topping), and--here's my own inspired move--whipping the cream with a splash of Grand Marnier to echo the orange flavor.

All-in-all, it was a great dessert and a great way to use up citrus.

But there oh so many things that I cooked and ate this week---a pineapple upside down cake with homemade toasted coconut ice cream, grilled pizza at my friends' Mark and Diana's, a marinated cauliflower salad, everything bagel biscuits--you'd be crazy not to keep checking the blog this week. I'll be blogging up a storm!

There also may be an exciting post later this week about the return of my famous Scavenger Hunt, this time a nation-wide Scavenger Hunt with a huge prize... stay tuned!

Until next time....

Your friend,
Adam (The Amateur Gourmet)
Reading this in a browser? Get next week's in your inbox by signing up here.

Follow Me!
On Twitter
On Facebook

Recent Food Posts

Today's Meat Is Tomorrow's Sandwich

Smothered Pork Roast Over Rice

Sneakily Expensive Drinks

Michael Voltaggio's ink.

Everything Bagel Bombs

Chanterelle Risotto with White Truffle Salt

Let's Bring Back The "Thank You" Note

How To Prep A Dinner Party A Day Ahead

Musso & Frank

Things To Stir Into Your Oatmeal

Are Food Blogs Over?



*|LIST:DESCRIPTION|*

Unsubscribe *|EMAIL|* from this list.

Our mailing address is:
*|HTML:LIST_ADDRESS_HTML|*
Copyright (C) *|CURRENT_YEAR|* *|LIST:COMPANY|* All rights reserved.

Forward this email to a friend
Update your profile
*|IF:REWARDS|* *|HTML:REWARDS|* *|END:IF|*