A.G. Newsletter #76: Osteria Mamma, Cambria Wine Lunch at Comme Ça, Umamicatessen's Grand Opening, Patty & Lauren's Visit
A.G. Newsletter #76: Osteria Mamma, Cambria Wine Lunch at Comme Ça, Umamicatessen's Grand Opening, Patty & Lauren's Visit

Hey Newsletter Fans,

I posted a top secret biscuit recipe this morning from Lynn's Paradise Cafe in Louisville, Kentucky. Click here to read all about Lynn's Paradise Biscuits.

Now then!

I'd heard some good things about Osteria Mamma on Melrose, here in L.A., and last Monday--after cooking five or six nights in a row--I told Craig we were eating out and that we were going to this maternal osteria.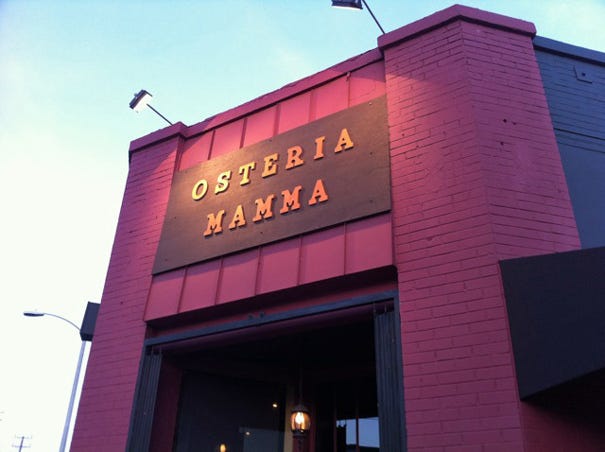 Walking in, our expectations were low; the place felt somewhat conventional, nothing special. Boy were we wrong!

The menu told us that all the pastas were made in-house. The salad that we ordered--tri colore with radicchio and arugula and a pungent, lemony dressing--really blew me away, the ingredients were so fresh: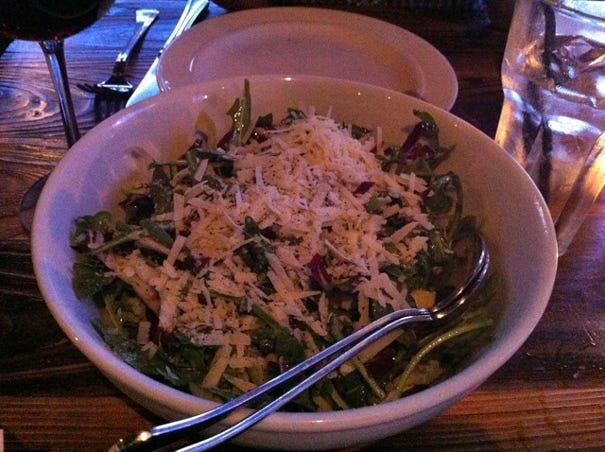 And, oh, the pasta. Craig went nuts for his papparadelle in a creamy, bacony, tomato sauce: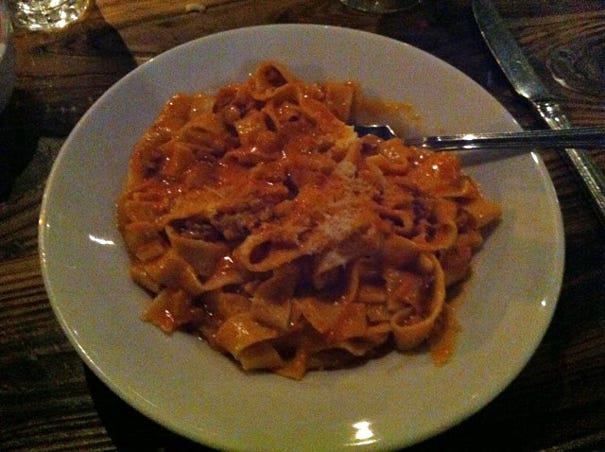 And I flipped for my squid ink pasta with shrimp and a zesty tomato sauce: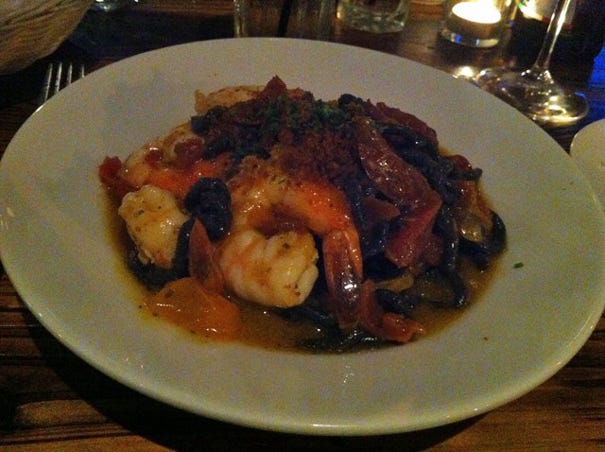 It's unusual to find an authentic Italian restaurant that serves house-made pasta in such generous portions; most places that do it serve the pasta as a "primi" in the hopes that you'll spend money on a more substantial "secondi" course. Osteria Mamma knows that its customers want to eat a big plate of pasta for dinner: and as a hardcore pasta lover (you knew that about me) I'm so happy to know that this place exists, especially so close to where I live. You know I'll be back, and often.

So something funny happened last week...

For a long time, after I moved here from New York, I was still getting all kinds of press invites to New York events but nothing in L.A. And then, after I did my post about ink., I suddenly started getting all kinds of invitations. It's as if the alert went out: add Amateur Gourmet to all of your L.A. P.R. lists.

And so it was that I was invited to a wine lunch at Comme Ca, a restaurant I'd been meaning to try anyway, sponsored by Cambria wines.

Meet Denise--she's the one sniffing her wine in this photo--and she's Cambria's wine director: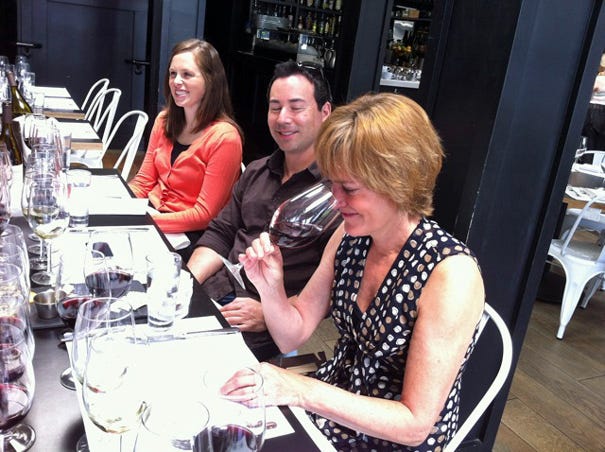 This woman knows her stuff. She talked all about grapes and acidity and weather and clones (yes: some vineyards clone grapes); and she steered us through many, many sips of wine: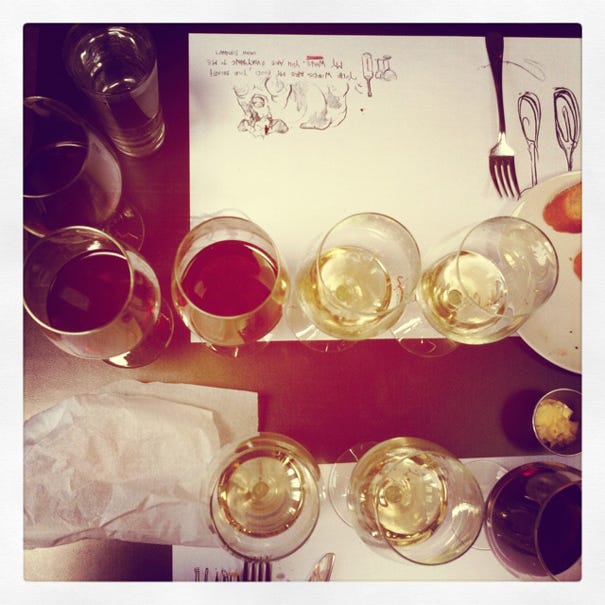 I had to control myself so I didn't get drunk in the middle of the day (this was a Wednesday, after all); luckily there was food to help me stay coherent. This first course--a salmon tartare on a potato pancake and topped with shredded black radish--was absolutely stunning: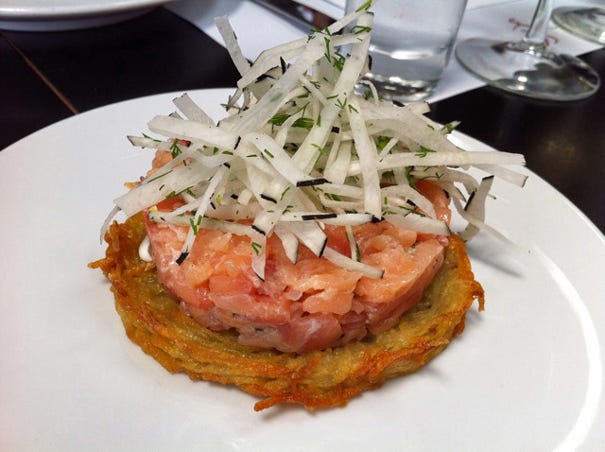 The banh mi, however, was slightly underwhelming; basically just braised meat on French bread with some jalapenos and cucumbers and carrots: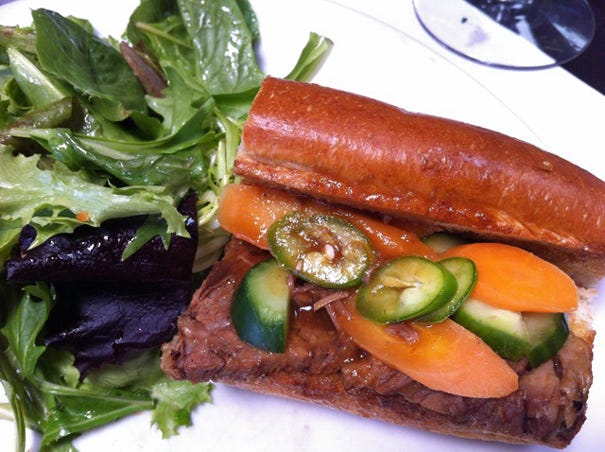 The banh mi aside, it was a very nice lunch that produced a very nice buzz. I don't normally write in such a state, but somehow the wine put me in a contemplative mood... it inspired my meditative Passover post: "Waiting For The Dough To Rise."

Sure enough, another P.R. invite came soon after, this one inviting me to the grand opening of Umamicatessen---the downtown complex owned by the people who own Umami Burger. I couldn't say "no."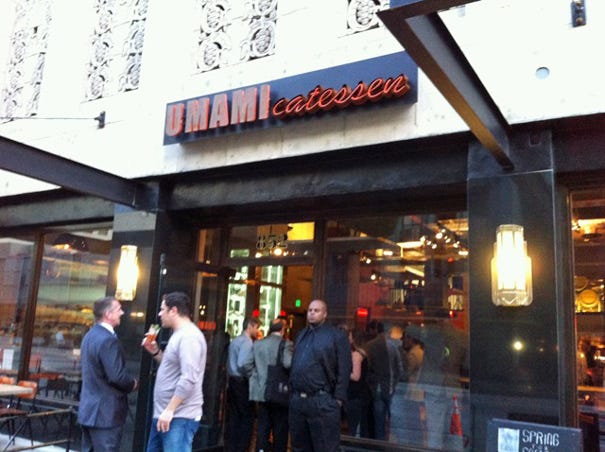 This place was quite a scene----lots of attractive people milling around eating pork products (from Chef Chris Cosentino) off trays and drinking specialty drinks from a specialty drink menu: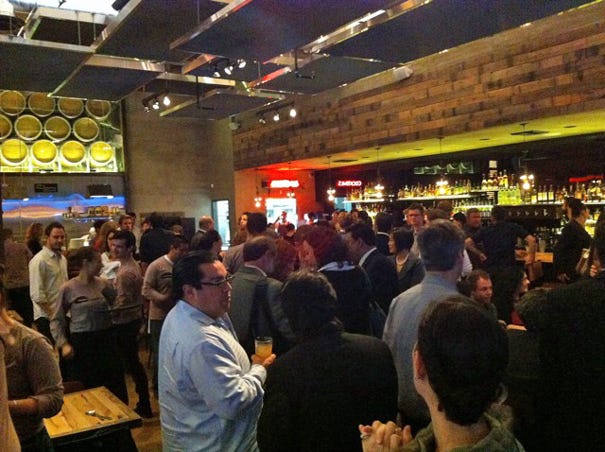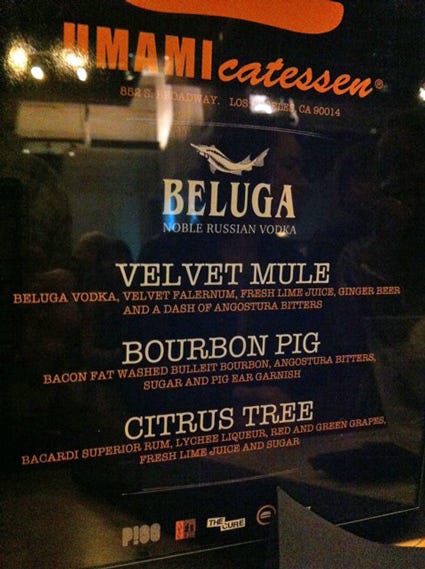 I had the Velvet Mule, which I thoroughly enjoyed: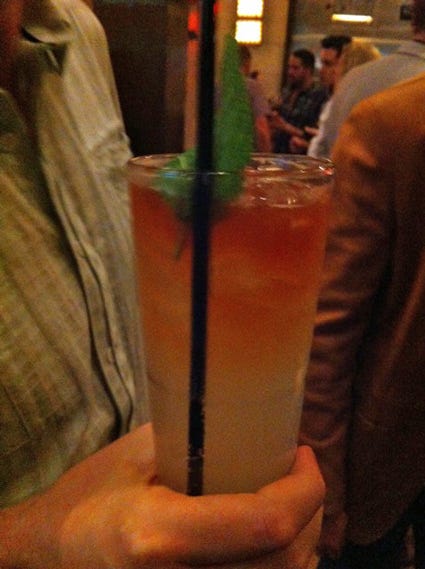 I also enjoyed many of the bites being passed around. My favorites---this pate on bread with radish and cornichon and mustard: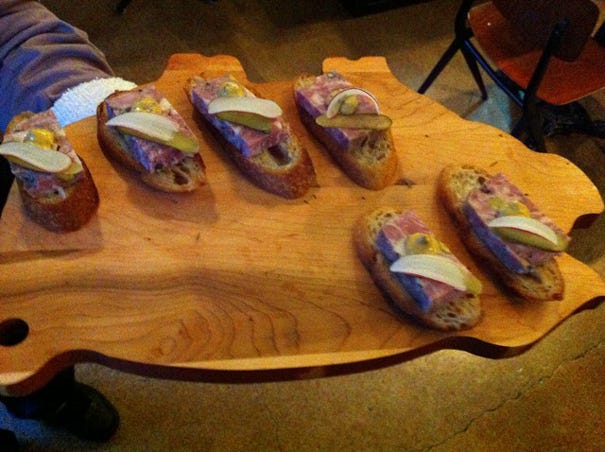 The shrimp burger (available only at Umamicatessen; not at any other Umami):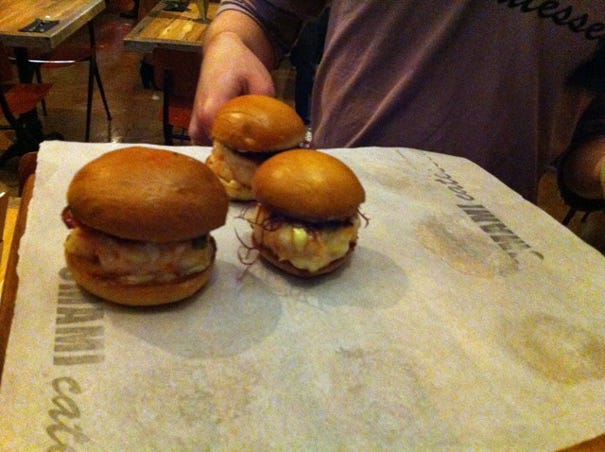 And, course, the German chocolate cake dougnuts (though these weren't fried to order as they normally are, apparently, at Umamicatessen):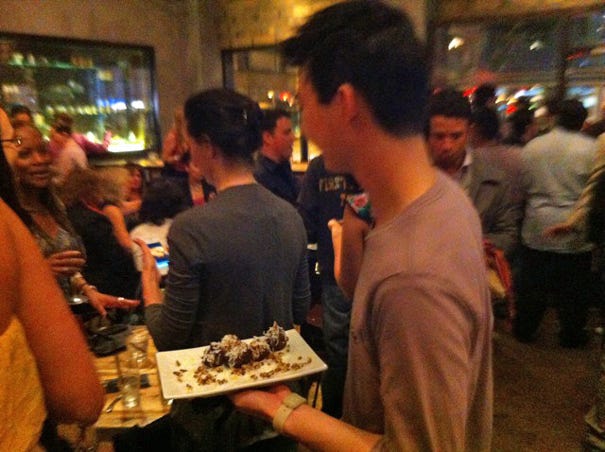 I had to chase those doughnuts down, that waiter was so fleet-footed.

All in all: Umamicatessen promises to be a must-visit destination for L.A. food lovers (or food lovers visiting L.A.). I'll go back for a proper evaluation (and a hot doughnut).

Finally, our friends Patty and Lauren were in town this past week/weekend, and we took them to our favorite L.A. haunts. In particular, Loteria where I ate this shrimp burrito: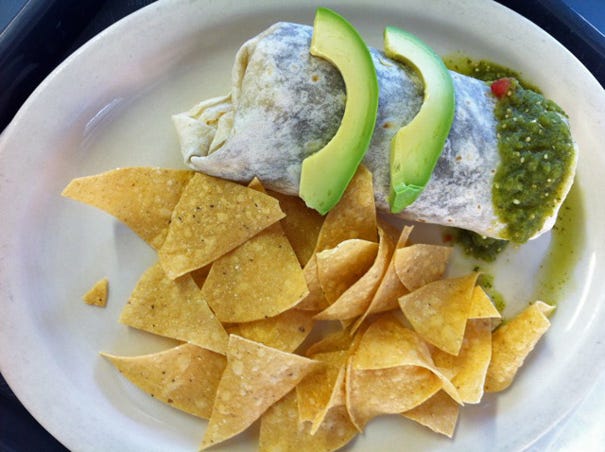 Patty had a doughnut from Bob's Doughnuts: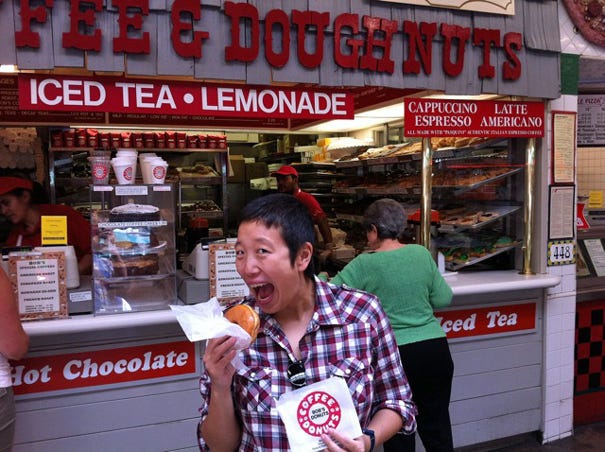 Which we washed down with Iced Salted Caramel Lattes from Short Cake.

There was a meal at Jitlada---one of the best we've had there---that featured food so spicy, we all broke out into a sweat: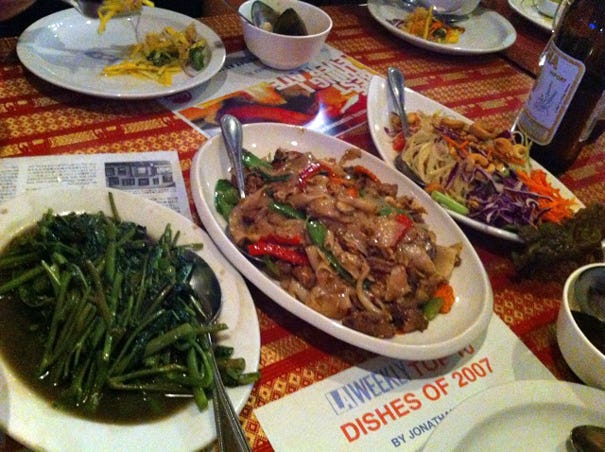 From this beef curry in particular: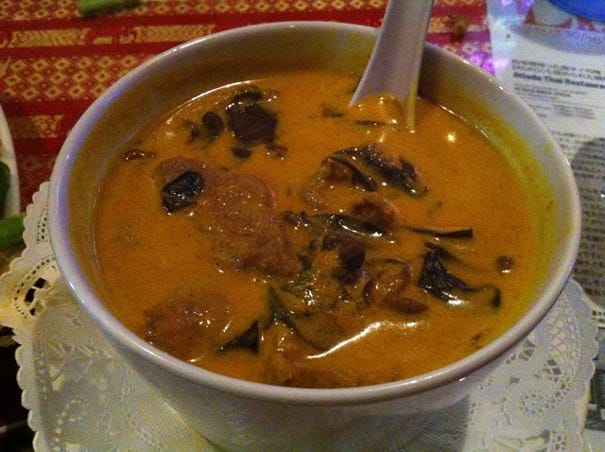 We had a terrific meal at Gjelina in Venice (I'm saving that one for the blog) and incredible Mole Negro at Guelaguetza (already documented here).

The best part is that while we gave Patty and Lauren a taste of L.A., they brought us some of our favorite tastes from New York---including Murray's Bagels, Gorilla Coffee and Momofuku Compost Cookies (that's Diana in the middle):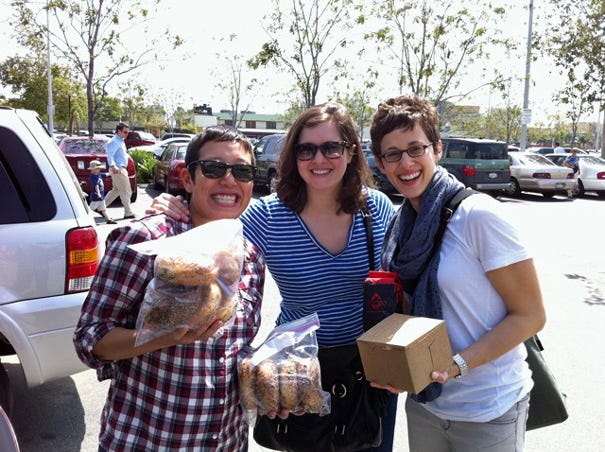 Patty, who's hiding it pretty well, is 7 months pregnant; the next time she and Lauren visit, there'll be a little one in tow!

Well I hope you enjoyed this week's epic newsletter.... I know last week I promised a scavenger hunt announcement, but I'm still working out the details.

In the meantime, check the blog this week for some interesting posts about marinated cauliflower and a possible post about SMALL PLATES.

Until next time....

Your friend,
Adam (The Amateur Gourmet)
Reading this in a browser? Get next week's in your inbox by signing up here.

Follow Me!
On Twitter
On Facebook

Recent Food Posts

If You Have A Grill, You Should Be Grilling Pizza

Waiting For The Dough To Rise (A Passover Meditation)

Pineapple Upside-Down Cake with Toasted Coconut Ice Cream

The Ultimate Eggplant Parmesan

Today's Meat Is Tomorrow's Sandwich

Smothered Pork Roast Over Rice

Sneakily Expensive Drinks

Michael Voltaggio's ink.

Everything Bagel Bombs

Chanterelle Risotto with White Truffle Salt

Let's Bring Back The "Thank You" Note

How To Prep A Dinner Party A Day Ahead

Musso & Frank

Things To Stir Into Your Oatmeal

Are Food Blogs Over?



*|LIST:DESCRIPTION|*

Unsubscribe *|EMAIL|* from this list.

Our mailing address is:
*|HTML:LIST_ADDRESS_HTML|*
Copyright (C) *|CURRENT_YEAR|* *|LIST:COMPANY|* All rights reserved.

Forward this email to a friend
Update your profile
*|IF:REWARDS|* *|HTML:REWARDS|* *|END:IF|*