A.G. Newsletter #77: Pitfire Pizza, Huckleberry, Espresso Cielo & Son of a Gun


Hey Newsletter Fans,

So you guys were in on the secret early on but now it's announced to the world: the 2012 Foodie Photo Scavenger Hunt with over $3500 in prizes from the Culinary Institute of America. Click that link to read all about this event--which starts Friday and ends Sunday--it's open to ANYONE and should be tons of fun. Start assembling your team now!

Also, I just posted a recipe for Fresh Springtime Pasta with Farmer's Market Asparagus and Fava Beans. I think you'll be impressed.

So I was delighted to discover that next door to one of my favorite coffee shops here in L.A., Coffee Commissary, is a new place called Pitfire Pizza. This is a relief because the only other place to eat around there is a place called The Fat Dog that's notable for being so outrageously mediocre. I'm not normally snobby in that way, but I've gone to that place over and over again and always left disappointed with the food. Not so Pitfire Pizza which, in addition to pizza, has salads and sandwiches, including this really tasty chicken panini: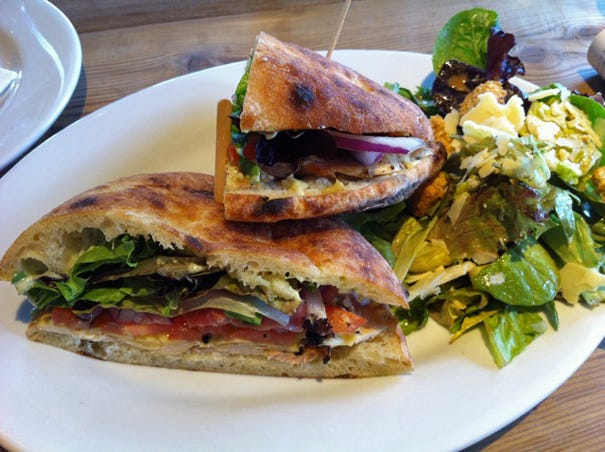 This sandwich, which has chicken, cheese (fontina, I think?), and pesto is really terrific. What makes it great is the bread is really pizza-like---so it's like you're eating pizza without eating pizza. And it's hot.

I liked this sandwich so much, I went back today and ate it again!

As some of you may remember, I have a 90 year-old Uncle Jerry in Santa Monica and when I get a chance, I drive out there and go with him to lunch. A few months ago, we attempted to visit Huckleberry on a Sunday during a rainstorm. The place was an absolute zoo---a line out the door---so we left and fled for a deli. This time, we went on a Wednesday: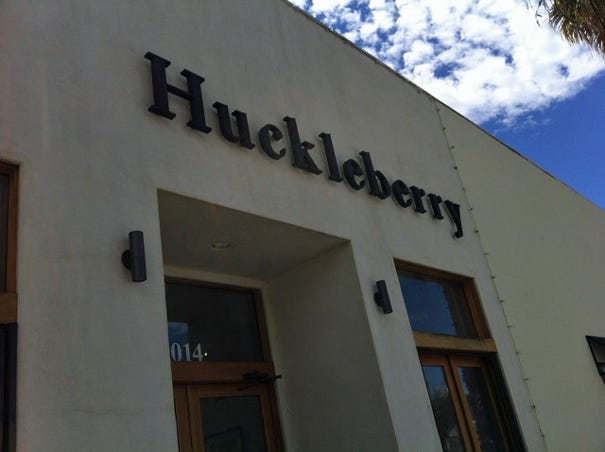 And the place was still a zoo: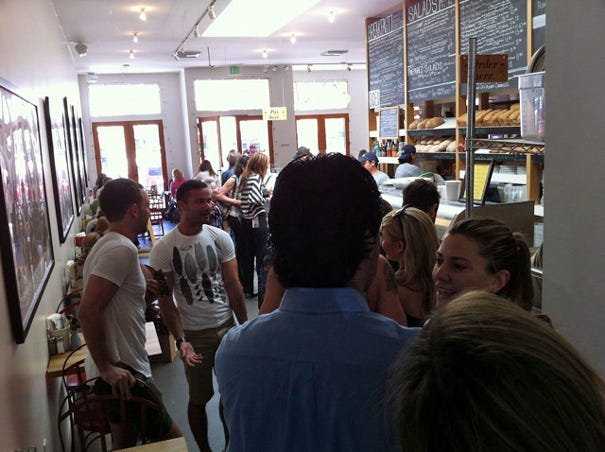 Uncle Jerry couldn't believe the line; I had him sit at a table even though that's against the rules (you're supposed to order first) but I think we'd be forgiven because, as mentioned, he's 90. (Though, he looks 70.)

The line moves slow but there's good people watching. Also, you have time to study the menu: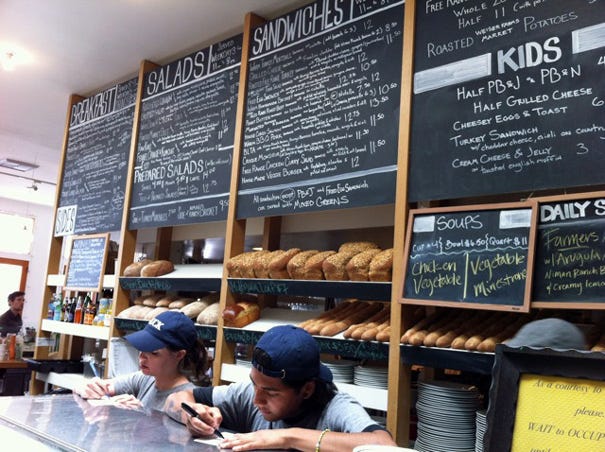 And study the baked goods: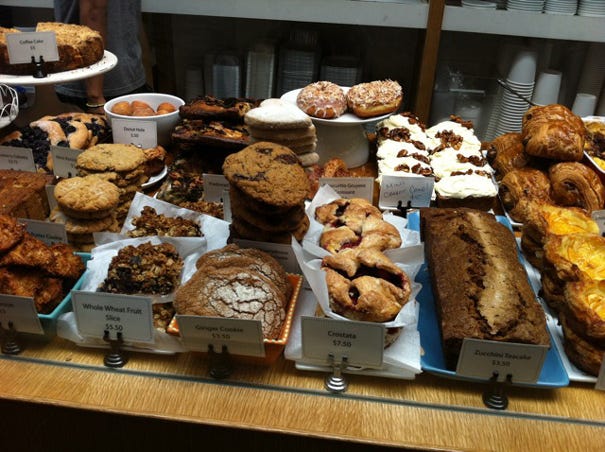 At long last, I joined Uncle Jerry at his table and pretty soon after our food arrived. Here's Uncle Jerry with his chopped salad: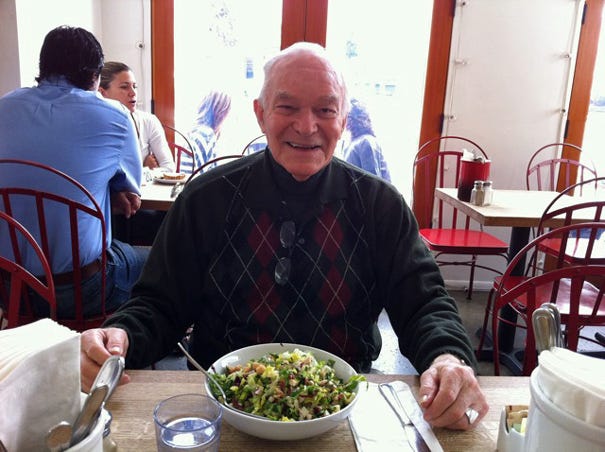 And here's my tuna sandwich on fresh, homemade bread: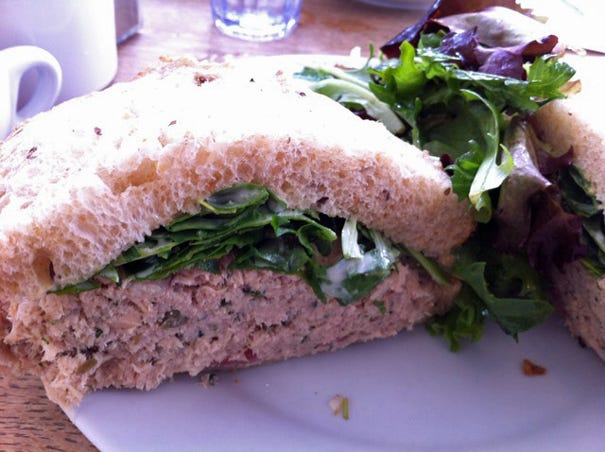 It was fine but was it worth a 20 minute wait? Nope, not really.

But the place is pretty and sunny, the service is kind and the baked goods are really tempting. In fact, so tempting, I bought a whole wheat scone and ate it later: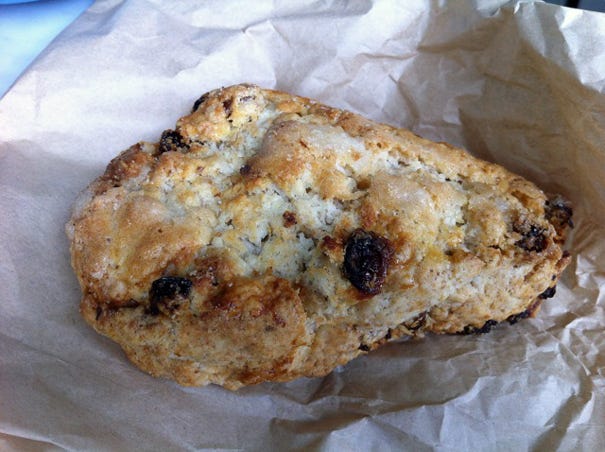 I liked it, though, again, did it change my life? No.

So! My suggestion: go to Huckleberry when it's not crowded (maybe early in the morning? maybe later in the afternoon?) otherwise, skip it for something less busy.

After Huckleberry and lunch with Uncle Jerry, I went to the Santa Monica Farmer's Market and bought the asparagus that you saw in my post today: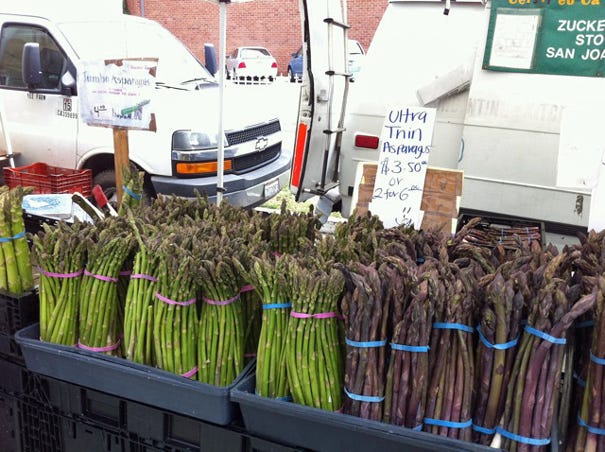 Then, driving home, I spotted a coffee shop I'd bookmarked both mentally and internet-ally called Espresso Cielo: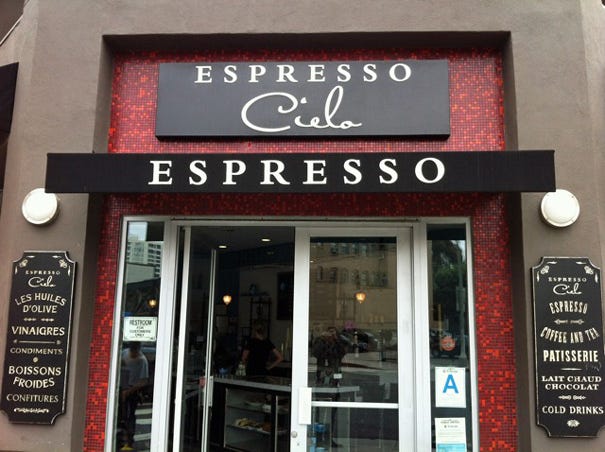 This place is really transportive---you feel like you're in an entirely different world, in there. It has a beachy feel, being in Santa Monica, and yet there's a seriousness to the coffee-making that's impressive. Also, the whole staff (at least when I was there) was female so it's great if you like your coffee to be feminist, which I do.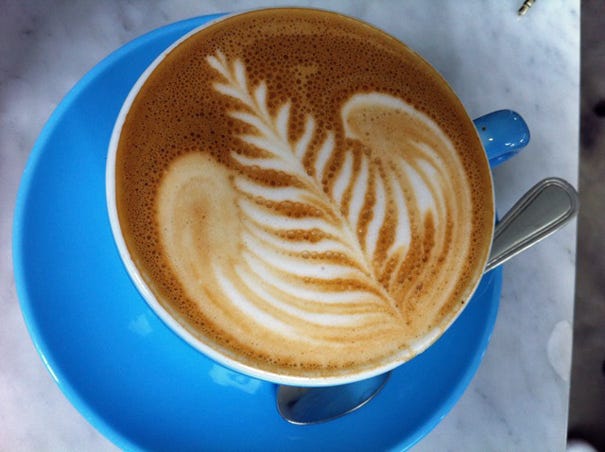 That was one excellent cappuccino.

Finally, our friends Rebecca and Kit from Working Class Foodies recently moved to L.A. so on Friday we joined them for dinner at Son of a Gun before seeing Jon Brion at Largo (my 2nd time seeing him; he's a total genius).

I won't walk you through the whole Son of a Gun menu (I've been there before and written about it), but highlights were the lobster rolls--modeled here by Rebecca and Kit: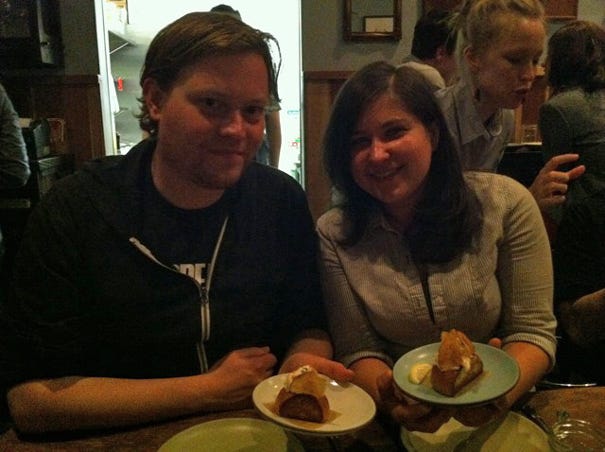 This crudo, artfully presented: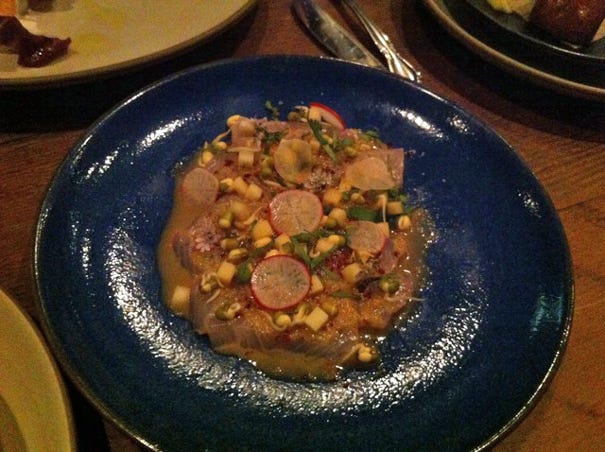 This shaved carrot salad with green goddess dressing, also artfully presented: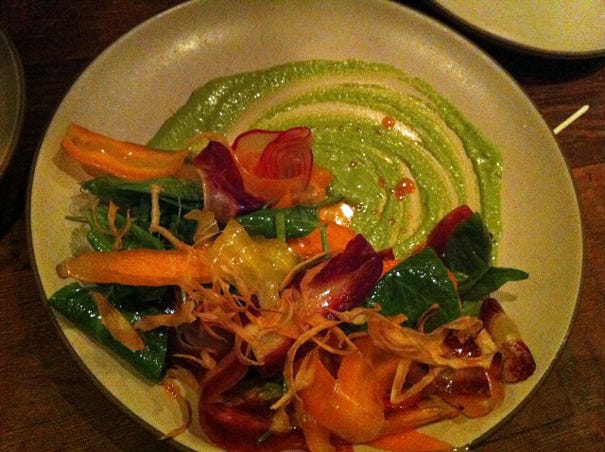 And of course their fried chicken sandwich, which is not to be missed: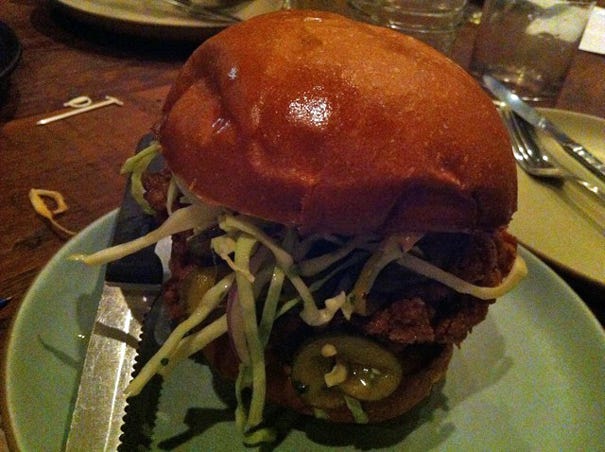 That's all for this week folks!

Be sure to check the blog on Friday for the scavenger hunt list: even if you're not participating, you'll sure have fun reading it!

Until next time....

Your friend,
Adam (The Amateur Gourmet)
Reading this in a browser? Get next week's in your inbox by signing up here.

Follow Me!
On Twitter
On Facebook

Recent Food Posts

Stop It With The Small Plates! (Except Where They Work)

Marinated Roasted Cauliflower Salad

Lynn's Paradise Biscuits

If You Have A Grill, You Should Be Grilling Pizza

Waiting For The Dough To Rise (A Passover Meditation)

Pineapple Upside-Down Cake with Toasted Coconut Ice Cream

The Ultimate Eggplant Parmesan

Today's Meat Is Tomorrow's Sandwich

Smothered Pork Roast Over Rice



*|LIST:DESCRIPTION|*

Unsubscribe *|EMAIL|* from this list.

Our mailing address is:
*|HTML:LIST_ADDRESS_HTML|*
Copyright (C) *|CURRENT_YEAR|* *|LIST:COMPANY|* All rights reserved.

Forward this email to a friend
Update your profile
*|IF:REWARDS|* *|HTML:REWARDS|* *|END:IF|*