A.G. Newsletter #78: Shrimp Pho at Blossom, The Grilled Veg Sandwich at Paper or Plastik, Hatfield's, Yuca's, Breakfast at Loteria


Hello Friends of The Amateur Gourmet Newsletter,

The results of the 2012 Foodie Photo Scavenger Hunt are in--check out the winners here--and there are some wonderful pictures to browse through involving sticks of butter, geoducks and Carla Hall from "Top Chef."

After spending the morning tallying up points and declaring the winners, I posted about this extraordinary curry I made from April Bloomfield's new cookbook. Once you try it, I think you'll agree with my post title and declare it The Best Curry of Your Life.

* * *

So! Last week I tried this Vietnamese place called Blossom in Sunset Junction (in Silverlake). It's funny, when I first heard about this place, I kept looking for it and couldn't find it. I thought it was right next door to Intelligentsia and the Silverlake Cheese Shop; turns out it was across the street.

When I went, I had this hilarious, brusque French waitress who had this militant tone that was totally inappropriate for a restaurant; but I kind of loved her for it. I wish I felt the same way about this shrimp pho: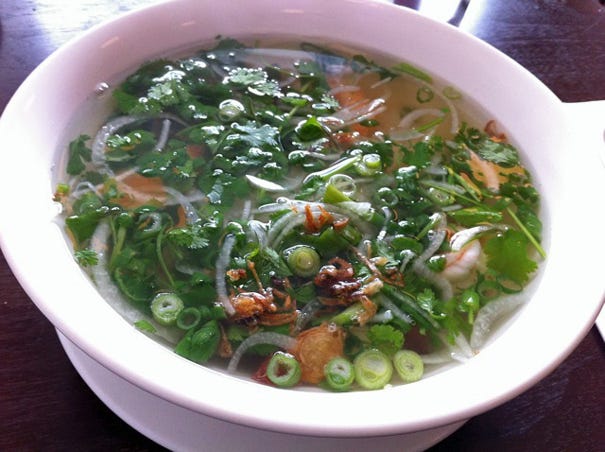 There's lots of good stuff in there--herbs and onions and fried shallots (and, of course shrimp)--but the broth itself had more in common with plain water than flavorful pho. Perhaps it's a lighter broth because it's served with shrimp; if I go back, I'll try a meat pho to see if I'm right. But as for this shrimp pho, it merits that most ambivalent of words: "meh."

Happily, there was no ambivalence when I visited Paper or Plastick (where I've befriended the owner, Marina) to try their new sandwich menu created by superstar chef Jeremy Fox (formerly of Ubuntu).

The sandwich that I tried--grilled vegetables with burrata--was deceptively simple: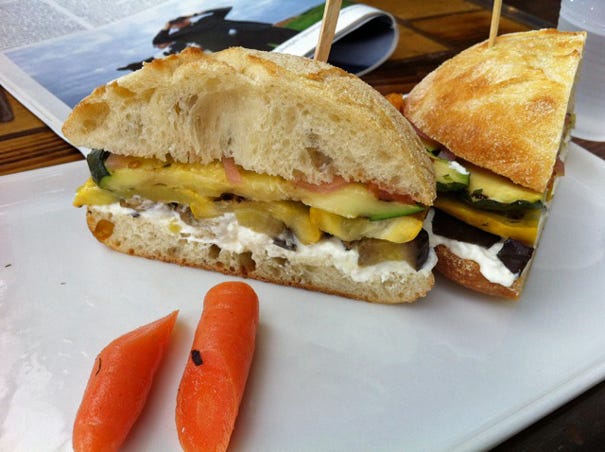 The sandwich was really just grilled zucchini and squash on bread with tomato and cheese; but what made it so excellent was the provenance of the ingredients. They had a farm-fresh quality that made every note sing; and the creaminess of the burrata was a great foil for the austerity of the squash and zucchini.

(Plus those pickled carrots were notably tasty. As was the iced latte I slurped down after.)

Can't wait to eat the rest of the menu!

On Wednesday night, Diana and I joined my friend Billy for dinner at Hatfield's. Warning: these pictures are dark and terrible.

My first Hatfield's experience was the week before--I went there for drinks with Diana and our friend Drew after attending Joe Bastianich's book party. It's right across the street from Mozza (where the party was) so made sense for post-party drinks; and our drinks were so good--well Drew's and Diana's (I tried some bitter Italian drink called Fermat Bianca that tasted like tar) that I wanted to go back for a proper dinner.

The place is absolutely stunning: a giant white room and a big glass window that peers into a spotless kitchen. It's worth going for the scene alone.

And the food is quite excellent. There's a vegatarian tasting menu that was, in many ways, more decdent than the meat-centric tasting menu that I tried.

Here was the first taste: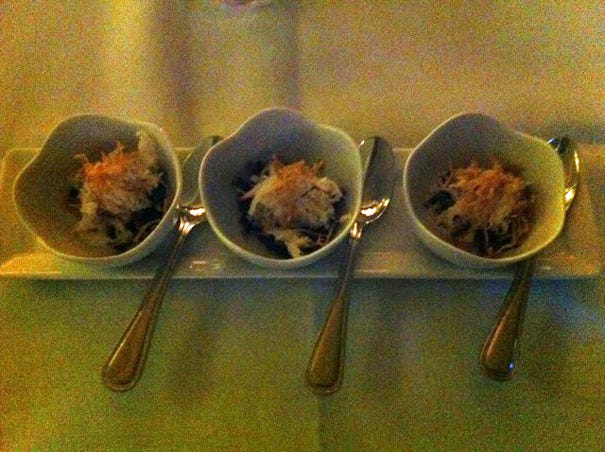 Confession: I don't remember what this was.

The pictures get worse from here, so I'll leave you with this one which pretty much captures the idea: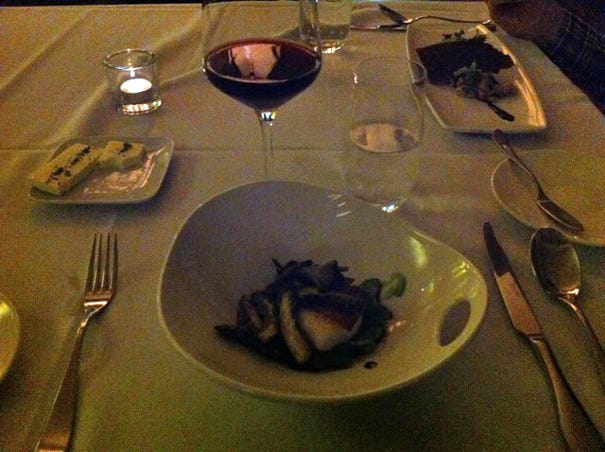 Fancy food in a nice atmosphere for not a crazy amount of money! That's Hatfield's. (And if you don't want fancy food, at least go for fancy drinks.)

On Saturday night, Craig and I were craving burgers and drove to Umami in Los Feliz. We parked. We got out of the car. We walked to Umami and... it was closed for spring renovations!

Catastrophe.

Only: across the street is a Mexican place I'd been meaning to try for a while called Yuca's. Craig was dubious: "Are you sure this is supposed to be good?" It looks kind of divey, from the outside.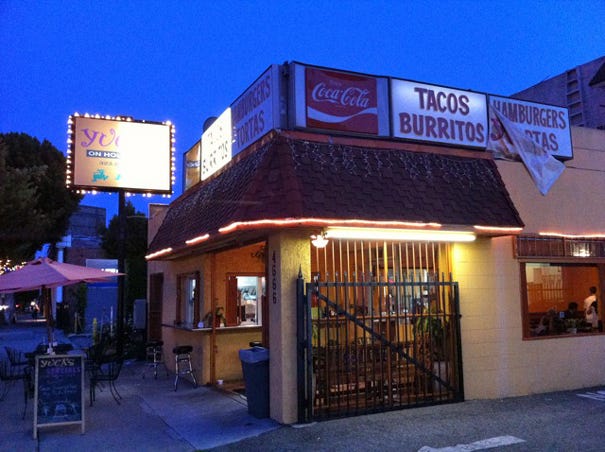 "Ruth Reichl wrote about it!" I said. "Or at least Tweeted about it."

Craig still remained dubious.

Then he made an ordering blunder. "I'll have the chile rellenos," he told the woman at the counter.

"Burrito?" asked the woman.

"Ummm yes," said Craig not sure that he meant what he just said.

I ordered a carne asada burrito, which I knew they were famous for (and I told Craig they were famous for it but he ignored me).

"Why did I order a chile relleno in a burrito?" he asked when we sat down.

"I don't know," I said. "That's basically a fried chile inside a burrito."

He looked sad. I told him to change. He wouldn't.

But the story has a happy ending: the burrito was delicious!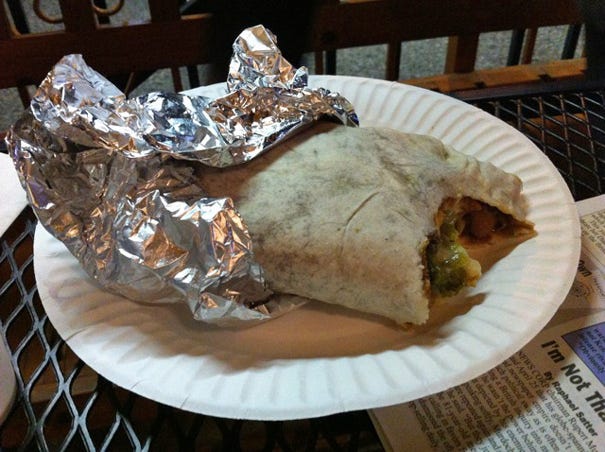 It was a lot like the Hatch burger that we enjoy so much at Umami so that was extra poetic.

And I loved my carne asada burrito; the beans, in particular, were rich and flavorful---Ruth Reichl says they use lard and I believe her.

Plus these chips were fried in-house and therefore extra crispy and good: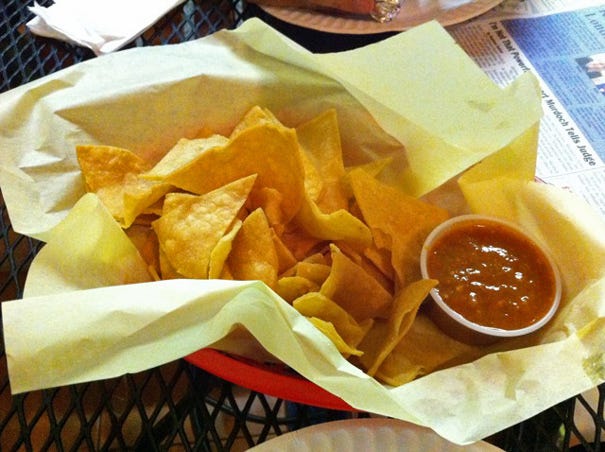 And my Agua de Jamaica (Hibiscus punch) made everything go down smooth: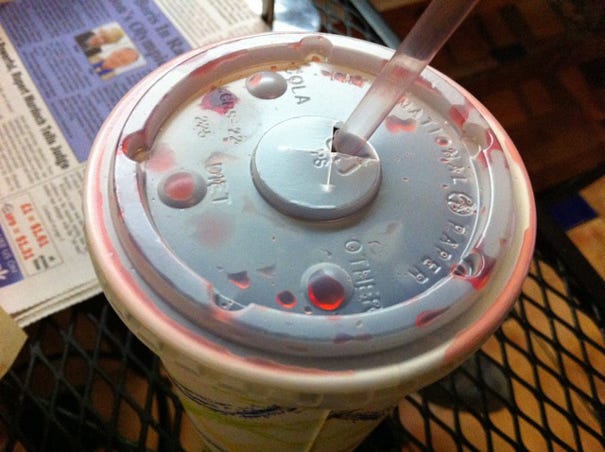 Plus we got to eat outside, which was nice on this night of the Supermoon.

After we saw "The Five Year Engagement" which we both thoroughly enjoyed---especially all the food references (Jason Segal plays a chef. Go see it; you'll get a kick out of it.)

Finally, on Sunday, I decided I'd go to breakfast at Musso and Frank to experience their famous flannel cakes. Craig wasn't game so I went by myself.

Turns out: they're closed on Sundays!

But right next door is Loteria and I had this wonderful breakfast of warm corn tortillas, eggs scrambled with house-made chorizo, and a special coffee made with cinnamon: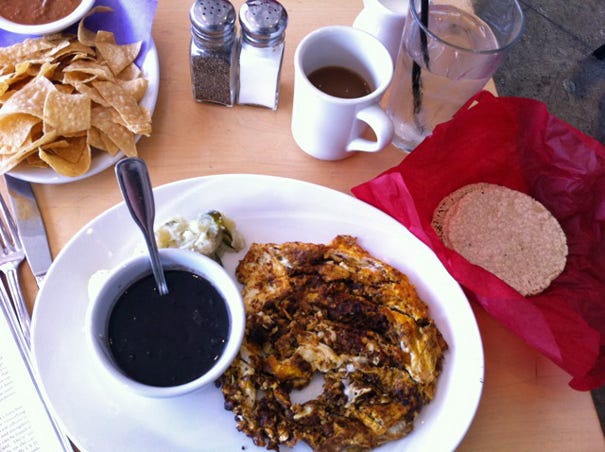 I loved the way those eggs tasted in the warm, house-made tortillas. I could've eaten about 30.

Afterwards, I went to the Hollywood Farmer's Market and bought the best strawberries I've ever tasted (at $6 a carton, they should've been the best strawberries I've ever tasted):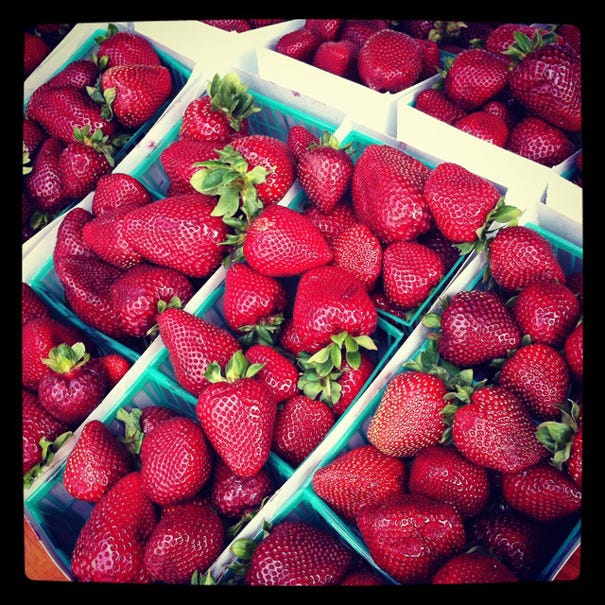 After dinner last night, I hand-whipped some cream with a little sugar and vanilla and served it up with these strawberries while we watched "Mad Men" and "Girls" (I'm loving "Girls"):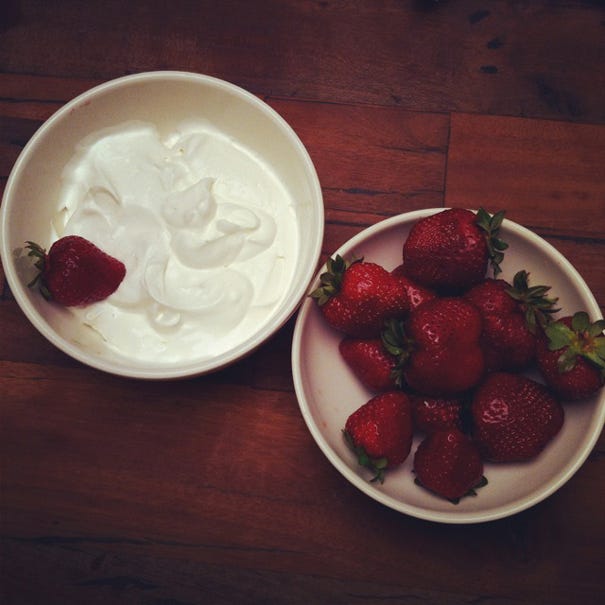 Now that's what I call a late night treat!

That's all for this week folks. Make sure to read the blog later this week---there'll be posts on black chickpeas, 60 second aioli and my new obsession: TOAST.

Until next time...

Your friend,
Adam (The Amateur Gourmet)


Reading this in a browser? Get next week's in your inbox by signing up here.

Follow Me!
On Twitter
On Facebook

Recent Food Posts

English Porridge

The Pancake at Canele

One Bag of Lentils, Two Dinners

Fresh Springtime Pasta with Farmer's Market Asparagus and Fava Beans

Stop It With The Small Plates! (Except Where They Work)

Marinated Roasted Cauliflower Salad

Lynn's Paradise Biscuits

If You Have A Grill, You Should Be Grilling Pizza

Waiting For The Dough To Rise (A Passover Meditation)



*|LIST:DESCRIPTION|*

Unsubscribe *|EMAIL|* from this list.

Our mailing address is:
*|HTML:LIST_ADDRESS_HTML|*
Copyright (C) *|CURRENT_YEAR|* *|LIST:COMPANY|* All rights reserved.

Forward this email to a friend
Update your profile
*|IF:REWARDS|* *|HTML:REWARDS|* *|END:IF|*