A.G. Newsletter #79: Your Questions Answered, Florida O.J., Key Lime Pie, Maoz Falafel, Casa D'Angelo & Mother's Day Brunch


Hey Newsletter Fans,

I'm answering your questions right now LIVE on my blog. Click over here and ask a question and I'll be sure to answer it (unless you ask for my ATM pin number; all right, all right, it's 7141).

Also: if you're a "Mad Men" fan, you might enjoy the essay I wrote this morning about Fat Betty and last night's episode. Click here to read it.

This weekend, I was a good son and went to Florida to visit my mother and grandmother for Mother's Day. Of course, when I visit Florida, my mom always buys me my two favorite Florida food things. #1: fresh-squeezed orange juice.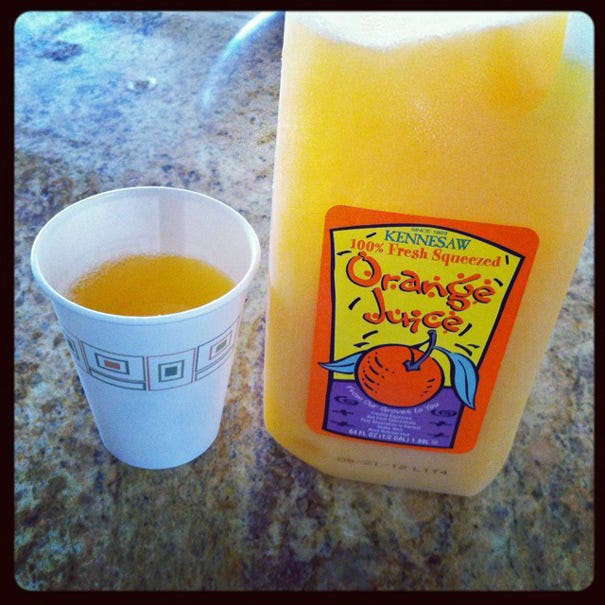 And rainbow cookies from Way Beyond Bagels: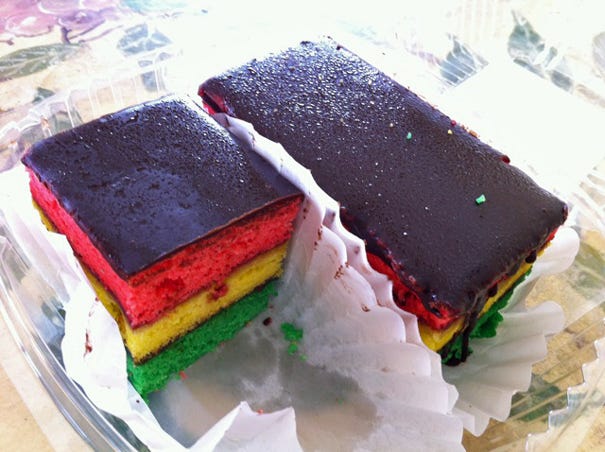 No two tastes taste more like home!

While home, I ate at some of my parents' favorite restaurants. At Chops, I ate Caesar salad and steak; but my favorite part of the meal was this key lime pie: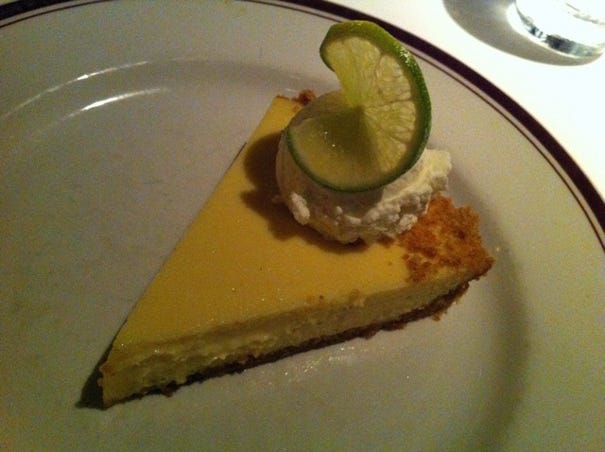 Seeing this picture here in the newsletter, I'm realizing that I've never made a proper key lime pie. I've made a frozen key lime pie for Thanksgiving dinner, but a proper key lime pie? Never done it; now I just have to find some key limes and invite some people over and I'll finally have an excuse to make one. Until then, though, I'm glad I got to eat this one in Florida.

On Saturday, I went to the Town Center mall with my brother Michael and his wife Tali. Michael was hungry (he hadn't eaten much that day) so he stopped for a snack at Maoz in the food court: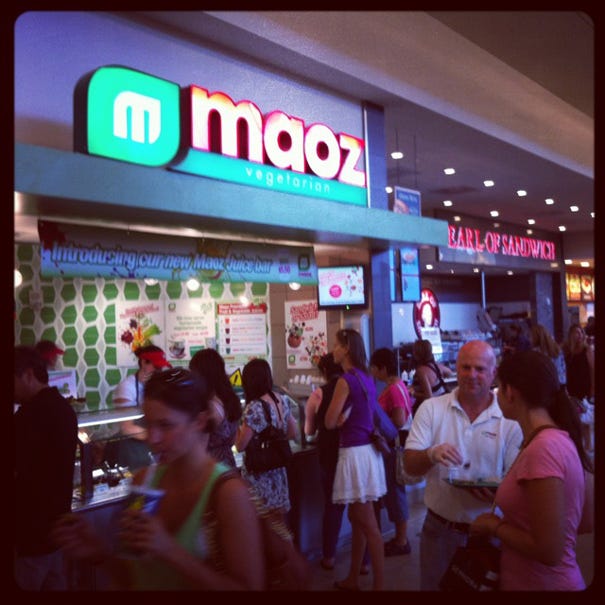 When I went to Barcelona back in 2009, I polled my readers on the best places to eat and several had said "Maoz." So when I was in Barcelona, I was excited to see Maoz and thought it was specific only to Europe; but then back in New York, I discovered one in Union Square. And now here's one in Boca Raton.

My brother loaded up his green-flecked falafel with lots of fixings: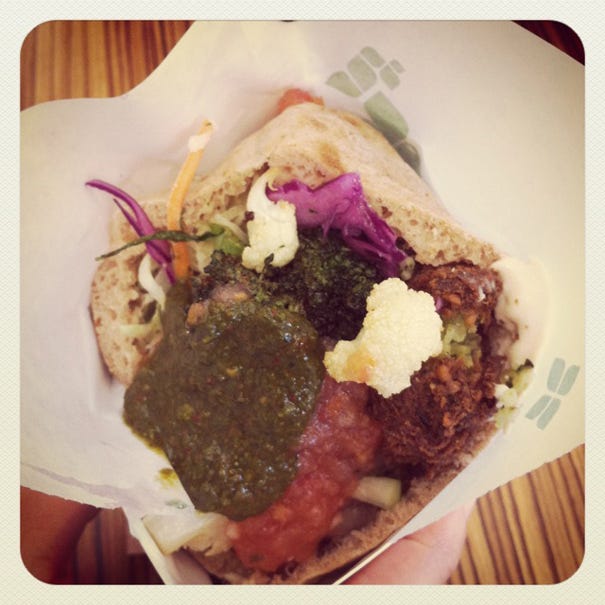 I didn't get to try a bite, however, so we'll have to trust my brother that this was tasty. (I did sample one of his sweet potato French fries, which I enjoyed.)

On Saturday night, we went out to one of my parents' favorite Boca restaurants, Casa D'Angelo. I may have newslettered about Casa before but, as you can guess from the name, it's Italian.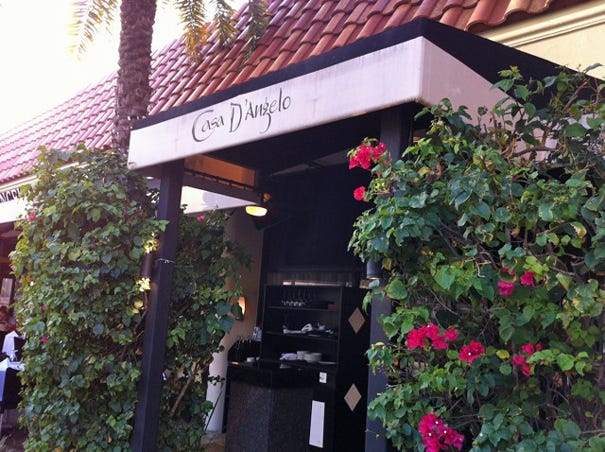 On the table, you get some cheese and olives: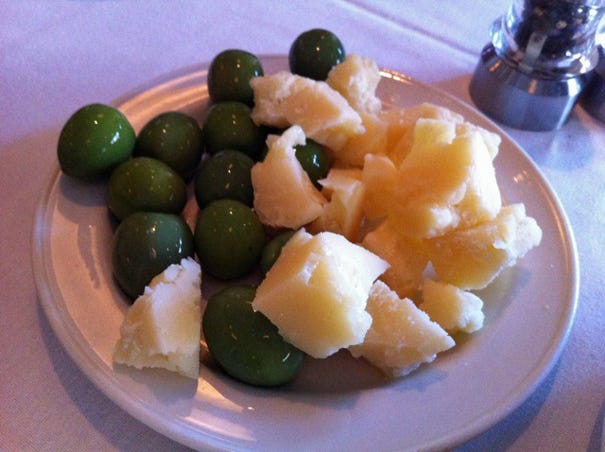 And bruschetta with fresh tomatoes: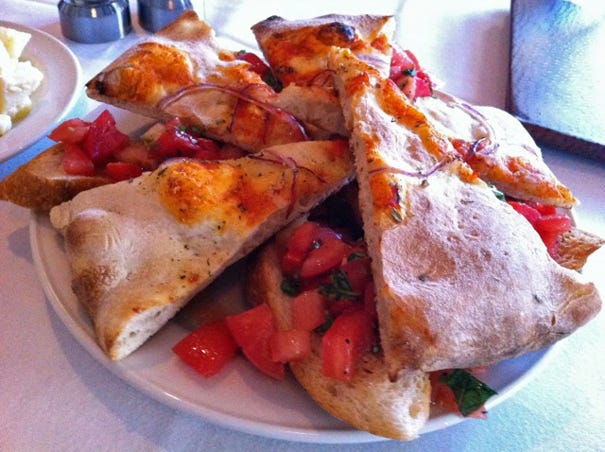 I won't walk you through the whole meal, but I really enjoyed my entree of rigatoni with Italian sausage: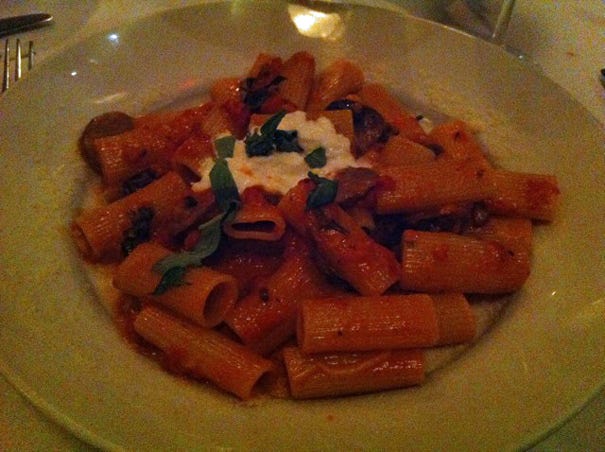 I especially liked the ricotta spooned on top---it made everything extra creamy.

Finally, yesterday we went to a Mother's Day brunch at "the club" with my mother and grandmother pictured here: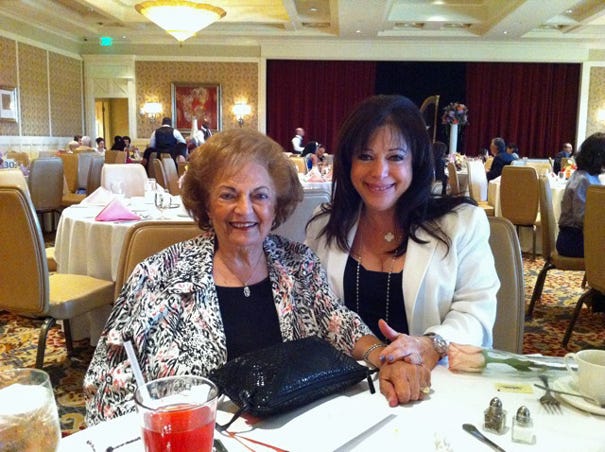 Again, I won't go into too much detail, but suffice it to say--there were blintzes: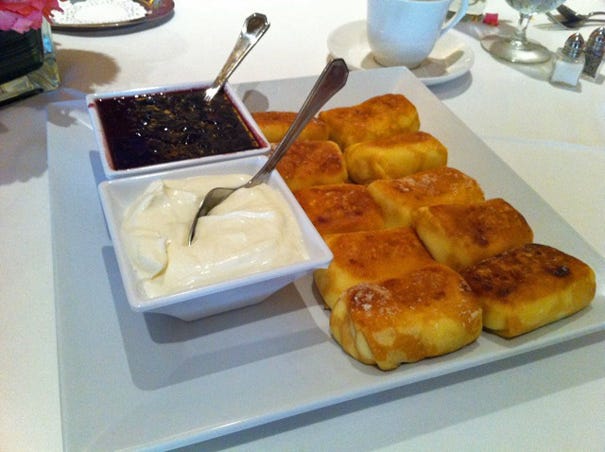 Here's the table at the end of the meal: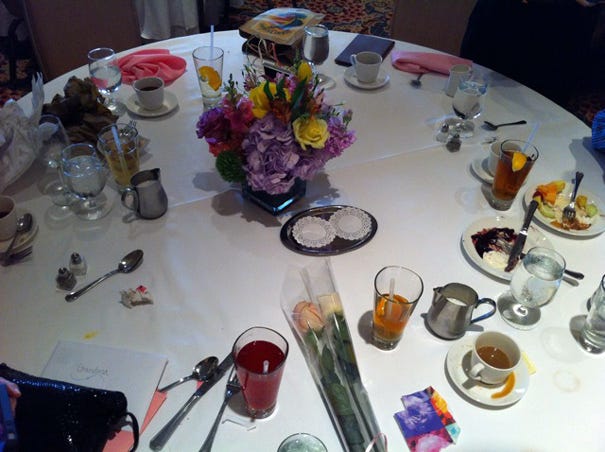 As you can see, it was a very nice brunch.

So Happy Mother's Day to all the mothers and grandmothers out there!

Until next time....

Your friend,
Adam (The Amateur Gourmet)
Reading this in a browser? Get next week's in your inbox by signing up here.

Follow Me!
On Twitter
On Facebook

Recent Food Posts

My Love Affair with Toast

What's Up With These Black Chickpeas?

60 Second Aioli

The Best Curry of Your Life

The Winners of the 2012 Foodie Photo Scavenger Hunt (Sponsored by The CIA)

English Porridge

The Pancake at Canele

One Bag of Lentils, Two Dinners

Fresh Springtime Pasta with Farmer's Market Asparagus and Fava Beans

Stop It With The Small Plates! (Except Where They Work)

Marinated Roasted Cauliflower Salad




*|LIST:DESCRIPTION|*

Unsubscribe *|EMAIL|* from this list.

Our mailing address is:
*|HTML:LIST_ADDRESS_HTML|*
Copyright (C) *|CURRENT_YEAR|* *|LIST:COMPANY|* All rights reserved.

Forward this email to a friend
Update your profile
*|IF:REWARDS|* *|HTML:REWARDS|* *|END:IF|*