A.G. Newsletter #80: Cherry Tomato Pasta, Almond Croissant at Proof Bakery, Follies, California Donuts & California Adventure


Hey Newsletter Fans,

Did you know that you can use yesterday's beans to make a delightful bruschetta right now? Well click here to read today's post about that. (That post also features Tigers To Lilies, a pop-up flower shop in Echo Park; plus a bottle of red wine.) Then click here to read my post about the warm tofu at Robota Jinya--a dish that sounds nasty but is anything but when you eat it.

When I was in Echo Park, buying the flowers you saw in that bruschetta post, I also popped into Cookbook (which I wrote about here) and bought the following: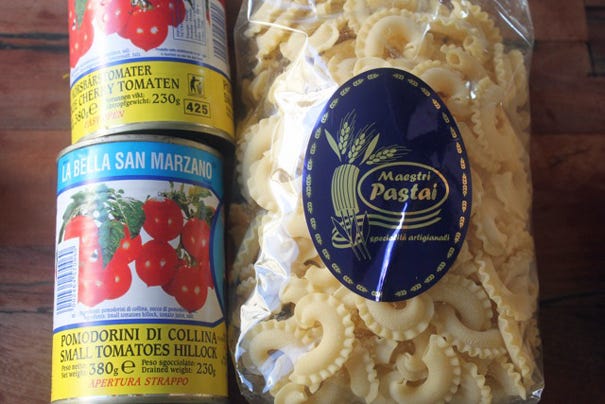 Those are San Marzano cherry tomatoes and a pasta that looks a bit like a seahorse doing an impression of an octopus tentacle. Both products were entirely new to me which is why I bought them.

When I got home, I sliced garlic and added it to a pan of olive oil: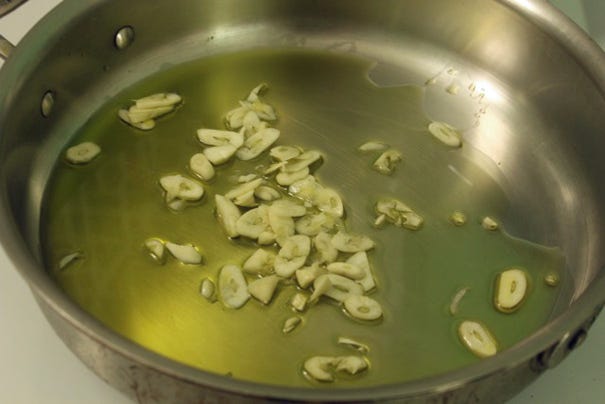 Heated that until the garlic turned golden, added a shake of red pepper flakes, and then added the two cans of cherry tomatoes: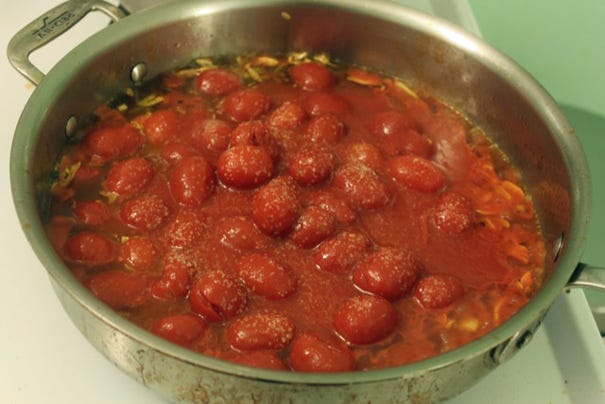 Added a good sprinkling of salt, put the lid on and let it simmer aggressively until the cherry tomatoes "popped," then lowered the heat, removed the lid, and allowed it to simmer until the sauce thickened (about 20 minutes).

Meanwhile, I cooked the pasta in lots of salted water and when it was just al dente I added it to the pan of cherry tomato sauce along with some basil from my new herb garden and grated Parmesan cheese.

And behold!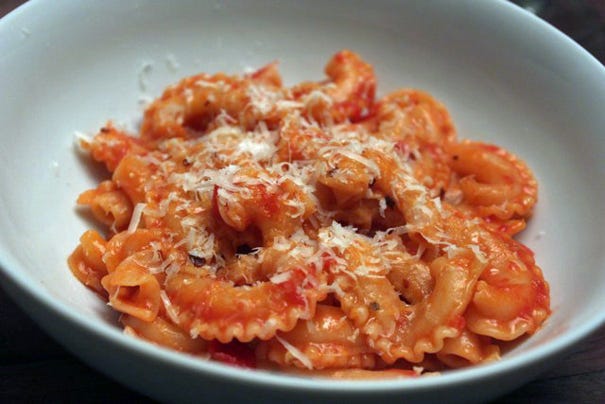 A cherry tomato pasta of champions; sweet, because cherry tomatoes are sweeter, and tarter too. The pasta was so high quality, Craig asked if it was fresh pasta---I could understand why, it had that soft texture fresh pasta has. Needless to say, we gobbled up bowlfuls.

Early last week, I decided to pay a visit to Atwater Village (which I wrote about here), specifically to Proof Bakery where I had a scrumptious Valhrona chocolate croissant last time. This time I decided to try their almond croissant: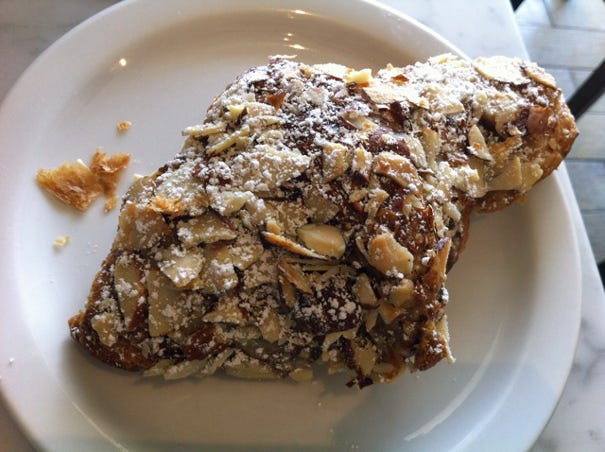 You can really tell the croissants at Proof are house-made: they're extra flaky, extra buttery. And I love anything almond, so this croissant had me over the moon. (Though I wish they had simple syrup available for the iced coffee; that would've sealed the deal.)

Now this isn't food related, but I'm a big Sondheim fan--such a big fan, in fact, that even though I'd seen Follies in New York with Bernadette Peters, I decided to go again now that it's here in L.A. with Victoria Clark. The bonus was that a reader of my blog named Danny is the associate conductor and he offered to take us backstage after the show.

Well! We walked past lots of Broadway divas backstage--I was slightly starstruck--and got to stand on the stage and see the headdresses on mannequin heads, like this one: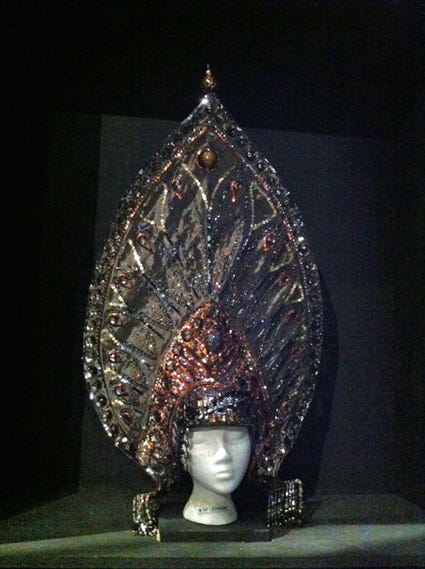 So thank you, Danny, for such a nice treat! I plan to wear that headdress to my book party when my cookbook comes out in September.

Finally, this is embarrassing to say because we were just there with Craig's brother in February, but our friend John--who has a special pass--invited us to join him, along with our friend Diana, for a day at Disneyland last week. How could we say no???

We started the day near our apartment at California Donuts, which I included in my post: The Best Donuts in L.A. (A Comic Odyssey). Here are the donuts we chose from: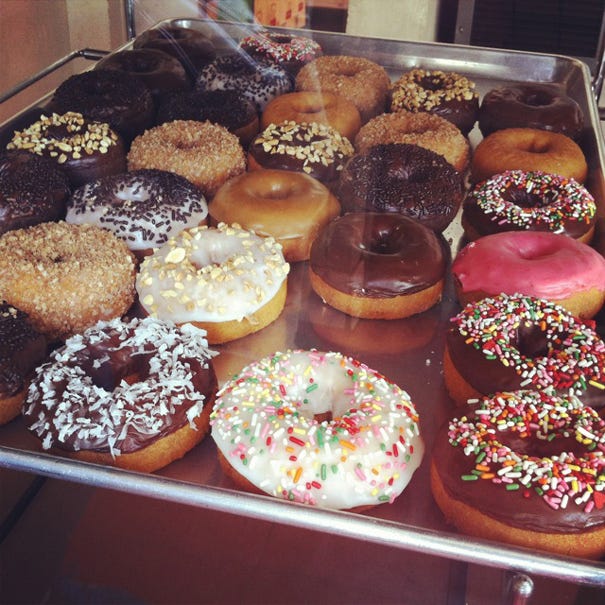 I chose that vanilla one in the front with the rainbow sprinkles. I didn't regret it.

We won't track our whole day at Disney, but we spent part of it at California Adventure, which was fun: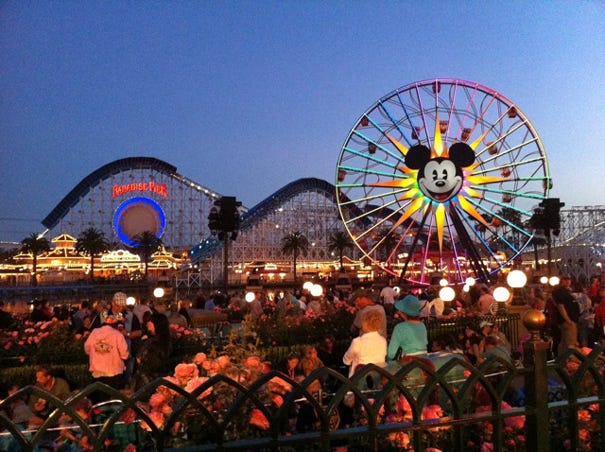 And we had a good meal there too. After I got drenched on the river rapid ride (of course I was the one who got drenched because I was the one who didn't want to get wet), we had lunch at this place--I don't remember the name--not far from the Ferris Wheel where they had kebabs. Here's our group at the table: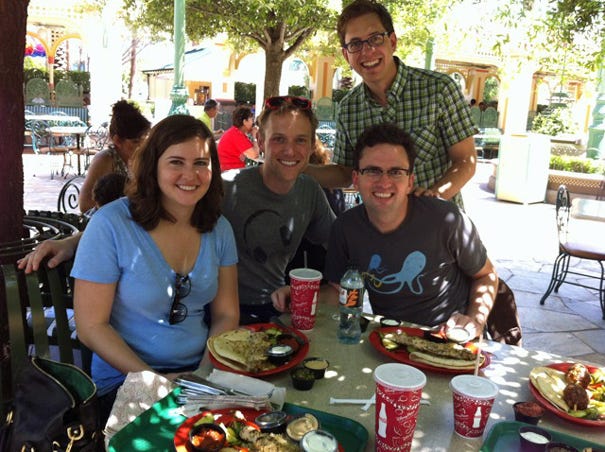 I ate this chicken kabob in a pita with four--count 'em, four--dipping sauces. The chicken was nicely marinated and it came with a fresh-tasting salad.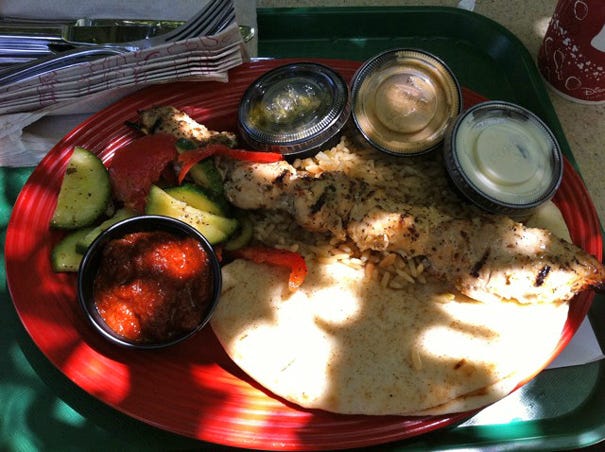 Not bad for Disney!

At the end of the day, we ended up at a fun Tiki Bar called Trader Sam's which I may write about later in the week. So keep your eyes open for that!

OK, folks, that's all for this week.

Until next time...

Your friend,
Adam (The Amateur Gourmet)
Reading this in a browser? Get next week's in your inbox by signing up here.

Follow Me!
On Twitter
On Facebook

Recent Food Posts

My Very Own Herb Garden

Bringing Good Food Home

15 Chefs, 15 Roast Chicken Videos

Hushpuppies (A Recipe)

Your Questions Answered Now!

Fat Betty

My Love Affair with Toast

What's Up With These Black Chickpeas?

60 Second Aioli

The Best Curry of Your Life

The Winners of the 2012 Foodie Photo Scavenger Hunt (Sponsored by The CIA)

English Porridge

The Pancake at Canele



*|LIST:DESCRIPTION|*

Unsubscribe *|EMAIL|* from this list.

Our mailing address is:
*|HTML:LIST_ADDRESS_HTML|*
Copyright (C) *|CURRENT_YEAR|* *|LIST:COMPANY|* All rights reserved.

Forward this email to a friend
Update your profile
*|IF:REWARDS|* *|HTML:REWARDS|* *|END:IF|*