A.G. Newsletter #82: Rivera, Senor Fish, Osteria Mama & A Couscous Trick


Hey Newsletter Fans,

Well last week we had the big French Laundry surprise, the rest of that Napa trip, a conversation about art and food with Guggenheim fellow David Thorne and a pretty killer recipe for Chicken Adobo.

This week we start with two salads--a purple lunchtime salad and a cherry tomato quinoa tabbouleh--and a simple recipe for a not-so-simple seeming dessert: vanilla bean pudding. Oh, and there's a nifty new banner too (one of my favorites ever).

Got all that?

Great.

Now let's catch up on a meal from two weeks ago: lunch at Rivera downtown.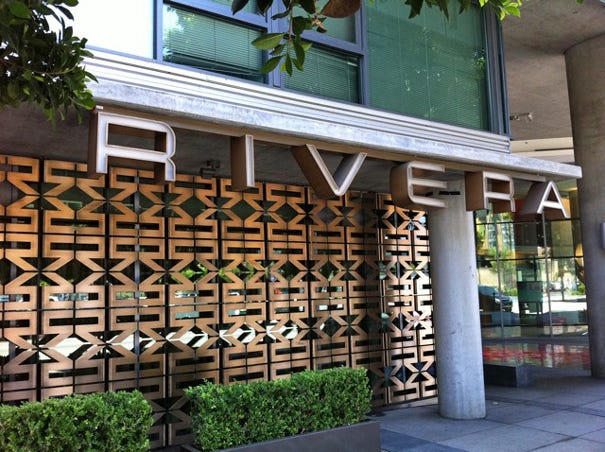 The goal was to convince Diana, who moved here in January, that Mexican food in L.A. is indeed better than Mexcian food in New York. This to me couldn't be more obvious (California touches Mexico; New York touches...New Jersey!) but Diana, a former denizen of the East Village, clings to her memories of La Palapa and Mercadito something-or-other.

So off to Rivera we went; I'd read about it in an article about a Mexican food renaissance in L.A.

The inside was cozy, if a bit corporate: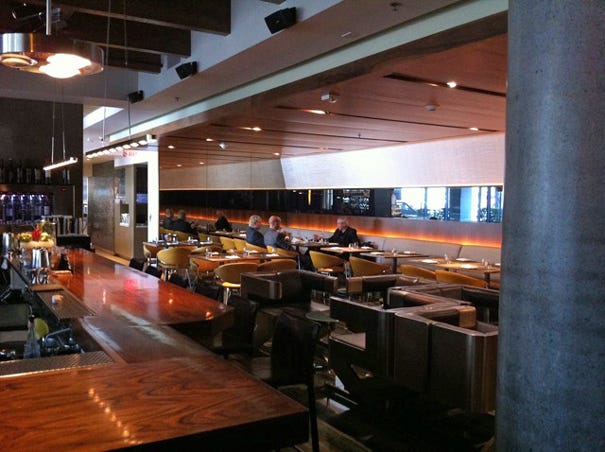 The first bite immediately won me over---sopaipillas: fried bread with citrus-pepper butter.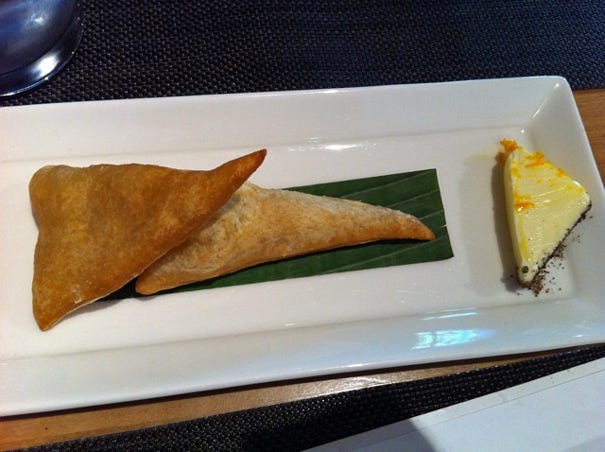 Like popovers, but naughtier---crisper on the outside, moister on the inside. I could've eaten three more.

For our appetizers, Diana and I shared these piquillos rellenos, stuffed spanish peppers with chorizo, golden raisins and gruyere: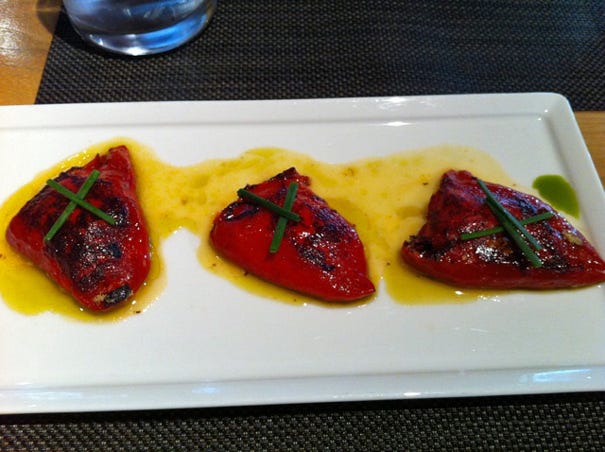 In a funny, they reminded me of pimento cheese with its combination of a roasted red pepper and creamy cheese stuffed into it.

We also shared shrimp and watermelon mojito salad with cucumber and mint: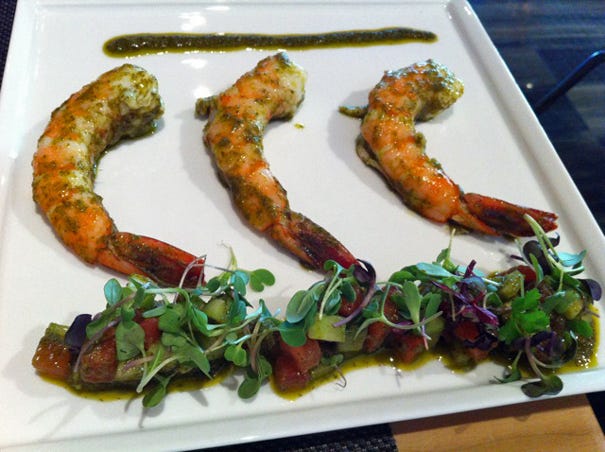 These shrimp were gigantic and lovingly dressed in that bright green, acidic sauce (and check out the plating of the salad).

Somehow, though, the fact that the shrimp were cold took away from the dish; it all tasted kind of refrigerated, pre-cooked rather than fresh out of the water, fresh on to the plate as the best seafood dishes do.

We shared two entrees, both of which were dyn-o-mite. The first was duck "enfrijolada" with poached organic egg and rioja wine and cascabel chile sauce: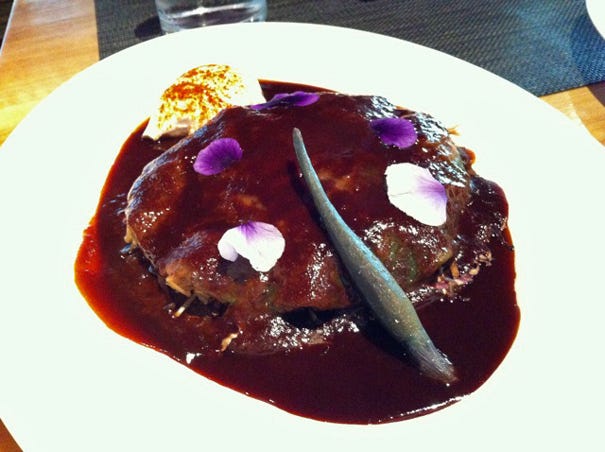 This was a truly elevated Mexican dish, the kind of thing I've only experienced (so far) in L.A. Even Diana conceded this was far better than anything she'd had at La Palapa.

Our other entree, Old-Fashioned Red Chile Enchilada, also hit the spot in a major way: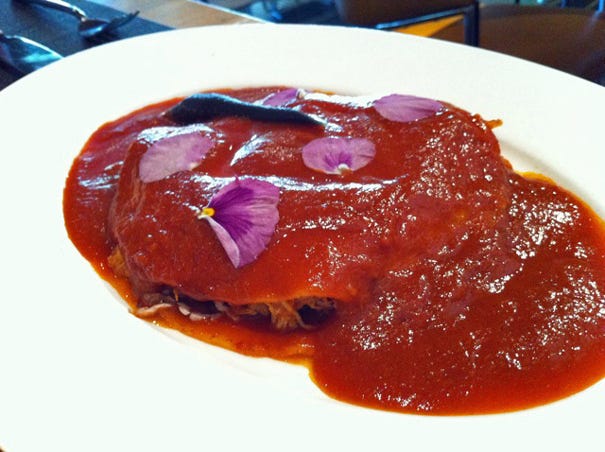 And so it was that the food at Rivera did the job it was meant to do--it impressed Diana--and we left riding on a cloud of Mexican-Food-in-L.A. superiority.

Later in the week, I checked out the new Senor Fish in Echo Park.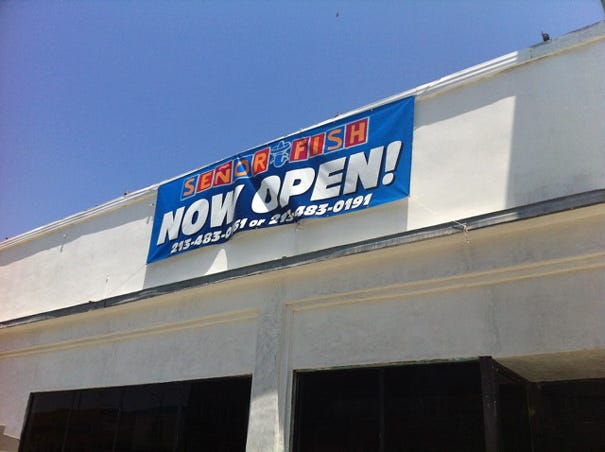 I first experienced Senor Fish eight years ago when I worked at a law firm downtown and we'd go to the downtown Senor Fish on our lunch breaks.

This new Senor Fish is kind of drab inside--it feels underdeveloped (almost like a pop-up)--but the people working there are charming and there are these multi-colored aguas frescas to admire: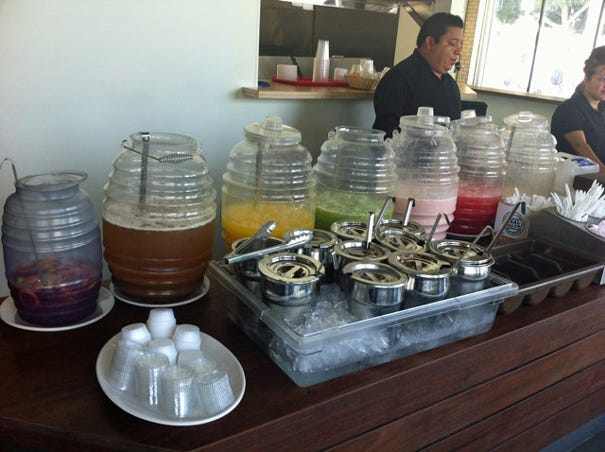 I ordred the dish for which, I believe, Senor Fish is most famous... the scallop burrito.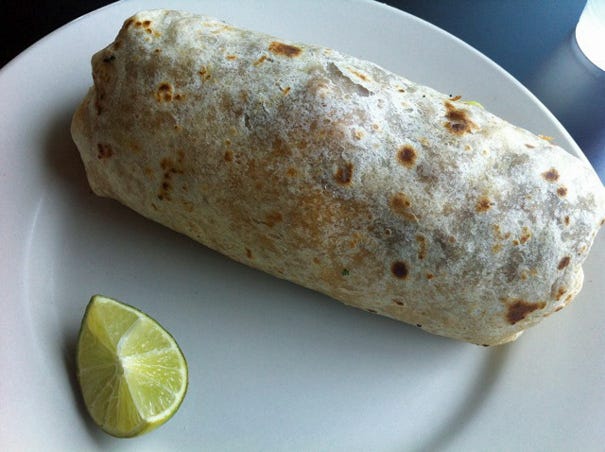 There it is in its entirety. Here it is once I cut into it: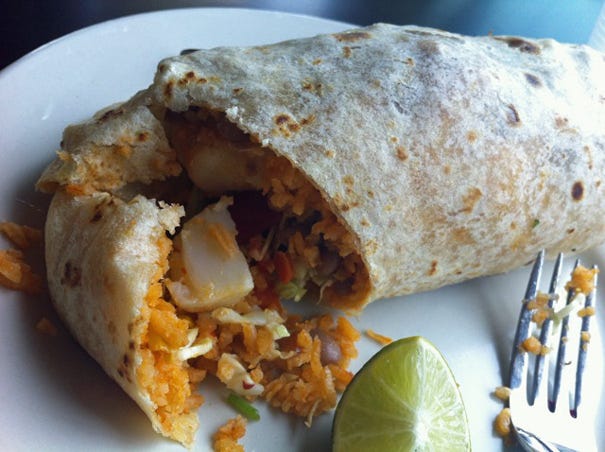 I'll be honest: my memory of this burrito was better than the actual burrito I was experiencing there in Echo Park. What was missing was something to marry all of the disparate ingredients inside--the rice, the scallops, etc. It just tasted kind of dry, kind of austere.

Thankfully I was able to fix that with some crema that I ladled into a little plastic cup up at the counter: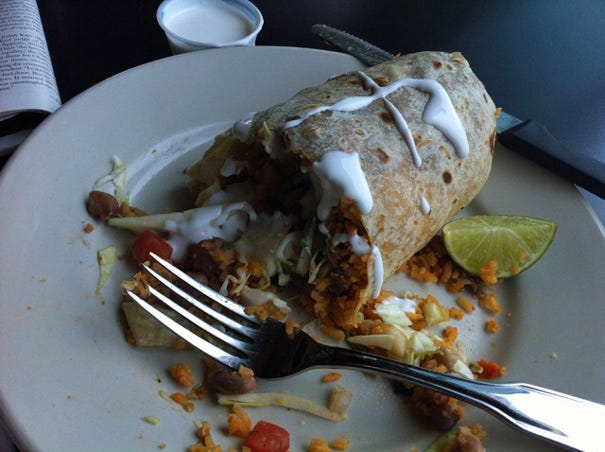 Amazing what a little crema can do: the ingredients suddenly sang out together in a beautiful chorus. Thank you, crema, for saving my burrito.

Last night, Craig and I returned to Osteria Mama for another terrific meal. The place is a gem. Everyone eating there seems to be in on a secret and the secret is that the food here feels like it's beamed across the ocean, straight from Italy.

I mean look at my entree: garganelli with heirloom tomatoes and capers.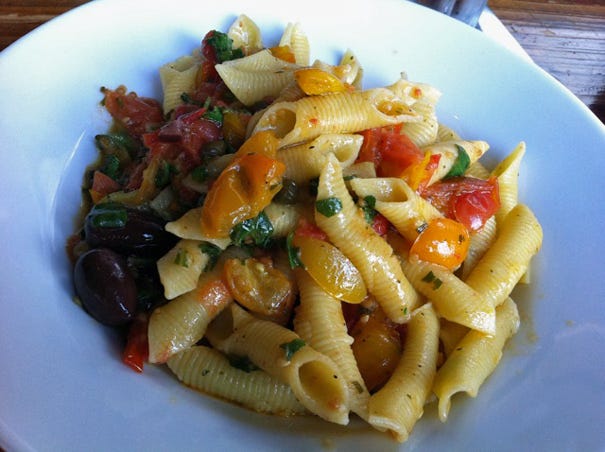 I loved everything about it--the fresh pasta, the balance of saltiness from the capers and sweetness from the tomatoes; the way the sauce was cooked just enough so everything still tasted fresh and bright.

And Craig went nuts for his lasagna: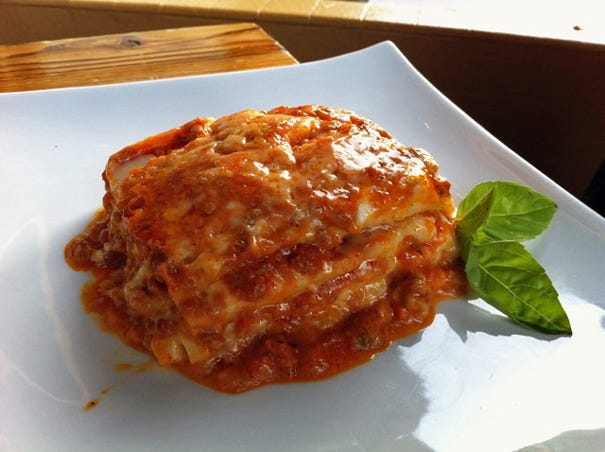 Though Mozza remains my favorite high-end Italian joint in town, Mama is now my favorite everyday Italian joint. And this tartufo for dessert (with hazelnuts) didn't hurt: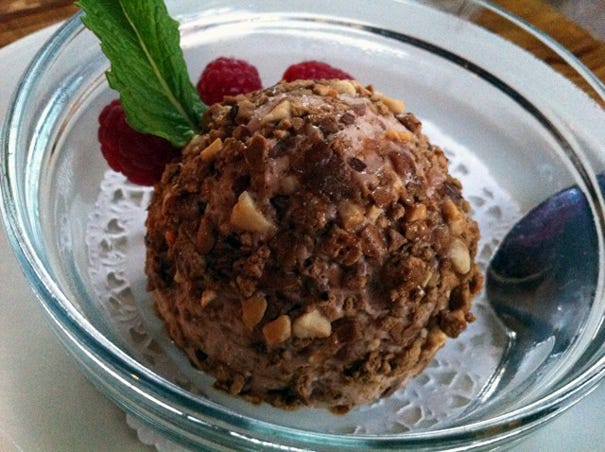 Finally, here's a trick for making some super flavorful couscous at home.

In a mortar (or a spice grinder) add a bunch of spices. Here you'll see pequin chiles, black peppercorns, toasted coriander seeds and toasted cumin seeds: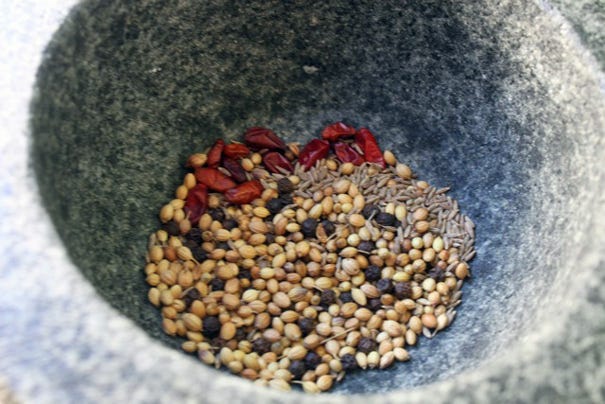 Pound those up into a powder: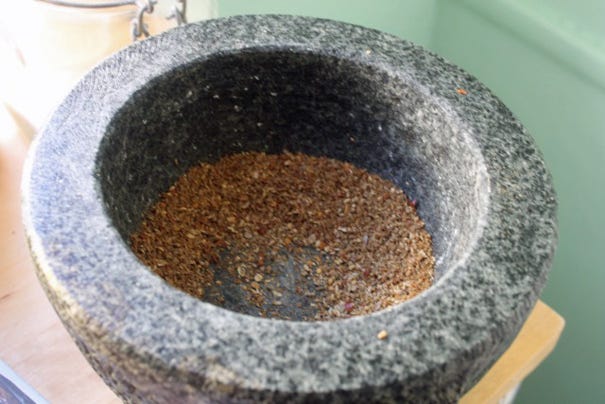 Then, when you cook your cous cous according to package directions, add half this spice powder to the water along with the salt, a splash of olive oil and--here's the other trick--raisins. When you lift the lid on the couscous five minutes later, it'll look like this: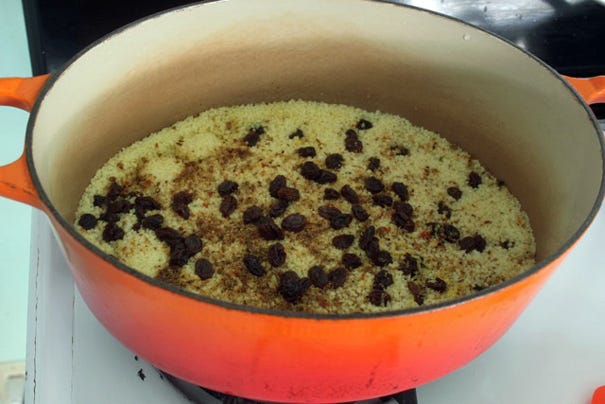 The raisins will have plumped up from the warm water and the spices will have insinuated their way into the cous cous. Fluff with a fork and taste; if it's not spicy enough (and it may well not be) add more of your spice powder and work that in. Also: add some lemon juice, lemon zest, and olive oil as you see fit until you have some killer couscous.

There you go!

Ok, folks, I have to head home to cook a dinner for some friends tonight. But guess what? One week from today, there's a plan to finally announce my cookbook on my blog... complete with video and pictures and sample pages. So get ready for that.

Until next time!

Your friend,
Adam (The Amateur Gourmet)
Reading this in a browser? Get next week's in your inbox by signing up here.

Follow Me!
On Twitter
On Facebook

Recent Food Posts

Vanilla Bean Pudding

Purple Lunchtime Salad & Cherry Tomato Quinoa Tabbouleh

A Nifty New Banner

Wine Tastings, Picnics and More...Our Trip To Napa

Chicken Adobo

Does Great Food Rise To The Level of Great Art? A Conversation with David Thorne

Surprise! Dinner at The French Laundry

The Build-A-Better-Bagel Workshop

PG Tips (A Morning Tea Ritual)

Starry Kitchen, Local & Trader Sam's

Ten Food Books That Changed My Life

The Warm Tofu at Robata Jinya

Yesterday's Beans Are Today's Bruschetta Topping

My Very Own Herb Garden



*|LIST:DESCRIPTION|*

Unsubscribe *|EMAIL|* from this list.

Our mailing address is:
*|HTML:LIST_ADDRESS_HTML|*
Copyright (C) *|CURRENT_YEAR|* *|LIST:COMPANY|* All rights reserved.

Forward this email to a friend
Update your profile
*|IF:REWARDS|* *|HTML:REWARDS|* *|END:IF|*