A.G. Newsletter #84: My New Pot, Back To Palm Springs, Wang's & Cheeky's
A.G. Newsletter #84: Back To Palm Springs, Wang's, Cheeky's & My New Pot

Hey Newsletter Fans,

Last week was super exciting---I finally got to share my cookbook with you all---and your response was really flattering and encouraging. I'm so excited for you all to have your copies in September... I hope these next two months pass quickly.

Last night, I made a pretty wonderful, healthy dinner: Farmer's Market Wild Rice Salad with Miso Dressing. Check it out.

So! With the relief of having finally announced my cookbook, I took it upon myself on Tuesday to call the Ace Hotel in Palm Springs, just on a whim, to find out how much it'd be to stay there on a weeknight. The price was so good ($109) I told Craig, who had his own career stuff to worry about, that we should hop in a car and go for a "writer's retreat." It didn't take much convincing....

That's one of the great things about having a car. In New York, if you want to get away, transportation is the big challenge. In L.A., you just grab your keys and go.

And go we did.

Before I knew it, I was eating this A.L.T. (Avocado, Lettuce, Tomato) sandwich with bacon at King's Highway, the charming diner at the Ace: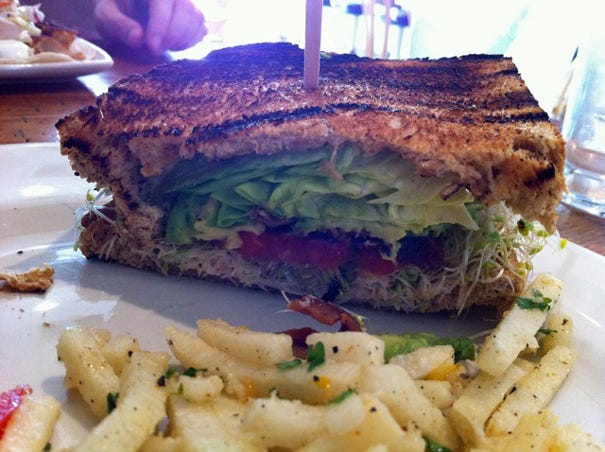 And then we were outside, basking in the 105 degree heat.

Oh.

So that's why it's so cheap... it's crazy hot! But these cold water sprays helped cool things down: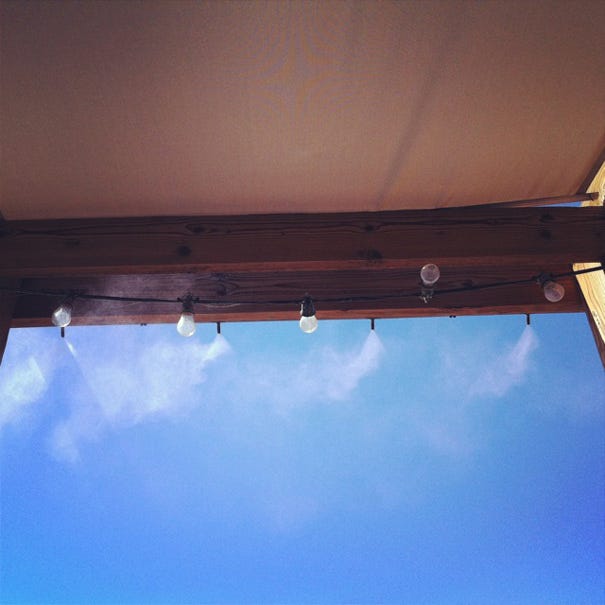 That night, we returned to my favorite spot from our last trip to Palm Springs: Birba.

The pizza there is top notch, and this time we tried a pie topped with peaches and blue cheese: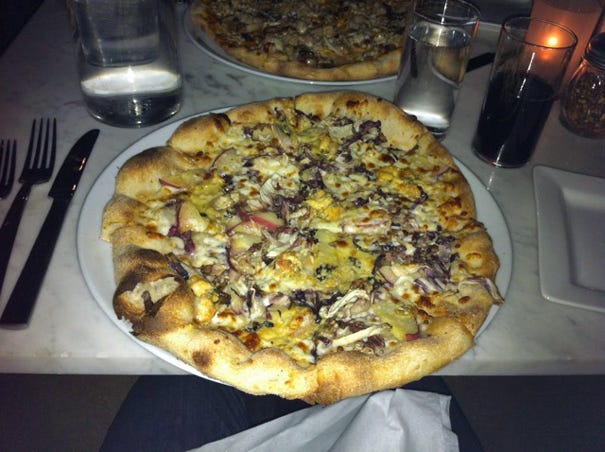 Sounds crazy but it totally worked. And our more traditional sausage and mushroom pie was a nice corollary to its more eccentric brother.

The next night, we decided to check out a place called Wang's that someone had mentioned in the comments of my Palm Springs post. I got a kick out of the name, which I think caters to the mostly gay audience who patronize the place. Here's the exterior: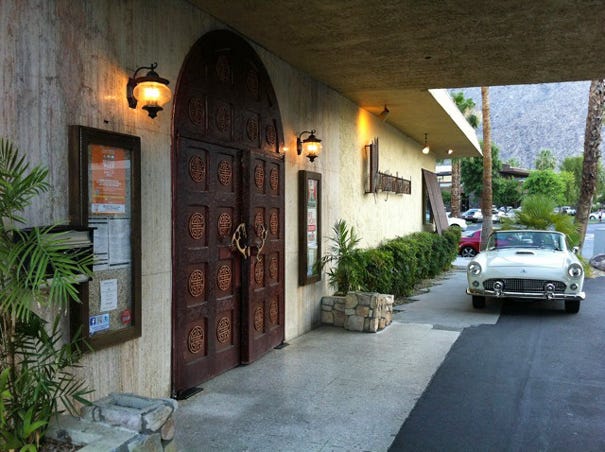 Here's the interior: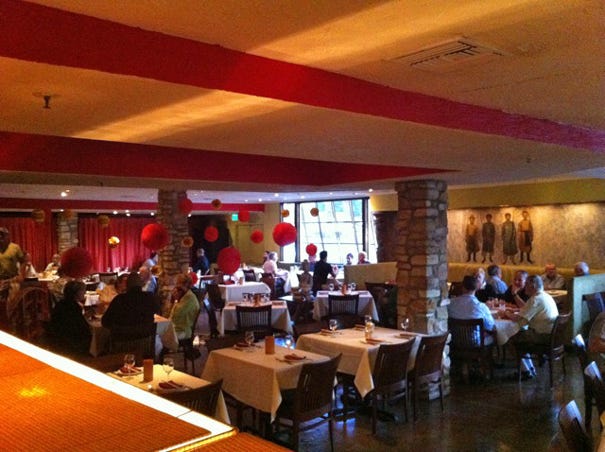 I liked the vibe at Wang's better than I liked the food. The chicken sliders tasted like a well-meaning mother's version of the dish---with whole chicken breasts cooked past doneness piled on to hamburger buns with a spicy mayo way too filling to be an appetizer: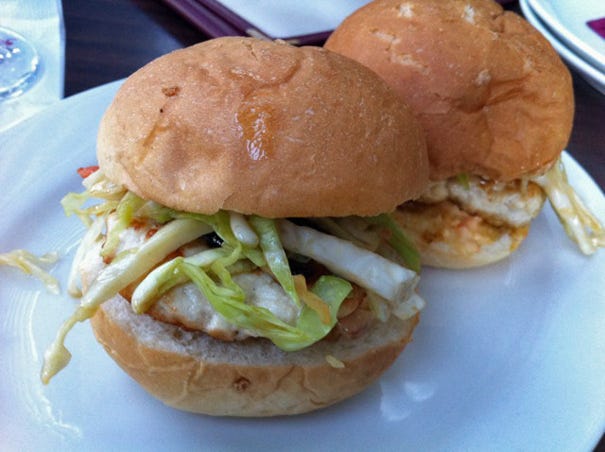 The gingered beef was fine, if a bit mucusy from too much corn starch: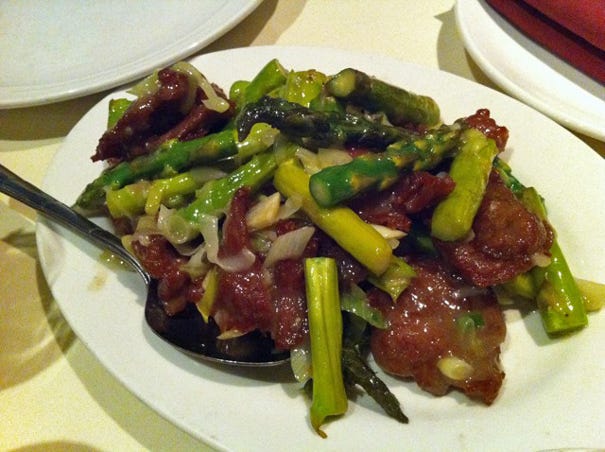 And the orange peel chicken had good flavor, even if it was a bit of a gut-bomb akin to the sesame chicken you'd get at an airport Chinese counter: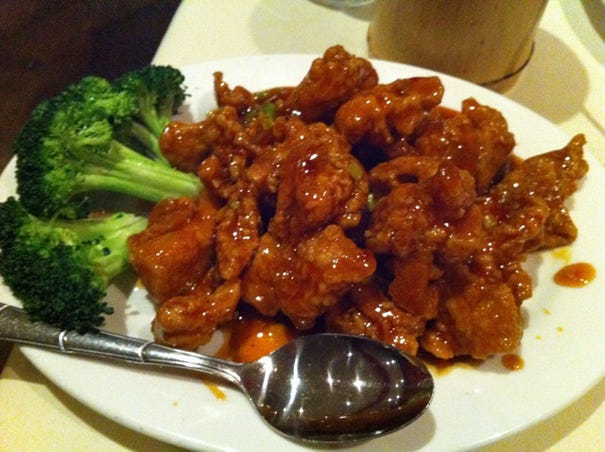 So that's Wang's.

We had a much better experience the next morning at Cheeky's, which many of you recommended the last time we went to Palm Springs. You were totally right. This place is wonderful.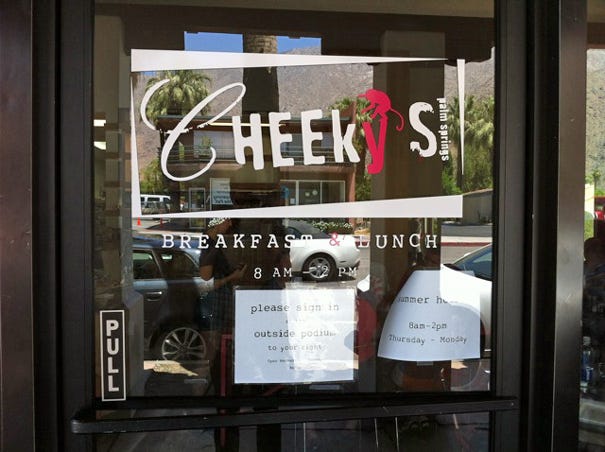 Some restaurants just make you feel like you're in someone's home kitchen with a very generous open-door policy. Cheeky's is like that.

Here's the scene outside: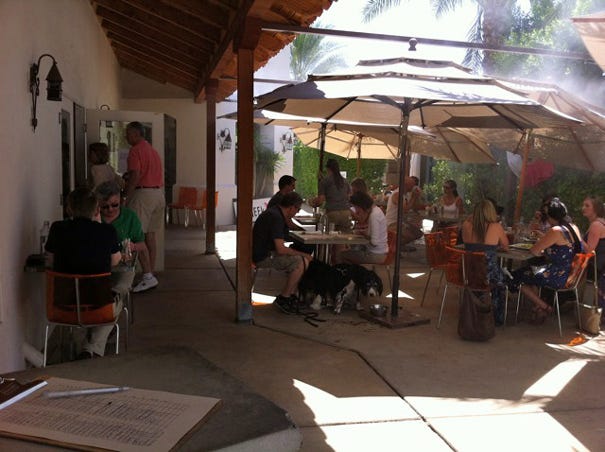 And here's the food that we ate. I had scrambled eggs with homemade chorizo and a fresh tortilla: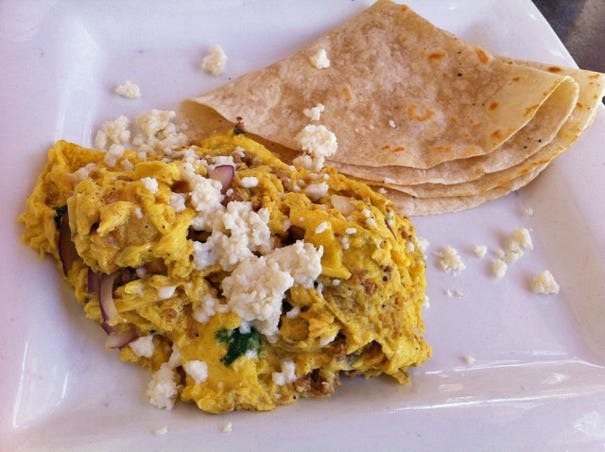 Craig had the eggs Benedict served on Cheddar cheese scones: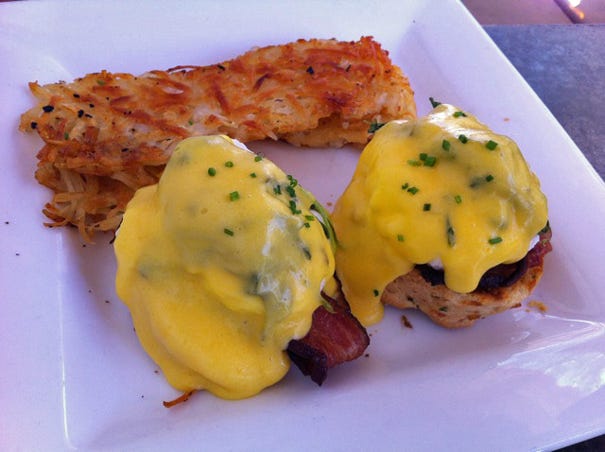 Just for kicks, I ordered a single pancake so we'd have something sweet to go with the savory: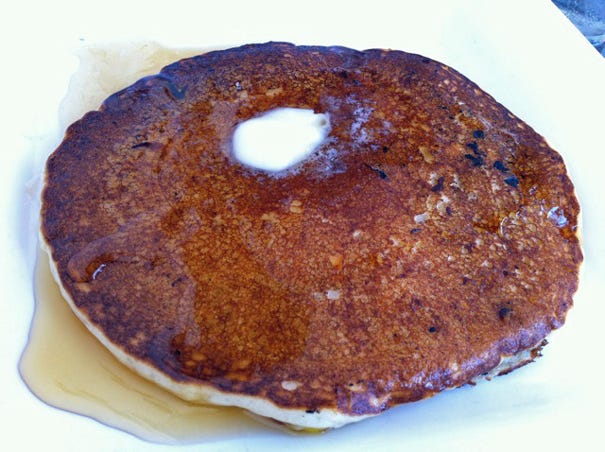 The waitress warned me there'd be fresh corn in the pancake, which I didn't mind, but I think it would've worked better if it had been a corn meal pancake.

Otherwise, the food really hit the spot--it was clearly made with love and care. I mean, even when I was leaving, I noticed this vodka infusion for their Bloody Mary's that looks like a lot of work for something most people get from a mix: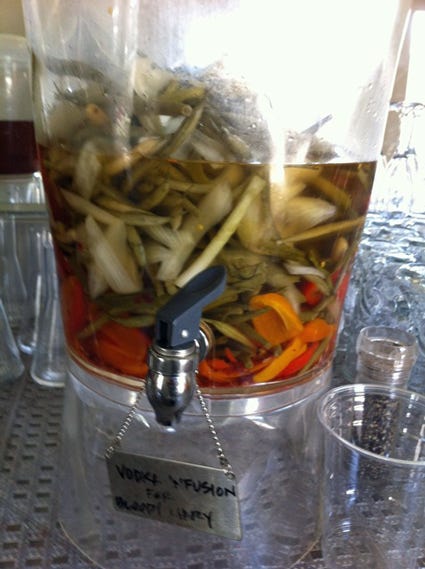 So that's Cheeky's: don't miss it if you're ever in Palm Springs.

After Cheeky's, before heading back to L.A., we went to this strip of vintage furniture stores recommended to us by our friends Kyle and Gary. We did really well there--bought a globe, a framed picture of monkeys, and this, my new pride and joy, a pot that looks like something from The Brady Bunch: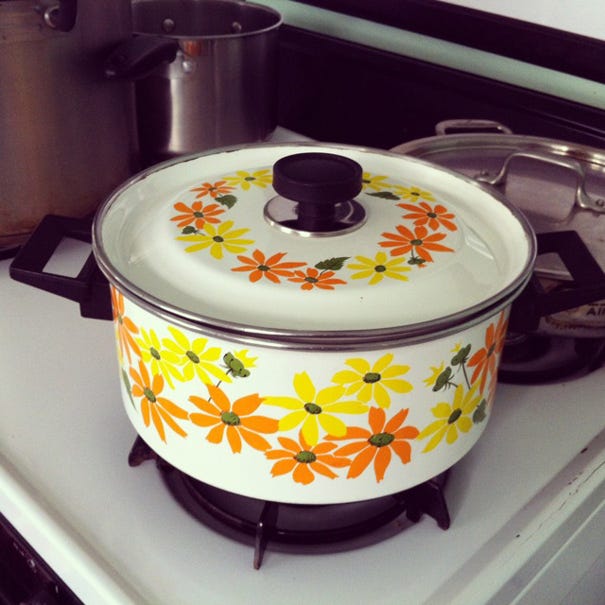 It's featured in my post today and I have a feeling you'll be seeing a lot more of it in the future.

OK folks! That's all for this week....

Check the blog over the next few days: there's an announcement coming concerning the title of my book that you'll find most interesting.... and a post about this incredible Date Shake that we experienced before leaving Palm Springs.

Until next time!

Your friend,
Adam (The Amateur Gourmet)
Reading this in a browser? Get next week's in your inbox by signing up here.

Follow Me!
On Twitter
On Facebook

Recent Food Posts

Key Lime Pie

Dijon and Cognac Beef Stew

Secrets of Great Chefs (My Cookbook's Finally Here!)

Braised Endive

The Top 10 Junk Food Ads Targeted At Kids

Checking In With Eric Wolitzky from Top Chef Just Desserts

Night + Market

Vanilla Bean Pudding

Purple Lunchtime Salad & Cherry Tomato Quinoa Tabbouleh

A Nifty New Banner

Wine Tastings, Picnics and More...Our Trip To Napa

Chicken Adobo



*|LIST:DESCRIPTION|*

Unsubscribe *|EMAIL|* from this list.

Our mailing address is:
*|HTML:LIST_ADDRESS_HTML|*
Copyright (C) *|CURRENT_YEAR|* *|LIST:COMPANY|* All rights reserved.

Forward this email to a friend
Update your profile
*|IF:REWARDS|* *|HTML:REWARDS|* *|END:IF|*