A.G. Newsletter #86: The Eater Young Guns Party, Diana's Airmail (A Cocktail), Senor Fish & The Squash Blossom Pizza at Mozza


Hey Newsletter Fans,

Today I wrote about a vegetarian black bean chili and an amazing cornbread; then I took things one step further and fried that cornbread in bacon fat. It's been a wild morning.

Last week, I took my friend John to the Eater Young Guns party on the roof of the London Hotel in West Hollywood.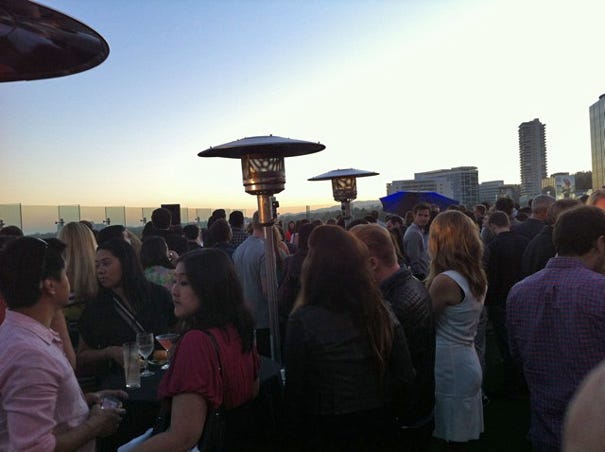 This was quite a star-studded event, if you think of food bloggers as stars. In attendance were Eater founders Ben Leventhal and Lockhart Steele; Eater National editor Raphael Brion (who also designs and manages my blog), and other notable Eater writers like Paula Forbes and Amanda Kludt; also, my good buddy Zach Brooks of Midtown Lunch; and several Top Chef alumni, including Antonia and that spiky haired California dude from the latest season.

The food was super tasty, especially this bite advertised here: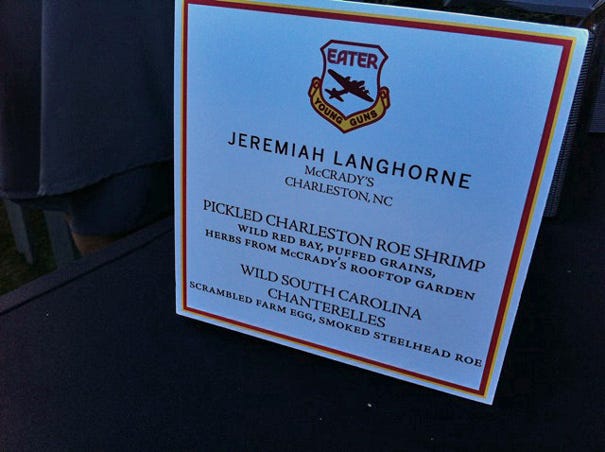 I'm focused here on the pickled shrimp. Look how pretty: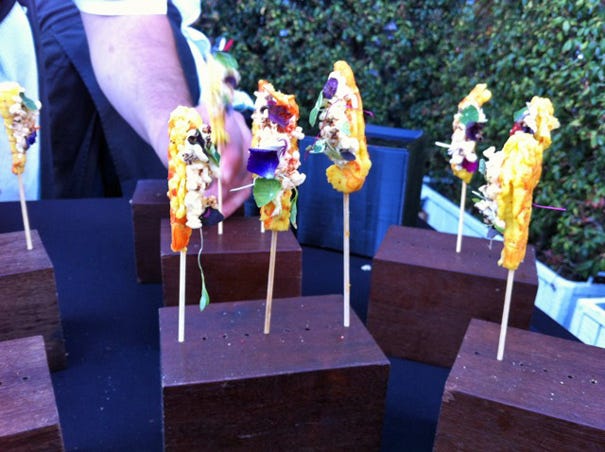 OK, maybe that's not such a pretty picture, but trust me: they were pretty. And tasted wonderful.

Mark and Diana had us over for dinner last week, and Diana made a really incredible cocktail called an Airmail: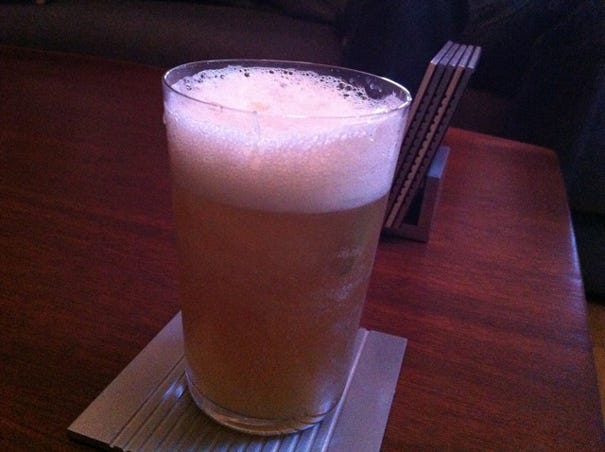 Here, direct from Diana, is the recipe (which she got from Imbibe Magazine):

1 1/2 oz anejo rum (that's rum that's been aged, we used Diplomatico Reserva), 3/4 oz lime juice, 1 oz honey syrup (made by mixing equal parts honey and hot water) and 1 oz prosecco or champagne (we didn't measure the champage, probly used more like 2 oz.)

It's a great summer drink.
And the rest of the meal at Mark and Diana's wasn't too shabby either: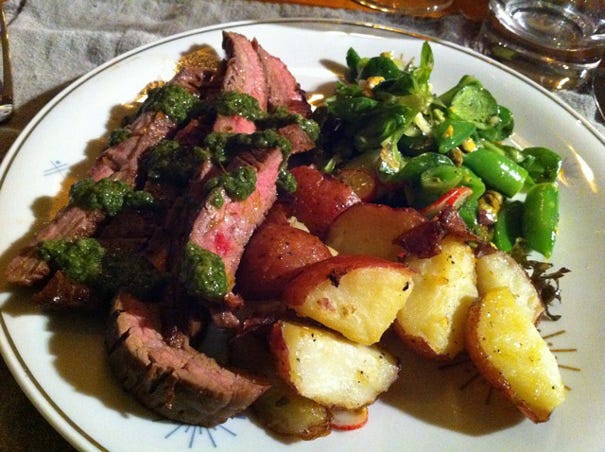 Oh and cobbler for dessert?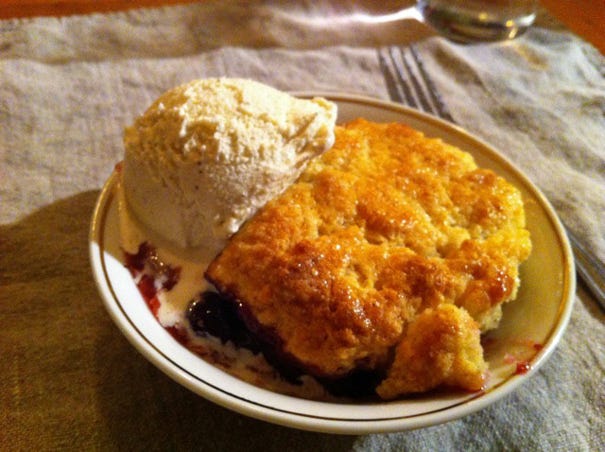 If you can get an invitation to their place, I highly recommend it.

I went back to Senor Fish last week, even though I wasn't crazy about their famous scallop burrito the last time I had it. Instead, this time I ordered shrimp tacos and I was very happy: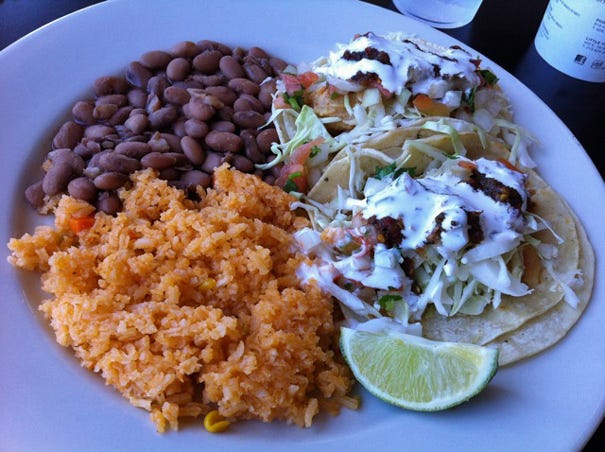 Whereas the scallop burrito was rather dry and underdressed, these shrimp tacos had lots of what Craig likes to call "goo" on them. The salsa, in particular, had this charred quality that was really arresting. I would gladly eat these again and, most likely, I probably will.

Finally, I advocated for a return trip to Pizzeria Mozza last week because it's one of my favorite L.A. restaurants and, as far as I'm concerned, you can never go there too much. This time I tried their famous squash blossom pizza, which I'd never had: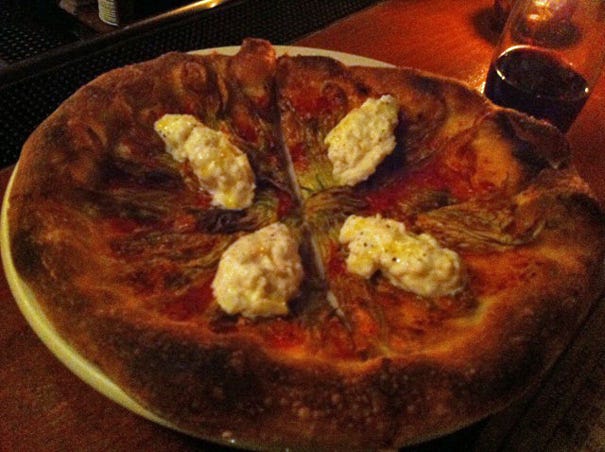 At first, I thought the zippy sauce kind of overwhelmed the delicate squash blossoms. But then their flavor carried through, the more that I ate them; and the cold burrata scooped on top gave a nice textural, cooling contrast to the warm pizza.

Of course, I couldn't go to Mozza without ordering dessert. Even though their butterscotch budino is the best, I'm growing partial to their caramel copetta with marshmallow sauce and salted peanuts: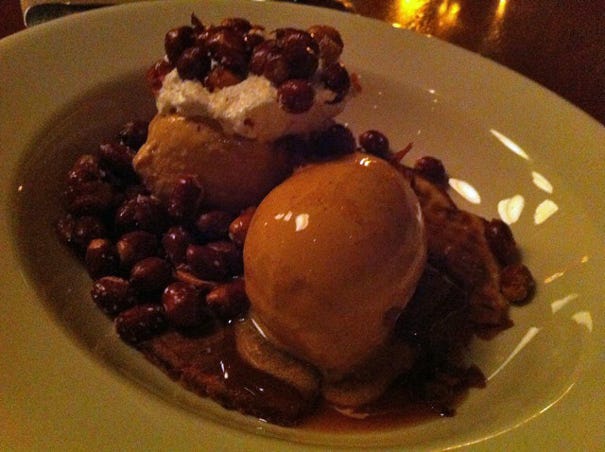 It's pretty much as salty as a dessert can get without being dinner.

That's all for this week folks!

Until next week....

Your friend,
Adam (The Amateur Gourmet)
Reading this in a browser? Get next week's in your inbox by signing up here.

Follow Me!
On Twitter
On Facebook

Check Out My Cookbook!
Secrets of The Best Chefs

Recent Food Posts

Meat Pride

Cold Chicken, Carrot Salad and Yogurt Sauce

Joe: The Coffee Book (Plus, an Interview with Jonathan Rubinstein)

The Day That I Baked 144 Red Velvet Cupakes For Librarians in Anaheim

Brooklyn Bagel & Mexicali Taco

When is It OK To Write A Bad Yelp Review of a Restaurant?

The Palm Springs Date Shake

How To Fake Your Way Through Law School While Secretly Becoming A Food Writer

Farmer's Market Wild Rice Salad with Miso Dressing

Key Lime Pie

Dijon and Cognac Beef Stew



*|LIST:DESCRIPTION|*

Unsubscribe *|EMAIL|* from this list.

Our mailing address is:
*|HTML:LIST_ADDRESS_HTML|*
Copyright (C) *|CURRENT_YEAR|* *|LIST:COMPANY|* All rights reserved.

Forward this email to a friend
Update your profile
*|IF:REWARDS|* *|HTML:REWARDS|* *|END:IF|*