A.G. Newsletter #89: BevMo, Chicken with Feet, Short Order, LACMA, Shorn Kitty, Neon Green Pie & A Seafood Quesadilla


Hey Everyone,

Thanks so much for the nice comments on my post, "Dinner at Rick & Chuck's (A Memory)." That was a post I'd been working on for a while, trying to do something a little more emotional, a little more personal. From the response, I can tell that I should be doing that more often... for some bloggers that comes easy. I think it's a fine line between over-sharing, over-emoting and not sharing or emoting enough. I'll try to strike a good balance!

Two things today: a very hipster recipe of granola, yogurt and peaches in Mason jars. (It's pretty, click and see.) And two, our trip to Langer's, home of what Nora Ephron declared "the finest hot pastrami sandwich in the world." See if you agree.

Yesterday, Craig and I took a trip to BevMo which is basically like Costco for alcohol.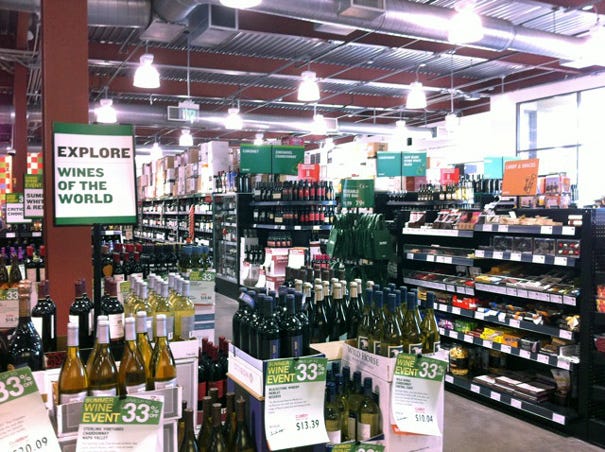 Craig bought a bottle of very special Scotch whiskey (Aberlour A'bunadh, if you care about such things) and I loaded up an article from the Wall Street Journal about how to buy wine in a supermarket which pointed me to a few bottles which I snatched up. These bottles were in the $15 to $20 range so either they were great deals (normally $30 or so) or they were just appropriately priced bottles of wine, in which case I'd rather buy wine from a more indie wine shop in the future. In any case, here are the bottles: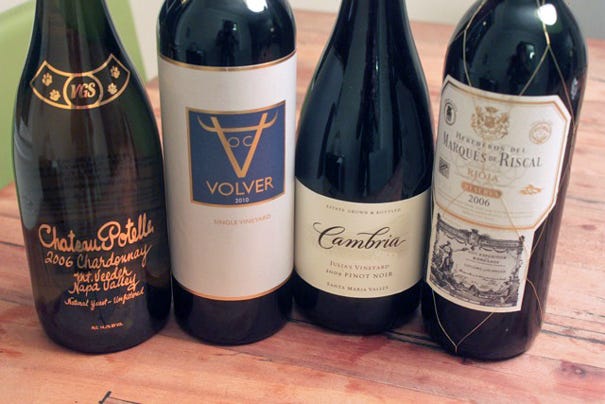 The two on the right were from the article, the two on the left had good Wine Spectator scores. I'll let you know if we have any favorites in the bunch.

My favorite L.A. butcher is Lindy & Grundy and last week I bought a chicken from them, a chicken that had "a surprise inside" according to Amelia who sold it to me. Here's the chicken roasted on some farmer's market potatoes: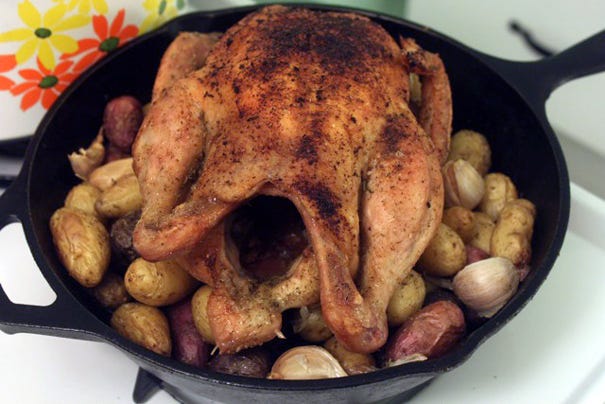 And here's the surprise inside... FEET!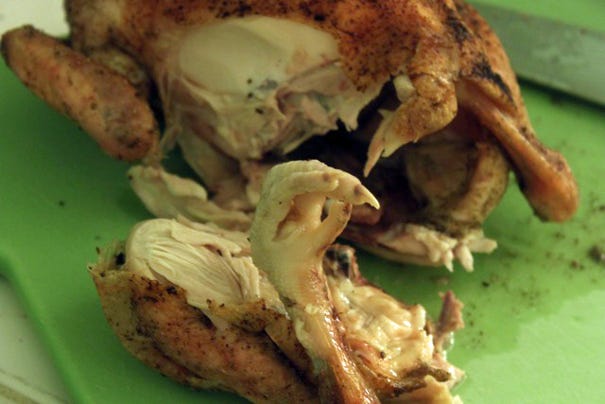 There's something unnerving about that, right? It's like it's holding its hand out for a manicure or something. People on Instagram weren't happy about this, but I got a kick out of it. Next time I'll cut the feet off before I roast and save them for stock.

We finally made it to Nancy Silverton's burger spot in the Grove, Short Order, yesterday.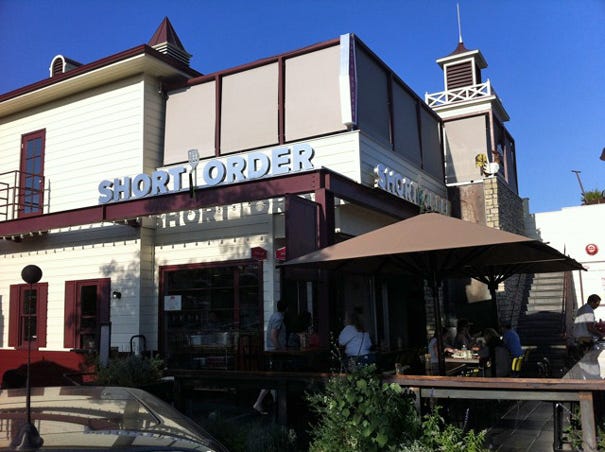 I enjoyed my "Short Order" burger which came with mushrooms and cheese and stuff: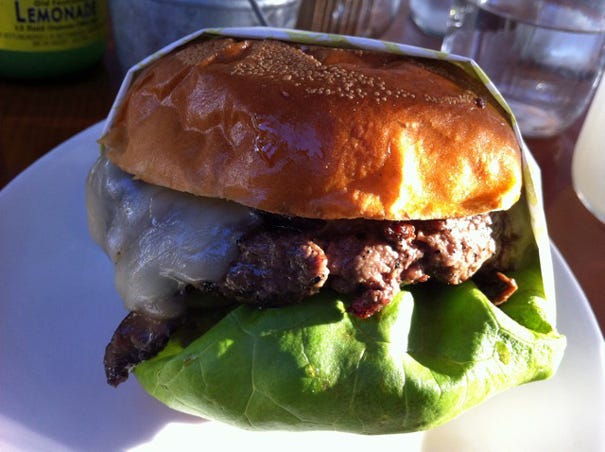 But the real highlight were these pieces of deep-fried baked potato: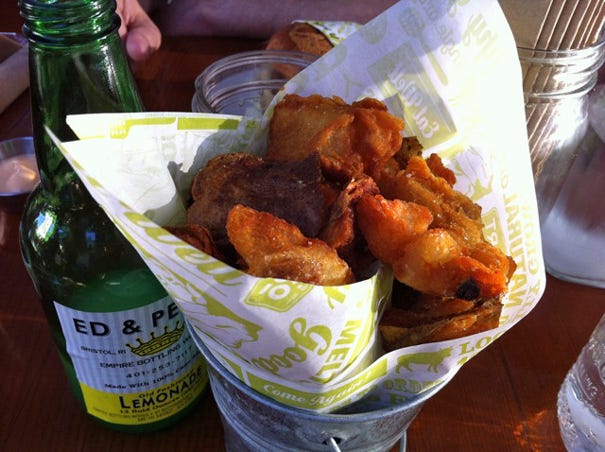 Like a cross between French fries and potato chips, these were made extra special with the sour cream, chive and bacon dip on the side: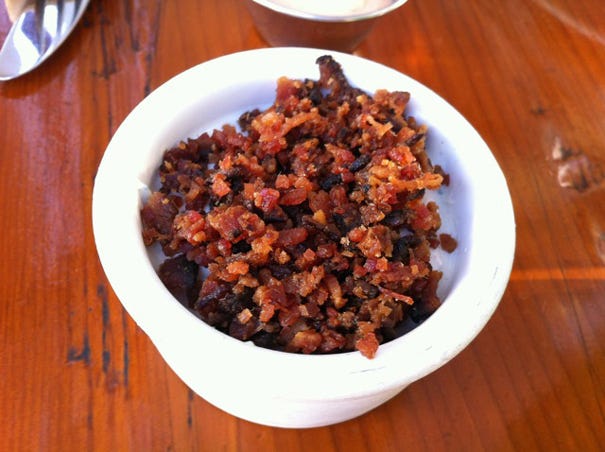 Um, ya. So we ate that.

On Saturday, after going to Langer's, we went with Mark and Diana for our first-ever trip to LACMA (the L.A. County Museum of Art).

We walked under the giant boulder: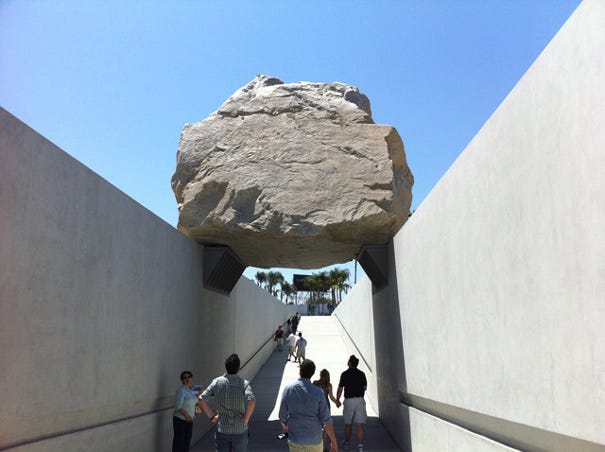 Posed with George Washington: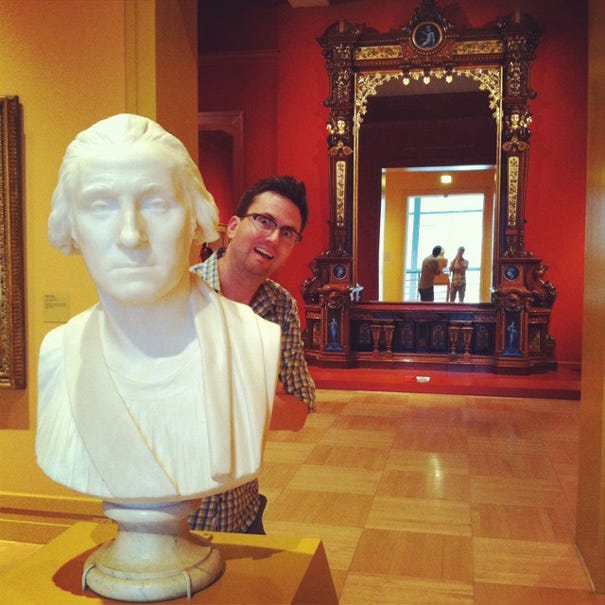 And saw famous works that I had no idea were here in L.A., like this one (which is the basis of my Not Food blog banner):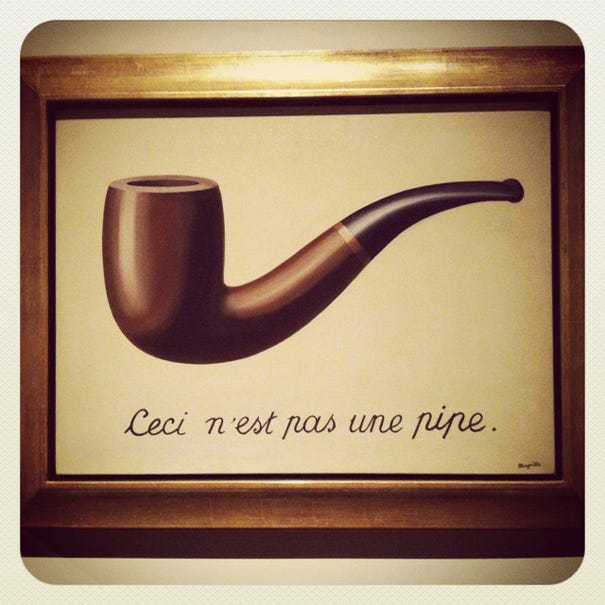 The highlight, though, was the exhibit called Metropolis.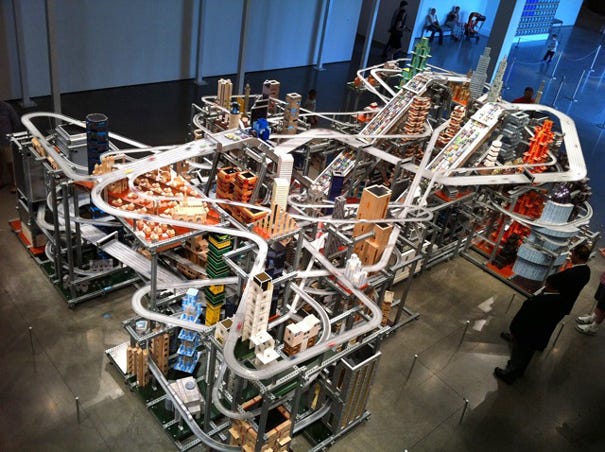 That image barely captures it. Speeding around a racetrack are 1100 toy cars that careen around corners, zoom down hills, and chug up conveyer belts in what feels like a giant metaphor for the way that we live our lives (in cities where we have to drive). If you're in L.A., you have to go see this. It's really incredible.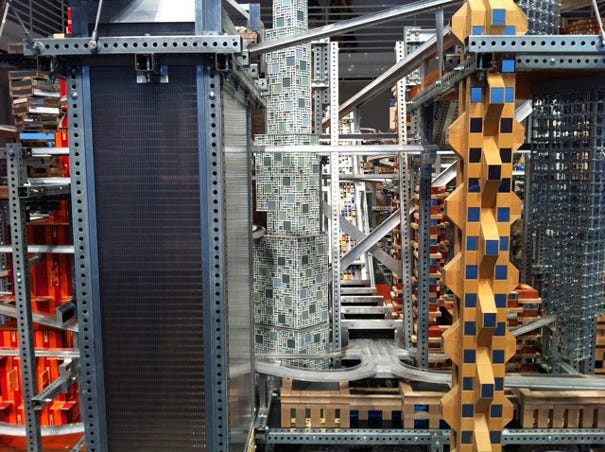 Poor Lolita got groomed last week. She's a very hairy cat, a Himalayan, and in New York I didn't get her groomed because you had to sedate her to do it, and in order to sedate her they had to do blood work and it always seemed more hassle than it was worth.

Here in L.A. there's no sedation requirement. They just hold the cat down and if she doesn't freak out, they clip her. And if she doesn't freak out after, they bathe her. So behold my freshly shorn kitty: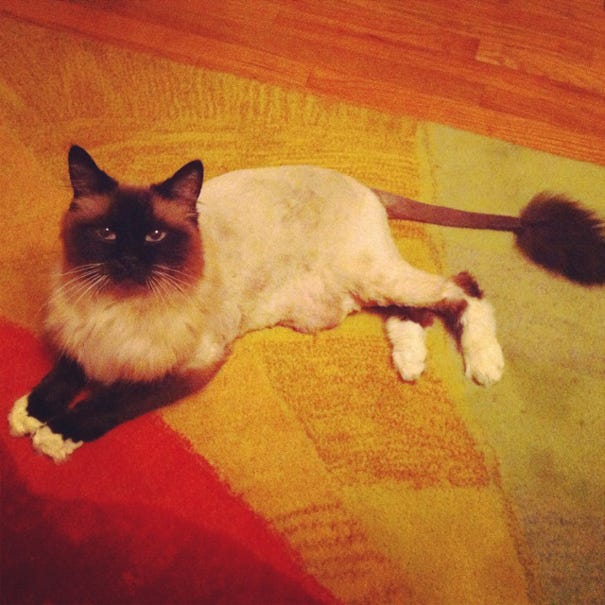 I'll admit: the tail's a little ridiculous. But Lolita seems way happier without her heavy coat to carry around everywhere; and we're happier too because now the cat's a cat and not a living duster tracking dust and kitty litter and hair all over the apartment. It's win-win.

There's this place in Los Feliz called House of Pies and I've always been curious about it.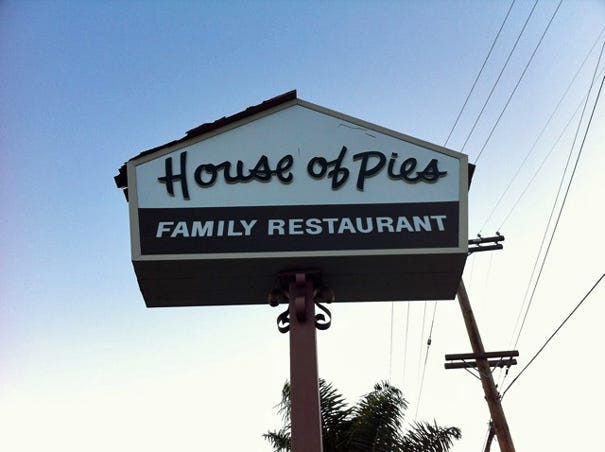 The best thing about it is that sign. The worst thing about it is: everything else.

I'm sure if you're in college or doing improv at the UCB, it's a fun place to hang out after a show. But the pie???

This was the Key Lime Pie I ordered: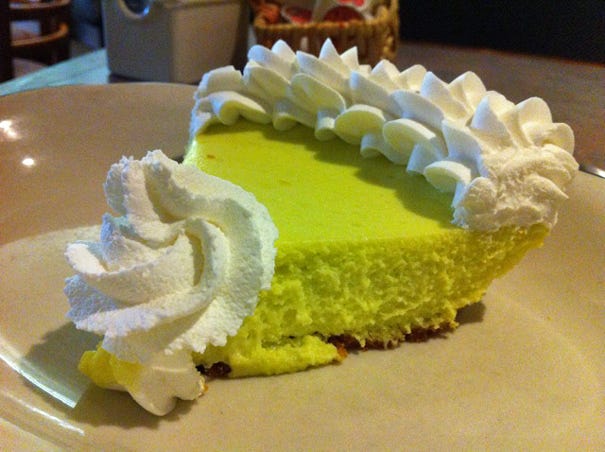 Do I really have to tell you how revolting this was? It had to have come from a box. Was the box marked "hazardous materials"? I'm thinking it was.

Weirdly, and this proves I'm an honest guy, I didn't hate the way it tasted. It had a pleasing synthetic taste that was reminiscent of actual Key Lime Pie; but when I thought about what I was eating, I put down the fork and got a check. The House of Pies is a place I don't feel any need to go back to again.

Finally, I had the Seafood Quesadilla at Senor Fish last week: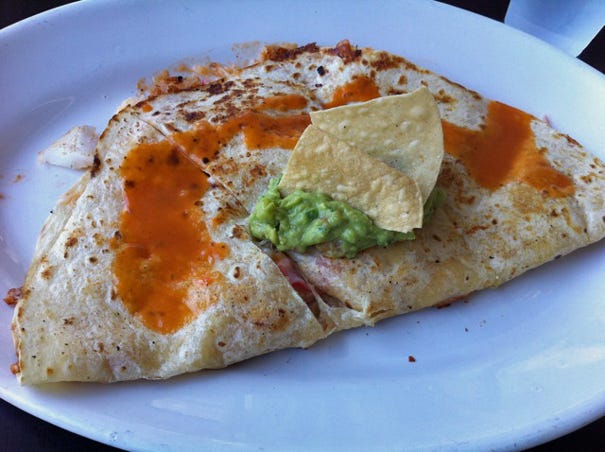 I found the idea of a seafood quesadilla intriguing and, indeed, there's something fascinating about the way Senor Fish loads seafood into this giant tortilla, folds it in half and grills it.

If they had stopped with fish and shrimp, I would've loved it; but there were these bright pink bits in there that I realized were chunks of imitation crab. I could be wrong, but I'm pretty sure I'm not. And that imitation crab kind of ruined the seafood quesadilla. Next time, I'll stick to shrimp tacos.

That's all for this week folks!

I got some cool news this morning: my book is on the list of Amazon's Big Fall Cookbooks. Pretty cool!

Until next week....

Your friend,
Adam (The Amateur Gourmet)
Reading this in a browser? Get next week's in your inbox by signing up here.

Follow Me!
On Twitter
On Facebook

Check Out My Cookbook!
Secrets of The Best Chefs

Recent Food Posts

Dinner at Rick & Chuck's (A Memory)

Blackberry Buttermilk Snacking Cake

One Bag of Beans, Three Meals (Balsamic Pork Chops, Chorizo Dinner Tacos & Breakfast Tacos)

Shaken Dosirak at Kang Ho Dong Baekjeong

The Marion Cunningham Tribute Dinner at Lucques

The Recipes We Leave Behind

How To Cook Fish For A Crowd

You Got Cookie / Share It Maybe

Hand Blender Salad Dressing

Hummus For Dinner

Blue Plate Oysterette

Let's Cut Open A Pink Lemon

Yes, I Fried Leftover Cornbread in Bacon Fat

Summer Black Bean Chili with East Coast Grill Corn Bread




*|LIST:DESCRIPTION|*

Unsubscribe *|EMAIL|* from this list.

Our mailing address is:
*|HTML:LIST_ADDRESS_HTML|*
Copyright (C) *|CURRENT_YEAR|* *|LIST:COMPANY|* All rights reserved.

Forward this email to a friend
Update your profile
*|IF:REWARDS|* *|HTML:REWARDS|* *|END:IF|*