A.G. Newsletter #90: Europane, Intelligentsia Pasadena, Fresh Corn Grill, Gay Yogurt & The Hungry Cat


Hey Newsletter Fans,

Ever wonder how to store strawberries so they don't lose flavor and don't get moldy? Click here for the solution.

And then check out this elaborate farmer's market-inspired dinner I made last week for visiting friends with a Green Goddess heirloom tomato salad, Haddock Chowder and Strawberry/Peach Shortcake.

Last Thursday, I found myself in Pasadena for an appointment and, using my impressive research skills, I deduced that the place to have lunch was Europane.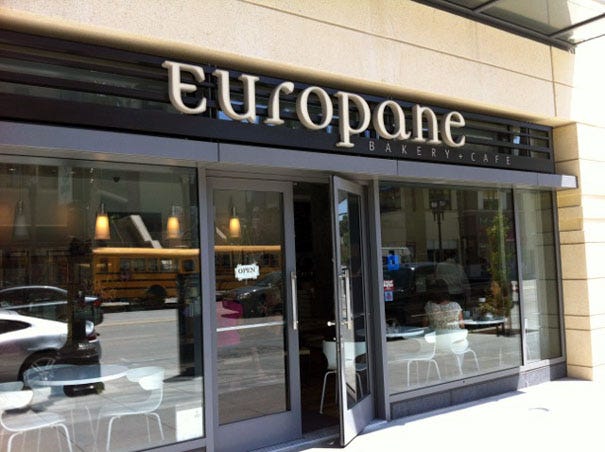 This charming cafe is famous for its egg sandwich which comes on toast shmeared with a sun-dried tomato spread. I was all set to order it but at the last second I asked the woman at the counter which she liked better, the famous egg sandwich or the seared chicken sandwich? She said "seared chicken" so that's what I ordered.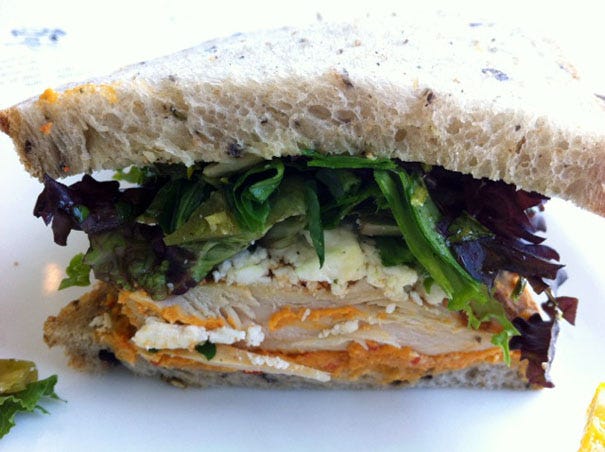 Reader, I'm not going to lie: I didn't love this sandwich. There were texture issues. Because the bread wasn't toasted, the shmear of hummus was just too mushy against the mushy bread... then the dry clumps of feta on top of overcooked pieces of chicken didn't help matters. There was supposed to be a salsa verde on there, but I hardly tasted it. Next time, I'm going for the egg sandwich.

Down the street is a charming outpost of Intelligentsia Coffee.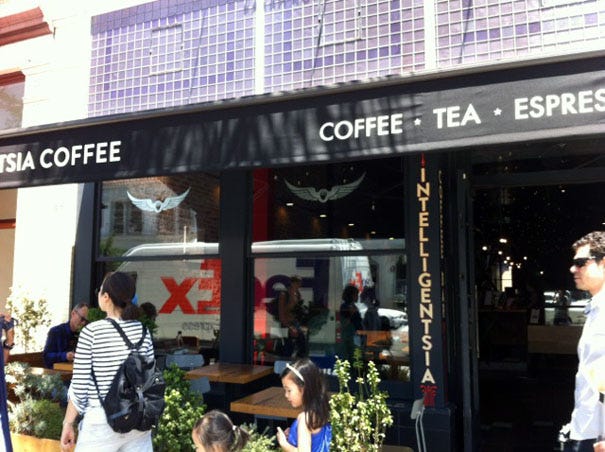 Inside things are nicely mellow: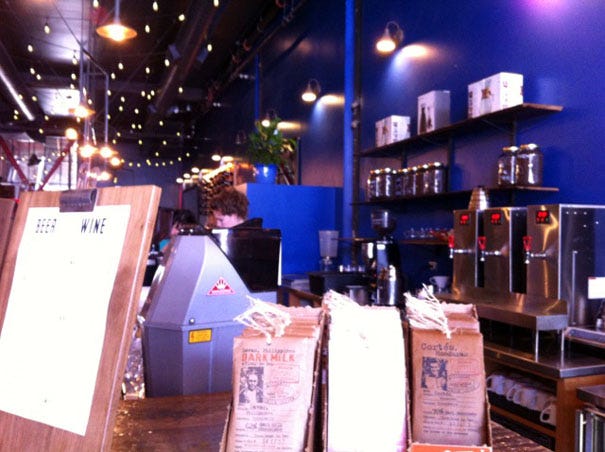 It'd be a good place to do work, so next time I head to Pasadena I may go early and station myself at Intelligentsia. (My drink there, by the way, is the Angeleno: which is espresso, milk, ice and sugar syrup shaken in a shaker until frothy. Like a hand-made frappucchino.)

Later in the week, I met my friend John for dinner in West Hollywood at a place called The Fresh Corn Grill. This is what you might call a gaystaurant; everyone eating there, the night we went, was a gay man or a female friend of a gay man. And the menu appeals to a gym-going gay demographic with food that's healthy without being boring.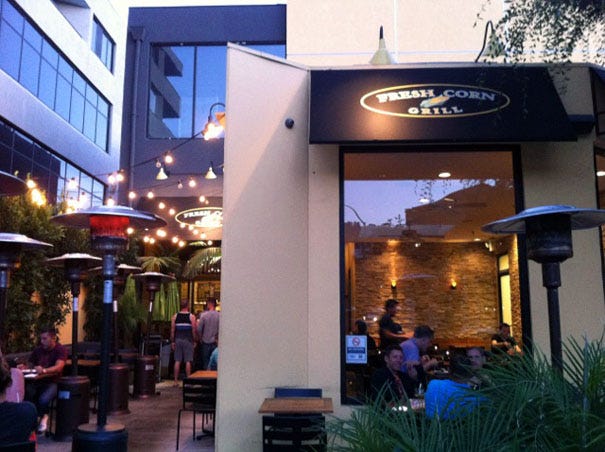 I have to tell you, no joke, I absolutely loved my dinner. Their turkey meatloaf is, hands down, the best turkey meatloaf I've ever had. Whereas most turkey meatloaf is painfully dry, this was incredibly moist. And I loved my sides of candied yams (made with real yams) and sauteed mushrooms.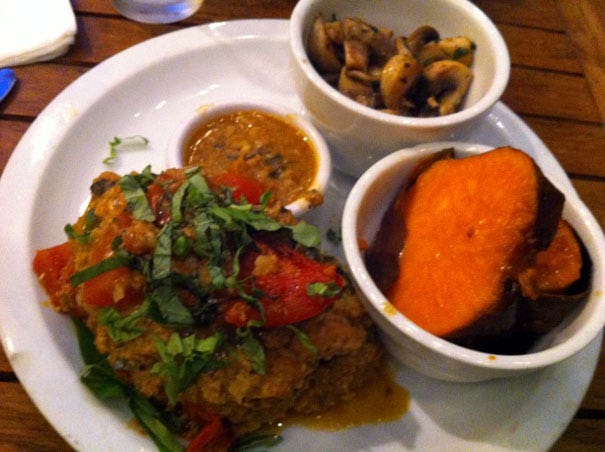 After dinner, John took me across the street for what could only be described as Gay Yogurt. If you don't believe me, let these pictures speak for themselves.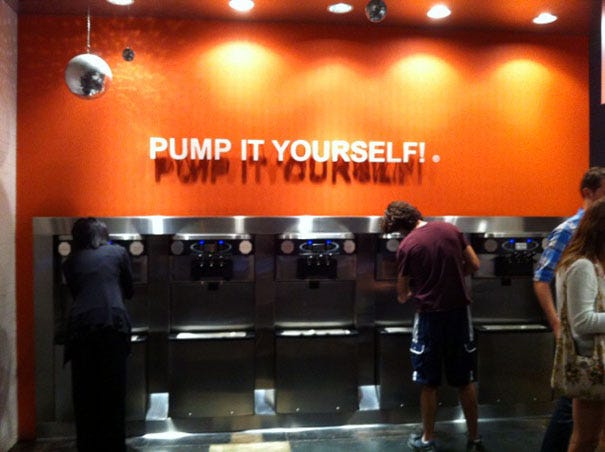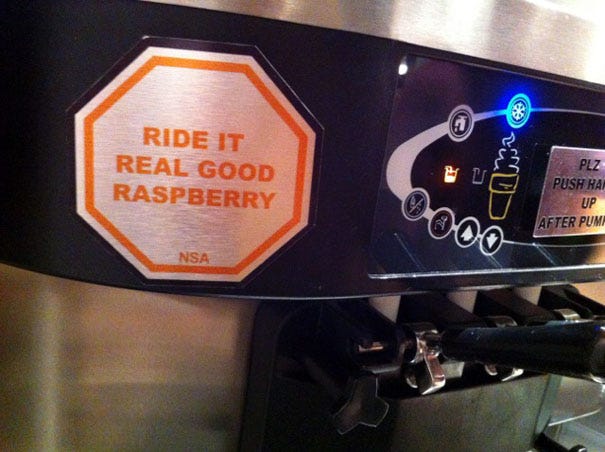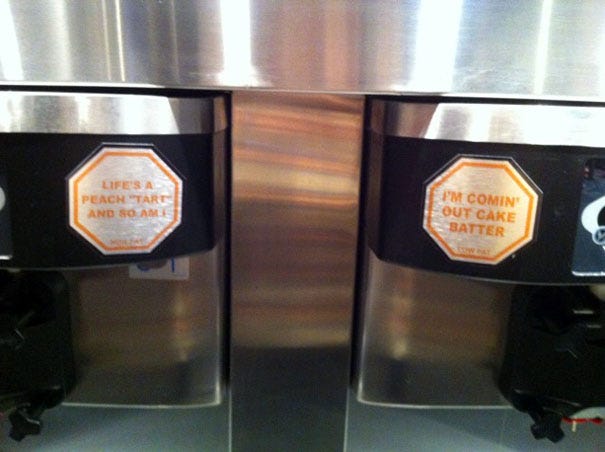 I went for the dulche de leche with a hit of chocolate. Here's the funny thing. This yogurt is supposedly healthy but then there's this topping bar, covered with crushed up candy bars: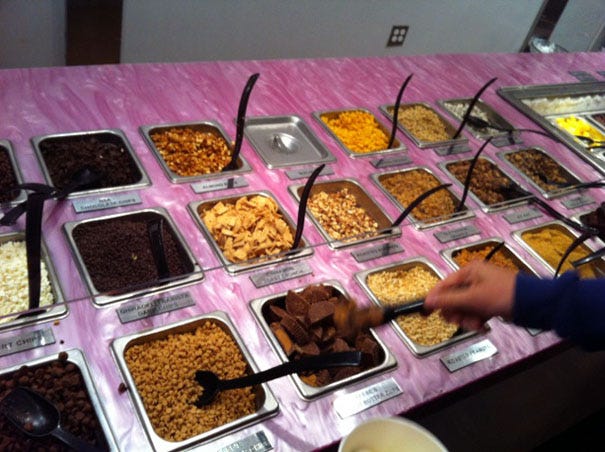 This provoked a pretty reasonable question from me: "With all of the calories in those toppings, what's the point of having frozen yogurt? Why don't they just sell ice cream?"

John responded the only way he could. "Shhhhh...don't talk about that."

So here's my frozen yogurt covered with candy: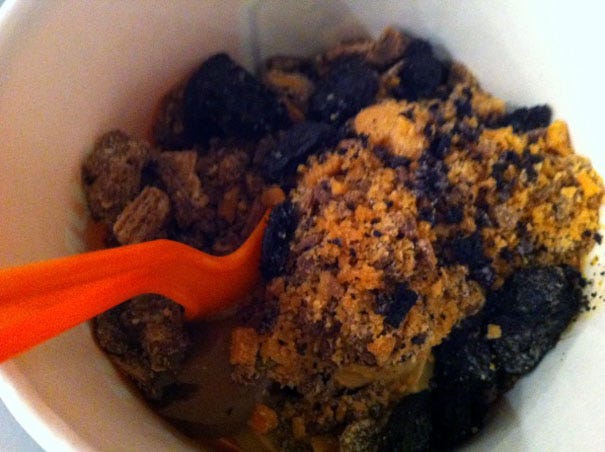 And I enjoyed it, I won't lie. But I think I'd still prefer ice cream.

Finally, on Saturday, Craig and I spent the afternoon watching the director's cut of Kenneth Lonergan's "Margaret." The only way to see this is to buy the Blue-Ray DVD online and then to throw away the Blue-Ray disc (which doesn't contain the director's cut) focusing, instead, on Lonergan's 3-hour masterwork on Disc 2.

"You Can Count On Me" is one of my favorite movies, so I watched "Margaret" with great interest. It's a really wonderful movie; thoughtful, funny, eventful, sad, frustrating, angering---you'll run a whole gambit of emotions watching it. And the real tragedy is that no one will ever see this movie; because of his fight with the studio, the movie never came out. So if you're a Lonergan fan, do yourself a favor and buy it. Or come over and watch our copy.

Afterwards, I was a little too zonked to make dinner. So we walked over to The Hungry Cat which is right across the street from the Arclight and has a menu designed by one of my favorite L.A. chefs, Suzanne Goin.

I started with a cocktail called the Contra Code which had flor de cana 7 year aged rum, house-made aprium preserves, and lemon. (Don't ask me what any of that means, but I enjoyed it.)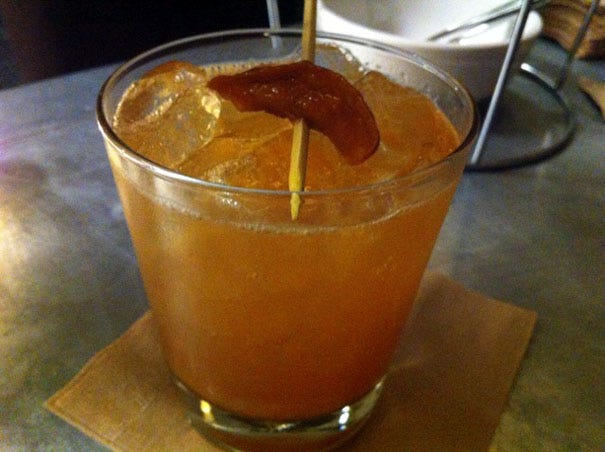 After some discussion, we decided to start with a raw scallop ceviche with fried avocados and homemade chips: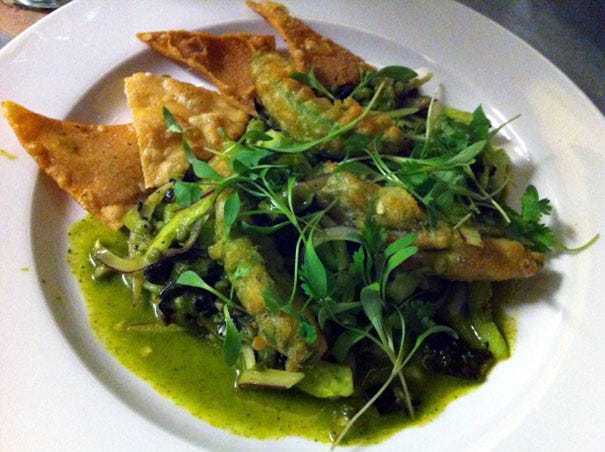 Then we had a small seafood tower, which was basically our entree. Check it out: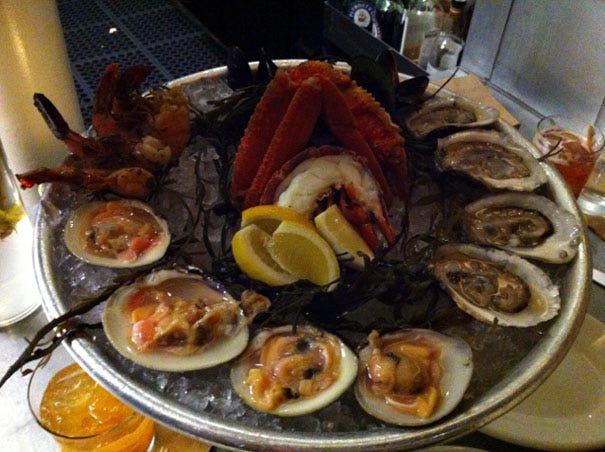 There were oysters, clams, mussels, green mussels, peel-and-eat shrimp, crab legs and half a lobster tail. It was a lot of fun and surprisingly not too expensive.

After that, we shared an heirloom tomato watermelon salad with feta: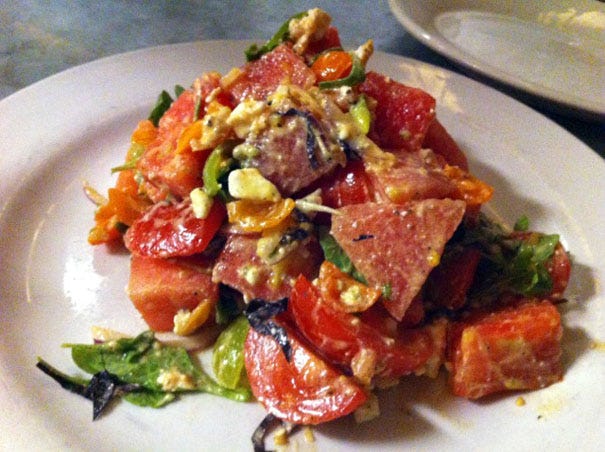 Of course, we had to order dessert. Craig opted for a cheese plate: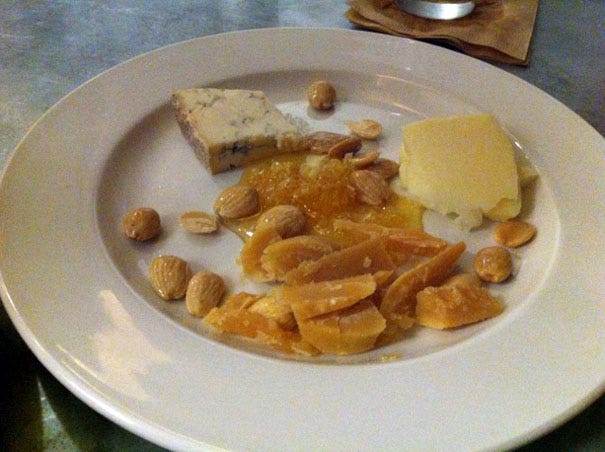 And I had the Hungry Cat's famous bread and butter chocolate pudding: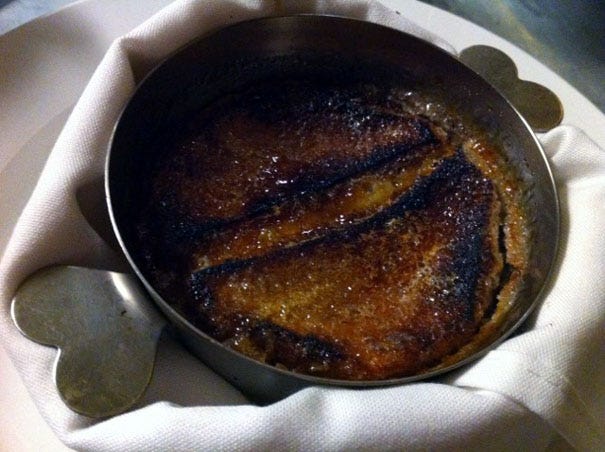 Check out the deep dark color of the top layer---that's almost like a creme brulee it was so carmelized and crunchy. Inside was a light and fluffy bread pudding that didn't make me feel guilty at all. I don't want to know what really went in it. (Actually, I know what went it because I once made it back in 2006.)

That's all for this week folks!

Until next time....

Your friend,
Adam (The Amateur Gourmet)

Reading this in a browser? Get next week's in your inbox by signing up here.

Follow Me!
On Twitter
On Facebook

Check Out My Cookbook!
Secrets of The Best Chefs

Recent Food Posts

Rodded & Ramen Jinya

A Food Q&A with "Beasts of the Southern Wild" Screenwriter, Lucy Alibar

Sweet Potato Chipotle Hash

"The Finest Hot Pastrami Sandwich in the World" (Lunch at Langer's)

Granola, Yogurt, and Peach Parfaits in Mason Jars

Dinner at Rick & Chuck's (A Memory)

Blackberry Buttermilk Snacking Cake

One Bag of Beans, Three Meals (Balsamic Pork Chops, Chorizo Dinner Tacos & Breakfast Tacos)

Shaken Dosirak at Kang Ho Dong Baekjeong

The Marion Cunningham Tribute Dinner at Lucques

The Recipes We Leave Behind

How To Cook Fish For A Crowd

You Got Cookie / Share It Maybe

Hand Blender Salad Dressing

Hummus For Dinner

Blue Plate Oysterette

Let's Cut Open A Pink Lemon

Yes, I Fried Leftover Cornbread in Bacon Fat

Summer Black Bean Chili with East Coast Grill Corn Bread




*|LIST:DESCRIPTION|*

Unsubscribe *|EMAIL|* from this list.

Our mailing address is:
*|HTML:LIST_ADDRESS_HTML|*
Copyright (C) *|CURRENT_YEAR|* *|LIST:COMPANY|* All rights reserved.

Forward this email to a friend
Update your profile
*|IF:REWARDS|* *|HTML:REWARDS|* *|END:IF|*