A.G. Newsletter #92: Jinpachi, Wolfe Burgers, Rena's Wedding, & The Steelhead Diner


Hey fans of the Amateur Gourmet Newsletter,

I was off the grid last week in the Pacific Northwest on an island called Eliza, where Craig's family has a cabin. It's pretty much heaven on earth. Click HERE to read all about it and how my time there was part of an effort to reclaim my brain from the clutches of the internet.

Before I left, I checked out two new places here in L.A. One was a sushi place that Chef Suzanne Goin mentioned in an interview as her favorite, Jinpachi in West Hollywood.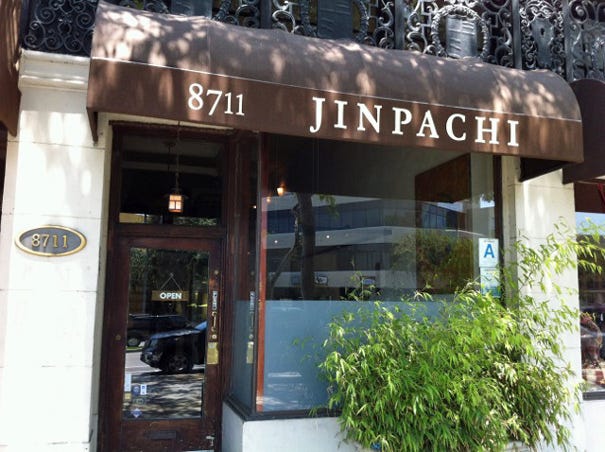 I forget the specific deal ($15-ish?) but at lunch you get a soup, salad and this platter of lovely looking sushi.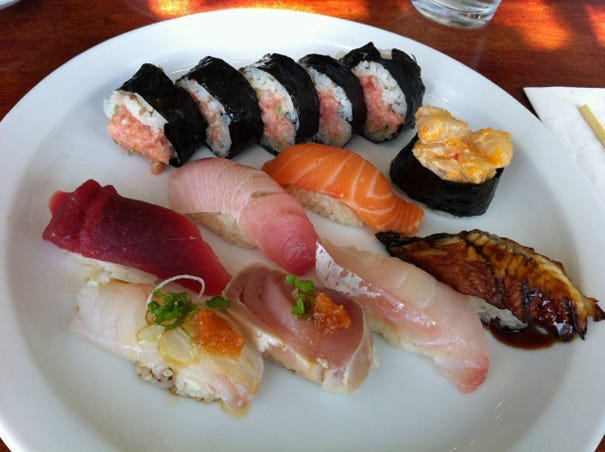 I enjoyed everything about it except for the mandatory spicy tuna roll which as a bit too mayo-rich to justify this as a healthy lunch. And I usually eat sushi when I'm craving a healthy lunch, so I figure next time I'll get the Chirashi special. Still: this was all good stuff.

Later that week, I elected to have a purposefully non-healthy lunch at Wolfe Burger in Pasadena. The place is like the cross between a charming family-run burger business and a totally synthetic fast food joint. You could say pretty much the same thing about their burger and fries.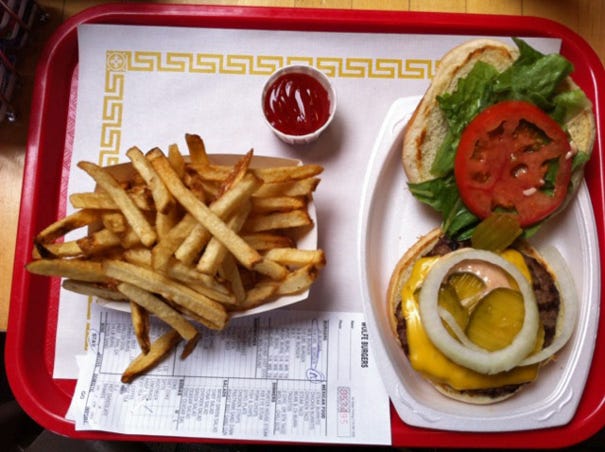 On the one hand, it looks very much like an ordinary fast food burger experience. The fries look like normal fries, the burger is a thin patty, charbroiled, and topped with conventional burger toppings.

But, actually, everything here was better than a typical fast food burger experience. The fries were fresh-tasting and crispy. The burger had that wonderful balance of being almost charred crisp on the outside while still being tender and moist on the inside. And you can top the burger with whatever you want at the topping bar which is kind of fun.

So Wolfe Burgers gets an "A" from me.

Now part of the reason we went to Seattle was to vacate our brains on Eliza Island. The other reason was that our friend Rena (here's her A.G. tab) was getting married. Her wedding was so lovely; it was held in her parents backyard. Rena, who was the art director on Craig's movie "True Adolescents," really knows how to make things beautiful...even for her own wedding. I loved this fabric she hung from a tree.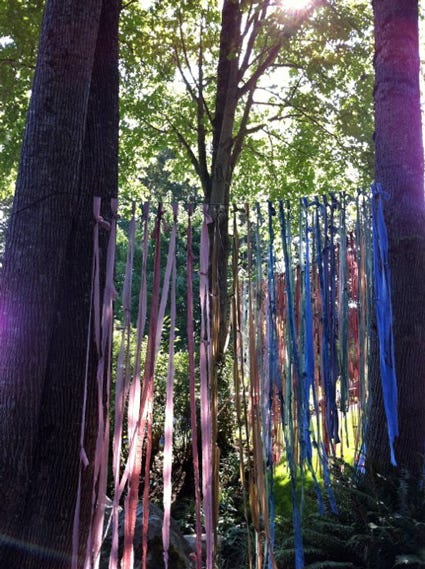 And here's the full scene.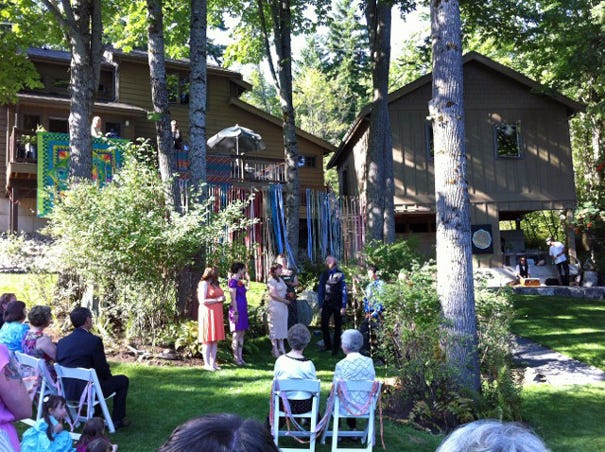 So glad I got to be there. Plus, the food was really top notch.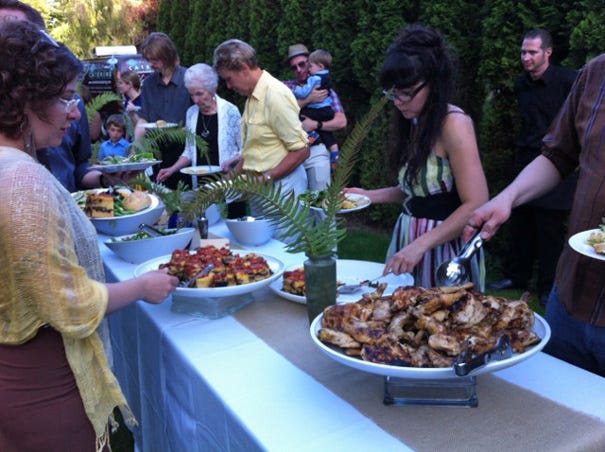 Congrats, Rena and Aubrey!

Finally, after our time on Eliza, Mark, Diana, Craig and I spent the day in Seattle. We loved our lunch at Sitka and Spruce so much, I'm going to blog about it again. And we thoroughly enjoyed our time walking around Capitol Hill, visiting Elliott Bay book store and touristing our way around Pike Place Market.

For dinner we popped into The Steelhead Diner (I cooked with the chef, Kevin Davis, for my cookbook). Mark had the famous crab cake and the razor clam chowder: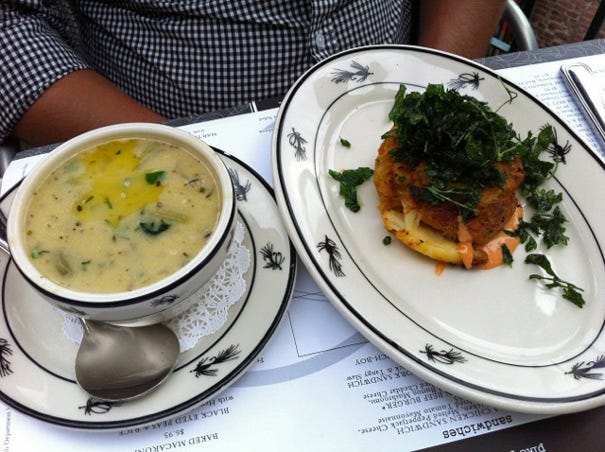 Diana had the Cioppino: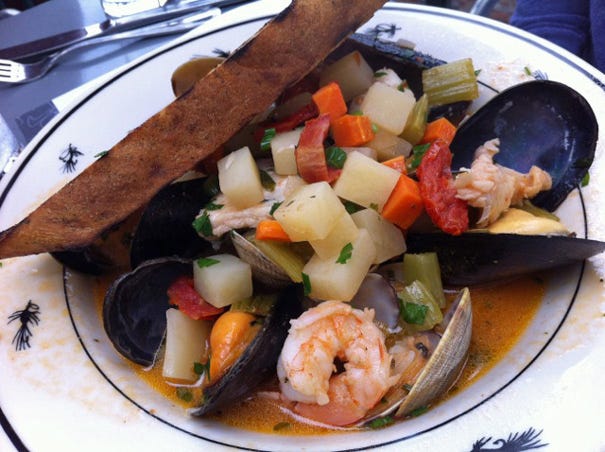 And Craig and I each had a chicken sandwich because I think we were a little seafooded out: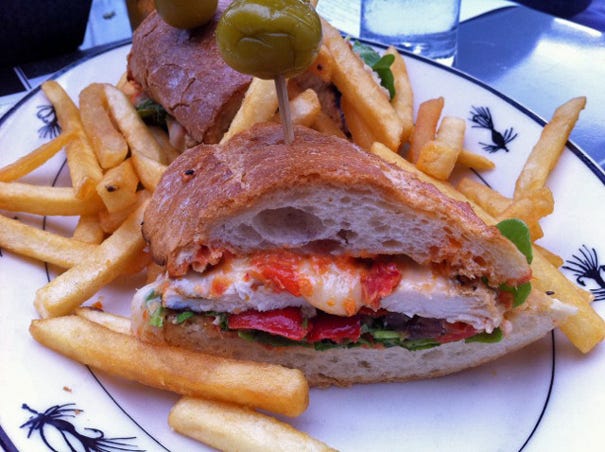 The fries were even crispier than the ones at Wolfe Burger and the sandwich, while simple, was smartly topped with a sun-dried tomato spread and a peppadew relish which gave everything great zing.

That's all for this week folks!

Be sure to check the blog over the next few days. I'll be writing about the Northwest Washington Fair, our return to Sitka and Spruce and dinner at The Oyster Bar in Bellingham.

Until next time.

Your friend,
Adam (The Amateur Gourmet)


Reading this in a browser? Get next week's in your inbox by signing up here.

Follow Me!
On Twitter
On Facebook

Check Out My Cookbook!
Secrets of The Best Chefs

Recent Food Posts

Heirloom Tomatoes for Dinner

A Meditation on Green and Yellow Sour Patch Kids

Drunk Blondies

Two Days in the San Gabriel Valley: Lunches at Tasty Noodle House

Buttermilk Cornmeal Pancakes

A-Frame

Bacon Bolognese

A Summertime Farmer's Market Feast (Green Goddess Heirloom Tomato Salad, Haddock Chowder & A Strawberry/Peach Shortcake)

How To Store Strawberries

Rodded & Ramen Jinya

A Food Q&A with "Beasts of the Southern Wild" Screenwriter, Lucy Alibar

Sweet Potato Chipotle Hash

"The Finest Hot Pastrami Sandwich in the World" (Lunch at Langer's)

Granola, Yogurt, and Peach Parfaits in Mason Jars

Dinner at Rick & Chuck's (A Memory)

Blackberry Buttermilk Snacking Cake

One Bag of Beans, Three Meals (Balsamic Pork Chops, Chorizo Dinner Tacos & Breakfast Tacos)

Shaken Dosirak at Kang Ho Dong Baekjeong



*|LIST:DESCRIPTION|*

Unsubscribe *|EMAIL|* from this list.

Our mailing address is:
*|HTML:LIST_ADDRESS_HTML|*
Copyright (C) *|CURRENT_YEAR|* *|LIST:COMPANY|* All rights reserved.

Forward this email to a friend
Update your profile
*|IF:REWARDS|* *|HTML:REWARDS|* *|END:IF|*