A.G. Newsletter #93: Book Arrival, Sublet My Apt., La Otra Taqueria Escuela, Pickles, Fig & Olive


Hey A.G. newsletter fans,

Today's blog posts offer some exciting news...

1. I saw my finished cookbook for the first time this weekend! I captured the whole moment on video, so click here to share it with me.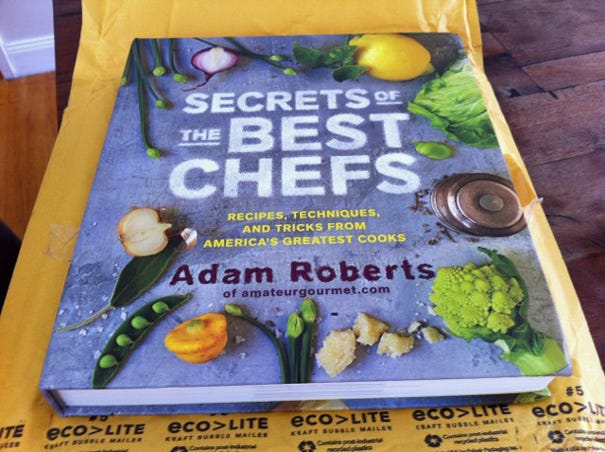 2. We're looking for a subletter to take our L.A. apartment from 9/15 through 12/15... because we're heading to New York for three months! Click here for more info and if you're interested (or know someone who might be) let us know ASAP before we use AirBNB.com.

Now then...

Last Friday, I met my buddy Zach Brooks for lunch at a place called La Otra Taqueria Escuela (which I'm pretty sure means: The Other Taco School.) (Does that mean there's an original taco school?)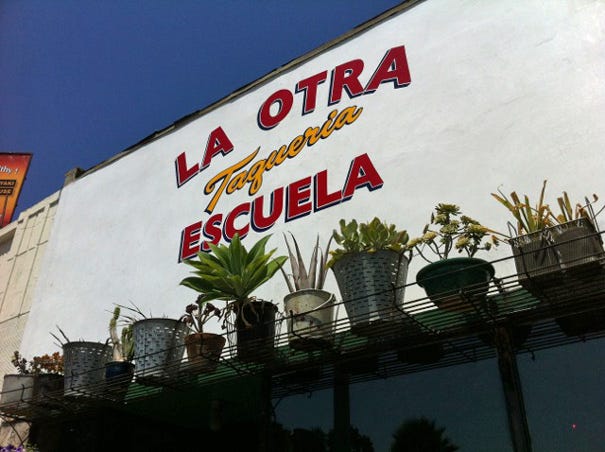 It's located on a cool part of Beverly, near where I had lunch with Aida Mollenkamp at BLD.

Zach was slightly dubious about the food, saying it was a "hipster taco place" as opposed to the more authentic taco trucks and restaurants that make L.A. such a great destination for Mexican food.

The chips weren't as crisp as they could be, the salsa was watery, though the guac was pretty OK.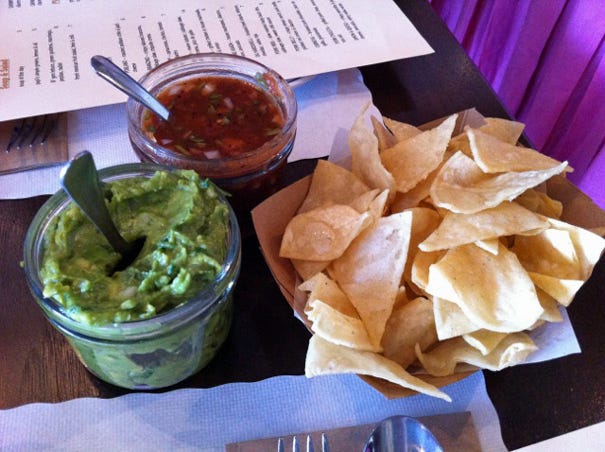 I enjoyed the watermelon Agua Fresca, which I found refreshing.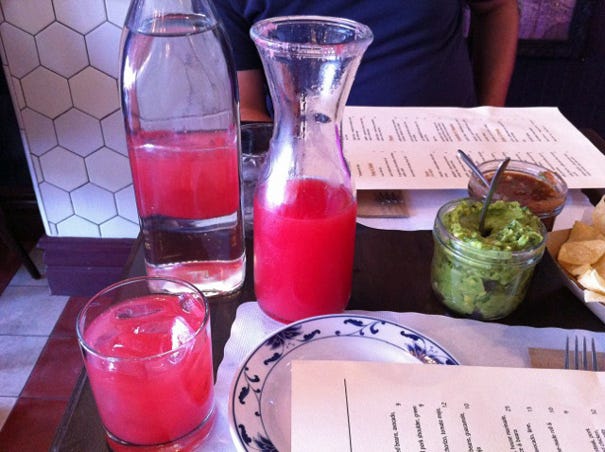 As for the tacos, we both really liked--somewhat guiltly--the pork rib taco which had a sticky sweet glaze on it that was entirely inappropriate, yet delicious.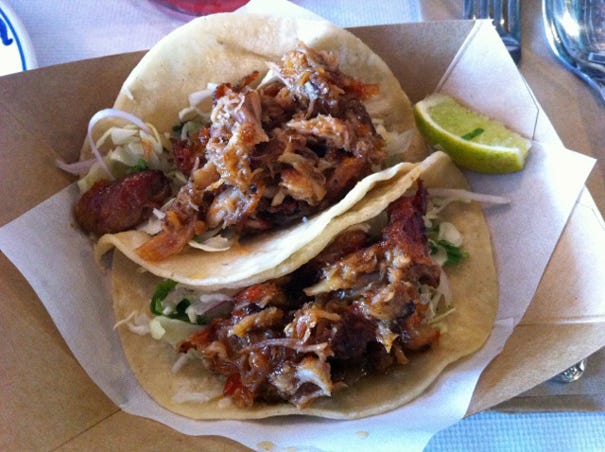 The Branzino tacos were also pretty impressive, with their seared skin and elegant presentation.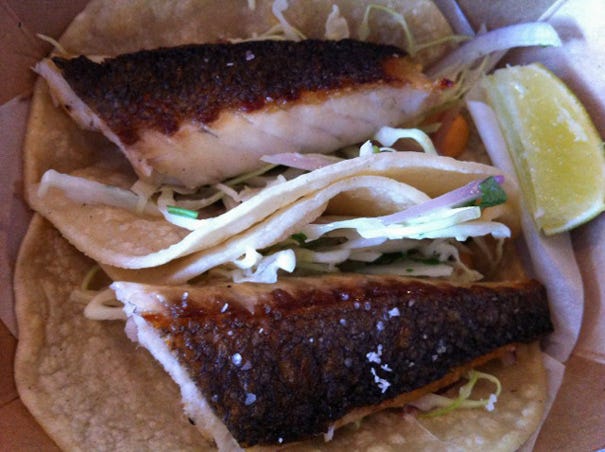 The carne asada tacos were standard fare and the least memorable of the bunch.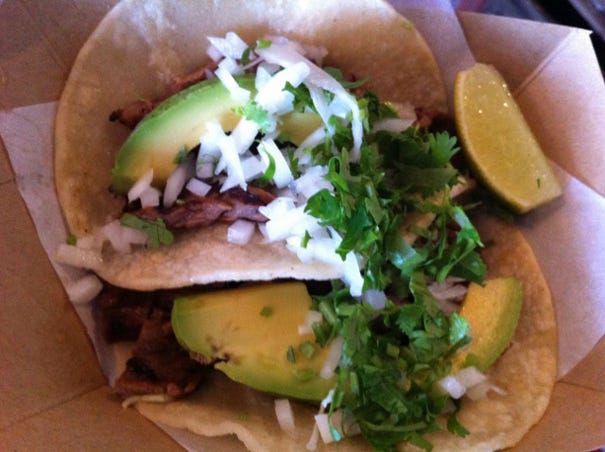 All-in-all, this taco school is a good place to know about in this fun neighborhood. I still prefer Loteria for food of this sort, but you can't ONLY eat at Loteria for Mexican food, can you? No you can't.

I've been going to the West Hollywood Farmer's Market every Monday because the Sunday market in Hollywood is too early for a weekend (get up early on a Sunday? Get out of my pajamas to go food shopping? No way!)... The Monday market is right on my route, so I stop there and buy peaches and vegetables and then use them for Monday and Tuesday night dinners.

The salads I've been making have been pretty wonderful... I'm going to blog about them tomorrow.

But last week, I found I had leftover beets, turnips, and multi-colored carrots. So I decided to pickle them using Linton Hopkins' recipe from SECRETS OF THE BEST CHEFS.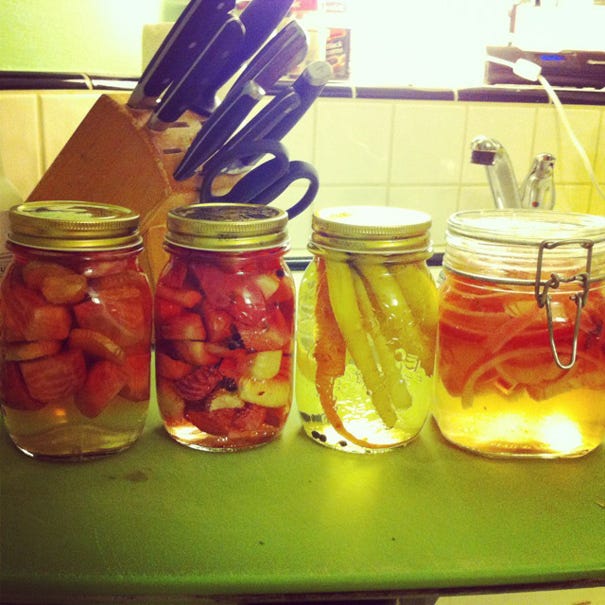 It's a wonderful recipe because it's a simple combination of vinegar, sugar and salt that you can pour over almost anything. If the jars are really clean, you don't have to process them afterwards... just keep them in the fridge and eat the pickles within 2 or 3 weeks.

On the left you'll see beets with pieces of ginger; the 2nd jar (my favorite) has beets and turnips; the 3rd, unpeeled multi-colored carrots (based on the ones we ate at A-Frame) and the 4th jar, pickled onions.

Those pickled onions made several guest appearances throughout the week. They went great with my standard roast chicken and potatoes...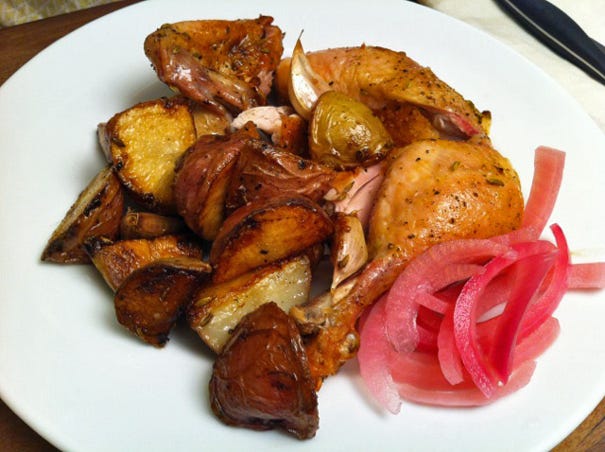 ...and also on this breakfast dish I made with eggs and bread and chipotles in adobo (I'll blog that one on Friday).

Finally, Craig's cousin Katie had her birthday last week and we celebrated with her and her family at Fig & Olive on La Cienega and Melrose.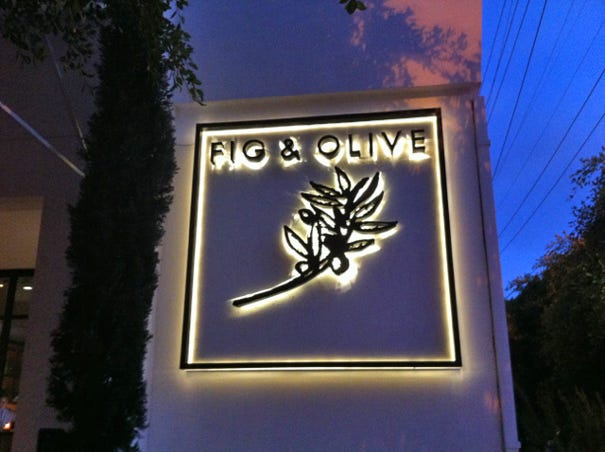 The vibe at Fig & Olive is incredibly sleek and hip and modern. The bathroom is so sleek and modern, in fact, that the shape of the sink caused me to splash water all over myself... as I blogged about last week.

But let's forgive them that... especially when the drinks are so good.

I absolutely loved my cocktail, the Positano which had Aperol, Cocchi, fresh grapefruit juice, topped with Italian sparkling water.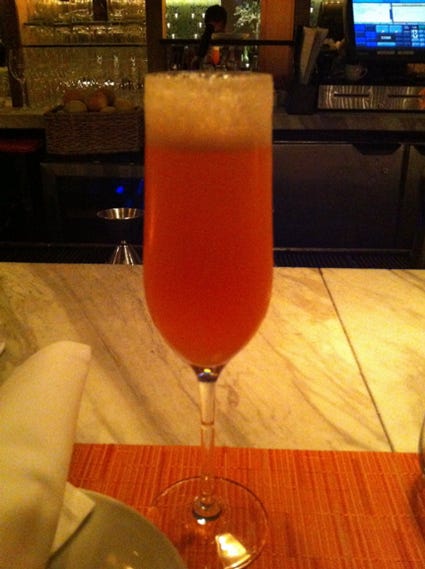 A little bit like a Negroni, a little bit like a bellini. It's worth going just for that.

Here's the room, in case you want to check out the scenery.




After that, it gets too dark to really see the food. We enjoyed the crostini... and my salad (their signature salad) was pretty good with its combination of fresh figs and cheese.

The lamb chops came under a big smoky dome...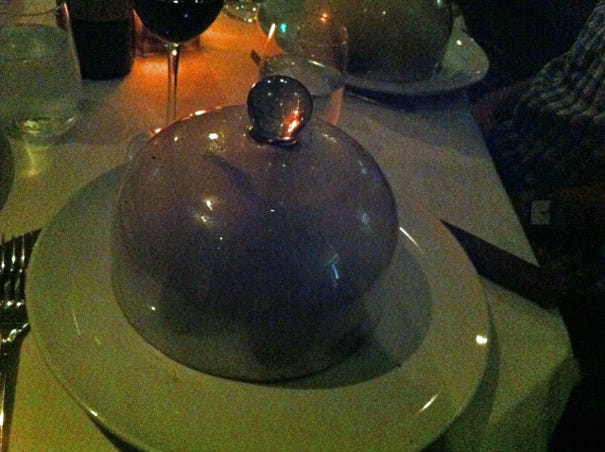 Voila!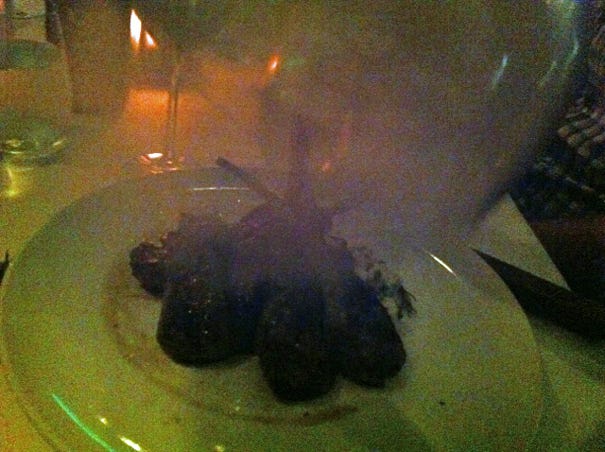 They were meaty and well-cooked, if a little bit uninspired.

In fact: that's my take on the whole place. I'm realizing now that it's a chain (with locations in New York) so, for a chain, it's pretty impressive... but the dishes still follow a set formula. They're not the work of some inspired genius who, on the spur of the moment, decides to use that day's farmer's market haul in some totally original way.

But we all had fun and Katie had an excellent birthday. Here she is with her parents, Chris and Liz.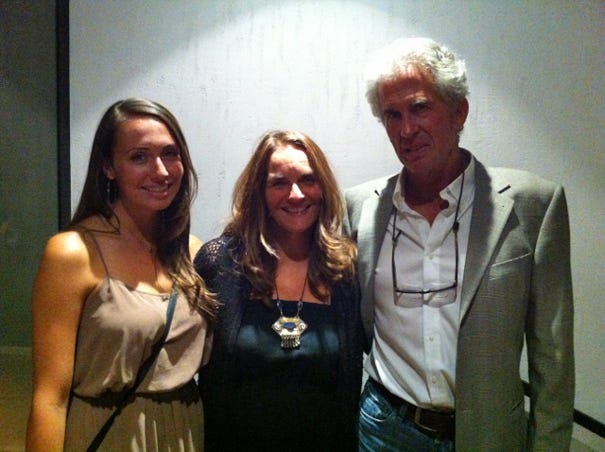 Happy birthday, Katie! And thanks Chris and Liz for including us in her celebratory dinner.

That's all for this week, folks.

I've got some busy stuff to do... have to get Lolita to the vet so I can fly with her on 9/14. And I have to catch up on lots of e-mails, phone calls, you know the drill.

Until next time!

Your friend,
Adam (The Amateur Gourmet)


Reading this in a browser? Get next week's in your inbox by signing up here.

Follow Me!
On Twitter
On Facebook

Check Out My Cookbook!
Secrets of The Best Chefs

Recent Food Posts

A Return to Sitka & Spruce

The Oyster Bar (Bellingtham, Washington)

Splashed By A Badly Designed Sink in a Restaurant Bathroom

The Northwest Washington Fair

Things I've Been Spreading on My Toast

Surfacing on Eliza Island

Heirloom Tomatoes for Dinner

A Meditation on Green and Yellow Sour Patch Kids

Drunk Blondies

Two Days in the San Gabriel Valley: Lunches at Tasty Noodle House

Buttermilk Cornmeal Pancakes

A-Frame

Bacon Bolognese

A Summertime Farmer's Market Feast (Green Goddess Heirloom Tomato Salad, Haddock Chowder & A Strawberry/Peach Shortcake)

How To Store Strawberries

Rodded & Ramen Jinya

A Food Q&A with "Beasts of the Southern Wild" Screenwriter, Lucy Alibar

Sweet Potato Chipotle Hash





*|LIST:DESCRIPTION|*

Unsubscribe *|EMAIL|* from this list.

Our mailing address is:
*|HTML:LIST_ADDRESS_HTML|*
Copyright (C) *|CURRENT_YEAR|* *|LIST:COMPANY|* All rights reserved.

Forward this email to a friend
Update your profile
*|IF:REWARDS|* *|HTML:REWARDS|* *|END:IF|*