A.G. Newsletter #95: 10 Favorite L.A. Restaurants, Little Dom's, Mel's Drive-In, In-N-Out, Square One & Cafe Gratitude


Hey readers of the Amateur Gourmet newsletter,

First things first. After I sent my newsletter out last week, I did a post the next day of MY TEN FAVORITE L.A. RESTAURANTS. If you missed it, and even if you don't live here, I still think you may get a kick out of it. Lots of alluring pictures of L.A. food (the food I'm most going to miss when I'm in New York for the next 3 1/2 months. I leave Friday!). If you missed my post comparing L.A. to New York, you might want to read that too.

Then, this morning, I did a post about my new favorite use for leftover chicken: Quinoa with Chicken, Roasted Broccoli and Balsamic Vinaigrette.

So that's what you missed.

And now for newsletter business!

Last week, I ate lunch at Little Dom's Deli and really didn't enjoy the beets.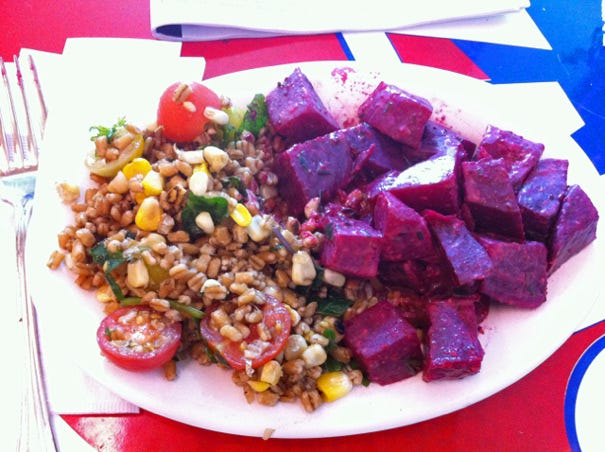 At first, I thought they might be canned beets (they had that water-logged quality) but didn't think Little Dom's would use canned beets. So maybe they were just watery beets. Either way, there were way too many of them on my plate (which was my own fault because you order salads at the deli by the 1/4 pound). I much preferred the farro salad which came with heirloom tomatoes, corn and basil. If my plate had been 3/4ths farro and 1/4th beets, lunch would've been a lot happier.

After a night out with Craig's sister Kristin, his aunt and uncle and my parents (we went to Loteria on Hollywood then walked over to the Chinese Theater and the Roosevelt Hotel), Kristin was craving a malted. So we popped into Mel's Drive-In which is, admittedly, touristy but a good place for malteds. I mean: how much can you screw up blending together ice cream and milk?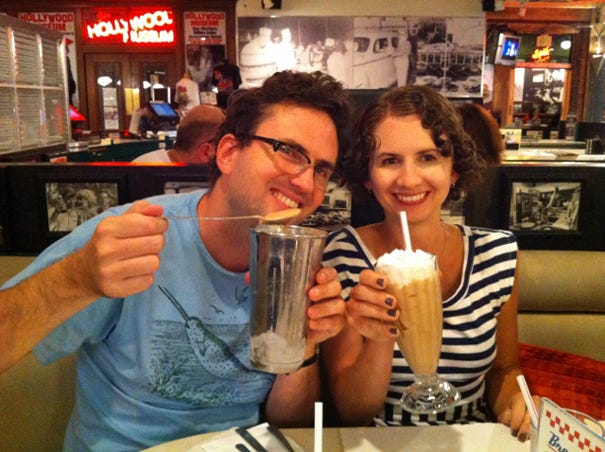 So there's Craig and Kristin sharing a chocolate malted, which they enjoyed.

And here's the vanilla shake I ordered for myself.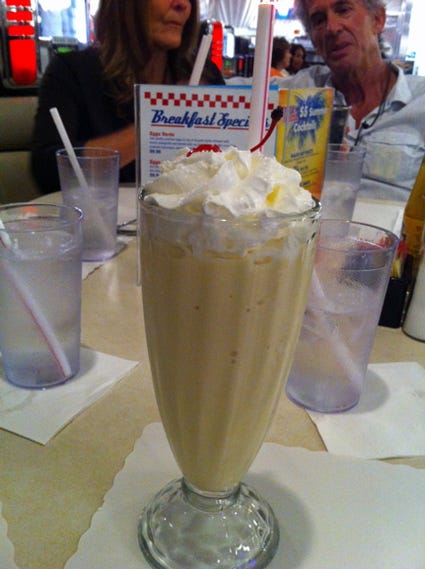 It was pretty disgustingly sweet, but I did enjoy it. I just had to stop myself after 18 sips.

On Friday night, before seeing my friend Drew Droege do a show about the Chloe Sevigny character he plays (see here, for example), Kristin---who's visiting from Bellingham, WA--requested we go to In-N-Out because she's never been there.

I ordered myself the obligatory Double Double Animal Style (click there for a post about that):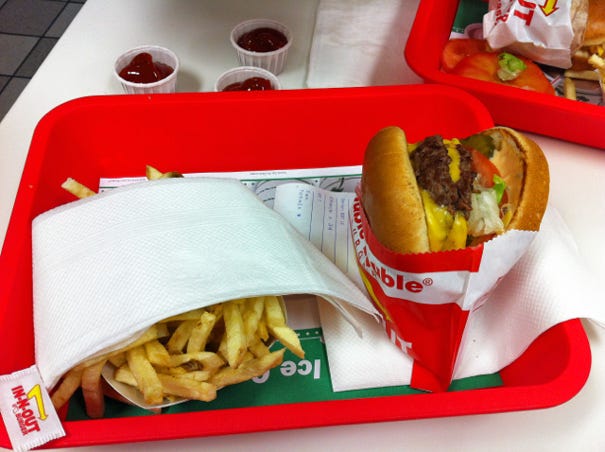 And here's Kristin with her animal-style cheeseburger: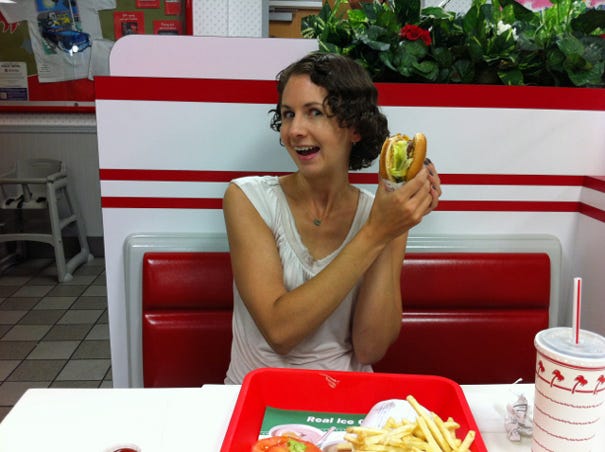 Everything tasted good, but I think I may be done with fast food hamburgers. After reading about In-N-Out's abuses recently, I felt kind of guilty eating that burger. It's not like I have to swear off burgers, it's just that fast food burgers feel particularly heinous. That said, the place was packed and there's something nice about joining in such a classic American ritual. It's not like I'd prefer to pay $16 for a boutique fancy restaurant burger; maybe I should just be more mindful about where the meat's coming from.

On Sunday, I met my friend John for brunch at Square One on Fountain. The food isn't revolutionary or anything, but it's always good... I had the migas tacos.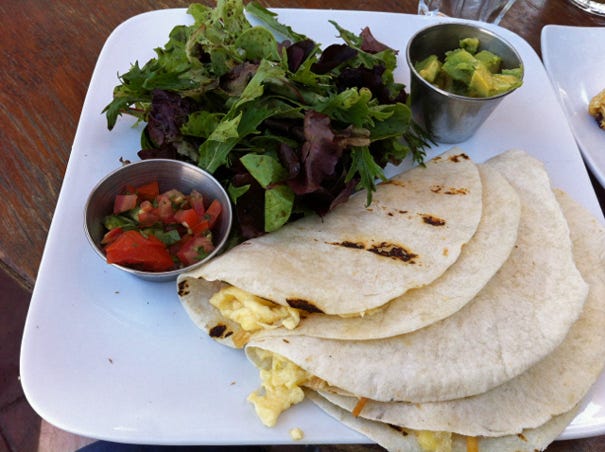 And John had the breakfast burrito.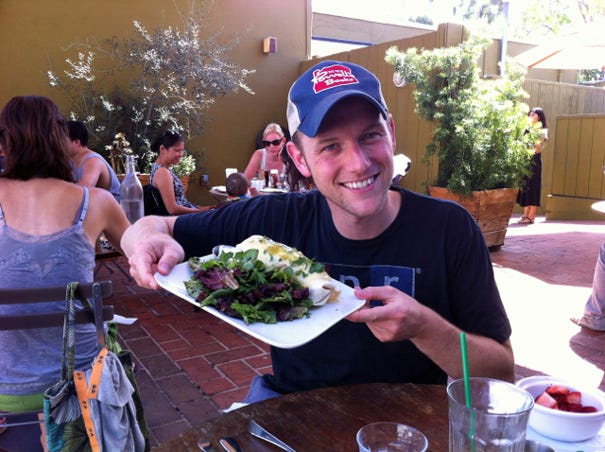 Everything tasted good and, best of all, the iced coffee was bottomless... the waitress kept refilling our glasses until we were so buzzed, we were floating out of our seats.

I saved the best for last, newsletter readers. Last night we ate at Cafe Gratitutde which is the most unintentionally hilarious L.A. restaurant I've visited so far.

I mean, look at the menu.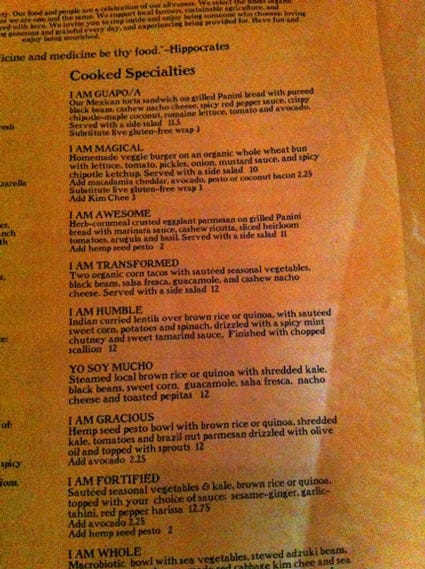 If ever there were a hippie dippy restaurant, this is it. After the waitress took our order (I had the "I Am Humble") she told us all the question of the day was: "Who should you forgive?"

Yes, really.

But ya know what? This vegan restaurant makes some pretty excellent food. The zucchini cilantro hummus tasted really fresh and flavorful.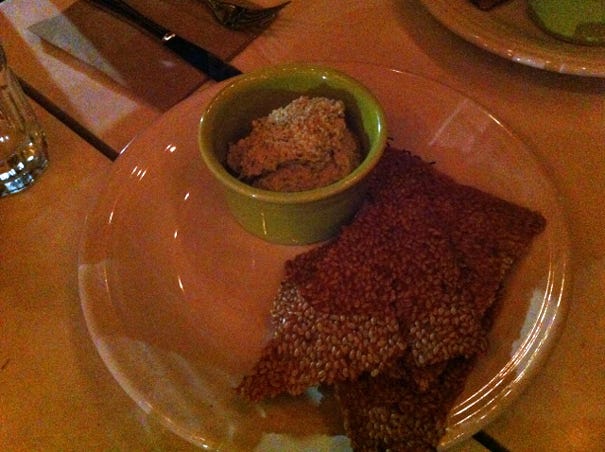 And I really enjoyed "I Am Humble" which was really just curried lentils over a combination of quinoa and brown rice.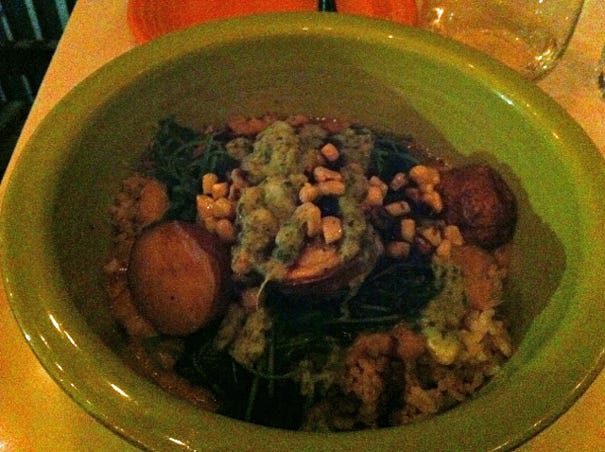 The best part was the acidic green sauce on top of everything--it perked up all the flavors. The next time you serve something really brown and cooked like curried lentils on brown rice, pep it up with a green sauce like this (I imagine it's herbs blended with lemon juice and some kind of oil).

For dessert, we all couldn't believe that the chocolate coconut cream pie didn't have cream or eggs in it: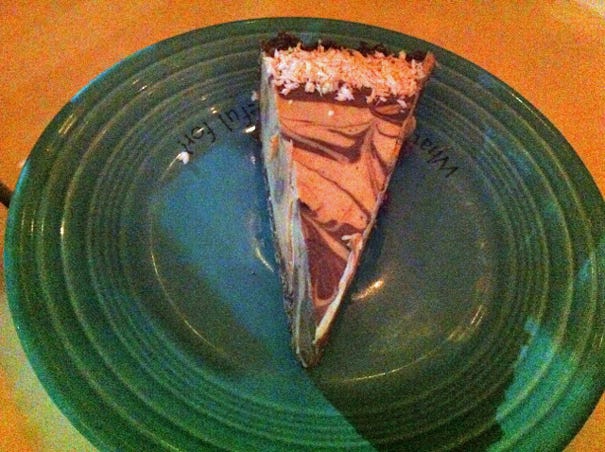 Apparently it's made with silken tofu. It was hard to stop eating, so I suppose silken tofu desserts can be delicious too.

That's all for this week folks!

Tomorrow I'm shipping some of my cooking gear to New York; then Friday's the big day. I have to drug my cat and carry her through security, so that should be stressful. But at the end of the day, I'll be back in New York and ready to tackle the city like old times. If you live there, maybe I'll see you around!

Until next time....

Your friend,
Adam (The Amateur Gourmet)
Reading this in a browser? Get next week's in your inbox by signing up here.

Follow Me!
On Twitter
On Facebook

Check Out My Cookbook!
Secrets of The Best Chefs

Recent Food Posts

That Joke We All Make at Restaurants

A Year of Lunches at Forage

My 10 Favorite Places To Eat in L.A. (So Far)

One Year in L.A. (A Reflection)

Vanilla Bean Oatmeal

Chipotle Strata Brei

Park's BBQ, Neptune's Net & Marouch

Sensational Summer Salads

Seeing My Cookbook For The First Time





*|LIST:DESCRIPTION|*

Unsubscribe *|EMAIL|* from this list.

Our mailing address is:
*|HTML:LIST_ADDRESS_HTML|*
Copyright (C) *|CURRENT_YEAR|* *|LIST:COMPANY|* All rights reserved.

Forward this email to a friend
Update your profile
*|IF:REWARDS|* *|HTML:REWARDS|* *|END:IF|*