A.G. Newsletter #96: Mezze, Lunch at Mozza, Baco Mercat & ABC Kitchen


Hey A.G. Newsletter Fans,

Well here I am in the Big Apple. I was so excited to get here on Friday, though stressed out too because I was flying with my cat. Lolita was well-behaved, though, and she took to the city without any issue... I guess that's because she lived here for 7 years, so she's a New Yawka at heart.

Before leaving L.A., I wrote a big post about something that may shock you... my continued attendance at the gym for over 7 months. How did I manage that? Check out my post: How I Keep Going To The Gym.

Now then... I've been eating a lot this last week and a half. There were the farewell meals in L.A. and then the welcome to New York meals upon my arrival (and those are just beginning).

With our friends Jim and Jess in L.A. we ate dinner at Mezze on La Cienega: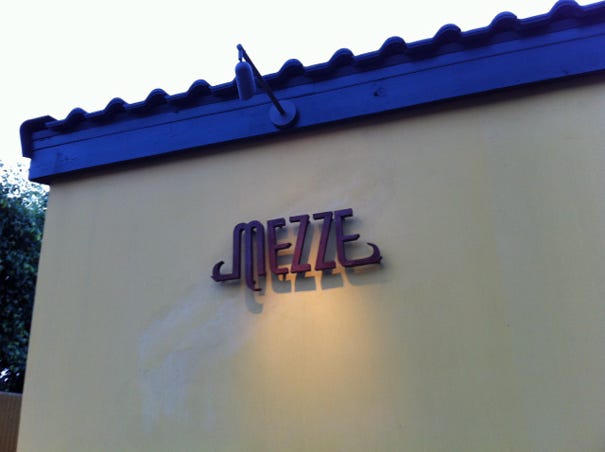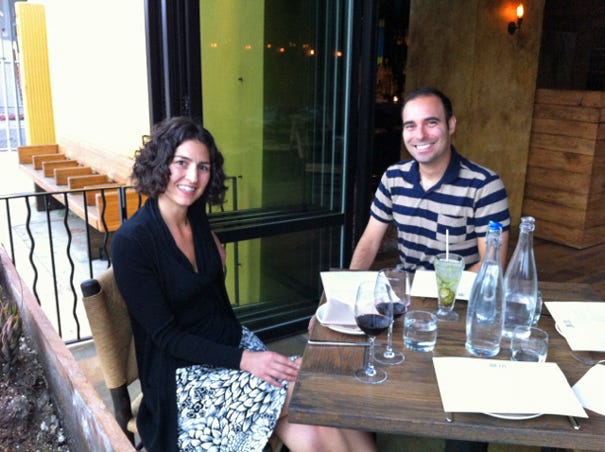 When I had coffee with Besha Rodell of L.A. Weekly she said it was one of her favorite L.A. meals she'd had so far, so we were excited to eat there.

The cocktails were very good; mine had grapefruit and St. Germain.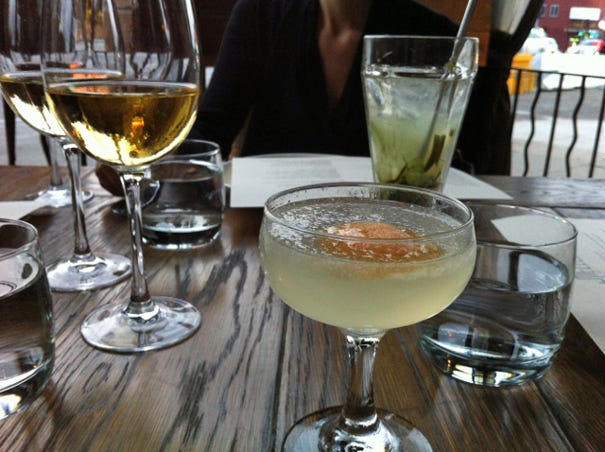 Food-wise, we steered clear of the large plates (which were all super expensive, over $30 at a minimum) and ordered a bunch of small plates for the table.

I loved these string beans served, surprisingly, with plums: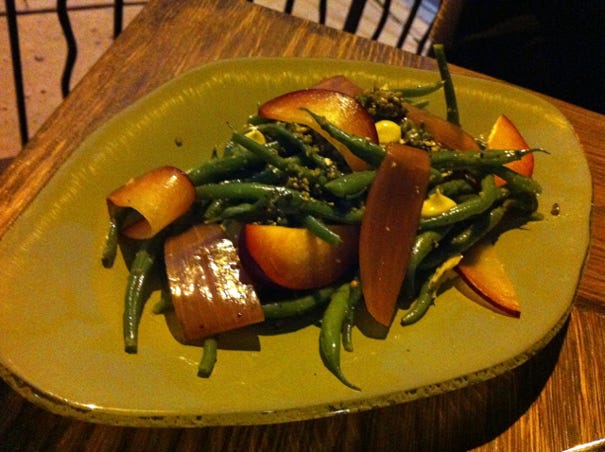 These mushrooms (which were $16, a bit pricey) tasted like fried cheese which, I suppose, is an accomplishment: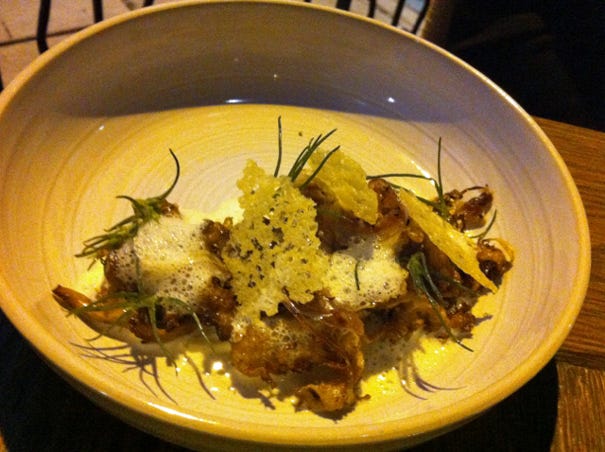 The tabbouleh was incredibly bright and fresh-tasting despite the fact that it had bacon in it: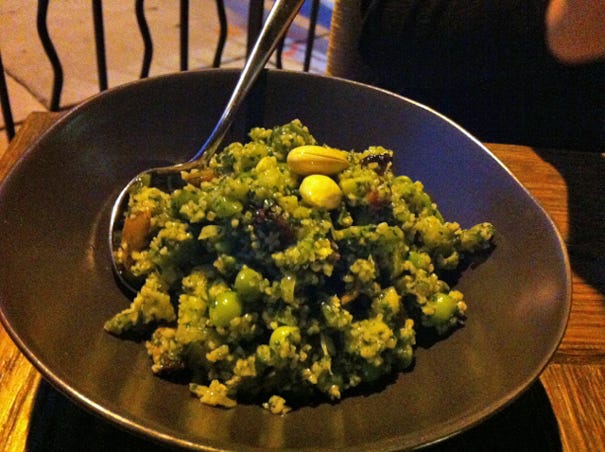 The heirloom tomato flatbread, which our waiter recommended, was really out of this world: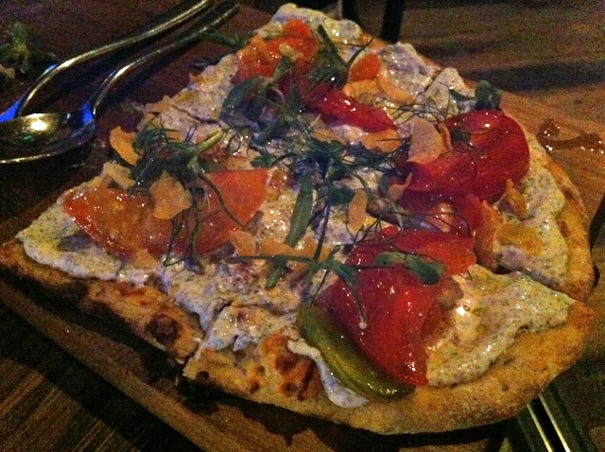 And even though I forced the snail kabob on the table, everyone liked it (maybe it was all that garlic).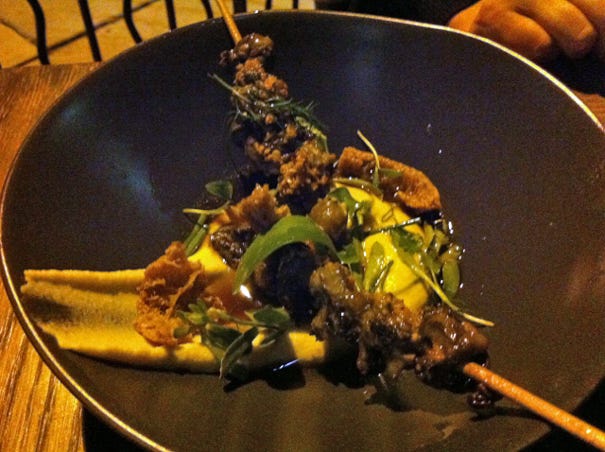 The lamb risotto with burnt onion was well-made: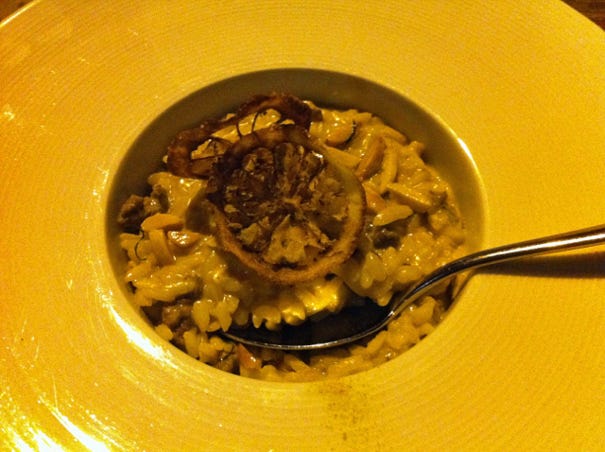 And the brisket schwarma was a meal in itself.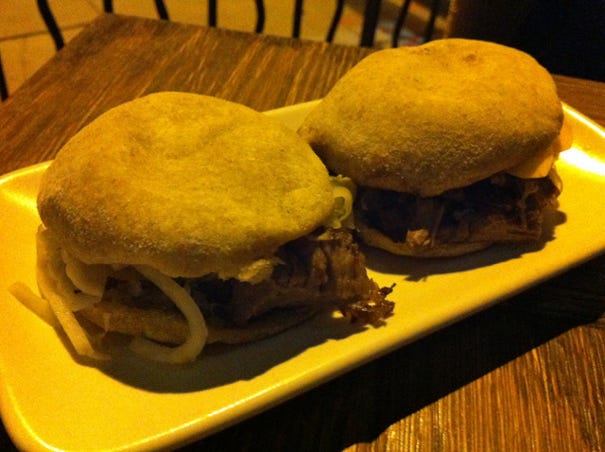 The Syrian Rebel fries were basically an elevated poutine.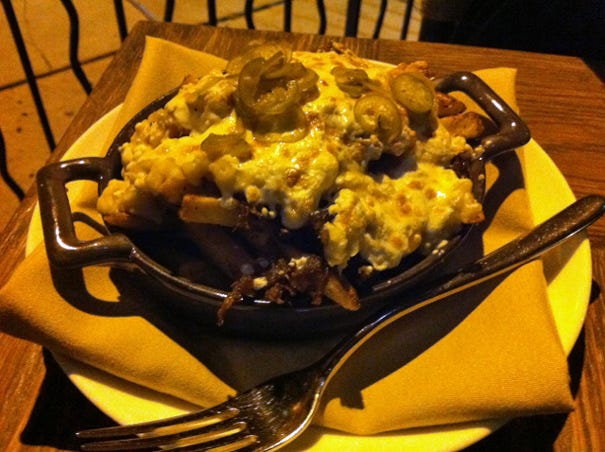 And the eggplant had a lovely presentation.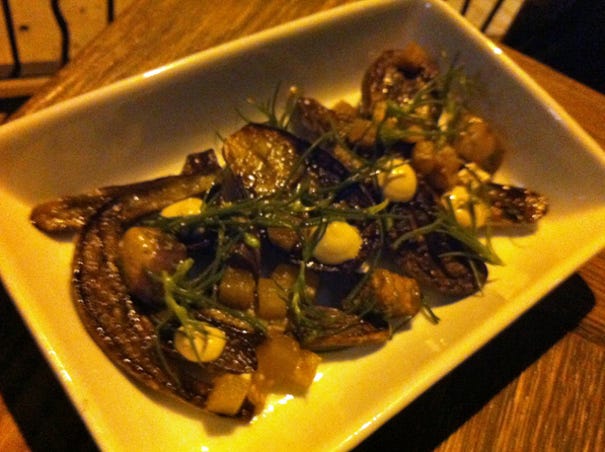 And this trout wasn't too shabby.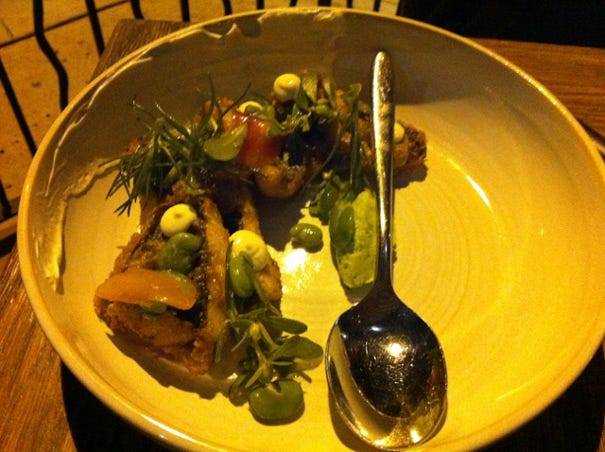 As you can see, we ate a lot of food. Plus, we had dessert.

These roasted nectarines...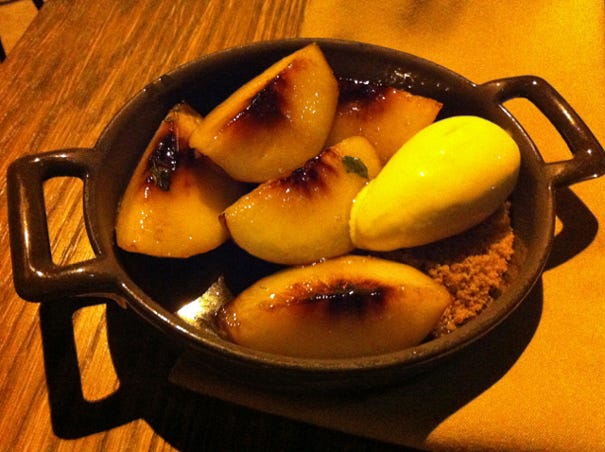 And churros.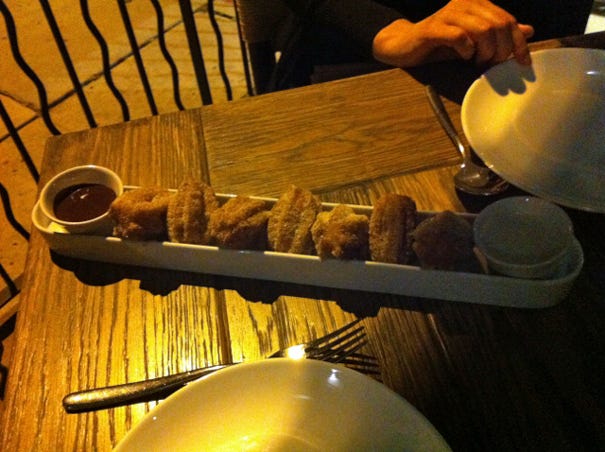 It's shocking I was able to fit on the plane to New York after all that!

But my L.A. binging doesn't end there. The next day I met Diana for lunch at Mozza because I named it my #1 favorite place to eat in L.A. and figured I should go there one more time before leaving for 3 1/2 months.

So yes, the tri-colore salad was as garlicky and anchovy-rich as ever.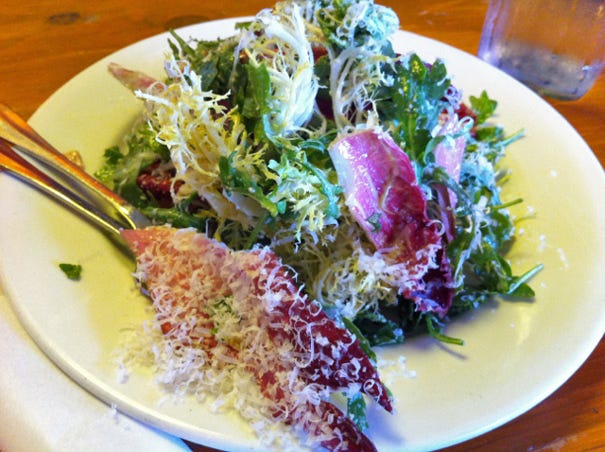 The clam pizza briny and bready in the best possible way....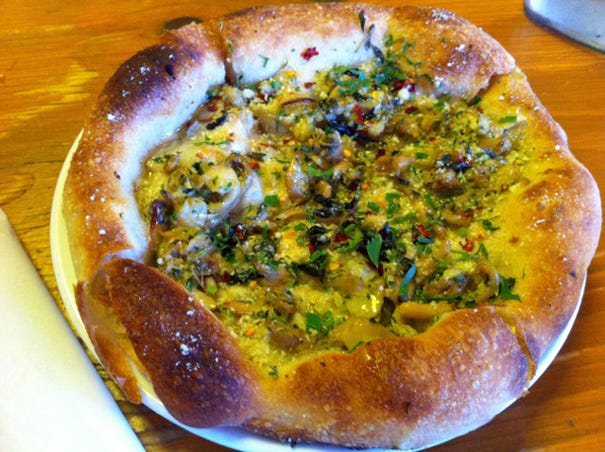 And then this pizza, which I'd never had before, which came with escarole and radicchio bathed in bagna cauda (so more garlic, more anchovies) with an egg at the center.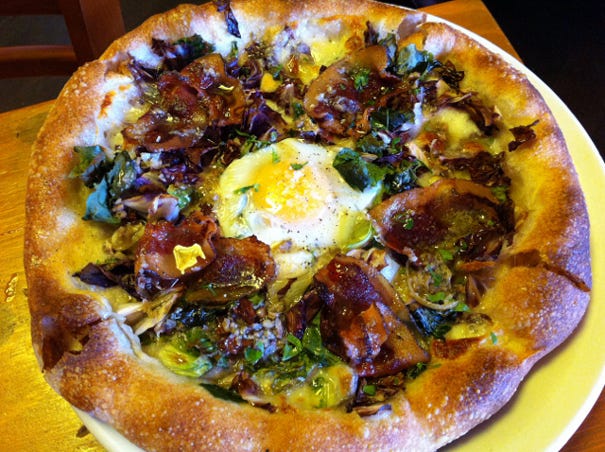 But the most outrageous thing was the dessert. This coconut sorbet pie was almost good enough to keep me in L.A... it came covered in chocolate sauce, whipped cream and salty nuts.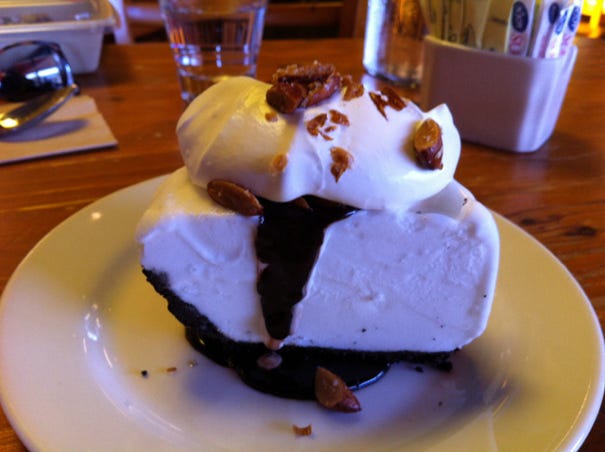 I mean, I'm speechless when I think about how good this was. I love coconut, so it was like the ultimate coconut dessert. Bravo, Pizzeria Mozza! No wonder you're my #1 favorite restaurant in L.A.

On Wednesday night, we joined our friends John and Michael for dinner at Baco Mercat (a place I'd only visited once before for lunch).

I'm not going to walk you through the whole meal, but say hi to Michael and John.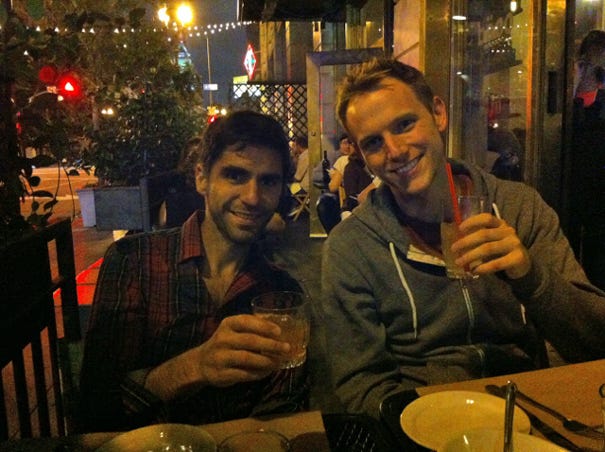 We enjoyed this tartar that came with a fried potato thing...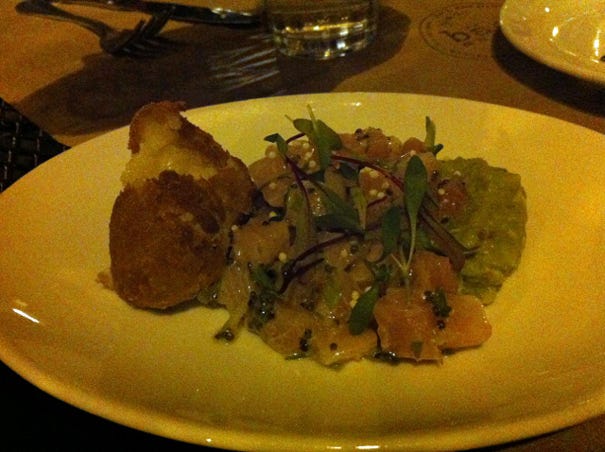 And this salad of sugar snap peas with grapefruit... (not dissimilar to green beans with plums! Maybe that's a new trend: vegetables with fruit?).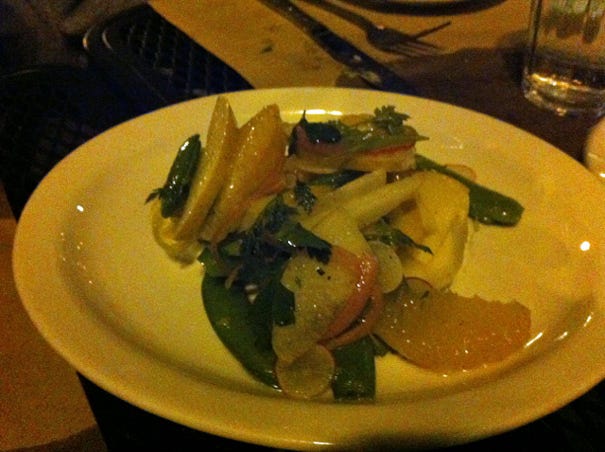 We had a lot more food, but let's stop here with this big platter of fried chicken.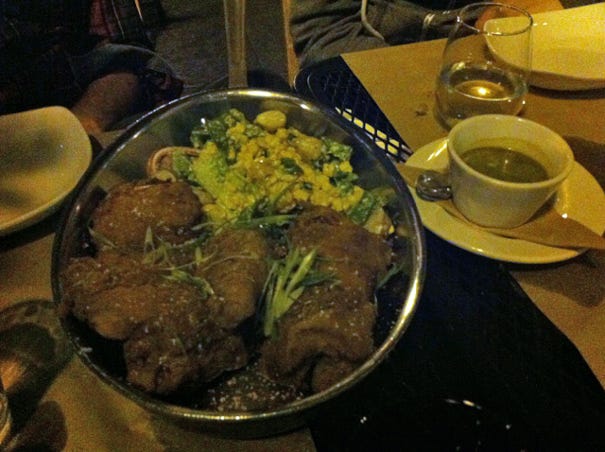 The meat was moist, the skin crisp and very flavorful. I'm starting to think that Baco Mercat is rocking a Momofuku-like eclecticism... making all kinds of tasty food, defying any umbrella-style definition. I admire that.

Finally, on Thursday night, my last night in L.A. (Craig's still there, by the way, he comes here in 2 weeks) Mark and Diana cooked us a lovely dinner... they clearly don't want me to leave, even though I'm going back in 3 1/2 months!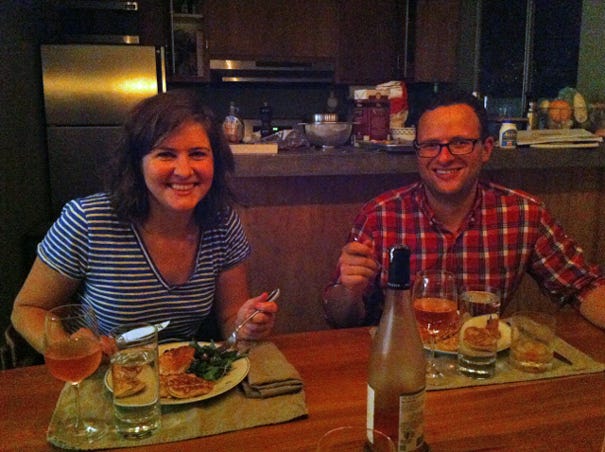 Look at this lovely plate of salmon (dusted with cardamom), corn pancakes and a salad.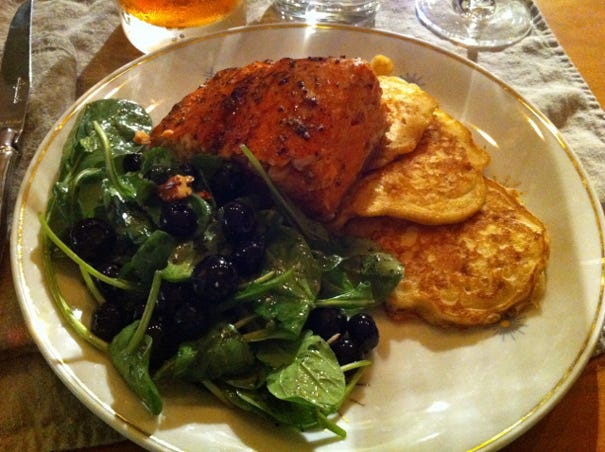 Then this Babbo peach crostada for dessert!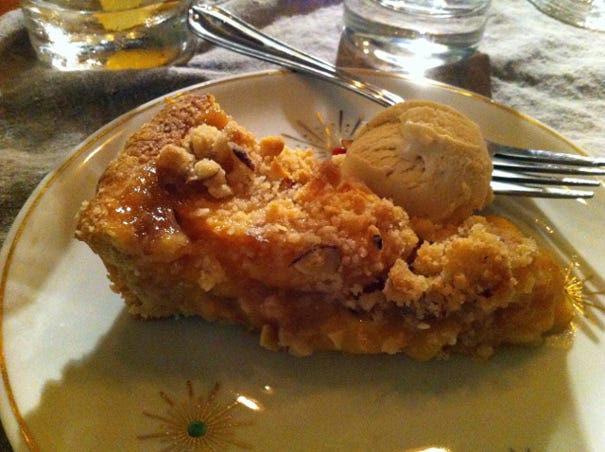 So, yes, if they were trying to keep me in L.A. with this dinner, they did an excellent job.

But still! I came to New York.

Arriving on Friday night, I ate dinner with my parents at Campagnola, my dad's favorite restaurant on the Upper East Side. As we were going in, I heard everyone yelling at this guy walking through the restaurant "Hey Eli!" I said to my dad, "That's Eli Manning" even though I don't really know who Eli Manning is.

My dad, who gets very starstruck, followed him out with my mom and got a picture. Here's a picture of that process: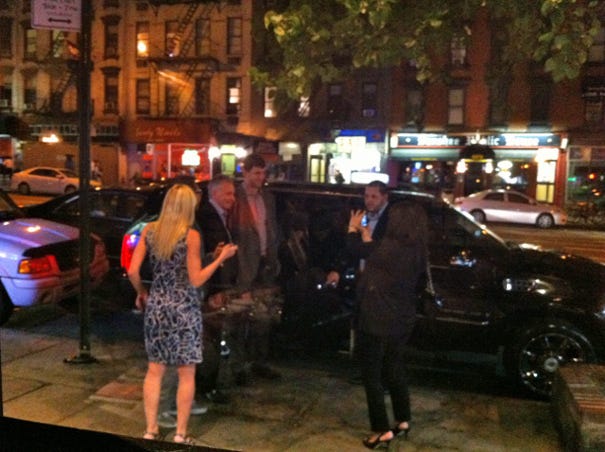 But the ultimate celebrity sighting happened at ABC Kitchen the next night.

As we sat down at our table, I said to my parents, "Now I don't want you both to flip out, but someone very famous is sitting one table over."

I wrote it on my phone because she was so close I didn't want her to hear me: Katie Holmes and Suri Cruise.

They were eating, just the two of them, catty-corner to us.

Needless to say, my parents were, once again, starstruck. I focused on the food.

I'll go out on a limb here and say that ABC Kitchen makes the best cocktails I've ever had. Their basil-lime daiquiri, which I once tried to recreate, is among my all-time favorites.

This time around, I enjoyed a sour cherry old-fashioned (enjoyed it so much, I forgot to take a picture before half of it was gone!).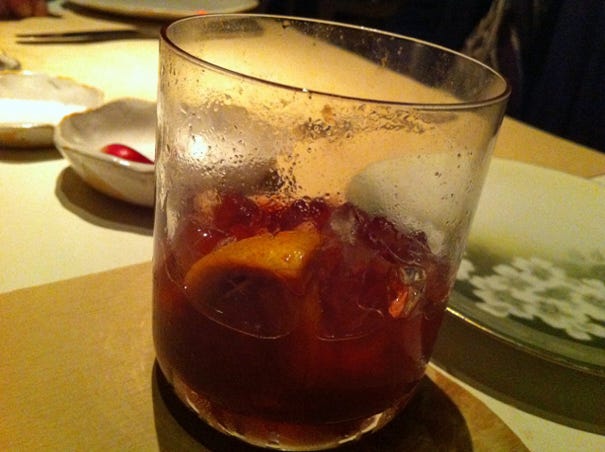 The food at ABC Kitchen is so excellent.

I loved this spicy roasted carrot avocado salad (with dabs of sour cream on the plate).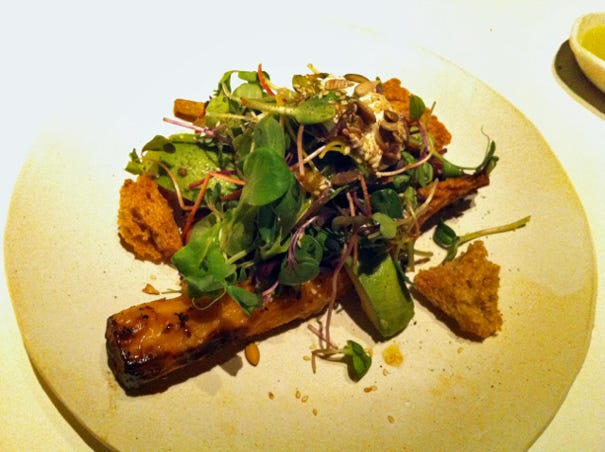 And my cod entree was incredibly spare, clean-tasting and fresh.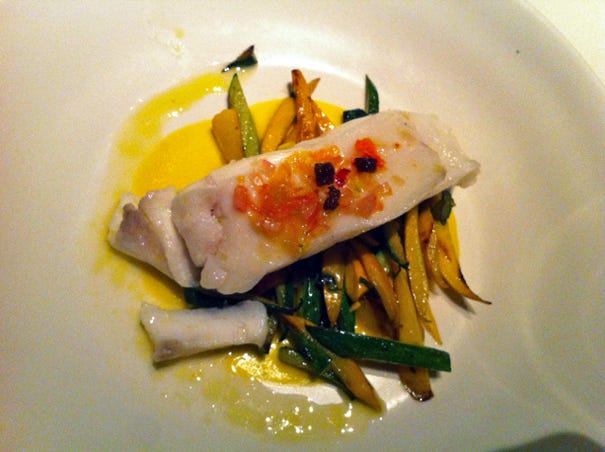 My dad couldn't stop raving about his cheeseburger, which came covered in jalapenos.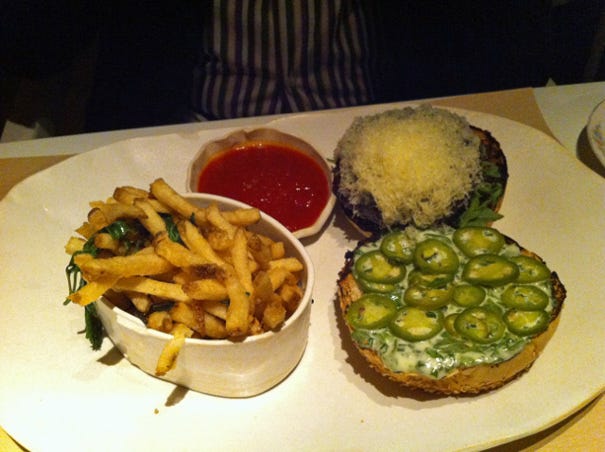 For dessert, we shared the salted caramel sundae and a plate of doughnuts.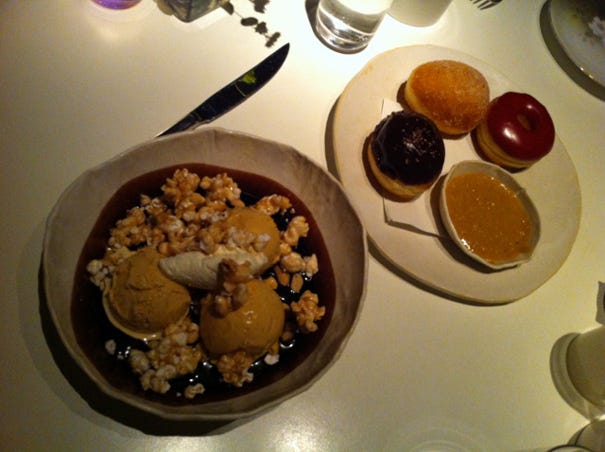 You can skip the doughnuts when you go---they were just ok---but that sundae should come with a defibrillator, it's just so decadent and good.

Oh: on her way out of her seat, Katie Holmes gave my mom a big smile. I heard her call Suri "sweetie."

And that's all for this week folks!

I've got a jam-packed schedule going forward... excited to try all kinds of new New York restaurants, so stay tuned. Tomorrow I'm going to post about last night's Rosh Hashannah dinner at Kutscher's New York, so keep your eyes open for that.

Until next time!

Your friend,
Adam (The Amateur Gourmet)
Reading this in a browser? Get next week's in your inbox by signing up here.

Follow Me!
On Twitter
On Facebook

Check Out My Cookbook!
Secrets of The Best Chefs

Recent Food Posts

Where Do You Escape For Pre-Dinner Oysters

How I Keep Going To The Gym

Stone Fruit Salads

Quinoa with Leftover Chicken, Roasted Broccoli and Balsamic Vinaigrette

That Joke We All Make at Restaurants

A Year of Lunches at Forage

My 10 Favorite Places To Eat in L.A. (So Far)

One Year in L.A. (A Reflection)

Vanilla Bean Oatmeal

Chipotle Strata Brei

Park's BBQ, Neptune's Net & Marouch

Sensational Summer Salads

Seeing My Cookbook For The First Time





*|LIST:DESCRIPTION|*

Unsubscribe *|EMAIL|* from this list.

Our mailing address is:
*|HTML:LIST_ADDRESS_HTML|*
Copyright (C) *|CURRENT_YEAR|* *|LIST:COMPANY|* All rights reserved.

Forward this email to a friend
Update your profile
*|IF:REWARDS|* *|HTML:REWARDS|* *|END:IF|*