A.G. Newsletter #97: My Book Tour Revealed, Morandi, Frankie's, Gay Cupcake, Hummus Place & Cafe Sabarsky


Hey Newsletter Fans,

I'm so excited to finally reveal to you my SECRETS OF THE BEST CHEFS book tour. We've got a pretty outrageous series of events lined up: a Lidia Bastianich-hosted dinner at Eataly, a panel discussion with Amanda Hesser and Jonathan Waxman in Brooklyn, dinners at Hugh Acheson's Empire State South in Atlanta, Nancy Silverton's Mozza in L.A., Tartine Afterhours in San Francisco (hosted by Samin Nosrat), and Renee Erickson's Walrus and the Carpenter in Seattle. Click the link to read the details and please, please, please come out and say hi! It'd be so great to meet you all. (I consider you newsletter subscribers my most devoted/supportive followers.)

So...

My first week back in New York has been gluttunous, to say the least. It started last Monday at Morandi with my friend Morgan. Fight him as I did, Morgan INSISTED on ordering wine at lunch. How could I say no?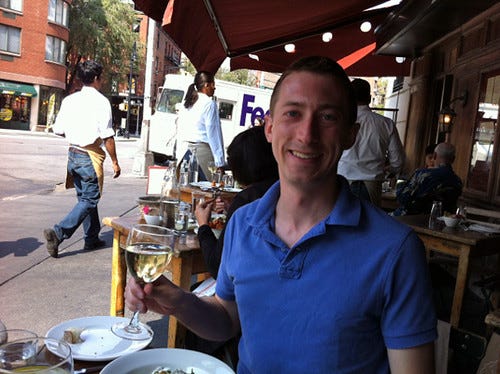 Drinking wine on a Monday is a funny experience. It feels particularly indulgent...maybe because, for me, Monday's my busiest day (it's when I edit all of the previous week's pictures, write a blog post, write a newsletter, answer e-mails, etc., etc.) But having done all of those things before meeting Morgan, I enjoyed our wine at lunch and also the food like this healthy salad of farro, cucumbers and ricotta salata: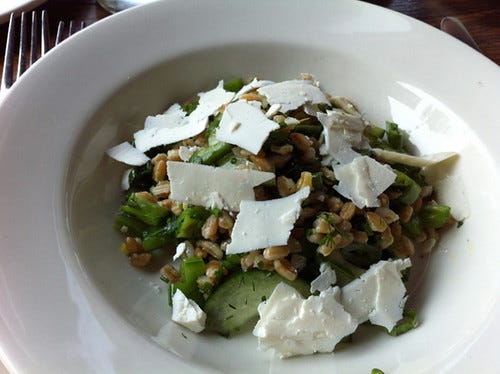 Better yet, this sandwich of sausage and broccoli rabe.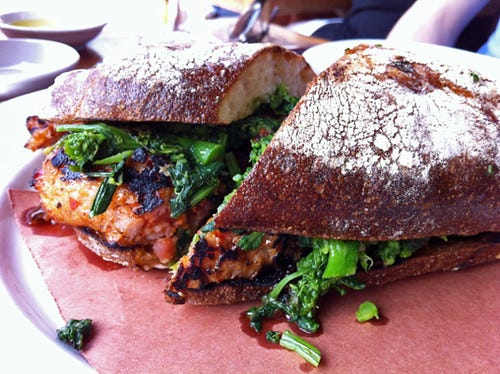 The combination of the bitter greens and the fatty sausage was so winning, I think this may quickly become one of my essential New York bites. Which is really nice because I've always preferred Morandi for the environment rather than for the food. Now the food matches... nice job, Morandi.

The next day, I found myself at the new Frankie's in the West Village...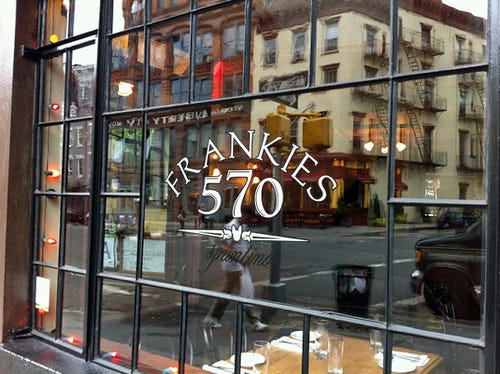 I have to say: I really liked it in there. Lots of light coming in from the windows, not too crowded in the middle of the week. (Oh, this was after the horror of discovering that The New French no longer exists! That used to be my go-to lunch spot on Hudson.)

I asked the waitress if the farro salad would be enough for lunch (yes, this was my 2nd farro salad two days in a row...I try to eat healthy at lunch, people, so I can eat unhealthily at dinner). She said it was but when it arrived, I wasn't so sure: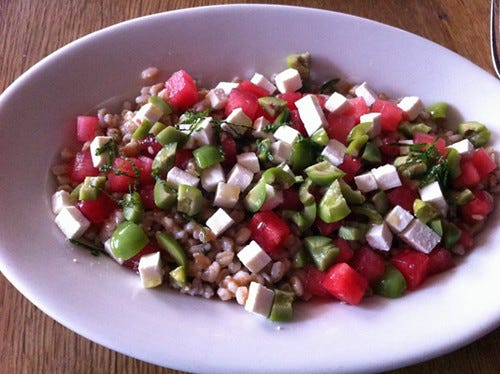 Still, I enjoyed the combination of farro with watermelon, olives and ricotta salata cheese. Next time, though, I'm ordering a sandwich.

While walking through the East Village, the next day, I stumbled upon my friends Doug and Bryan who run the Big Gay Ice Cream Empire. (They were once my guests on "Someone's In The Kitchen With....") Doug offered me one of their new Salty Pimp Cupcakes: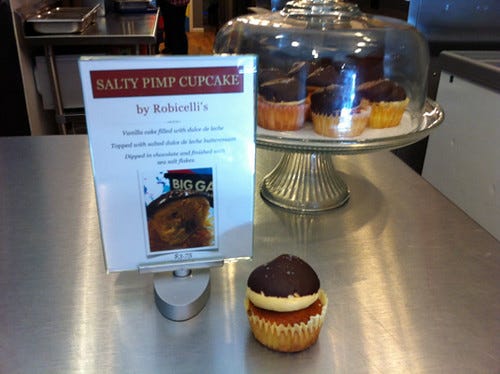 Not shockingly, it was delicious, though I couldn't finish it...so Doug took it from me and as he started to eat it, the whole crater of frosting fell on to his lap. I kind of felt bad, but I mean, it was kind of funny.

On Thursday, I joined my cookbook publicist Molly for lunch at my favorite West Village lunch spot...the place I missed the most living in L.A.: Hummus Place.

Molly's a big fan of mine, or at least my book, or at least she has to be professionally...look at her desk: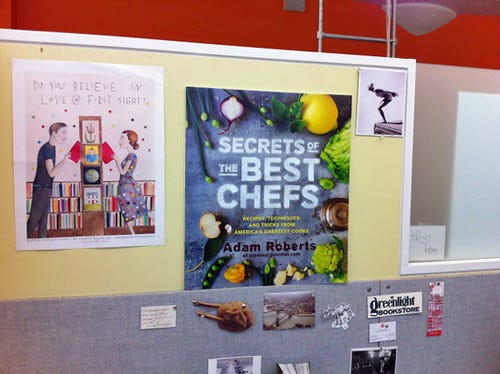 Here's Molly at lunch, isn't she cute? (Am I allowed to say that?)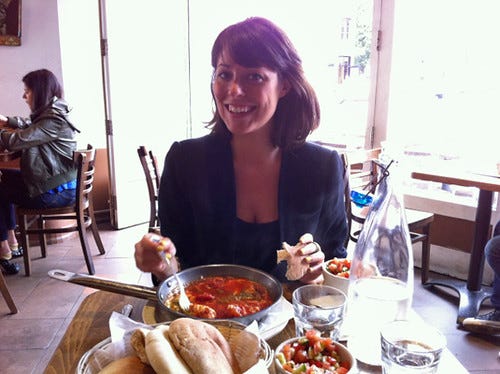 I dug into my hummus tahini and health salad with great fervor, enhancing it all with the little green paste that makes everything taste oh so good (a paste I recreated when I made Hummus For Dinner not too long ago) (note, you can't see the paste in this picture):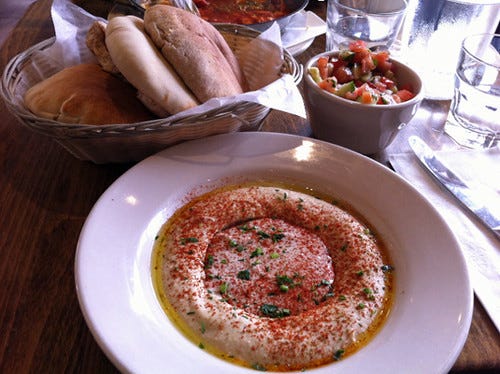 So yes, I loved my lunch. Then I joined Molly for a trip up to Eataly to see where the dinner would be for my book launch on 10/9. (Can you believe the dinner is almost entirely sold out? Apparently, a lot of people bought tickets from the Eataly website.)

Finally, on Saturday I went to do some reading at my favorite, Cafe Sabarsky right near Central Park on the Upper East Side.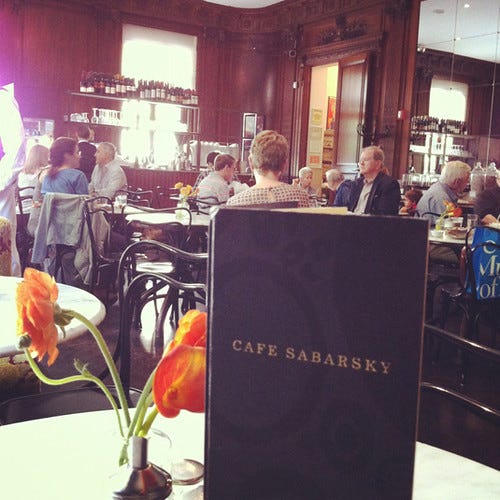 I had the best table, right in a corner booth so I could see the whole room. I read two chapters of the book I'm currently reading ("The Yiddish Policeman's Union" by Michael Chabon, which I'm really enjoying) while enjoying this linzertorte and iced espresso: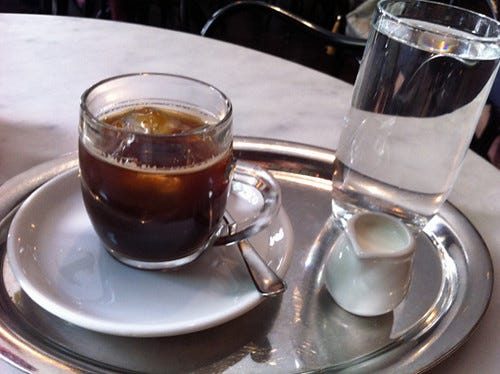 That's really one of the best places in New York. If you haven't been, you should totally go.

Ok, folks, that's all for this week! On Friday Craig arrives and I have one week with him here in the city before I leave for my book tour next Friday. If you're in Atlanta and you're reading this, I better see you at my Atlanta events!

Until next time....

Your friend,
Adam (The Amateur Gourmet)







Reading this in a browser? Get next week's in your inbox by signing up here.

Follow Me!
On Twitter
On Facebook

Check Out My Cookbook!
Secrets of The Best Chefs

Recent Food Posts

It's The Secrets of the Best Chefs Nationwide Book Tour (Celebrity Chefs! Lavish Dinners! Me!)

Pizzeria Mozza's Coconut Sorbet Pie

Rosh Hashanah Dinner at Kutsher's Tribeca

Down With Communal Tables!

Where Do You Escape For Pre-Dinner Oysters

How I Keep Going To The Gym

Stone Fruit Salads

Quinoa with Leftover Chicken, Roasted Broccoli and Balsamic Vinaigrette

That Joke We All Make at Restaurants

A Year of Lunches at Forage

My 10 Favorite Places To Eat in L.A. (So Far)

One Year in L.A. (A Reflection)






*|LIST:DESCRIPTION|*

Unsubscribe *|EMAIL|* from this list.

Our mailing address is:
*|HTML:LIST_ADDRESS_HTML|*
Copyright (C) *|CURRENT_YEAR|* *|LIST:COMPANY|* All rights reserved.

Forward this email to a friend
Update your profile
*|IF:REWARDS|* *|HTML:REWARDS|* *|END:IF|*