A.G. Newsletter #98: One Week Away, Buvette, Franny's Drinks, The Highline, Freeman's & Back To Casellula
A.G. Newsletter #98: One Week Away, Buvette, Franny's Drinks, The Highline, Fedora, Freeman's & Back To Casellula

Hey Newsletter Fans,

This is nuts. On Friday--THIS FRIDAY--I leave for Atlanta to begin the book tour for SECRETS OF THE BEST CHEFS.

If you live in Atlanta and you're reading this and you're not planning to come to one of the events (see full schedule here) I'll be so mad at you.

New Yorkers have an excuse for not coming to the first Eataly dinner... it sold out! But there's no excuse for not coming to my free Greenlight Book Store event with Amanda Hesser and Jonathan Waxman a week from this Wednesday. You can RSVP on Facebook by clicking HERE.

Otherwise, if you're in Seattle, L.A., San Francisco, Napa, Austin, or Richmond, be sure to RSVP to the events in those cities too... I really want to meet you.

* * * * *

Now something crazy happened last week that's cookbook-related. I sat down with my cookbook editor, Judy, for lunch at Buvette in the West Village and who should squeeze past me as we were settling in at our table? Alice Waters. Yes, that Alice Waters. And I was able to show her a copy of the book (which I had in my bag) and she "ooohed" and "ahhhed" over it and I immediately flashed back to those many nights of curling up with the Chez Panisse cookbook and fantasizing about the world this woman, this pioneer created... and here was the woman herself, giving me a hug and kvelling over my cookbook. I could've died right there.

Instead, I ate lunch with Judy. We shared this radicchio salad with goat cheese, pine nuts and currants: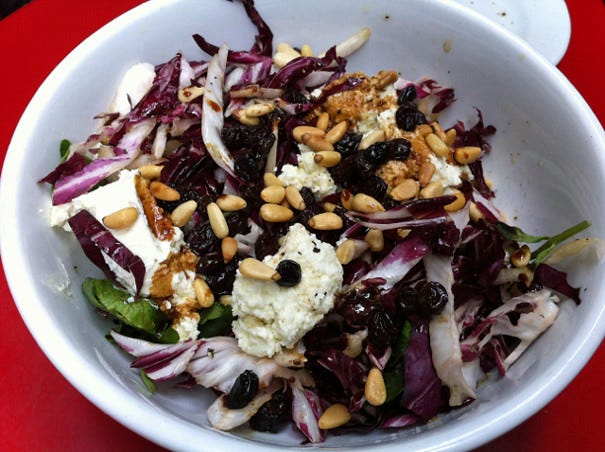 Then lots of cheesy stuff, like this cauliflower gratin: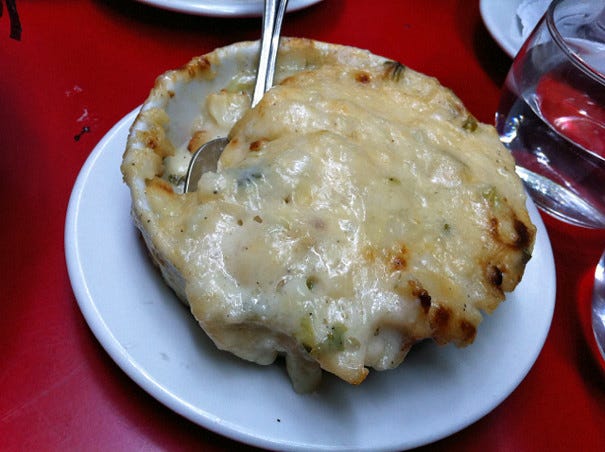 And this Croque Forestier which comes with sauteed mushrooms and, as you can see, lots of brown, gooey cheese.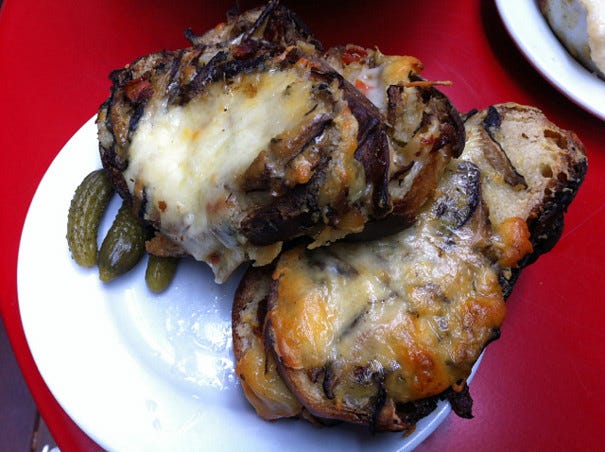 Needless to say, we devoured every morsel.

So that was lunch at Buvette.

On Thursday, I met one of my favorite food writers, John Kessler of the Atlanta-Journal Constitution, for drinks at Franny's (one of my favorite New York restaurants) in Brooklyn.

Our drinks were colorful, to say the least.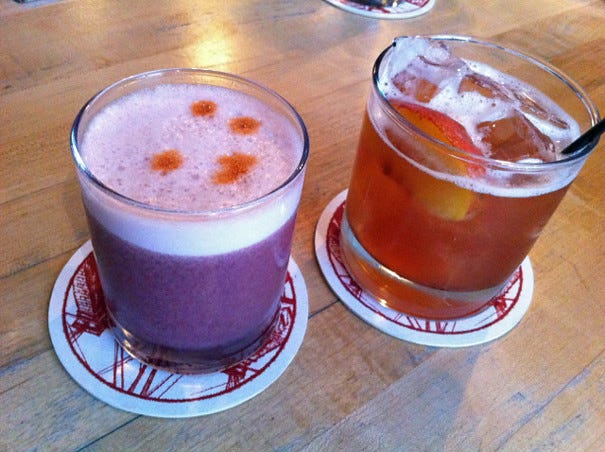 Mine, on the left, was made with Concord grapes and tasted a little bit like purple BubbleYum; John's, on the right, was infused with lots of fresh peach flavor and was the clear winner of the two.

Funny enough, I ran into my friend Dara as John and I were finishing up and she invited me to join her and her friends for dinner. So I did and we ate lots of salad and pizza and dessert. (Pictures aren't so great, so we'll skip sharing those.)

On Friday night, Craig arrived after two weeks of being away from me in L.A. I told him the next day was all his, wherever he wanted to go we'd go. So he picked the Highline and that's where we went.

Isn't it pretty?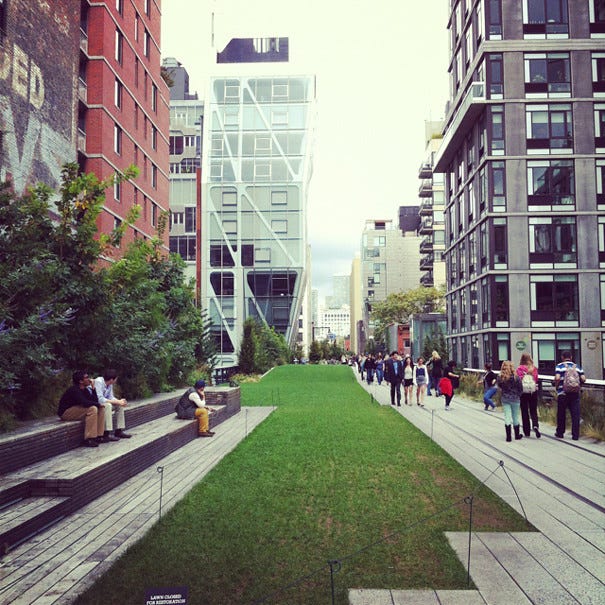 Sort of like a Utopia on a converted elevated train platform.

Part of that Utopia is a variety lunch options... we got lunch at the Taco Truck which wasn't really a truck, more of a stand.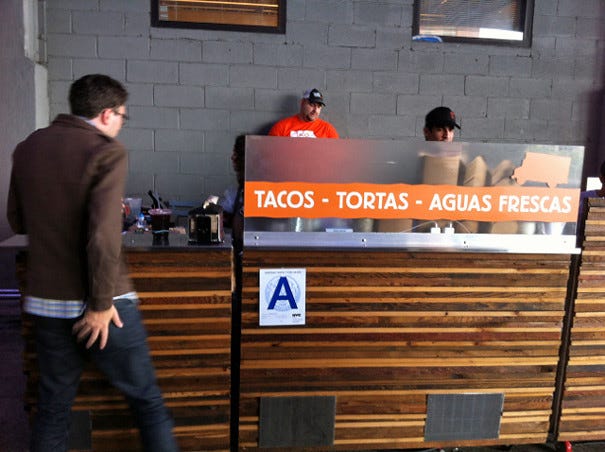 I had pretty good chicken tacos.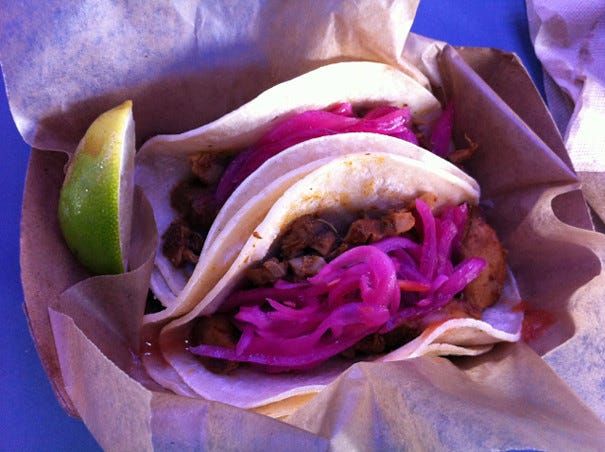 And Craig had a torta with beef that was definitely better than mine.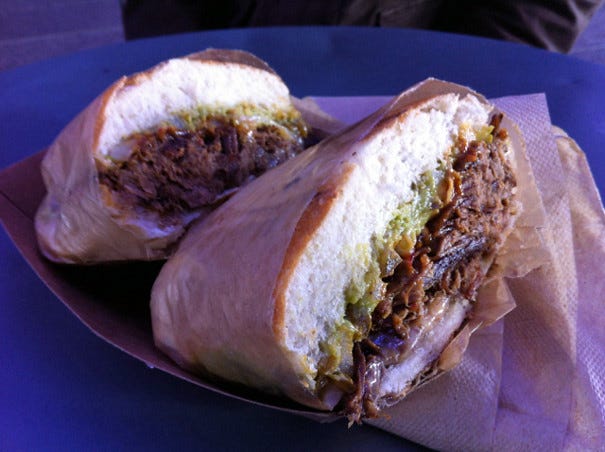 In fact, after finishing mine I was still hungry so I went to the cart next door (I forget the name but they have lots of baked goods!) and got this warm Everything Bagel Pretzel. It was tasty.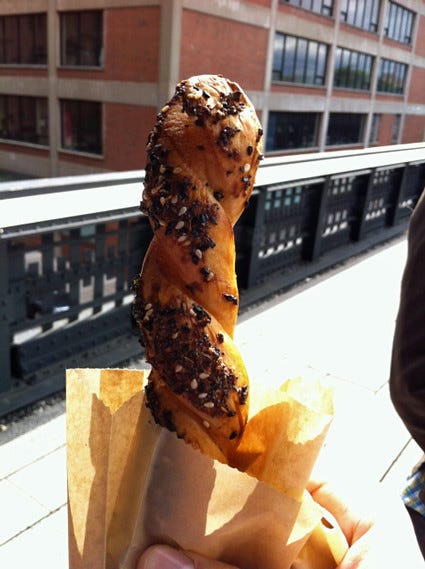 There's also a Blue Bottle Coffee up there and we each got a New Orleans-style iced coffee (my favorite) and shared this olive-oil cookie which we bought purely for research purposes, not because we're gluttons. (Actually, Craig didn't want it at all, but I had to try.)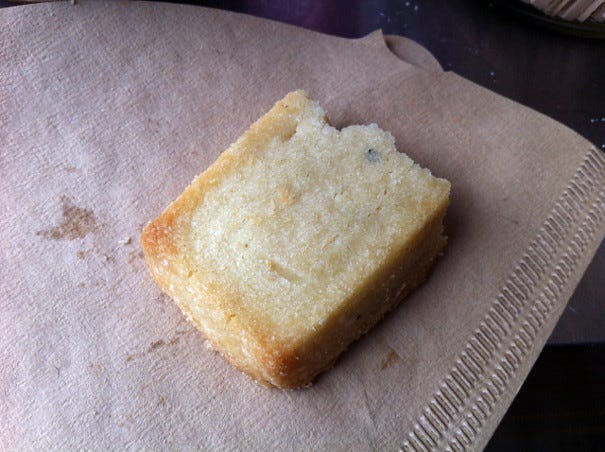 I'm glad I did: it was way good.

After that, we went to see "Sleepwalk With Me" which I really enjoyed (though Lauren Ambrose had a bit of a thankless part) and at that point, Craig got a really encouraging e-mail about something related to why we're here until January. That inspired us to go to Fedora to get a drink or two...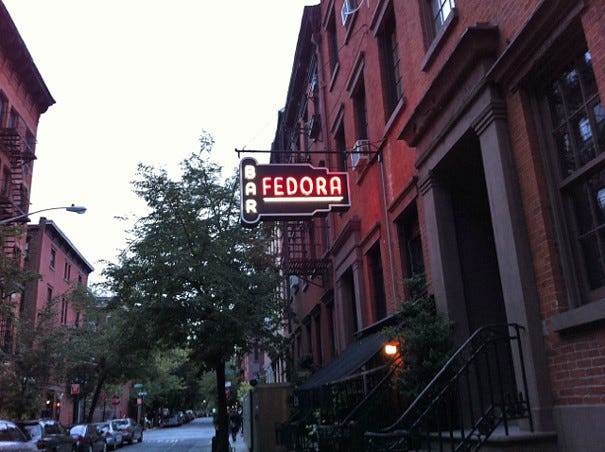 The drink we had, a Black Squirrel Old Fashioned, may be the best drink I've had in a long time: Buffalo Trace Bourbon, Citrus, Maple Wash, and House Pecan Bitters.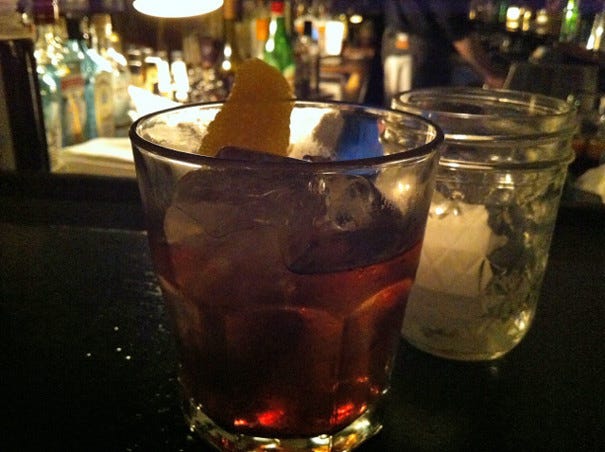 We each had two and, umm, I was kind of three sheets to the wind. Thank God for Grand Sichuan Chinese food to sober us up. (Hat-tip to Megnut for recommending Fedora to us... next time we'll eat there too!)

The next day, we met our friends Patty and Lauren for brunch so Craig could finally meet Audra (see here).

The plan was to meet at Clinton Street Baking Company but Patty sent us a text at 10:27 that there was a two hour wait. TWO HOUR WAIT.

So we wound up at Freeman's, a restaurant I'd never been to before but had heard much about.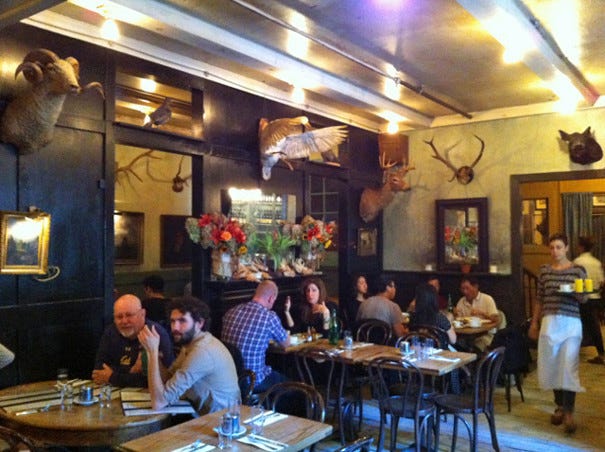 The room is great if you like dead animals on the walls, and we do. And though Freeman's has a high hipster quotient, everyone working there was really nice to us. We were seated right away. We loved our waitress. And the food was really good... I enjoyed my granola with fruit.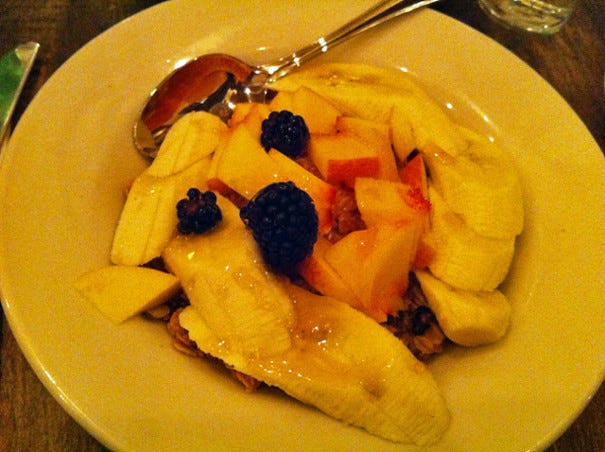 Finally, last night Craig and I had free tickets to WICKED (we're lucky, I know) so beforehand I took him to that cheese restaurant I raved about on my blog last week, Caselulla.

Craig loves cheese even more than I do (a lot more than I do, actually) which is how I knew he'd love it. He ordered lots and lots of cheese... first these five: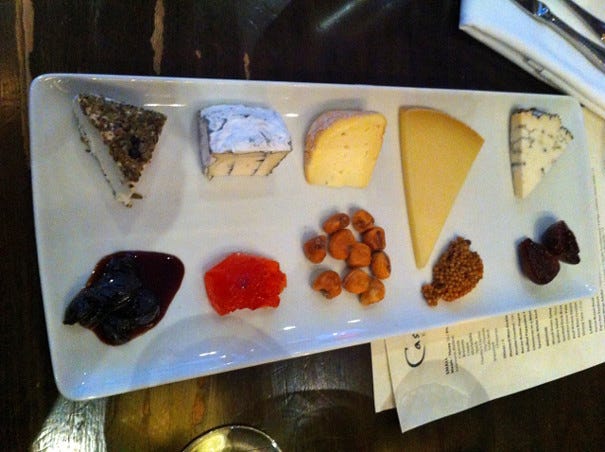 (My favorite was the 2nd from the left...it came with a hot pepper jelly.)

Then he got two more: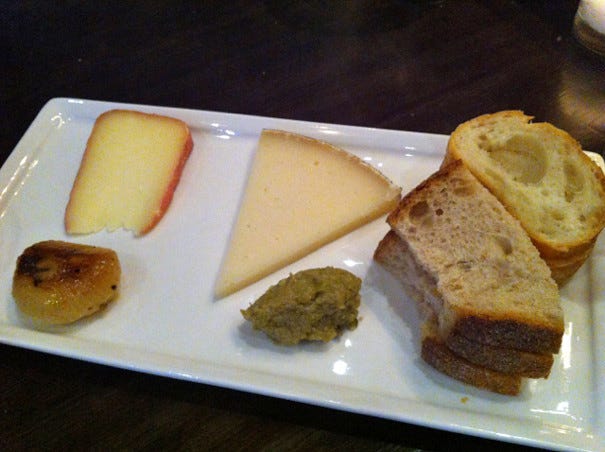 One of those (the one on the left that came with a Cippollini onion) was too funky for me to handle. I thought it tasted like death, Craig disagreed.

But all of the cheese was wonderful, especially because of the pairings.

And we were still hungry enough to have food... including a goose breast Reuben that left us very full for our evening with Elphaba and Galinda.

And that's all for this week folks!

I'm not sure but something tells me there won't be a newsletter next week. In fact, at this very moment next week I'll be getting ready to speak at Emory and then for my dinner at Empire State South (call there for reservations).

So get ready for a bit of a whirlwind in my life... I really hope you'll all step up as my army of cookbook supporters. Order your copy now so you get it when it comes out and then Tweet, Facebook, Pinterest it as much as you can. I won't be able to thank you enough.

Until next time!

Your friend,
Adam (The Amateur Gourmet)

Reading this in a browser? Get next week's in your inbox by signing up here.

Follow Me!
On Twitter
On Facebook

Check Out My Cookbook!
Secrets of The Best Chefs

Recent Food Posts

Where Do You Escape For A Romantic Dinner

Casellula, Maison Kayser & Il Buco Alimentari e Vineria

The Rachael Ray Garbage Bowl

The Food Seen

Smorgasburg

It's The Secrets of the Best Chefs Nationwide Book Tour (Celebrity Chefs! Lavish Dinners! Me!)

Pizzeria Mozza's Coconut Sorbet Pie

Rosh Hashanah Dinner at Kutsher's Tribeca

Down With Communal Tables!

Where Do You Escape For Pre-Dinner Oysters

How I Keep Going To The Gym

Stone Fruit Salads

Quinoa with Leftover Chicken, Roasted Broccoli and Balsamic Vinaigrette

That Joke We All Make at Restaurants

A Year of Lunches at Forage

My 10 Favorite Places To Eat in L.A. (So Far)

One Year in L.A. (A Reflection)






*|LIST:DESCRIPTION|*

Unsubscribe *|EMAIL|* from this list.

Our mailing address is:
*|HTML:LIST_ADDRESS_HTML|*
Copyright (C) *|CURRENT_YEAR|* *|LIST:COMPANY|* All rights reserved.

Forward this email to a friend
Update your profile
*|IF:REWARDS|* *|HTML:REWARDS|* *|END:IF|*