A.G. Newsletter #99: San-Fran/Napa/Seattle/Austin-Bound, Untitled, Chicken, Fried Green Tomato Sandwich & Prospect


Hey Newsletter Fans,

I feel like I'm standing in the eye of a hurricane. Last week came a'storming in with a fantastic, unforgettable dinner at Eataly (see the full report here) where Lidia Bastianich introduced me and my mother kvelled to her friends. Before that, I was in Atlanta, speaking at Emory (my alma mater) and hosting a dinner at Hugh Acheson's Empire State South. Here are all the nice people who came to that...we had a blast: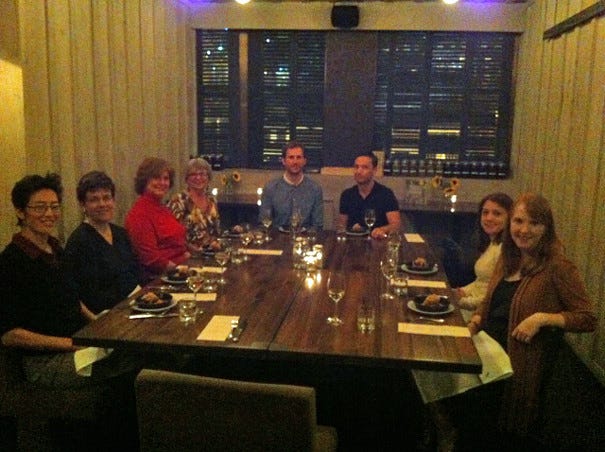 The main course was straight from the cookbook---pork belly on kimchi rice grits: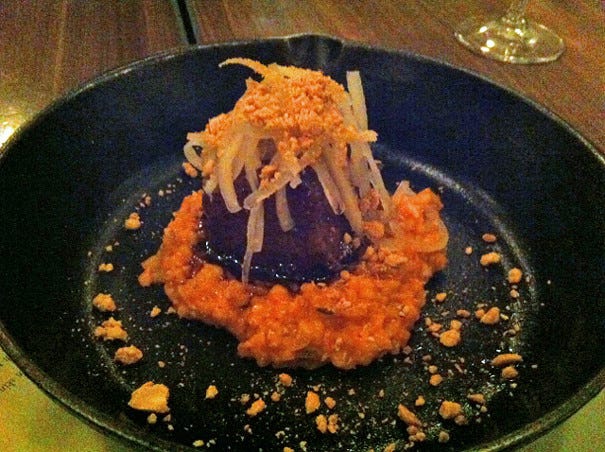 It was a dazzler.

Tomorrow I'm headed to San Francsisco where I'm hosting a dinner on Wednesday at Tartine Afterhours, curated and cooked by one of my cookbook's star chefs: Samin Nosrat. There may still be a few tickets left (though they're going fast!) so click here to find out.

Then it's off to Napa (see my full schedule here) and then to Seattle where I'll be speaking at Book Larder on Sunday at 4 PM and hosting a dinner at Renee Erickson's hot hot hot restaurant The Walrus and the Carpenter on Monday at 6:30. All of the details of the meal are on my site (oysters! mussels in cider cream! pork!) and reservations are still available. So if you live in Seattle and you are reading these words, dial 206-395-9277 and make your reservation now. It's going to be so fun.

After that, I'm off to L.A. where I'm hosting a dinner at the SoHo House (if you're a member, check their calendar) and possibly another event (stay tuned!) before heading to Austin on the 26th where I'll be appearing at the Texas Book Festival on Sunday the 28th. Full info here.

Are you exhausted from all this? I know I am! But it's important to spread the word because I'd love to see you at these events. And because of a small delay in the printing process, this is your best bet to get your hands on a book before they arrive in stores on November 13th.

Now then...

Here in New York, we've been eating out so much it's kind of ridiculous. I just shared our lunch at Parm on my blog.

Because we're staying on the Upper East Side, I'm grateful to have Untitled--Danny Meyer's restaurant in the Whitney Museum. The food is all very standard fare but well-made. So this is an omelet with goat cheese and tomatoes (if I remember correctly):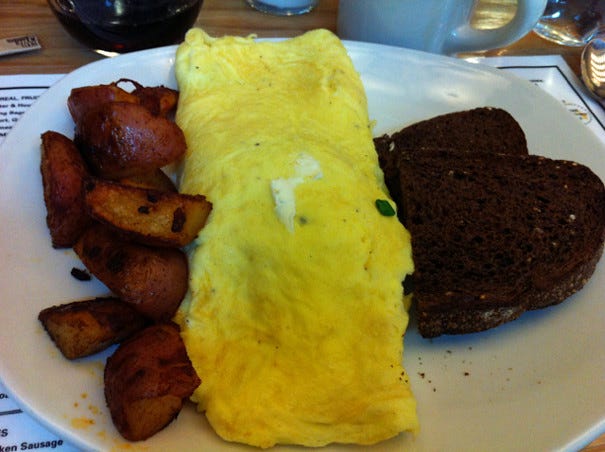 It was a little too salty, but let's not quibble.

Craig loved his pastrami sandwich, which was nicely restrained: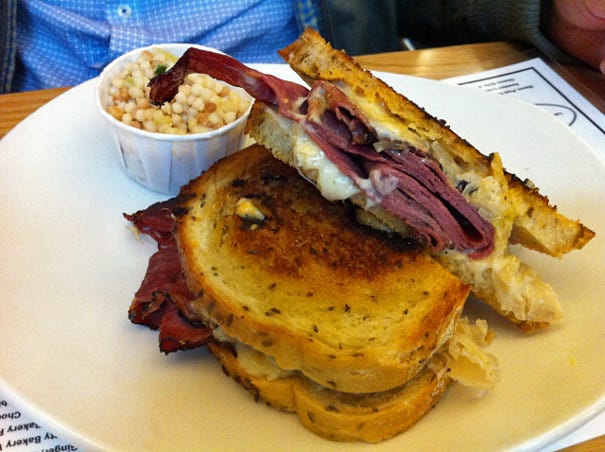 Oh but I did cook one night... the night before I left for Atlanta. I attempted to make Thomas Keller's roast chicken with root vegetables in one large skillet.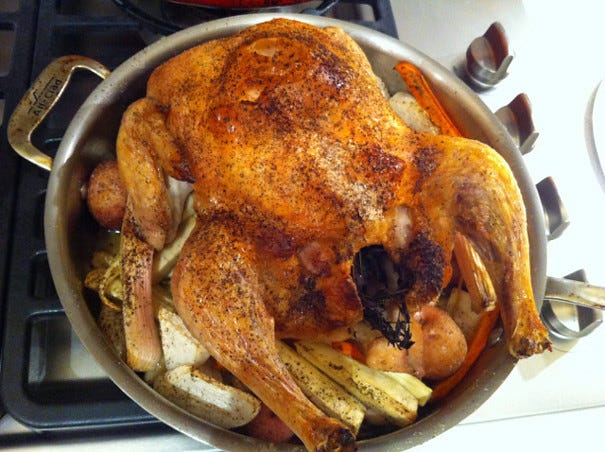 The chicken came out perfect, though the vegetables needed more time in the oven. Here's the finished plate: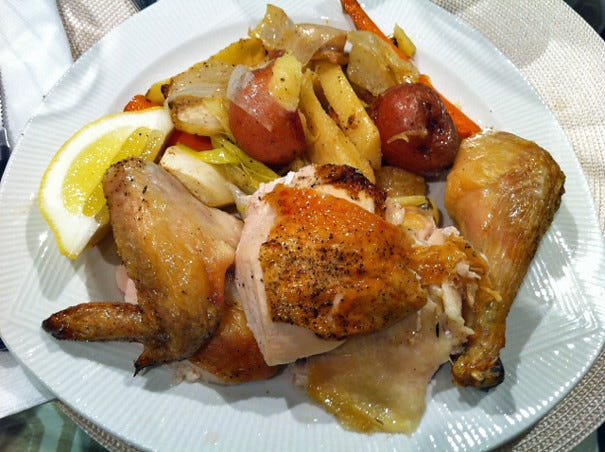 Not bad, right, for a new kitchen? We were happy.

Ok, ok, I have to race along here because I have a haircut at 4:30....

In Atlanta, I popped into Star Provisions, Anne Quatrano's fancy market connected to her highly-starred restuarant Bacchanalia. For a mere $7 or $8, I got this gorgeous fried green tomato sandwich.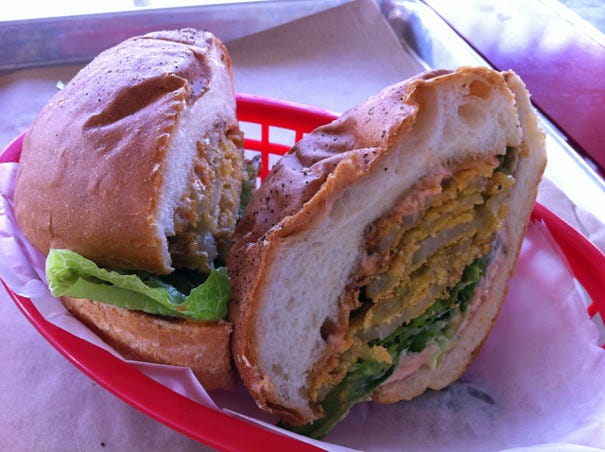 Eating it outside was a real treat, especially as a few readers from my blog recognized me (I guess I'm popular in the ATL). The woman sharing my table thought I was a real celebrity but I assured her this hardly happens.

Finally, before my panel discussion with Amanda Hesser and Jonathan Waxman at Greenlight books last week (which was a most wonderful, memorable night) I had dinner with my parents at a restaurant called Prospect that just opened up across the street.

The place is so new, they're still finding their footing. But the food's wonderful. My parents loved their corn soup: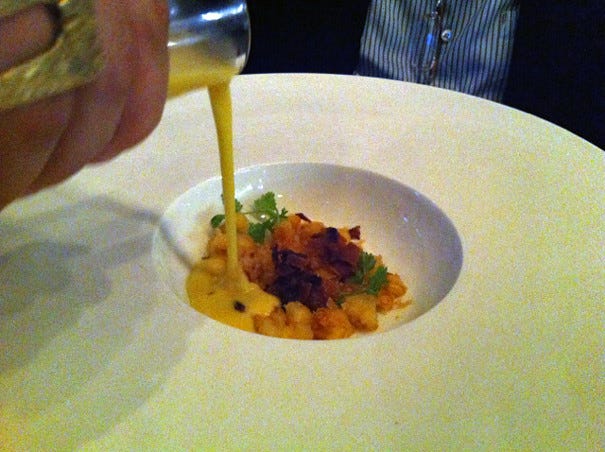 And my duck was really lovely with lots of surprising components on the plate: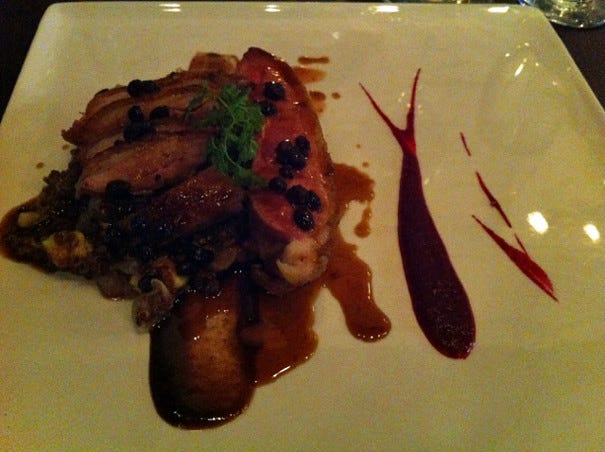 Ok, newsletter readers, hopefully the next time you hear my words they'll be in person at one of my events. In fact, if you really want to prove your mettle, let's come up with a secret thing to say so I know you're the most loyal of loyal fans. How about when you come up and say hi, you say: "Butter better butter better." People will look at you like you're crazy but we'll know what's happening.

Until next time!

Your friend,
Adam (The Amateur Gourmet)
Reading this in a browser? Get next week's in your inbox by signing up here.

Follow Me!
On Twitter
On Facebook

Check Out My Cookbook!
Secrets of The Best Chefs

Recent Food Posts

Where Do You Escape For A Romantic Dinner

Casellula, Maison Kayser & Il Buco Alimentari e Vineria

The Rachael Ray Garbage Bowl

The Food Seen

Smorgasburg

It's The Secrets of the Best Chefs Nationwide Book Tour (Celebrity Chefs! Lavish Dinners! Me!)

Pizzeria Mozza's Coconut Sorbet Pie

Rosh Hashanah Dinner at Kutsher's Tribeca

Down With Communal Tables!

Where Do You Escape For Pre-Dinner Oysters

How I Keep Going To The Gym

Stone Fruit Salads

Quinoa with Leftover Chicken, Roasted Broccoli and Balsamic Vinaigrette

That Joke We All Make at Restaurants

A Year of Lunches at Forage

My 10 Favorite Places To Eat in L.A. (So Far)

One Year in L.A. (A Reflection)






*|LIST:DESCRIPTION|*

Unsubscribe *|EMAIL|* from this list.

Our mailing address is:
*|HTML:LIST_ADDRESS_HTML|*
Copyright (C) *|CURRENT_YEAR|* *|LIST:COMPANY|* All rights reserved.

Forward this email to a friend
Update your profile
*|IF:REWARDS|* *|HTML:REWARDS|* *|END:IF|*