A.G. Newsletter #100: Secrets of the Best Chefs is HERE TODAY!


Hey Newsletter Fans,

How appropriate that this is my 100th newsletter. I started the newsletter at the beginning because I knew, when it was time for my cookbook to come out, I'd want my army of loyal fans to march out into the streets to tell everyone they know all about it.

And that moment is now!

SECRETS OF THE BEST CHEFS comes out today and I couldn't be more excited. Aren't you excited too?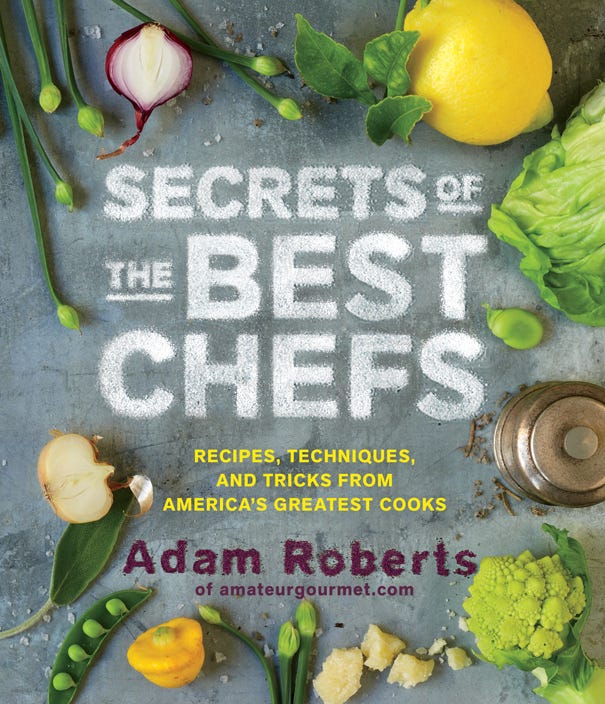 Here's a post I did this morning that takes you behind the scenes, showing you all of the recipe testing and food styling that it takes to write a 400 page cookbook.

And now I need your help.

Can you do me a favor? If you have Twitter or Facebook, can you post about the book? Maybe link to the book page? Tell the world about it in some way?

And when you get the book (which you should definitely do!) and, assuming you like it, maybe write a review online somewhere? Or do a blog post about it?

I can't thank you enough.

Also: I want to make myself available to you. If you plan to cook from the book and have questions, please shoot me an e-mail: amateurgourmet@gmail.com. If you get a bunch of people together to cook from the book (maybe a SECRETS OF THE BEST CHEFS dinner party?) I'm happy to Skype in and answer your group's questions. Or maybe we can organize a Google hangout.

Whatever you decide to do, please know how much I appreciate having such a devoted bunch of loyal fans. On the road these past 6 weeks, I've met so many of you. One of you even came up to me and said the secret code I put in my last newsletter ("butter better butter better") and meeting all of you, without question, has been the best part of this whole book experience.

So go forth, get yourself a copy and start cooking your way through it--just like I did when I wrote the book. You're bound to learn new techniques and new recipes that'll become a permanent part of your repertoire. Lots of people, who aren't me, have been saying nice things about it too--see the PRESS page--so I'm not making this up.

Thanks for all your support, newsletter fans. And don't worry, we'll be back to our regularly scheduled newsletter soon.

Until next time....

Your friend,
Adam (The Amateur Gourmet)


Reading this in a browser? Get next week's in your inbox by signing up here.

Follow Me!
On Twitter
On Facebook

Check Out My Cookbook!
Secrets of The Best Chefs

Recent Food Posts

Let's Not Forget These Other Austin Eats

Room Service

The Real Reason We're in New York

Easy Butternut Squash Soup with Whiskey Ginger Cream

My Cookbook Makes Friends

The First Post-Sandy Dinner at Hearth

Franklin Barbecue

Uchi

Where Do You Escape for a Chocolate Dessert?

Scenes from a Book Tour

Lunch at the Googleplex

Fried Potato Bread with Fried Chicken at Bar Tartine, Dinner with @ChezPim at State Bird Provisions

Bar Tartine Sandwiches, Omnivore Books & The Tartine After Hours Cookbook Dinner

Return To Zuni

Parm




*|LIST:DESCRIPTION|*

Unsubscribe *|EMAIL|* from this list.

Our mailing address is:
*|HTML:LIST_ADDRESS_HTML|*
Copyright (C) *|CURRENT_YEAR|* *|LIST:COMPANY|* All rights reserved.

Forward this email to a friend
Update your profile
*|IF:REWARDS|* *|HTML:REWARDS|* *|END:IF|*