A.G. Newsletter #101: Prune, Skeleton Twins Headquarters, Payard's Italian Meringue Cookie, My Book in Stores & Sushi of Gari


Hey Newsletter Fans,

Thanks for sticking around after last week's book promotional newsletter. But can you blame me? After three years of working on it, it's kind of a big deal. Cut a guy a break, will you??

Let's focus on something else: bagels. Yesterday I had the BEST BAGEL OF MY LIFE. Don't believe me? Click here to read all about it and where I had it and why you should believe me that it was the best bagel of my life.

Now then, let's do newsletter-exclusive stuff.

On Tuesday, the day that my book came out, Craig and I went to one of my favorite New York restaurants to celebrate. That restaurant is Prune.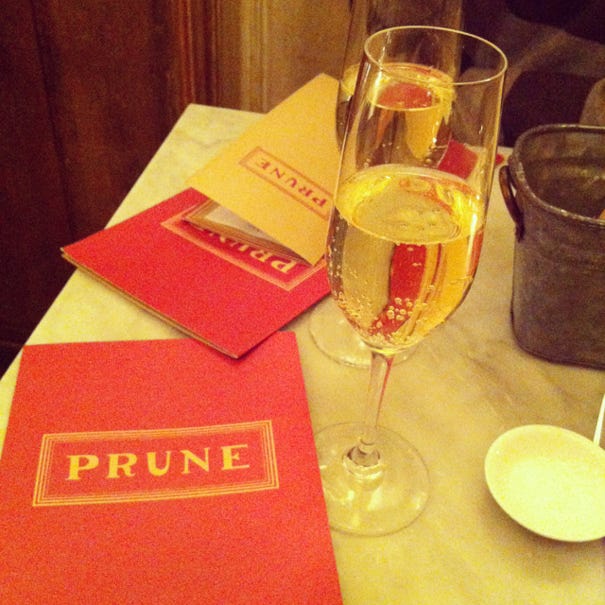 Here's the connection: Tyla Fowler, who interned with me on my cookbook, is now Gabrielle Hamilton's assistant. Let's just say, that's a big step up. And so it was that Tyla made the reservation for us and even had them send over two glasses of champagne. How nice is that?

I love Prune so much because Gabrielle Hamilton is one of my favorite food writers (maybe the best food writer currently working?) and here you are at what's basically her home eating food that she herself oversees and creates. It's not about technical precision (though the food is precise) or high-tech wizardry (there's none of that) but just food that totally exemplifies and embodies what Gabrielle believes about eating and why it's important.

Craig started with scallops poached in butter which he absolutely adored: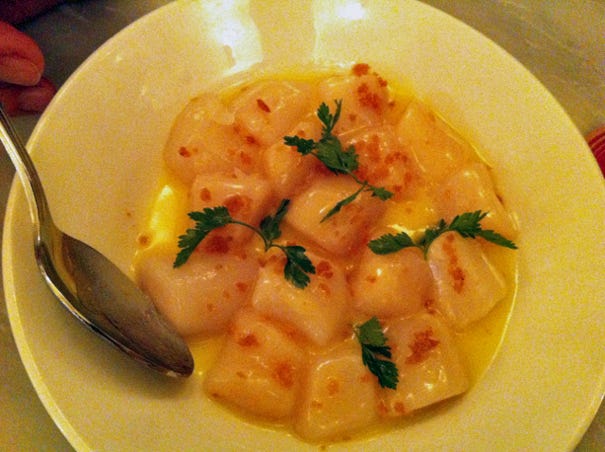 I had something only Gabrielle Hamilton could have created: Pernod Flan with broccoli florets and stems cooked...I'm not sure how.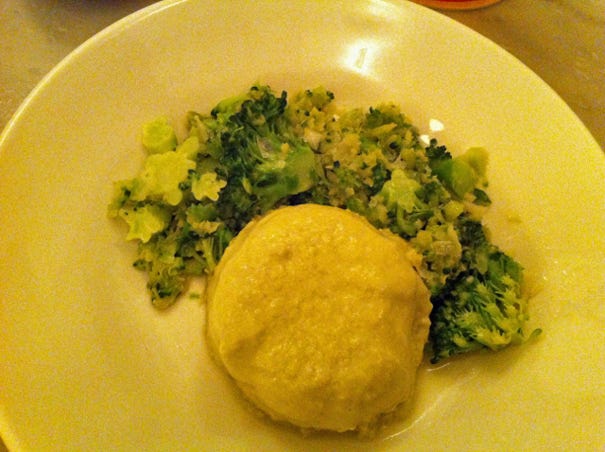 It may not looking particularly appetizing in that picture, but it was lovely; cool, anise-flavored flan with the vegetal crispness of the broccoli. It's one of those things you just have to eat yourself to understand.

My entree was pigeon: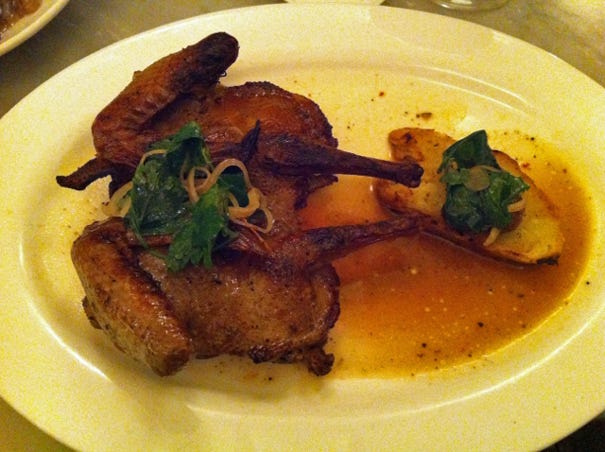 Craig's was lamb: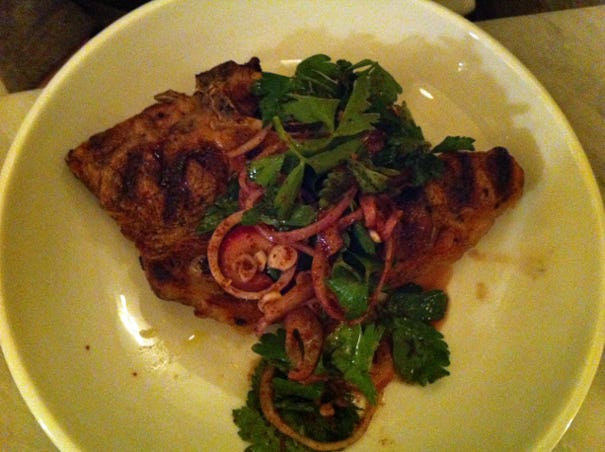 Both were great, as was this side dish of onions cooked with okra in red wine: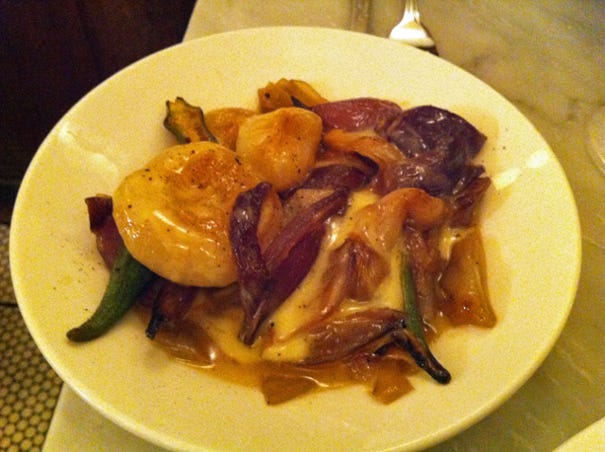 There was some deep, deep flavor going on there... I wondered if veal stock was employed, but Tyla said it was just red wine. I'm very curious to know how it was made...hopefully it'll be in the Prune Cookbook (now in the works).

The dessert was the best: a Breton Cake that proves the simplest things are often the most pleasing.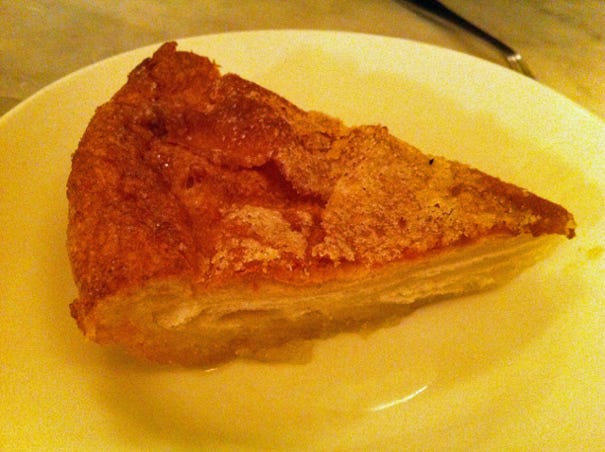 The ingredients couldn't be simpler---butter, sugar, eggs---but it's how they're incorporated and cooked together that makes this cake so special. The inside was like layers upon layers of crepe; the outside like a crispy doughnut.

I'm going to look up a recipe when I'm back in L.A.

On Friday, Craig invited me to visit SKELETON TWINS headquarters in Times Square.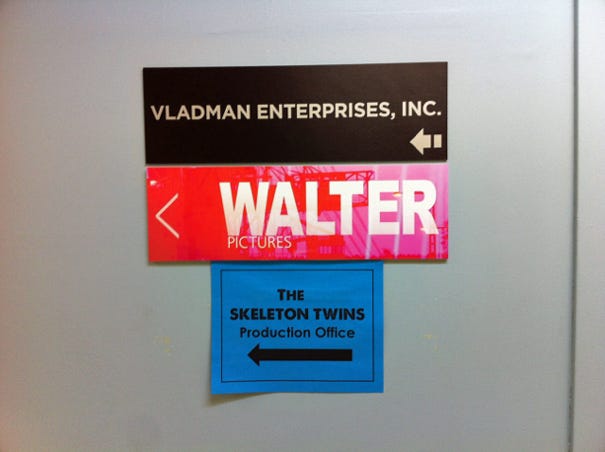 In case you're like, "Skeleton Twins Headquarters? What's he going on about?" Craig's about to direct a movie--starting THIS SUNDAY--that he co-wrote with our friend Mark and it's going to star Kristen Wiig and Bill Hader and Ty Burrell and Luke Wilson. Yes, we're crazy excited. (Here's the IMDB page if you're into that sort of thing.)

It was pretty incredible to see all of these people working to get this movie together: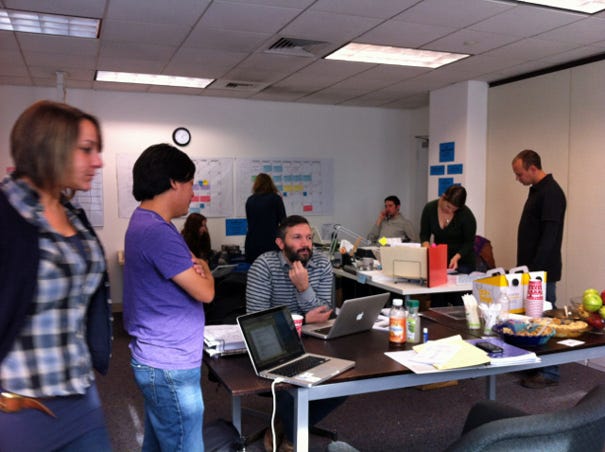 Almost 30 people are working right now to get the props, costumes, locations, hair, and make-up in order before the cameras start rolling this weekend.

I plan to be there on Day 1 at 6:30 in the morning to see how it all happens. We'll see if I can keep that up through the whole shoot.

On my way home that day, I was craving a little snack so I popped into the new Payard on the Upper East Side (right near where I'm staying) and had a very difficult choice to make: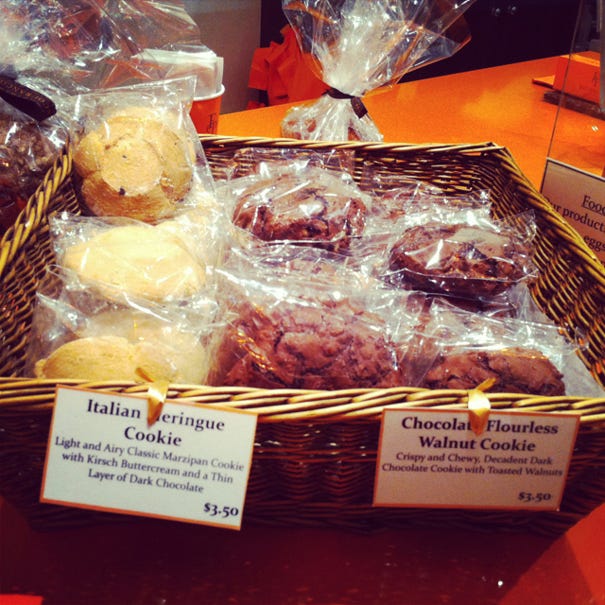 Actually, that wasn't difficult at all: I love marzipan and think chocolate's just ok. So the Italian Meringue Cookie was mine. Here it is after I took a bite out of it: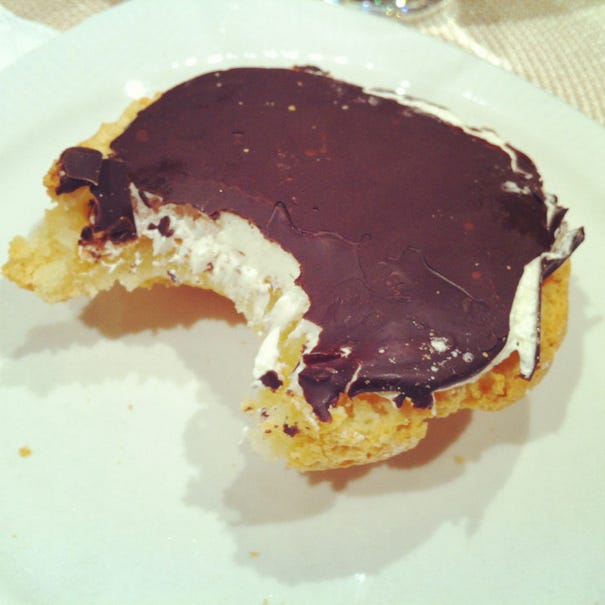 Oh my God: that bottom layer is a sweet, almondy meringue... on top buttercream and then chocolate. I told myself I'd only eat half. I ate the whole thing before I could even finish that thought in my head. This thing is dangerous. Keep it far away from me.

Yesterday, after a few days of waiting, I finally saw my book in a bookstore: Barnes & Noble on the Upper East Side.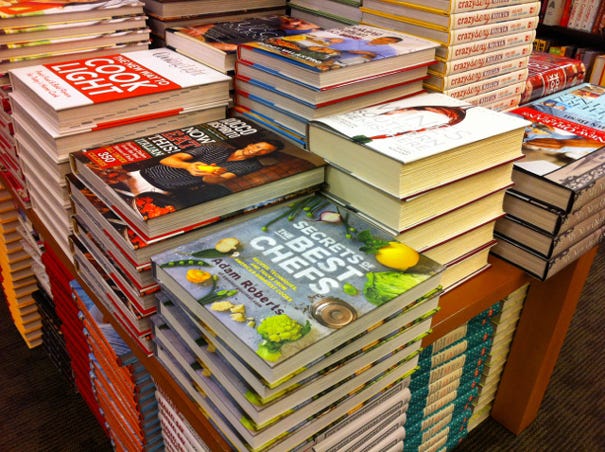 Of course I had to do that thing that I did when my first book came out: I hid behind some Yoga DVDs and watched people circling that table and hoping upon hope that they'd pick up my book and at least look through it. And, turns out, many did! I'm so glad it has an eye-catching cover.

Only, as they were looking through it, I got scared they'd recognize me from the pictures (this wasn't as much an issue with my first book) so I went scurrying into the children's book section and snuck back when the coast was clear.

A few of you e-mailed me that Amazon told you that the book wouldn't be available until December... that was just a glitch. Amazon is fully stocked now. Click here to see. You have no excuse now! Ok, I'll stop talking about the book.

Last night Craig and I were craving sushi so we went to Sushi of Gari on the Upper East Side.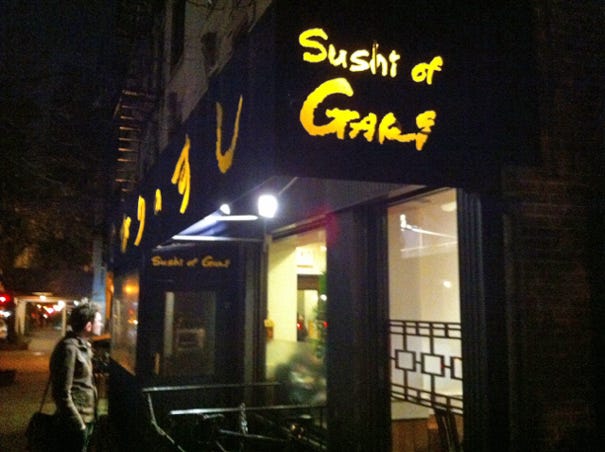 I'd heard a lot about Sushi of Gari but had never been there...I thought it would be prohibitively expensive. But it wasn't too bad. We each had a miso soup which was very good: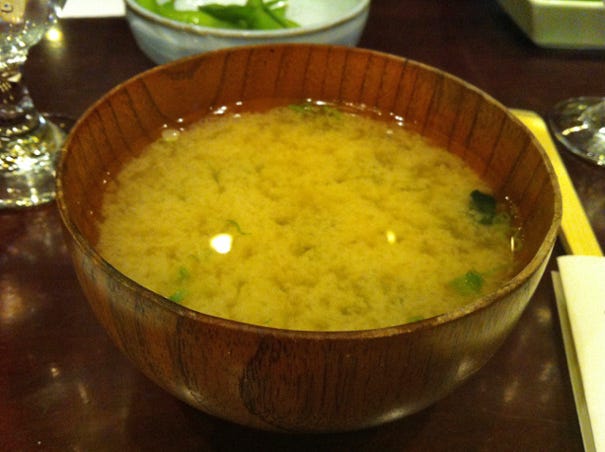 Then I had the regular sushi plate for $25 which came with 8 pieces of sushi and a tuna roll: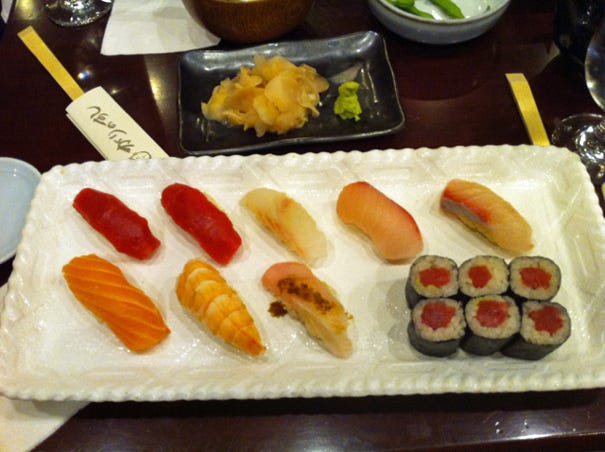 Craig had the deluxe for $9 more and all of his sushi was much fancier: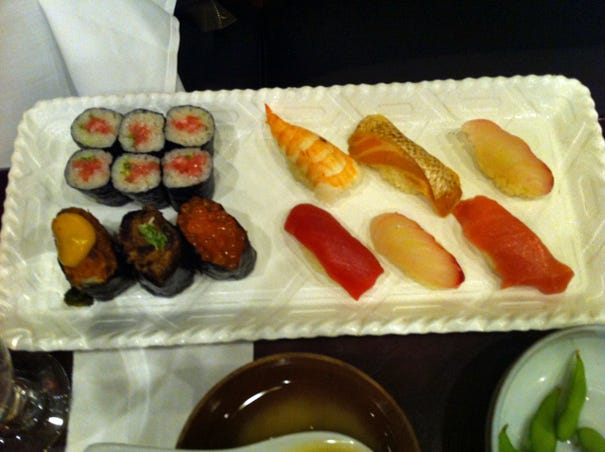 We both agreed the fish was super fresh and expertly prepared. We'll definitely be going back. Actually, maybe not: once Craig starts shooting his movie he'll be pretty unavailable for 4 weeks. Maybe I'll go there with you instead.

That's all for this week folks!

Until next time....

Your friend,
Adam (The Amateur Gourmet)
Reading this in a browser? Get next week's in your inbox by signing up here.

Follow Me!
On Twitter
On Facebook

Check Out My Cookbook!
Secrets of The Best Chefs

Recent Food Posts

Secrets of the Best Chefs is Here Today! (Plus: A Look Behind The Scenes)

Let's Not Forget These Other Austin Eats

Room Service

The Real Reason We're in New York

Easy Butternut Squash Soup with Whiskey Ginger Cream

My Cookbook Makes Friends

The First Post-Sandy Dinner at Hearth

Franklin Barbecue

Uchi

Where Do You Escape for a Chocolate Dessert?

Scenes from a Book Tour

Lunch at the Googleplex

Fried Potato Bread with Fried Chicken at Bar Tartine, Dinner with @ChezPim at State Bird Provisions

Bar Tartine Sandwiches, Omnivore Books & The Tartine After Hours Cookbook Dinner

Return To Zuni

Parm




*|LIST:DESCRIPTION|*

Unsubscribe *|EMAIL|* from this list.

Our mailing address is:
*|HTML:LIST_ADDRESS_HTML|*
Copyright (C) *|CURRENT_YEAR|* *|LIST:COMPANY|* All rights reserved.

Forward this email to a friend
Update your profile
*|IF:REWARDS|* *|HTML:REWARDS|* *|END:IF|*