A.G. Newsletter #104: Lunch at The Little Owl, Socks, Dinners at Hearth, Barbuto and The Strip House


Good People of The Amateur Gourmet Newsletter,

I have much to tell you here at the start!

First off: tonight I'm appearing at The New York Public Library with Deb Perelman, the superstar author of the blockbuster SMITTEN KITCHEN COOKBOOK and I have a feeling this is something you won't want to miss. So if you're in New York, click here for the info and I'll see you there.

Secondly: we just upgraded the commenting system on my website and it's absolutely fantastic. You don't have to log in anymore, you can vote comments up and down, reply to individual threads... all of it's wonderful. Why not give commenting a go on my latest post, a recipe for an improvised Rustic Vegetable Ragu? It made for a really excellent dinner; cheap, easy and comforting on a cold winter's night.

Now on to newsletter things....

Last week, I was absolutely thrilled to have lunch with Ann Bramson, publisher of Artisan books who took me out to The Little Owl to celebrate the success of my cookbook. (It's doing very well, thanks to all of you!) Our lunch there was delightful not just for the food (which you'll see in a moment) but because I got to talk to Ann all about her career; a career that began at Craig Claiborne's legendary Hamptons home (if you don't know who Craig Claiborne is, check out my post about his autobiography here) where she met Jacques Pepin (she published his legendary book, La Technique; the book that taught Tom Colicchio how to cook) all the way through the present day where she's publishing everyone from Thomas Keller (she's responsible for all of his gorgeous books) to Sean Brock from Husk.

When we decided to share two salads and two entrees, the generous people at The Little Owl offered to split them for us on our plates--a lovely gesture, indeed. So here are two salads: beet salad on the left, celeriac salad on the right.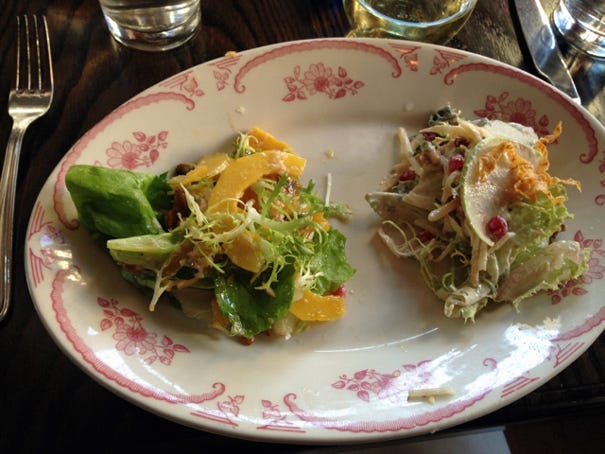 Conspiratorially, Ann looked at me when the waiter asked if we wanted any wine. I non-verbally agreed to this conspiracy and told the waiter "yes." We each had a glass of Chardonnay that was the waiter's personal favorite.

Our entrees were lobster risotto (on the left) and a classy take on chicken Parmesan (on the right), both excellent: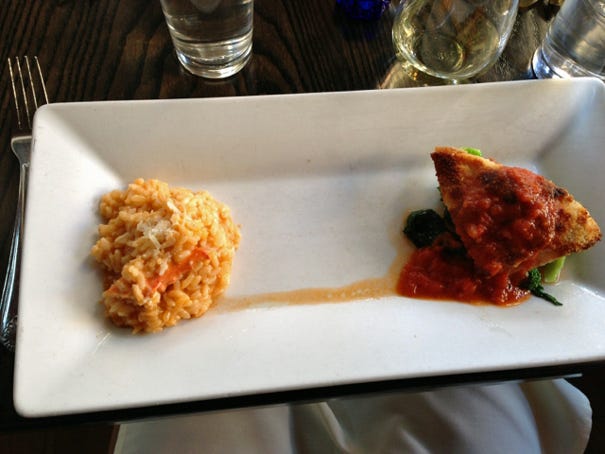 And how could we skip dessert? We could not. So we shared this fig clafoutis and raspberry beignets on chocolate sauce: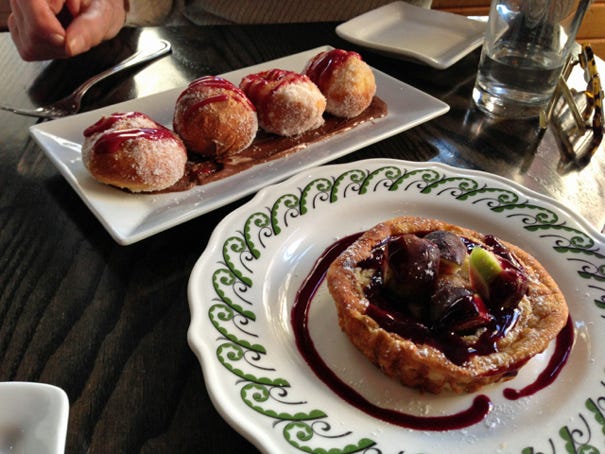 Both for the company and the food, it was one of those lunches that lingers with you for the rest of the day. I'm so glad I got to spend time with Ann before returning to L.A. in January.

Now then! Craig's parents flew in on Friday night to come visit the set of The Skeleton Twins. Craig's mom brought the gift of socks: can you guess which are for Craig and which are for me?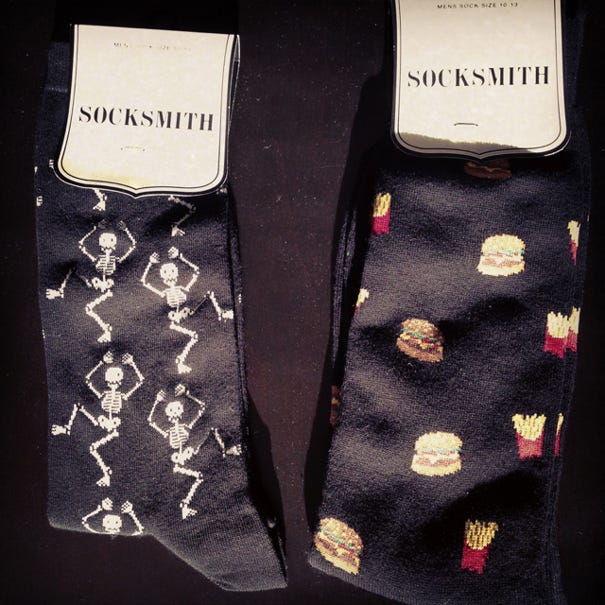 Then the great feasting began. While Craig was working into the night on Friday, I brought everyone (including Craig's Aunt Liz and Uncle Chris, who were also visiting) to Marco Canora's Hearth, one of my favorite restaurants in the city.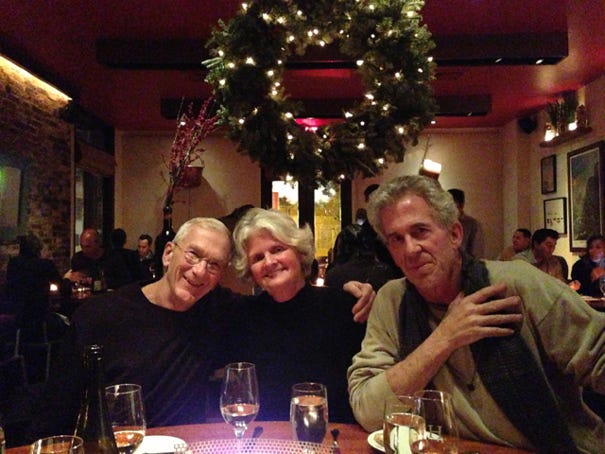 We had a lovely table, right in the center of the room, under a wreath. Marco--who's one of the chefs in my cookbook--chatted up Craig's family and they got a big thrill out of that. He's the most genuine, down-to-earth guy but also so, so talented.

Check out my first course: an octopus terrine with hearts of palm and citrus on top.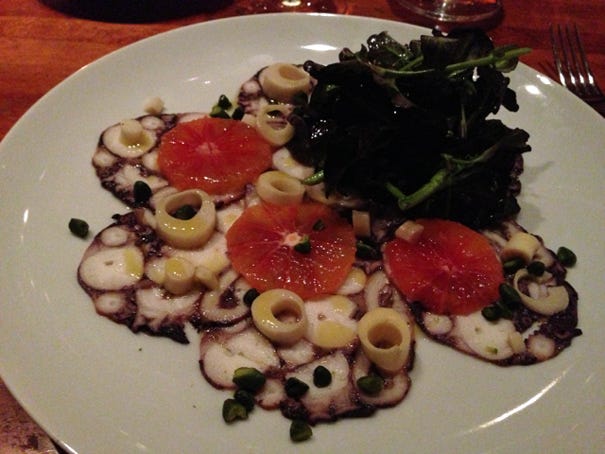 That dazzled but what dazzled even more--pretty much everyone's favorite dish of the night (maybe the whole weekend!)--was this house made rigatoni, made with bitter cocoa in the dough, served with a wild boar ragu: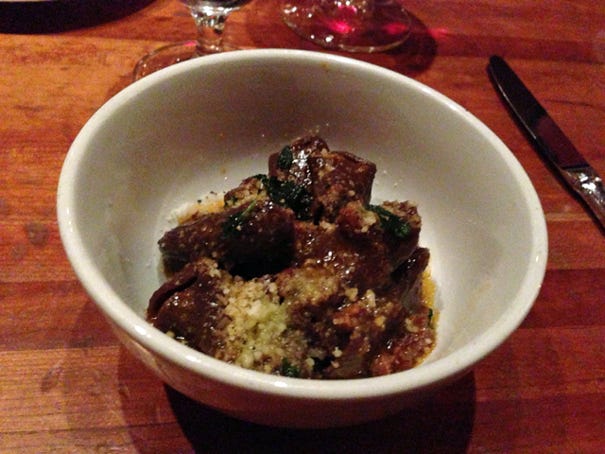 That picture doesn't really do it justice but, trust me, you'll want to order that when you go to Hearth.

My entree of Venison was brightened with very fresh-tasting grilled apples: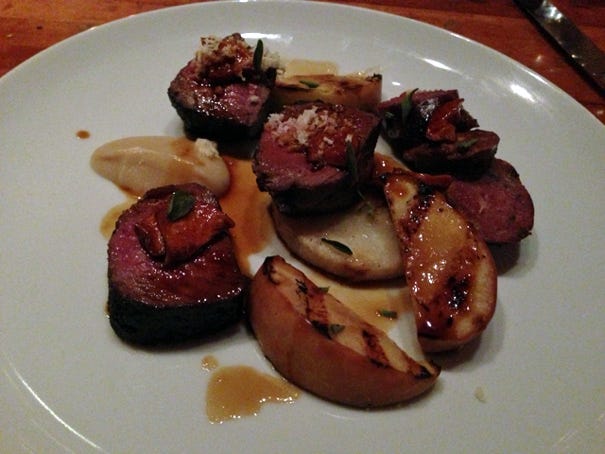 And of course, we had to have the apple cider doughnuts for dessert (though I forgot to take a picture) and Aunt Liz ordered this pear tart which was pretty stunning: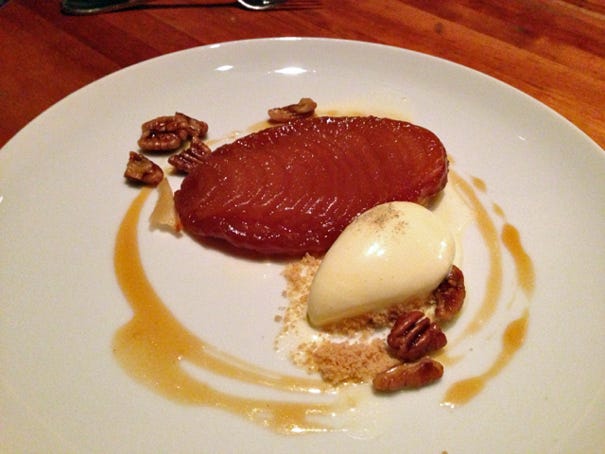 That was Hearth, but the eating didn't end there. The next night, we visited another chef restaurant from my cookbook: Jonathan Waxman's Barbuto.

This place was totally packed on Saturday night and for good reason: the food's terrific.

We started with a raw kale salad that is the best raw kale salad I've had so far in my life; the key was an anchovy garlic dressing that stood up to the rough texture of the kale: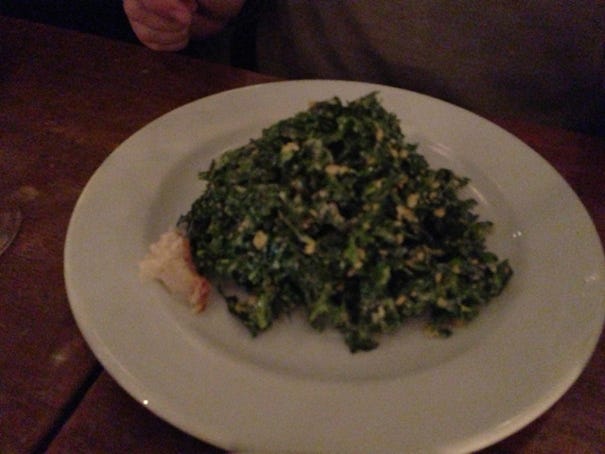 We also had mussels: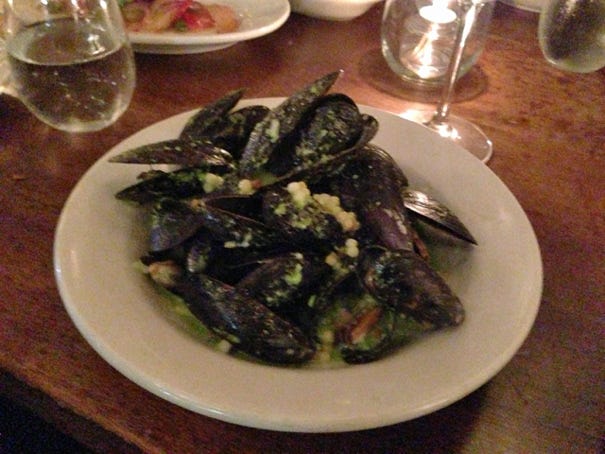 And cod fritters, modeled here by Craig and Aunt Liz: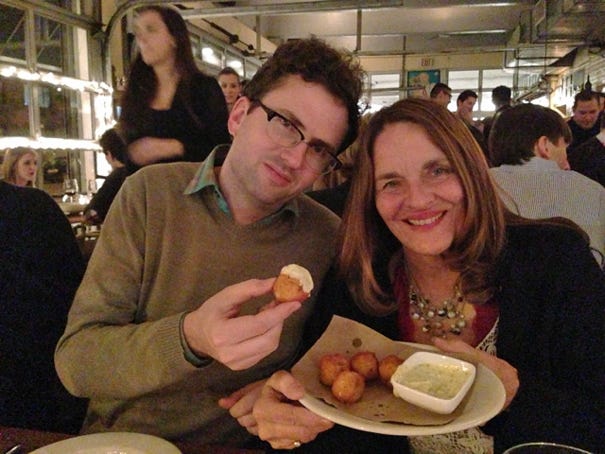 There was seafood risotto: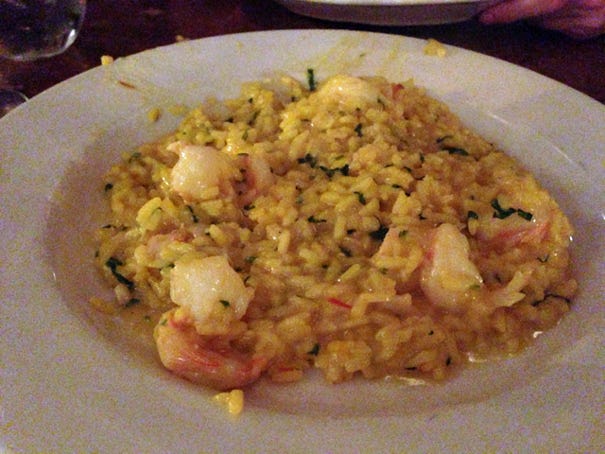 Mushroom gnocchi: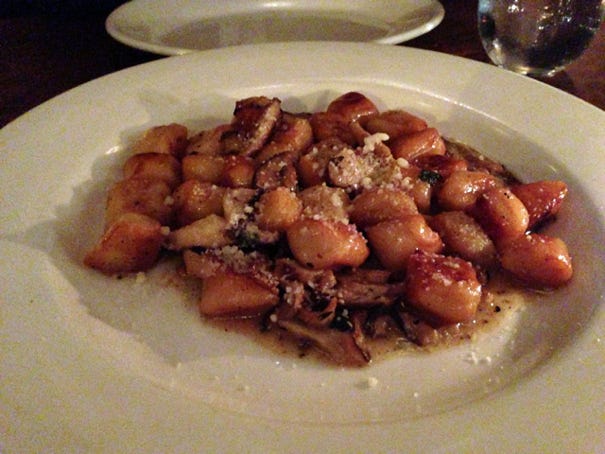 And, of course, the famous chicken with salsa verde: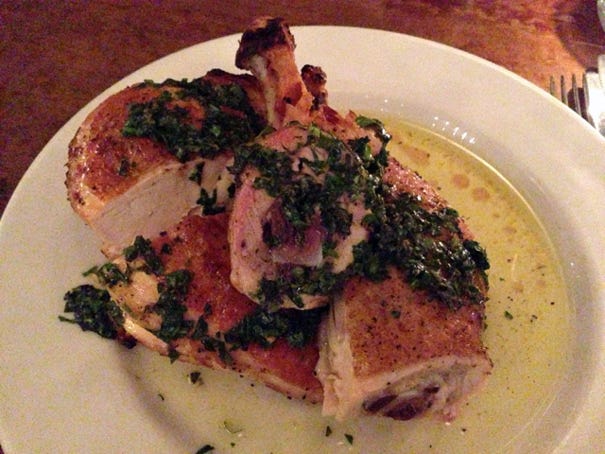 I'm full again just looking at these pictures!

But save room for this knockout of a chocolate dessert; it was the richest chocolate pudding-like thing I can remember eating: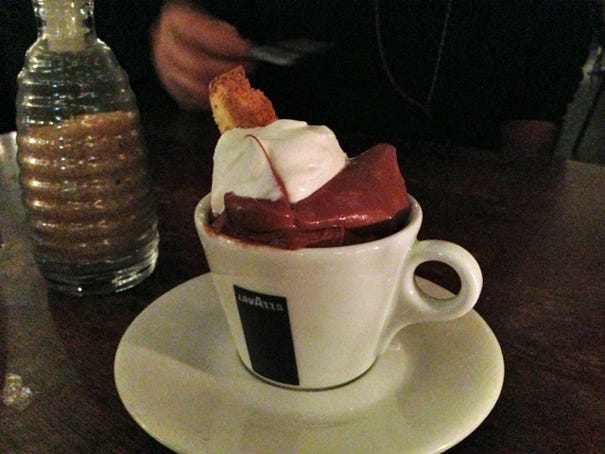 I mean, come on. That picture says it all.

After all that, I'm tempted not even to tell you about the dinner we ate last night at The Strip House.

We met up with my Uncle Mark and Aunt Ellen and swapped Craig's Uncle Chris (who had to fly back to L.A. for work) for his and Liz's daughter, Katie, who just finished up a semester at college.

Here's everyone at the table: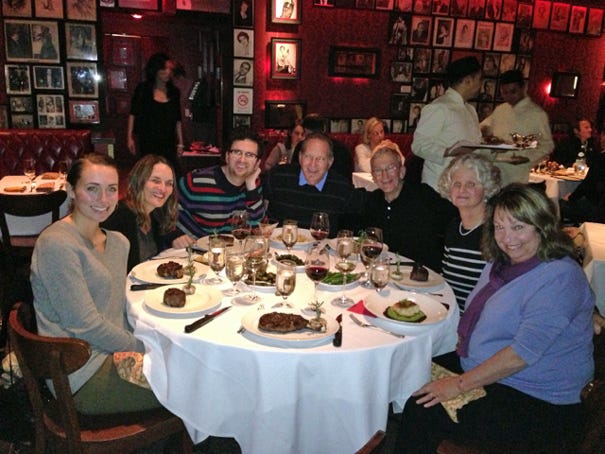 It's a great space: a bawdy red room that feels like a bordello (and maybe once was).

The steakhouse food is all traditional steakhouse food: look down at our table.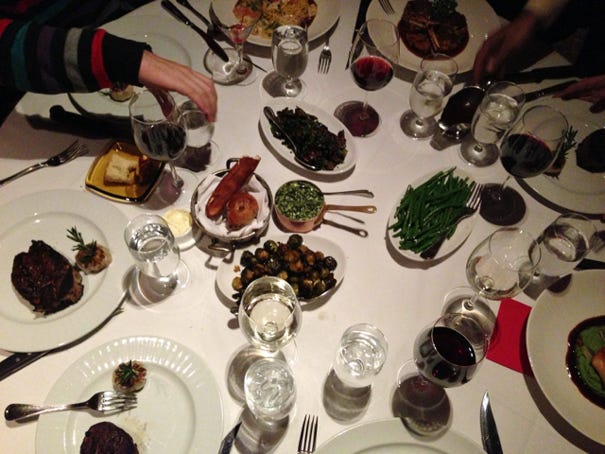 That's good stuff. And my rib-eye was top notch: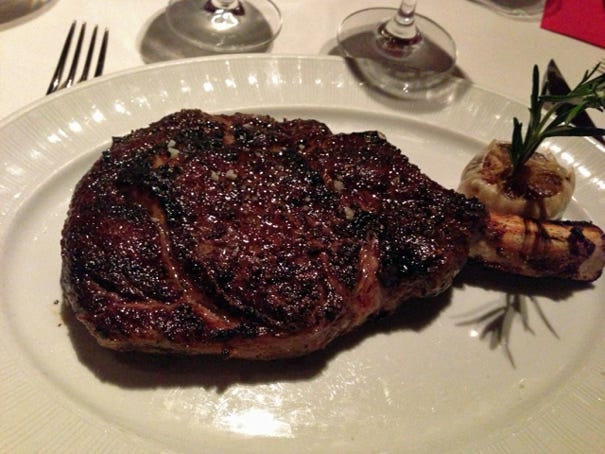 Did I eat the whole thing?

You'll have to ask me tonight at The New York Public Library. Hope to see you all there.

Until next time....

Your friend,
Adam (The Amateur Gourmet)











Reading this in a browser? Get next week's in your inbox by signing up here.

Follow Me!
On Twitter
On Facebook

Check Out My Cookbook!
Secrets of The Best Chefs

Recent Food Posts

Rustic Vegetable Ragu

A Lebanese Sandwich and Pretzel Fries

Nagging Latkes

Mission Chinese Food and Pok Pok NY

Pasta with Roast Chicken, Currants and Pine Nuts* (*Unless You Can't Afford Them)

Cookfight! Kim Severson vs. Julia Moskin

Harvest Roast Chicken with Grapes and Olives

My Google Talk

10 Signs You're in a Good Restaurant

Michael's Genuine Food & Drink

Easy Tomato Soup and Grilled Cheese

Sam Sifton's Thanksgiving Pear Cobbler

Absolute Bagels (And The Best Bagel of My Life, So Far)




*|LIST:DESCRIPTION|*

Unsubscribe *|EMAIL|* from this list.

Our mailing address is:
*|HTML:LIST_ADDRESS_HTML|*
Copyright (C) *|CURRENT_YEAR|* *|LIST:COMPANY|* All rights reserved.

Forward this email to a friend
Update your profile
*|IF:REWARDS|* *|HTML:REWARDS|* *|END:IF|*