A.G. Newsletter #105: Tertulia, Chez Pim Jam, New Year's at Blue Hill and Marie's Crisis, The Nomad, John Derian, Katie's Crostada & Back to L.A.


Hello there patient readers,

Wow! I just looked at the date of my last newsletter--December 17th--and it's crazy to think about all that I've done since I last wrote. In short: celebrated the end of Craig's movie shoot, visited Bellingham, WA for Christmas, packed up everything we had in New York--including the cat--and returned to our lives here in Los Angeles. Mark and Diana picked us up at the airport and Lolita peed in their car. An inauspicious beginning to L.A., The Next Chapter, but I'm not a big reader of omens.

On the blog, I shared The Top 10 Things That I Cooked in 2012 and The 10 Best Dishes That I Ate in 2012. I shared my plan to become Smitten Kitchen in this post about salad and you all told me not to change in the comments.

Then today I realized it's my blog's 9th anniversary. NINE YEARS OF FOOD BLOGGING. To celebrate, I cooked a Mexican feast: Carnitas Tacos with Green Salsa and Pico de Gallo. I love how much nicer the pictures look in L.A. than they did in New York. It's all that natural light I get in my L.A. kitchen; amazing how much difference good light makes. Here's a sample: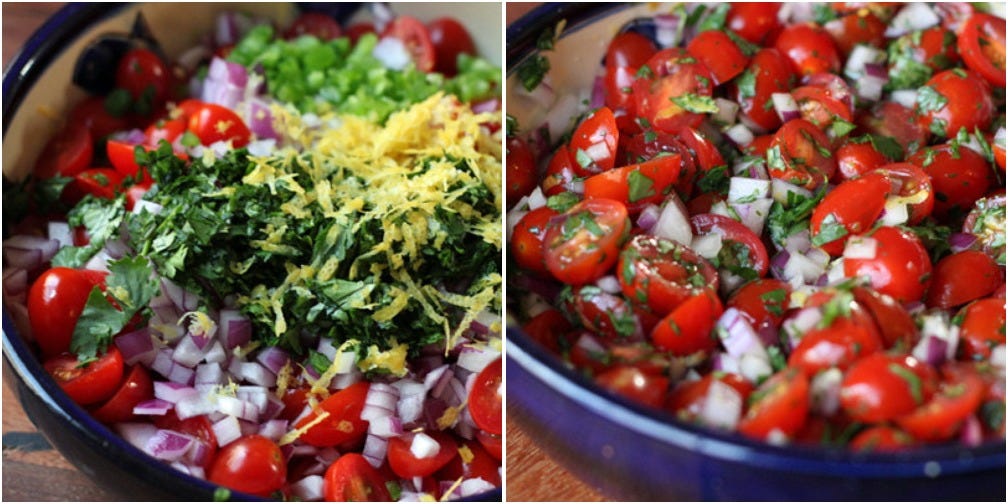 Pretty right? Check out the post for the full experience.

Now on to newsletter business....

Before leaving New York, I ate many remarkable meals, too many to list here. One of those meals was at Tertulia in the West Village. I went there with my friend Morgan and convinced him to order the $55 paella: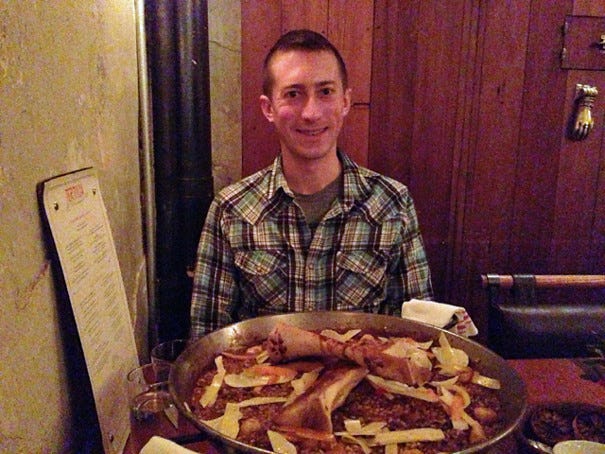 Let's look at that paella more closely: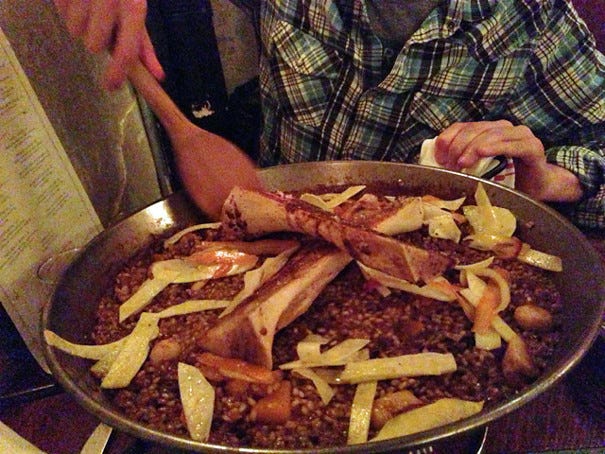 This particular one came with bone marrow on top which you stirred into the rice; there was also a fresh vegetable salad on top for texture. Everything about this was wonderful: from the crusty layer on the bottom (the sign of a superior paella) to the balance of flavors and textures. $55 seems like a lot of money, but between two people that's like $27 a person which is how much you'd pay for an entree at a fancy restaurant. And this is a lot more food than one entree. I highly recommend it.

Our trip to Bellingham, WA which happened after this dinner, was lovely as usual: Christmas with the Johnsons is something I highly recommend.

When I was in San Francisco on my book tour, Pim had given me a jar of her celebrated jam which almost got confiscated at the airport. For safekeeping, I gave it to the Johnsons to hang on to until Christmas. They kept their word and here's the jam which has won raves from the likes of Anthony Bourdain and Nigella Lawson: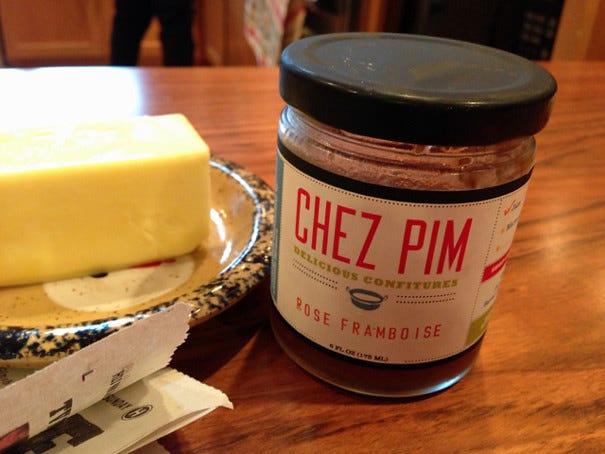 We enjoyed it spread on English muffins, and the freshness of the fruit balanced with just the right amount of sugar made for a magnificent morning experience. Thanks, Pim!

Back in New York, we celebrated New Year's Eve at two of my favorite places. Place 1: Blue Hill--the one in the city. The night started with a glass of champagne: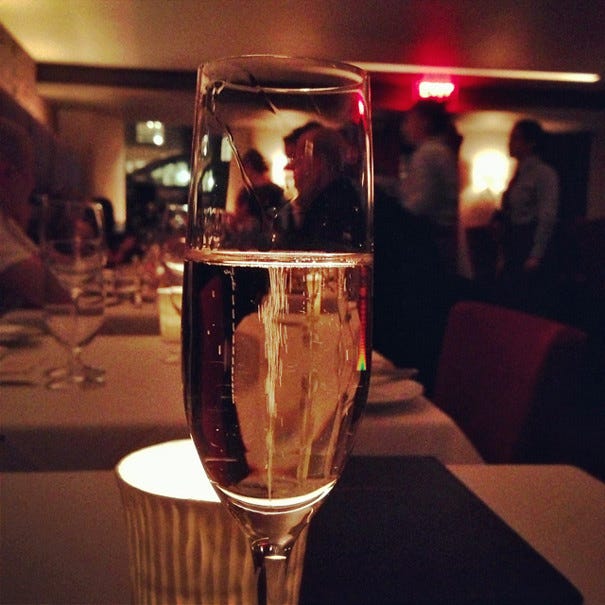 As we were sipping it, I felt like the plant behind my head was trying to eat me. I mentioned it to Craig and he told me to get over it. The waitress overheard me and asked me if I wanted her to prune it and I said, "Nah, that's ok."

But then I kept pricking my neck on branches, so Craig switched seats with me telling me I was making a big deal out of nothing. Then the plant started to eat him too: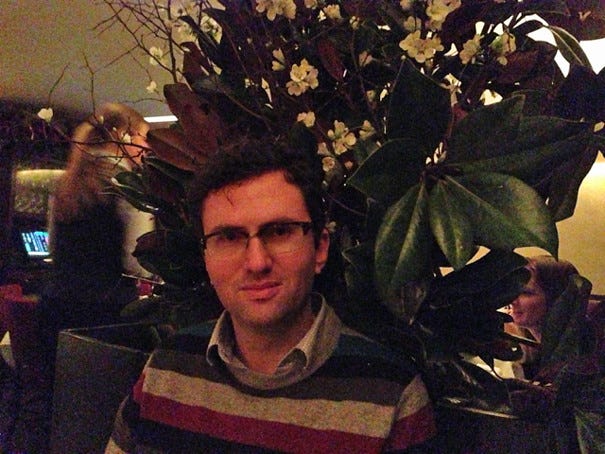 Eventually, pruning shears were proffered, the plant was trimmed and all was well. But it makes for a funny story.

The food, of course, was wonderful. I won't show you everything, but check out this egg covered in gold leaf: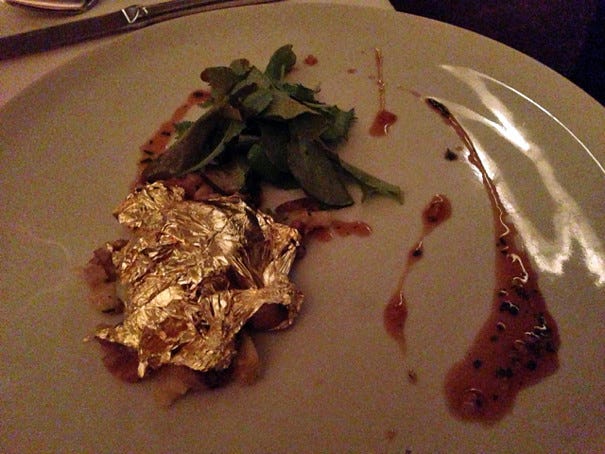 And check out my mung bean sprout risotto, just like mom used to make!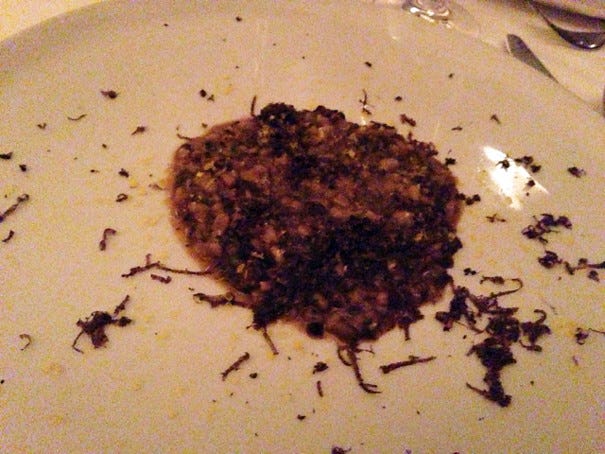 After dinner, we went to my favorite place in New York and the perfect spot to ring in the New Year: Marie's Crisis. If you hear the words "show tunes" and run screaming in the other direction, this place is not for you; but if you can think of nothing better than singing along to "Pippin" with a room full of drunken strangers, this place will warm your heart as much as it warms mine. I miss it already.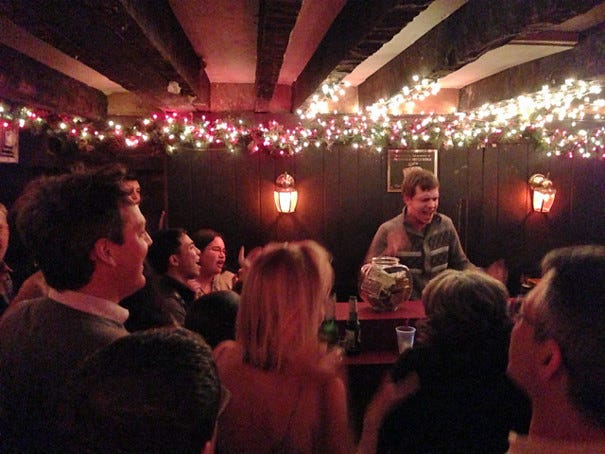 Before leaving New York, I really wanted to try The Nomad which is famous for its opulent roast chicken stuffed with foie gras and brioche.

Here are the cocktails we imbibed at the really charming library bar while we waited for our table: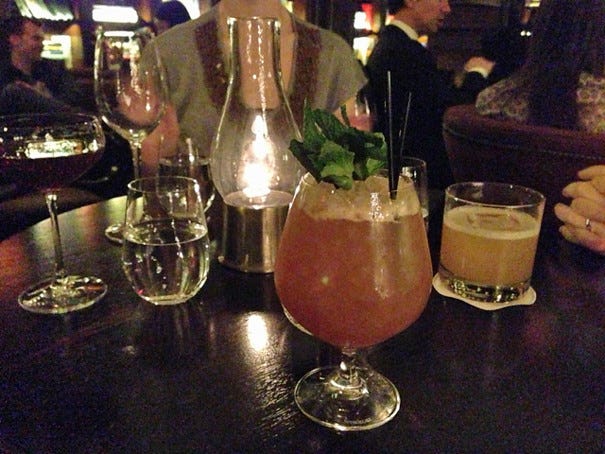 Then, at the table, we ate lots of food, including this terrific house-made bread: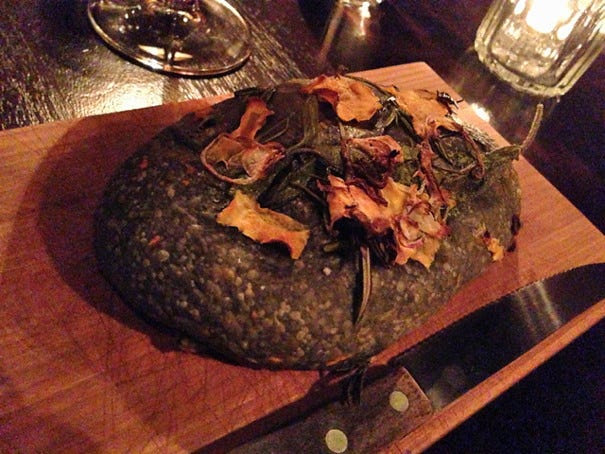 Craig flipped out over his seafood platter for 1 (you can have it for any number of people, but he was the only one who wanted it...until we all saw it and were jealous):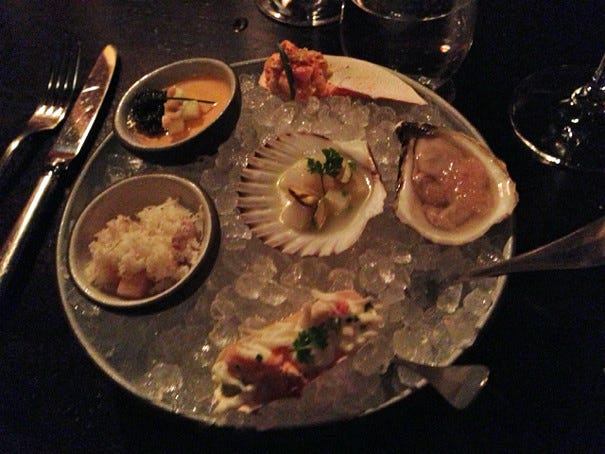 But the chicken really was the star. Here it is presented table-side, pre-carving: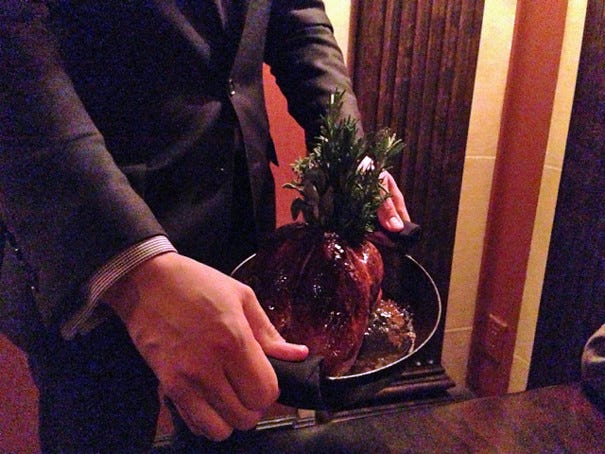 Fit for a king!

Back in the kitchen, they separate the dark meat from the white meat. The dark meat gets fricassed; and the white meat is presented thusly: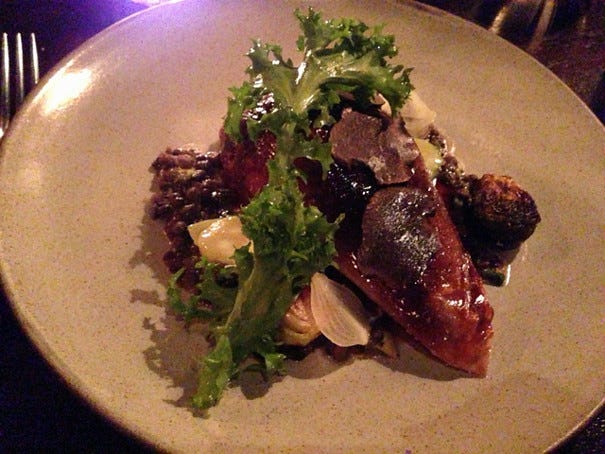 This is the kind of eating Escoffier wrote about in his classic text; it's refined, sophisticated, and special enough to warrant an evening out. The chicken at Nomad is clearly an essential New York fine dining experience.

One last stop before I left New York, was a store called John Derian which I first heard about when Gabrielle Hamilton mentioned it in an article. If you love knicknacks and doodads and cutesy plates and serving platters, this store's for you. I was most charmed by this tablecloth which I almost bought: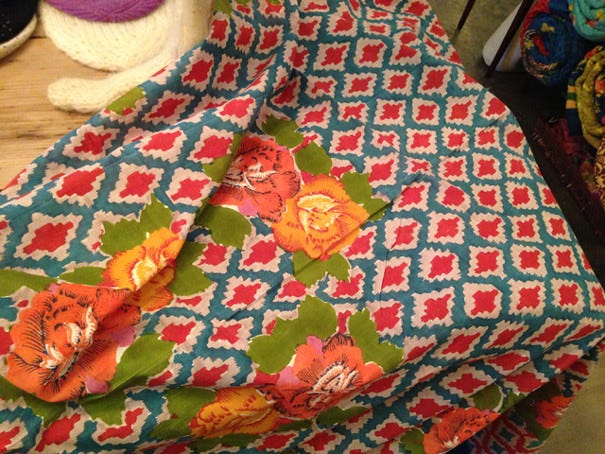 Then I got cold feet because it was a little too feminine, a little too homeless hippie shawl. What do you think? I think I'd like something like this as a tablecloth, just not this.

And then POOF! we were back in L.A.

Our first night, we went up to Craig's aunt and uncle in Topanga Canyon because they were watching our cars the 3 1/2 months we were away which was super nice of them. After a terrific spaghetti carbonara dinner, their daughter Katie made us a remarkable pear crostada. Here she is presenting it: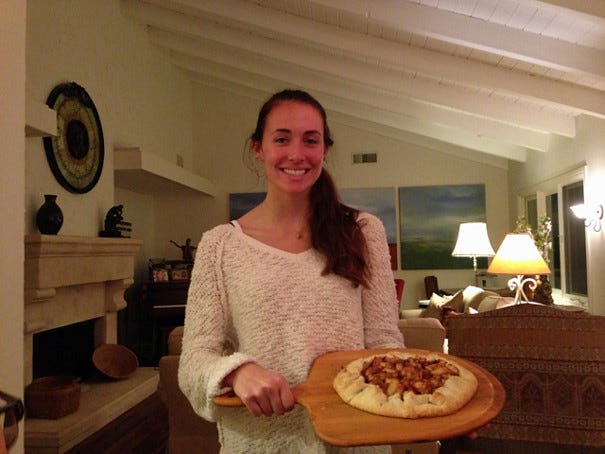 Nice job, Katie!

And now we're back in L.A. and it's like that whole New York experience was just a montage in the movie of our lives. Since being back, I got incredibly sick and stayed on the couch most of last week eating soup and watching movies (in order: Throne of Blood, The Artist, Groundhog Day, The War Room, Lincoln (Craig had a screener)).

Now I'm 100% better and ready to tackle the city once again. So watch out L.A.!

And thanks for your patience with my newsletter, everyone. 2013 has many exciting things in store: I'm headed to Birmingham for Food Blog South a week from Friday, then it's back to New York for more book events in February.

But let's not worry ourselves about that stuff now. If you haven't already, check out the new Recipes section of my site...it'll keep you busy for hours.

Until next time....

Your friend,
Adam (The Amateur Gourmet)




Reading this in a browser? Get next week's in your inbox by signing up here.

Follow Me!
On Twitter
On Facebook

Check Out My Cookbook!
Secrets of The Best Chefs

Recent Food Posts

Carnitas Tacos with Green Salsa and Pico de Gallo

Nine Years

A New and Improved Recipes Page

Chicken Liver Toast and the Secret to a Good Chicken Salad

Leftover Broccoli Sauce

Lebanese Chickpea Stew

The 10 Best Dishes That I Ate in 2012

The 10 Best Things That I Cooked in 2012

What To Buy The Food Lover in Your Life

Anything Goes Salad

The Meadow (Land of 1000 Salts)

Fear of Mayo

Rustic Vegetable Ragu

A Lebanese Sandwich and Pretzel Fries





*|LIST:DESCRIPTION|*

Unsubscribe *|EMAIL|* from this list.

Our mailing address is:
*|HTML:LIST_ADDRESS_HTML|*
Copyright (C) *|CURRENT_YEAR|* *|LIST:COMPANY|* All rights reserved.

Forward this email to a friend
Update your profile
*|IF:REWARDS|* *|HTML:REWARDS|* *|END:IF|*