A.G. Newsletter #107: Cauliflower Pasta, L&E Oyster Bar, Fat Duck Cookbook, Jinpachi, New Rug, Cookie Squares & Food Blog South


Hey there readers,

This was one of those weeks where I edited my pictures and thought, "Holy crap, did I really eat all that in one week?"

Let's start with the best: a broccoli cheese casserole that I made with HOMEMADE cream of mushroom soup. That's right, HOMEMADE, not out of a can. Click the link to read all about it... it makes a pretty huge difference,

Now then, what other delicious things did I make/eat this last week? Well I remade one of my all-time favorites, my Heaven & Hell Cauliflower pasta only this picture that I took on Instagram is way better than the pictures in that post... so perhaps I need to re-photograph that entry to make it more compelling?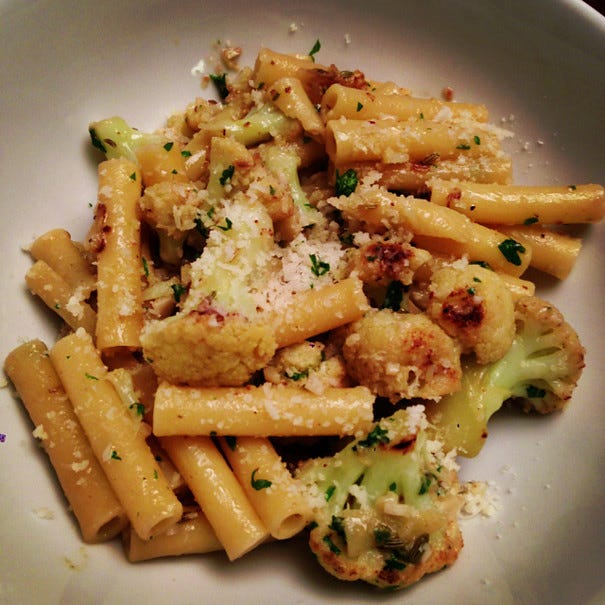 It's a great dish, one that transforms cauliflower into something as decadent-seeming as foie gras. Give it a go and let me know what you think.

On Tuesday night, we caught up with my friend Michael at a hot new Silverlake restaurant (well, relatively new) L&E Oyster Bar. Here's what the place looks like from my seat outside on the patio, looking into the restaurant: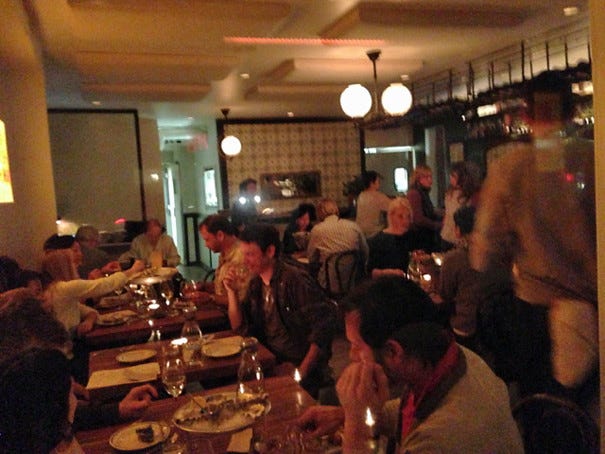 There's a great energy there, even on a Tuesday night; it's relaxed but exciting, a good combo. The first bite they bring out was one of the best bites of the night; hush puppies hot out of the fryer, coated in honey: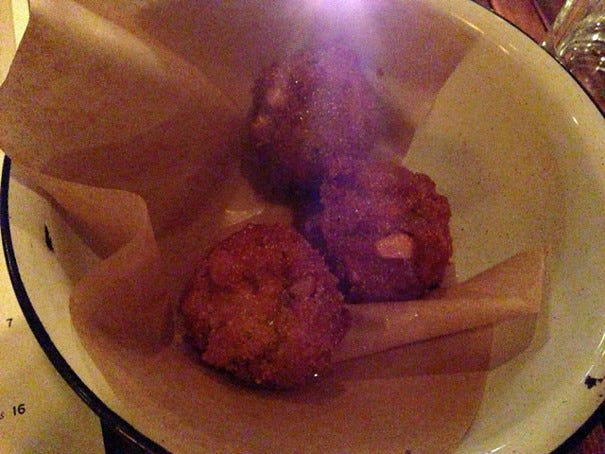 Wow, those were good. Way better than my attempt at them a few months ago.

The best part of the L&E Oyster Bar experience is, shockingly enough, the oysters. These were mostly from Washington and were fresh and briny and wonderful: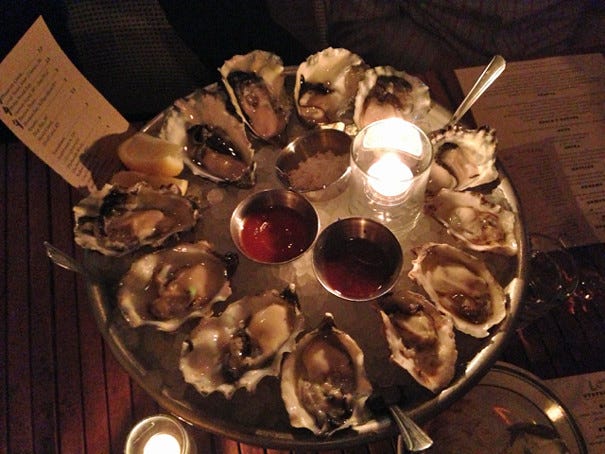 We also got some grilled oysters with mushrooms that really hit the spot:


---


And this salad was very nice if not particularly memorable:



On the other hand, the entree that Michael and I shared was totally memorable: a boudin noir made with seafood, including cuttlefish ink which is what turns it that dark color.



Imagine a dark sausage with a seafood flavor and you'll get the idea. It's unlike anything I've ever had before and definitely worth a trip to Silverlake.

These roasted carrots with ricotta weren't too shabby either:



And the pecan pie we had for dessert got great flavor from maple syrup:



So bravo, L&E Oyster Bar. You are a great restaurant.

Now, in other news, I had to order us a new coffee carafe on Amazon because somebody (not naming names (CRAIG)) cracked ours while doing dishes. And when I order something on Amazon, I often treat myself to something I definitely don't need. This time around it was The Fat Duck Cookbook.



What a beauty this book is. It's not cheap but I think it's worth every penny or, to be more accurate, Euro it costs. It's filled with gorgeous illustrations, wonderful stories, and totally undoable recipes by Britain's Willy Wonka, Heston Blumenthal. Now I'm joking when I say "undoable" because I'm sure they'll work if I try them...I just haven't found one to try yet except maybe bacon ice cream. Stay tuned.

On Thursday, last week, we joined our friend Japhy for dinner at Jinpachi in West Hollywood. Here's Japhy with his yellowfish jalapeno appetizer:



And here's the sushi plate that I had for dinner:



It's not the best sushi I've ever had but it's pretty good for the price point and in a fun part of town if you want to go out to a West Hollywood bar afterwards, as we did. If I met you there, I was the guy with sushi breath.

Hey, check out our new rug that we bought from a company called Company C. Lolita will be modeling it for you:



As my friend Morgan joked (pretty accurately) Lolita can't wait to barf on it. Don't worry, I won't take pictures.

On Thursday night, Craig requested chocolate chip cookies so I made my favorite recipe (Martha Stewart's) and things started out promisingly enough:



Then, in the oven, something sad happened:



They went from mounds of glorious cookie dough topped with Maldon sea salt to flat-headed blobs fused together like Siamese twins. But guess what? Once separated and cooled, they tasted great. So square cookies are the new cupcake.

Finally, I was in Birmingham, Alabama this weekend for Food Blog South. It was a really fun event; I got to hang out with Kenji Lopez-Alt of The Food Lab, Dianne Jacob, BunkyCooks, and the lovely Virginia Willis who was kind enough to buy my cookbook; so of course I bought hers. Here we are together:



I was slightly nervous about my speech at 9 AM:



But it actually went over really great so I was happy and relieved and then I was able to sneak off for lunch at Frank Stitt's Bottega which I'll write about on the blog either tomorrow or the next day. I also may turn my speech (The 10 Food Blog Posts That'll Get You Traffic) into a post; though I'm worried if I do that, I won't have a speech to give at future presentations. Hmmm!

Well that's all for this week, folks!

Until next time....

Your friend,
Adam (The Amateur Gourmet)



Reading this in a browser? Get next week's in your inbox by signing up here.

Follow Me!
On Twitter
On Facebook

Check Out My Cookbook!
Secrets of The Best Chefs

Recent Food Posts

Broccoli Cheddar Casserole with Homemade Cream of Mushroom Soup

Uncle Jerry and Joe Turkel at Fromin's Deli

In Praise of Chopped

Brittany Cake Aux Pruneaux

Daube de Boeuf (Beef Braised in Red Wine)

New York Brunches at Allswell and Calliope

Pink Grapefruit Halves and Those Who Love Them

Mexican Hot Chocolate Cookies

Carnitas Tacos with Green Salsa and Pico de Gallo

Nine Years

A New and Improved Recipes Page




*|LIST:DESCRIPTION|*

Unsubscribe *|EMAIL|* from this list.

Our mailing address is:
*|HTML:LIST_ADDRESS_HTML|*
Copyright (C) *|CURRENT_YEAR|* *|LIST:COMPANY|* All rights reserved.

Forward this email to a friend
Update your profile
*|IF:REWARDS|* *|HTML:REWARDS|* *|END:IF|*