A.G. Newsletter #108: Gusto, CoolHaus at Home, Proof Sandwiches, Elysian, Farmshop & Jar


Hey there folks,

This week I'm trying something new: a Tuesday newsletter instead of a Monday newsletter. That's because on Monday I overdo it, processing 150 pictures from the week before, editing them, putting them up on Flickr, writing a post and, when that's all done, sending out this newsletter (before doing my more formal writing in the afternoon). If I do the newsletter on Tuesday, that eases up the Monday load and also it allows me to feature not one but TWO new posts, the post I put up on Monday morning and the post I put up on Tuesday morning.

So, this week for example, you have two excellent posts to check out. The first is a post about our new BAKELITE FLATWARE that we just bought on E-Bay. Click the link to see what that's all about. When you're done, check out today's post about BAGNA CAUDA (The Butter Garlic Anchovy Sauce of Your Dreams). It's a post that features Mario Batali's favorite sandwich, so I know you'll want to check that out. You won't be disappointed.

Now on to newsletter stuff...

I ate like a pig this last week, there's no denying it. Because of a lingering cough, I barely went to the gym which is embarrassing because I'd slipped off the wagon in New York and promised myself I'd get back into it once I returned to L.A. The good news is I went back yesterday and got back into the rhythm. The bad news is I leave for Palm Springs tomorrow, then New York next week, so it'll be a while before I can go back.

Anyway, you want to hear about my pigging out. Ok. It started at Gusto down near the Beverly Center: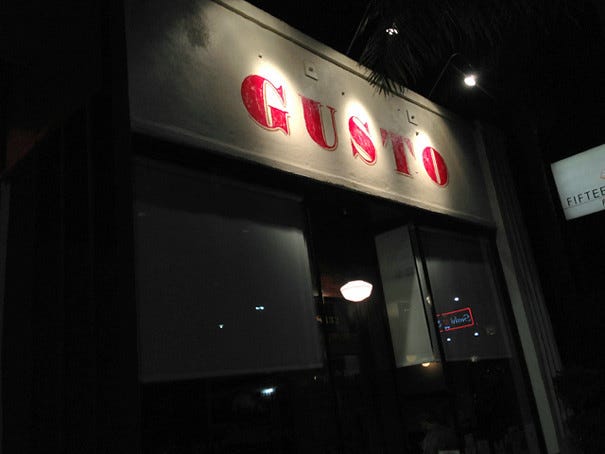 S. Irene Virbila raved about this place in the L.A. Times and for good reason: it's terrific. Our friends Greg and Jordan met us there (actually, it was Greg who suggested we eat there) and they pointed out that Sasha Baron Cohen was eating behind me. That's pretty cool.

The first course knocked it out of the park. Baby octopus that was shockingly tender on the inside but wonderfully charred on the outside:




Saturated with a lemony butter sauce, it's not to be missed. The broccolini is also quite notable: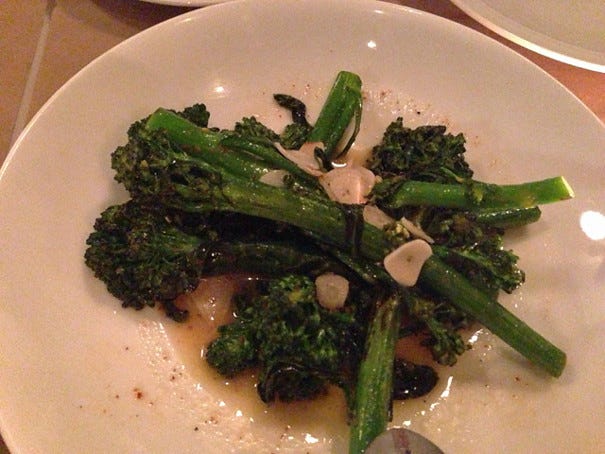 Our waiter wins the award for salesman of the year. When we asked for a wine rec, he spoke so passionately, so exuberantly about this specific wine, we couldn't say "no." It was $75, one of the most expensive wines on the menu. But it was impossible to say no! And besides, I pointed out, how often do we get to drink really good wine? And it came to like $19-ish a person. So here it is and we really did enjoy it: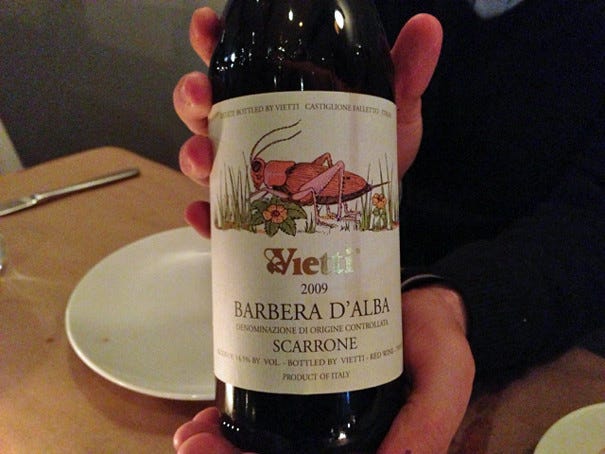 The pasta course was soul-stirring. We all shared a bowl of this Agnolotti with black truffle: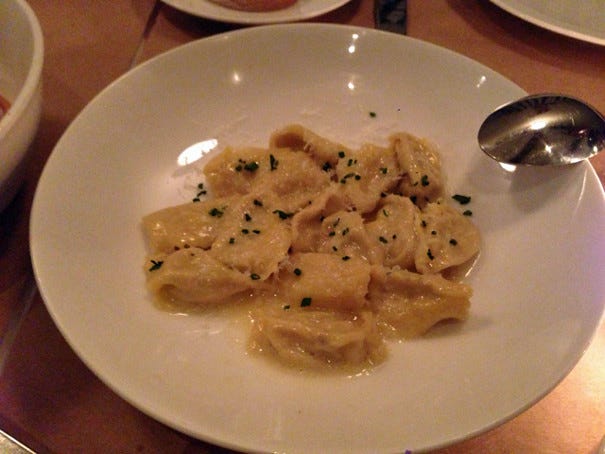 Like clouds filled with earth, these almost floated off the plate. And the deceptively simple tonnarelli with tomato and basil also dazzled: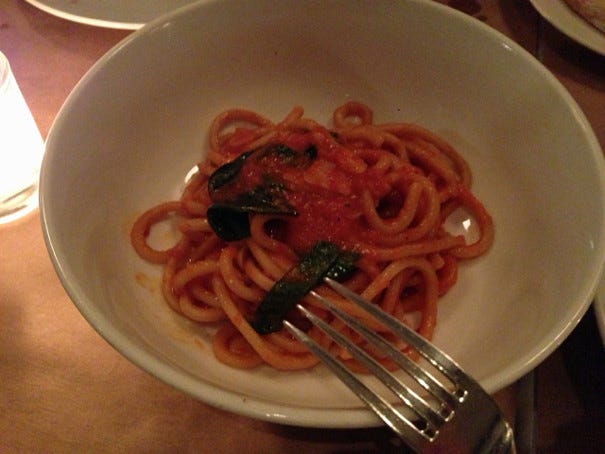 My fish (I forget what kind) was truly stunning to look at and even more stunning to eat: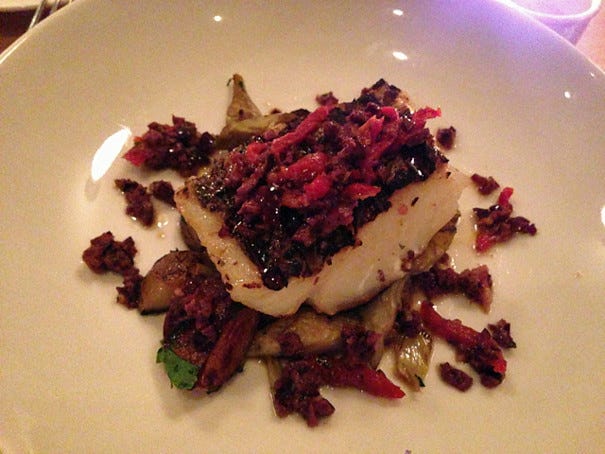 Jordan's short ribs are too pretty not to show: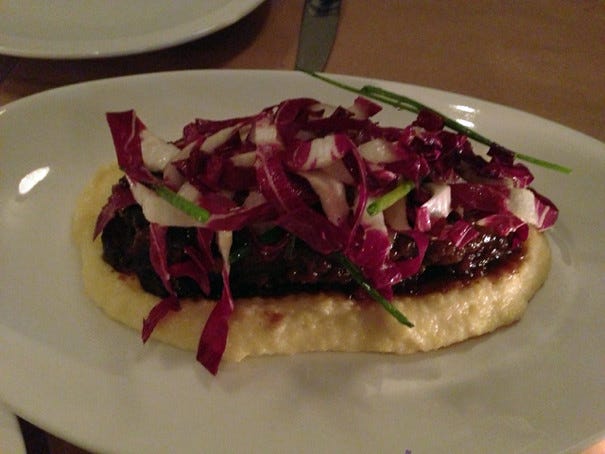 Same for Craig's lamb: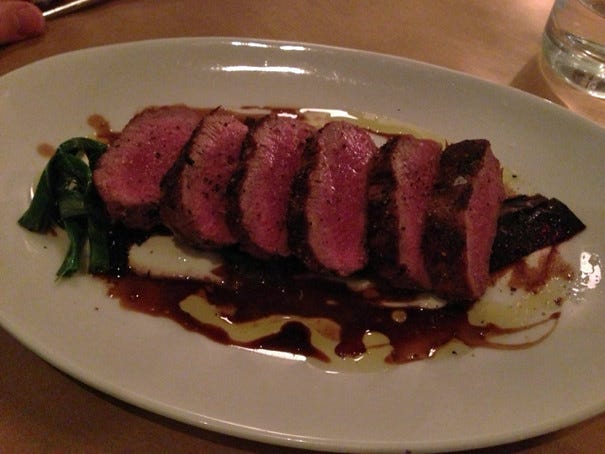 The coconut gelato pie we had for dessert reminded me of something we once had at Mozza (see here), but it was no less enjoyable because of that: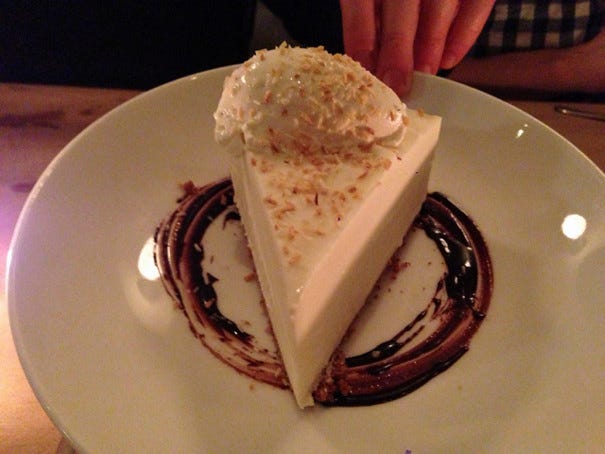 Gusto gets a big fat A in my book. I can't wait to go back.

A few nights later, my friend Diana came over (Craig was out of town) so I made dinner and we watched "Pippin" on DVD, one of my favorite possessions. It's the 1970s production starring William Katt, Chita Rivera and, most notably, Ben Vereen in a production directed by Bob Fosse. It's pretty much the best thing ever.

I made a Roquefort Cheese tart with salad that I'll post about soon. For dessert, Diana brought over these CoolHaus ice cream sandwiches: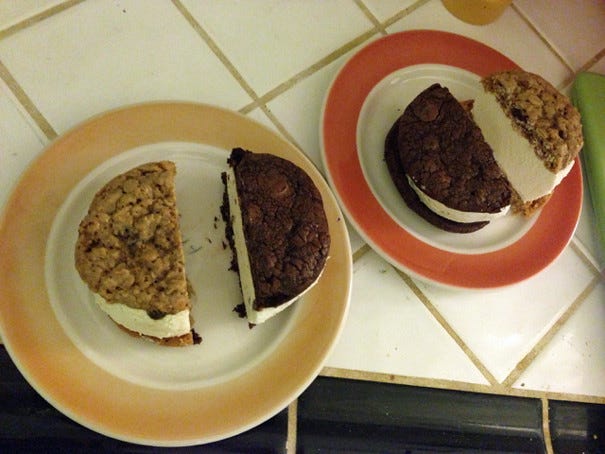 Oh my. On the left, that's an oatmeal cookie with apple ice cream inside; on the right, it's a chocolate cookie with mint ice cream inside. Diana, the King Solomon of sharing food, made sure we each got to enjoy half of each. And that was the way to do it, they're both too good not to eat.

On Friday, I found myself back at Proof Bakery in Atwater Village (I've blogged about it before) to try their sandwiches. I went with cauliflower and kale and olive tapenade, as you can see on their wall menu: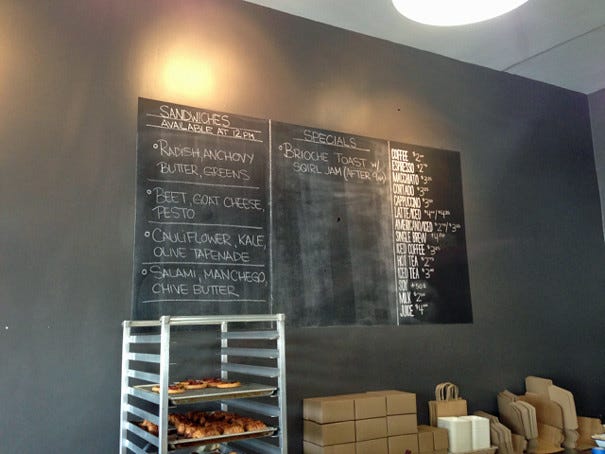 Here's the sandwich: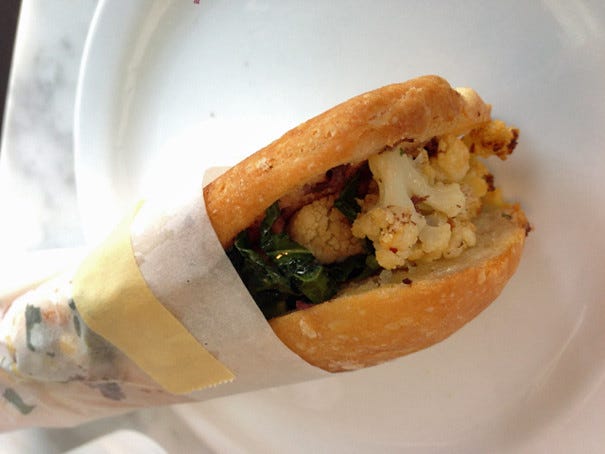 The combo would've been "just ok" on normal everyday bread; but on Proof bread--with its crunch and its kick of salt--it was really nice, if a bit too light to be filling. So I had to do the sensible thing and get a black sesame financier to round out the meal: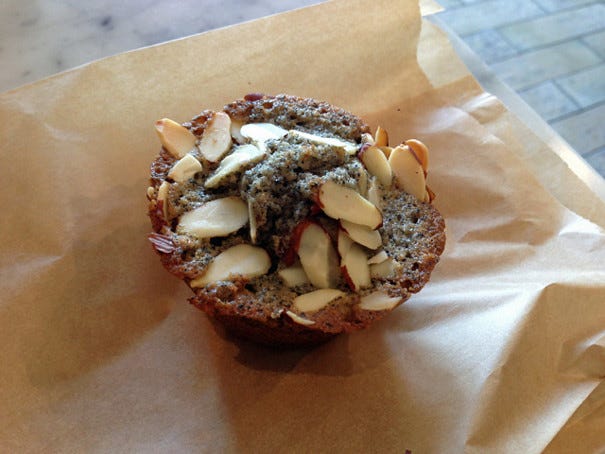 I told myself I'd only have two bites and save the rest for later... that didn't happen. It was sweet and unusual with the black sesame flavor. The nuts on top give it good crunch.

That night, I joined my friends Jim and Jess for dinner at Elysian, also near Atwater Village. The first time I went there, it was for a Molly Stevens cookbook dinner (see here) which was a great night. The idea of the place is that David Thorne and Julia Meltzer basically host a dinner party that's open to the public. I get e-mailed the menu every few weeks and it always looks amazing.

David and Julia are both artists--David's a Guggenheim fellow--and I once did a post where he and I addressed the question: "Does Great Food Rises To The Level of Great Art?" I learned so much in that conversation and was excited to see David in person again. Also to eat his food!

This dinner didn't disappoint. Here's Jim and Jess at the table: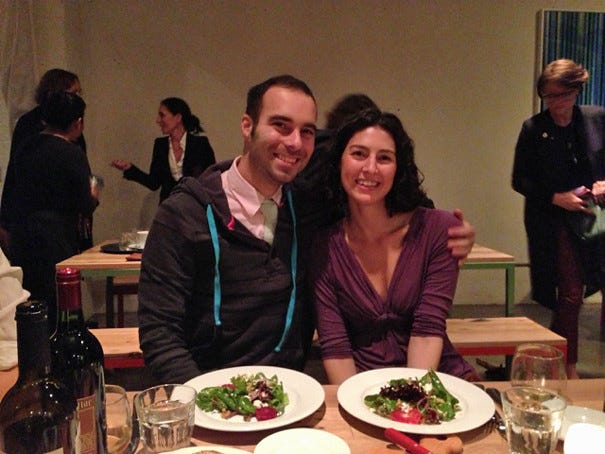 And the almonds, bread and butter you get right out of the gate: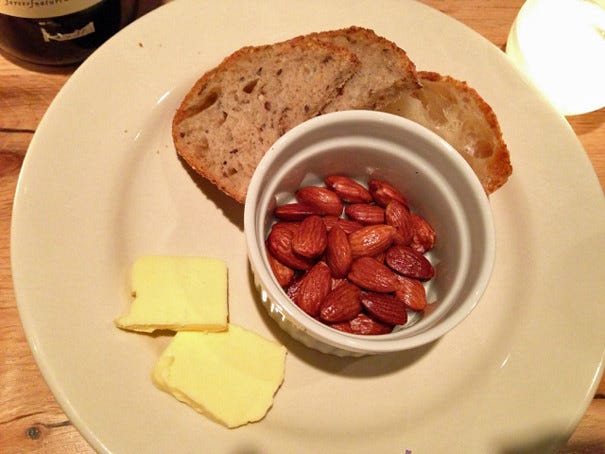 Gorgeous olives: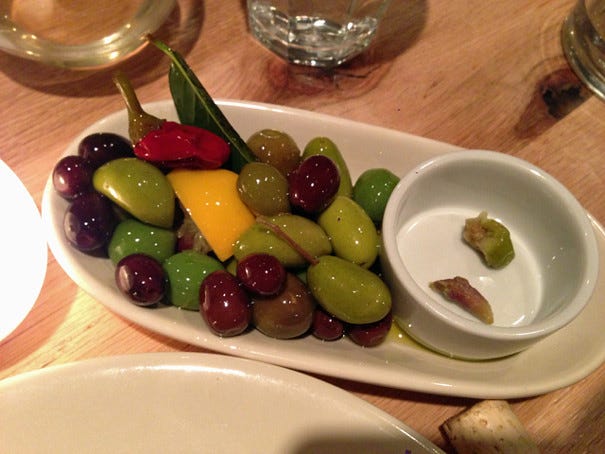 And a platter of speck that we ordered from the a la carte part of the menu: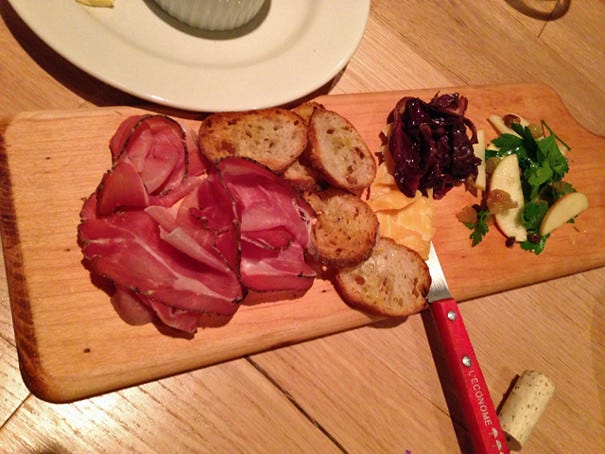 The main menu, which is $40 a person, is really quite a deal especially since the place is BYOB so you don't end up spending a lot more for drinks.

The first course was this lovely salad featuring blood oranges: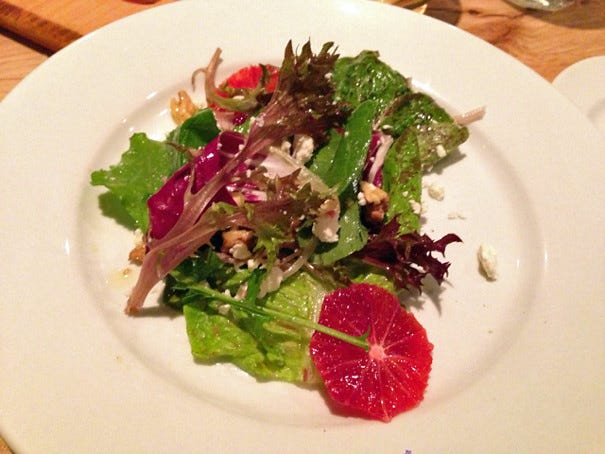 For the entree, you had a choice between duck and pork. I chose pork and didn't regret it: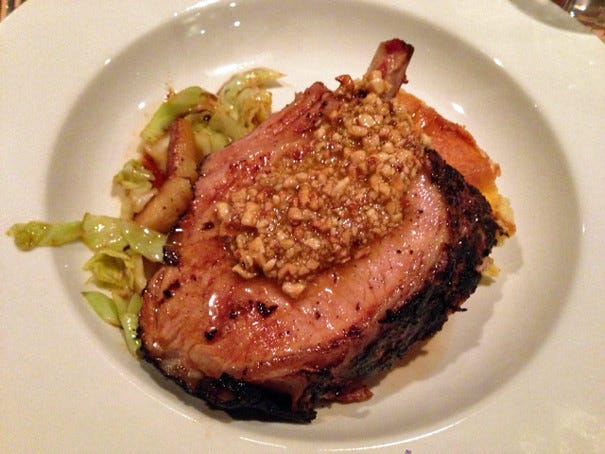 That's Niman Ranch pork--so, the very best--topped with a peanut garlic pesto that woke everything up even more. I'm embarrassed to say I ate the whole thing.

Here's the duck (in case you were curious) which Jess ordered and also enjoyed: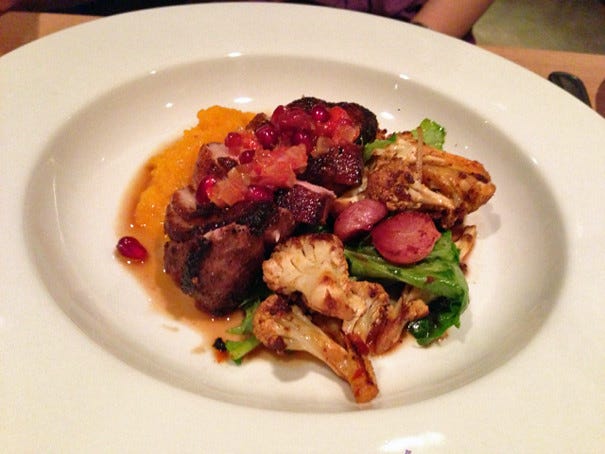 Dessert was an almond pound cake with Meyer lemon cream and blueberries; nice and light and refreshing: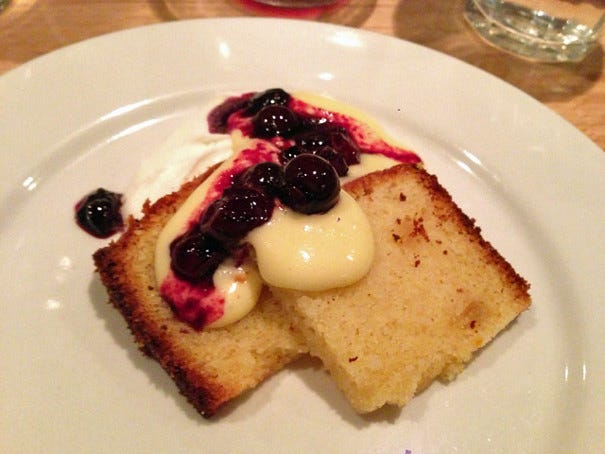 If this was all I ate last week, you'd still think I was a pig. But there's more.

On Saturday, Diana and I met my friends Kit and Rebecca (you may know them better as the Working Class Foodies) and their friends Matt and Seth for dinner at Farmshop in Santa Monica.

I was really on a roll last week because this place was excellent too (and so was the place we went the next night for Craig's birthday, Jar... more on that in a sec).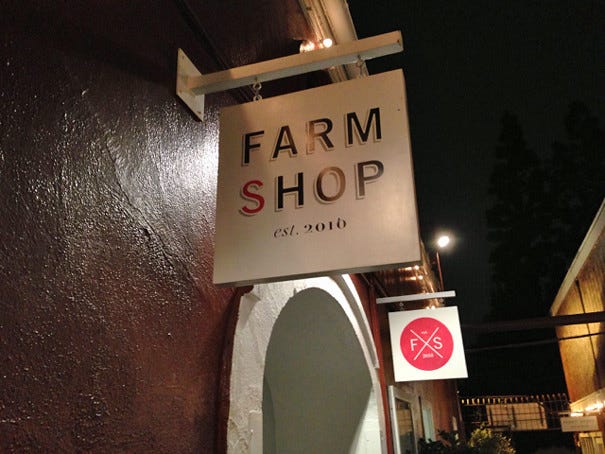 Farmshop is both a restaurant and a store. Here's the store: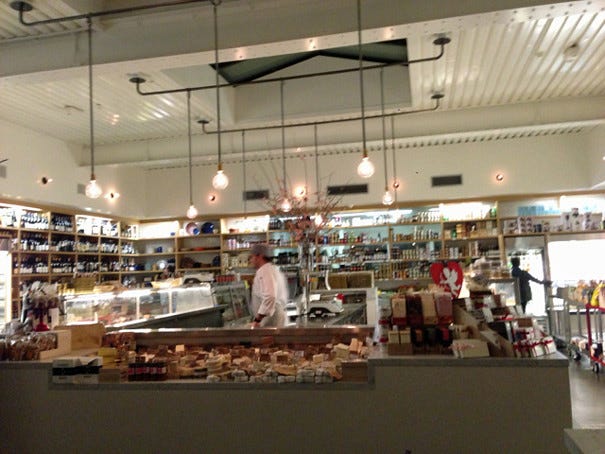 That's where I bought the bread to make Mario Batali's favorite sandwich in my Bagna Cauda post.

As for the restaurant, it's got a great vibe. The chef is an alumni of Thomas Keller's Ad Hoc and the place had a similar feel (I went to Ad Hoc by myself a few years ago!)

Here's Rebecca, Matt and Seth at the table: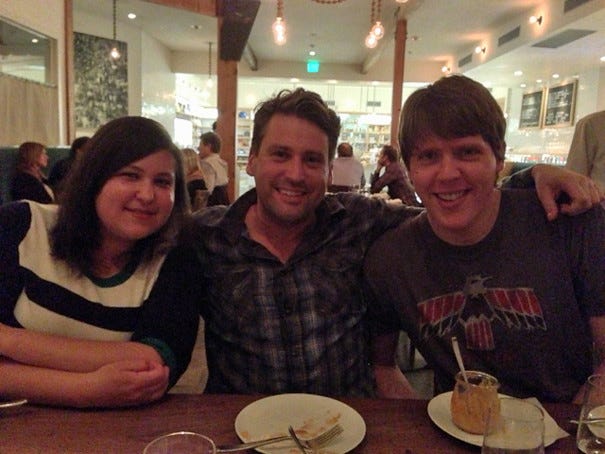 We all shared this cauliflower hummus: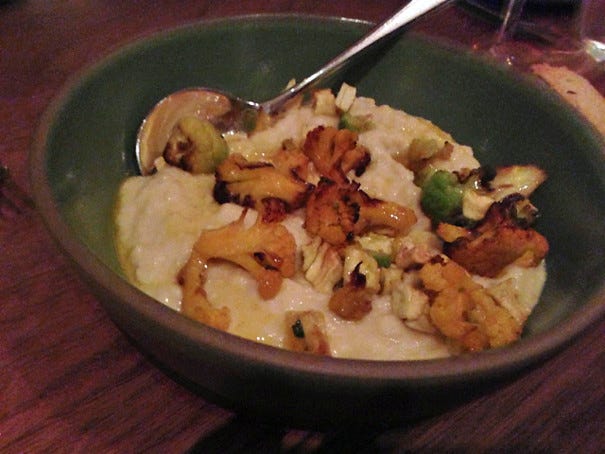 Which had a surprisingly light and fluffy texture.

There was this speck platter which looks like a still life with the pomegranate seeds arranged as they are: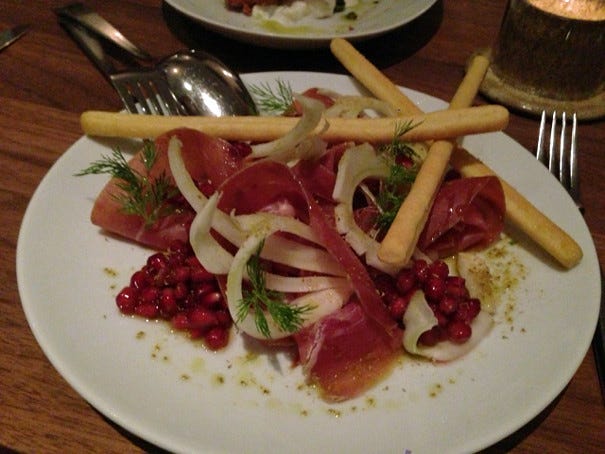 And fried mortadella and burrata which sounds like the heaviest thing in the world, but it was surprisingly light: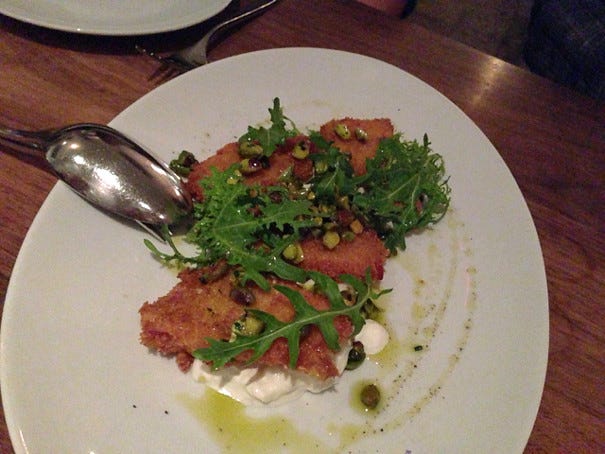 For my entree, I had this gorgeous fish (is it embarrassing that I also can't remember what kind of fish this was? Clearly I'm a good fish eater but not a good fish rememberer):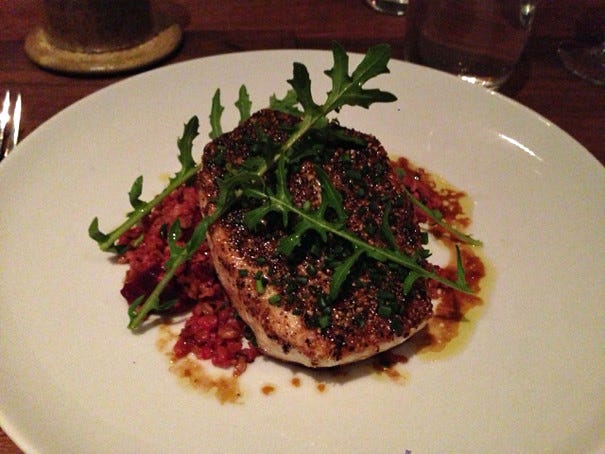 Everyone's food was really stunning. It's a terrific restaurant.

Desserts also didn't disappoint. This meringue had coconut curd and bits of mango: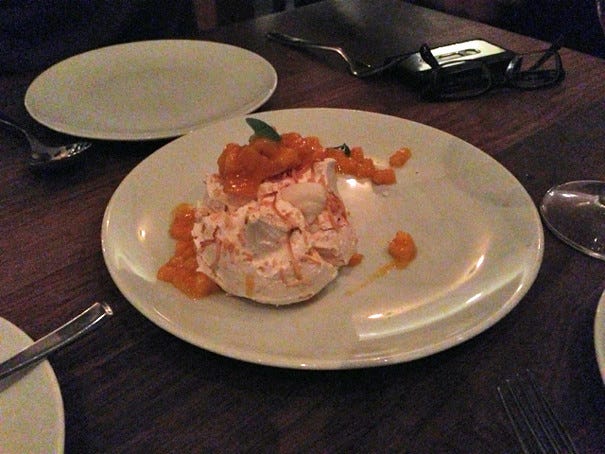 This butterscotch pudding was just on the edge of salty burnt caramel, which I loved: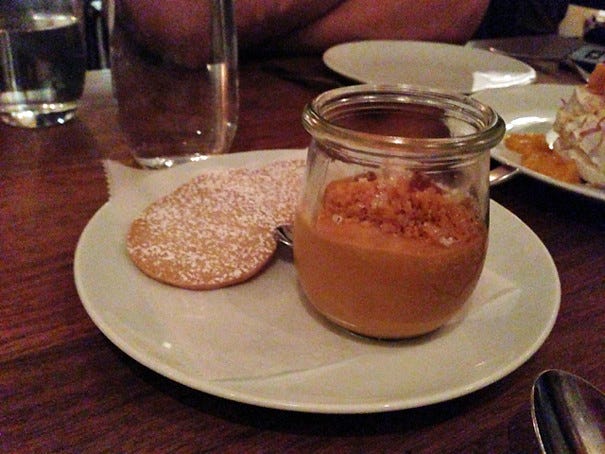 Obligatory chocolate tart: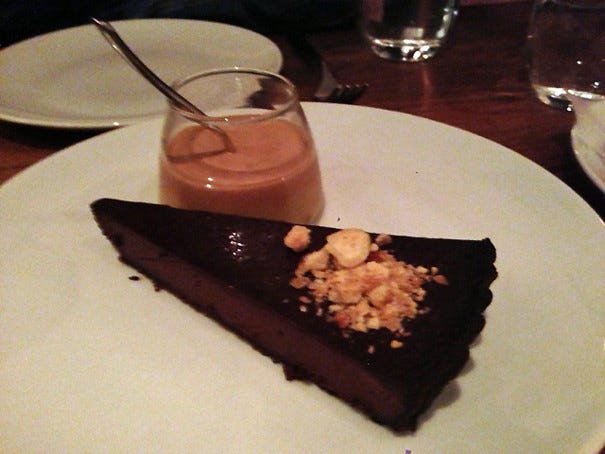 Whatever this was, it had fruit on it: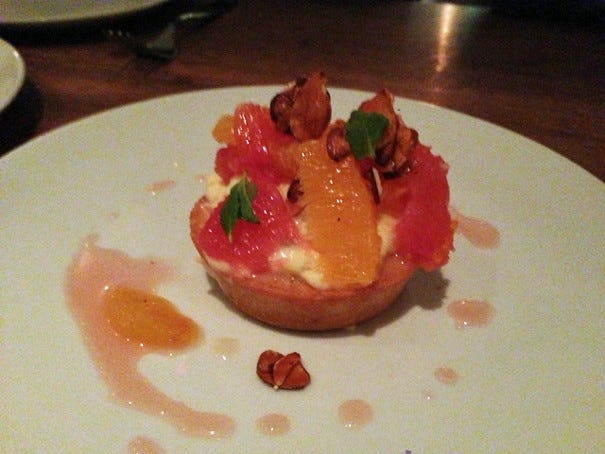 And, just for the Hell of it, we ordered the Mast brothers chocolate bar: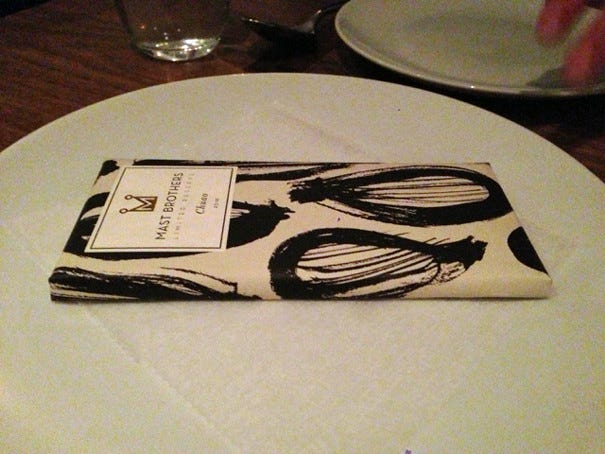 So yes, we ordered every dessert on the menu. That's my kind of crowd.

If you can believe it, I still had room in my stomach to take Craig out (along with Mark and Diana) for his birthday at Suzanne Tracht's famous L.A. steakhouse, Jar.

The room was almost totally empty the night we went because it was Superbowl Sunday. It made for a great, quiet vibe.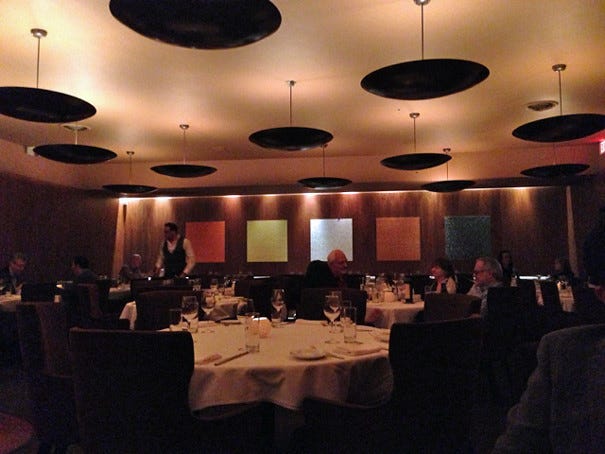 The salad special I started my meal with tells you this isn't an ordinary steakhouse. It had Asian pear, fennel, and a big pat of goat cheese on top.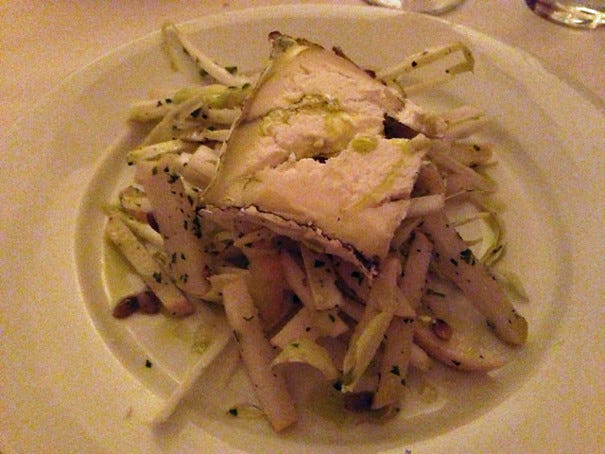 We all shared these crab deviled eggs (two of Craig's favorite things together):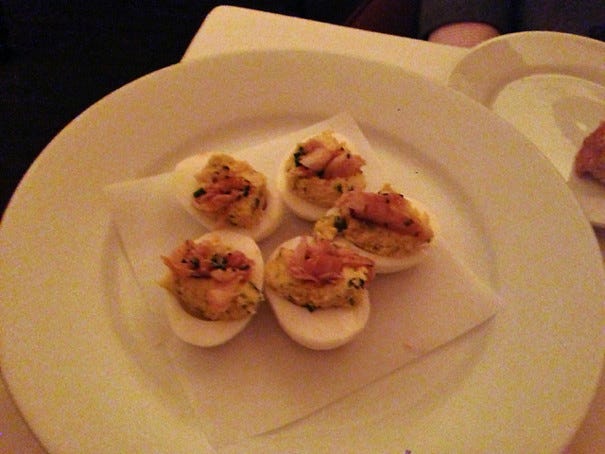 The biggest treat, and maybe the best thing I ate all week (and you see all I ate this past week!) was the rib-eye steak: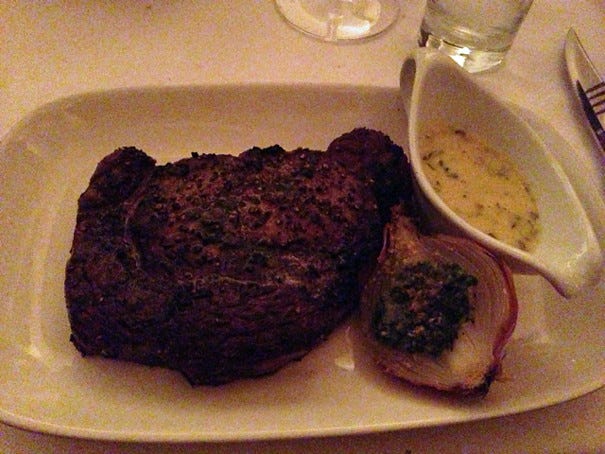 The inside was so impossibly tender--like buttah--I feel like the steak HAD to be cooked sous vide before being finished under a broiler. That's the only way I can explain the texture which was absolutely marvelous. Maybe the best rib-eye of my life, and to gild the lily it was paired with a Bernaise sauce. Oh my.

We paired that with a very good red wine that Mark ordered--a Zinfandel--here's the bottle: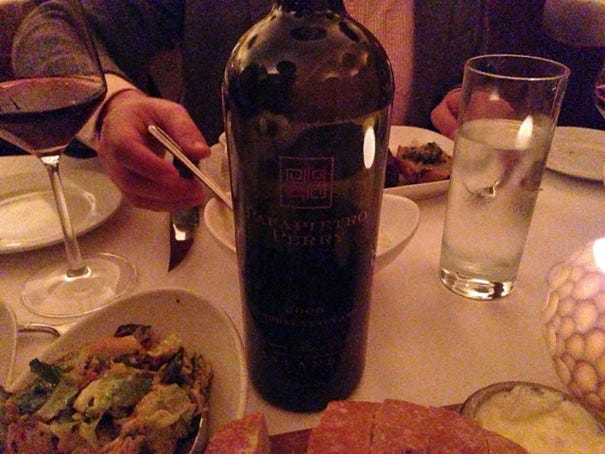 There were sides--kimchi Brussels sprouts, mashed potatoes, creamed spinach--and then dessert had a candle in it for Craig's birthday: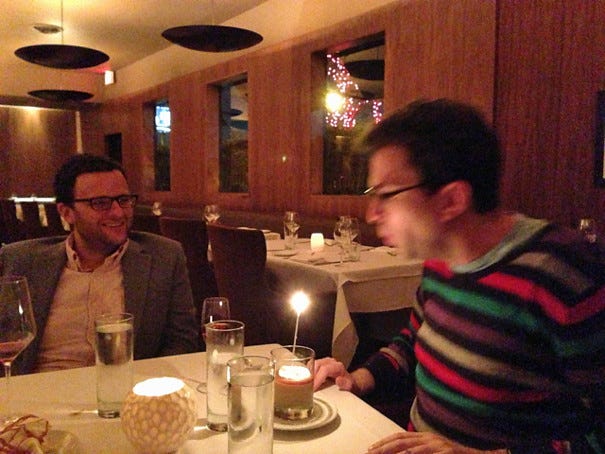 That's a butterscotch pudding or something of that nature that's similar to the one we had at Farmshop: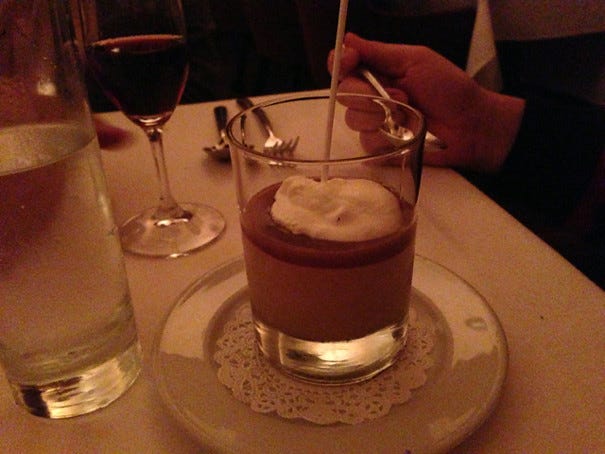 There was also this dessert: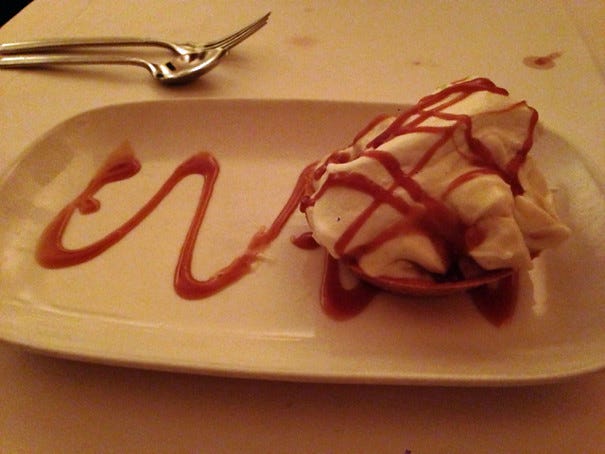 But you're probably so disgusted with all this food, at this point, you don't even want to know what that was. I don't blame you.

That's all for this week, folks. Phew! I better tie myself to a treadmill for the next 48 hours.

Until next time....

Your friend,
Adam (The Amateur Gourmet)
Reading this in a browser? Get next week's in your inbox by signing up here.

Follow Me!
On Twitter
On Facebook

Check Out My Cookbook!
Secrets of The Best Chefs

Recent Food Posts

Bagna Cauda (The Butter Garlic Anchovy Sauce of Your Dreams)

Say Hello To Our New Bakelite Flatware

Quick Breakfast Tacos

Lunch at Bottega in Birmingham, Alabama

10 Food Blog Posts That'll Get You Traffic

Broccoli Cheddar Casserole with Homemade Cream of Mushroom Soup

Uncle Jerry and Joe Turkel at Fromin's Deli

In Praise of Chopped

Brittany Cake Aux Pruneaux

Daube de Boeuf (Beef Braised in Red Wine)

New York Brunches at Allswell and Calliope





*|LIST:DESCRIPTION|*

Unsubscribe *|EMAIL|* from this list.

Our mailing address is:
*|HTML:LIST_ADDRESS_HTML|*
Copyright (C) *|CURRENT_YEAR|* *|LIST:COMPANY|* All rights reserved.

Forward this email to a friend
Update your profile
*|IF:REWARDS|* *|HTML:REWARDS|* *|END:IF|*