A.G. Newsletter #109: Pitfire Farmer's Market Plate, Birba, The Parker, Jiao, Cheeky's, Flo's v8 Cafe in Carsland


Hey there good people of The Amateur Gourmet newsletter,

I'm writing you from New York! How did I get back here? Well, um, I took a plane. The better question is: why am I here? I'm here for two reasons. One: I'm part of a panel tonight at PowerHouse arena with Smitten Kitchen, One Girl Cookies and the guys from Baked. Click the link and come say hello. It's a cookie swap, but if you don't bring cookies, I won't tell anyone. And if you bring rainbow cookies, I will probably eat them all.

The other reason I'm here is because tomorrow morning I'm taping a segment of The Better Show. Not sure when it's going to air, but I'll be making Gina DePalma's lentil soup (hope I remember to add the lentils this time; I forgot in Napa!) and sharing some tips and tricks from the book.

Yesterday, while on a plane from L.A., I wrote not one but TWO posts related to Valentine's Day. The first is the story of a disaster: How To Completely Fail at Making Chocolate Cups. Here's the sorry scene: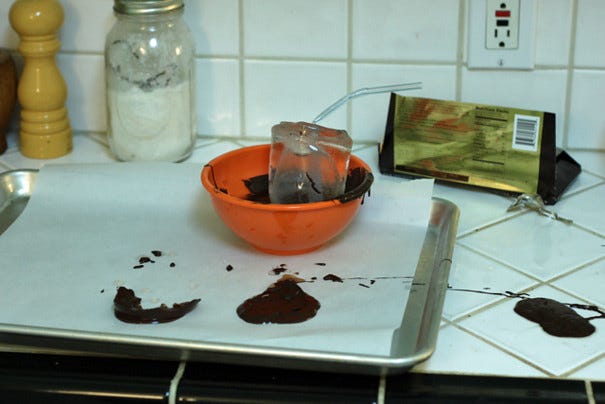 Click here to find out what happened.

But don't worry, the story has a happy ending: Cocoa Puffed Chocolate Mousse.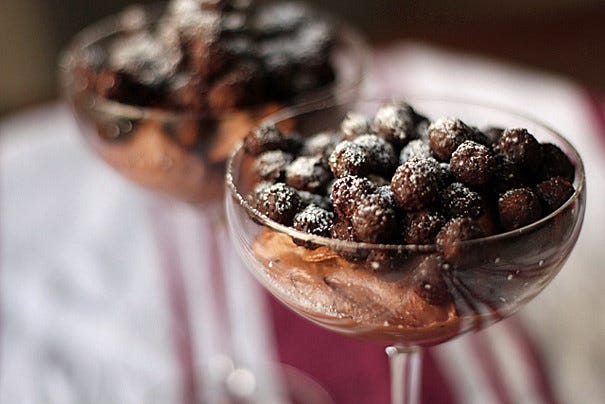 Transform your boring, everyday chocolate mousse into something with texture! A crunchy chocolate topping that'll make your Valentine collapse into a heap, stammering between sobs, "I don't deserve you. I don't deserve any of this!" Click here for details.

Now on to newsletter business!

My Monday ritual usually takes me to Pitfire Pizza in L.A. because it's near Coffee Commissary and also my gym so I can grab a quick lunch, do work, work out and then head back home. My lunch is usually either a tuna sandwich or one of their many salads. I'd never had their farmer's market plate and it turns out, I was really missing something: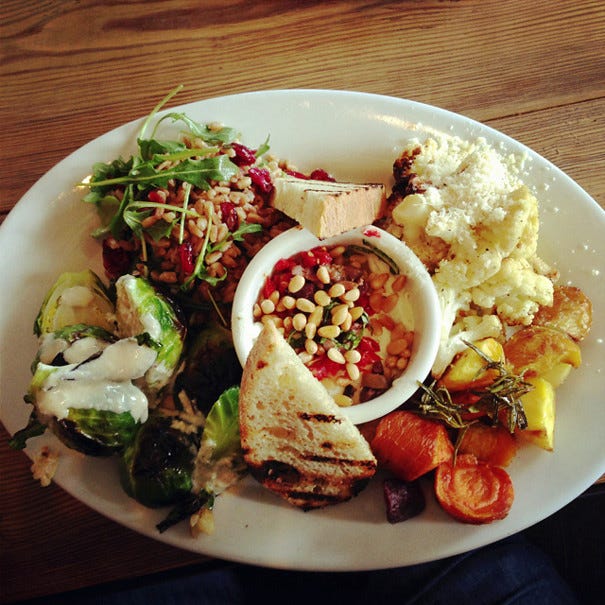 I mean, whoah. There's roasted Brussels sprouts on the lower left, a farro salad on the upper left, roasted cauliflower on the upper right, roasted carrots on the lower right and a ricotta dip in the center with some bread. Not bad, right? I'll be ordering that again.

On Wednesday, last week, Craig and I journeyed east to Palm Springs for a long overdue trip (it was my Christmas gift to him but got delayed because of bad weather). Here's a look at Marilyn on our way in: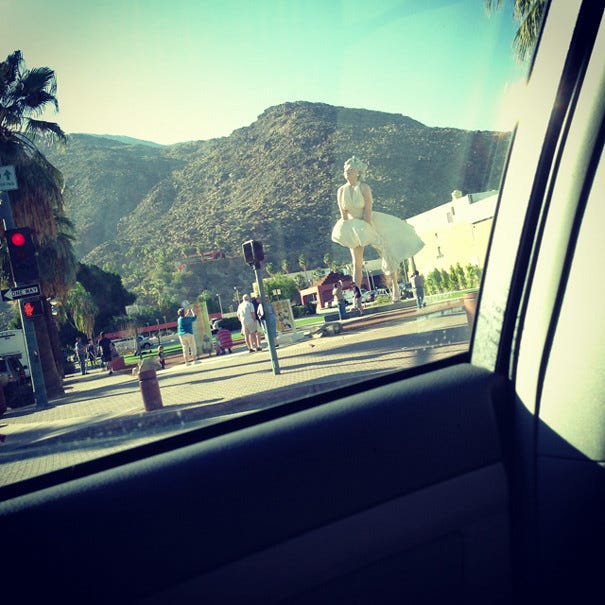 That first night, we had dinner at my favorite Palm Springs restaurant, Birba: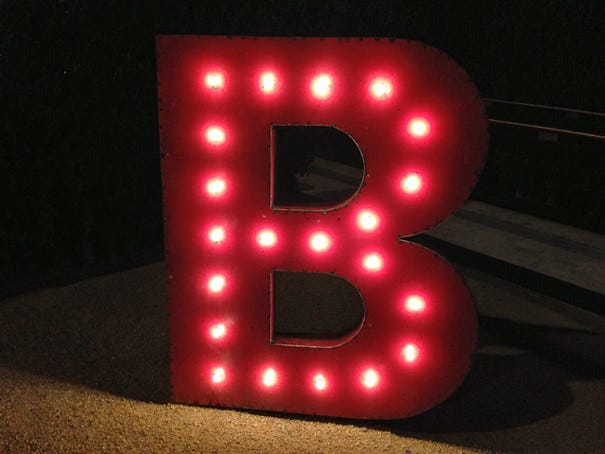 We shared this beet salad topped with ricotta: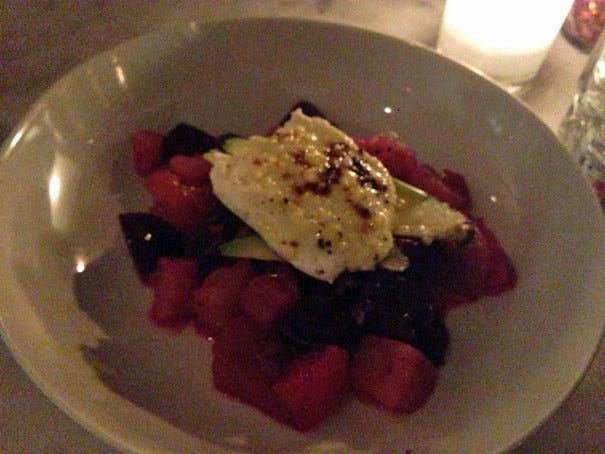 And two pizzas, the more traditional mushroom and sausage: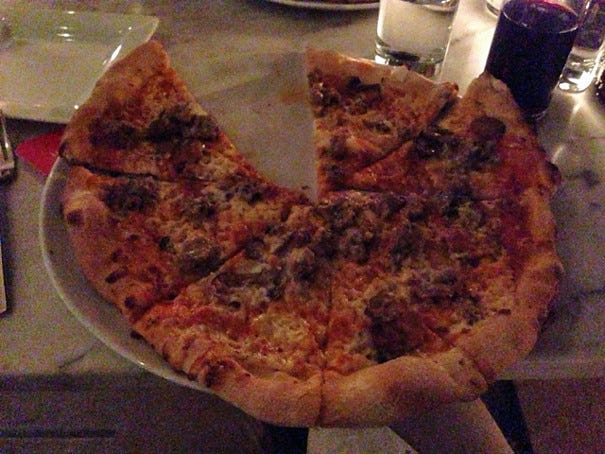 And the less conventional pear and Pecorino: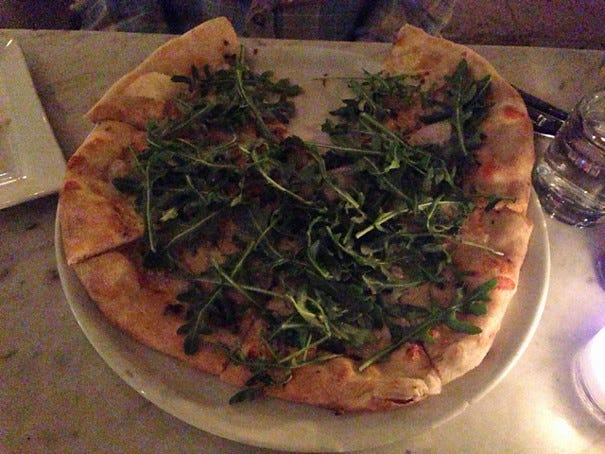 The only disappointing note was the dessert which is usually so good: the salted caramel tart. It's not letting me post a picture of it for some reason, but the crust was super tough this time around. Still we ate the whole thing. Dessert is funny that way.

The next day, we took the advice of friends and had lunch at The Parker. In terms of design/vibe/atmosphere, nothing in Palm Springs beats it. I mean, get a load of this: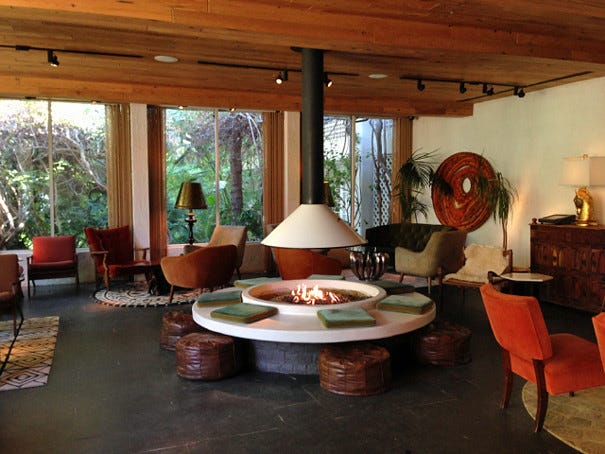 I love that picture because that could only be taken in one place in the entire world and that place is Palm Springs (or a porn producer's living room).

So The Parker is really The Parker Meridien which also exists in New York. The one here (in N.Y., I can say "here" because I'm here now) is home to Craig's favorite burger spot in the city, The Burger Joint. It's also home to Norma's which serves the most expensive breakfast in the city. (I went there once in 2004 and wrote this post.)

The restaurant at The Parker in Palm Springs is also Norma's. It's also very expensive. 9 years after I went there the first time, the meal is exactly the same. Though I did enjoy the Palm Springsy details of this location like the placemat: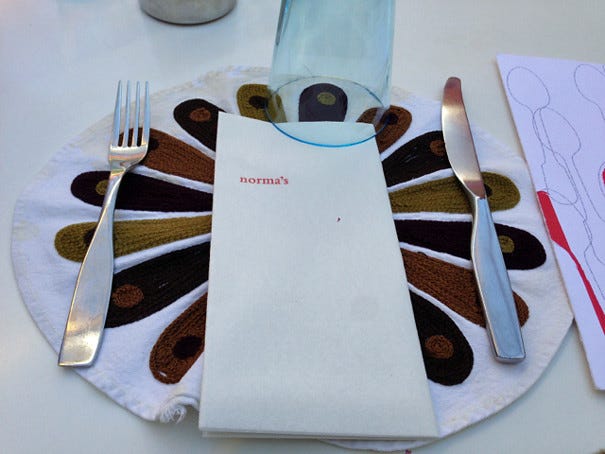 And the salt and pepper shakers: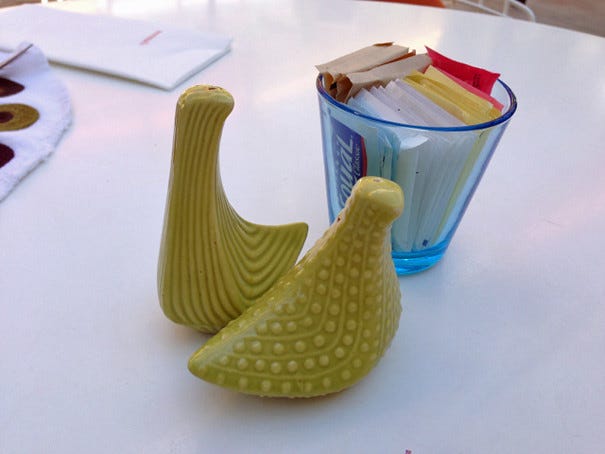 The menu has funny details like they call salads "rabbit food":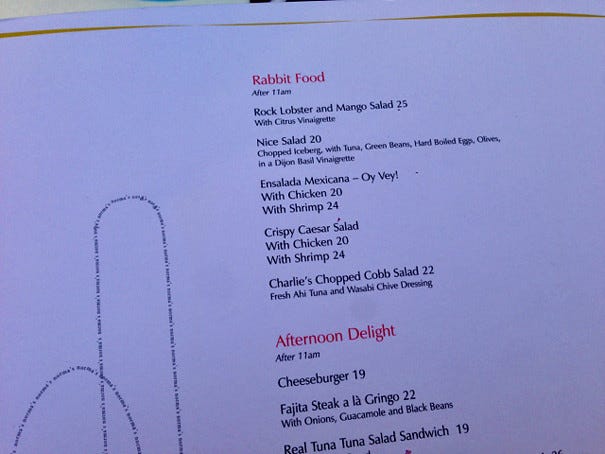 Every table gets a little shot of a smoothie to start the meal, though they forgot to give us our smoothies so we had to ask. It turned out to be the best part: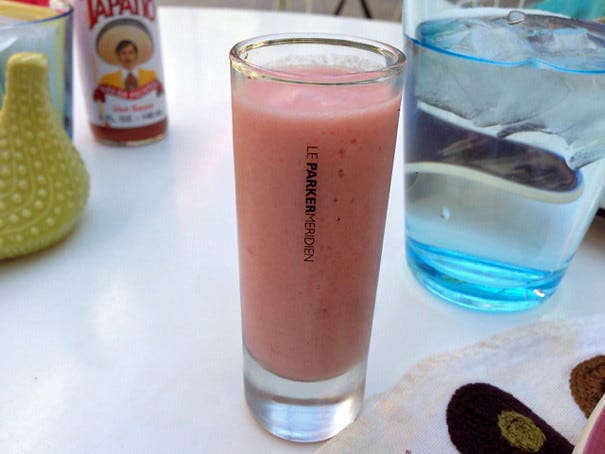 Craig and I shared these doughnuts which were served hot out of the fryer (always a good sign) though they were a little too chewy; I'm pretty sure they were made from brioche dough: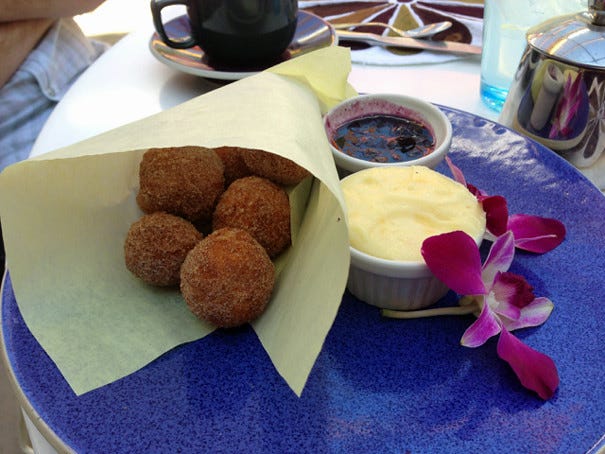 I had the huevos rancheros which, if you click that previous link to my meal in 2004, is presented EXACTLY the same way: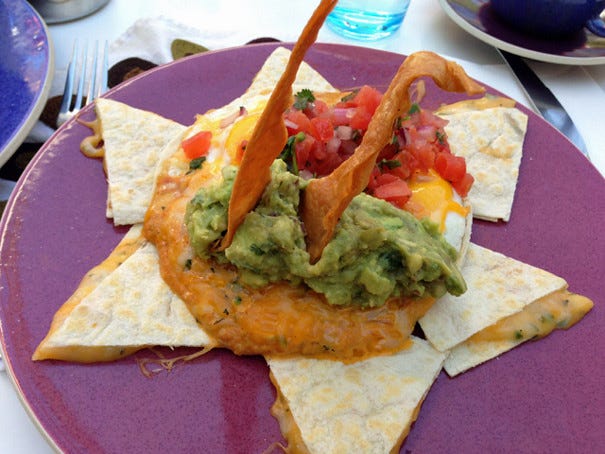 Craig had the quesadillla which is the most stuffed quesadilla I've ever witnessed in my life: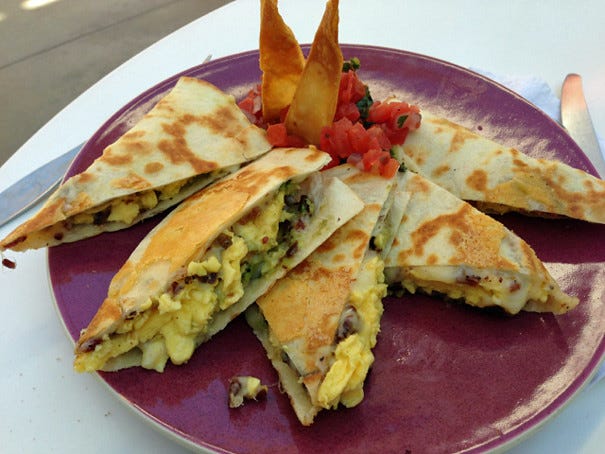 It's pretty brilliant how they dress up super inexpensive food with pretty designs and a feeling of plentitude and then charge you a fortune for it. I mean, look at our bill!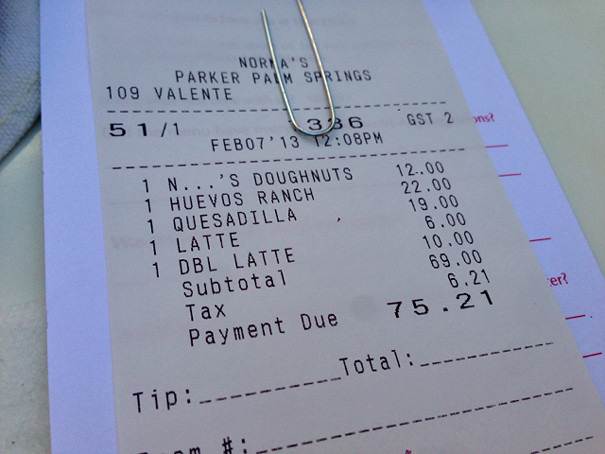 $19 for a quesadilla! $10 for a double shot latte!

The place is a complete rip-off except it's very lovely to eat there. So that's the bargain you make when you want a very Palm Springsy experience while visiting Palm Springs. I'm glad we went.

That night, we had dinner at Jiao which is the new restaurant from the folks who own Birba and Cheeky's: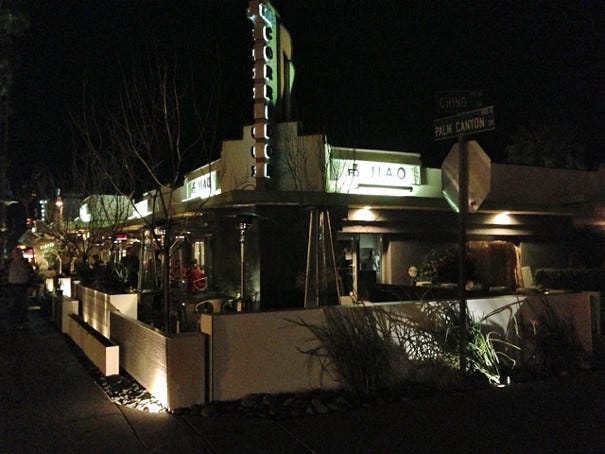 My pictures from this meal are so horrendous, I'm not going to share them. The food was good but my least favorite of the three places. With the spring rolls and noodle bowls, it reminded me of the kind of comforting noodle shop you'll find near a college campus, except a step above that. The best part of the meal was the pickles they served at the beginning; my miso-glazed cod was too sweet. We did like the apple cake they served for dessert. Ok, I'll show you a picture of that: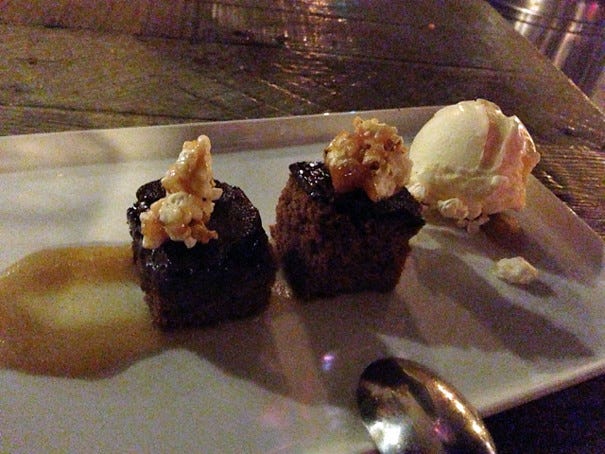 Of course, this led Craig to do his favorite dialogue from the movie "Carrie." "You haven't touched your apple cake, Carrie." "It gives me pimples, Mama." (IF you ever meet Craig, he'll be happy to perform it.)

The next morning, on our way out of Palm Springs (it was good timing: the day was cold) we had breakfast at Cheeky's. It's a must-visit if you go to Palm Springs. Don't be intimidated by the wait, it goes fast.

I had a pork hominy stew which was zesty with tomatillos: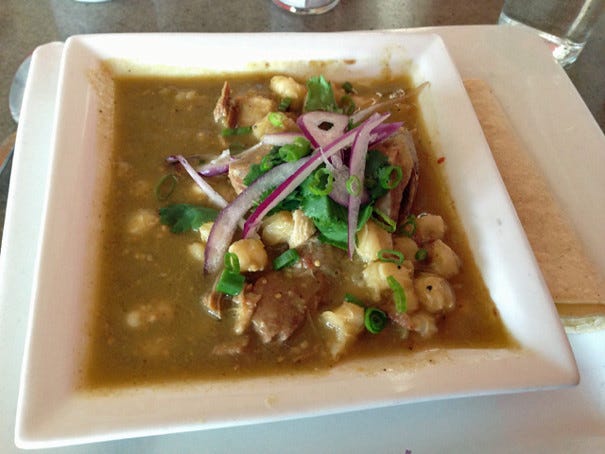 Craig had a croissant breakfast sandwich which he enjoyed very much: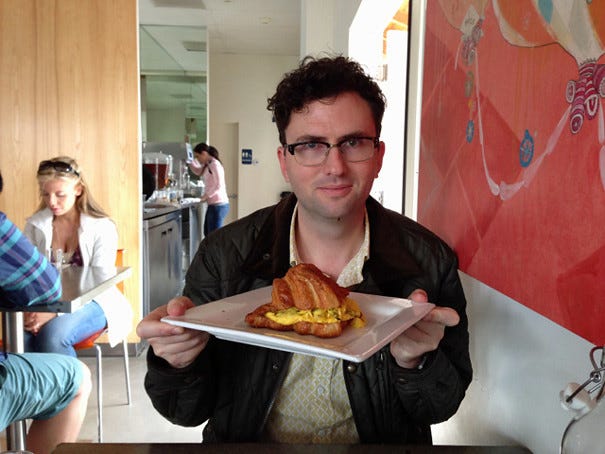 Not quite sated by my pork stew, I ordered a giant pancake with blueberries and corn in it: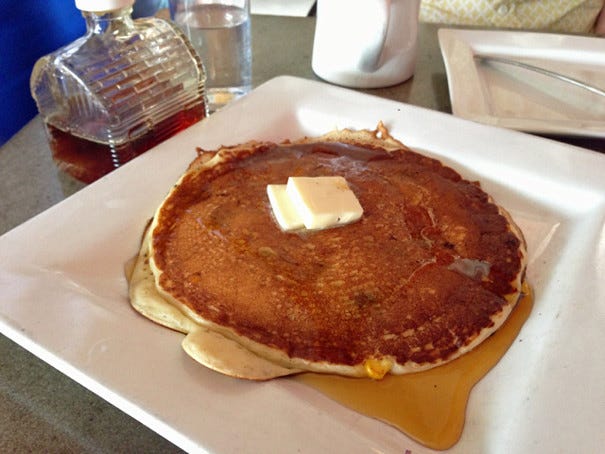 Don't worry, i only ate half but I'm glad I ordered it.

The next day, our friends John and Michael took us to Disney's Carsland. We were originally supposed to go skiing but that didn't work out (I was secretly relieved; I don't know how to ski!). The Carsland ride was super fun; if you go on the single rider line, it's only a 45 minutes wait (otherwise, you wait 3 hours):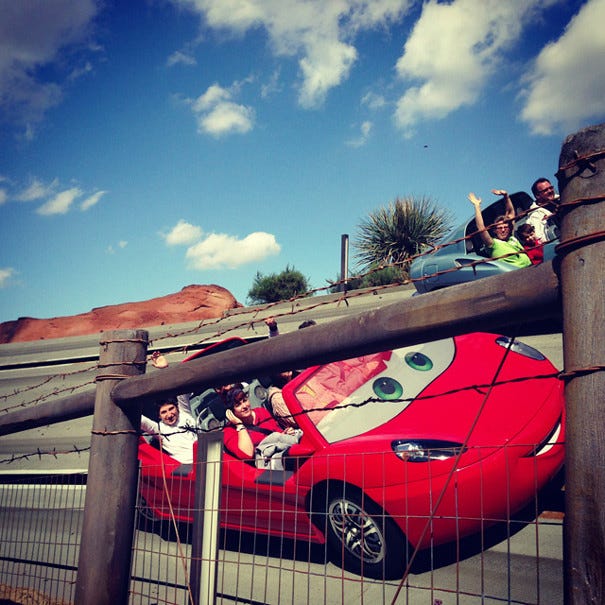 For lunch, we patronized Flo's v8 Cafe: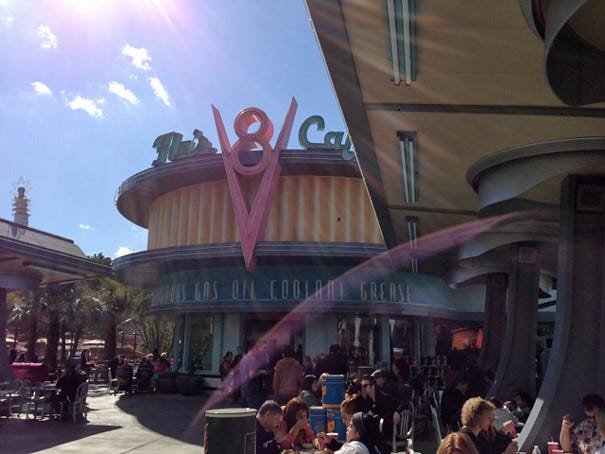 Here's everyone at our table: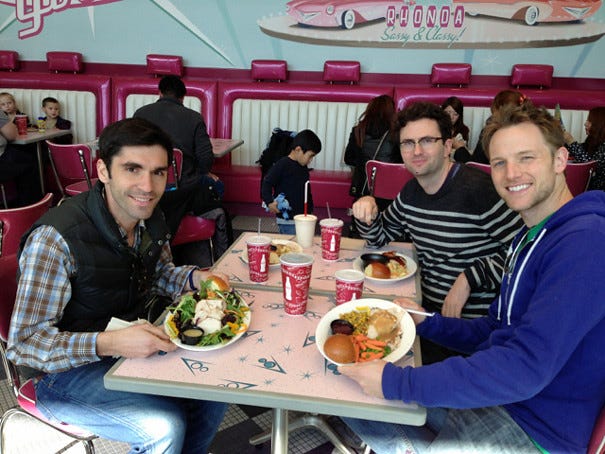 And here's my all-American plate: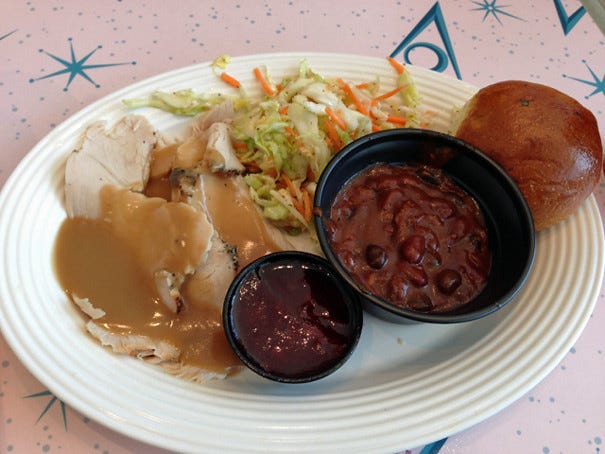 That's turkey, cranberry sauce, coleslaw, baked beans and bread. A nice hearty, holiday-like meal to get you through the day at Disney. Plus there's a nice view of the canyon: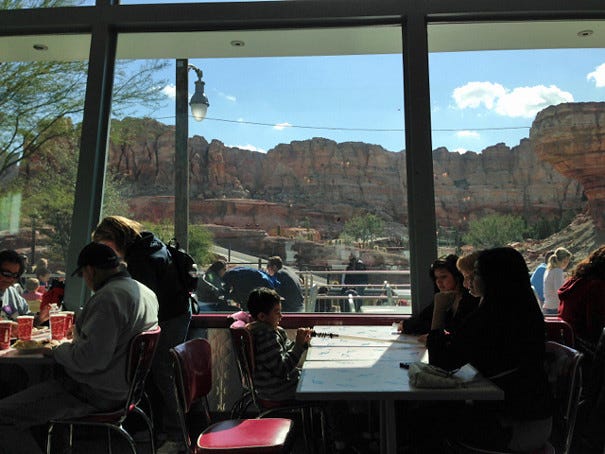 That's all for this week folks!

Don't forget to come see me tonight at Powerhouse Arena. I'll sign your book!

Until next time....

Your friend,
Adam (The Amateur Gourmet)









Reading this in a browser? Get next week's in your inbox by signing up here.

Follow Me!
On Twitter
On Facebook

Check Out My Cookbook!
Secrets of The Best Chefs

Recent Food Posts

Cocoa Puffed Chocolate Mousse

How To Completely Fail at Making Chocolate Cups

Lunch at Chung King in the San Gabriel Valley

Bagna Cauda (The Butter Garlic Anchovy Sauce of Your Dreams)

Say Hello To Our New Bakelite Flatware

Quick Breakfast Tacos

Lunch at Bottega in Birmingham, Alabama

10 Food Blog Posts That'll Get You Traffic

Broccoli Cheddar Casserole with Homemade Cream of Mushroom Soup



*|LIST:DESCRIPTION|*

Unsubscribe *|EMAIL|* from this list.

Our mailing address is:
*|HTML:LIST_ADDRESS_HTML|*
Copyright (C) *|CURRENT_YEAR|* *|LIST:COMPANY|* All rights reserved.

Forward this email to a friend
Update your profile
*|IF:REWARDS|* *|HTML:REWARDS|* *|END:IF|*