A.G. Newsletter #110: Powerhouse Arena, Good Enough to Eat, John's and Gelato, Dinner at Chris's & Where I Ate On My Birthday


Hey there nice readers,

Or maybe not so nice. Yesterday was my birthday and how many of you sent me a gift, huh? Or even just said "happy birthday" as I passed you on the street. After all I do for you... all this food that I eat FOR YOUR BENEFIT...and you don't even have the decency to send me a $1000 gift certificate to The French Laundry? How DARE you?

Ok, ok, I forgive you. You didn't mean to hurt my feelings. Luckily, I have a great dish to console me: Roasted Butternut Squash and Red Onion with Tahini and Za'atar. I just blogged about it, it's from Jerusalem and it's marvelous. Go check it out.

Now then, on to newsletter business....

I spent this last week in New York for two book events. The first was at Powerhouse Arena in DUMBO, a really great book store that was hit hard by Hurricane Sandy. I shared the stage with Deb Perelman of Smitten Kitchen, Matt Lewis and Renato Poliafito from Baked, and Dawn Casale from One Girl Cookies.

The event was also a cookie swap. Check out all these cookies people brought: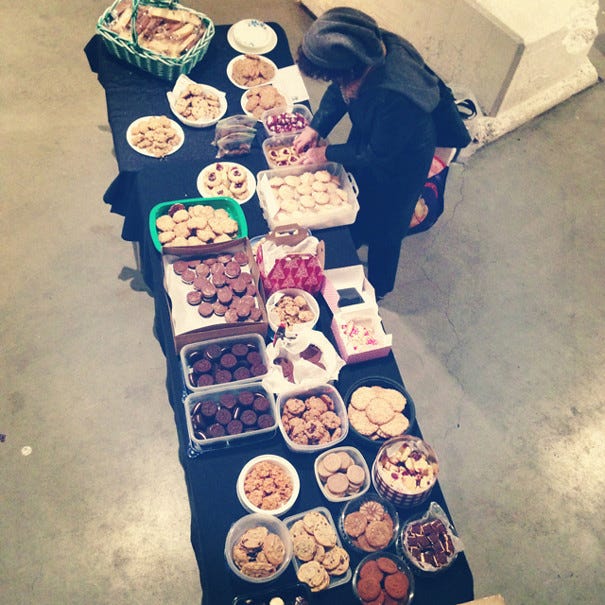 I thought I'd have plenty of time to pick my way across that table, but then the vultures converged!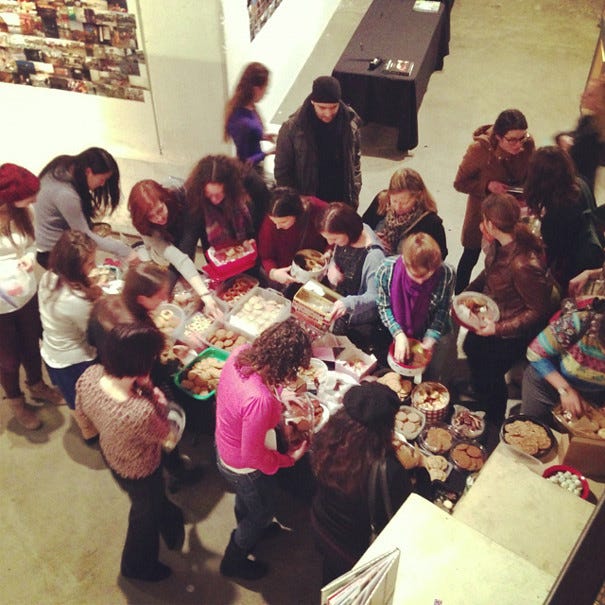 When they were finished, there were just a few crumbs left and the corpses of a few naive, young food bloggers who thought they could survive the rush.

But the event was lots of fun. We talked about cooking in New York. I had to confess that I live in L.A. now and the audience didn't turn on me, thankfully.

The next morning I recorded a segment for a T.V. show called "The Better Show" that should be airing today. When the video's online, I'll embed it on the blog and write a post about the experience (unless it's incredibly bad in which case, pretend I never mentioned it!).

A few days later, I met my friend Morgan for breakfast on the Upper West Side. He initially tried to take me to a vegan restaurant called the Peacefood Cafe and I couldn't conceive of a breakfast without milk or eggs. Thankfully, the breakfast menu was so limited (quinoa porridge?) we hit the button on our ejector seats and flew across the street to Good Enough To Eat.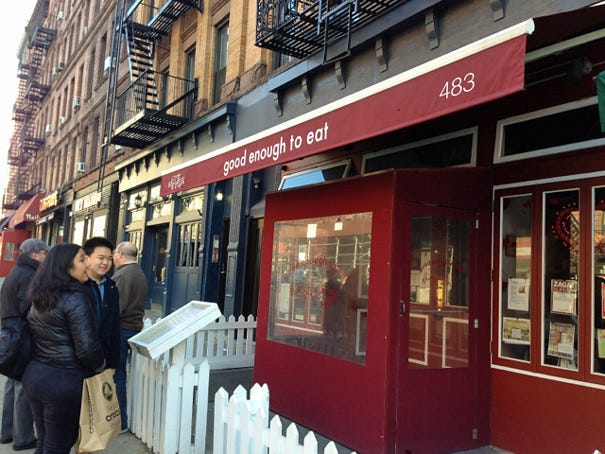 This was a Friday morning and we waited 10 minutes. Apparently on weekends the place gets totally slammed. I can see why: it's very charming.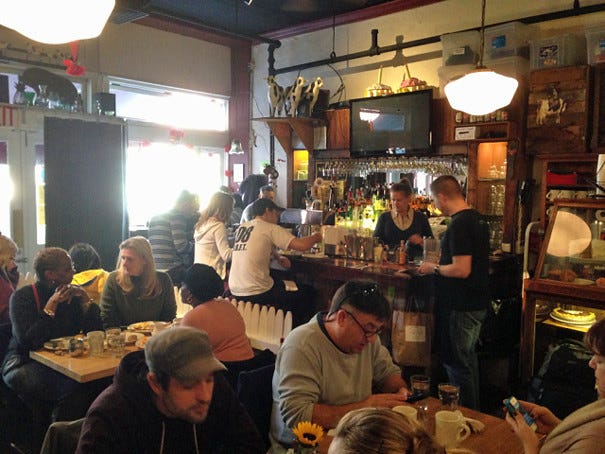 Here's Morgan with his Provencal omelette: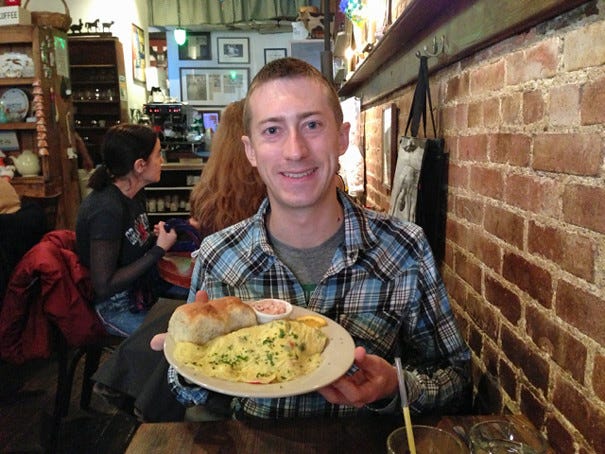 And here's my favorite kind of breakfast with some sweet stuff and savory stuff on the plate: pancakes, eggs and bacon.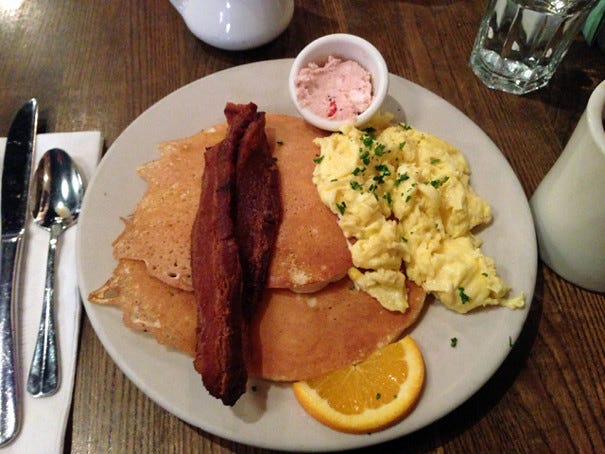 Oh and that's strawberry butter next to the pancakes. It all lived up to the name... good enough to eat.

That night, I joined my old college friends Lisa and Alex for dinner at John's Pizza on Bleecker Street. Funny enough, Alex ran into our old college friend Owen---we all did improv together at Emory--so we had a college reunion right there over pizza: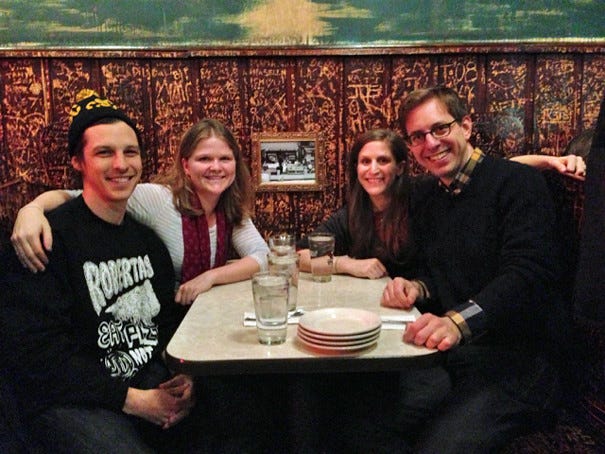 It was a really fun night with excellent pizza (as always)...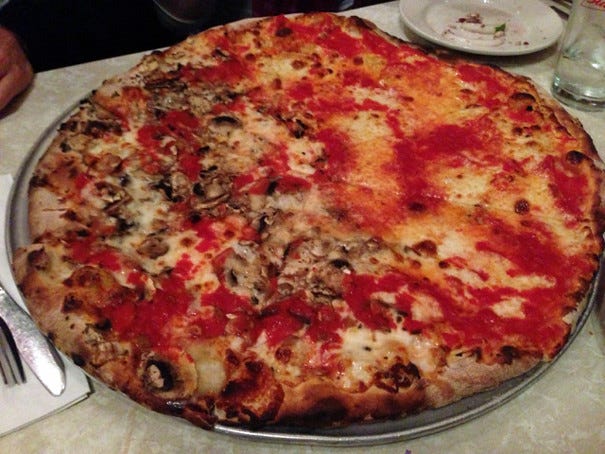 ...and the night got even funner when we went next door, to Cones, for gelato. The gelato there is the best, even better than Grom which is going to make all you gelato snobs say, "WHAT? BETTER THAN GROM?" Settle down. I just like it better.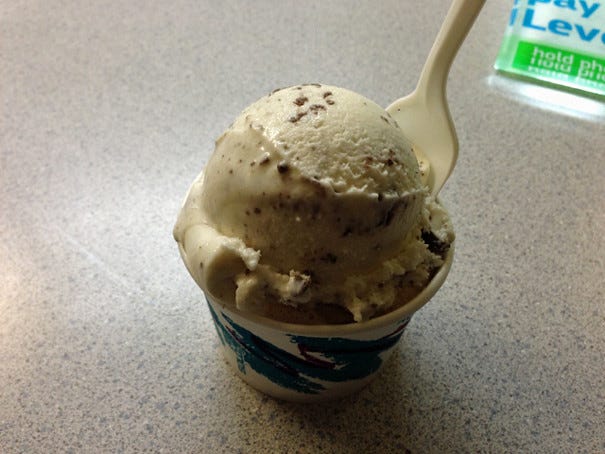 That's chocolate chip on top of tiramisu gelato. Yes, I ate the whole thing.

On Sunday night, after these colorful cocktails at Momofuku Ssam Bar (mine's Concord Grape w/Menthol, Craig's is...I forget):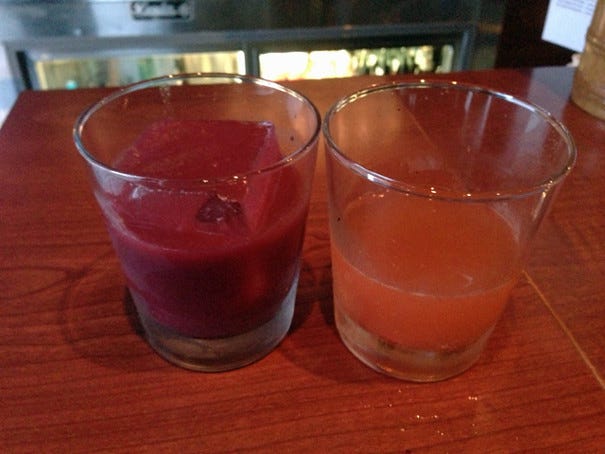 And after more cocktails at Booker & Dax (I had the Aviators, Craig had...I forget, but both of Craig's drinks had Mezcal, if that helps):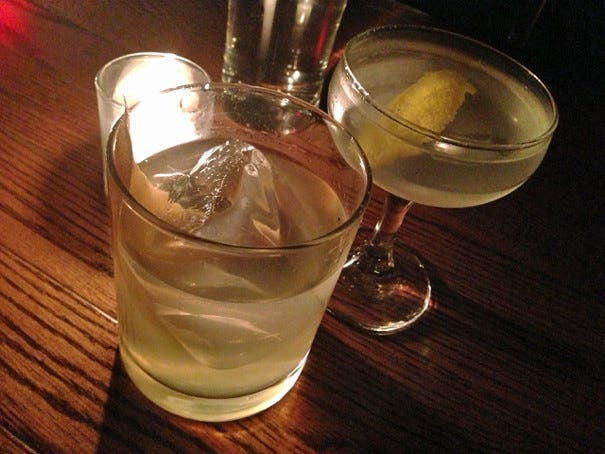 We visited our friend Chris who made dinner for us along with our friends Jimmy and Raef. Here's Chris dishing up a vegetarian bean stew which was very good: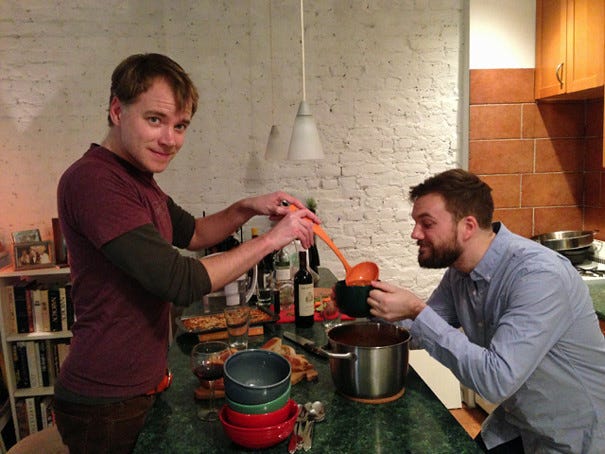 But the real highlight was his sweet potato, an idea he got from Martha Stewart. You bake a sweet potato and top it with coconut milk, toasted coconut, pomegranate seeds, lime juice and cilantro: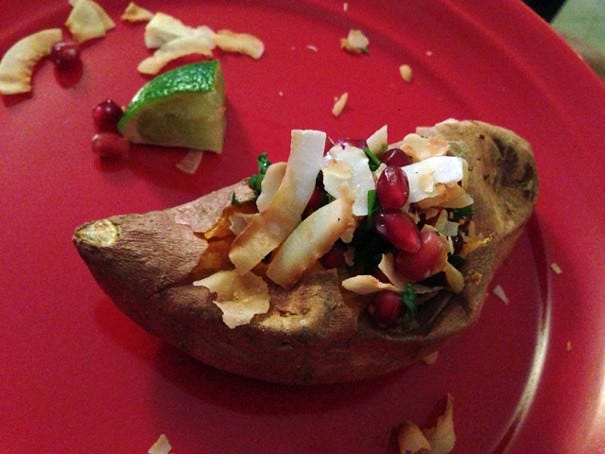 It's a real treat that's actually pretty good for you. You should definitely copy this idea.

Finally, as you've clearly forgotten again, yesterday was my birthday. I take my birthday very seriously, as you can tell.

The day began casually enough. I did some work at my favorite coffee shop, Joe, and then wandered down to the West Village where I met my friend Patty and her lovely daughter Audra for lunch at my favorite place to lunch on my birthday, Pearl Oyster Bar.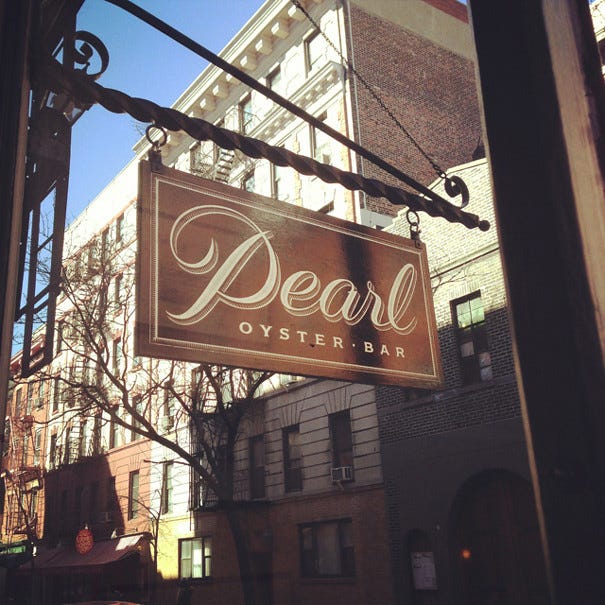 This place is such a gem, there's nowhere else like it in the world. I've become friends with everyone there, including the chef/owner Rebecca Charles who was kind enough to cook with me for my book. She wasn't there that day, but she was there in spirit and her food is instantly transportive... one bite, and you're whisked away to Maine.

Here are my lunch dates, Audra and Patty: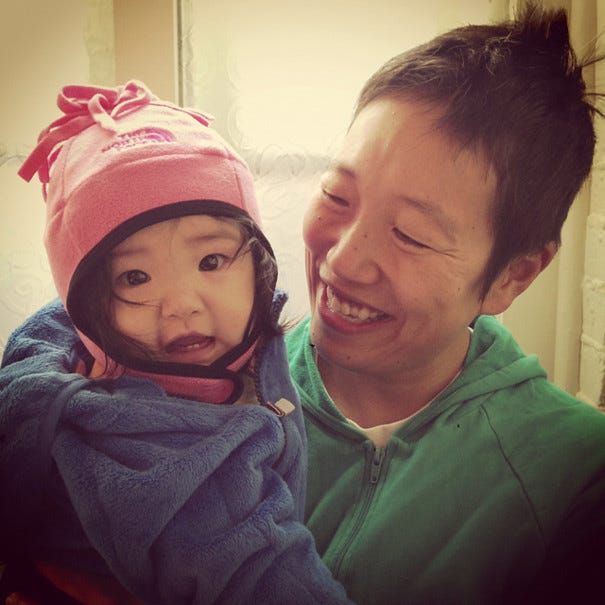 That's an adorable baby if ever I've seen one. I told Patty someone should write a horror movie about genetically modified babies that never grow up, cry, or poop. They just stay cute forever and ever and ever. And then they kill people.

Here's our first course: raw oysters.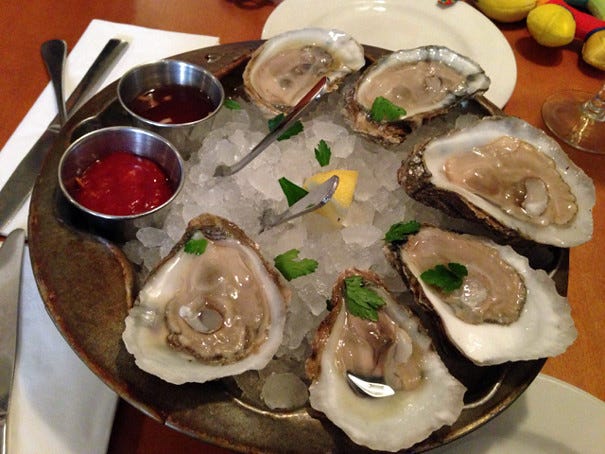 And here's the main event: a lobster roll with a candle in it!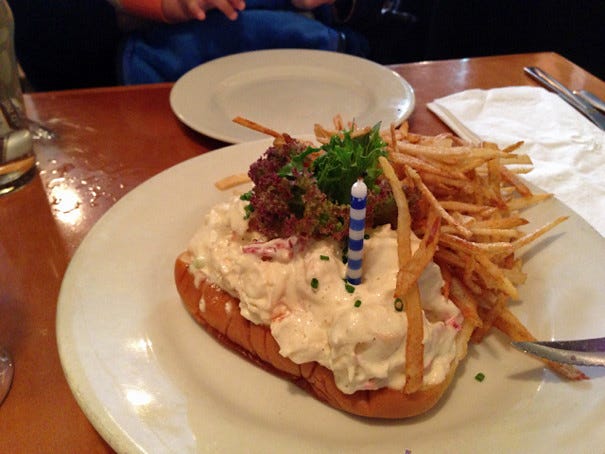 Patty and I shared this and it was plenty. Especially when chased down with a praline sundae: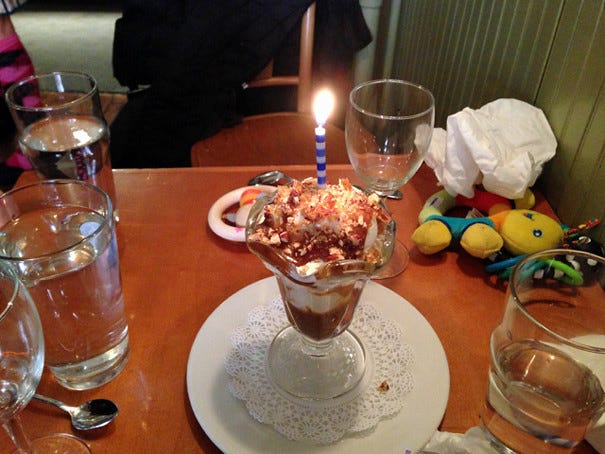 You might be thinking, "Well that was a nice amount of food to eat on your birthday. I bet you had a nice salad for dinner."

You'd be wrong!

Craig showed up around this point and we wandered around the West Village, visiting my favorite book store, Three Lives (I signed a few books there) where I bought the book "Rome" by Robert Hughes because I really want to go there this Spring. Stay tuned.

Then for dinner, Craig surprised me with dinner at The Gramercy Tavern! (I say "surprised me" but any time he asked where I wanted to go, I said "Gramercy Tavern" so he had a lot of help.)

I would've been happy to just get the regular menu, but he mischievously eyed the tasting menu and when the waitress came over he ordered it. I couldn't stop him.

Dinner started with a gougere stuffed with ricotta: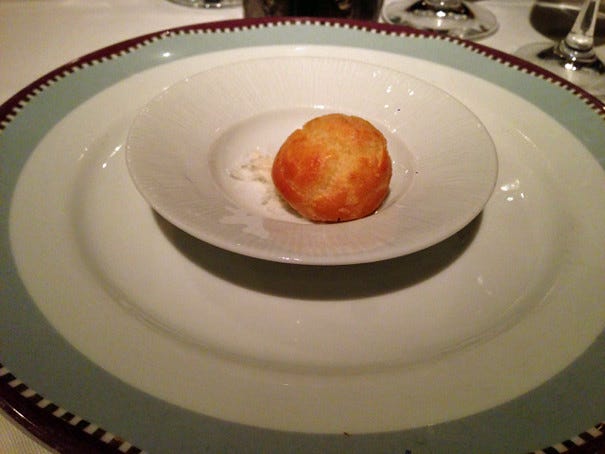 A great first bite, if ever there was one.

Next up, Peconic Bay scallops with clams, pickled mushrooms and cilantro broth: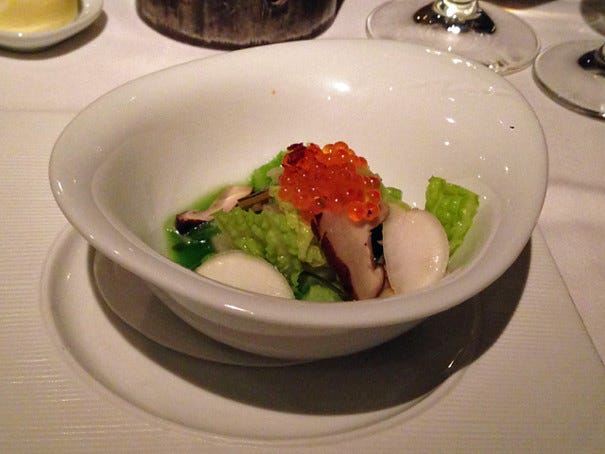 Warm lobster salad with carrots and chicory: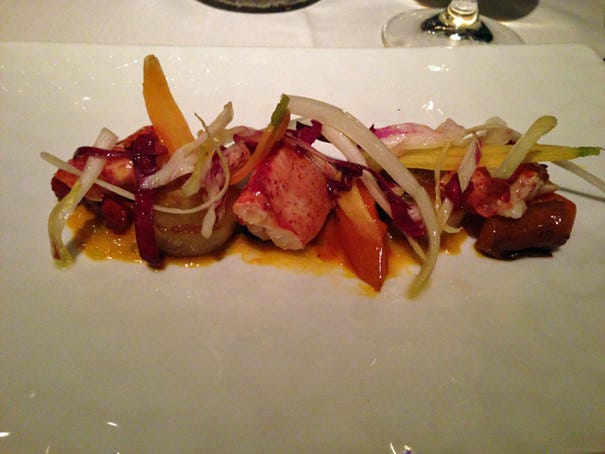 The lobster was remarkably tender, maybe the best lobster I've ever tasted in terms of texture. (Just how do they cook it?)

And here's my very handsome date: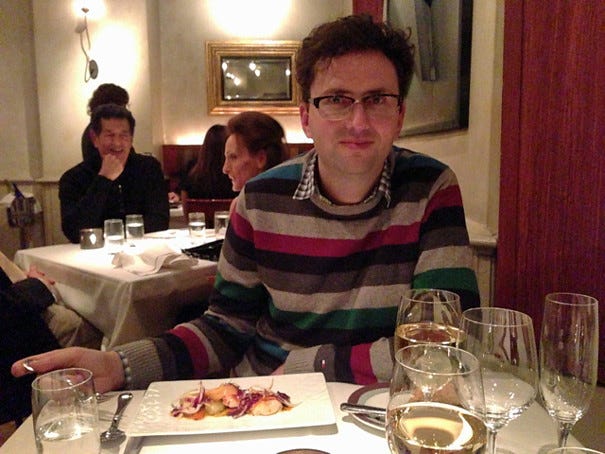 (As great as the food was, he was clearly the best part of the meal.)

Ok enough relationship cheesiness! Back to the food. This halibut with barley, shiitake mushrooms and parsnip lobster sauce was really remarkable... a stunning dish with deep, profound flavor: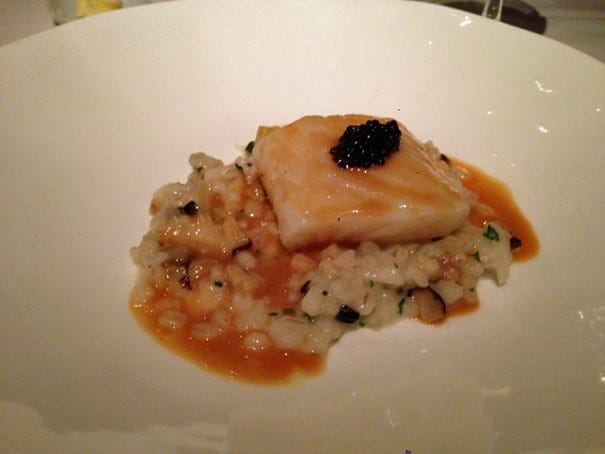 My favorite course was, of course, the pasta course: Sweet Potato Agnolotti with Kohlrabi and Pine Nuts.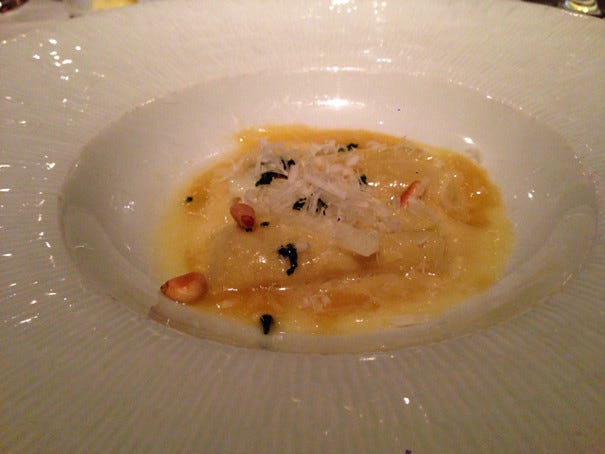 I loved this because it was so, so, so decadent but there were only two bites so you didn't feel disgusting after slurping up all that butter.

The main event was a Roasted Duck Breast with Quinoa, Lentils, Celery Root, and Hazelnuts.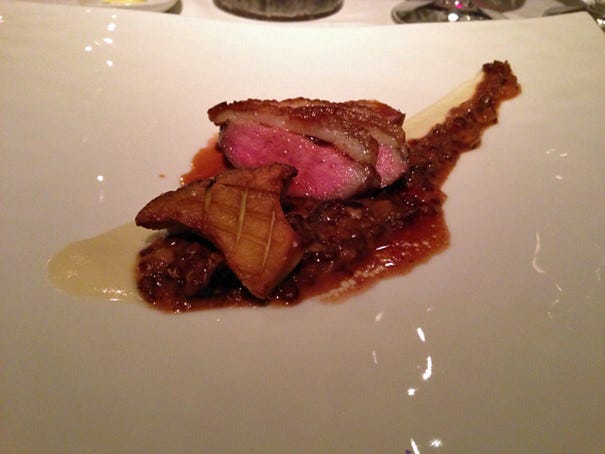 What I love so much about the food at Gramercy Tavern is that despite how professional it all is--how very restauranty--it's also very homey and comforting. This dish perfectly fits that bill. The duck was seared expertly but with the sauce and the lentils and everything else, it still felt like something you'd want to eat at home on a cold winter's night after trekking through the snow.

For dessert, I had Nancy Olson's wonderful Chocolate Pecan Coconut Cake with Butter Pecan Ice Cream: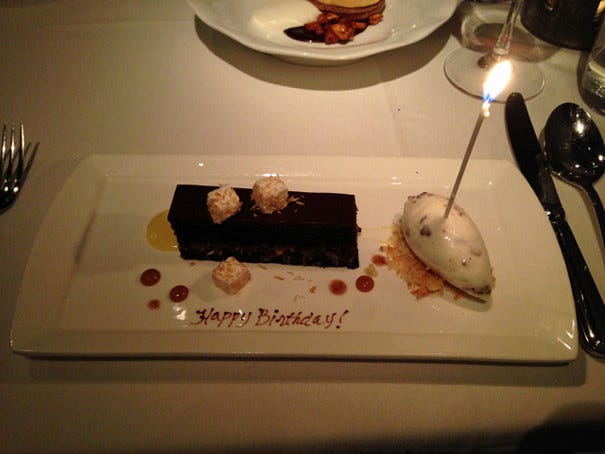 And of course it said "happy birthday" because my dessert, unlike YOU, remembered.

But let's let bygones be bygones and move on from this. After all, there's always next year when I turn the big 3-5.

This flight is bumpy right now. Excited to land in L.A. soon.

Until next time!

Your friend,
Adam (The Amateur Gourmet)






Reading this in a browser? Get next week's in your inbox by signing up here.

Follow Me!
On Twitter
On Facebook

Check Out My Cookbook!
Secrets of The Best Chefs

Recent Food Posts

Roasted Butternut Squash and Red Onion with Tahini and Za'atar

Chicken Gets Frisky When You Give It Whiskey

Salad on the Same Plate as Dinner

Cocoa Puffed Chocolate Mousse

How To Completely Fail at Making Chocolate Cups

Lunch at Chung King in the San Gabriel Valley

Bagna Cauda (The Butter Garlic Anchovy Sauce of Your Dreams)

Say Hello To Our New Bakelite Flatware

Quick Breakfast Tacos

Lunch at Bottega in Birmingham, Alabama

10 Food Blog Posts That'll Get You Traffic

Broccoli Cheddar Casserole with Homemade Cream of Mushroom Soup



*|LIST:DESCRIPTION|*

Unsubscribe *|EMAIL|* from this list.

Our mailing address is:
*|HTML:LIST_ADDRESS_HTML|*
Copyright (C) *|CURRENT_YEAR|* *|LIST:COMPANY|* All rights reserved.

Forward this email to a friend
Update your profile
*|IF:REWARDS|* *|HTML:REWARDS|* *|END:IF|*