A.G. Newsletter #111: Mark and Diana's Birthday Steak, The New Spago, This Is Not A Pop-Up, Porridge & Broken Coffee Carafes


Hey good people,

I just got back from getting Lolita shaved and she wasn't too happy. You can see the results on Twitter. Suffice it to say: my groomer is going to need therapy after that experience.

In brighter news, this weekend I attempted to undo the damage from last year's Oscar Party when my Glenn Cous Cous with Albert Knobs of Feta lost to Tinker Tailor Shepherd's Pie. This year, I made Beets of the Southern Wild with Candied Quvenzhane Walnuts. Did I win? You'll have to click the link to find out!

Also: last night, I watched Babette's Feast for the first time. Click the link to hear my thoughts and why you really ought to see it.

Oh, I also bought a new pot rack and completely transformed my kitchen....

And did you see my first appearance ever cooking on national T.V.? Click here.

Now then! On to newsletter business...

When I got back to L.A. the day after my birthday, my friends Mark and Diana had me over for dinner and they cooked me an ENORMOUS birthday steak: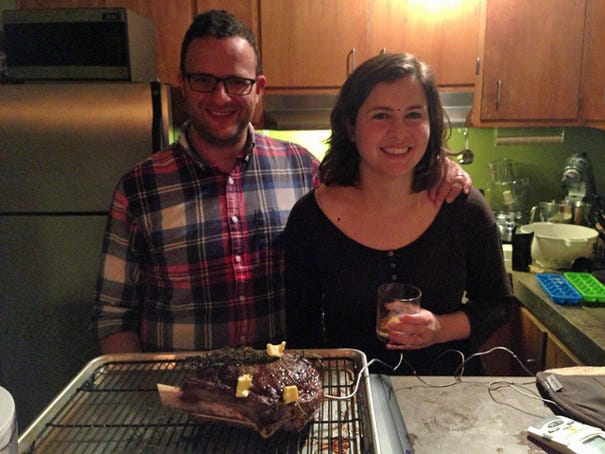 Let's see that beauty up close: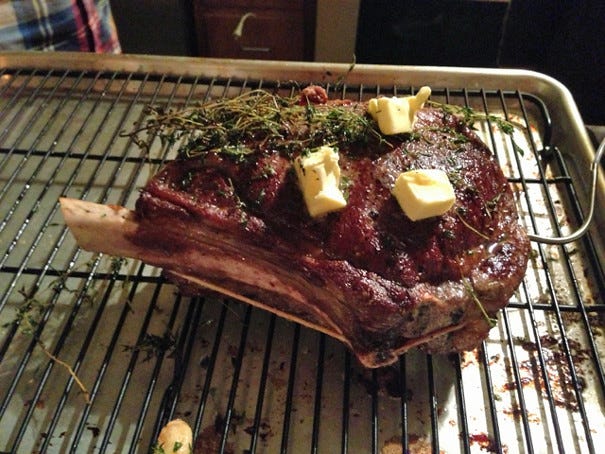 That's a bone-in rib-eye from McCall's butchers and it was really stunning. Diana used the steak-cooking technique she learned on my blog in this video; a technique I learned from Chris Lim at BLT steak in new York. It's really the best method I know to get steakhouse quality results at home (just be careful when you add the oil that it doesn't ignite! That happened to one of my readers once. It will only happen if your pan is CRAZY hot as opposed to just VERY hot.)

Check out the finished plate: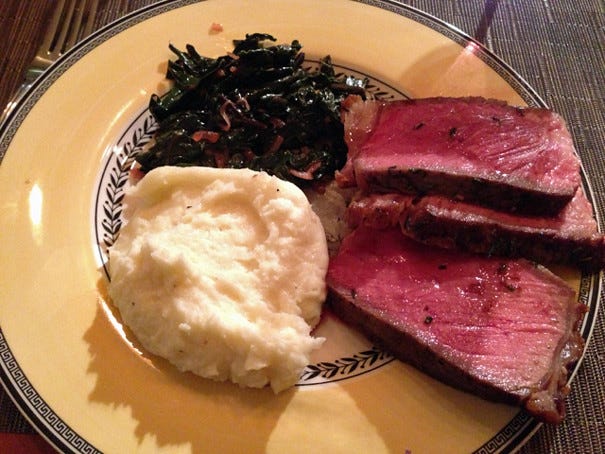 I was a very lucky birthday boy indeed. And then there was chocolate pear cake (based on a recipe from Al Di La) for dessert: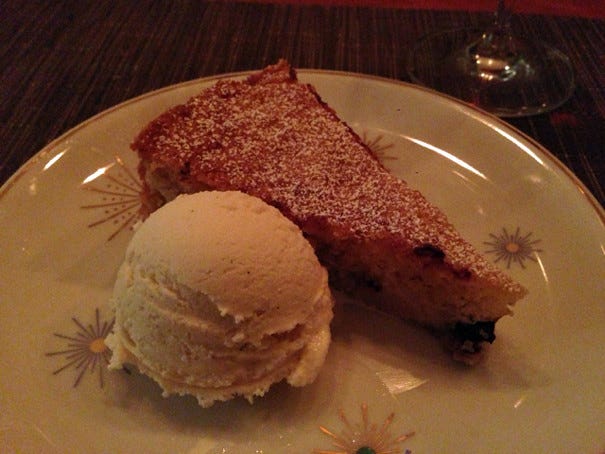 Funny, Diana and I ate that same dessert together at Al Di La in this blog post from October 5, 2006; here we are, SEVEN YEARS later eating the same thing only one that she made in her kitchen in L.A. Wonder where we'll eat it next?

My parents were in town this week and they took me out to the new Spago for my birthday. The new Spago is really the old Spago just done-up with new furniture and dishes. The interior reminded me a little bit of what Catherine O'Hara does to the house in Beetlejuice, only slightly less creepy: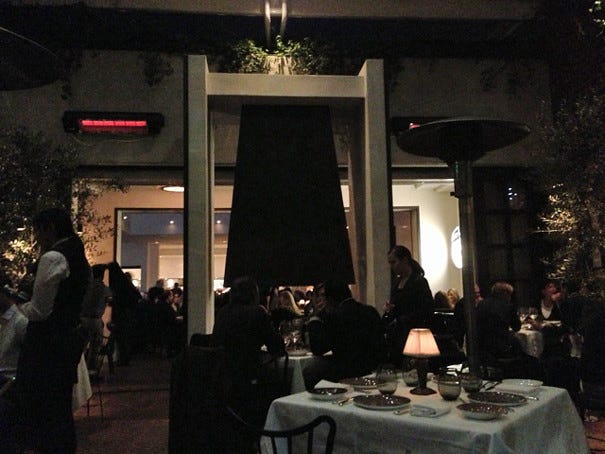 All of the food at Spago--both the old Spago and the new Spago--is fantastic. The only difference, though, is the new menu feels a little unfocused. Whereas a place like Momofuku is self-consciously a mash-up of Asian food cultures and European food cultures; Spago's attempt to do the same thing doesn't feel as natural.

Still: it all tasted wonderful. We had the famous Jewish pizza which you have to order off the menu (smoked salmon, creme fraiche, and caviar...yum):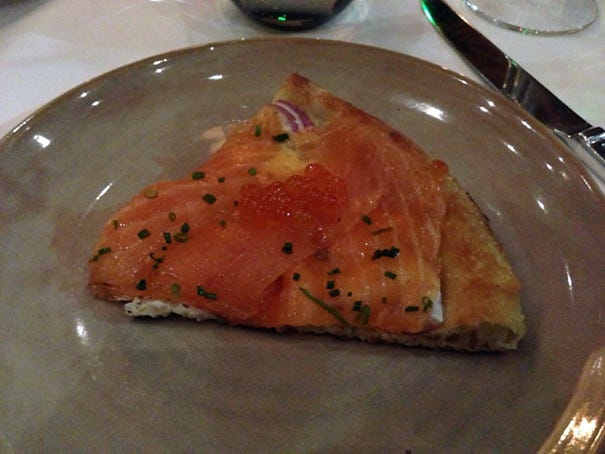 My favorite bite of the night, though, came from the bread basket. It was this extraordinary cracker: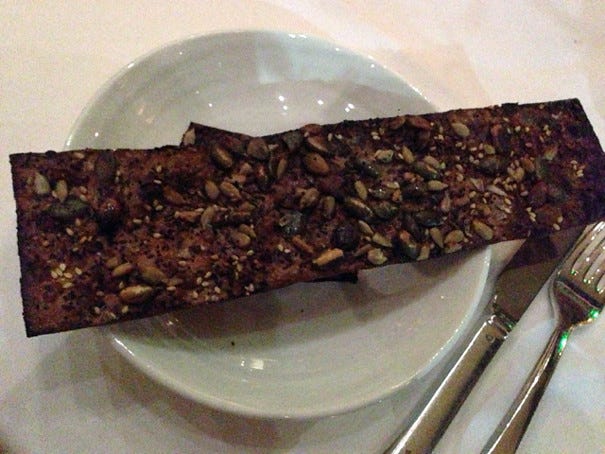 I know what you're thinking: "Extraordinary cracker?" But hear me out. This thing had so much deep flavor--it was cooked right to the edge--and then the topping was a delightful assortment of seeds and salt. I could've eaten a basketful of those for dinner and been very happy.

Instead, I started with the chirashi--a dish you'd be more likely to eat at Nobu, but somehow is being served here: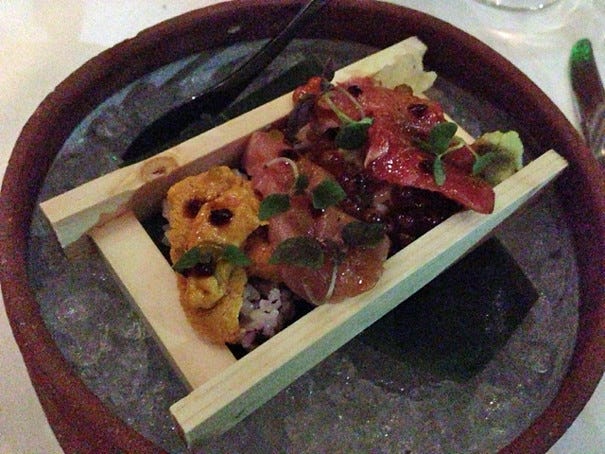 There's nothing bad I can say about this. The fish was as fresh as fish can be and the balance of flavors--some soy sauce drizzled on top, clean-tasting rice underneath--was masterful. Only it didn't feel like what you'd expect to eat at Spago. Maybe that's a good thing?

My entree was chicken that tasted like pastrami (on purpose). It was cured and served with spicy mustard to complete the effect.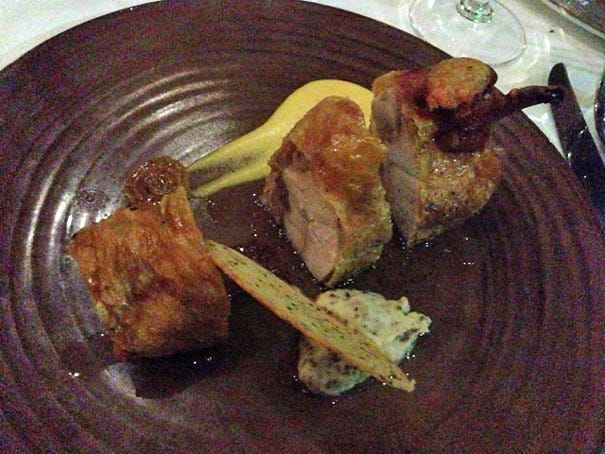 I enjoyed it, though I think the plate needed a fresher component... it was like eating just pastrami by itself with mustard and not much else. I'm thinking a Brussels sprout or two would've been nice. Good thing we ordered them on the side.

The last time my parents went to Spago, they befriended the world famous pastry chef there, Sherry Yard, and told her all about me. This time around, it was one of her last night's there--she's moving on to her own bakery collaboration with Sang Yoon in Culver City (near Father's Office) which is going to be FANTASTIC--so here we are together, meeting for the first time: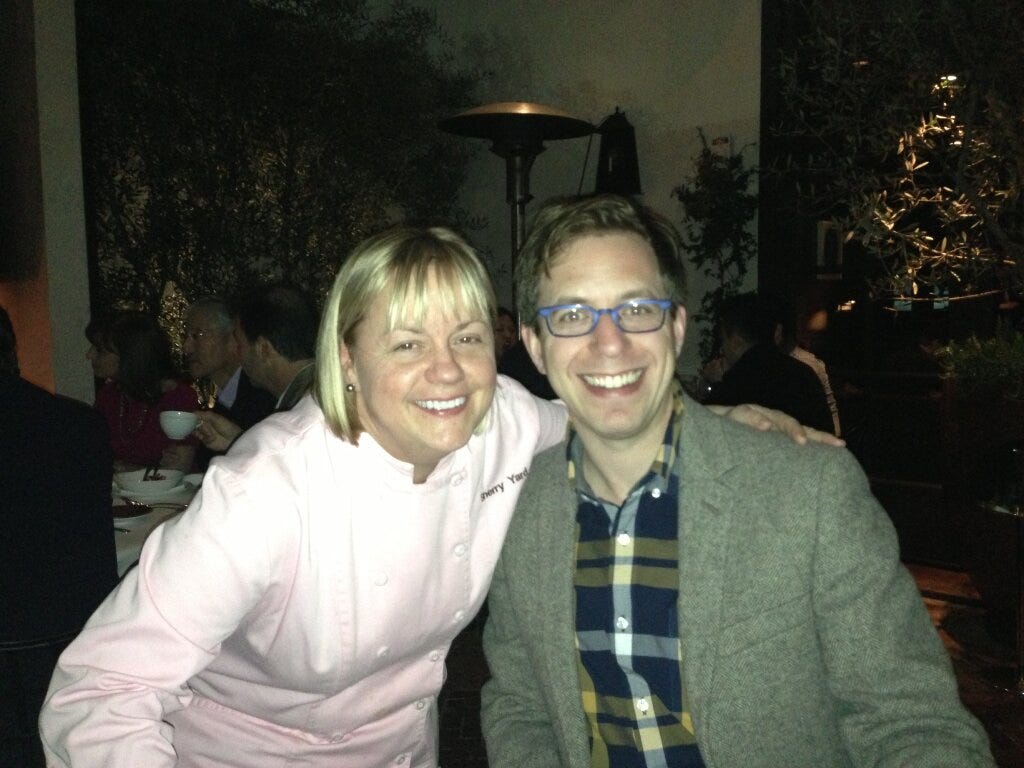 She was such a delight to meet, I really do hope we can stay in touch. Especially because her desserts are so, so accomplished. She sent over a bunch of treats and who were we to say "no"?

I could've kept eating this meringue with fruit FOREVER it was so good: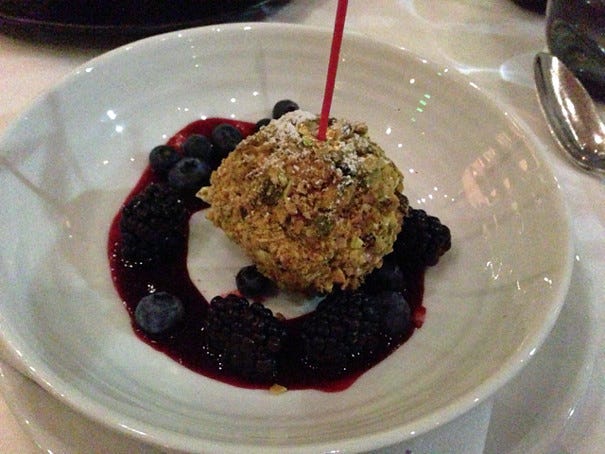 This coconut soufflé was light and ethereal: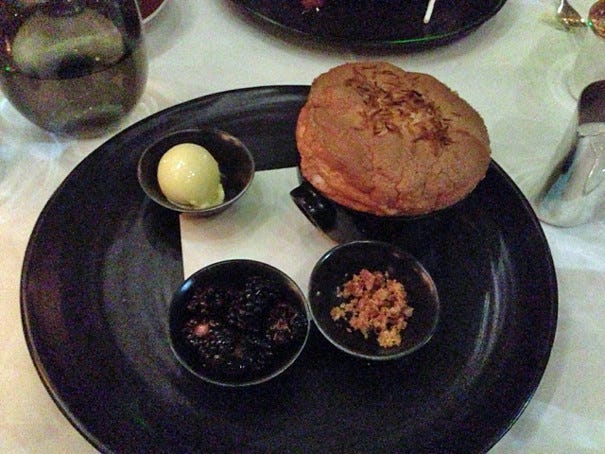 These chocolates were like the best Valentine you can imagine: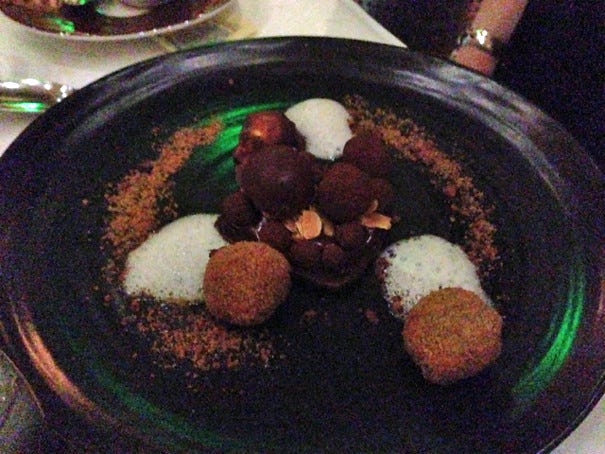 This strawberry short cake puts the more traditional kind to shame: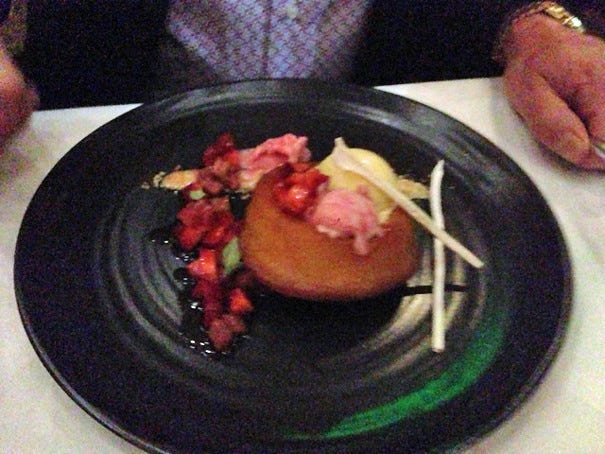 Thanks, Sherry, for bringing my birthday to an end so spectacularly. Your desserts were the highlight of the whole meal (cracker notwithstanding).

Now then...

On Friday night, my friend Rebecca Lando of Working Class Foodies made a reservation for us at This Is Not A Pop-Up, a regular dinner event that happens at one of my favorite brunch spots, Square One dining on Fountain.

This particular dinner was cooked by legendary chef Mark Peel who ran one of L.A.'s most famous restaurants, Campanile. Here's the menu he planned for this night: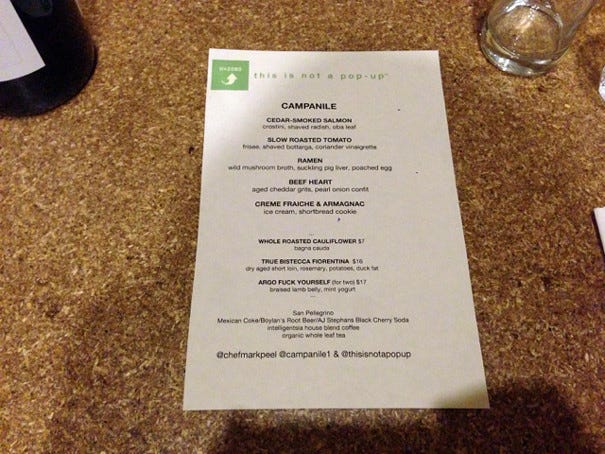 It was a 5 course dinner for $50...not a bad deal, especially since it's BYOB. Here's Rebecca with the wine she brought for us: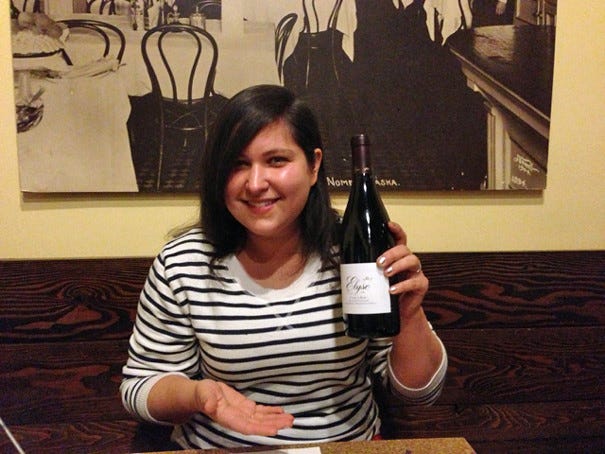 First course was this delicious salmon spread: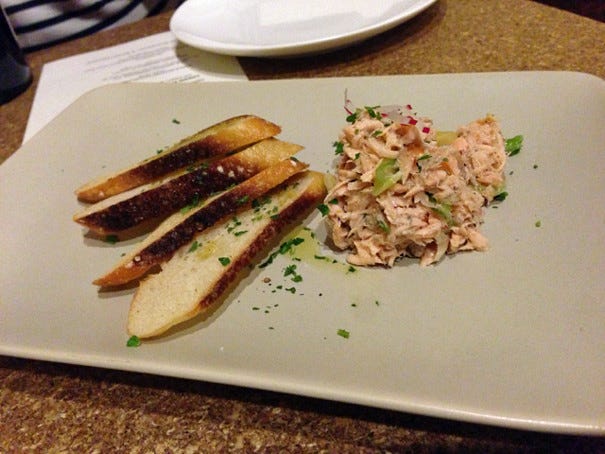 Then a slow-roasted tomato salad: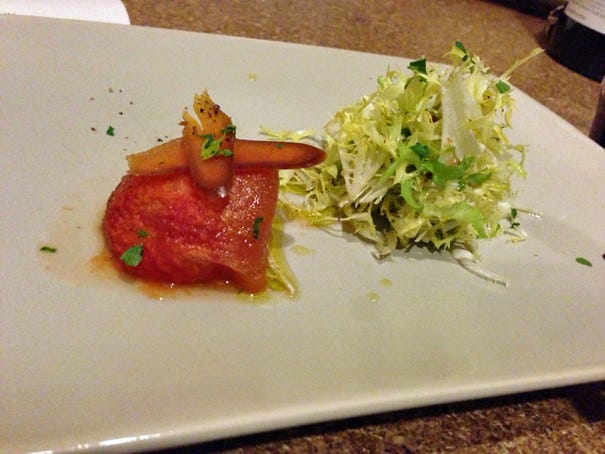 The ramen was the only course that felt out of place, but still I slurped up every last drop (including the suckling pig liver...errr):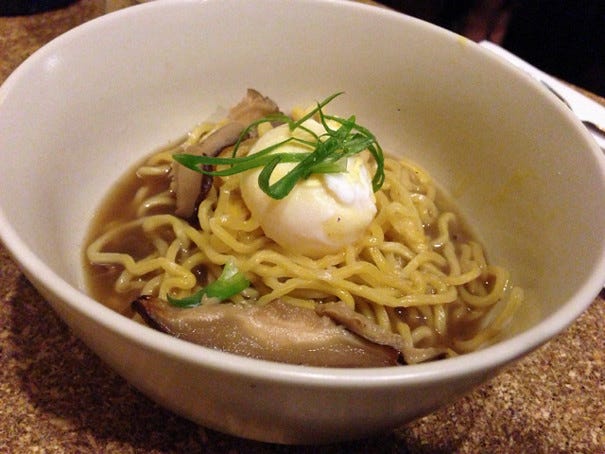 The main course was certainly attention grabbing: beef heart on Cheddar cheese grits.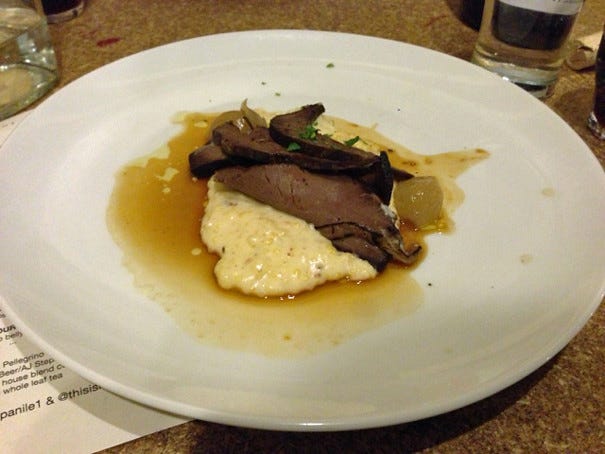 I was wary at first but the beef heart had all the flavor you expect from traditional red meat with just a tiny bit of funk that made it more interesting. And those cheese grits were out of this world delicious... truly some of the best grits I've ever eaten.

For dessert, there was creme fraiche and Armagnac ice cream...just the right note to complete the meal: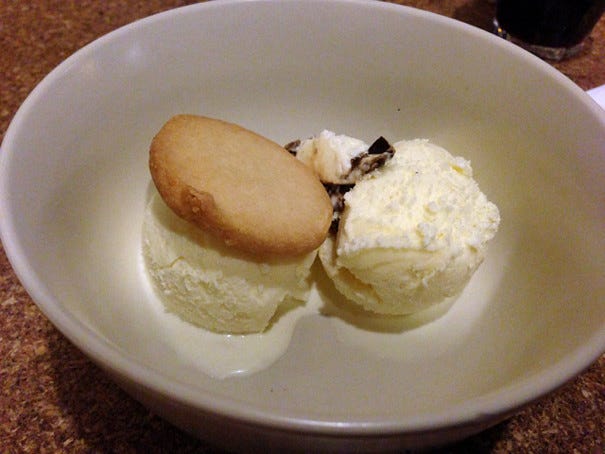 I have to say, I'm loving L.A.'s underground restaurant culture. First, my dinners at Elysian; and now This Is Not A Pop-Up. I'm a big fan of both.

Finally, I cooked myself breakfast this Sunday and made April Bloomfield's terrific porridge along with an improvised fruit salad (I tossed together sliced apples, pears, bananas and chopped walnuts with a dressing made from olive oil, honey, a pinch of salt and sugar and a splash of champagne vinegar):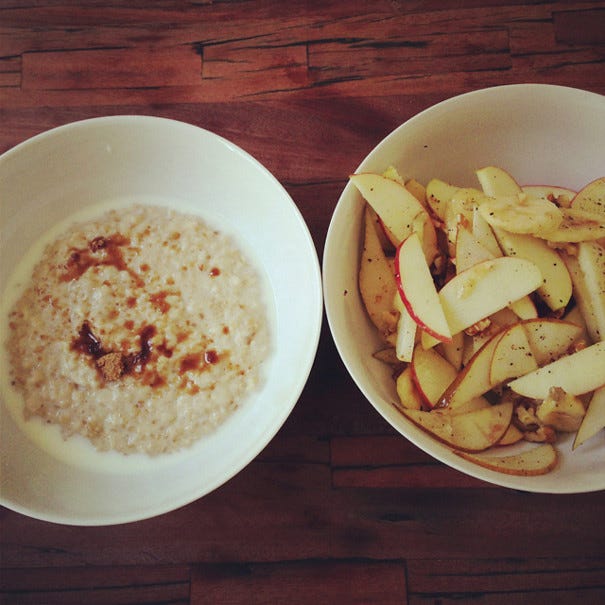 Then, when cleaning my coffee carafe, I cracked it in the sink: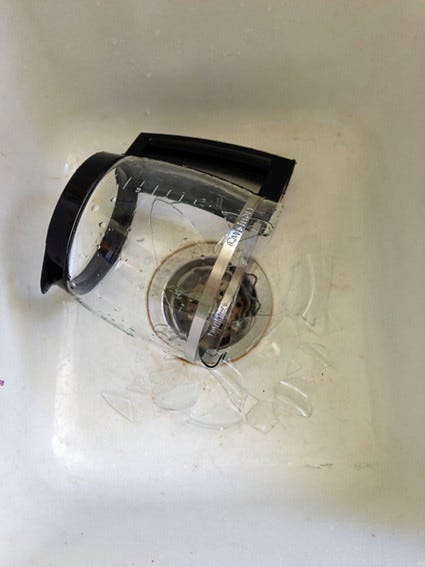 This is the 3rd time this has happened in the past 365 days. I'm starting to think we should get a coffee maker with a metal carafe. If you have one that you like, tell me on Twitter!

That's all for this week, folks.

Until next time....

Your friend,
Adam (The Amateur Gourmet)














Reading this in a browser? Get next week's in your inbox by signing up here.

Follow Me!
On Twitter
On Facebook

Check Out My Cookbook!
Secrets of The Best Chefs

Recent Food Posts

You Really Ought To See Babette's Feast

Beets of the Southern Wild

I Love My New Pot Rack (Plus: A Kitchen Makeover)

Roquefort Cheese and Green Onion Tart

Cooking On T.V.

Roasted Butternut Squash and Red Onion with Tahini and Za'atar

Chicken Gets Frisky When You Give It Whiskey

Salad on the Same Plate as Dinner

Cocoa Puffed Chocolate Mousse

How To Completely Fail at Making Chocolate Cups

Lunch at Chung King in the San Gabriel Valley

Bagna Cauda (The Butter Garlic Anchovy Sauce of Your Dreams)

Say Hello To Our New Bakelite Flatware




*|LIST:DESCRIPTION|*

Unsubscribe *|EMAIL|* from this list.

Our mailing address is:
*|HTML:LIST_ADDRESS_HTML|*
Copyright (C) *|CURRENT_YEAR|* *|LIST:COMPANY|* All rights reserved.

Forward this email to a friend
Update your profile
*|IF:REWARDS|* *|HTML:REWARDS|* *|END:IF|*