A.G. Newsletter #112: Laurel Hardware, Guisado's, Fennel Frond Flowers and April Bloomfield's Polenta


Hello fans of the Amateur Gourmet newsletter,

Have I got a treat for you. BROWNIES. Not just any brownies, though, The Best Brownies of Your Life. I found them. I'm not kidding. I've had none better and it'll be my go-to recipe forevermore. Click the link to see why.

After your brownies, if you want to be healthier (ya right) check out my take on the Mediterranean diet with yesterday's post: Things You Can Do With A Big Pot of Beans. You'd be surprised at how versatile a big pot of beans can be.

Now on to newsletter business....

Last week, I met my friend Nick for dinner at Laurel Hardware which is an actual hardware store that's been transformed into a restaurant.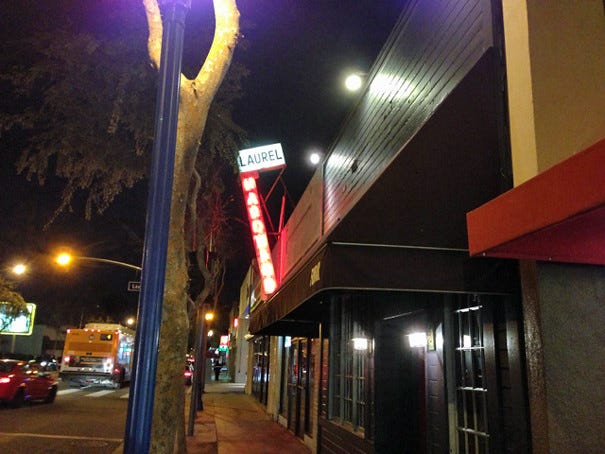 I was surprised at how empty the restaurant seemed when I showed up first, but when Nick got there he explained that there was a whole back room packed to the gills with people. I checked it out when I went to the bathroom and it was like a speakeasy where the front is a barbershop and the back is a wild party. We ate in the barbershop.

The cocktail that I ordered, though, suddenly made me feel like I was at a wild party: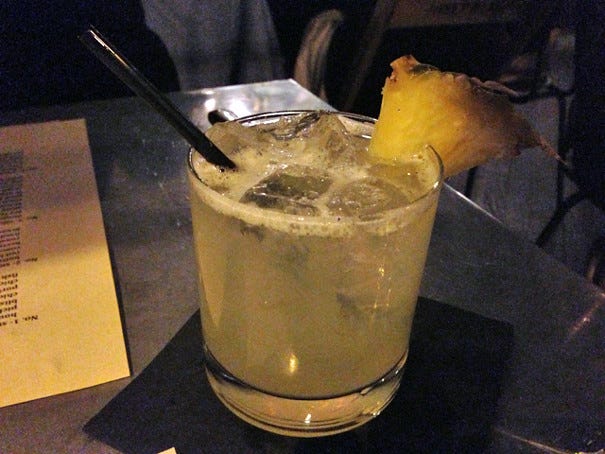 That's The Vig, described as "Milagro Reposado rested for 10 days with fresh pineapple, vanilla bean, green chartreuse." I have no idea what any of that means, but this was dangerously good... Sweet and citrusy at the same time.

The food at Laurel Hardware reminded me of the food at Freddie Smalls... It's all fat-heavy but disguised as healthier-than-it-seems because of the ingredients. Like the Brussels sprouts: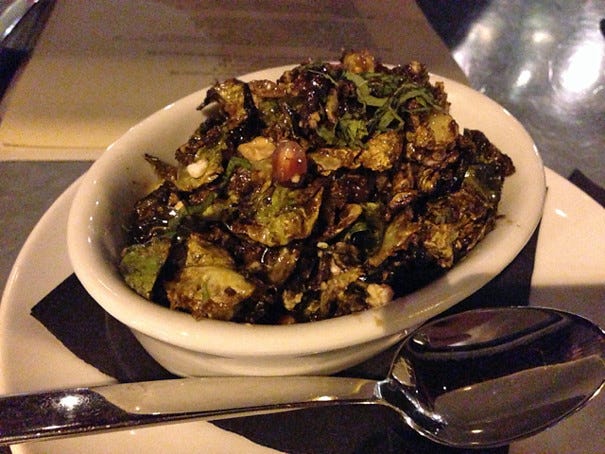 Clearly, those are deep-fried and that makes them absolutely terrific, only the chicharrones were deep-fried too: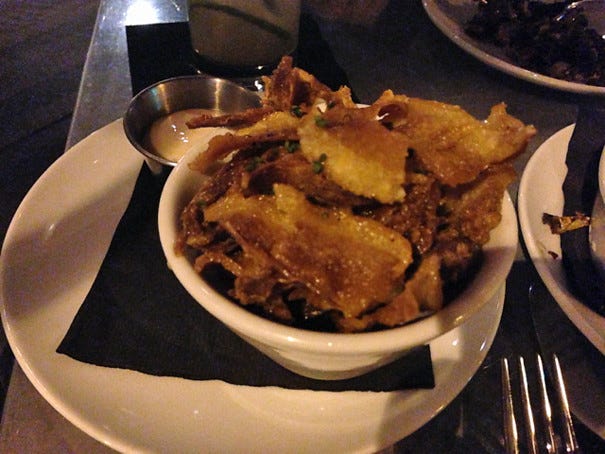 Here's Nick with his crab salad, the first non-fried course of the night: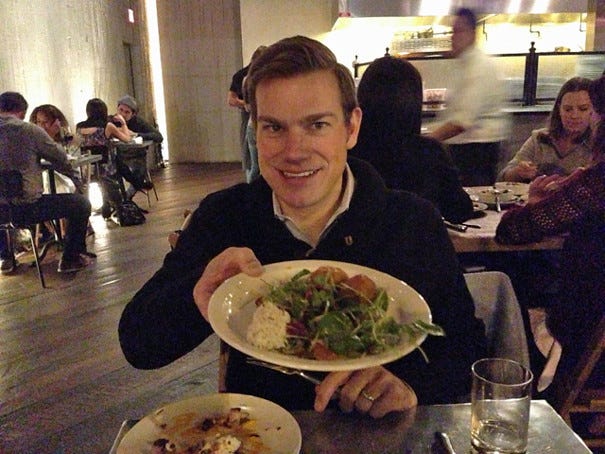 And here's my scallop entree which could've had a better sear on it: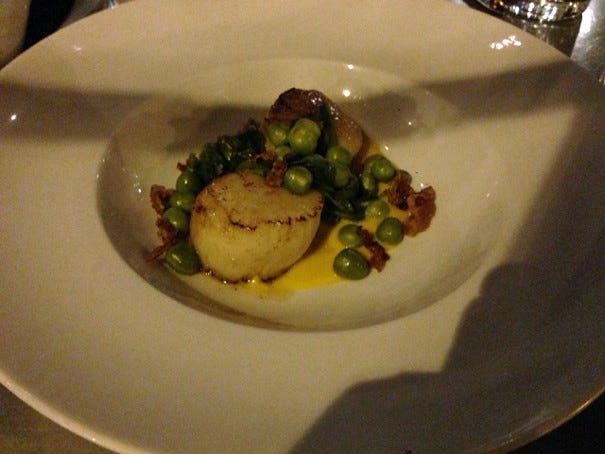 Really, what you're paying for at Laurel Hardware is the environment and the drinks. The food gestures at sophistication but really it's just hitting notes that today's hip customer expects them to hit: Brussels sprouts? Check. Some fatty meat thing like chicharrones? Check. I found it all rather uninspired except for the great cocktail and also this dessert: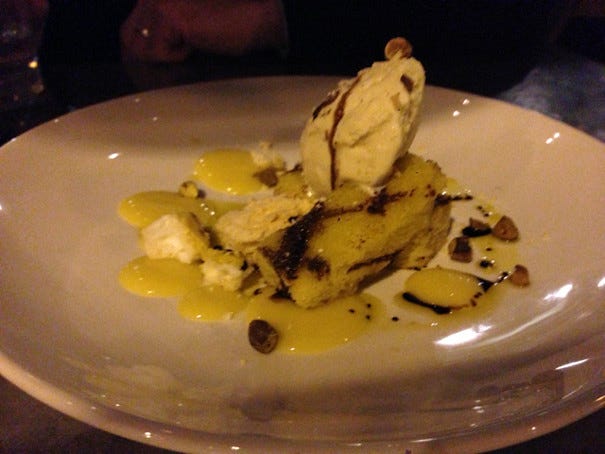 Grilled polenta with some kind of ice cream and sauce. The grill marks really made it. (Somewhat related side note: I really want to buy a grill pan.)

A few days later, I made my way to the new Guisado's in Echo Park.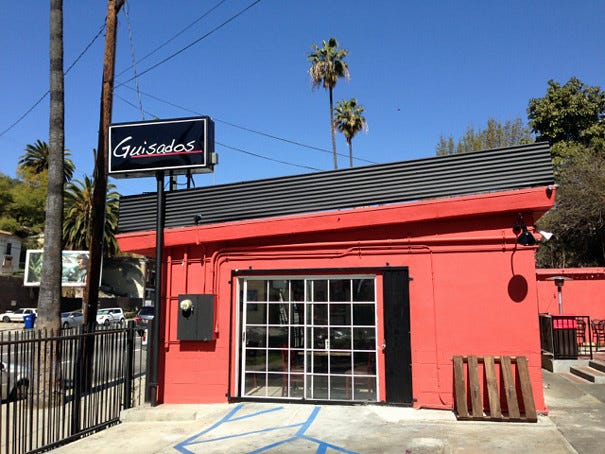 Guisado's is one of those celebrated L.A. places I had bookmarked but had never visited. Then one opened up closer to me and I had no excuse. I also knew what to order: the taco sampler.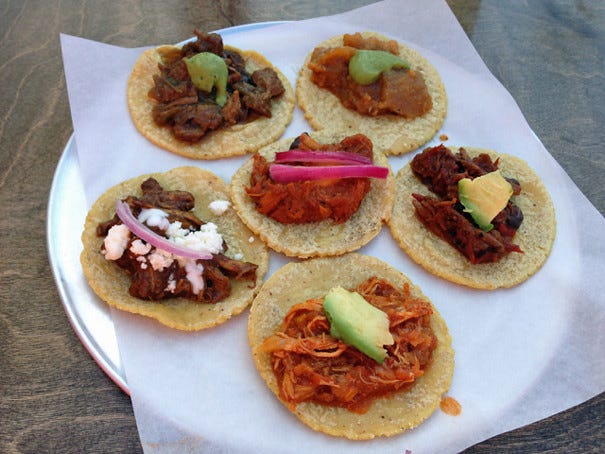 Eating these outside in the sun made me realize why New York's new Mexican food Renaissance doesn't interest me at all... Part of the fun of eating Mexican food is eating it outside in nice weather.

These tacos were all pretty great except the one on the upper right which, funny enough, was made with chicharrones (there's a theme here today). They were braised so the meat was too gelatinous for my taste. Everything else, though, was perfectly sauced and perfectly topped with a condiment. The little tortillas were fresh-tasting and warm. It's a great lunch for a very small amount of money (like $7).

Next time, though, I think I may just order a taco or a burrito... Lots of little bites often aren't as fulfilling for some reason (see: party food).

While in Echo Park, I visited my favorite little gourmet supermarket Cookbook and bought some fennel for that night's salad. The fennel was so leafy and frondy I almost asked the guy there to cut them off; then, when I got home, I cut them off myself and put them in a jar for a display: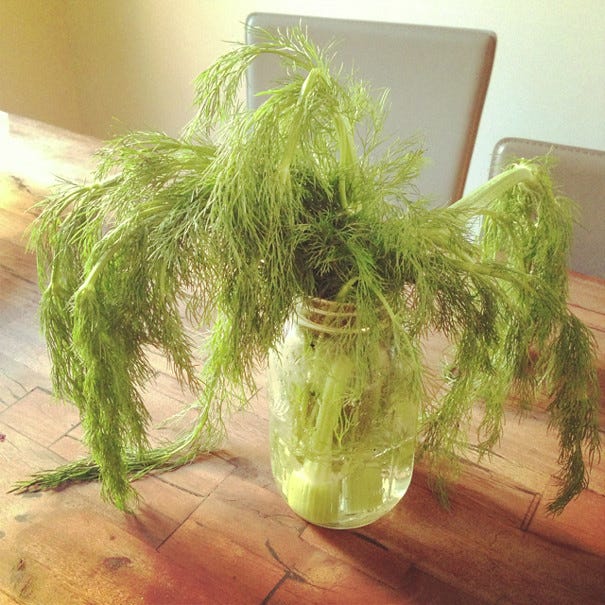 Pretty, right? Give it a try the next time you find some extra frondy fennel.

Finally, I cooked a dinner for some friends on Sunday night featuring braised lamb from April Bloomfield's fantastic cookbook. I served it on her recipe for polenta which came out extra creamy: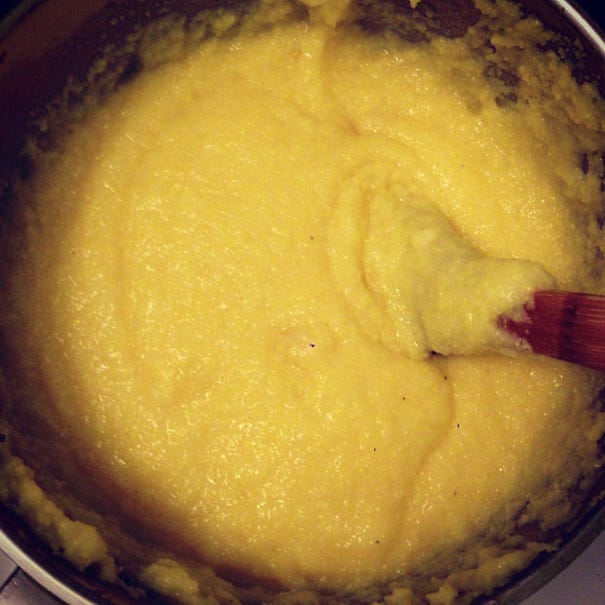 The secret is to buy the long-cooking stuff (not instant polenta) and to cook it for a long time (between one and two hours). Also, to salt it heavily at the beginning (in fact, the 4 teaspoons she calls for may have been too much for my taste). At the end, you dress it up with Parmesan cheese and mascarpone to make it extra rich. It's good stuff.

Ok, that's all for this week folks!

Until next time....

Your friend,
Adam (The Amateur Gourmet)
Reading this in a browser? Get next week's in your inbox by signing up here.

Follow Me!
On Twitter
On Facebook

Check Out My Cookbook!
Secrets of The Best Chefs

Recent Food Posts

The Best Brownies of Your Life

Things You Can Do With A Big Pot of Beans (Or: My Take on the Mediterranean Diet)

Marion Cunningham's Last Word in Nutmeg Muffins

Le Relais de Venise L'Entrecote and the Minetta Tavern Black Label Burger

You Really Ought To See Babette's Feast

Beets of the Southern Wild

I Love My New Pot Rack (Plus: A Kitchen Makeover)

Roquefort Cheese and Green Onion Tart

Cooking On T.V.

Roasted Butternut Squash and Red Onion with Tahini and Za'atar

Chicken Gets Frisky When You Give It Whiskey


*|LIST:DESCRIPTION|*

Unsubscribe *|EMAIL|* from this list.

Our mailing address is:
*|HTML:LIST_ADDRESS_HTML|*
Copyright (C) *|CURRENT_YEAR|* *|LIST:COMPANY|* All rights reserved.

Forward this email to a friend
Update your profile
*|IF:REWARDS|* *|HTML:REWARDS|* *|END:IF|*