A.G. Newsletter #113: Bar Ama, Kang Ho Dong Baekjeong, Cube & Craig's Welcome Back Meals


Well there nice people,

Sorry I skipped my newsletter last week! I gave myself a week off. Hope you're not too mad. In the meantime, I've cooked up some delicious food. You've gotta try this Chicken Tagine with Preserved Lemons and Olives. Oh my God, is it good. And for dessert, make Tasamin Day-Lewis's Date and Coffee Sponge Cake with a Coffee Glaze. It takes just a few minutes to put together but tastes like something you spent hours making. Just don't make these oatmeal pancakes the next day for breakfast. They're not very good.

Ok then, time for some newsletter stuff.

I had a terrific meal at Bar Ama with my new L.A. friends Doug and Brian. I started with a drink called El Camino which had Tequila Blanco, Prickly Pear, Lime and Damiana: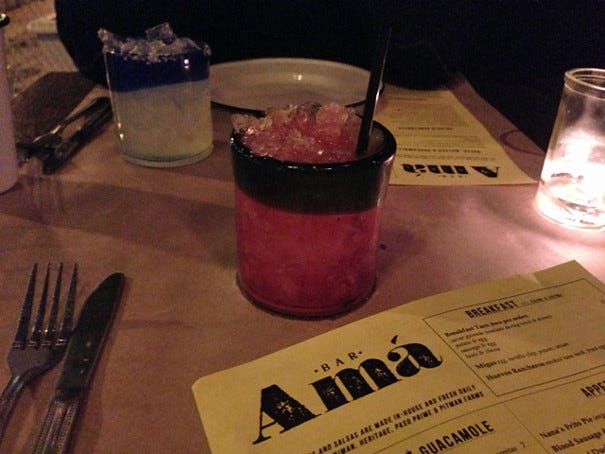 Here's Brian and Doug with their cocktails too: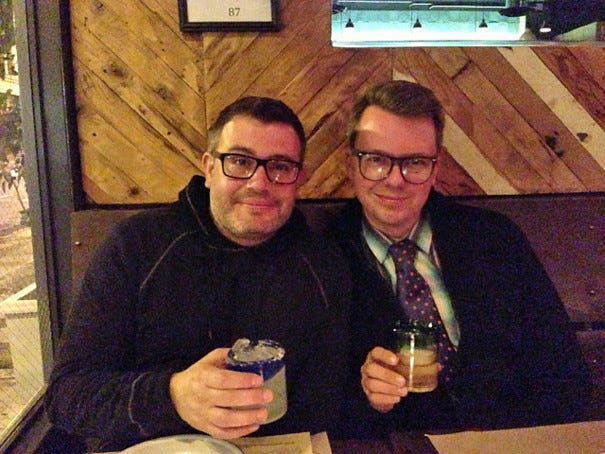 And now for the food. We ate SOOO much food. We started with this terrific queso dip that had chorizo on top: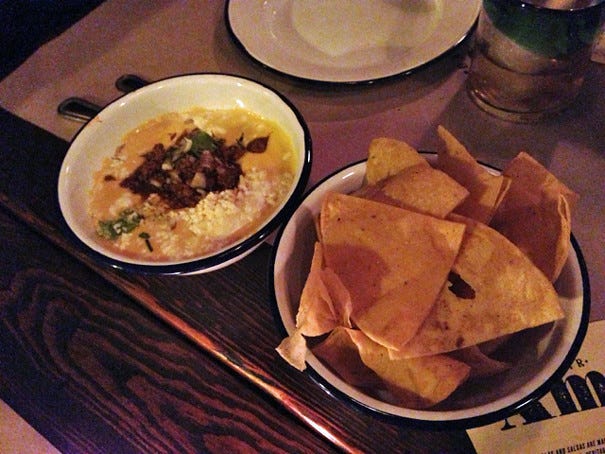 There was this spicy ceviche: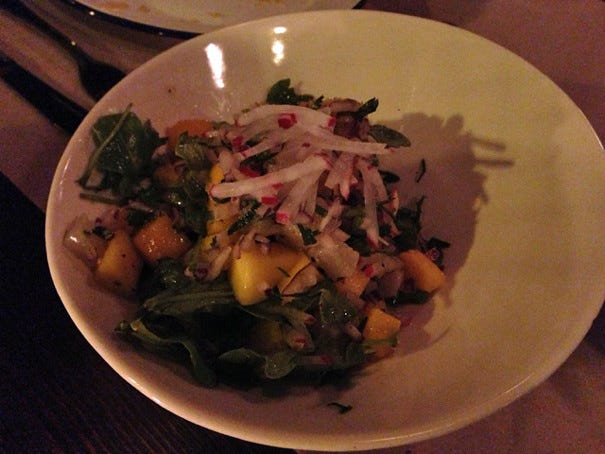 Roasted cauliflower: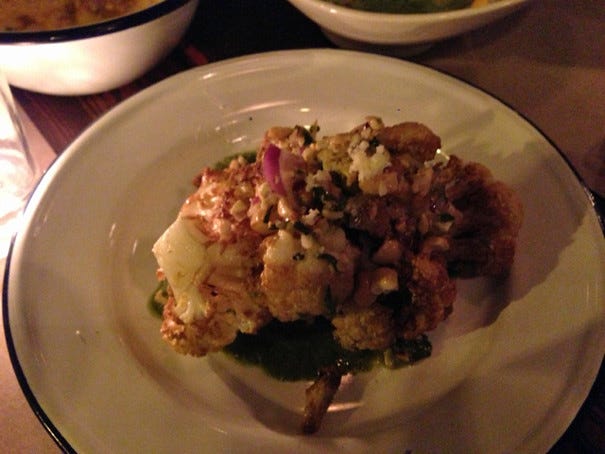 And these incredible puffy tacos which really could've been our entree they were so filling (especially the one with fried potato inside it):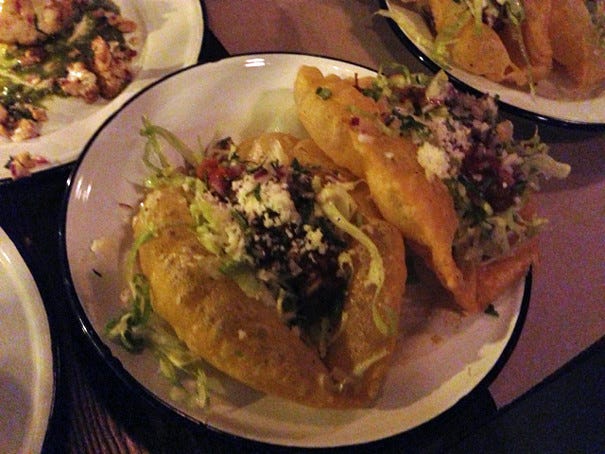 Instead, though, we got a goat for our entree. We were like the T-Rex in Jurassic Park: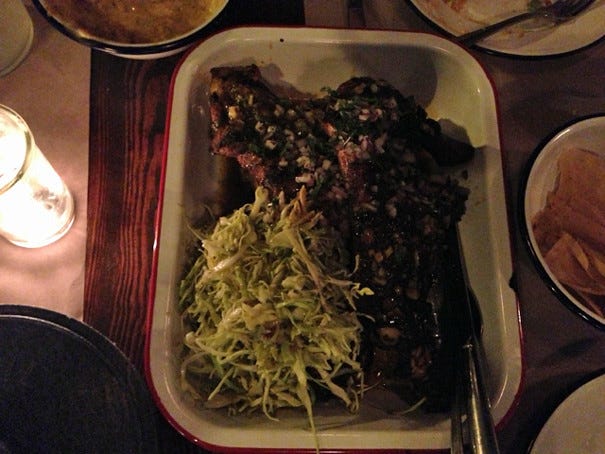 Holy crap, was this good. We definitely didn't need to eat it but I'm so glad we did: the goat's cooked on the bone so you find yourself gnawing away like a caveman. And so much flavor in each bite. Wow.

Still, we had to have dessert. One of the best desserts I've had in a long time was this burnt milk custard: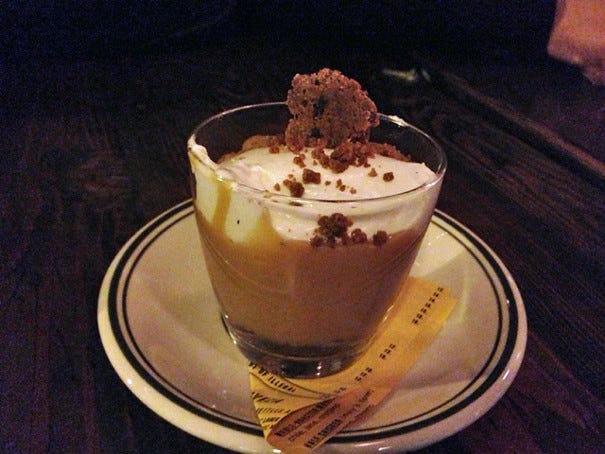 As Brian said, it gives Mozza's butterscotch budino a run for its money. That burnt milk flavor--however it's accomplished--is totally stunning. I want to recreate this at home. Please, Bar Ama, a recipe?

Some time later, my friend Jim Cantiello asked me to be a guest on his hilarious web show SMASHED: the show where you get drunk and watch NBC's Smash. Here's the video we made together. I definitely was beyond tipsy.

Before we shot the video, we walked over to Kang Ho Dong Baekjeong where I'd been once before for the Shaken Dosirak. I was excited to try the BBQ and, man, it didn't disappoint.

Here's what we saw when we sat down: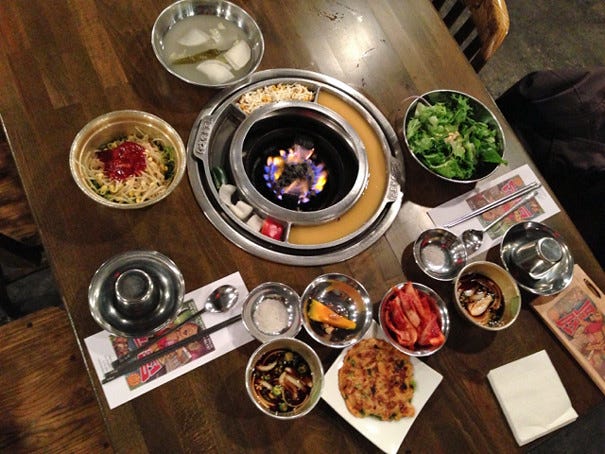 Look at all that banchan!

Here's Jim getting ready to dig in: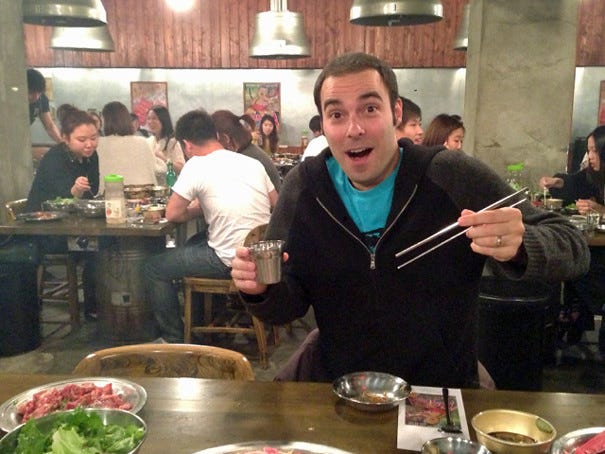 We ordered the brisket which came thinly sliced, almost like prosciutto: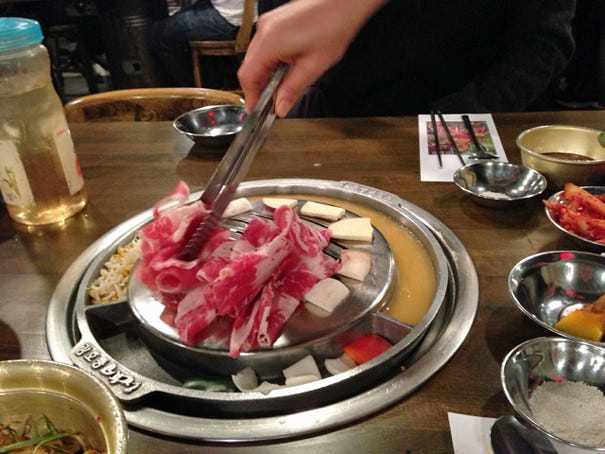 It's amazing how it transforms as it cooks. Here it is moments later: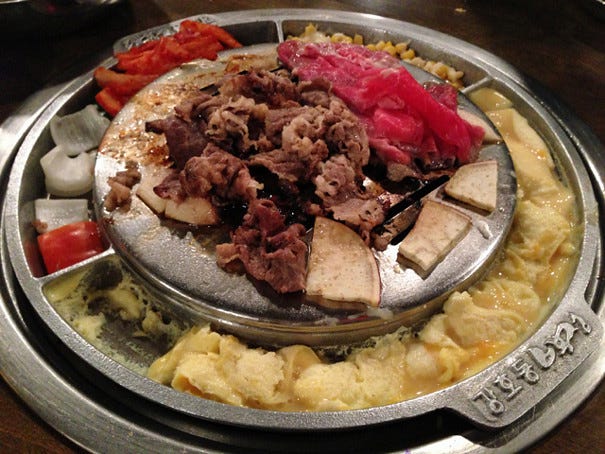 As you can see, around the perimeter there's egg that gets cooked too so it's custardy and soft in the middle. All of this was so good. And then there was more: short ribs came next.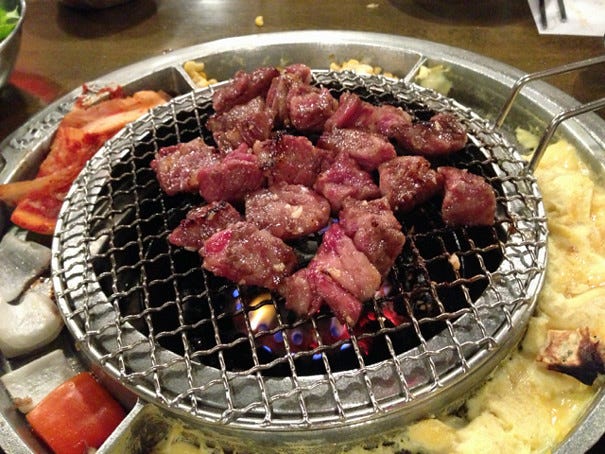 These were oh so flavorful. Marinated, as they were, in something sweet (I have no idea what) they really charred up nicely. I couldn't stop eating them.

Luckily, we had to go shoot our video so we left before I turned into a cow.

A few days later, I pigged out AGAIN, this time at a restaurant on La Brea called Cube where I met up with Zach Brooks of Midtown Lunch, Noah Galuten of Bludsoe's BBQ, and a new foodie friend, Rachael Sheridan, who's a buyer for Cube. Here's Cube: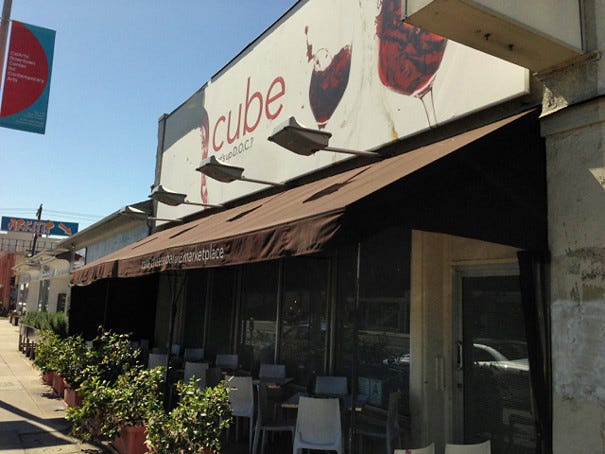 My favorite thing about Cube is how they present the meat and cheese. Isn't this adorable? It's served on a piece of slate with each item indicated in chalk underneath: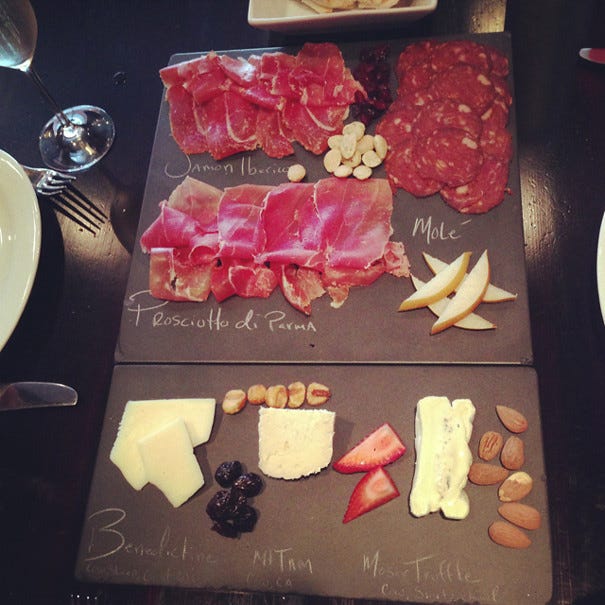 The meat comes from Mario Batali's dad's place, Salume, in Seattle so it's top notch stuff. And the cheese was pretty incredible too.

Rachael ordered us a bunch of food like this charred lettuce salad and this tuna carpaccio: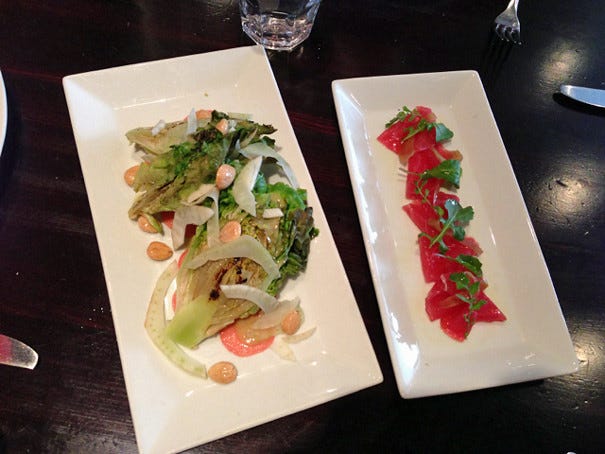 Here's Zach and Noah digging in: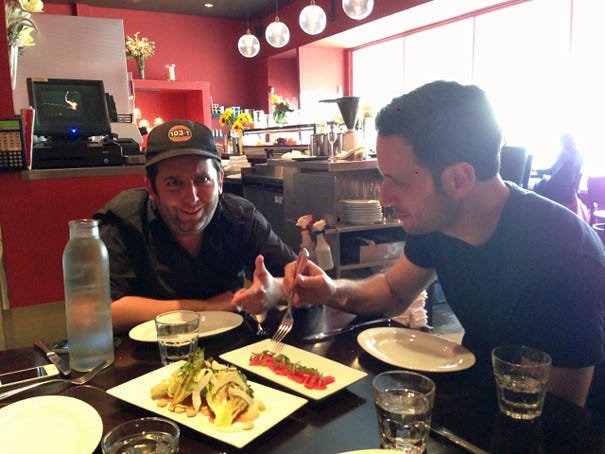 But the real reason to go to Cube, and one of the most incredible things to eat there, is the fried chicken: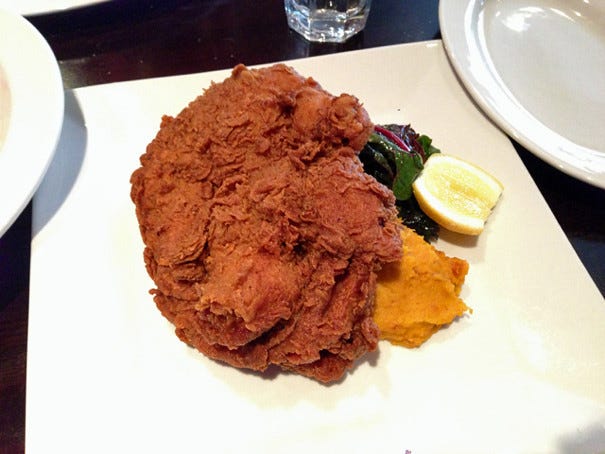 I don't even know where to begin. It's half a chicken that's been boned then marinated in olive and lemon, double crusted in a mixture of flour, cayenne and ginger, and fried in an oil that's 10% olive oil. It's insanely good. So good it hurts.

So thanks, Rachael, for such a decadent lunch at Cube... I can't wait to go back.

Speaking of coming back, Craig came back to L.A. this weekend after 4 weeks in New York editing his movie. Suffice it to say, I was happy to see him. On Sunday morning, I made him a big breakfast of Eggs Adam Roberts, Marion Cunningham's Nutmeg Muffins and oven-cooked bacon (all those links will give you recipes; only recently, I've been caramelizing an onion in the butter before adding the eggs in Eggs Adam Roberts and I skip the sour cream):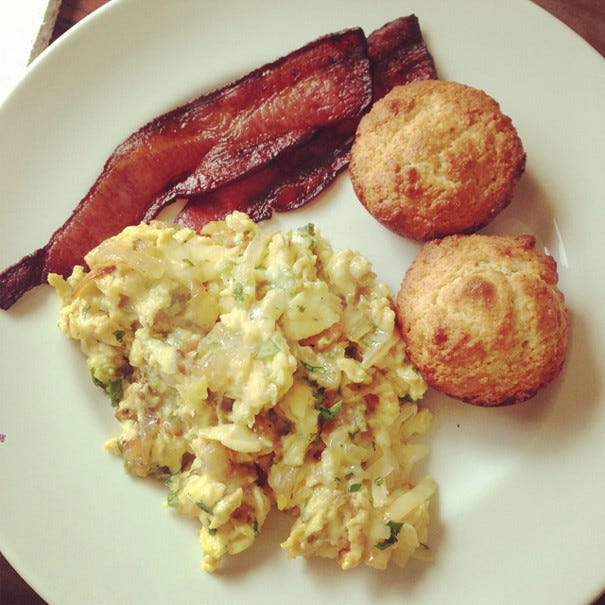 For dinner that night, I made a spatchcocked chicken with lots of spices rubbed into it (toasted coriander, cumin seeds, fennel seeds and 2 red chiles toasted in a skillet then ground up in a spice grinder) and a potato salad made with farmer's market fingerling potatoes, cherry tomatoes, scallions, olives and a little blue cheese.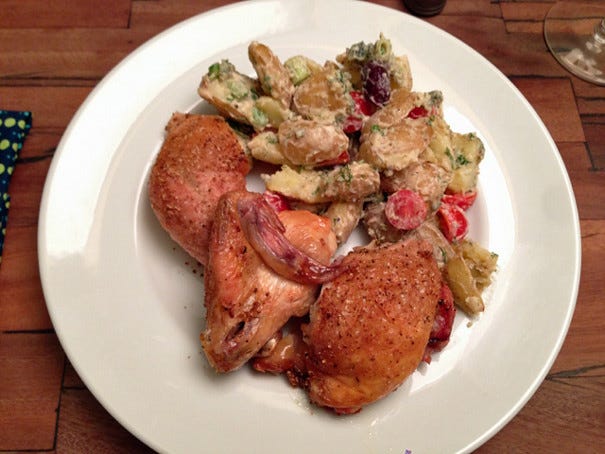 Here's the happy dinner eater: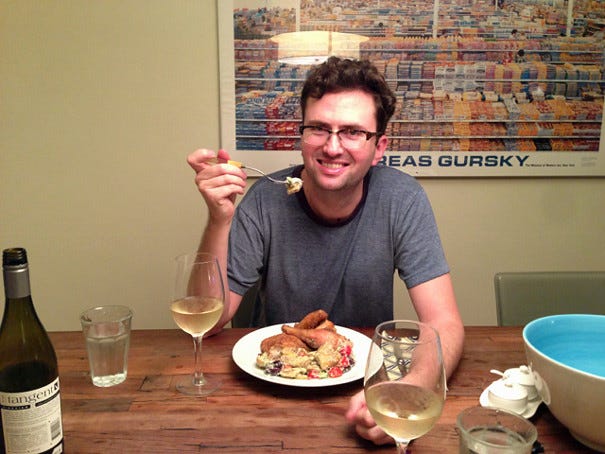 He was especially happy when I served him a Best Brownie of Your Life with Jeni's Salty Caramel Ice Cream on top for dessert: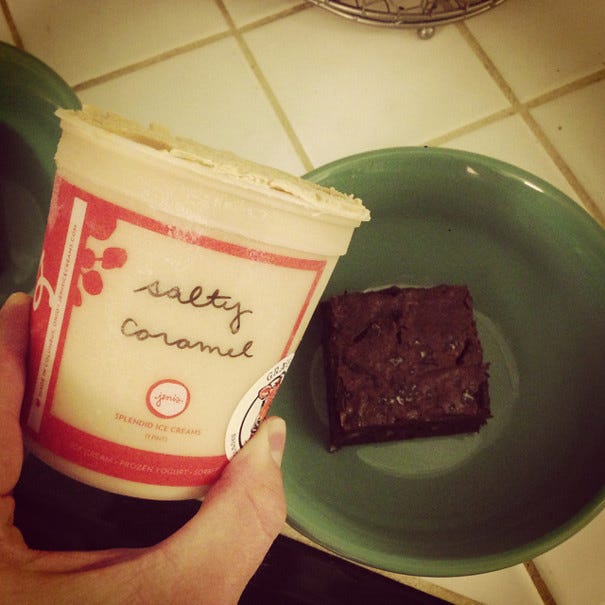 That's all for this week, folks!

Until next time....

Your friend,
Adam (The Amateur Gourmet)

Reading this in a browser? Get next week's in your inbox by signing up here.

Follow Me!
On Twitter
On Facebook

Check Out My Cookbook!
Secrets of The Best Chefs

Recent Food Posts

Date and Coffee Sponge Cake with a Coffee Glaze

Chicken Tagine with Preserved Lemons and Olives

You Don't Want To Make These Oatmeal Pancakes

Porcini-Cooked Rigatoni with Cherry Tomatoes and More Porcini

An Omelette and a Glass of Wine (For Dinner)

Mystical, Magical Curry Leaves

Blood Orange Olive Oil Cake

Steve's Sous-Vide Salmon Adventure

The Best Brownies of Your Life

Things You Can Do With A Big Pot of Beans (Or: My Take on the Mediterranean Diet)

Marion Cunningham's Last Word in Nutmeg Muffins

Le Relais de Venise L'Entrecote and the Minetta Tavern Black Label Burger

You Really Ought To See Babette's Feast

Beets of the Southern Wild

I Love My New Pot Rack (Plus: A Kitchen Makeover)



*|LIST:DESCRIPTION|*

Unsubscribe *|EMAIL|* from this list.

Our mailing address is:
*|HTML:LIST_ADDRESS_HTML|*
Copyright (C) *|CURRENT_YEAR|* *|LIST:COMPANY|* All rights reserved.

Forward this email to a friend
Update your profile
*|IF:REWARDS|* *|HTML:REWARDS|* *|END:IF|*