A.G. Newsletter #114: $15 Dinner at Little Dom's, Little Flower, Coolhaus & Storefront Deli


Hello good people of the Amateur Gourmet newsletter,

I don't mean to brag, but it's Tuesday morning and I've already written two really good posts this week. Let's not pretend this is a regular occurrence--we all know that sometimes my posts are a little desperate and unpolished--but yesterday? Yesterday I posted about a fish dinner that I made that was SO good, I have to show you the picture: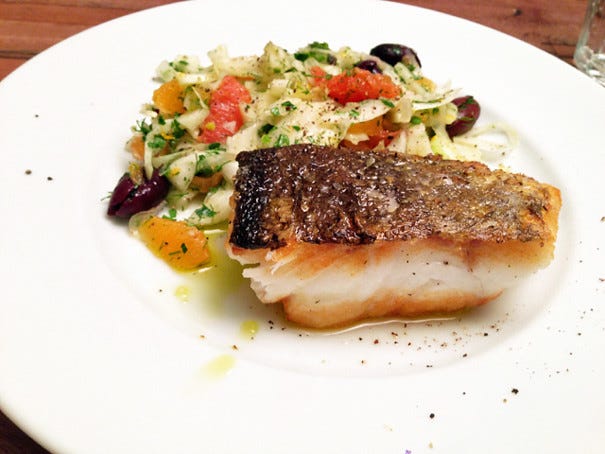 See? I'm not kidding around. Here's the link to the post all about it: How To Cook Perfect Fish at Home.

Then today I did a post called Build Your Own Vegetable Curry that's all about using whatever vegetables you have around to make a flavorful, healthy dinner that no one realizes is healthy because it tastes so good. The post is really a blueprint for you to build whatever kind of curry you want to make whenever you want to make it. Check it out.

Ok, now on to newsletter stuff...

Last Monday, we joined our friends Mark and Diana for the $15 dinner at Little Dom's. It's really a great deal: for $15, you get a three course meal. On this particular night, it was fried green tomatoes, duck confit and something for dessert.

Only, once at the table, we all kind of started looking at the regular menu---at the pastas and salads and other desserts--and Craig posited that maybe we shouldn't do the $15 dinner after all. Mark and Diana caved too. I quickly joined them.

First, though cocktails. Here's my drink, the Trinidad Sour: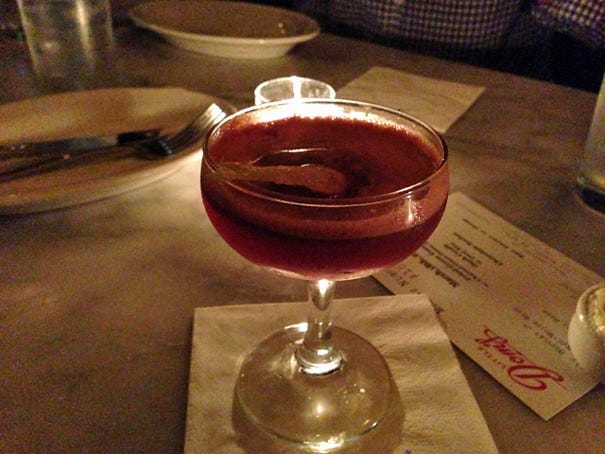 I really wanted to like this drink but the spices in it were overpowering. The waitress said it was the last one of the night which suggests the mix came from the bottom of the jug where all the spices sank. I almost couldn't drink it it was so potent (like blended up potpourri).

Luckily, everything else we had was really good. Like this burrata and baby broccoli salad: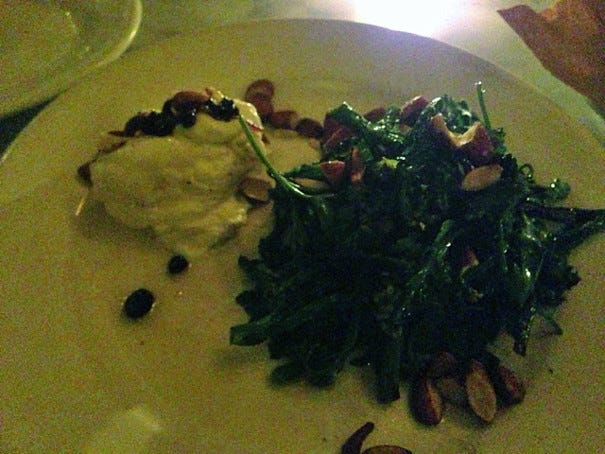 And these fried rice balls (arancini):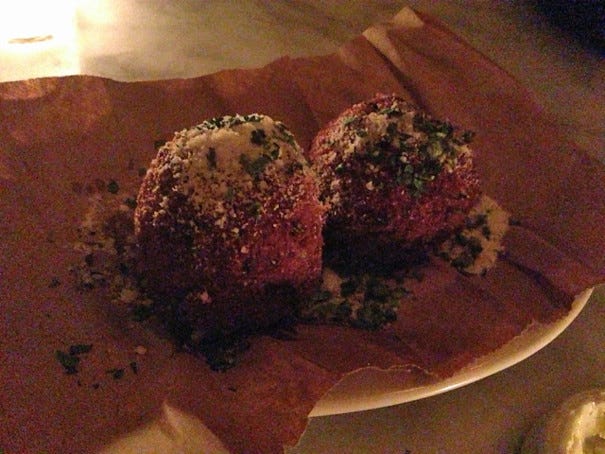 I couldn't resist the rigatoni with sausage and ricotta cheese: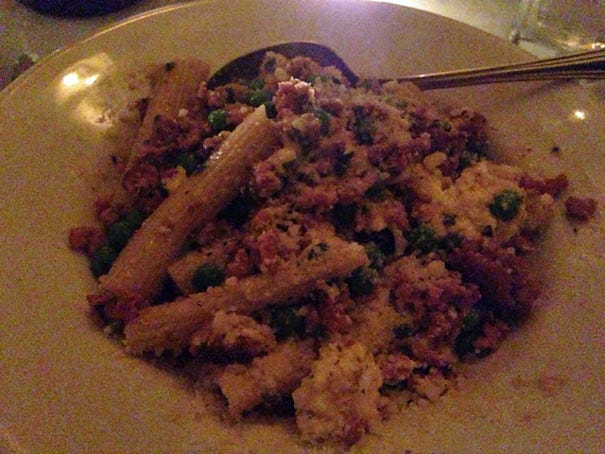 It's so so good. Mark ordered this bottle of wine which we all enjoyed: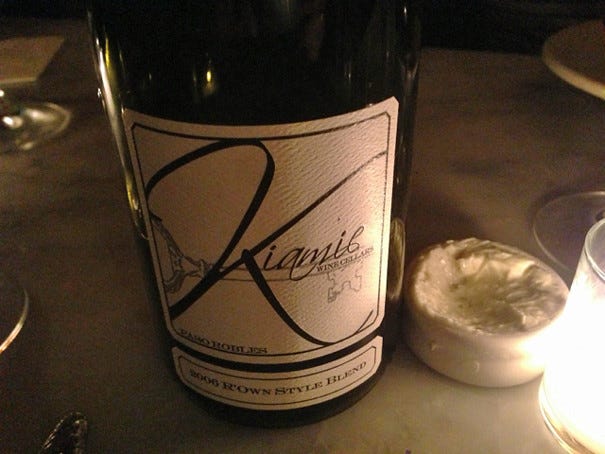 And then there was this apple/almond tart for dessert: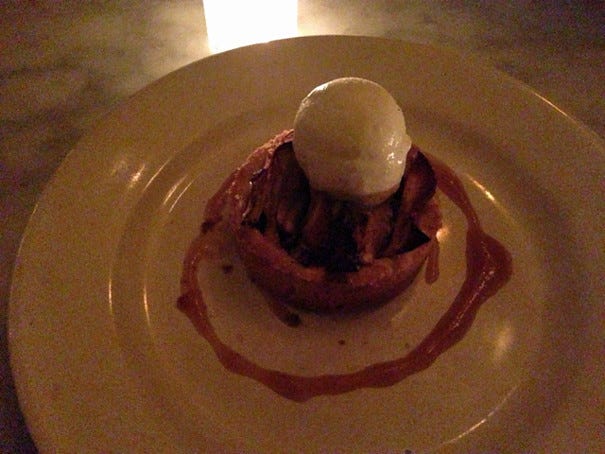 We came for the $15 dinner and ended up spending way more than that but we left very happy and that's all that really matters, right?

When I was part of Food52's Piglet Tournament of Cookbooks, one of my fellow competitor books caught my eye: The Little Flower Cookbook. That's because Little Flower is right near me in Pasadena and I thought, "Hey, I should get over there when I'm back in L.A."

So last week I did that. I drove to Pasadena to Little Flower to have lunch: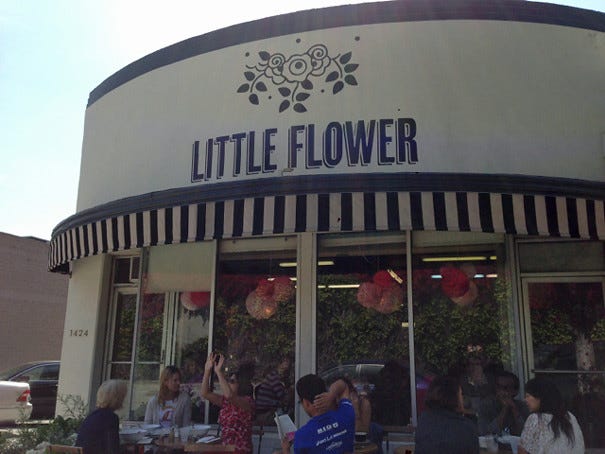 My drive there was really lovely--the weather was gorgeous and I made a "Drive To Pasadena" mix on Spotify--and after parking and walking over, I was expecting the place to be tranquil and low key. In fact, the place was totally, unbelievably packed.

The inside was really charming: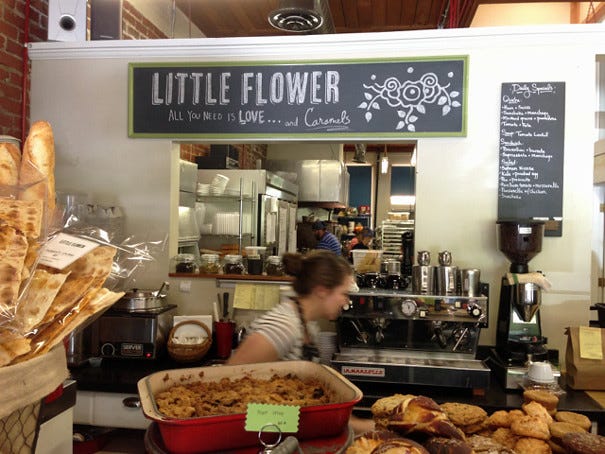 It feels like the kind of place you might stumble on while visiting a small town somewhere. And all the baked goods are clearly made with love: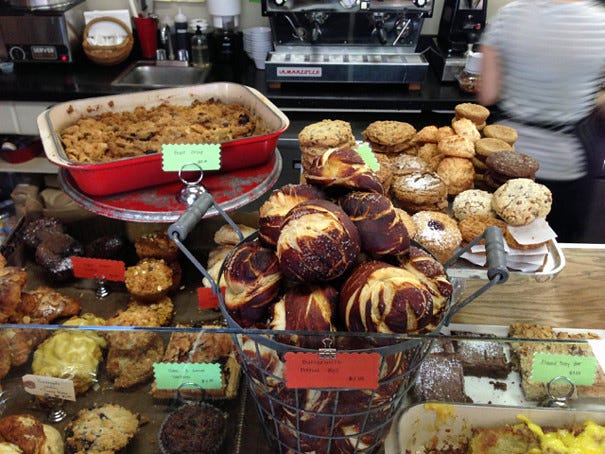 When it was my turn to order, I went for the Chicken Banh Mi and then fought my way over to the only open seat. I looked around the room and realized that I was the only man there except for this teenage boy who was there with his mom. It was a room full of women and if the human race ended outside, it would be my responsibility to carry it on. That's a lot to handle.

Thankfully, my sandwich arrived: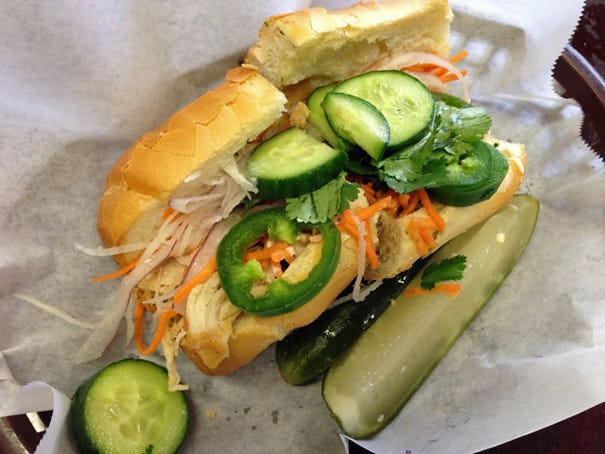 It was a very fine sandwich with good, interesting flavor (possibly from tamarind?) and lots of texture with the shredded vegetables. Only, a note to the kitchen staff: please cut your jalapeños thinner. I almost choked to death biting into a big piece.

All in all, I enjoyed my Little Flower experience and look forward to going back. Hopefully when it's less crowded.

That night, Craig and I drove to the valley to eat really great sushi (I'll post about that soon) and when we came back we were craving dessert. I told him about the CoolHaus ice cream sandwiches that they sell near my apartment; I may have told you about them already from the night Diana came over to watch Pippin? If so, here it is again: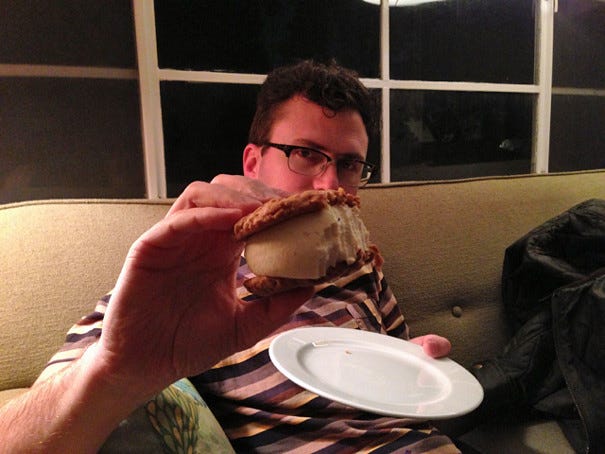 Those are two oatmeal cookie with apple ice cream inside. Craig wouldn't share his, so I ate half of mine which had two chocolate cookies and bacon ice cream inside (yes, bacon ice cream) and froze the other half.

Finally, I discovered a great new place last week not too far from where I live called Storefront Deli.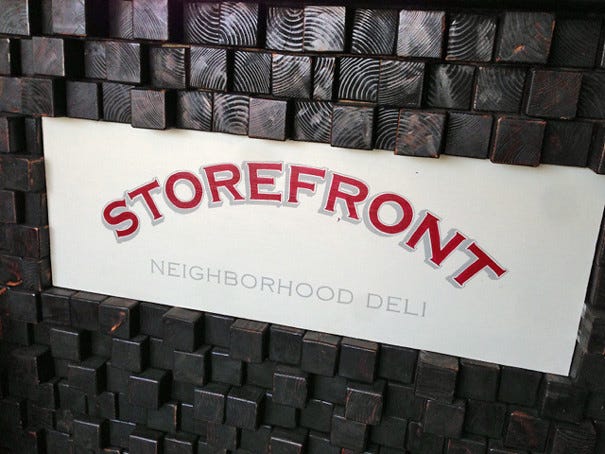 When Jonathan Gold wrote about it a few months ago, I imagined a tiny hole-in-the-wall with nowhere to sit. But there are seats as you can see here, with these two guys looking at me suspiciously: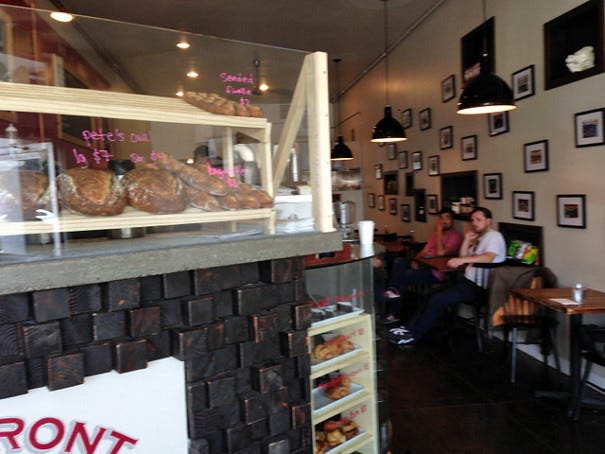 The place is like a traditional deli with elevated food. Look at the case, for example:


---


There's good stuff in there.

I spent some time figuring out what to get, and settled on a ham and cheese sandwich with apple butter and pickled mustard seeds:



This sandwich wasn't just good it was TOO good. I'm almost positive it was fried in butter after it was assembled. But boy, did I love eating it. I could eat it again right now. Maybe I will.

That's all for this week folks!

Until next time....

Your friend,
Adam (The Amateur Gourmet)
Reading this in a browser? Get next week's in your inbox by signing up here.

Follow Me!
On Twitter
On Facebook

Check Out My Cookbook!
Secrets of The Best Chefs

Recent Food Posts

Build Your Own Vegetable Curry

How To Cook Perfect Fish At Home

Eggs Adam Roberts Redux

Don't Throw Out That Chicken Skin (Also: A Meditation on Self-Control vs. Self-Denial)

Date and Coffee Sponge Cake with a Coffee Glaze

Chicken Tagine with Preserved Lemons and Olives

You Don't Want To Make These Oatmeal Pancakes

Porcini-Cooked Rigatoni with Cherry Tomatoes and More Porcini

An Omelette and a Glass of Wine (For Dinner)

Mystical, Magical Curry Leaves

Blood Orange Olive Oil Cake

Steve's Sous-Vide Salmon Adventure

The Best Brownies of Your Life



*|LIST:DESCRIPTION|*

Unsubscribe *|EMAIL|* from this list.

Our mailing address is:
*|HTML:LIST_ADDRESS_HTML|*
Copyright (C) *|CURRENT_YEAR|* *|LIST:COMPANY|* All rights reserved.

Forward this email to a friend
Update your profile
*|IF:REWARDS|* *|HTML:REWARDS|* *|END:IF|*