Oh my goodness, people,

I've become a crazy blogger person and I can't stop myself. On the one hand, I'm loving the process of writing these looser, by-the-seat-of-my-pants kinds of posts and entertaining people throughout the day as opposed to only once a day; on the other hand, I'm not sure it's sustainable. I mean, here are all the posts I've done since Monday morning:

- Creamy Creamless Cauliflower Soup
- Let's Eat Flowers
- Gwyneth Paltrow Cookbooks: Love 'Em or Hate 'Em?
- A Tribute To Peter Workman
- Fun With Farro
- How To Not Fight About Food
- Justin Bieber's Monkey Eats Germany
- Smoothie Update: Coconut Water & Mint
- Socca (An Italian Beef, Cabbage & Potato Casserole)
- In The Night Kitchen
- How Animals Eat Their Food

How can I keep this up? I'm not sure that I can. But I'll try.

Now on to newsletter stuff...

I'm sure I've mentioned this in a newsletter before, but Forage in Silverlake makes a pretty terrific salmon bowl. See?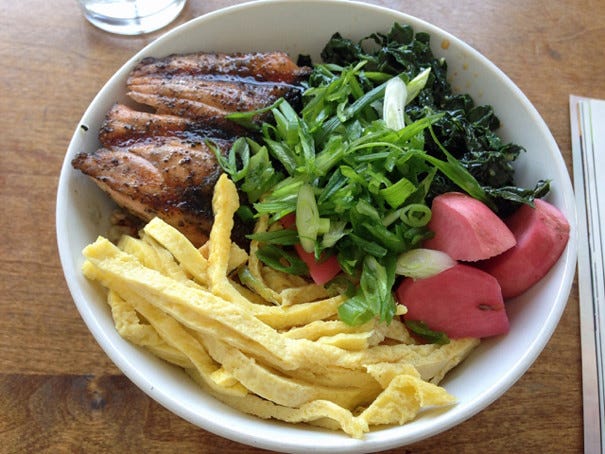 There's just so much going on in there. It's all served over brown rice with a sweet sauce that the salmon's also glazed with; there's kale (I think that's kale), pickled turnips, some tofu kind of thing and lots of herbs. It's a healthy bowl of food that isn't at all punishing. I could eat it again and again.

On Friday, we journeyed up to Sunland to have dinner with Craig's college friends Todd and Jessica. It was a really fun night of hanging around, drinking wine and chatting. Here's Craig with Todd and Jessica: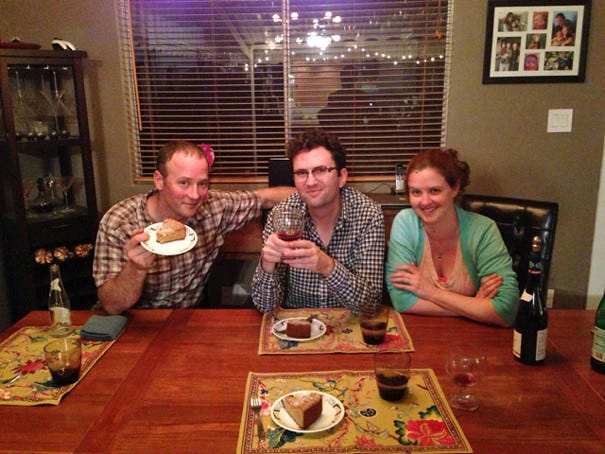 They're holding up my favorite almond cake which I brought for dessert (recipe here). Before that, we ate grilled steak: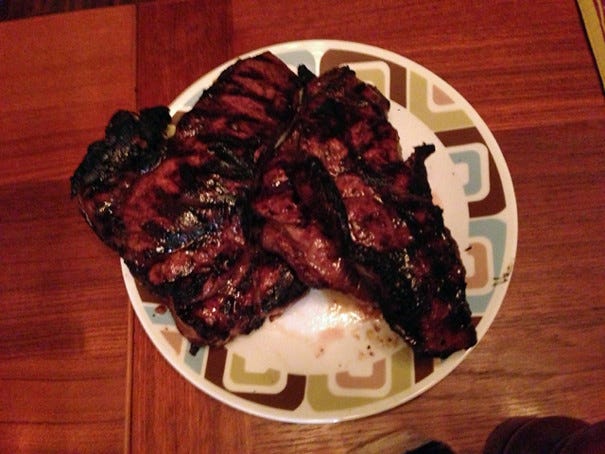 And grilled asparagus: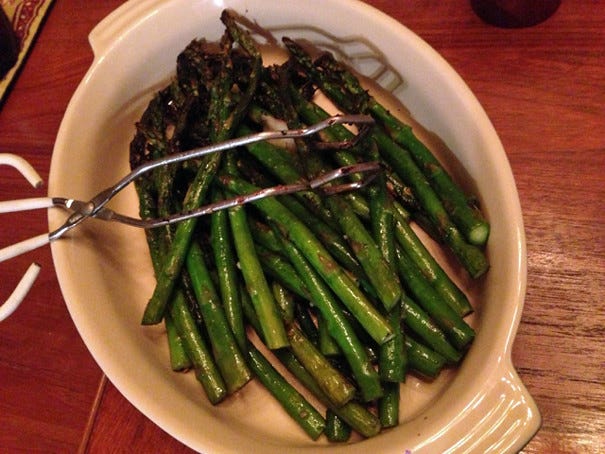 And look how pretty it was outside: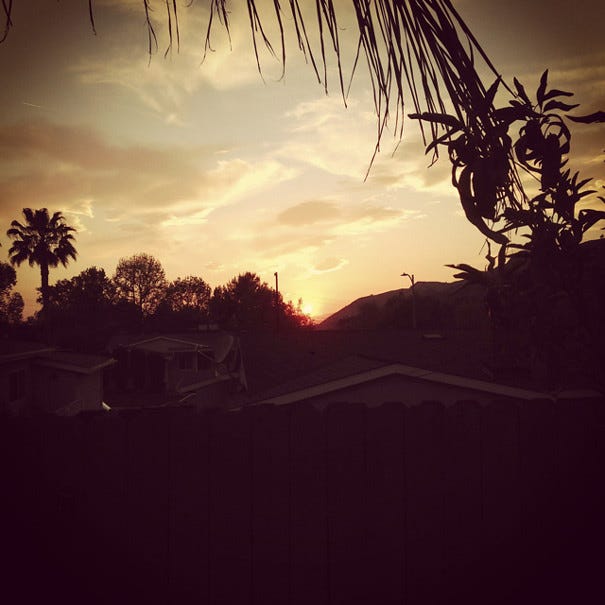 Makes sense that they live near where E.T. was filmed; you can kind of imagine E.T. flying across that sky on his bicycle.

And speaking of pretty outdoor pictures, I took this amazingly beautiful picture the other day while in Atwater Village. I was just driving by this tree in front of this quirky house and I thought it was so stunning I had to back my car up to snap this photo. See if you agree: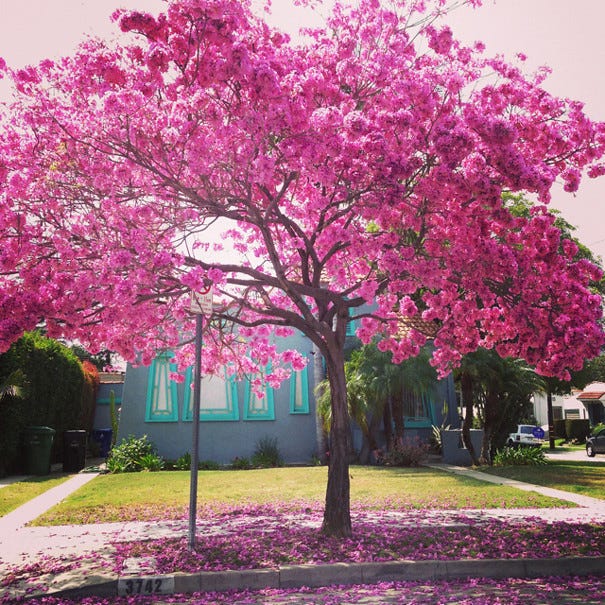 I'm impressed with myself.

On Saturday, we met some friends for wine at one of my new favorite places to go in L.A.: Covell. It's a wine bar with an incredibly eclectic menu and knowledgable staff. I had a White Pinot Noir (if that makes sense; actually, that doesn't make any sense but it was something like that) and we drank our wine with this incredibly delicious plate of cheese for $18: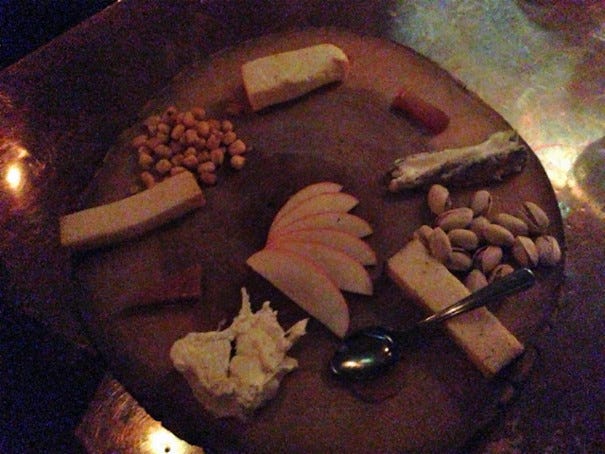 Finally, on Sunday, we met our friends Nick and Jason for Peruvian food at Balcones del Peru (which Nick suggested, so credit to him!).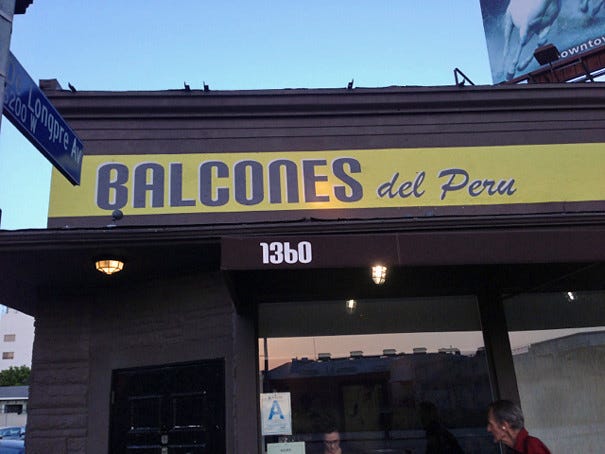 The meal started with these addictive sweet potato chips and a bright green sauce that was a little spicy and a lot flavorful. I loved it.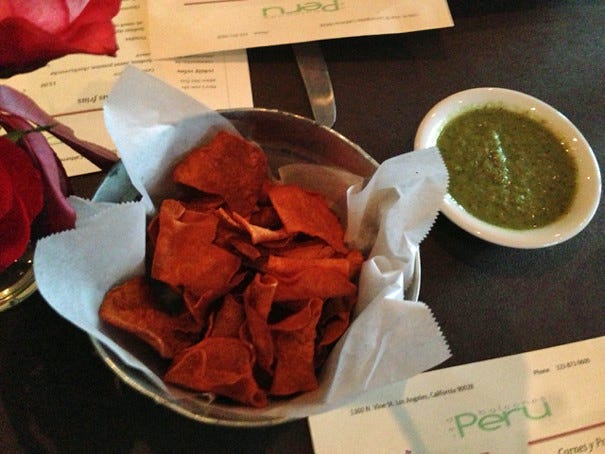 For my entree, I ordered a famous Peruvian dish called Lomo Saltado which is basically a stir-fry (Peru has a large Chinese population) of meat and--get this--french fries. Check it out: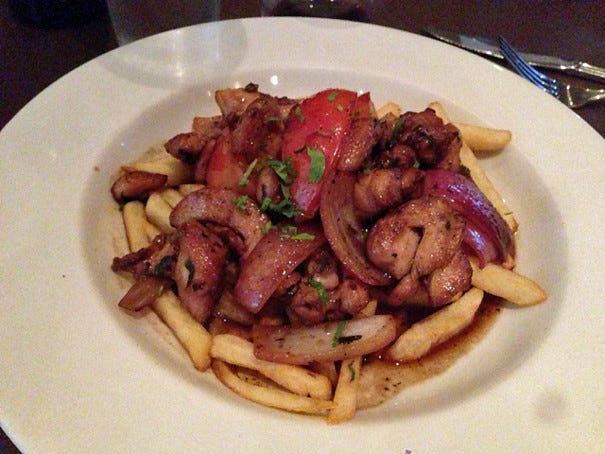 I didn't know such a dish was possible, let alone legal. But the French Fries aren't soggy or anything; they kind of sit around the border and take in some of the juices but not too much so they're crisp. You can choose beef or chicken and I chose chicken. It even comes with a side of rice, in case those fries aren't enough carbs for you.

That's all for this week folks!

I suggest checking my blog as often as you can because I'm updating like mad. When will the madness end? Who knows.

Until next time....

Your friend,
Adam (The Amateur Gourmet)

Reading this in a browser? Get next week's in your inbox by signing up here.

Follow Me!
On Twitter
On Facebook

Check Out My Cookbook!
Secrets of The Best Chefs

Recent Food Posts

60 Second Meals

If I Eat This Scone

Chicken Fat Potatoes, Fried Eggs and Tomato Olive Salsa

Friday Food Links (4/5/13)

A Home Cook's Take on Mozza's Orecchiette with Fennel Sausage and Swiss Chard

Planning A Dinner Menu

I Made This Smoothie

Caesar Salad Fit For The Gods

Warm Me Up, Cool Me Down (Your Serving Dishes, That Is)

Do You Feed Your Pets at the Table?

I Can Cook Too

Cauliflower Gratin with Gruyere and Goat Cheese

Frozen Yogurt Toppings Are Worse For You Than Ice Cream

Sandra Lee's Fake Tan

Where Does It All Go?

Marion Cunningham's Raw Apple Muffins

4 on 6 Sushi

Build Your Own Vegetable Curry

How To Cook Perfect Fish At Home

Eggs Adam Roberts Redux

Don't Throw Out That Chicken Skin (Also: A Meditation on Self-Control vs. Self-Denial)

Date and Coffee Sponge Cake with a Coffee Glaze

Chicken Tagine with Preserved Lemons and Olives

You Don't Want To Make These Oatmeal Pancakes

Porcini-Cooked Rigatoni with Cherry Tomatoes and More Porcini

An Omelette and a Glass of Wine (For Dinner)

Mystical, Magical Curry Leaves

Blood Orange Olive Oil Cake

Steve's Sous-Vide Salmon Adventure

The Best Brownies of Your Life



*|LIST:DESCRIPTION|*

Unsubscribe *|EMAIL|* from this list.

Our mailing address is:
*|HTML:LIST_ADDRESS_HTML|*
Copyright (C) *|CURRENT_YEAR|* *|LIST:COMPANY|* All rights reserved.

Forward this email to a friend
Update your profile
*|IF:REWARDS|* *|HTML:REWARDS|* *|END:IF|*